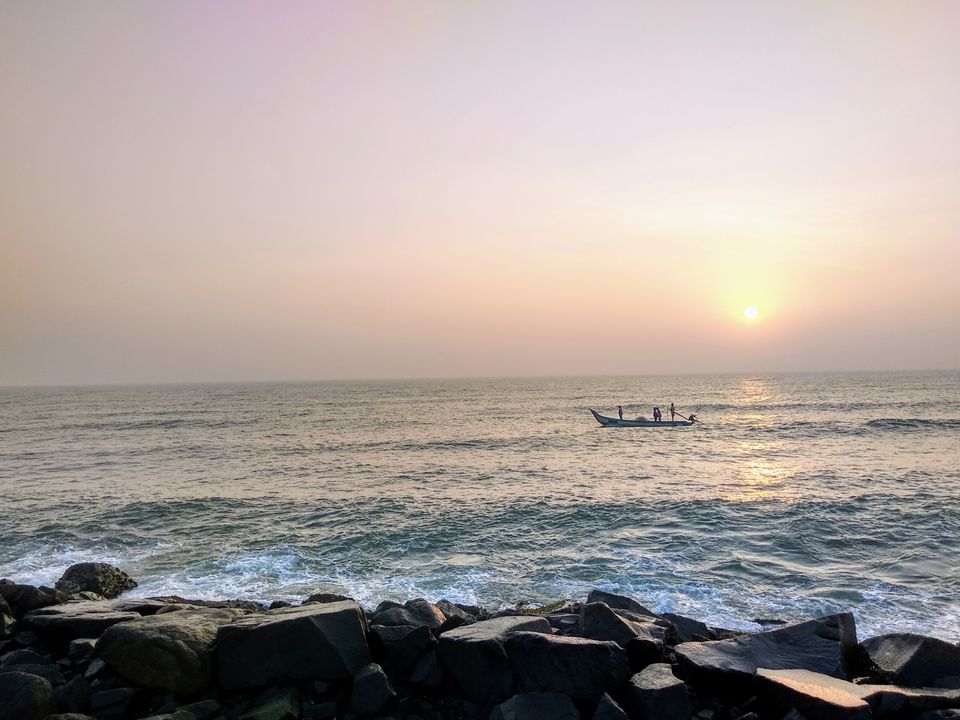 Left from Bangalore at about 10 PM on a 'sleep like a baby' bus (ticket costed about ₹600). The ride was so comfortable that I didn't realise when the entire night went by and I woke up to the conductor calling for Pondicherry passengers. Arriving an hour early than scheduled, I reached for my hotel (in an auto who charged me a whopping ₹100 for 2 km), dropped my luggage, washed my face and walked towards the Rock beach, which was at a distance of 700 m from my hotel. Reaching the beach, the first thing I did was take a deep breath and inhale some fresh sea breeze. It was about 4:30 AM, and the beach was relatively empty, but being alone didn't bother me as it would have, back in hometown Delhi.
I strolled the entire stretch of the beach to find the perfect mid-spot to catch the rising sun. Cool breeze brushing against my unwashed sand-smelling hair felt good. I would have been despising the same otherwise, guessing that's what a good break does to you.
To break my solitude came a little dog and sat beside to catch the sunrise. Trust me, it was a picture-perfect moment! I felt a different kind of liberation, a kind that I'd not experienced before. I have been brought up very liberally by my parents, but this was a liberation experienced from the demons within; liberation from the thought that how would I ever succeed doing a solo trip. This after all felt good, extremely good!
I sat at the beach for 4 hrs; roamed the entirety of the stretch, clicked some amazing photographs, bought myself a coffee and walnut brownies for breakfast, sat eating that with a sea view, made friends with two other dogs and then proceeded towards the church right next to my hotel. And what a majestic beauty it was, such tranquility and peaceful vibes casted a never-ending impression on my mind. Next I headed to have the best 'wood-fried' Pizza ever (photograph attached).
After freshening up at my hotel, I walked towards another church in the vicinity. Sadly, by the time I'd reached it was closed. I walked further down the lane to find the only cycle-on-rent vendor in town. I rented a cycle to go to Paradise Beach, which was a 12 km ride from my starting point. Now honestly, had I not been alone I would have gone ahead with an auto or a cab. That's the spirit one experiences when on a solo trip which makes it a 'must-do' thing. I pedalled the entire stretch, taking water breaks in between and following Google maps. Soon it directed me to the lanes of a local village. I felt a little odd so as to why such a prominent beach would have a road connectivity from inside a village. I trusted my instincts and went ahead with Google maps and ended up at the wrong side of Paradise beach. Supposedly, Paradise beach is only accessible by boats, but somewhere connected to the beach I'd reached via Google maps. I had a different experience altogether reaching the wrong side; fishermen were resting by the most colourful boats I'd ever seen, local village women were selling home-made sea food, a few other tourists, who'd evidently used Google maps, were relaxing in thatched sitting spots, and the beach being comparatively untouched was filled with sea shells and bodies of dead sea creatures.
Moving back from there towards my hotel wasn't as tough as the first time. More so because I was cycling after a good 7 years. After cycling for almost 30 km, going about the French colony White Town and Rock beach again, left me tired. I grabbed a cup of coffee and sat on the beach to experience yet another phenomena. The massive blood-red moon appeared. Given the big selenophile that I'm, I was left thanking my stars for the sight, I literally saw it emerging from the clouds and slowly turning red from yellowish orange. Sitting at the beach, and munching on some deliciously spicy corn I gave my life some intense thought; on the lines of where am I standing in life and how was I there, what changed for good and what all has to change for better. Meanwhile, it started to drizzle, taking cue I grabbed a croissant and headed to my hotel.
In the morning, I got dressed quickly and headed to Aurobindo Ashram and the beautiful temple beside it. The temple architecture was at its marvelous best. What caught my attention was the vivid paintings at the ceiling (photos attached).
Not making a further delay, I boarded an East Coast bus to take me to Chennai, in just ₹ 150, for my flight back home.
I made a promise to myself that I'd be brave & fight my own demons whenever needed.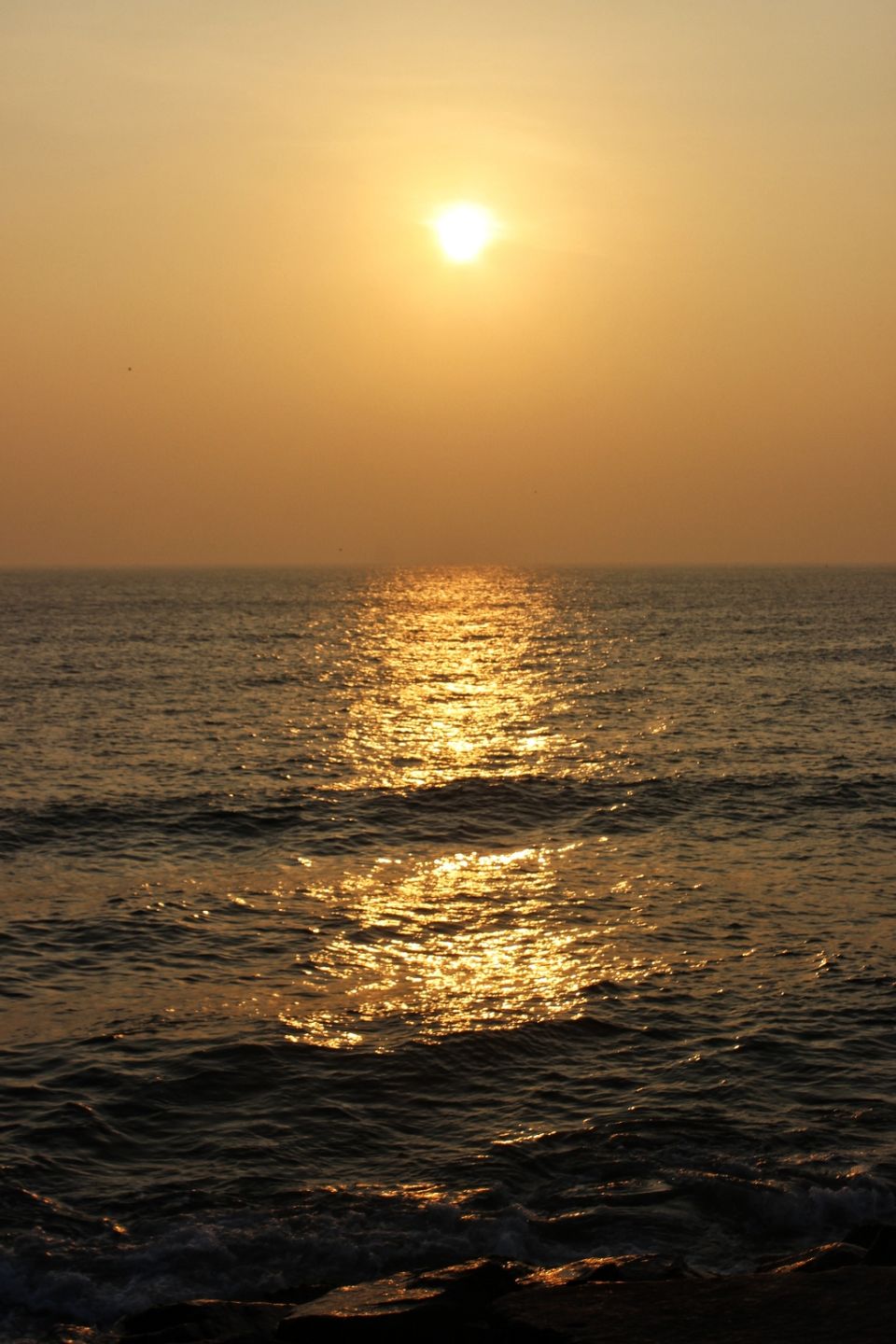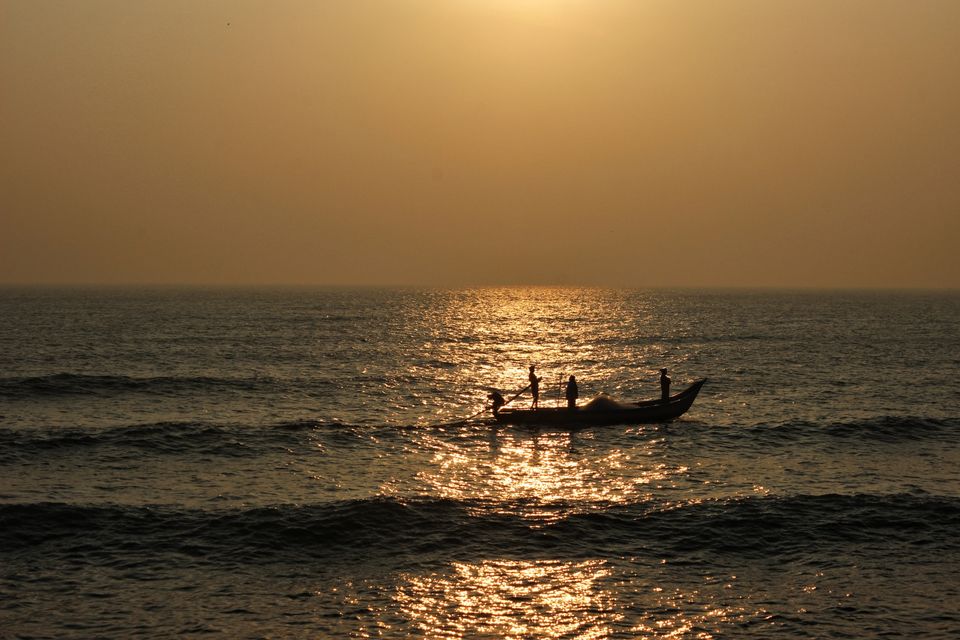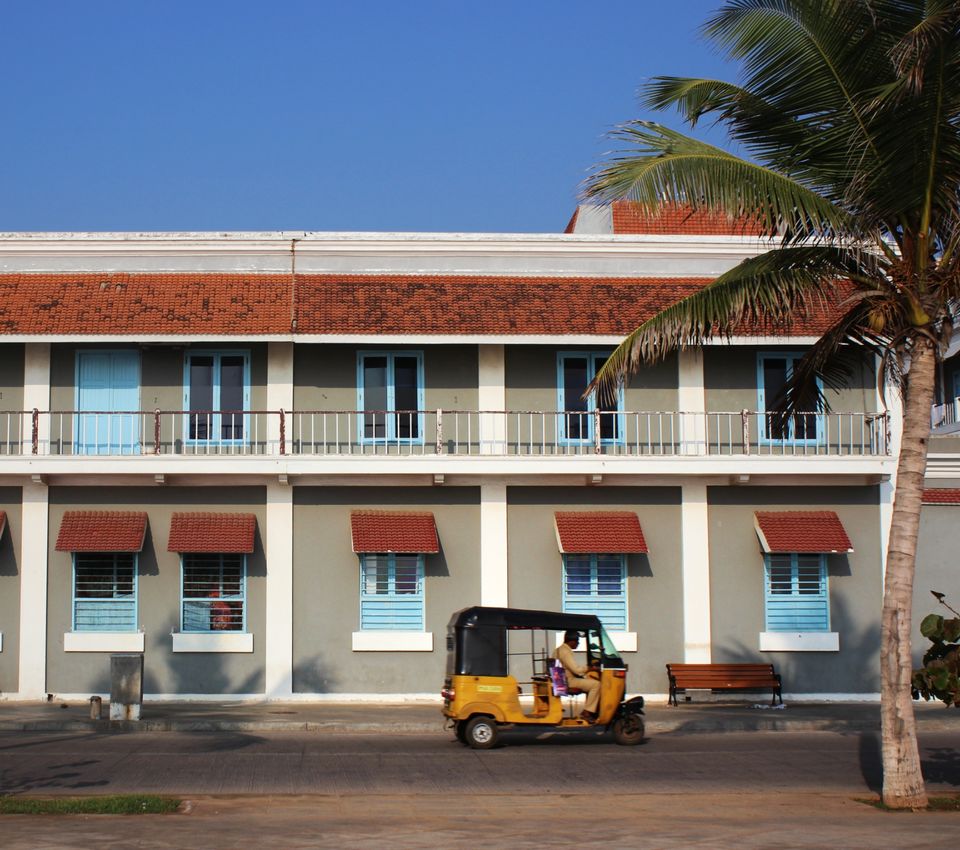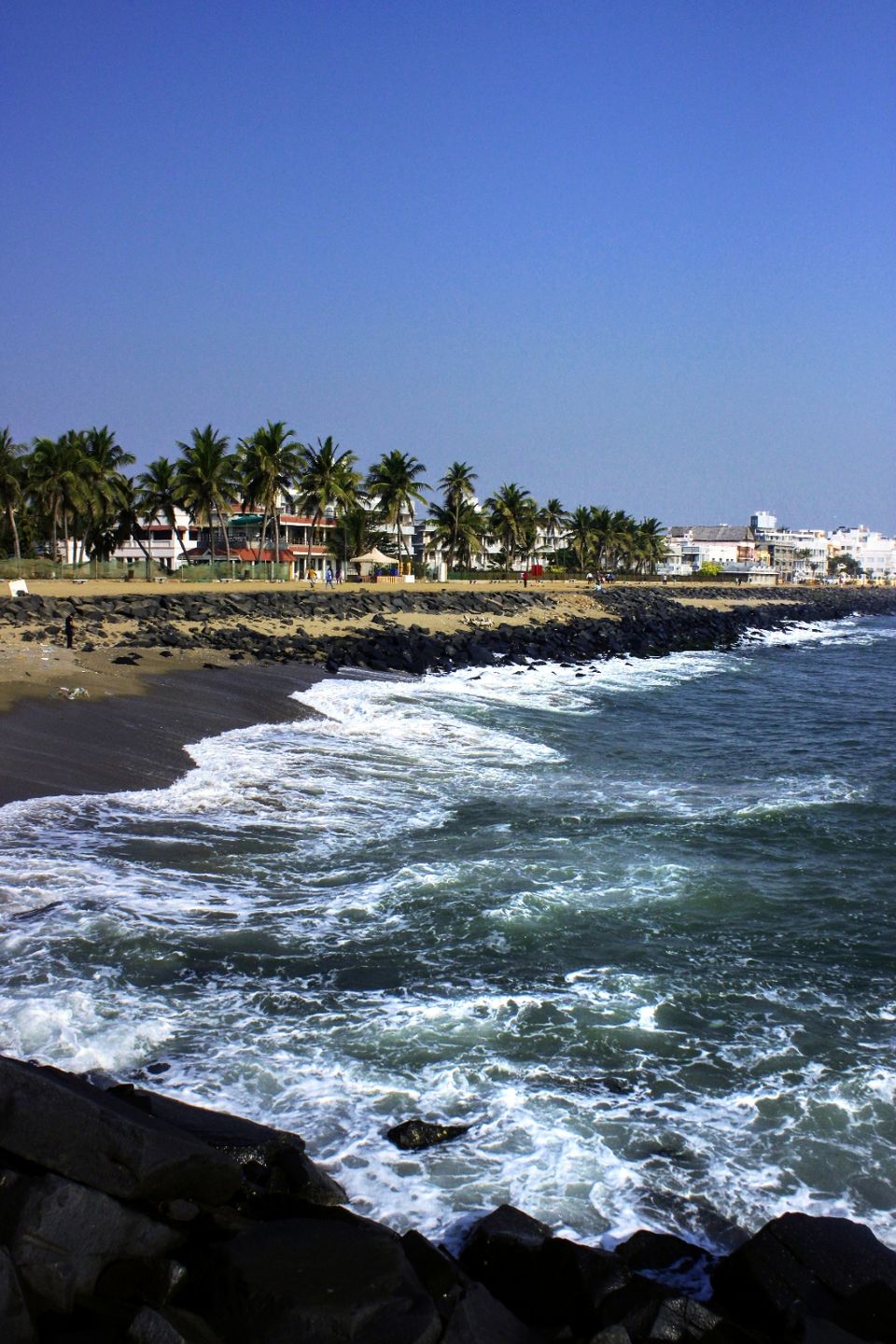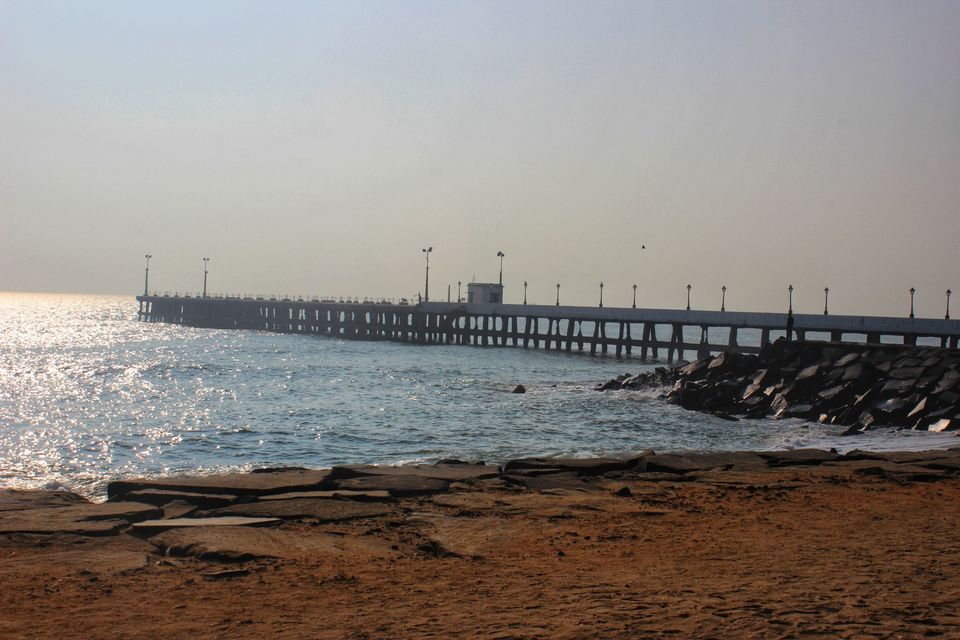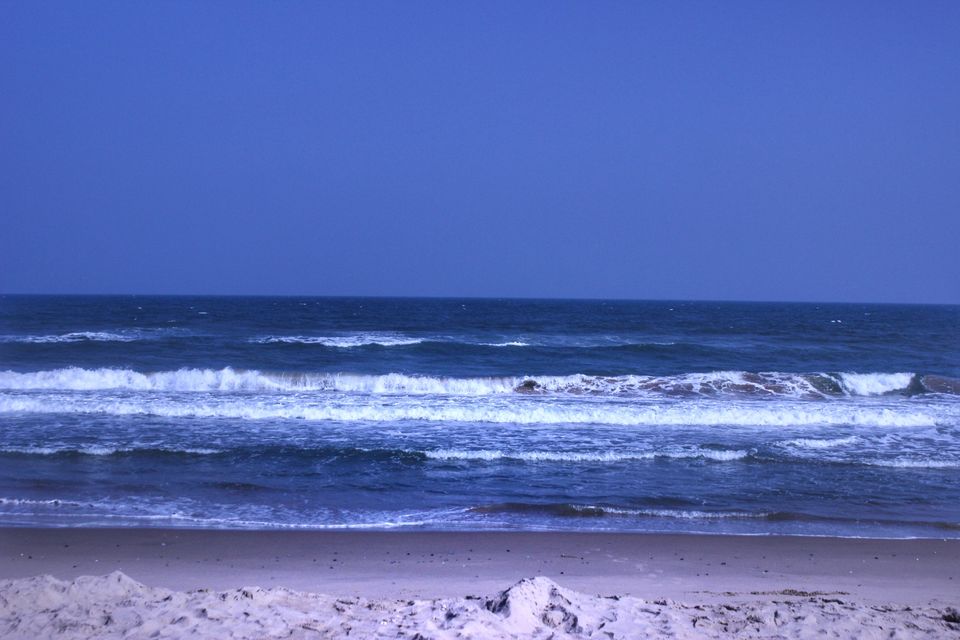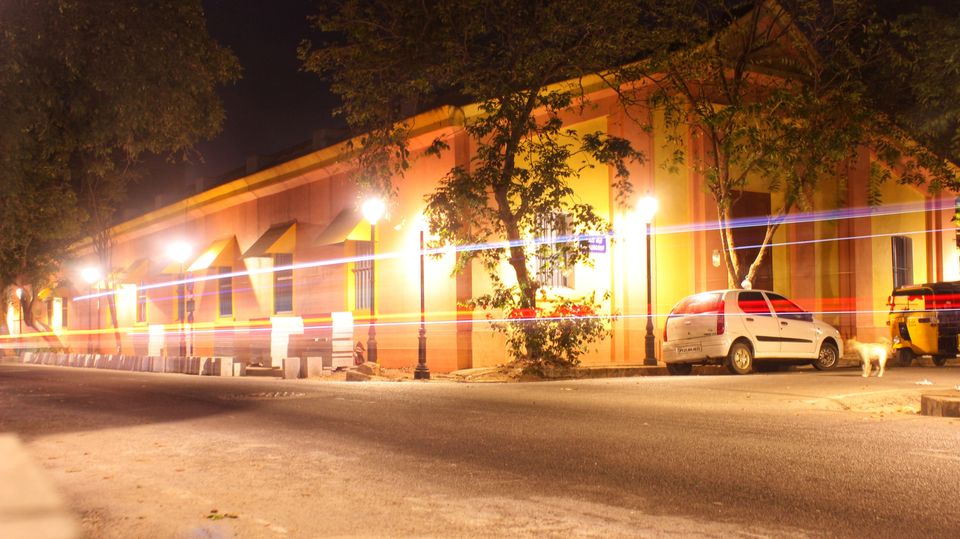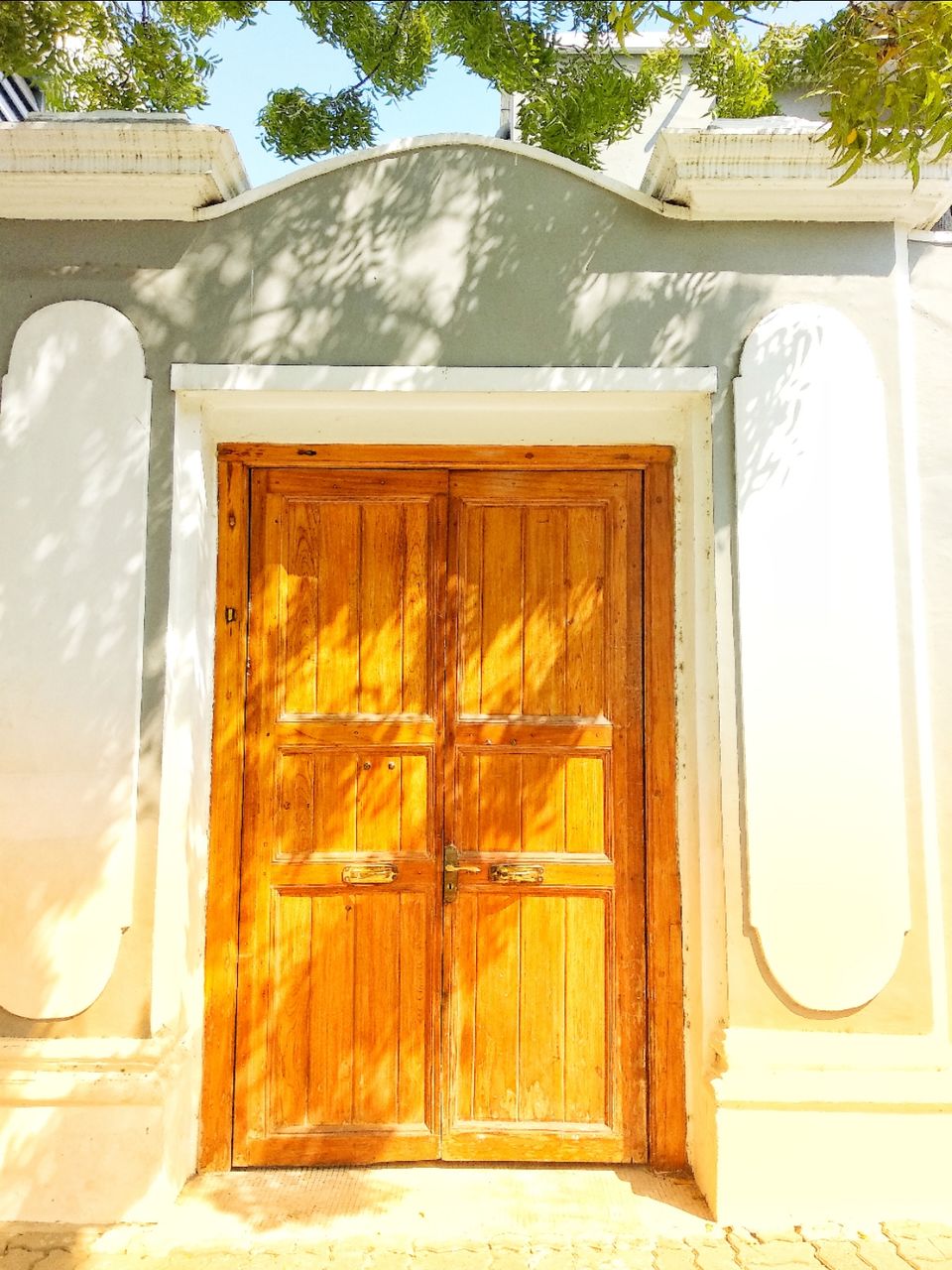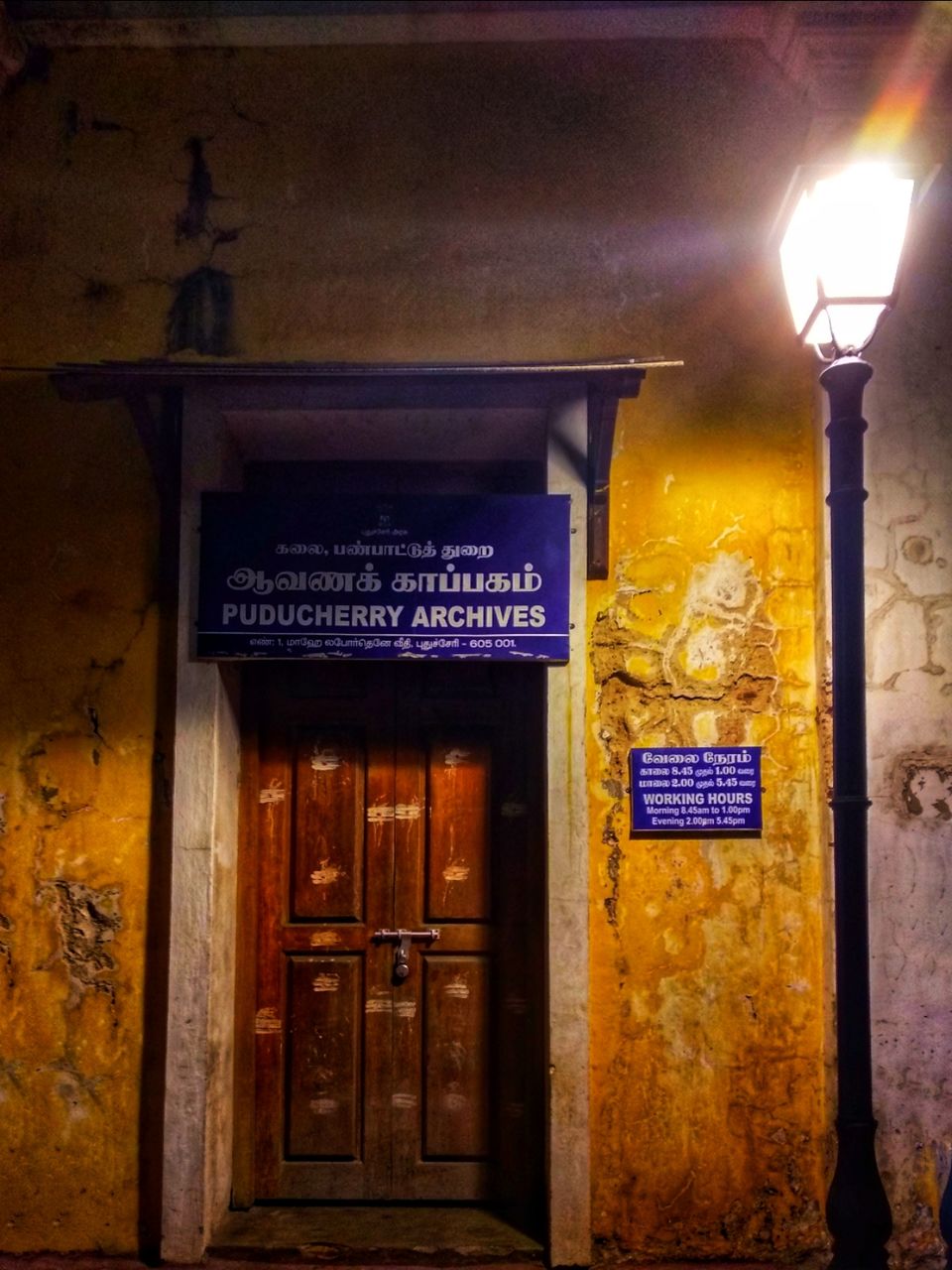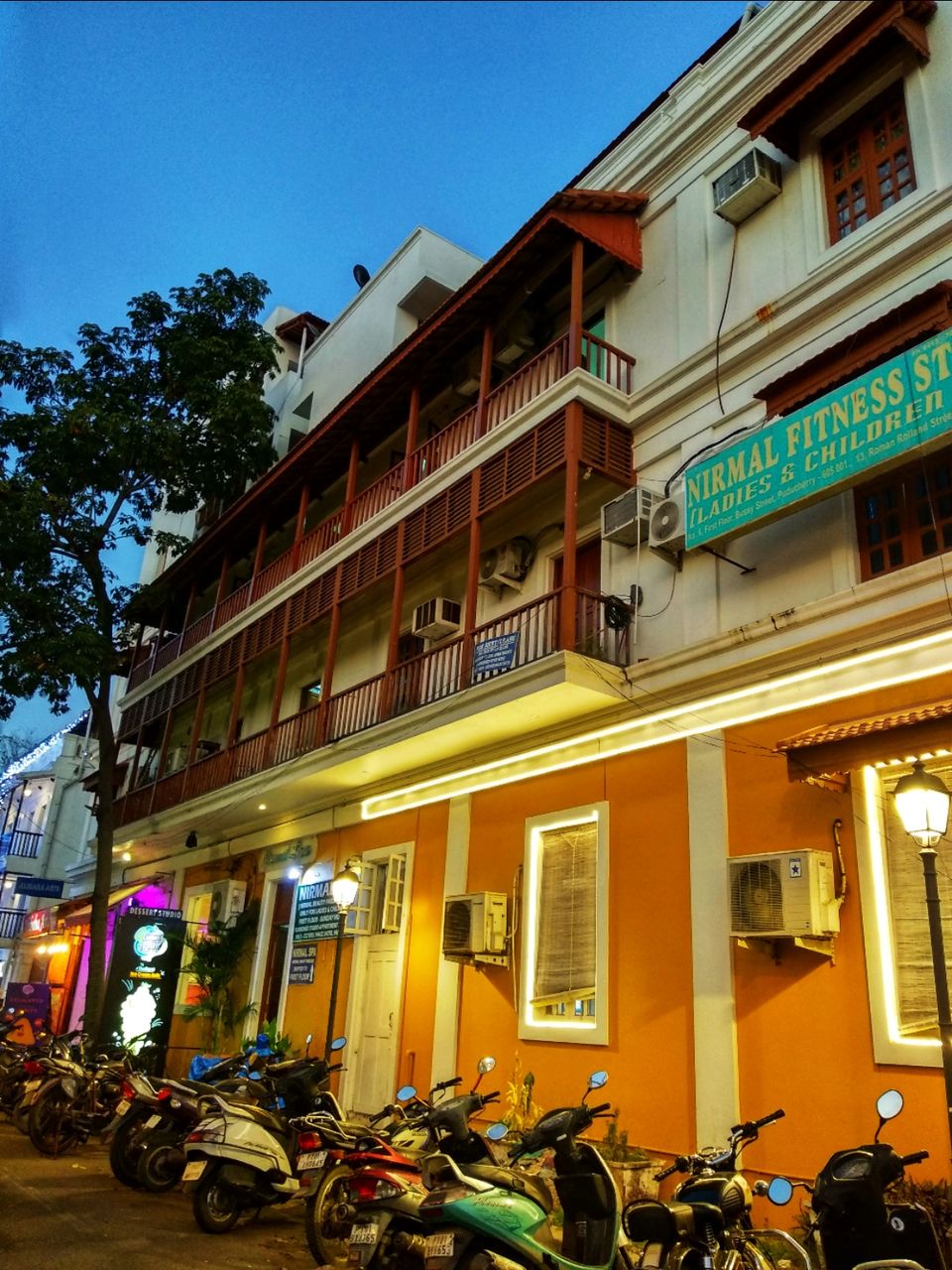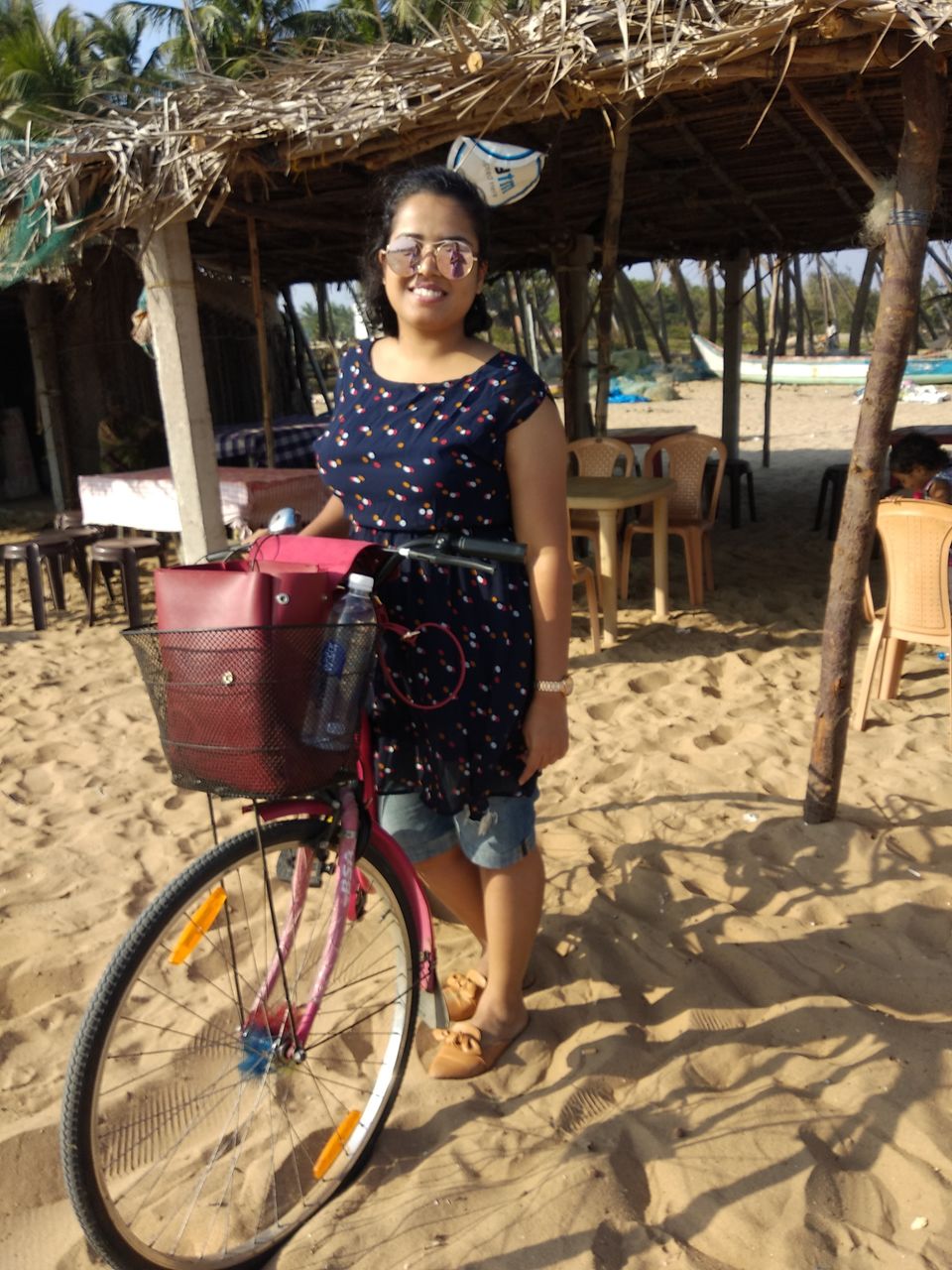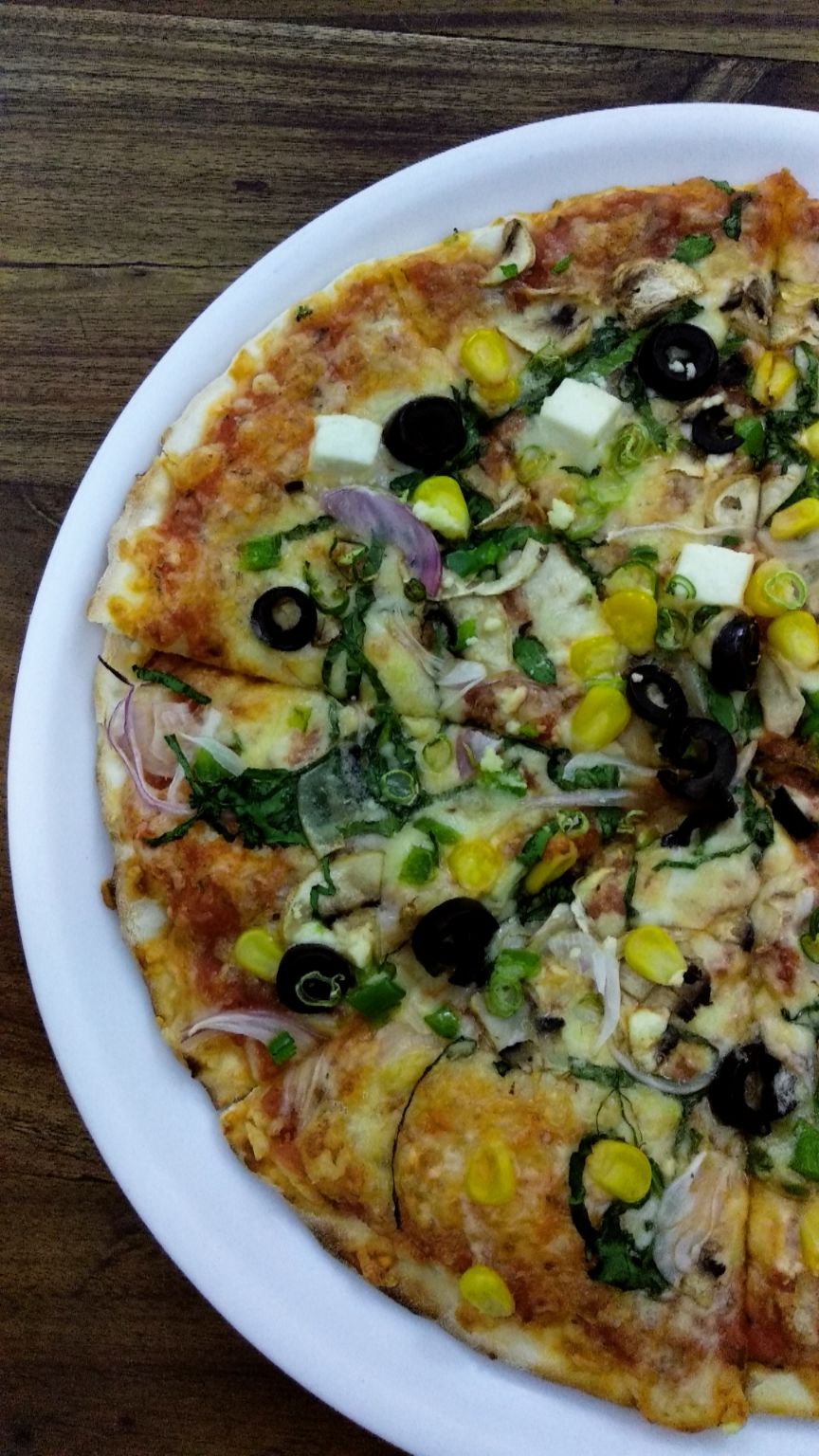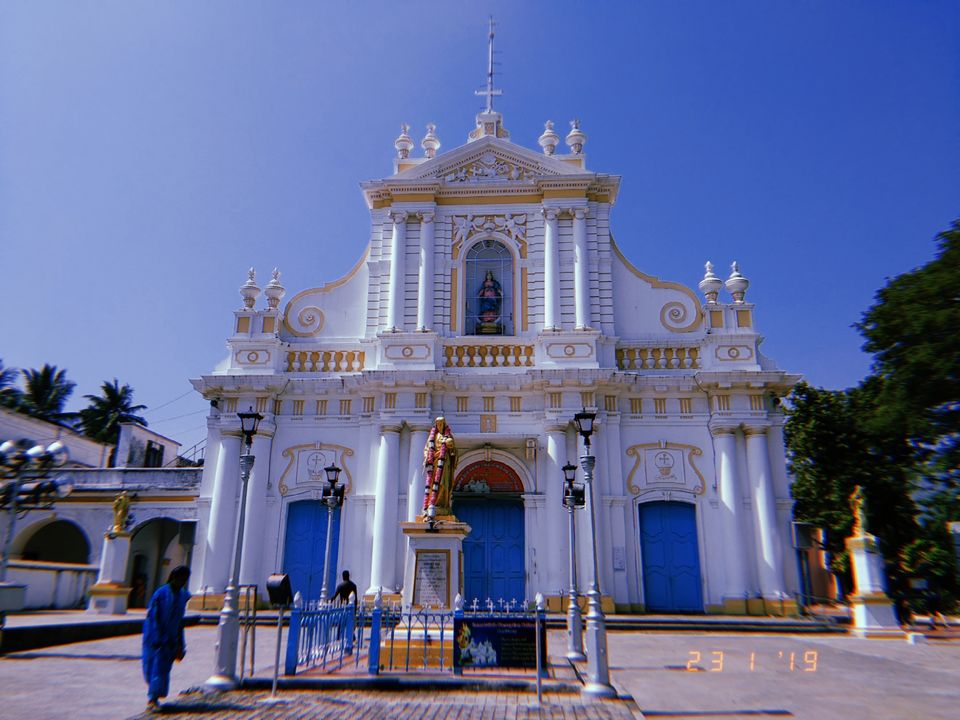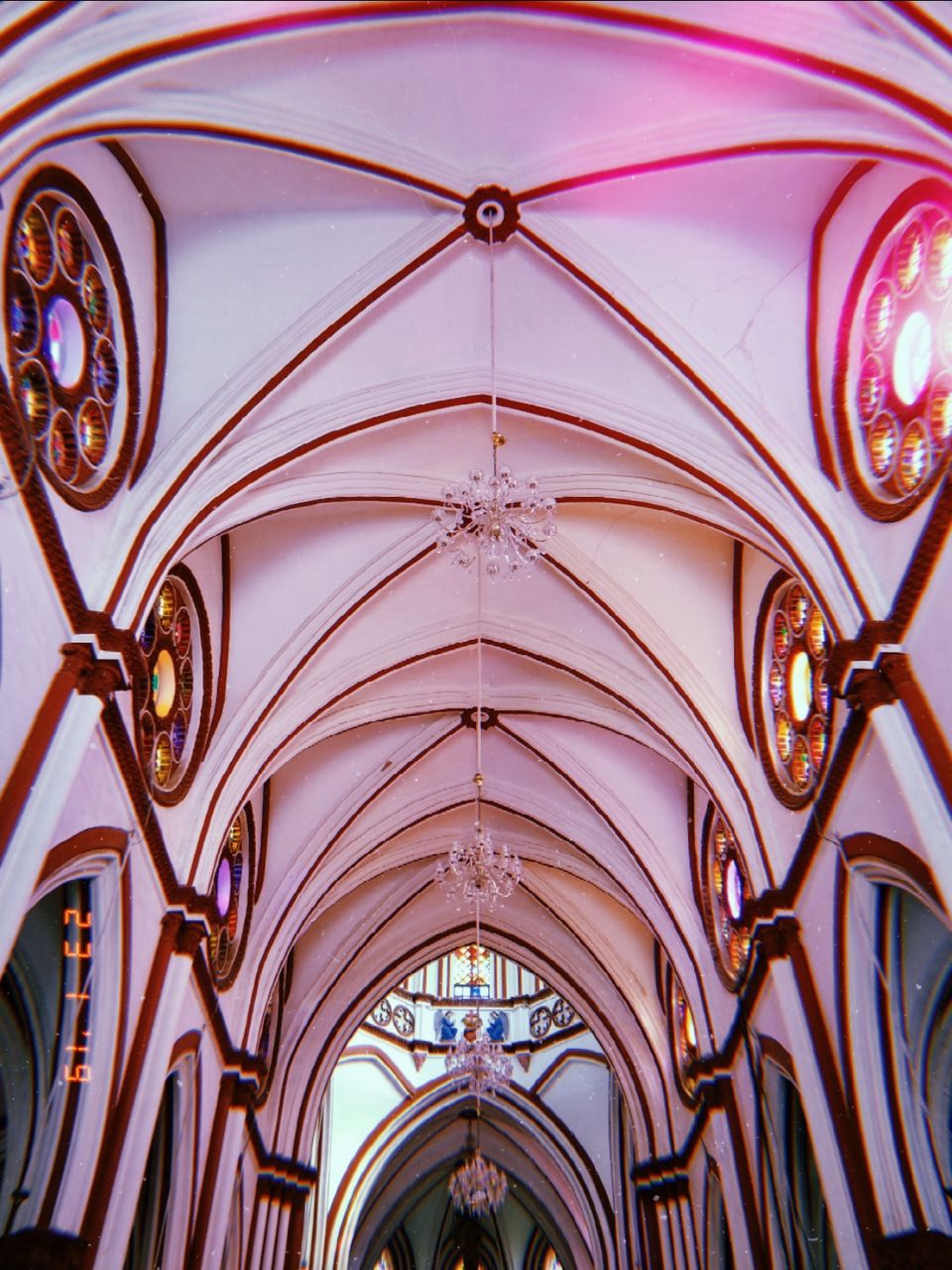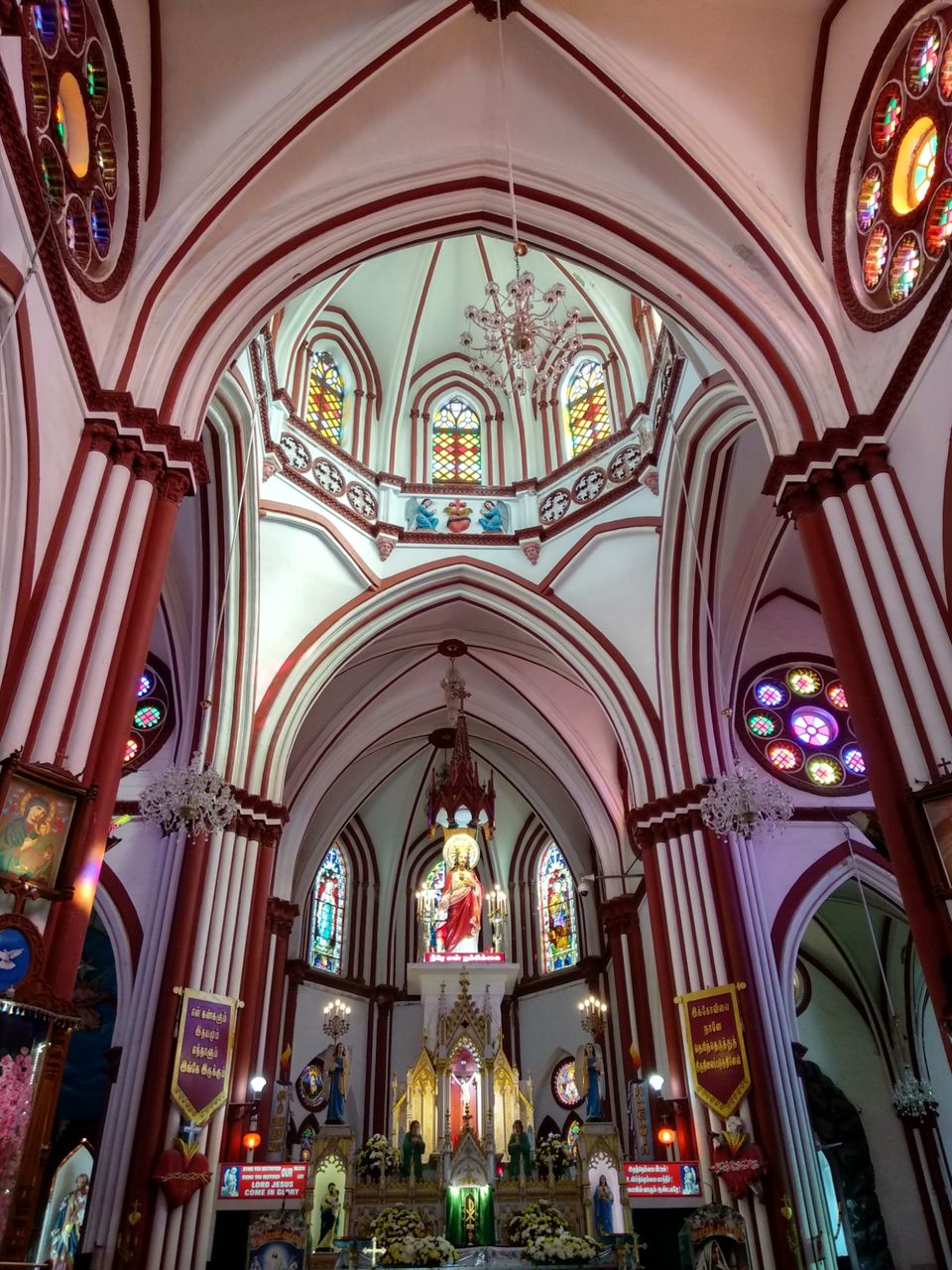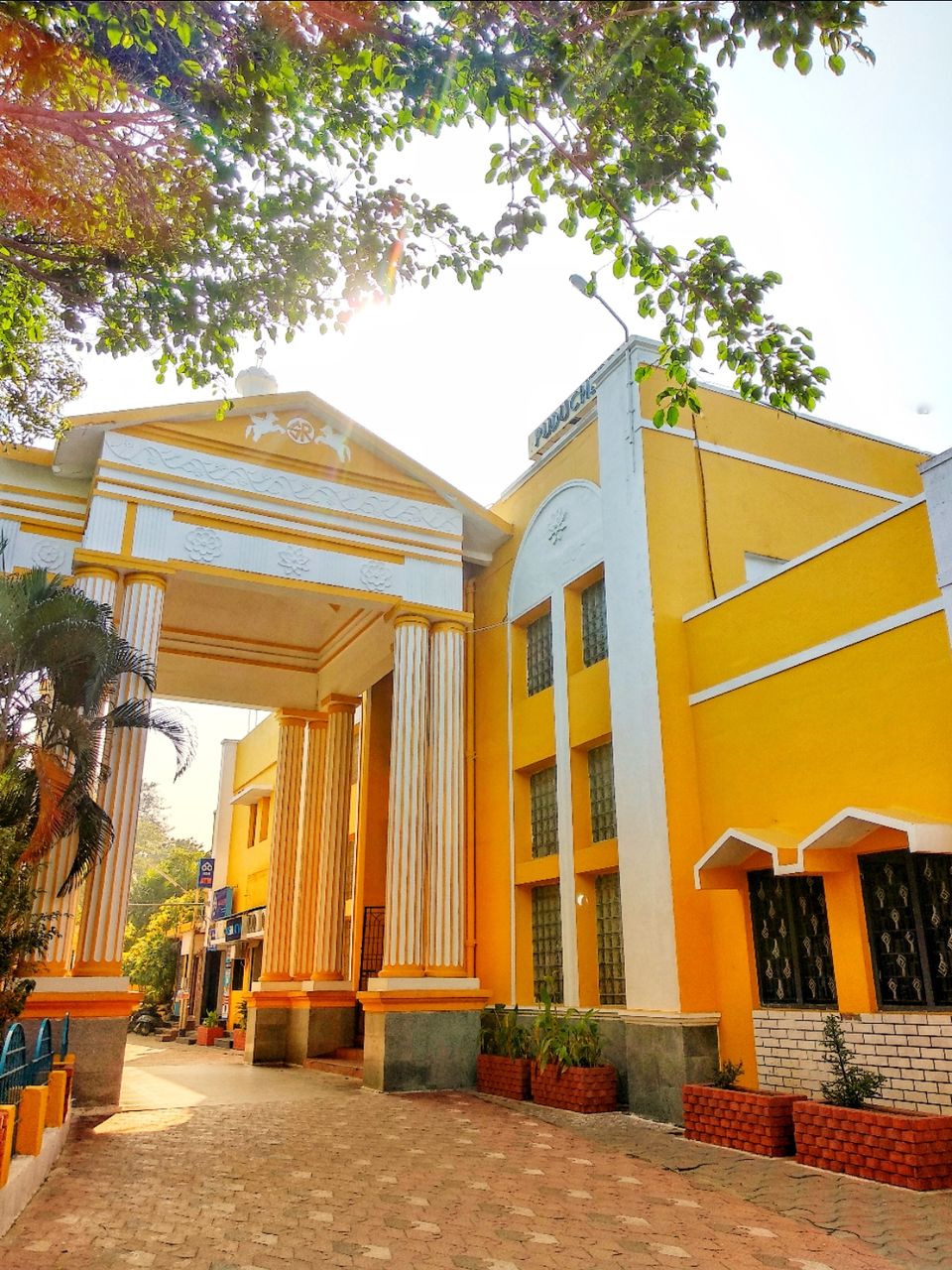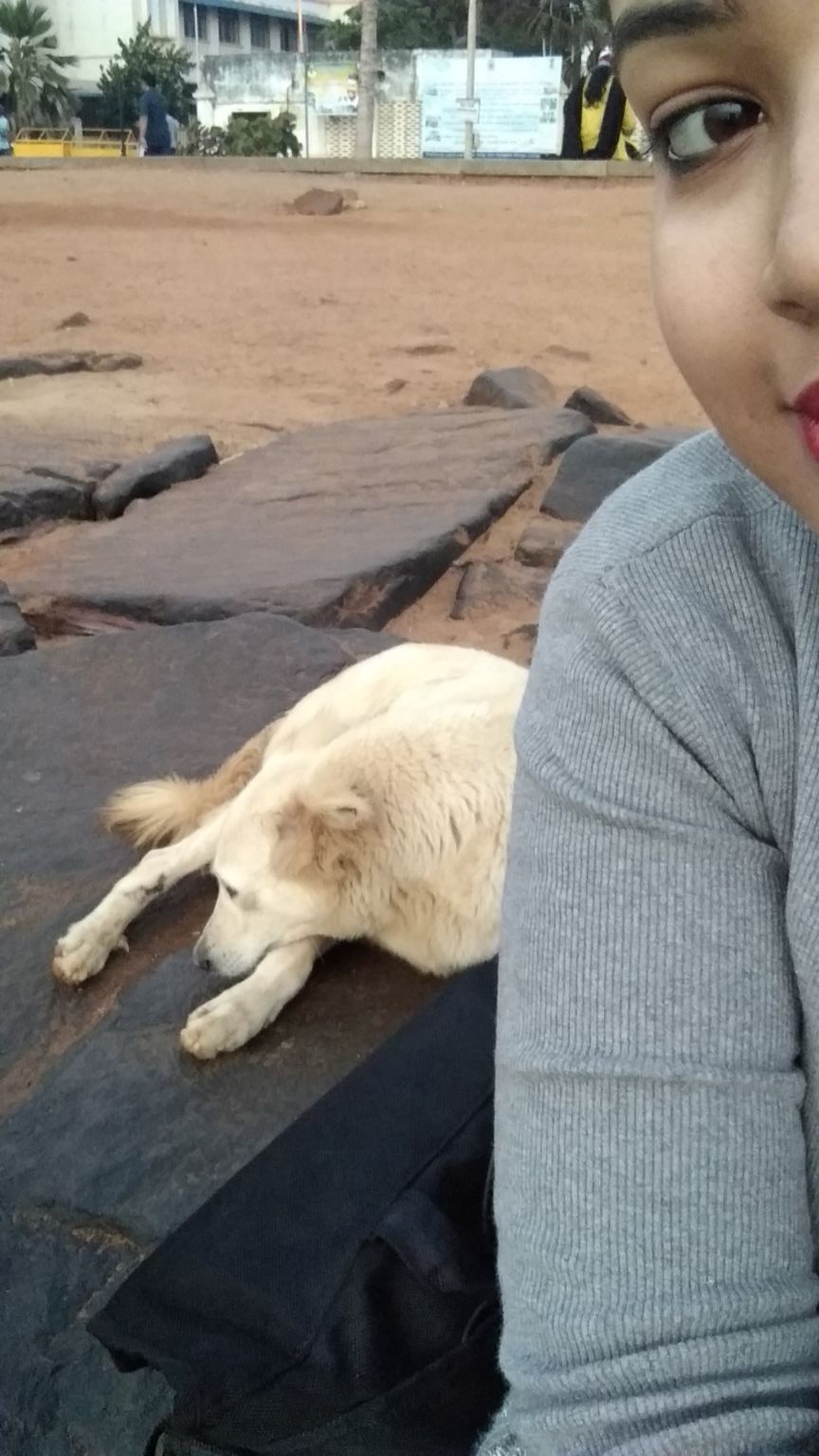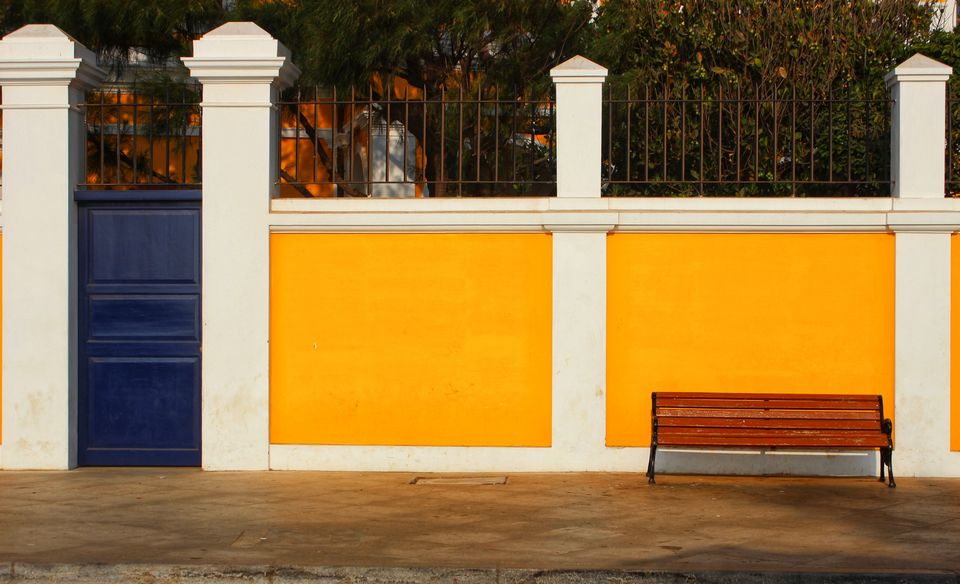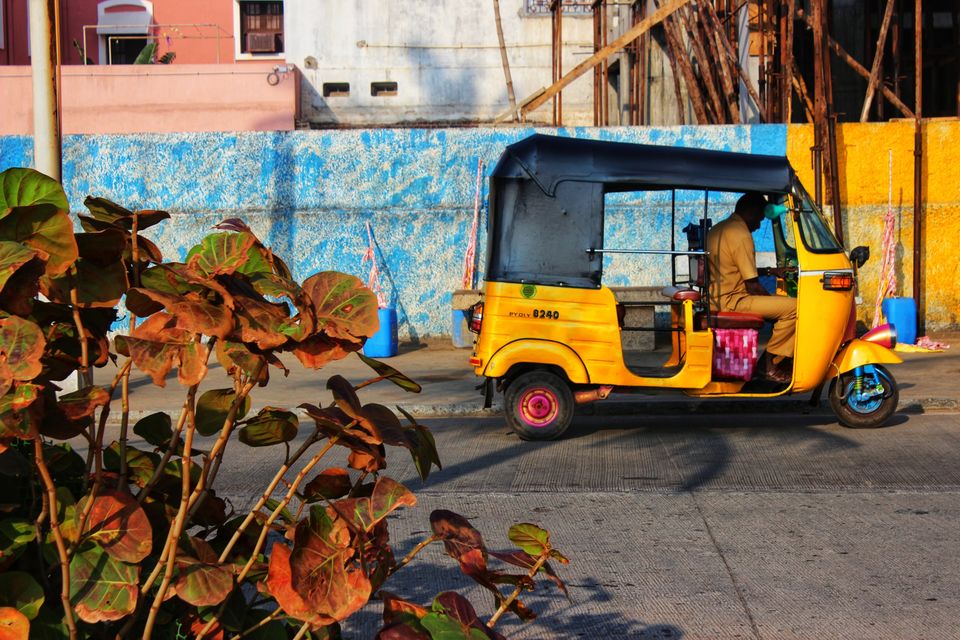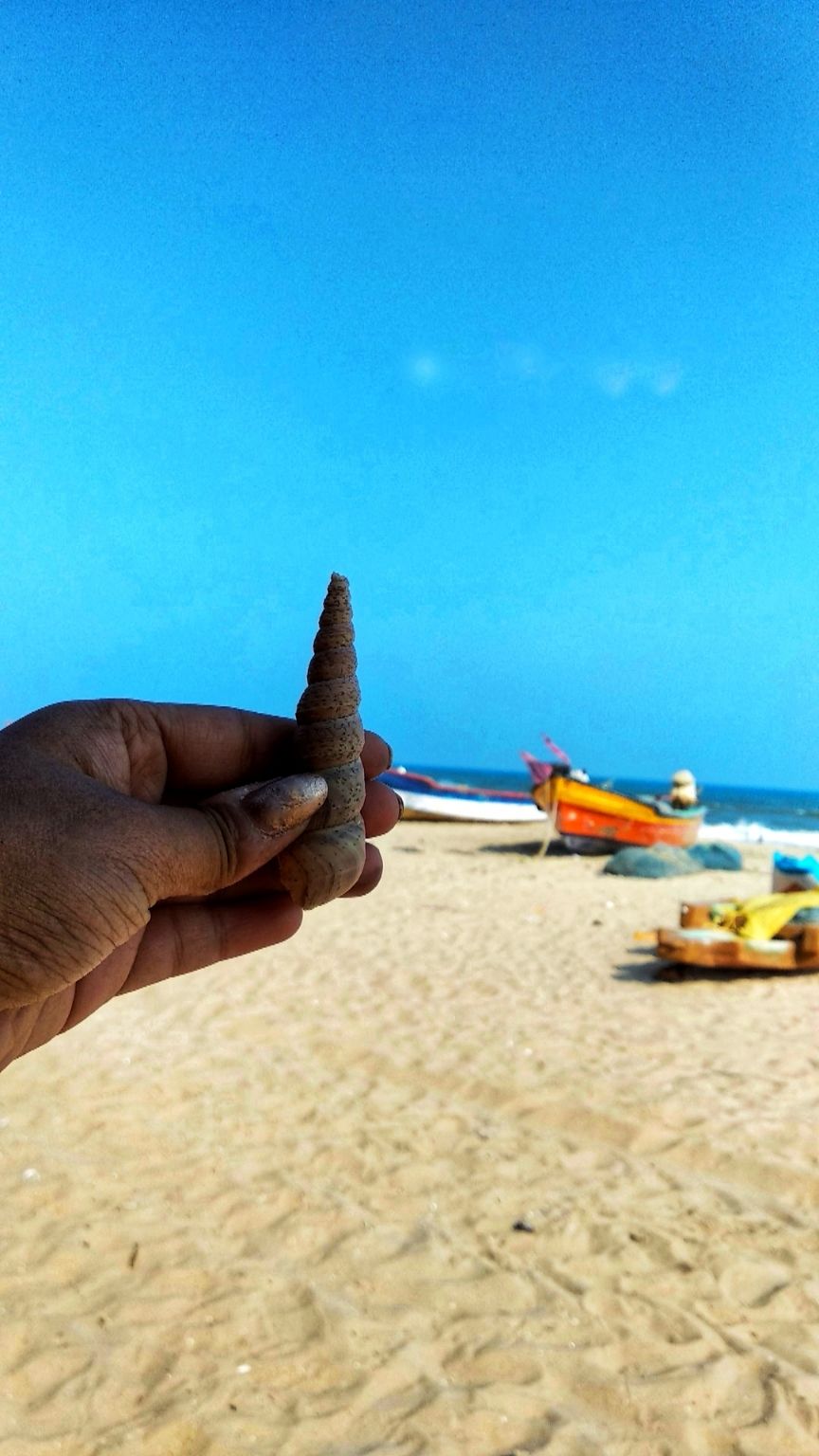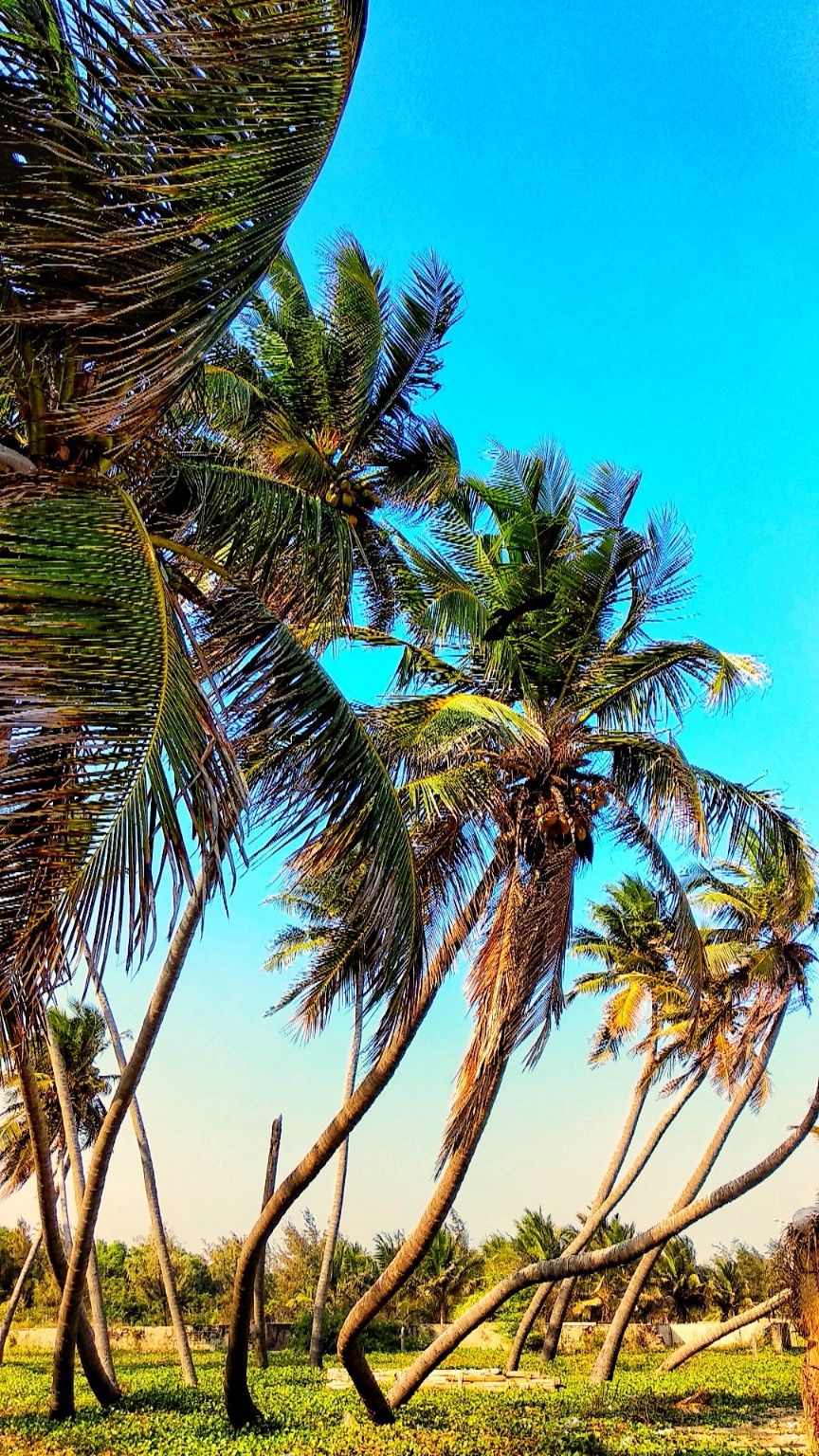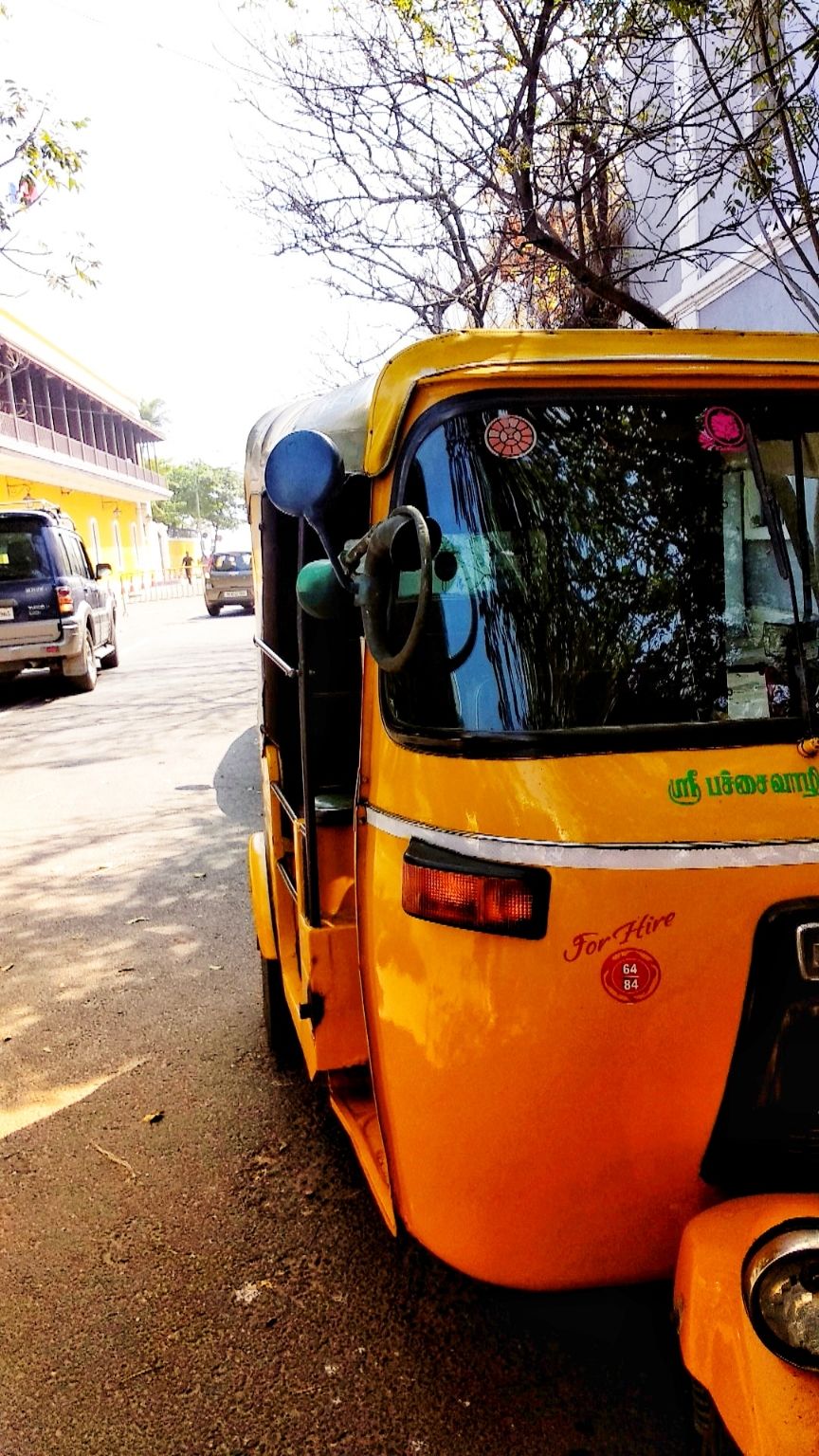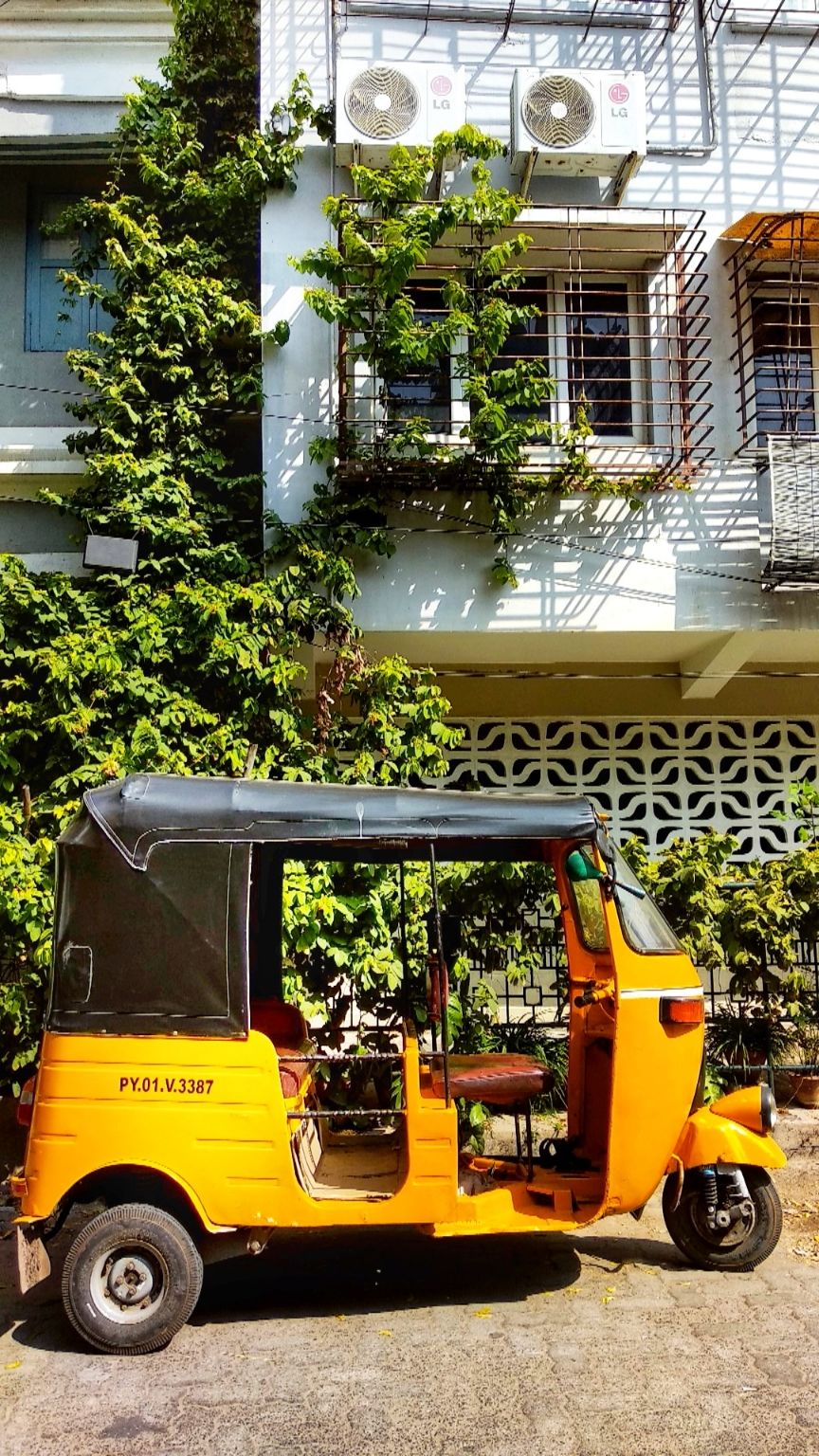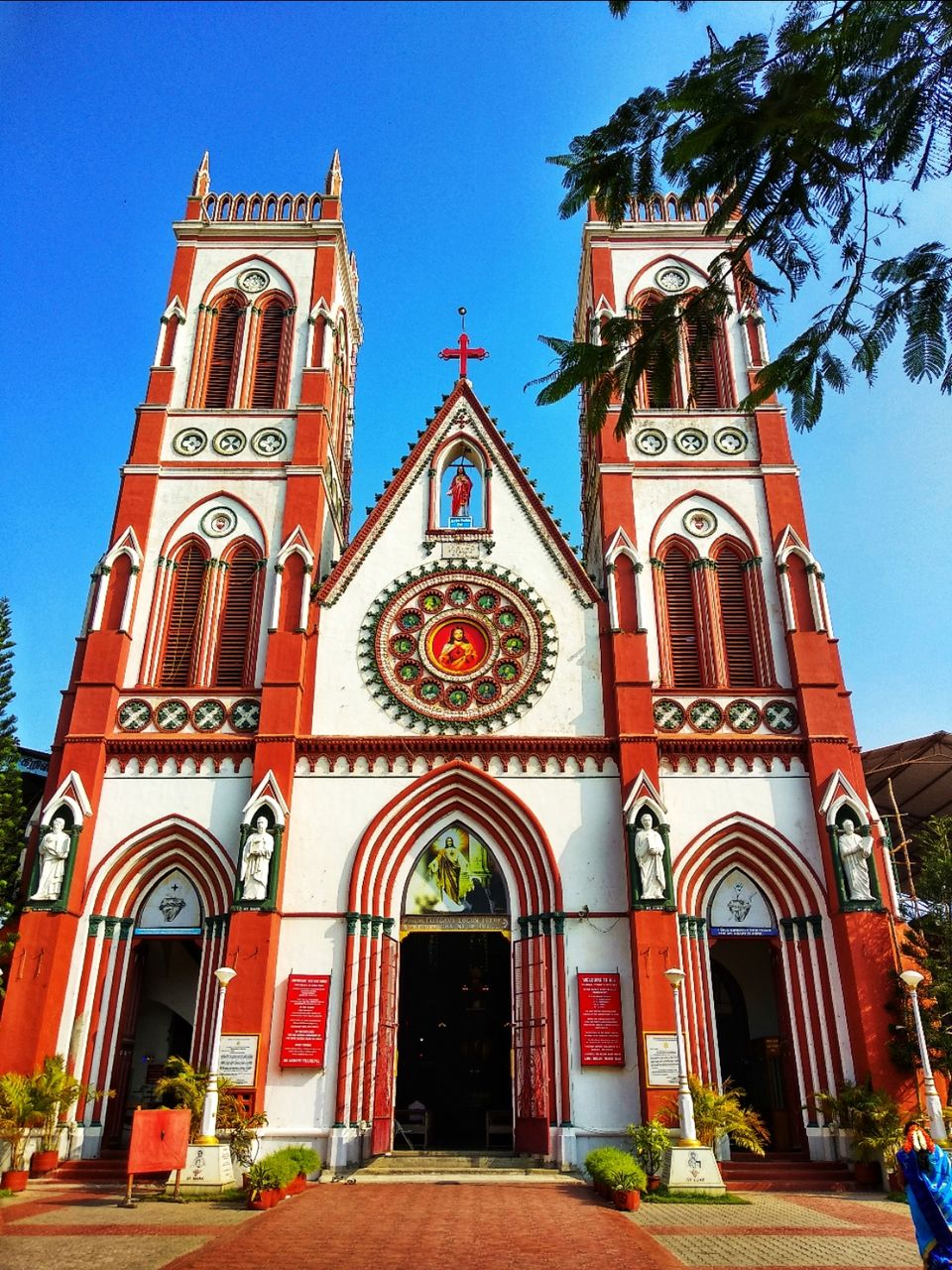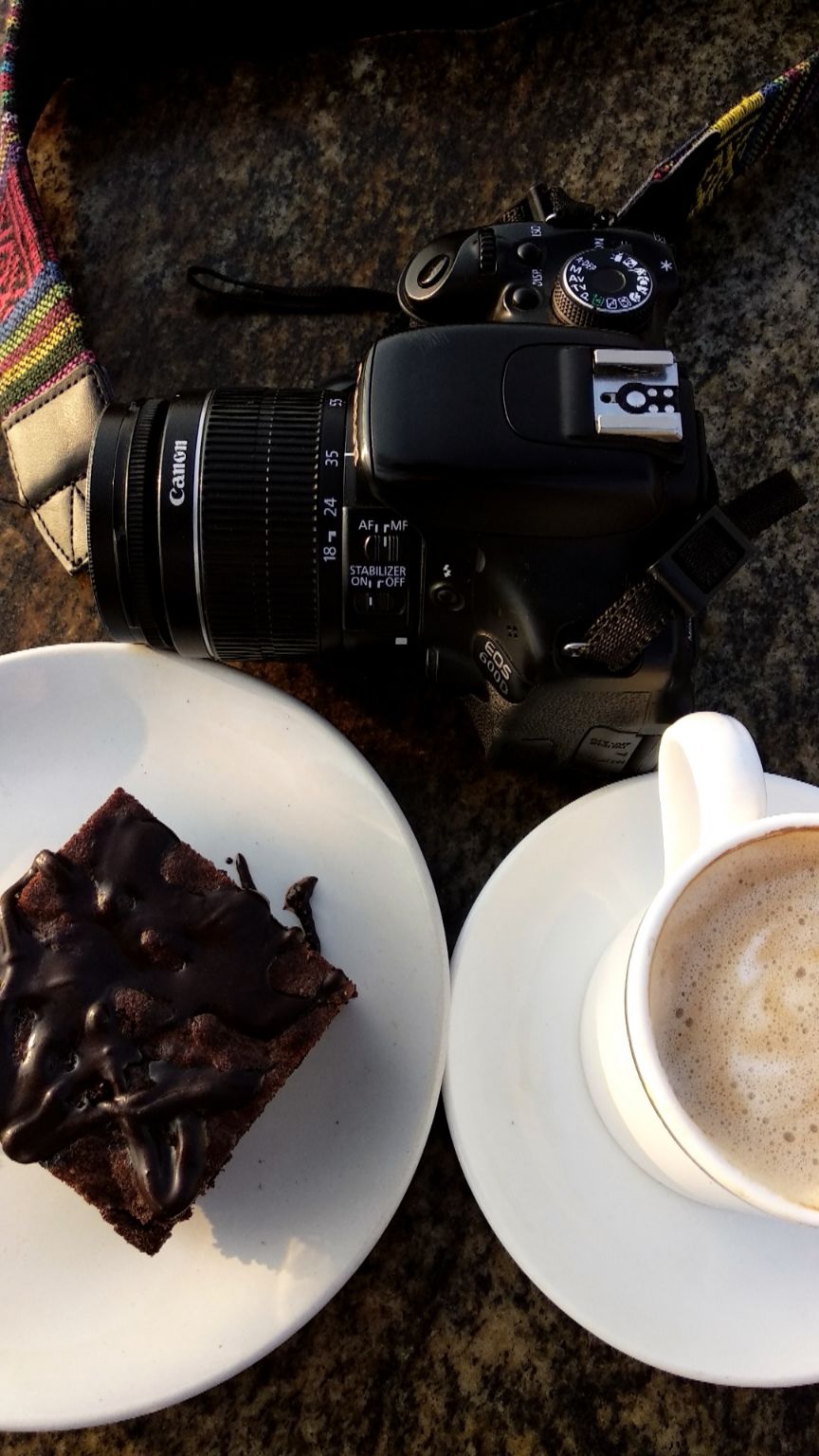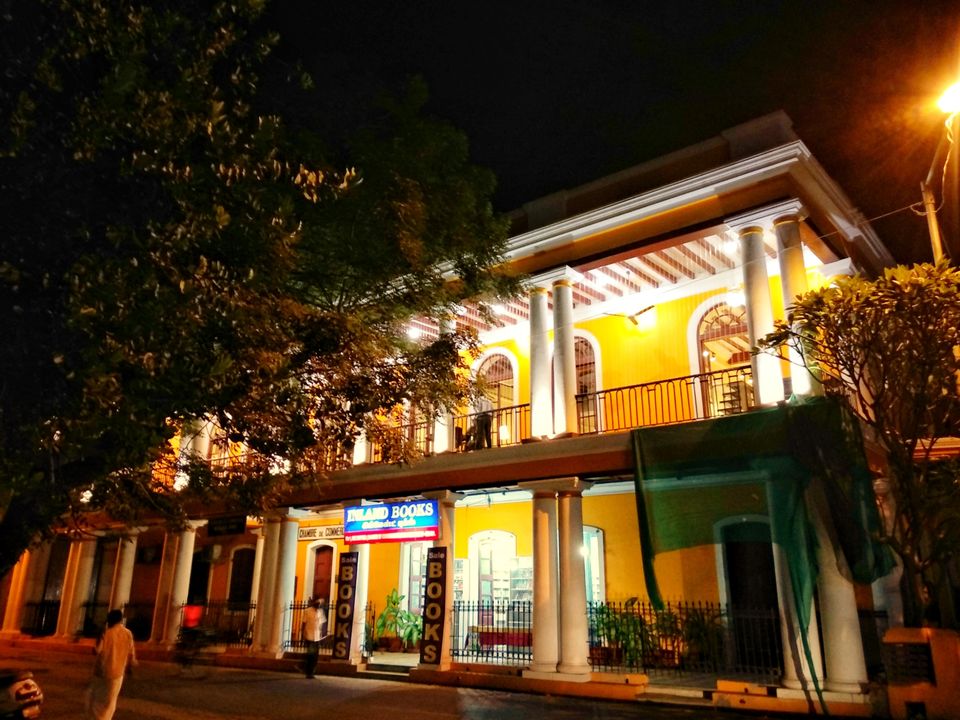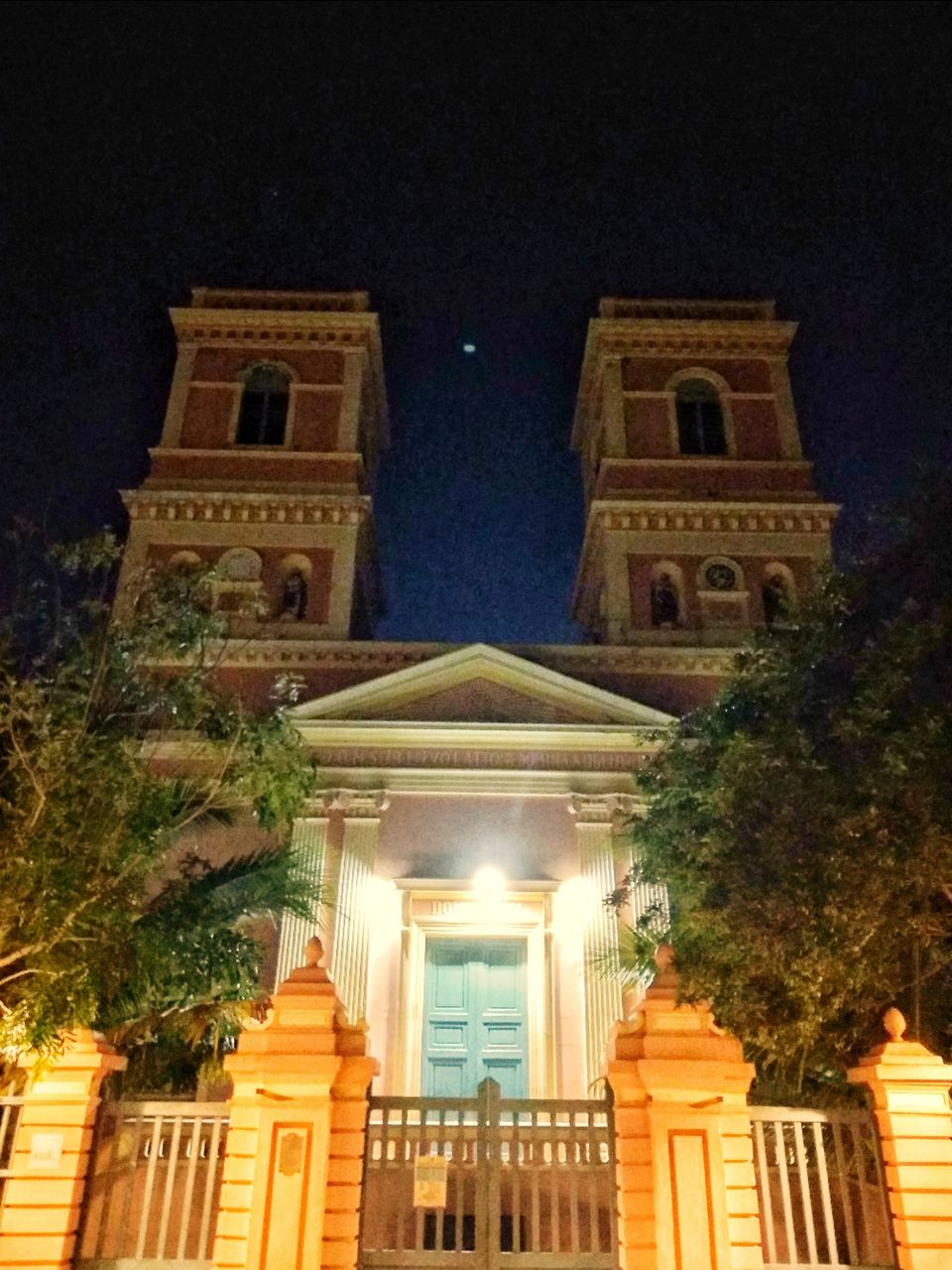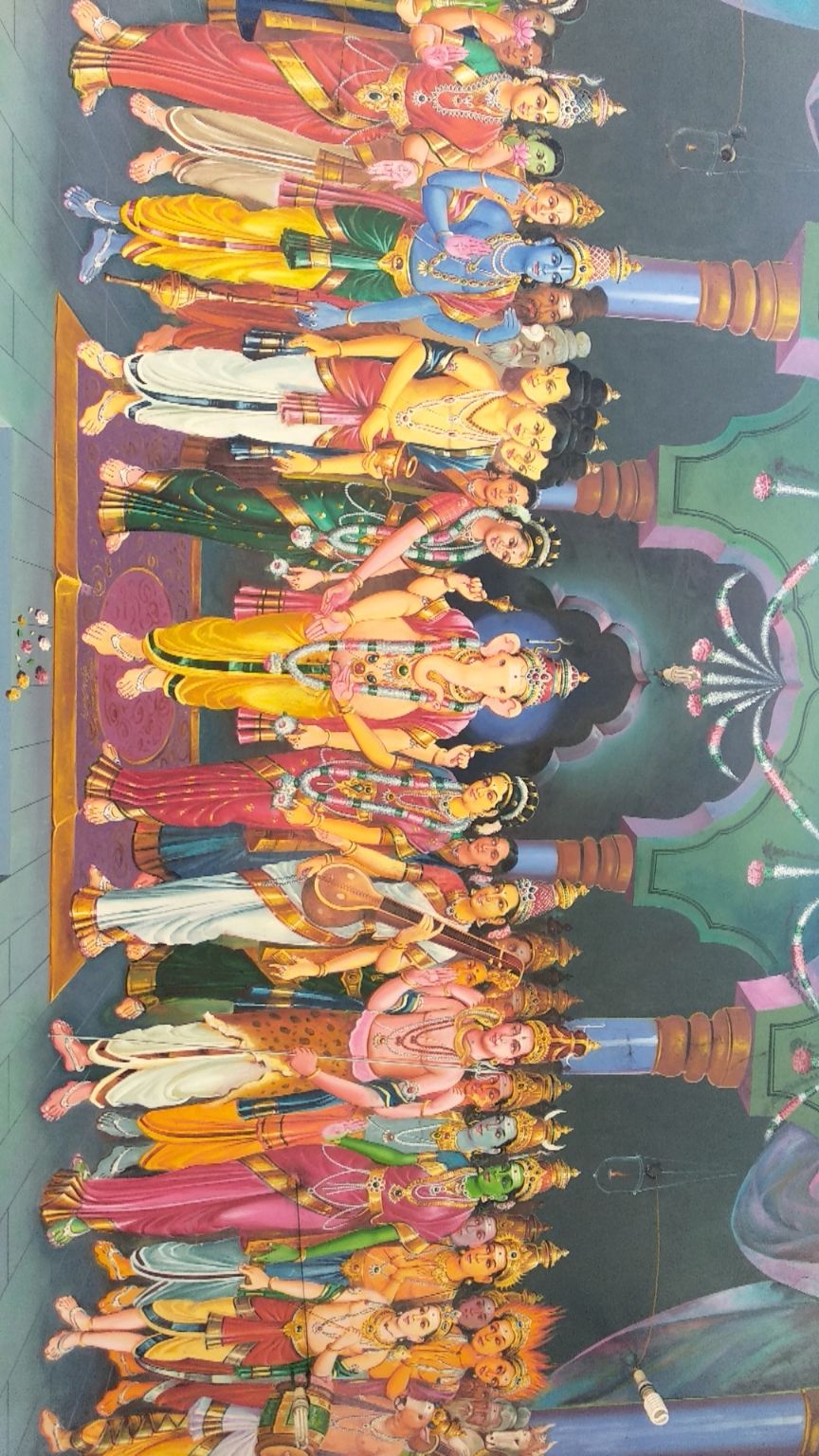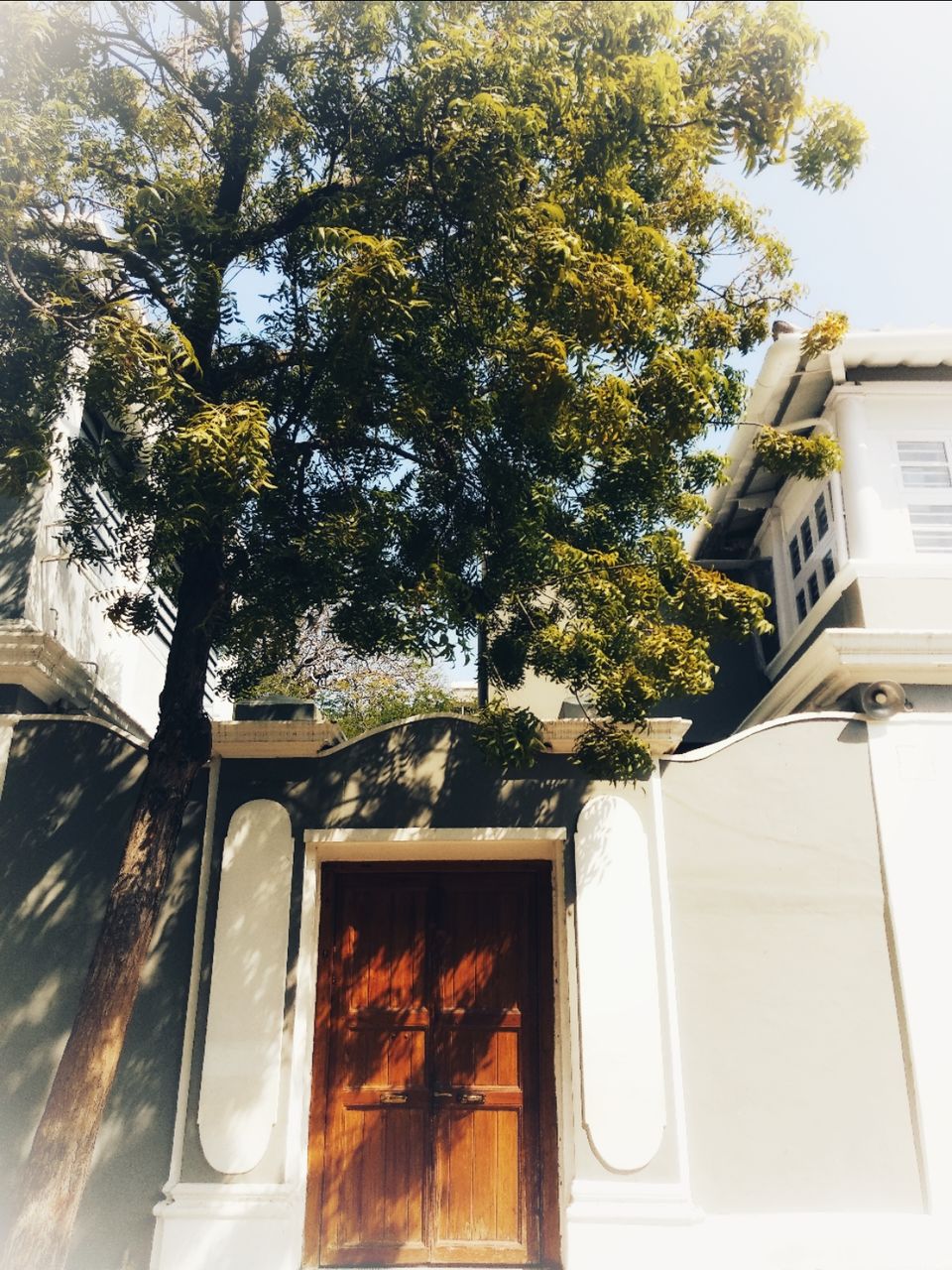 Frequent searches leading to this page:-
pondicherry food, pondicherry aurobindo ashram, pondicherry local travel guide, pondicherry family package from banglore