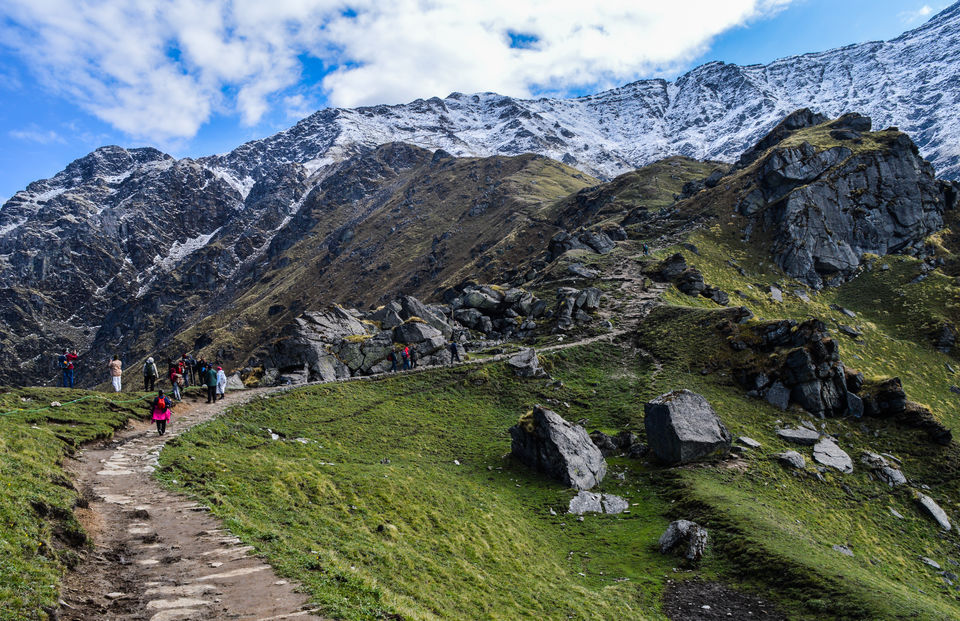 This is the part where I would normally tell you how I made the journey from Coimbatore, Tamil Nadu to Gwaldam, Uttarakhand roughly 2778 kms, stretching across 8 different states!!
But I am not.
I am going to tell you why I do it. Every year. Without a second thought. With no regrets about missed opportunities!!
The first time I tasted the fresh air and the freedom of The Himalayas, I have been hooked onto it. The majestic landscapes, the raw beauty and the sheer power of the mountains makes you wanna test yourself and make you go to that extreme, where you just have to pack up and leave regardless of the work that seems to hold everyone down these days. Everyone forgets that it is for these kind of days and experiences that we literally work our asses off (excuse the expression). I work for travelling and have amazing food everywhere I go! That's what keeps me going!! And that's all anyone needs, a reason, no matter how small or incomprehensible to others,if it makes you happy, you should do it! Imagine waking up to the sounds of the stream, the birds chirping and the mild breeze grazing your hair while you get out for a hot cup of tea!! Just like the movies, except this is freaking real!!!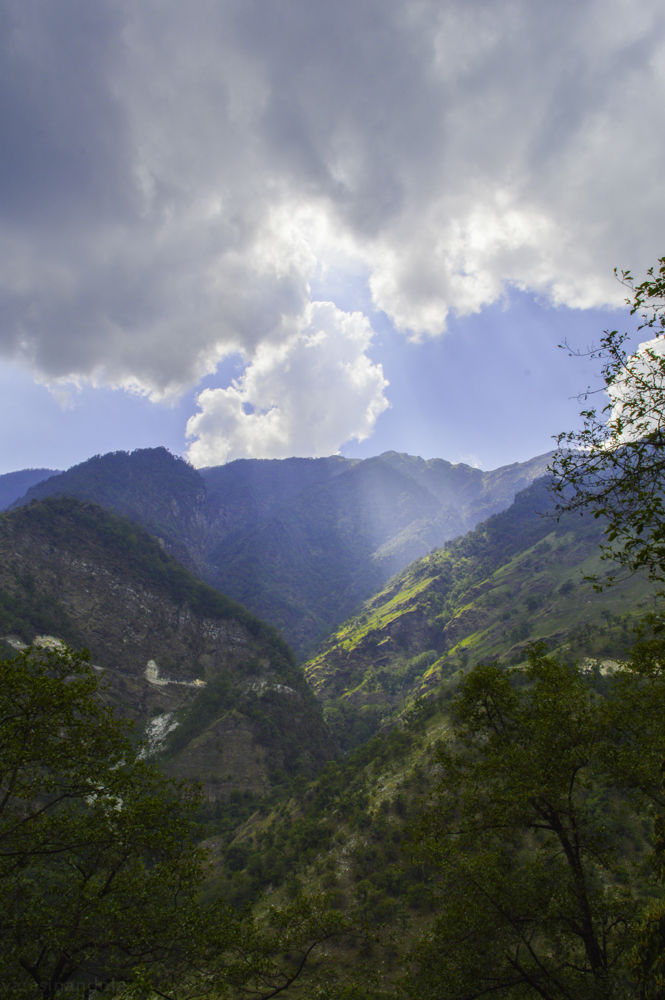 Now that is out of the way!! Lets go to Bedini!!
From the mistakes I learnt after I completed my first Himalayan trek to Sarpass, I took a flight to Delhi and caught an overnight train to Kathgodam. I met up with Sanju sir and his friends whom I had met in Sarpass, and who would continue to be my travelling companions for the rest of the trek.
From the railway station to the base camp was a 6 hour drive in the zig-zag roads just about passing by Nainital on the way!
The base camp is set in Gwaldham. Just like any other YHAI base camp, the chosen location for the trek is always strategically situated to cause the new traveler just enough trouble to get there!! For the rest of us, its just a matter of "Where" rather than "How".
The best part about YHAI treks is, it is pocket friendly, the best veg food you can find, and surprisingly it gets better as we ascend towards the higher camps. The crowd is always mixed, with newbies a plenty and experience to back it up, making it the perfect travelling group!!
The first 3 days of a YHAI treks are mechanical no matter where you go!
Day 1, Gwaldam, : You Check-In
Day 2, Gwaldam: Acclimatization walk to a nearby hill
Day 3, Gwaldam: Rock climbing and rappelling training
We were greeted with hails showering right on our faces!! Painful as it was, we enjoyed the brief stint under the protection of a poncho!
Once the YHAI acclimatization program was compete, off we went to higher camps!!
Day 4, Didna Village:
The trek to Didna village was easy. It was a 2 hour jeep ride to Kulling, where we were dropped off and had a 4 hour walk to the base camp in Didna village. We went through the village and cut across a water stream to make our way up to Didna, where we were accommodated in a house rented out by YHAI.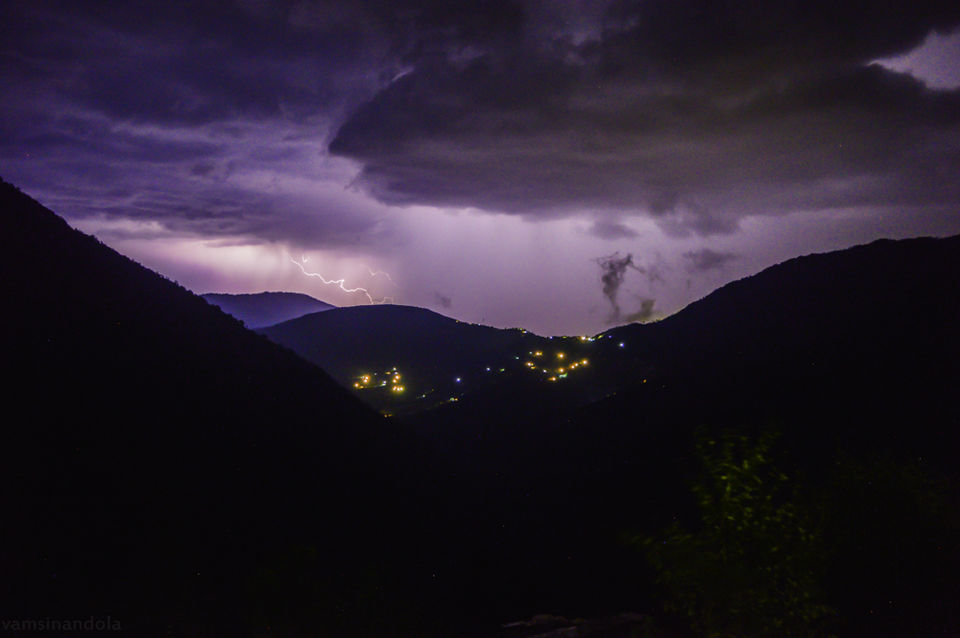 It was a cramped situation, but since our group was still getting to know each other, people didn't mind that much. Except for the fragrance from the accumulated socks industry we managed to put up in the room!!
Day 5, Bedini Bugyal:
This is one of those walks that you never ever forget!! We had no idea how this day was gonna turn out to be when we left from Didna village after getting our lunches packed. The thing about Himalayas is, it creates its own weather as and when it likes. The day started off with its usual moody climate pondering between rains and sunshine. By the time we were clear of the tree ranges,we stumbled upon this vast space of just green grass and not a tree in sight!! It was like walking through your windows desktop wallpaper!! It was the first time I was looking at miles and miles of green land and was simply in awe of it!!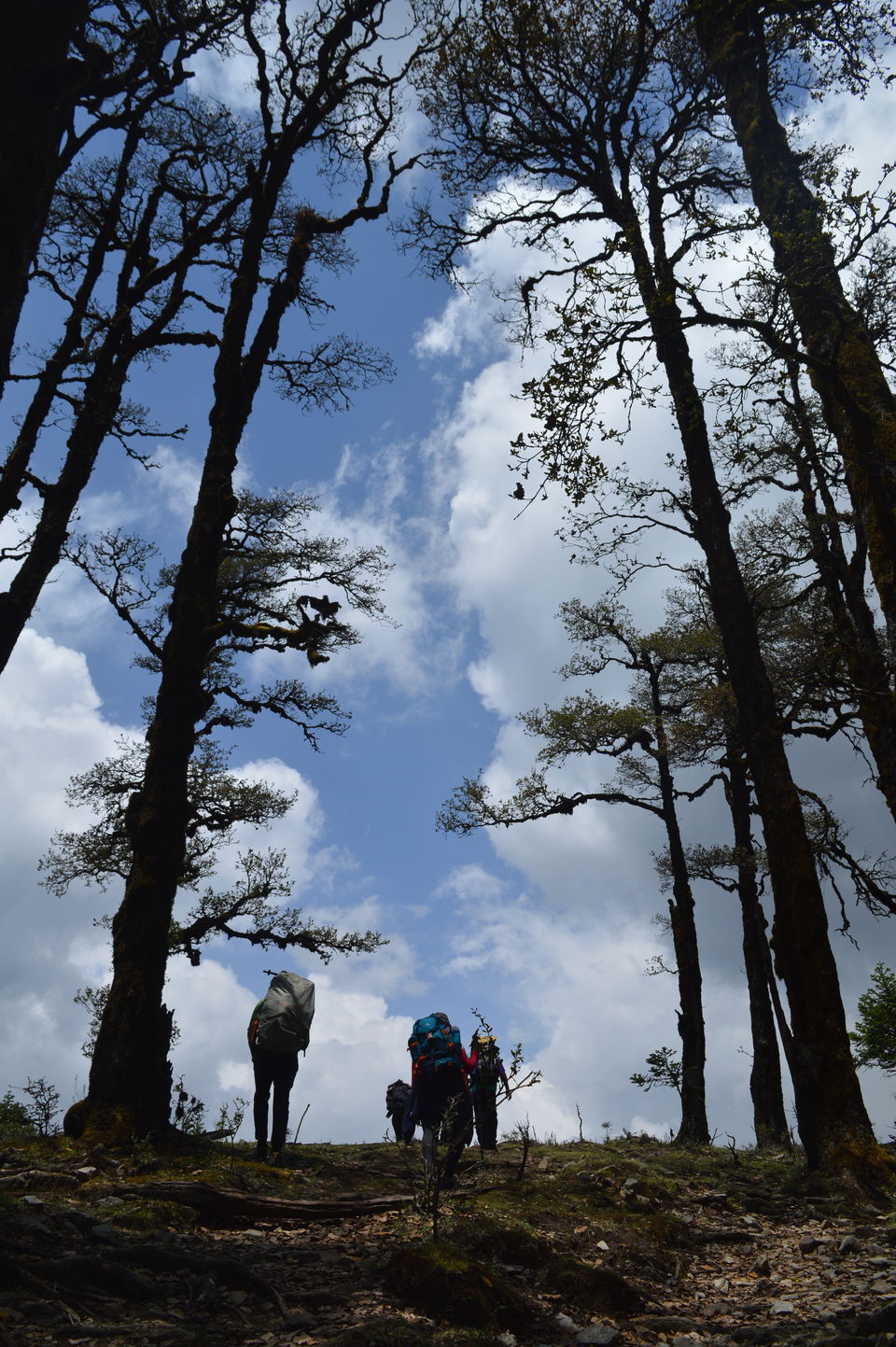 By the time we got done with our lunch, the climate became gloomy and in a matter of minutes and we knew it would be hell if we did not reach base camp on time, which was still about 8 kms away. This was the longest walk in the entire trek! A total of 12kms had to be covered in a day going via Ali Bugyal. The moment our backpacks was on our shoulders after lunch, it started raining. And this was not the regular city rain which increases gradually, this was a full fledged showers of hell raining down upon you and a high pitched laughter in the background from Satan. He must have had fun looking at us falling on our asses and tripping over each other.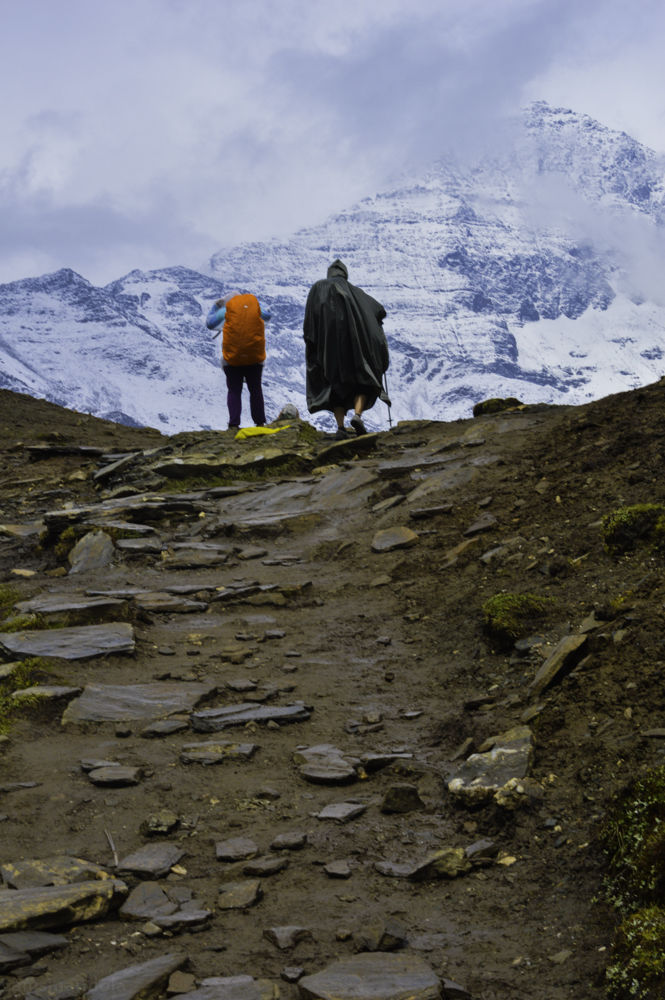 It rained and it rained like there was no tomorrow. We were stuck between the fragile shelter of our ponchos and the hails hitting us wherever there was a chink in the poncho armor. We walked for what felt like an eternity and saw a campsite in the horizon which gave us a glimmer of hope to end this painful torture of having stones pelted nonstop at you from the heavens.
When we reached that campsite, to our horror, we ended up in a different campsite in Ali Bugyal, which was run by another private outfit. Our destination being Bedini Bugyal, we were told our campsite was another 4 kms away!! I felt like giving up and just snuggling along in one of their tents! But out in the wild, there is no concept of pity or mercy from nature. You can expect that from human beings!! We were offered shelter till it stopped raining and we had to make a decision as time was slipping out along with daylight and still 4 kms to cover after it stopped raining.
If it did stop raining that is!! We took a call and made a run for it to the YHAI base camp. We had to risk walking in the dark forever vs walking in the cold. I chose the cold over certain death!! Every hail stone that hit me in the face took away what little energy I had in me to make an effort to avoid them. Throughout the entire walk this morning, I had my head down and looking just at the ground while walking for 6 hours and felt demotivated with every step.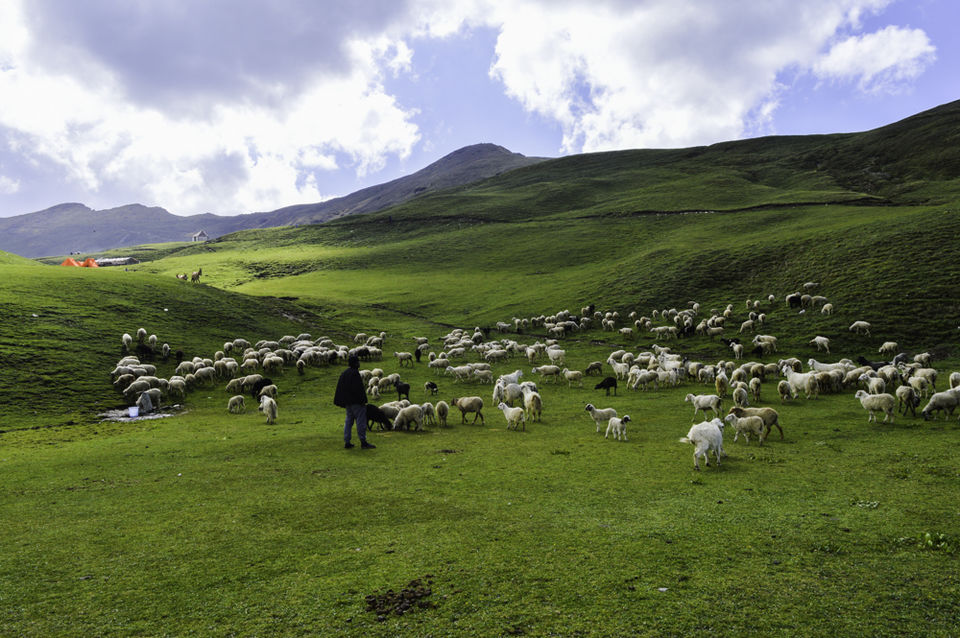 This time I took some courage to brave the pain from the nonstop hailstones and looked around me. I remember thinking, "This is heaven!!". And the hailstorm on my face was totally worth it. It was just acres and acres of huge, intimidating green colored mountains, which made your soul happy and warm. I got the inspiration I was looking for, which was washed away by the rains earlier. The scenery around me was so fascinating, it almost felt like a dream, but it was not. The pain was real, so was this beautiful landscape around me!! I was in love with it all over again.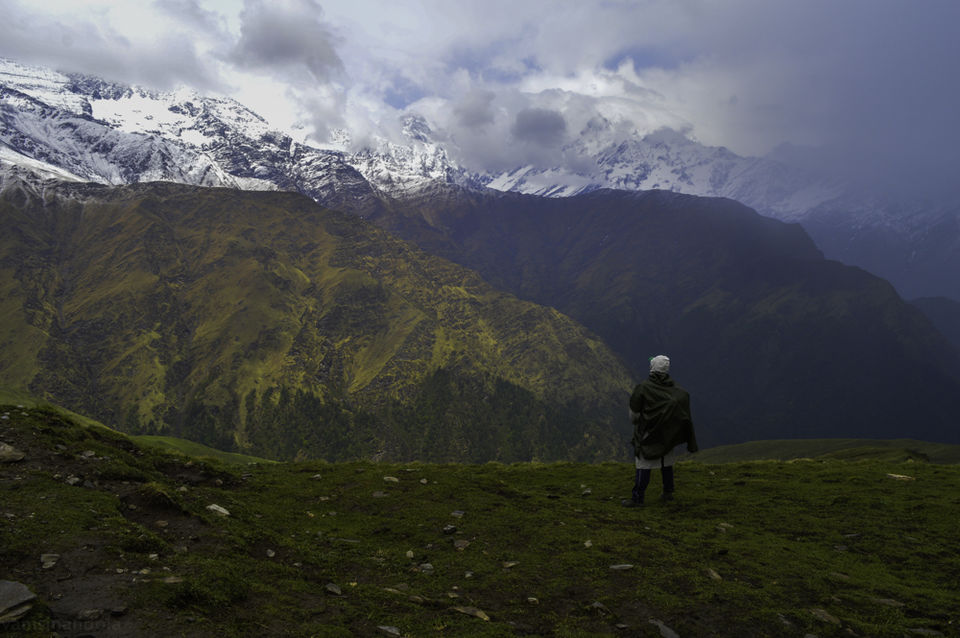 This gave me the energy I needed to get to the base camp. The rest of the walk was just a daze for me, I just kept looking at the landscape and kept my concentration of taking just another step closer to our retribution. The cause for all this confusion was because the bloody YHAI guide ran ahead leaving us behind and no idea which way to go.
Somehow beaten and bruised we made it safely to the base camp, our hands literally frozen and immobile.Once back at the camp, the ones who had already reached ahead of us helped me and the others out in getting dry and warm quickly by covering us in blankets and getting us hot soup as well.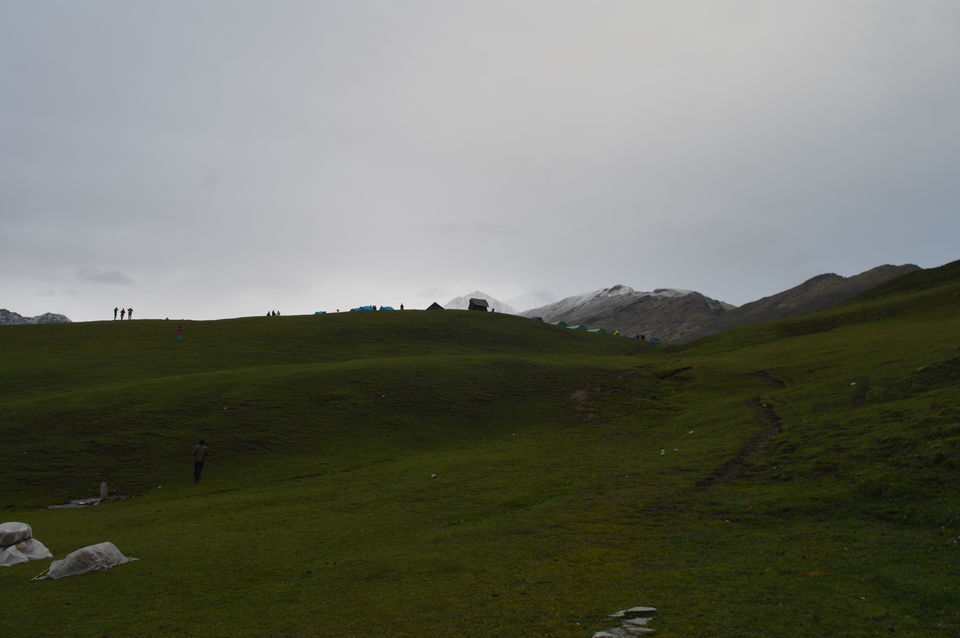 Once dry and ready to explore again, i came out to the calm breeze after a rain and the fresh breath of air felt reliving after the journey we just had. I remember thinking that all that pain was certainly worth it!!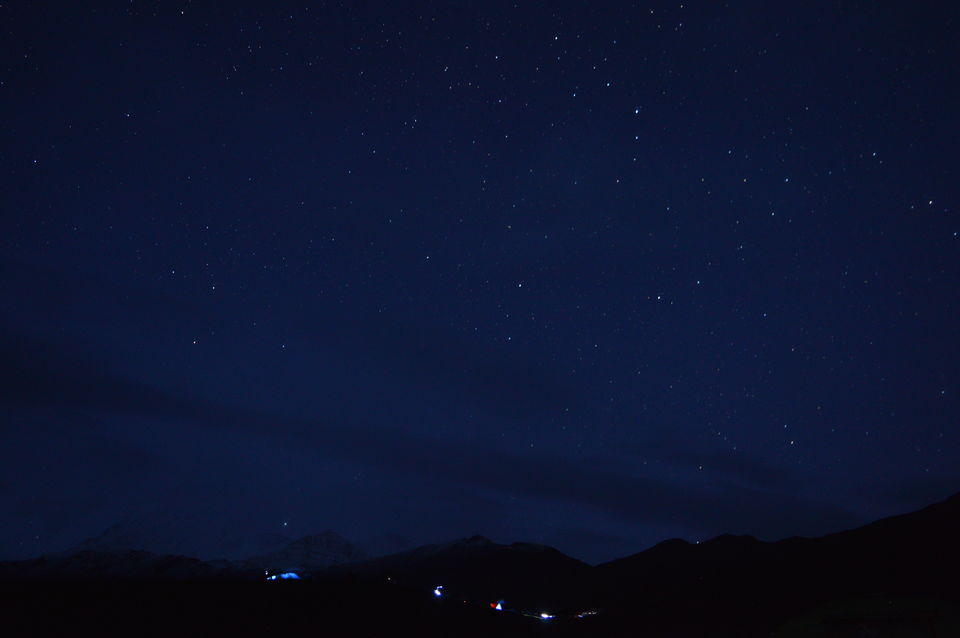 The night in Bedini was a pleasant one, with hot food, star gazing and Pink Floyd to go along!!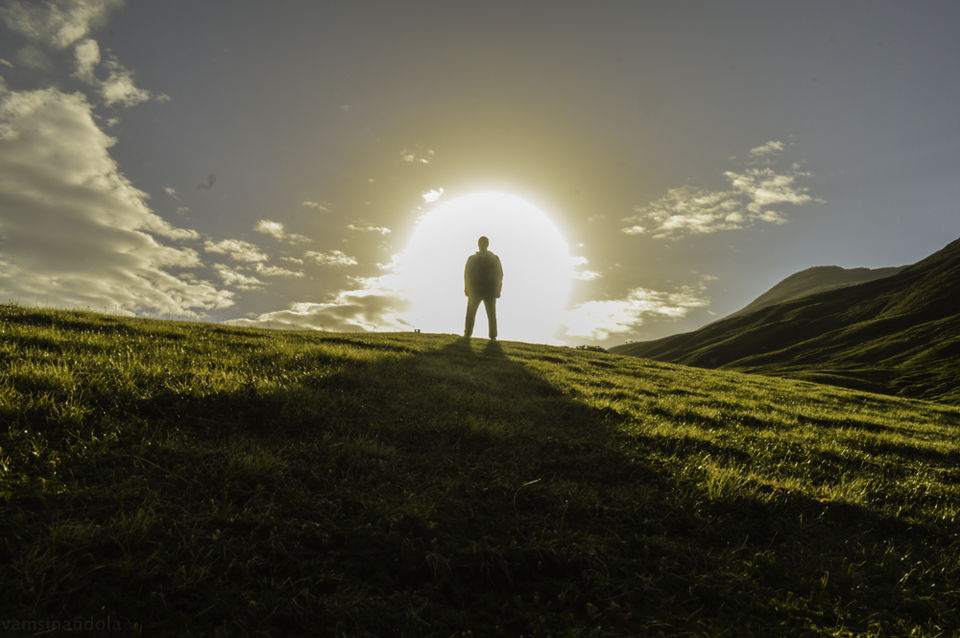 Day 6, Pathar Nachuni:
The name Pathar Nachuni means Dancing rocks. It is said that at times when the wind blows, it blows with such ferocity that the rocks tumble and shiver making it look like dancing stones.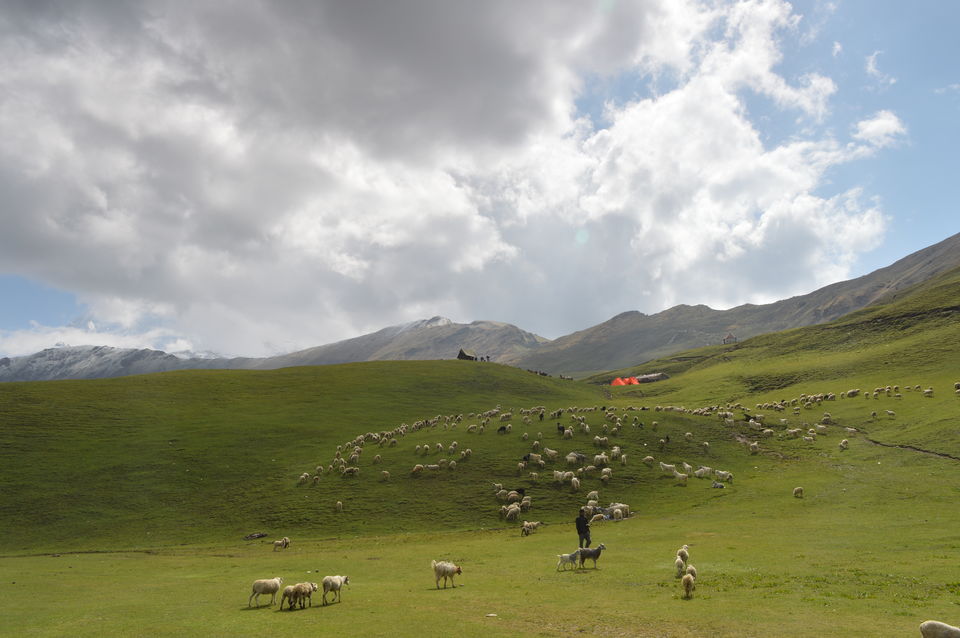 This was the highest camp for this trek route. This was one of the most scenic walks for this entire trek provided the climate is kind on you. Today, it was very kind on us. It was a bright sunny day with just enough breeze to not make it hot enough. We were walking through the side ridges of the Trishul mountains cutting right through them towards Roopkund valley.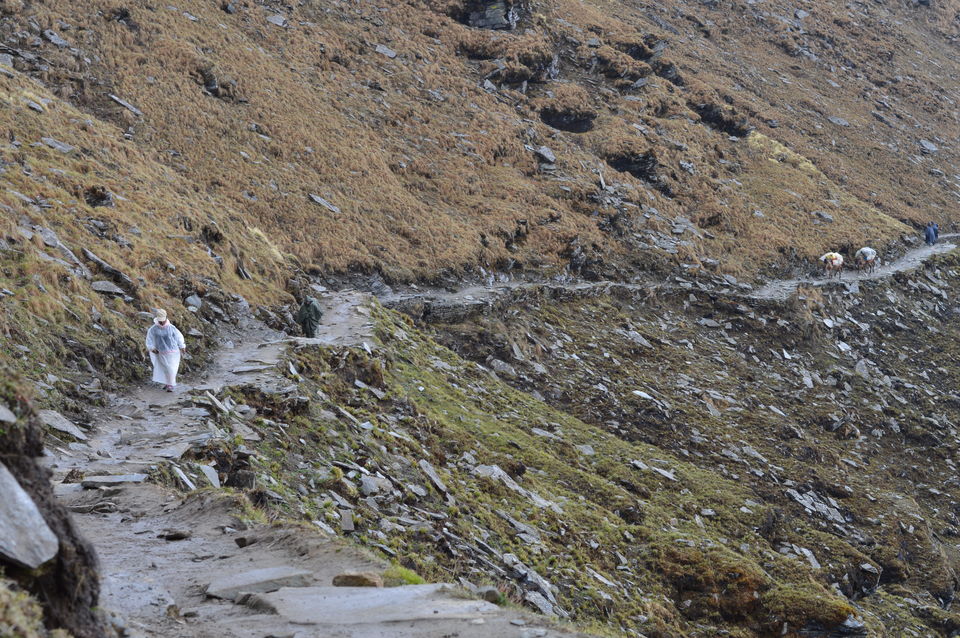 This was a short walk and not that eventful. All of us made it safely and on time as well.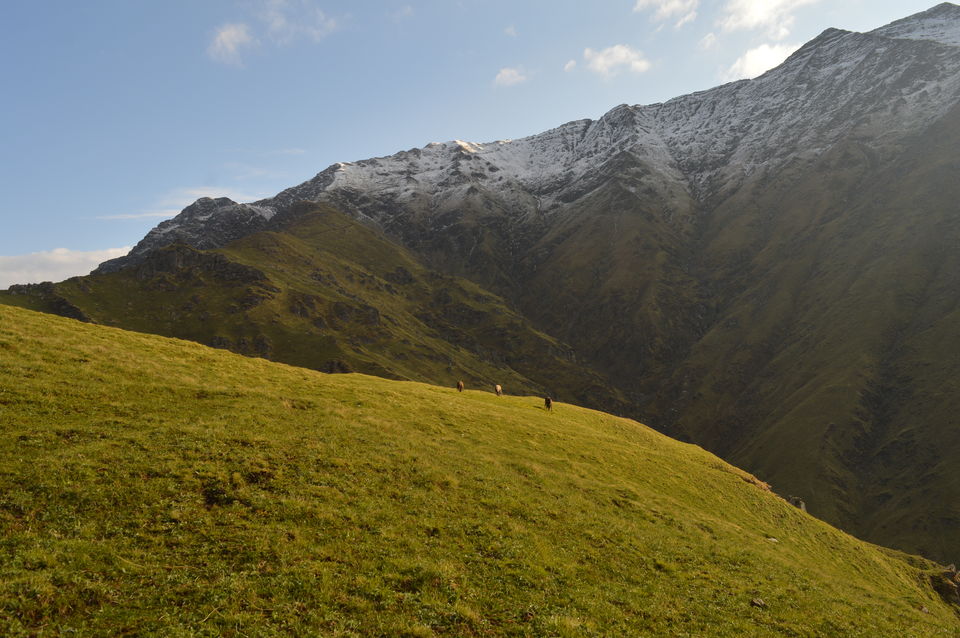 Once safe and settled in the base camp, everybody wanted were out
of their tents and doing what they do best, Chit chat, cricket, photography, tripping scenes!!
Day 7, Summit day to Kalu Vinayak and back
The summit day was a straight forward affair. We had to hit the summit and get back to Pathar Nachuni camp before dark. We could see the summit point from our camps and our route was also visible so we were mentally prepared for a grueling, slippery climb and the worst part was getting back to base camp in the molten snow terrains.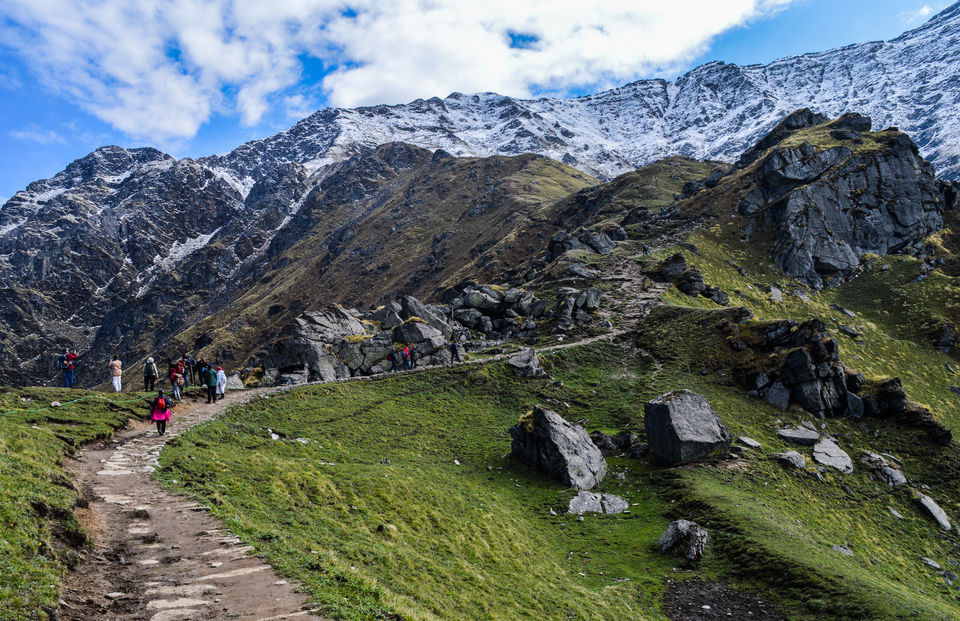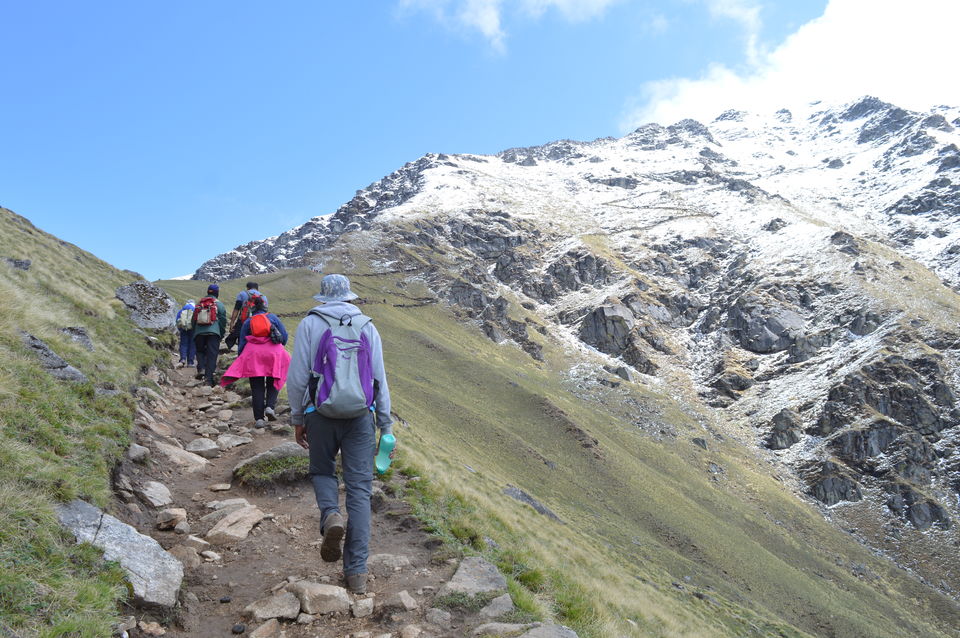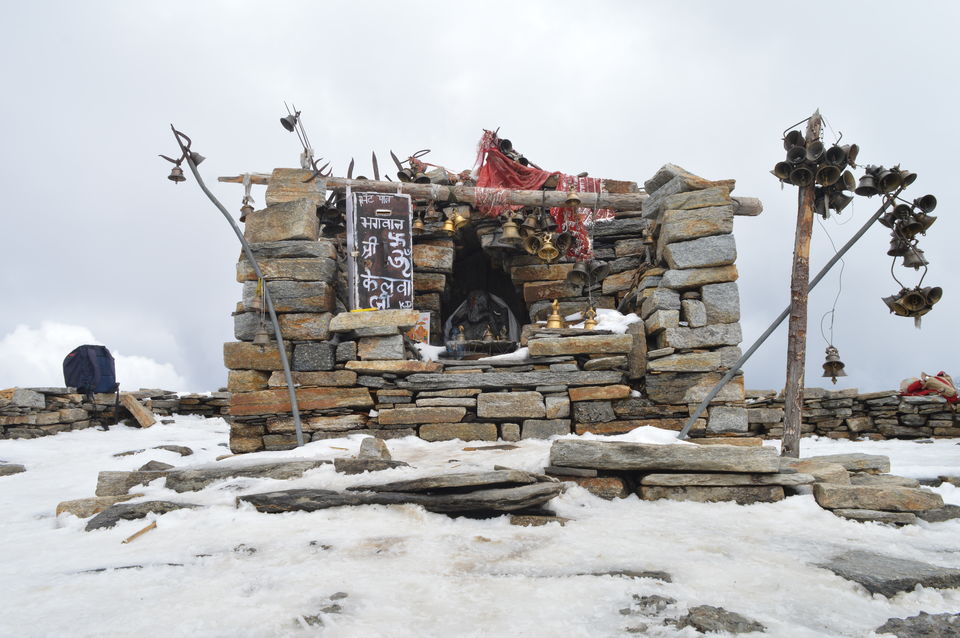 The rest of the trek was fun and uneventful except for the time someone slips on their asses all the way to the base camp.
We had the privilege of having hot tea and pakodas in a snow storm, which was the highlight of this entire trek.
Would I do it again?
Yes!! I will.
You should try it too!!
P.S. ALL IMAGES AND VIDEOS ARE COPYRIGHTED.