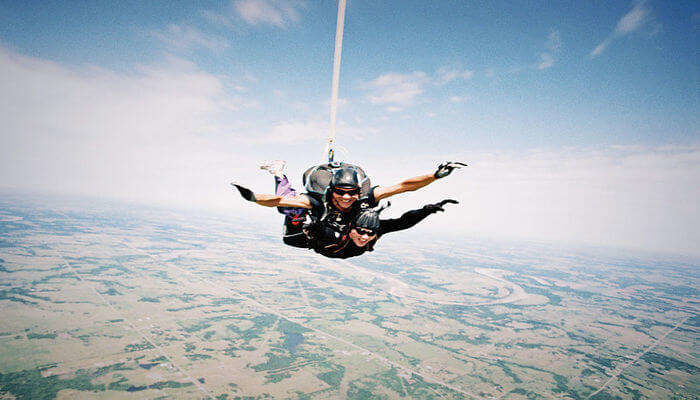 Hey! Do you feel you were born to fly in the sky? Do you want to experience the wind of the sky and the beautiful look of nature? Then this blog is for you.
Here I provide you with some details of the best place in India for a sky drive.
It is among the best destinations for skydiving in India that offers all three kinds of jumps. The Sports Authority of Gujarat and Indian Parachuting Federation hosts several skydiving camps here. You'll surely be treated to some surreal views from up there owing to the gorgeous landscapes in this city.
Cost:
Static Line Jumps – INR 16,500
Tandem Jumps – INR 33,500
AFF – INR 37,500
Timings: 7 AM
Himachal Pradesh is one of the best spots to try skydiving in India. Bir Billing is considered as a great place to give adventure sports a try, including skydiving. The views of lush greens and the rugged mountains from up high in the sky is something that one tends to never forget.
Timings: 7 AM to 6 PM
Suggestions:
Practice tandem skydiving before you go for free fall.
Nestled at the base of the Chamundi Hills is one of the best places to have the ultimate skydiving experiences in India. Make sure you familiarise yourself with all the details regarding skydiving in Mysore before you undertake this feat.
Cost:
Tandem – INR 35,000 (3 hours)
Accelerated Free Fall – INR 2,50,00 (5-7 days, 10 jumps)
Timings: 7 AM to 9 AM
Suggestions:
One full day of ground-training is required to carry out your first solo parachute jump from 4,000ft.
One of the most beautiful towns in the country, enjoy the spectacular landscape here as you free fall from the sky. The camps here offer static line and tandem jumps.
Cost:
Static Jumps – INR 18,000 (1 jump) to 62,000 (5 jumps)
Tandem Jump – INR 27,000
Timings: 7 AM or 9 AM
Suggestions:
Carry comfortable and loose clothes and Sports shoes
Haryana also offers an enthralling skydiving experience at the Bachhod Airstrip located in Narnaul.
Cost:
Static Line Jumps – INR 18,500
Tandem Jumps – INR 27500
Timings: 10 AM to 1 PM (Morning slot) & 2 PM to 5 PM (Afternoon slot)
• Important Note :
1) Make sure you confirm the prices online before you proceed with the bookings.
2) Always take prior training, even in a tandem jump.
3) Check your gear quality and durability properly before you make the jump.
4) Check the authentic skydiving cost in India before you book online or through an agent.
5) Don't have alcohol before going for a dive
6) Check the weight limit and other guidelines
7) Don't panic about your breathing
I just hope all these details help you to plan a trip to you're favourite Indian destination and indulge in one of the most thrilling and exciting air adventures. Fly like a bird and explore the skies.
All above the information is the based on internet. Think we missed out on something? Tell us about it in the comments below.
Follow me on Tripoto for more travel stories!
Thank you. Stay safe and have fun.