As I wait for driver to fill the register at the entrance of Binsar Sanctuary, my mind drifts to the memory of last time I was at same spot couple of years ago. Back then we were a group of five, traveling in a van hired from Kathgodam. This time, I am by myself. I hitched a ride in a newspaper-van from Kathgodam till Almora, then spent half an hour looking for someone willing to go to Binsar. Finally this jeep driver agreed. Last trip was in July, at the peak of monsoon season, and fog and clouds had stayed with us throughout the trip. Though we were awed by beauty surrounding Binsar - the riot of green everywhere, moss growing on tree trunks, sometimes even on the road - we were disappointed that view of snow-capped Himalayas had eluded us. Which is why I'm here for second trip, in November. Jeep driver returns and we start the ascent towards Binsar, picking and dropping locals along the way. Jeep struggles on some sharp up-turns, and once in a while he grins while shifting gears. Mountains!
Occasionally sunlight filters through the dense foliage and once in a while there is brief glimpse of a snow-clad peak. My destination is KMVN (Kumaon Mandal Vikas Nigam) guest house almost at the top of the hill. Pandey ji is still the caretaker and he remembers me from the last time. Guest house is mostly vacant this time of the year. I dump backpack in the room, order tea, and head to the backside lawns of the guest house.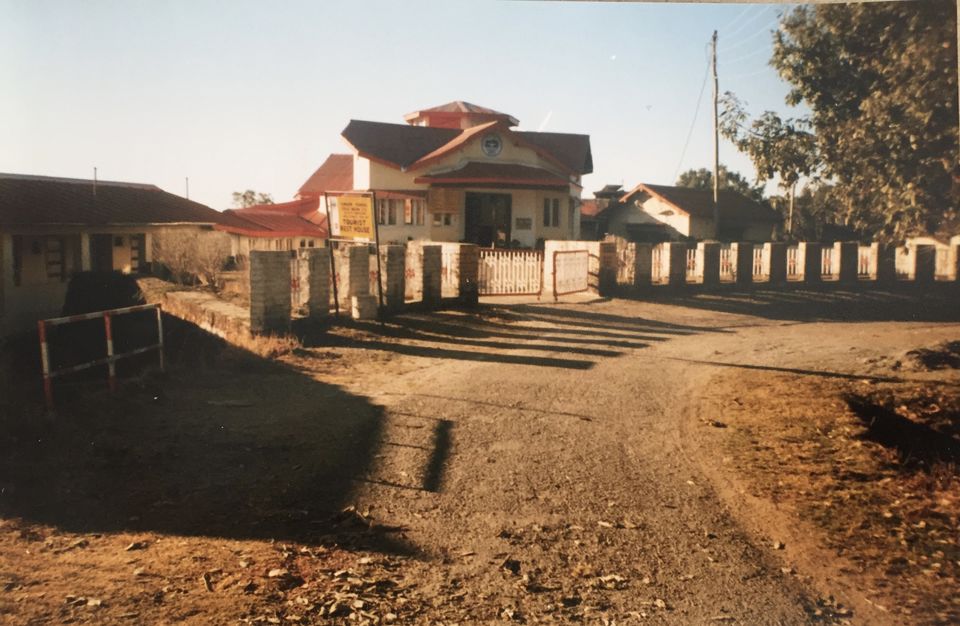 Some moments are destined to stay forever in memory. This is one of them. In front of me are the peaks of greater Himalayan range - Chaukambha, Nanda Devi, Nanda Kot, Panchachuli, extending all the way to Machapuchare in Nepal. The mountains appear so majestic, so still, so eternal, and so indifferent to humanity and its dramas, that it almost moves me to tears. I am reminded of a quote from Peter Matthiessen's book 'The Snow Leopard' -
"Snow mountains, more than sea or sky, serve as a mirror to one's true being, utterly still, utterly clear, a void, an Emptiness without life or sound that carries in itself all life, all sound"
After tea, I freshen up and head to the so called zero-point, which is located at altitude of around 2400 m, highest in Binsar sanctuary. The walk from rest house to zero-point, around 2 kms, is slightly eerie, as there is complete lack of sound throughout the path. Not even birds chirping. And with stories of leopards in the jungle, I'm tempted to turn back once in while. But the walk is worth it, as the view from zero-point is, to fall back on cliches, breathtaking. The mountains appear much closer here, as if one can almost extend hands and touch them. What is about mountains that draws us to them, again and again? We come perhaps to be awed, to be humbled, and as the quote above alludes to, maybe because something at our core, beyond our personalities, resonates with these snow-capped peaks, stillness and wide-open spaces.
After a while, I head back to the guest-house. The plan for the day, or rather next two days is set. Grab a chair and sit facing the mountains, drink tea, watch the play of sunlight on snow capped peaks, read, brood, drink some more tea. Walk again till zero point. Rinse and repeat. There is no urgency to do any 'sight seeing' or check items of 'a tourist's guide to things to do' list. All that one needs to see and do is right here. Remoteness of Binsar, coupled with lack of typical tourist traps, makes it an ideal location for seekers of solitude and nature in its purity.
And so that's how I spend my vacation in Binsar. A real vacation. Binsar remains one of my absolute favorite places in Himalayas, and I hope to return sometime soon.
PS - This trip happened long time back, in (now what seems like) a previous life. But the impressions left by Binsar are still as fresh as if I was there yesterday. As can be seen, these pics are from the pre smart-phone era. Another reminder that I really need to revisit.