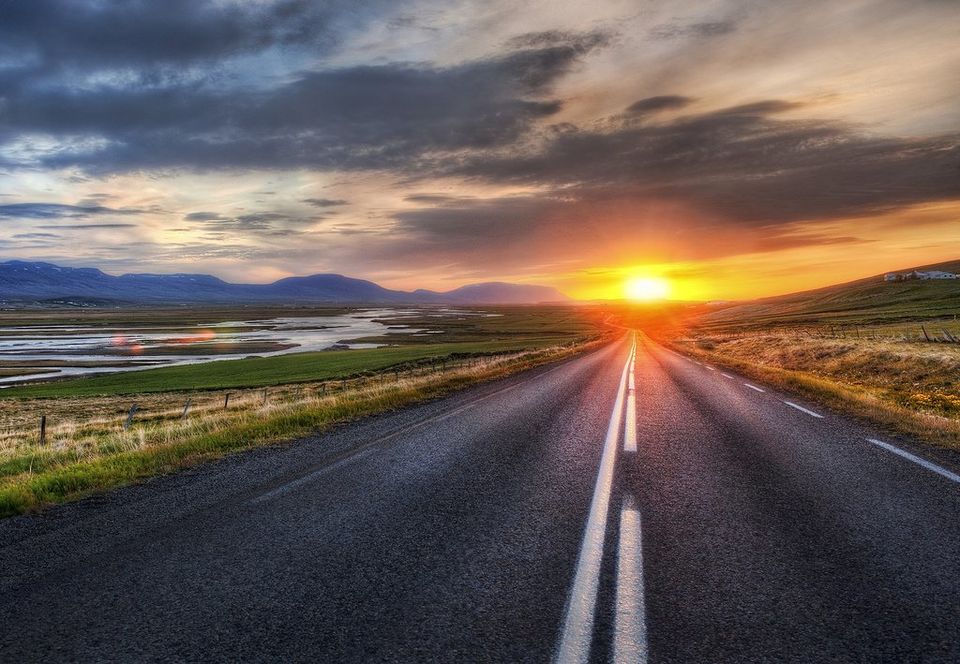 Road Trips are the best way to explore the unknown with in you and outside in the beautiful world. Not only it allows you to customize your itinerary the way you want but also give you complete freedom to visit hidden less popular places. India is a big country and to travel by road on one go you will need a lot of holidays and energy. To keep it less hectic and doable for a normal 8 to 6 guy, let me put 10 road trips which will help you to know your country in all manners. These also are definitely very long road trips but you can always select one segment of one trip and cover remaining other segment in your next trip but at the end one thing you can trust upon that it will feed your hunger to travel for a long time as you can plan these trips with family friends or your special one.
1. Leh & Srinagar:
12-18 Days, 2500Km, May - Nov
Delhi – Jammu (1N) – Srinagar (3N) – Kargil (1N) – Ladakh (3N) – Manali (2N) – Delhi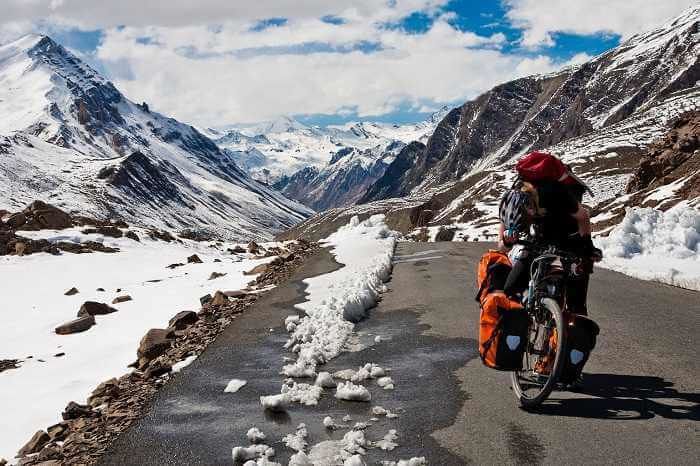 This circuit does not need any introduction. Leh is a dream destination for all road lovers. Traveling in between snowy peaks of himalaya on the highest motorable road is an experience in itself and it does exist in bucket list of each and every road trip enthusiast. You can always clip this circuit to Leh-Manali-Leh or Srinagar-Leh-Manali as most of the group bike tours are planned in this region only.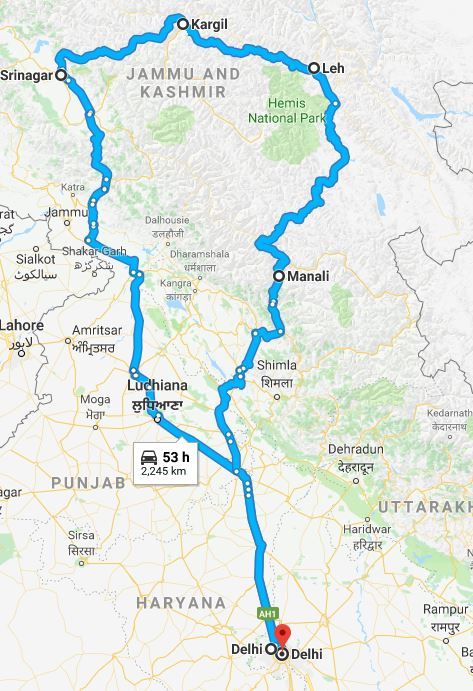 You can find tonnes of information available on internet for itinerary planning. Group bike tours are also available through tourist agencies which are safer and a good way to mingle with like minded people. A general notion is that his circuit is for adventure enthusiast only but if you are planning it with a family or child it is equally beautiful. However it is advised to have thorough knowledge of AMS and prefer to travel by SUV.
2. East Coast:
10 - 15 Days, 2000 Km, Nov - Feb
Chennai – Mahabalipuram (1N) – Pondicherry (2N) – Pichavaram -Rameshwaram (2N) – Kanyakumari (2N) – Munnar (2N) – Yelagiri (1N) - Chennai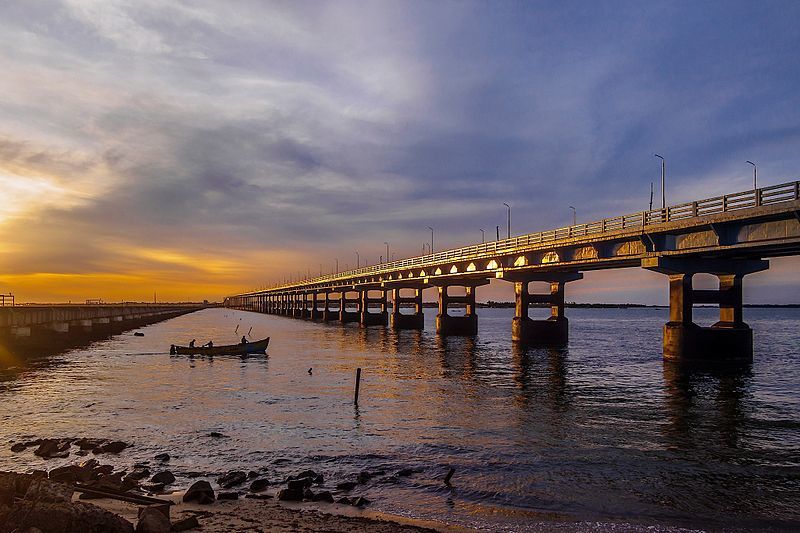 While watching Chennai Express, you must be secretly wishing to experience the journey of Shahrukh and Deepika. Here is your chance to drive on glorious Pamban Bridge over the sea. Road conditions are pretty good and all the enroute destinations are well known for its scenic beauty and unique culture in this circuit.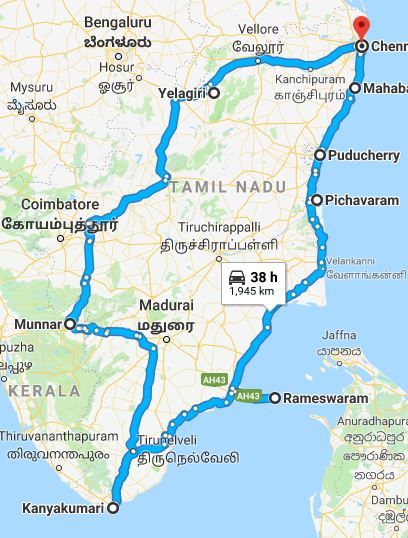 You will experience ancient tamil culture on this circuit. Your trip will start with Jaw dropping views of east coast road & ancient coastal town of Mahabalipuram and conclude at refreshing tea states of nilgiri hills in Munnar.
3. West Coast:
10 – 15 Days, 2500 Km, Nov-Feb
Agonda– Karwar - Gokarna(1N) – Udupi(1N) – Coorg(1N) – Wayanad(1N) – Alleppey(1N) – Kovalam(1N) – Kodaikanal(1N) - Ooty(2N) – Mysore – Chikmagalur (1) - Agonda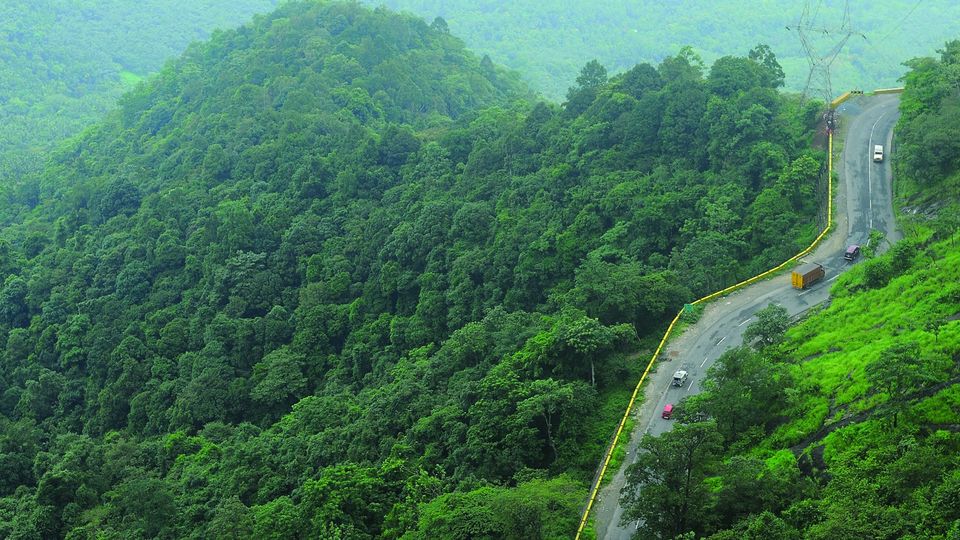 This circuit includes everything a traveller wishes for; Serene beaches of Gokarna, Udupi and Kovalam, breathtaking ghats, lakes and forests at Coorg, Wayanad, Backwaters of Alleppey, majestic Mysore and hill towns of Kodaikanal, Ooty.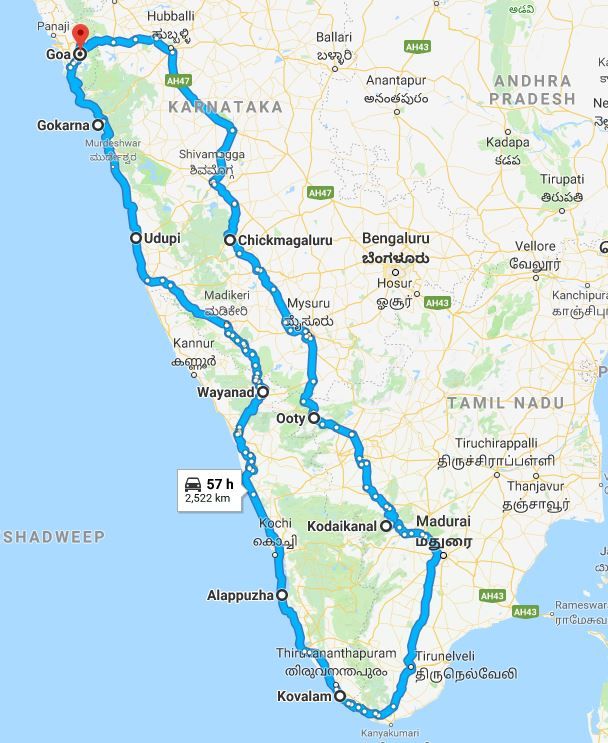 Goa or Bangalore is a perfect place to start the journey. Monsoon is a good season to experience the best of the northern region of the circuit while southern region is best explored in winters, you can choose from your convenience.
5. Road to Bhutan:
7 - 10 Days, 1000 Km, Oct–Apr
Siliguri – Phuentsholing(1N) – Paro(2N) - Punakha(1N) – Gangtey - Thimphu(1N) – Gorumara(1N) – Siliguri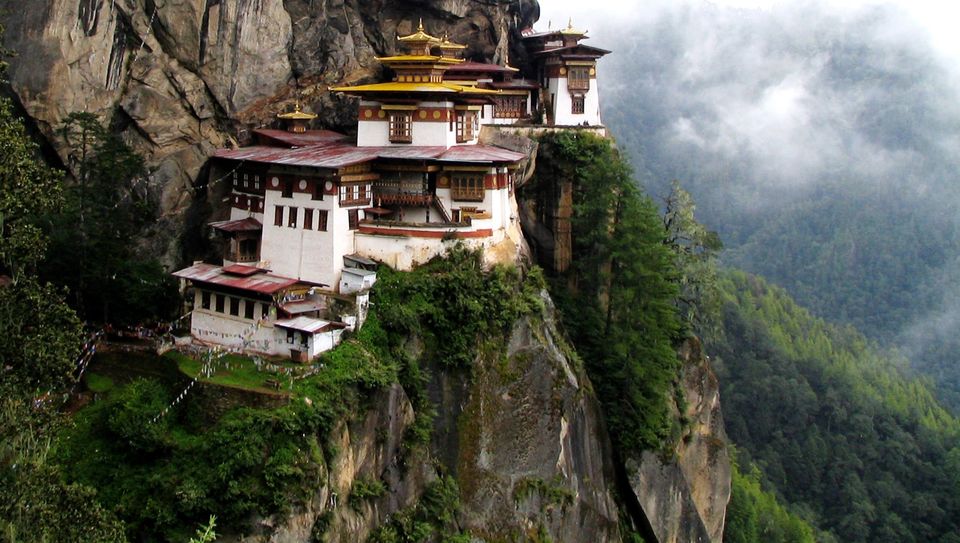 Indian passport holders do not need visa to visit Bhutan and it is easily accessible by road too. You can hire car or bike from Siliguri and visit Bhutan in a week.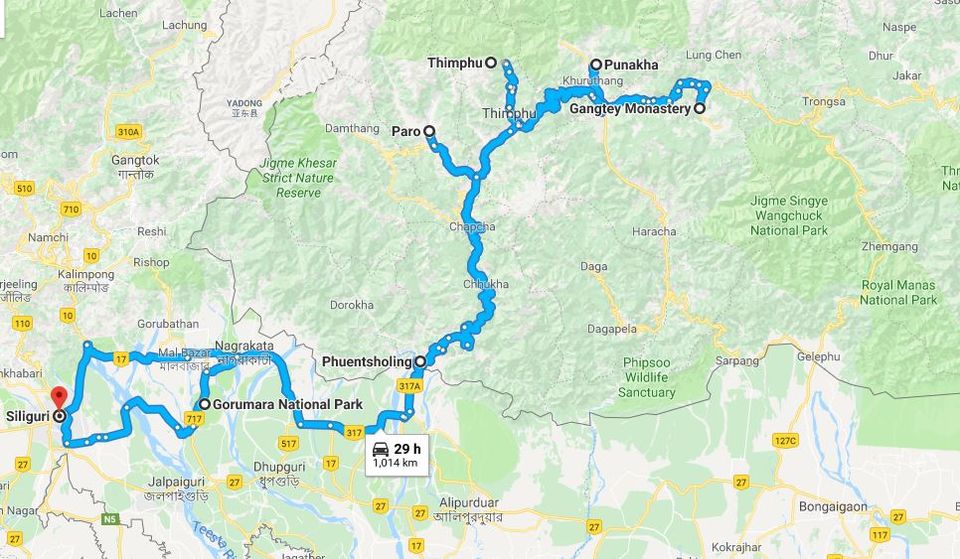 For more enthusiastic traveller, continue forward from Punakha and exit to Guwahati on the other side of the map. Tiger Nest at Paro is one of the most beautiful treks in the world and visited by thousands of travelers.
6. Western Ghats:
7 Day, 1000 Km, Jun - Nov
Mumbai – Lonavala(Della)(1N) – Satara - Ratnagiri(1N)– Chiplun - Mahabaleshwar(2N) – Tamhini – Kolad(Rafting)– Khopoli(Imagica)(1N) – Mumbai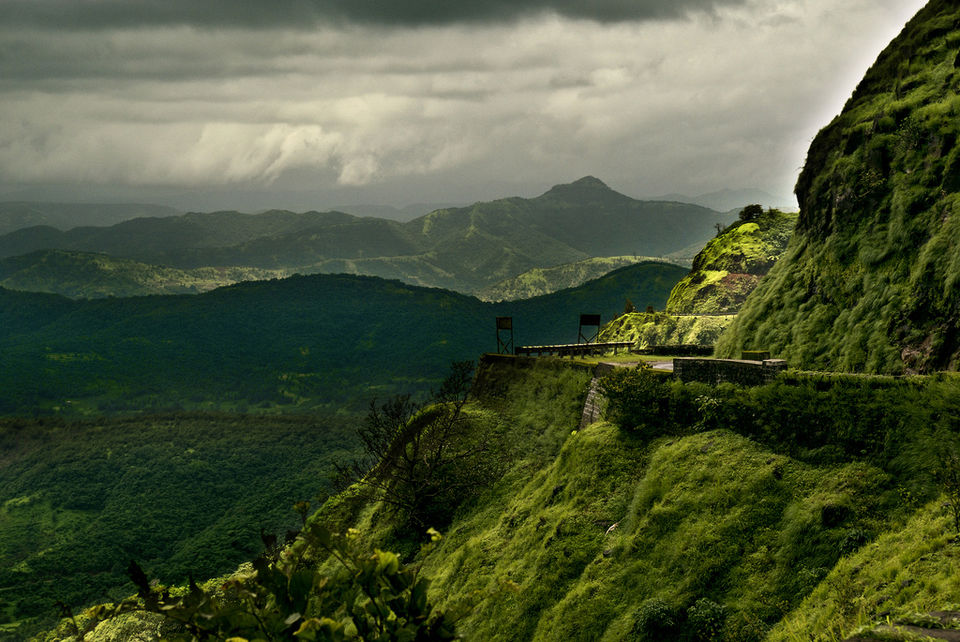 Monsoon is the best time to explore the western ghats of Maharashtra Region. Mumbai or Pune is ideal base camp to explore the region. These are the places where journey is more beautiful than destinations.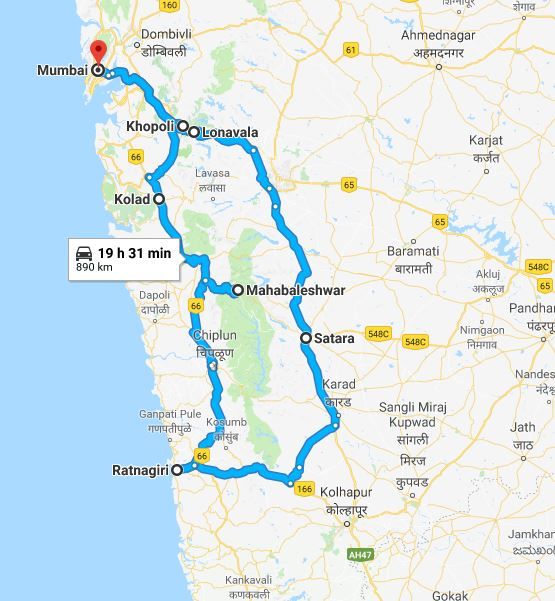 Visit Imagica and Della Adventures for some fun activities on the way. While exploring these uncomparable ghats you may find breathtaking small towns. Do not hesitate to spend a night or two in such innate places.
6. Traditional Rajasthan:
10–12 Days, 2400 Km, Nov–Feb
Delhi – Jaipur(2) – Pushkar – Ajmer(1) – Jodhpur(2) – Jaisalmer(1) – Mt Abu(1) - Udaipur(2) – Ranthambore(1) – Delhi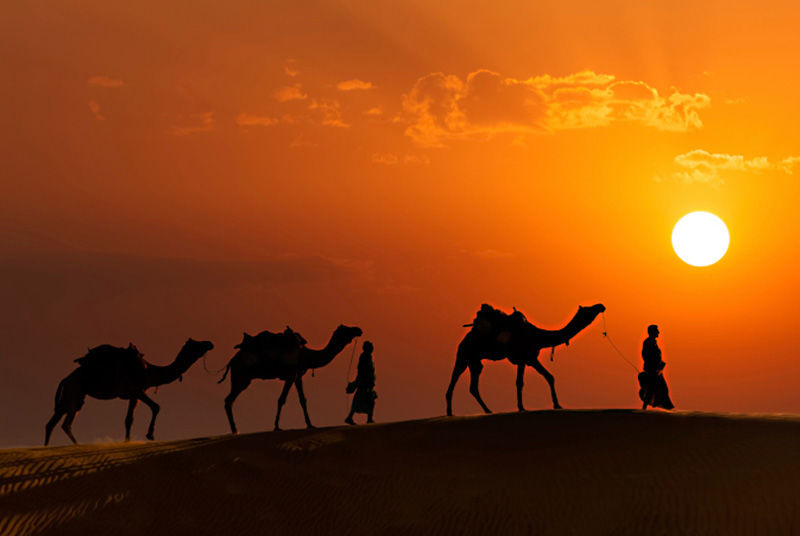 Most foreigners visit India to experience the culture of Rajasthan and it deserves the special attention. Winters are ideal season to enjoy the traditional hospitality of Rajputana homeland.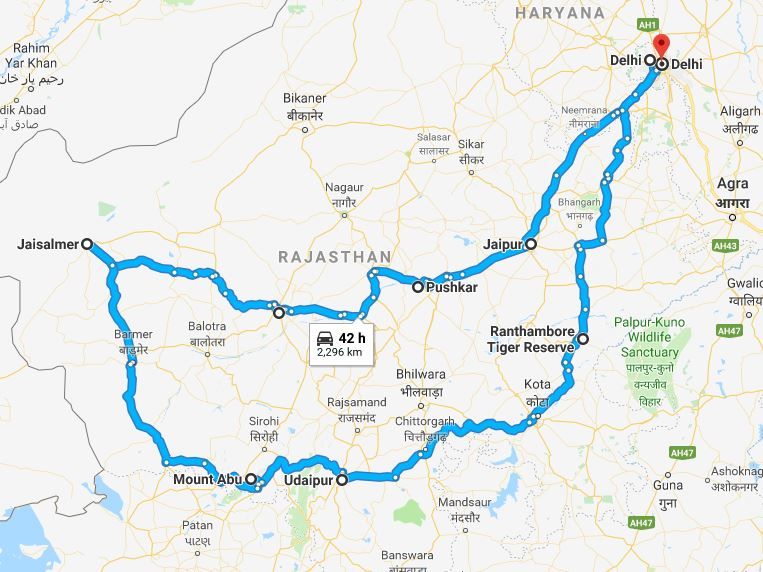 Above circuit can be completed either way, starting from Ranthambore or starting from Jaipur, decide from your convenience. Udaipur and Jaisalmer are the highlights of the trip and concluding it with a jungle camp and safari is a perfect way to end the long journey.
7. Road to Himalayas:
7 - 10 Days, 1400 Km, Mar – Sep
Delhi – Rishikesh(1N) – Dehradun – Mussoorie(2N) – Chakrata – Auli(1N) – Kinnaur*(2N) - Spiti(1N) - Kufri – Shimla(2N) – Solan – Delhi
Apart from Manali - Leh highway there are other hill towns which offer breathtaking curves and innate natural panorama along the road.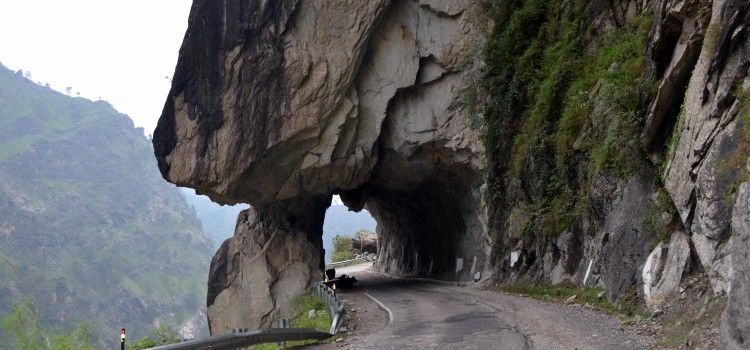 Start your journey with river rafting and bungee jumping at Rishikesh and move forward to beautiful hill stations of Uttarakhand.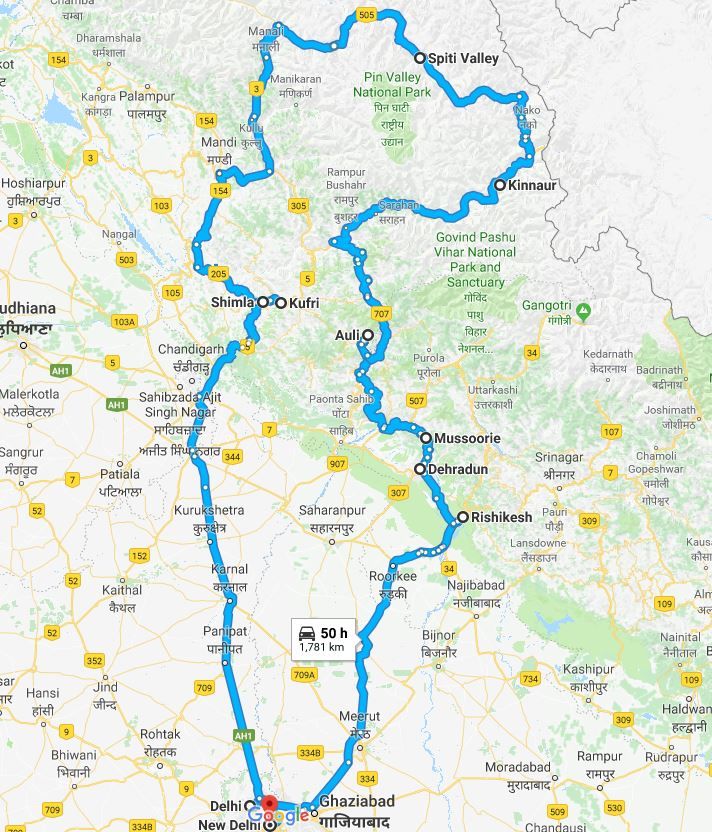 Road to Kinnaur and Spiti is considered dangerous due to poor maintenance and remains closed till last May so always confirm from news or local resources before moving ahead from Auli. A shortcut to the above circuite is moving directly from Auli to Kufri.
8. Valley of Flowers:
7 – 10 Days, 1200 Km, May – Sep
Delhi – Lansdowne(1) – Chopta – Valley Of Flowers(2) – Kausani(1) – Almora – Ranikhet(1) – Nainital(1) – Delhi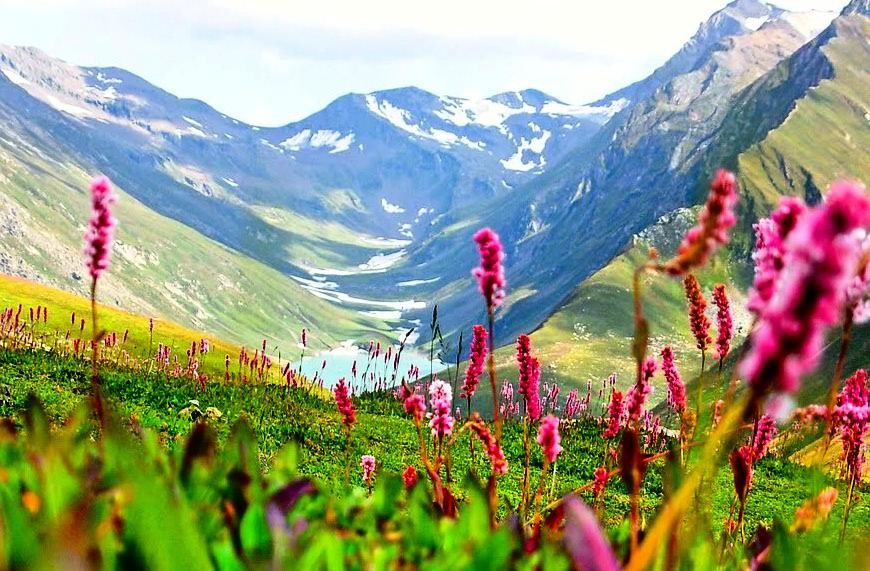 Valley of Flowers is a lifetime experience in itself. It is a complete package of road trip, trekking and camping in wild. You will need to do trekking to reach there and it remains open for a very short period of year.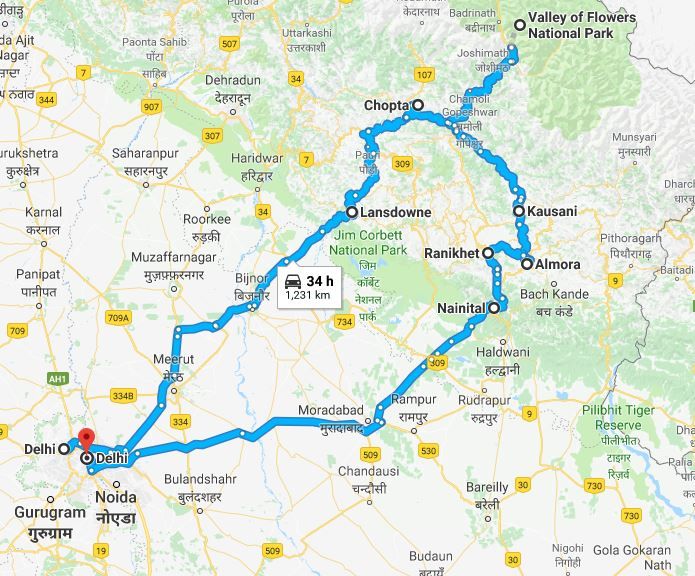 While returning spend a day or two along the beautiful naini lake relaxing your legs after a laborious trekking.
9. Sikkim – Old Silk Route:
10 – 15 Days, 800 KM, May – Nov
Siliguri – Darjeeling(2N) – Pelling(1N) – Ravangla - Gangtok(3N) – Lachung(2N) – Nathula – Zuluk(1N) – Kalimpong(1N) – Siliguri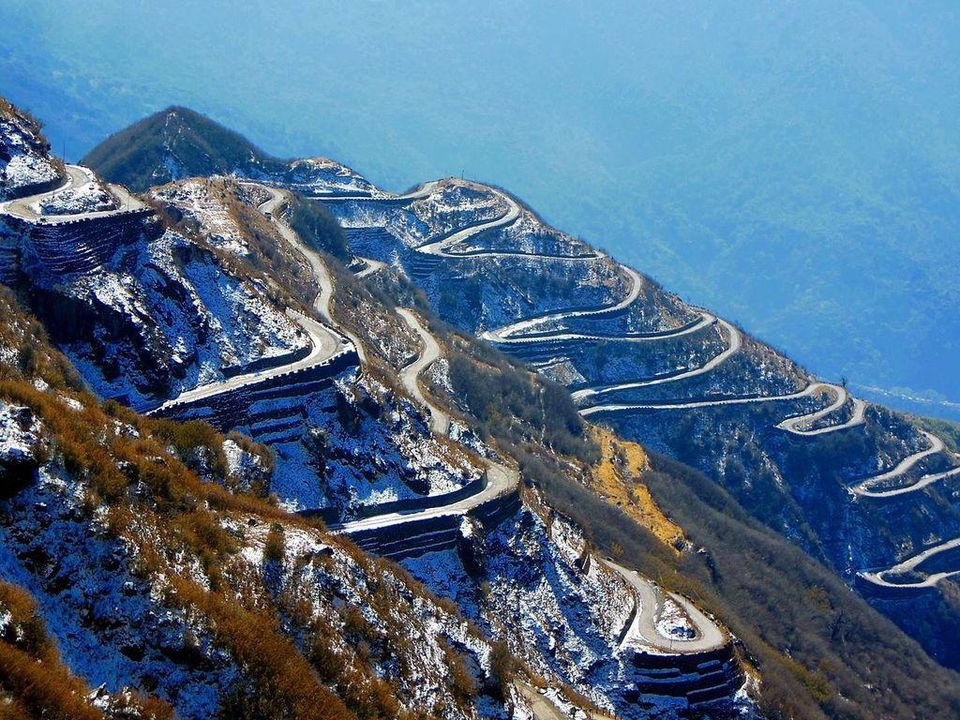 Silk Route, used for trading from china to western and middle eastern countries is one of the most scenic routes on himalayas with several hairpin bends.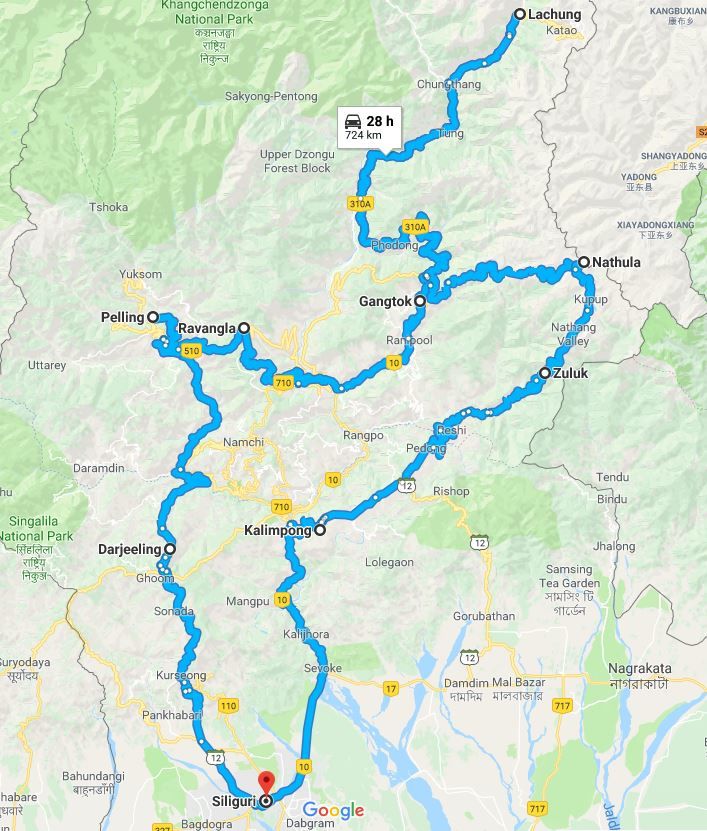 Restricted Area Permit will be required to travel to Lachung, Nathula and Zuluk (Silk Route) which can be obtained at Gangtok. Keep a day spare in Gangtok for arranging same.
10. North East Road Trip:
10 – 15 Days, 2000 KM, Mar – Oct
Guwahati – Tawang(2N) – Kaziranga(1N) – Majuli(1N) – Kohima(2N) – Haflong(1N) – Dawki – Cherrapunji(1N) – Shillong(2) – Guwahati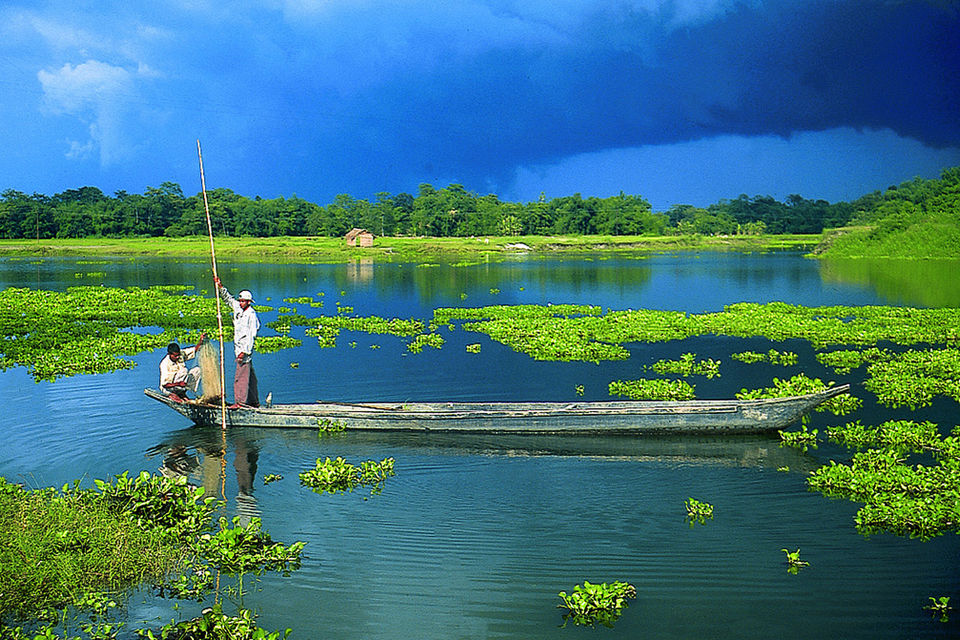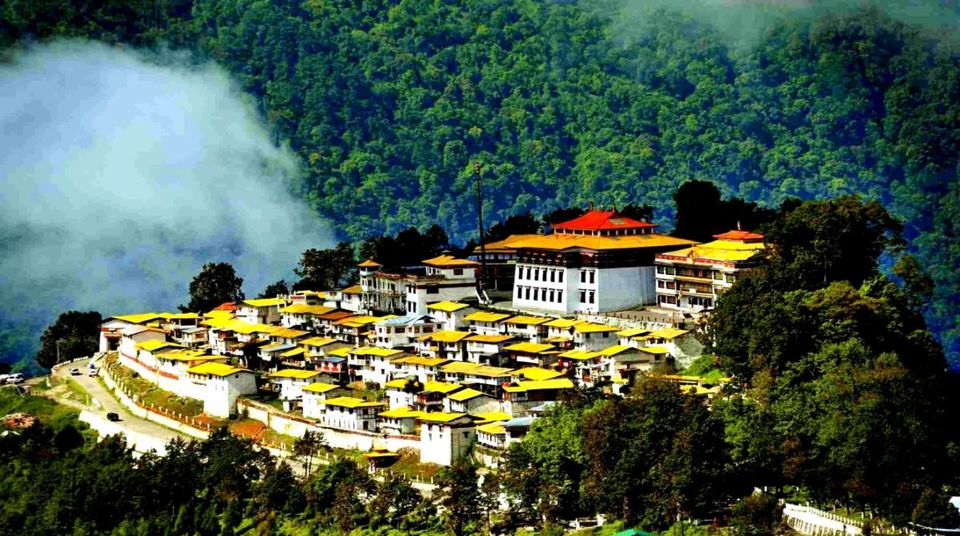 To explore all the hidden gems of north eastern india, a road trip of 2000 km passing through all major states of north east india is perfect.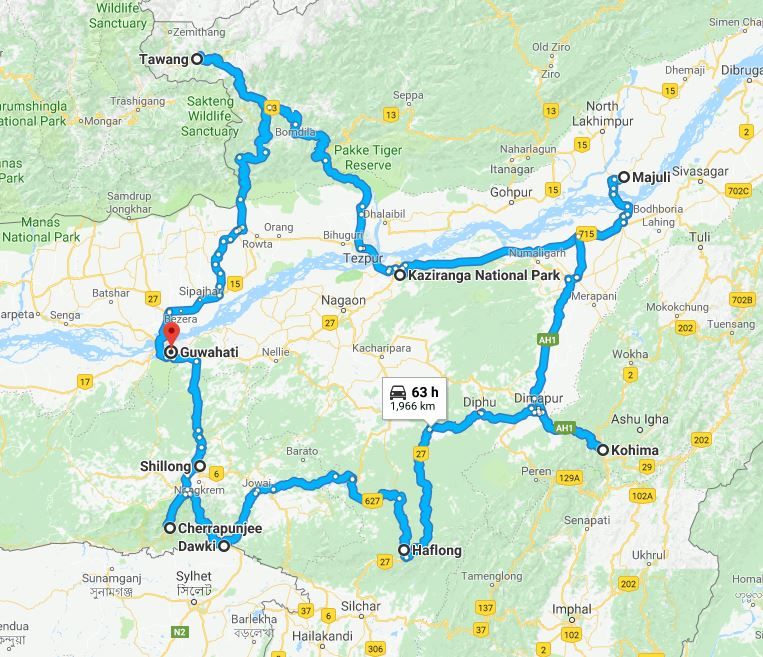 A trip from Guwahati to Tawang is a challenge in itself as weather conditions are extreme and you will find very few resources on the way.
Above road trips are designed after a proper research and analysis. Some of the circuits are extreme and very difficult to execute practically. For such cases partial circuit can be planned and remaining destinations can be covered in next trip. Some areas of Gujarat, MP, UP, West Bengal & Orissa are not included in any of the trips because it consists of individual tourist spots which are difficult to link with each other but small trips of Araku Valley, Rann of Kutch, Golden Triangle of Agra, Puri and Kolkata and cultural circuit of Kashi, Khajuraho & Sanchi can also be planned conveniently.
Happy Travelling!
Frequent searches leading to this page:-
best road trips in india, all india bike trip map