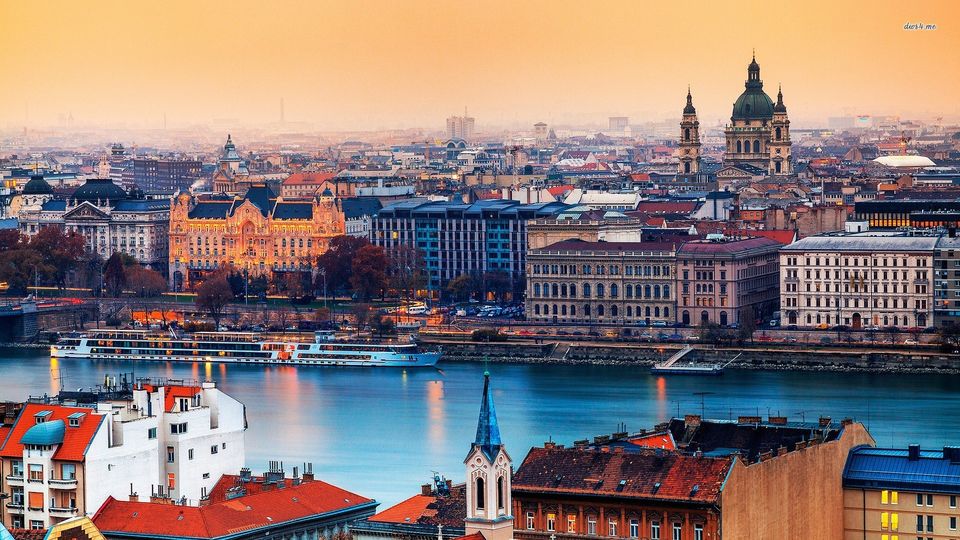 Nestled on the banks of the Danube, the sprawling city of Budapest has much to offer, not just in the way of cultural heritage and architectural brilliance, but also in terms of gastronomical delights and a bustling nightlife. The city, divided into two parts by the Danube, offers a wide range of tourist attractions on the Buda side, including museums, art galleries, nightclubs, and shopping districts; whereas the pest side is well endowed with historical monuments, local eateries, and cathedrals. The best time to visit the city is around the St. Stephen's Day, one of Hungary's biggest national holidays, as you can not only soak in the infectious vibe of the city and its people, who are out in large numbers, enjoying the day's frivolities, including flea markets, concerts, and the parade; but also witness an exceedingly spectacular display of fireworks, taking place over the Danube at nine o'clock, which is a once in a lifetime experience. (Top tip- Make sure to get there well in advance if you want a good view).
Here are some of my top picks and personal favorites:
- Sightseeing:
Walking tours:
Walking around the city, in my opinion, is the best way to explore it; just make sure you've eaten a good breakfast and are wearing the correct footwear. You can choose from a wide range of walking tours, including ones that cover major tourist spots such as the Chain Bridge, Andrassy Street, Basilica of St. Stephen, and Margaret Island; as well as ones that cover the local and more exclusive spots, such as underground Nouveau Art galleries and the Suburban Districts.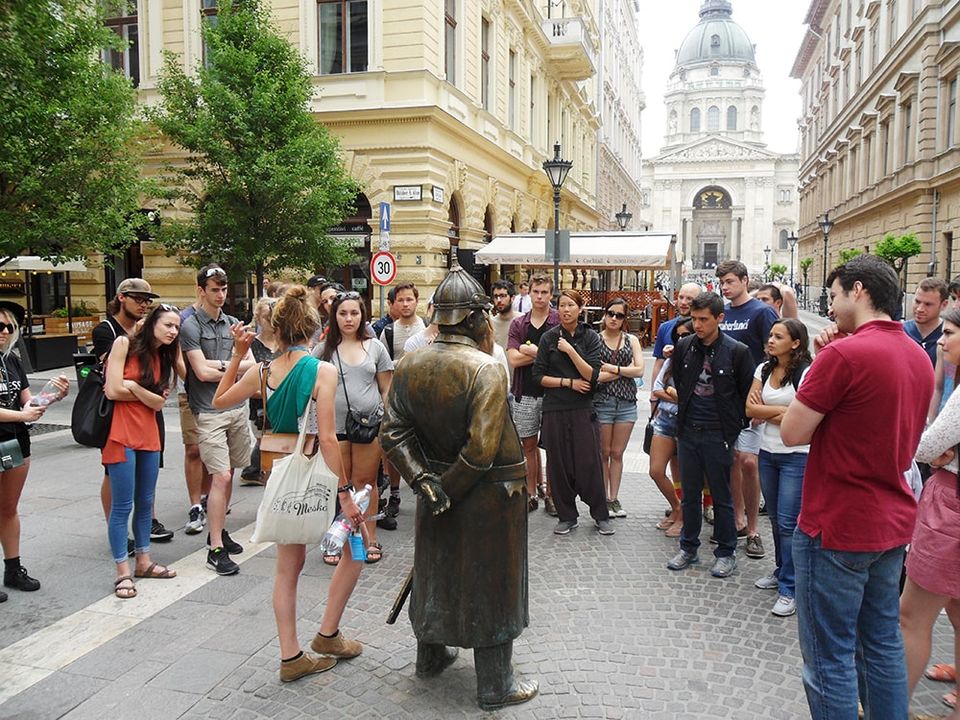 via Google Images
Check out www.freebudapesttours.hu and www.freetour.com for amazing FREE walking tours
(Yes, they're absolutely free of charge!).
Gellert Hill:
Make sure that you visit Gellert hill for sunset to experience some of the most awe inspiring and picture perfect views of both Buda and Pest. Again, this is a bit of a hike, so make sure you're prepared for it. Here's a sneak peek of what you can expect-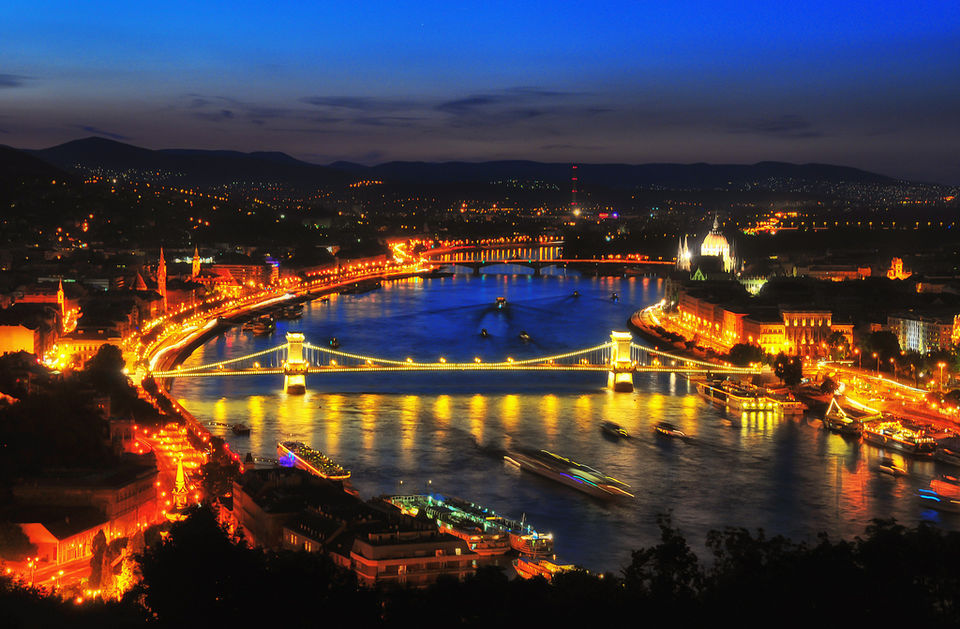 via Google Images
Chain Bridge:
The Chain Bridge is one of the most quintessential landmarks in the city, joining the Buda and Pest side, and is a must see attraction. The bridge- as seen in the picture from Gellert Hill- looks absolutely magnificent when lit up at night. An ideal plan would be to dine by the river bank and then take a romantic stroll on the bridge after.
- Eat and Drink:
When in Budapest, be sure to indulge in the delectable selection of the local cuisine, especially the 'Hun Dog' and goulash. Also be sure to sample the locally brewed beers and wines, most of which are absolutely sublime and quite affordable. The city also offers a wide variety of fine dining options on the Buda side, where you can enjoy a meal while taking in the view of the Chain Bridge, along with live music and an expansive wine menu.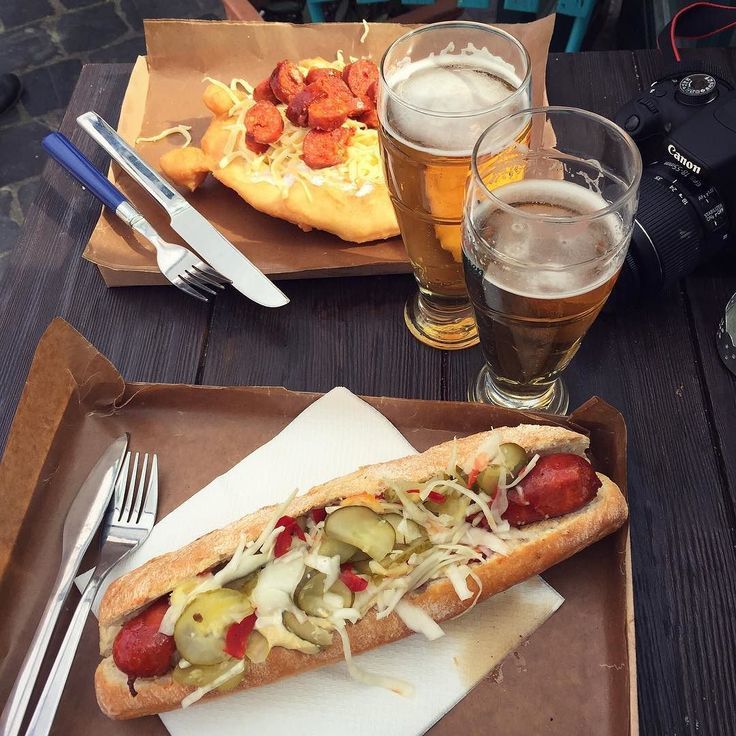 via Google Images
Top tip- Although the city as a whole is affordable, if you really want to stretch your dollar, avoid eating in major tourist areas, as costs can be up to two times higher when compared with those at restaurants that are merely a fifteen minute walk away.
- Nightlife:
The city is a whole different animal by night, and while those who prefer to spend a romantic quaint evening choose to dine by the Danube, those who wish to rave flog to the various 'Ruin' pubs and bars across the city. Here are some must haves in your to-do list if you want to have a night out on the town:
Szimpla Kert:
Szimpla Kert is probably the most happening place in the city, so much so that on Saturday nights you might have to wait an hour just to get in. The pub- which is tastefully decorated with recycled furniture, ornaments, and graffiti- is a visual treat in itself and boasts of multiple dance floors and lounge areas.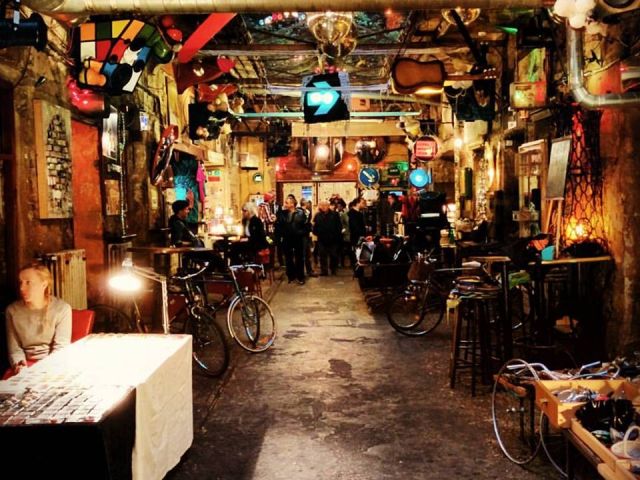 via Google Images
Pub Crawl:
Pub crawling is probably the best way to ensure a night of drunken celebration, and also a great way to make new friends. You can choose from a variety of crawls, both paid as well as free.
Top tip- If you're looking to have a chilled out evening with your friends, Szimpla is the best option. However make sure you get in before midnight (the party goes into the wee hours of the morning).
Things to keep in mind:
Do not exchange your currency in the shopping district, instead go to the changers right outside the main shopping street as they give a better rate and do not charge commission.
Public transport is cheap and efficient, but make sure you map your route before setting out for the day.
The Segway tour may be a bit of a letdown and should be given a miss, especially for those visiting Prague as well.
Language can be a barrier as many won't know more than a few words in English. You can always use Google translate, or even better- brush up on your Hungarian.