"We travel not to escape life but for life not to escape us" – Anonymous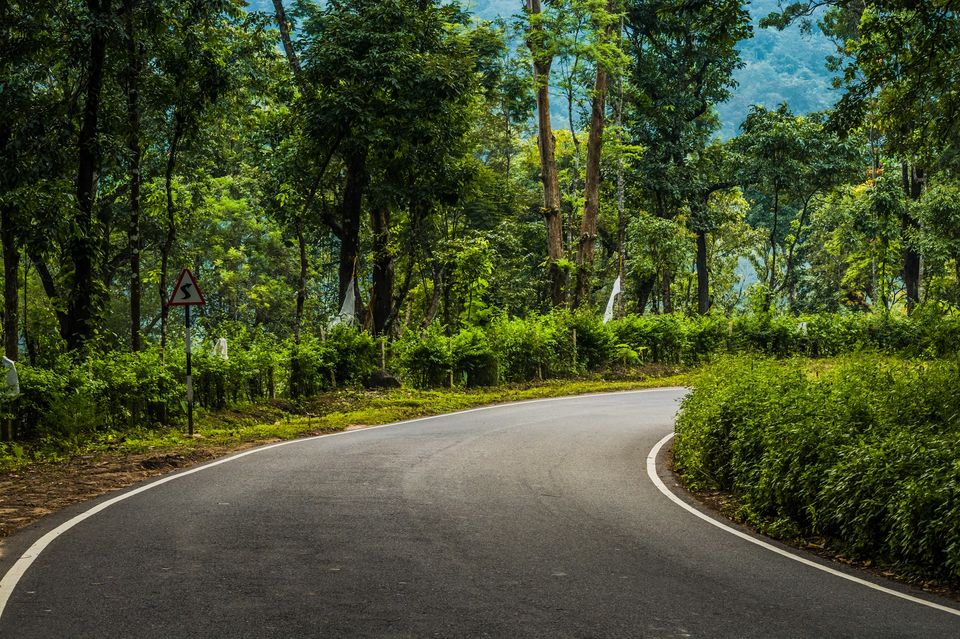 And there's plenty of fascinating life to see, far away from the noise of cities, by the sparkling Arabian Sea on the western coastline of Karnataka. Flanked by the soaring Sahyadri range on the east and by an azure sea on the west, this route is replete with undulating rolling hills, golden beaches, ancient ruins enclosed in dark emerald forests, temples with an air of solemn devotion and secret coves that playfully beckon you.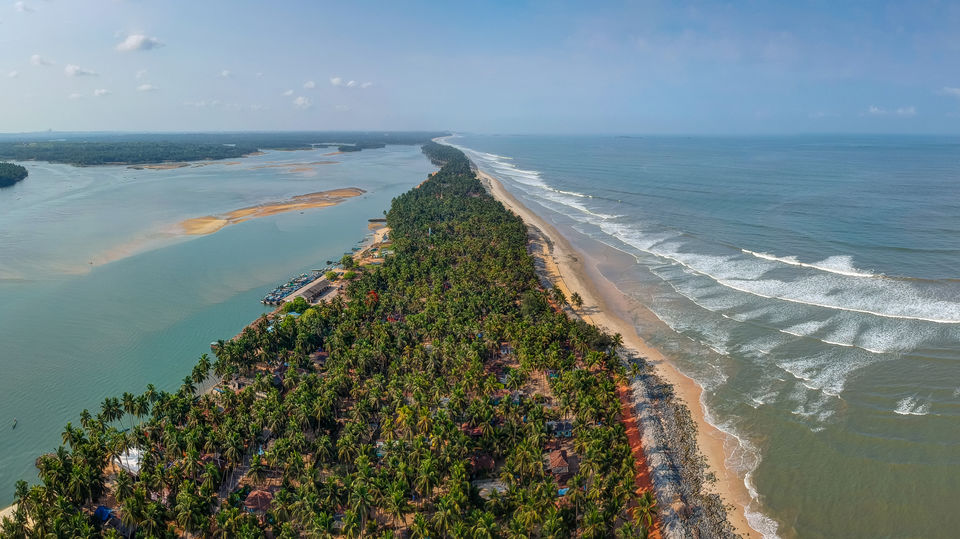 Take off on bewitching roads with the sea on one side and perennial glassy rivers on the other, which take you through seaside villages and their nuances.
A great road trip through Uttara Kannada outlines these stops:
Bangalore - Bhatkal - Murudeshwar - Honnavar - Kumta - Gokarna - Karawar
Bangalore
Sample some local craft beer, treat your ears to good music at live gigs, shop like a local at its bustling markets and add an 'aa' to the end of all phrases with a big smile to feel like you belong.
If you don't have the luxury of time, you can take off on a 15-minute joy ride on a helicopter to witness the glittering city sprawled out in front of your eyes.
Get a bite to eat at The Permit Room which serves up south Indian food with a cheeky twist. The beefsteak ullitheyal and Kosambari with feta cheese and rasam flecked with crab meat will have you raving about the place.
Get a pair of wheels that'll be your trusty companion through the trip here and fuel up for the adventure ahead.
Helicopter ride cost: Rs 9,100
Location: Jakkur / HAL
Bhatkal
You'll know you're approaching Bhatkal when vivid green tea plantations roll into sight and you are tempted to stop one too many times to look a while longer at glorious waterfalls and lazy windmills.
Bhatkal has bazaars laden with terracotta crockery, dried spices and the briny smell of fresh seafood. Take a walk back into history at forts and lighthouses, bow your head at the many mosques, temples and Jain basadis and sample a hearty plate of Bhatkali biryani at Kwality hotel.
Time on the road: 9 hours 30 minutes
Distance: 480 km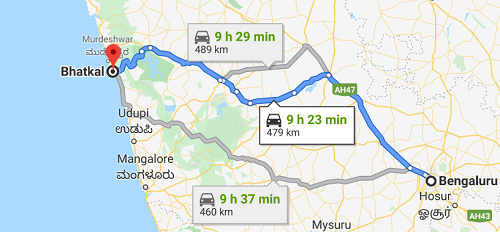 Top experiences: Stop by Jamia Masjid to marvel at its golden dome and haunt the recesses of the Kethapayya Narayan Temple. Take two stairs at a time to get to the top of the lighthouse near the Bhatkal river.
Murudeshwar
This quaint town with emerald hills and sea-fringed shores has India's largest Shiva statue glinting in the sunlight against the sapphire waters of the Arabian sea.
Set your drone free to get sweeping views of the town. Look at the heart-shaped Netrani Island with its silvery sand and turquoise waters that harbour marine creatures such as corals, butterflyfish, parrotfish, and eels to mention a few. Break the shimmering surface to delve deep into a subterranean world with shoals of colourful fish scurrying by.
Don't forget to try the crispy Bangda fish fry from a seaside stall.
Time on the road: 18 minutes
Distance: 12.4 km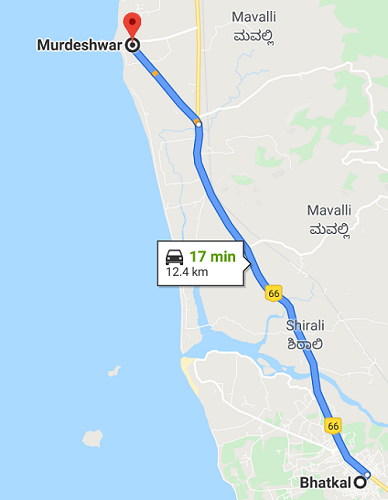 Top experiences: The seaside town offers water sports such as parasailing, speed boating and snorkelling to get your adrenaline racing. Climb up the 18 storeyed Raja Gopura to look down over the coastal town. If you don't want to sweat it, you can take an elevator ride up for just Rs 10.
Honnavar
Made up of villages with tribals as its residents, the idyllic town is still untouched by the modernism of this century and you can't help but give in to the easy pace of life here.
The Sharavathi River pours into the Arabian sea, giving rise to a cluster of islands. The Mavinkurva Island steals your heart with lush coconut groves and winding pathways.
Feel the cool spray of water at the Apsarakonda falls which shelter a lovely pond. Hidden away behind a tangle of roots are several moss-covered natural caves. Their cool silence echoes with the tinkling sound of water. Rumour has it that these are the same caves the Pandavas stayed in during their exile.
Time on the road: 31 minutes
Distance: 26.8 km
Top experiences: Ride towards Jog Falls, an hour away from Honnavar to watch the waters cascade from a height of 253 meters. Take a boat ride to the Island Fortress and watch the sun set over the enchanting town. Dig your toes into the sand at Kasarkod Beach, 2 km away from Honnavar.
Kumta
Five kilometres away from Kumta lies the lovely Dhareshwar beach. Let the waves wash your toes at the shoreline before heading to an ancient temple nearby.
Kumta is nestled between hills and evergreen forests with the Agnahasini river seeking out to the Arabian sea. If you've got a hankering for rock climbing, head to Yana, about 31 km from Kumta. There are two black rock outcroppings reaching for the sky, made of Karst limestone. A small trek through a sun-dappled forest will take you to the point. The larger rock harbours a cave temple within with a linga that formed naturally.
With all that walking you're bound to work up an appetite. Hotel Moonlight on Kumbeshwar road dishes out Masala Fry, that will have you ordering seconds.
Time on the road: 28 minutes
Distance: 19.5 km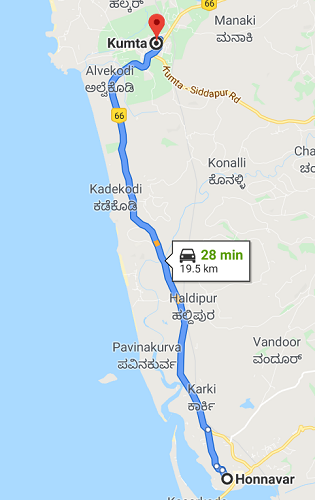 Top experiences: Leave footprints on the many beaches at Kumta such as the Kumta beach, Kadle beach or Dhareshwar beach. Mahalasa, a shop famous for its crafted sandalwood items, is great for some souvenir shopping.
Gokarna
With rolling verdant hills and turquoise-fringed beaches, Gokarna offers the best of both worlds.
Feel the deliciously cool water of the sea on your skin under the afternoon sun by snorkelling or scuba diving at Kudle beach. Zoom down vista-lined roads to Om beach for jet skiing, banana boat rides and parasailing. Conquer the waves at Cocopelli Surf School who provide training and a surfing kit.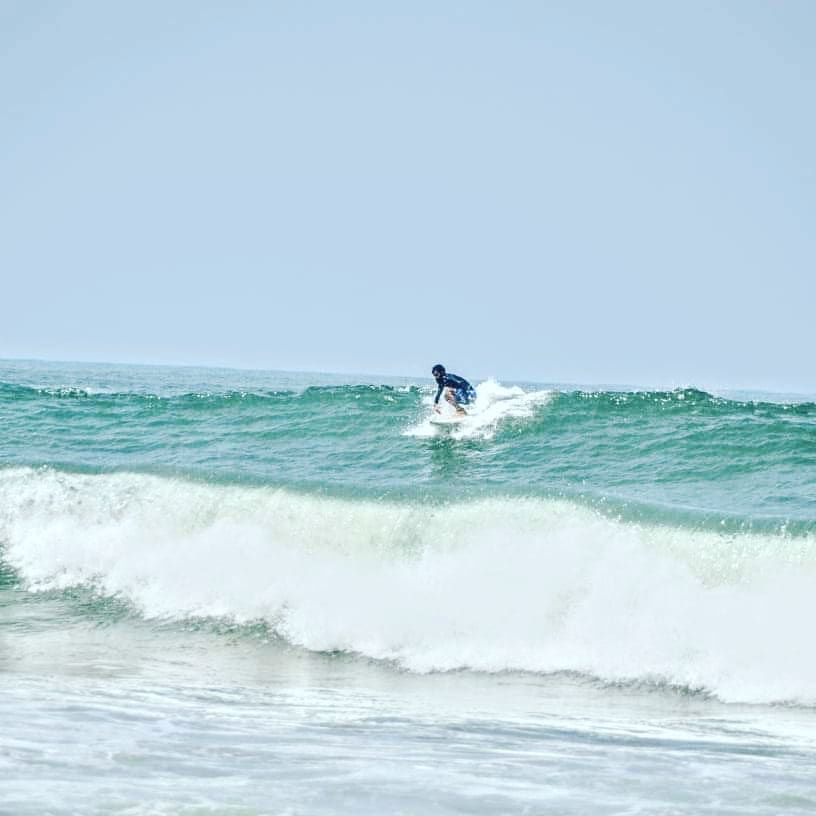 As the sun sets, sit on Paradise beach to watch dolphins leaping out of the water and feel at peace with the world.
Time on the road: 47 minutes
Distance: 32.3 km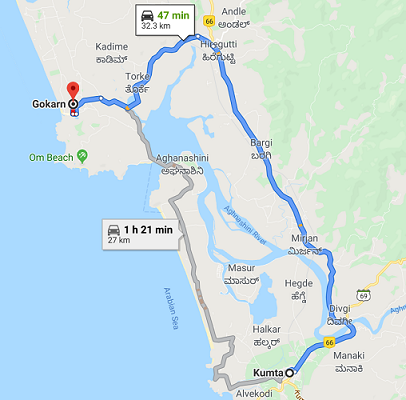 Top experiences: Head to Chez Christophe near Om beach for a musical night accompanied by piping hot baguettes and some drinks. Drive a good bargain at a flea market and stay at a stunning treehouse.
Karwar
A historic town, the place has golden beaches adorned with coconut and casuarina trees and water sports like snorkelling, surfing and diving to quicken your pulse.
Admire the architectural intricacy of temples, sit in the silence of a church as the glass stained windows cast hues of colour and stroll through dense forests alive with the chirping of birds.
Time on the road: 1 hour 25 minutes
Distance: 60.9 km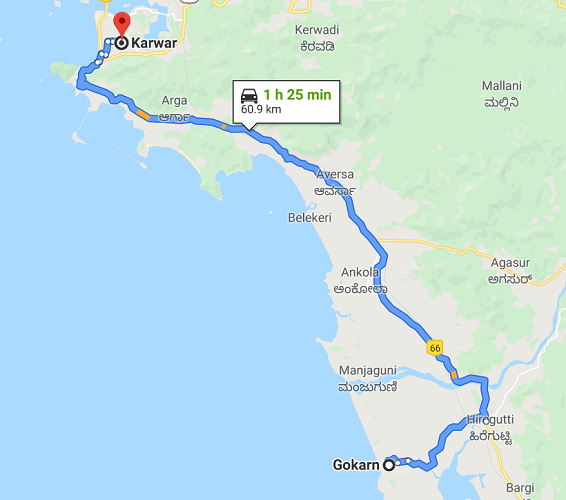 Top experiences: Beaches like Dev Bagh, Koodi and Kaju Bagh offer opportunities to indulge in water sports and watch happy dolphins. Go trekking on the tortoise-shaped Kurumghad Island and stop by a deserted lighthouse, which would, in years gone by, guide people home.
These sylvan coastal towns beckon you to ride on its sun-drenched roads. Watch the sun go down on its beaches and try flavours you've never known. Rev up your bike and get going to feel the wind in your hair as you leave your worries behind.
In association with Royal Enfield