We woke up today a bit early since we had a lot of distance to cover. Basically the distance we covered in Day 2 and Day 3 was going to be covered in 1 day. Thanks to gravity :) On a trek, time to taken to descend is almost half of that of ascent. Because now gravity is assisting you. But one needs to be double careful since one wrong step can land you in big problems.
We cleared our tents, rolled our sleeping bags and unpitched our tents. Once everyone was done, we took a group photo with the whole team. A memory for the coming years :)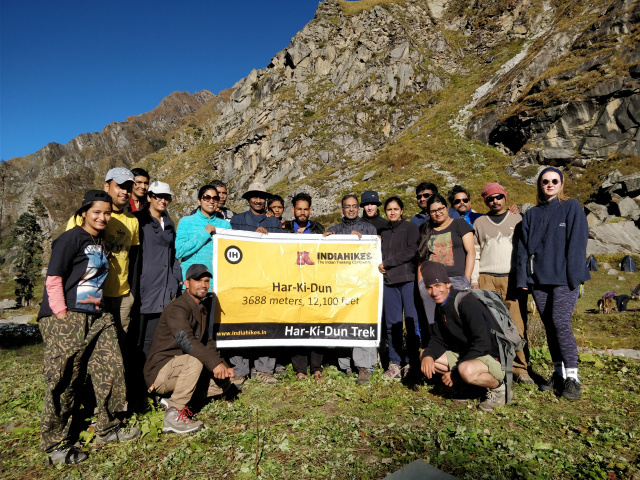 All of us had successfully reached Har ki Dun. Now it was time to descend safely. We met lot of trekkers on the way including a 10 year old girl. Hats off to her for trying this trek at such a young age! We reached our campsite by 3 PM. Since the porters had also just arrived, we helped in pitching the tents. I decided to try out something different with my phone. The OnePlus 5 camera has a feature to shoot timelapse videos. A timelapse is basically a video played in fast forward. I set the phone on a rock and started the recording. After 2 minutes, we were done. I checked the video and it did come out good! Check it out.
Everyone reached by 4 PM. It was a really tiring day considering the route was full of descents some of them being very steep. Thanks to the trekking pole which helped me a lot in controlling my speed. All of us took some rest and then came out for the food :) Evening snacks, chai, soup. Today was the last day for all of this. Even the toilet :P The kitchen team surprised us by reserving their best dessert for the last. Jalebis! What a way to sign off. A big thanks to them for keeping us fed throughout the trek.
All of us had formed such a strong bond. Looking out for each other, helping others, all these are just many of the few things that I witnessed and was also a part of. Like how Priyanka managed to trek with a torn shoe sole held in place with a duct tape. I will cherish these and many more memories forever. I also realized how we can live in such minimalistic conditions. Most of us crib that our apartments are small. Rooms are inadequate blah blah. And here we are, in the mountains, sleeping inside a tent using a sleeping bag. Truly humbled by mother nature.
For more pics, check this link