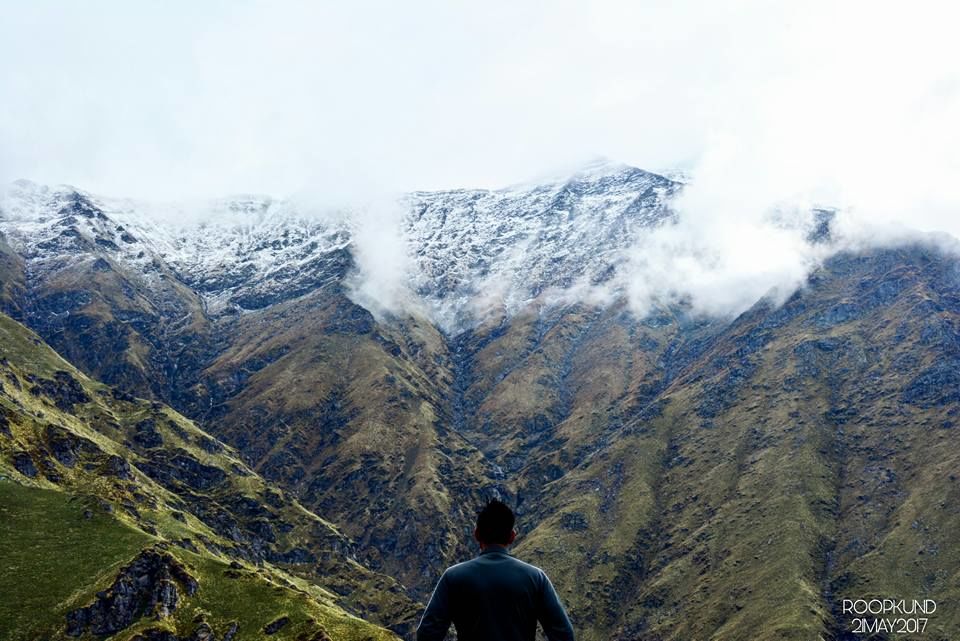 Day -1--Task for the day one was to reach Kathgodam, the only station we could reach. We ( Akshay : roommate) arrived at Kathgodam and met 18 more people joining us for the same trek. We booked the trek from Trek The Himalayas, less we knew the people we are meeting here will be our friends in times to come. All 20 members started in Cabs to Lohajung (7662 Feet) our camp 0 destination before we could start trek. It took almost 10 hours and sharp change in weather as we are ascending, that's mountains way of welcoming. We were briefed about what next few days will hold for us, Lohajung is a village 10 hours up from Nainital. We met other members, packed our bags, ate and slept to wake up early next day. The trek begins next day, early morning. This was my first major outing and I was prepared for it.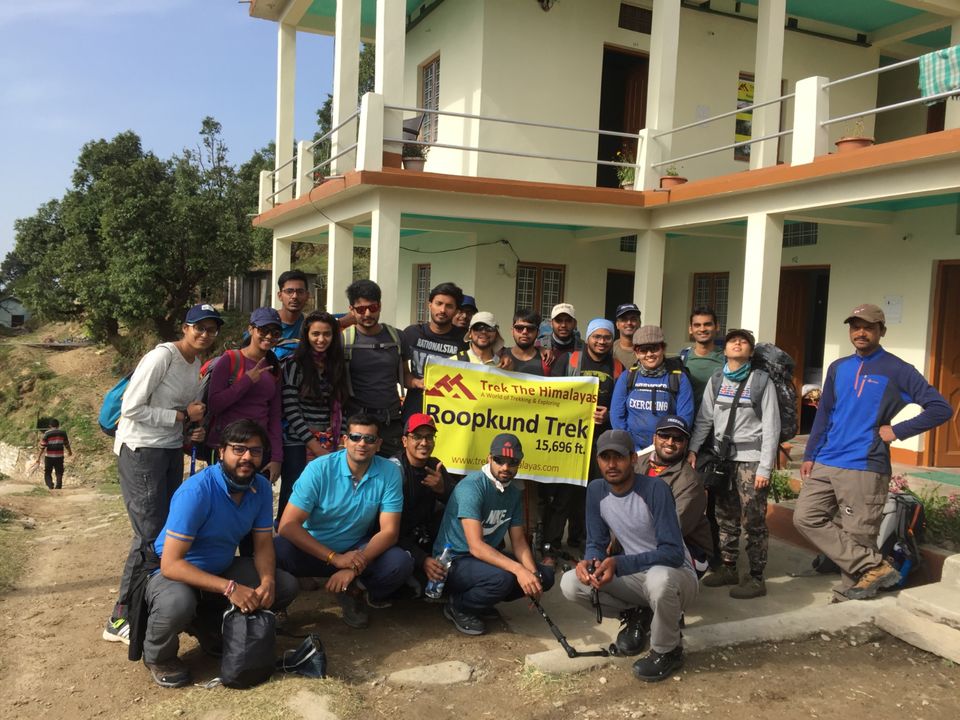 Lohargunj to Didna Village : 8000 Feet
We started at 8 A.M. and are advised to maintain steady pace and get used to walking , ascending , descending. For our trek leads it was just another trek, a warm up session , for us the trek has already begun. As we left the village behind, we were walking on a trail in between forest , and could hear river sound from distance. We took a-lot of water breaks in between, we used to stop for people who were walking slow and need to catch-up. We were crossing streams, walking bridges, ascending small mountains and getting amazed by the view every-time we reach on top. After a good 8KM trek we reached our first and only home stay of the trek "Didna Vilage (8045 Feet)" , and it started raining. We call it for day after dinner.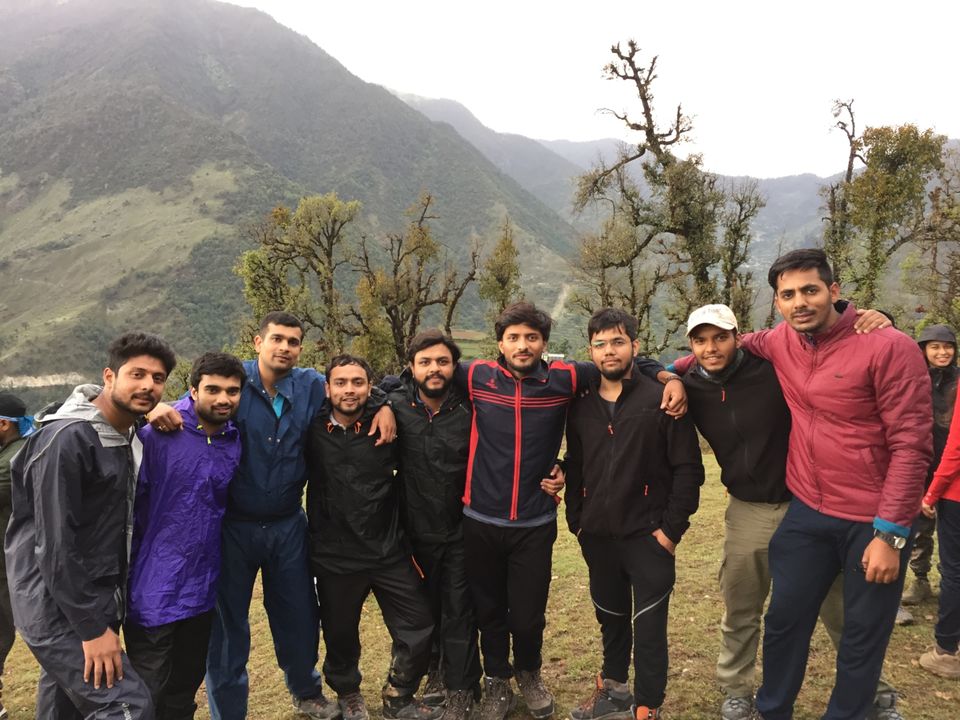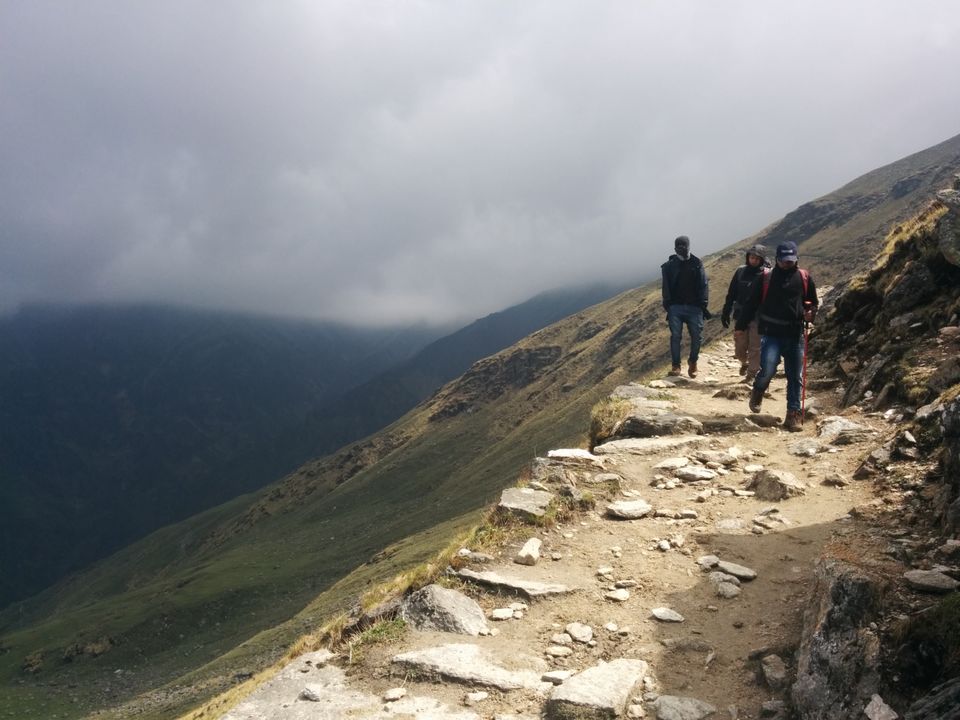 Didna Village to Ali Bugyal : 11,000 Feets
We were told the view is going to mesmerising now onwards, but before that we have steep ascent of 8KMs, and trust for an athlete guy like me it wasn't easy, but it was all worth it post 8KMs of ascent, it was lush green all around, the temperatures dropped more with altitude.
We had our time evening tea and snacks and this was the day we all gathered outside our kitchen tent and get to know each other.
Our trek lead showed us the mountain we have to climb in coming days, the view from our camp was spectacular, we could see mountains covered in snow. For me it was dream come true as I have never seen snow. It was a good day, post lunch we gazed stars untill we fall asleep in our sleeping tents.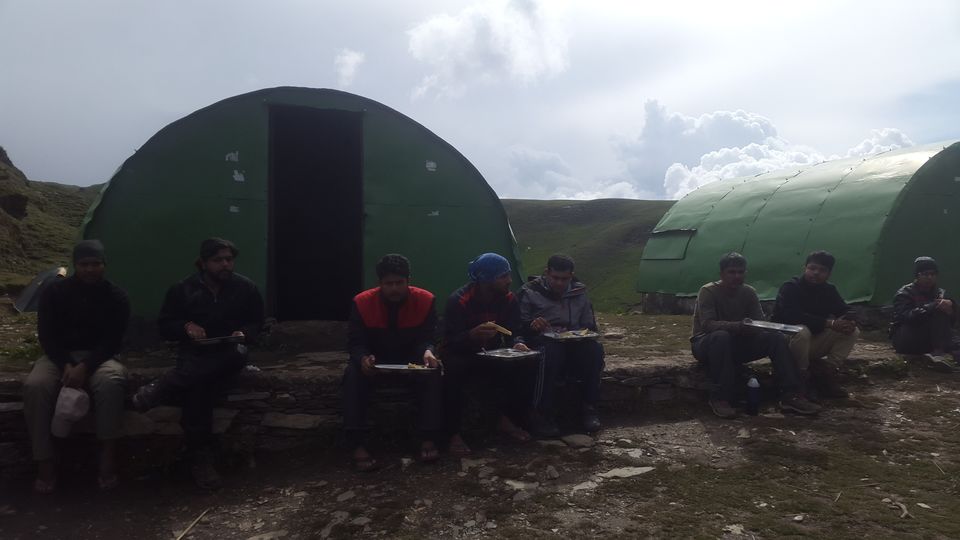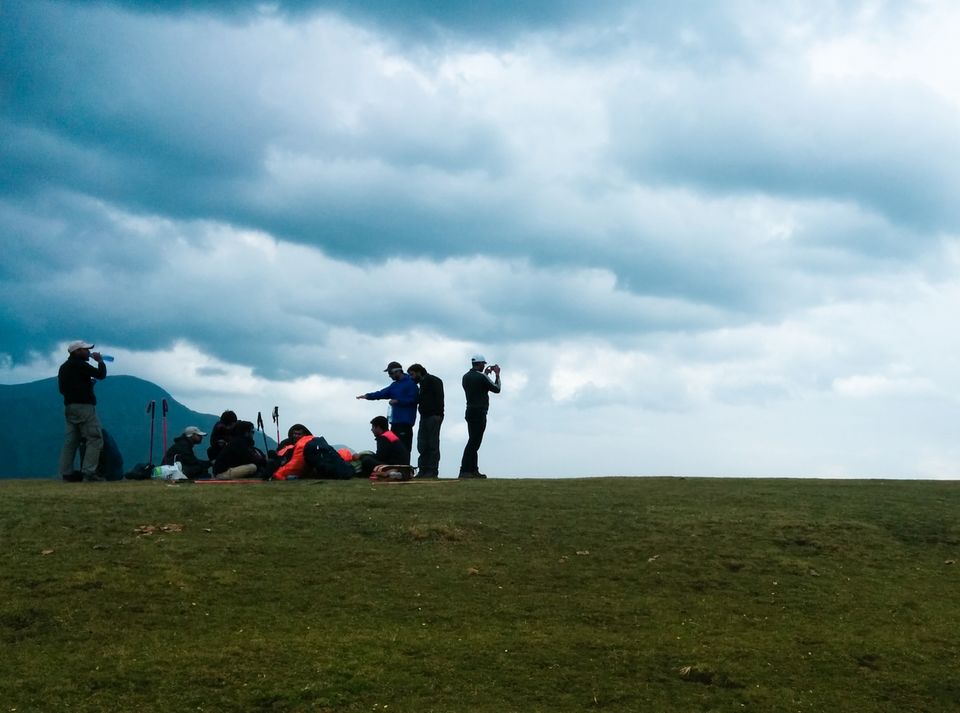 Ali Bugyal to Patar Nachauni : 12,000 Feet
This was an easy day, swift trek, dew ascents and descents, we could see people coming down from summit, they were all happy giving us wishes for our summit day.
At this altitude chances of AMS are higher, we were briefed about to remain hydrated, keep drinking water even if you are not thirsty.
After an easy trek of 8KMs we reached Patar Nachauni, we were all healthy and having our evening tea and suddenly we heard hailstones on out kitchen tenets, they were size of a pea but it rained hails for almost half hour, and yes that's how mountains welcome you. It was sunny an hour ago and suddenly hails now.
After it stopped we went out, did our evening climb high sleep low activity, had lunch and slept.
The temperature dropped more, the sky was more clear now. We woke up at 3AM to see clear sky and slept again.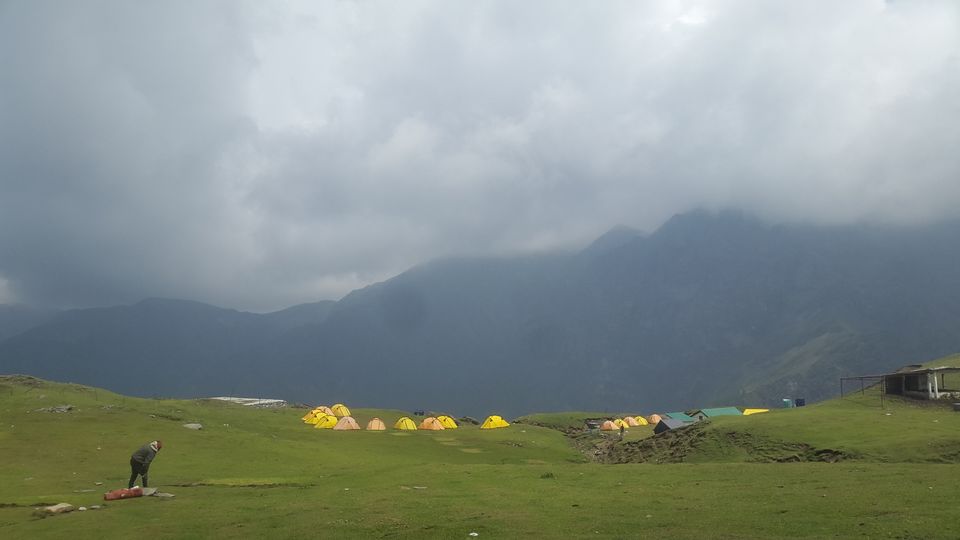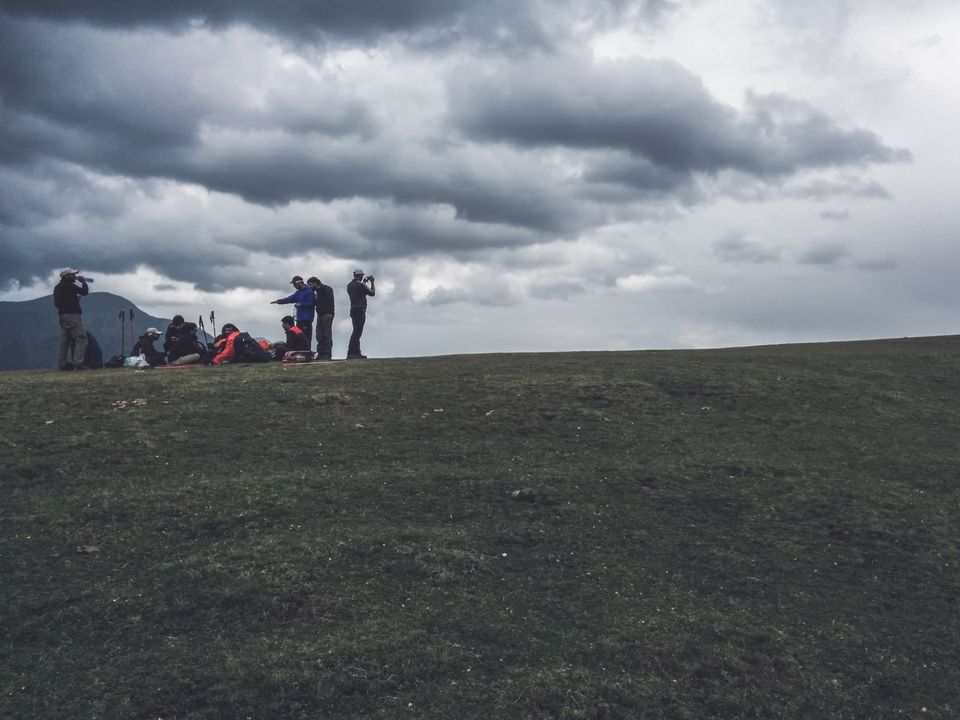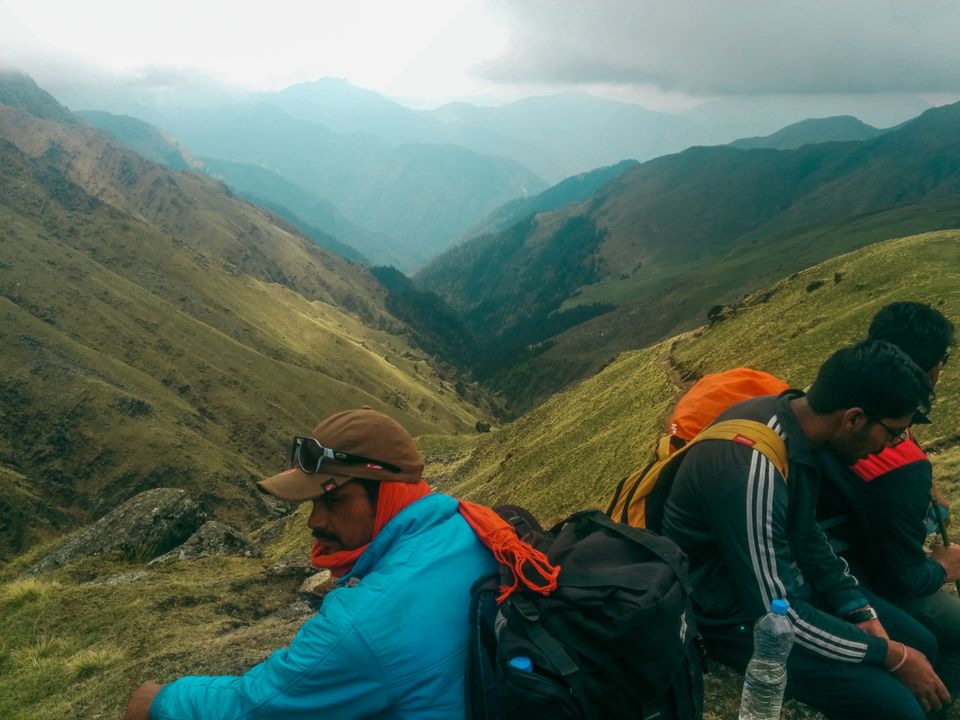 Patar Nachauni to Bhagwabasa :14,000 Feet
Everything is going to change now, the air is going to get more thing and less oxygen. The ascent from green meadows to rocky path to the tracks partially covered in snow to feets of snow on ground changed in a day.
It started raining mid way, we could see snow now clearly, raincoats came to rescue today, though it became very difficult to walk, but in mountains reach your destination on time, as the day passes the weather gets more worse.
Almost walking for 4-5 hours, we were in snow covered mountains, walking in clouds, the path became narrower. Some of us like were excited to see snow all around. We were happy to see snow, change in view. After reaching Kalu Vinayak we took our mid day break. People offered prayers in Shiva temple situated here. As we were sipping tea fog came from nowhere, it was dark 2PM. We were instructed to start walking as the path from now is not marked, we have to walk on the footsteps of group walking ahead of us.
We started in fog, and continued walking, merely people were speaking we were just walking. We were tired of all the ascent, we were tired from lack of oxygen and altitude.
You can hear people breathing heavily now, drinking water more often.
We reached by 5PM. The view??? it was mind blowing, our tents were on snow. We could see the ascent path of Roopkund, the sun was setting below us far away in a valley.
And it started snowing, I was out listening to our team lead for next day preparations, I was looking up gazing at snow flakes and now I can feel snow on my face. I wasn't listening or speaking I was just lost. I still remember those few seconds exactly how I saw my first snow.
It was all worth it.
We were adviced to sleep early by 8PM and wake up by 2AM.
Because, this whole story you read so far is about Day 6.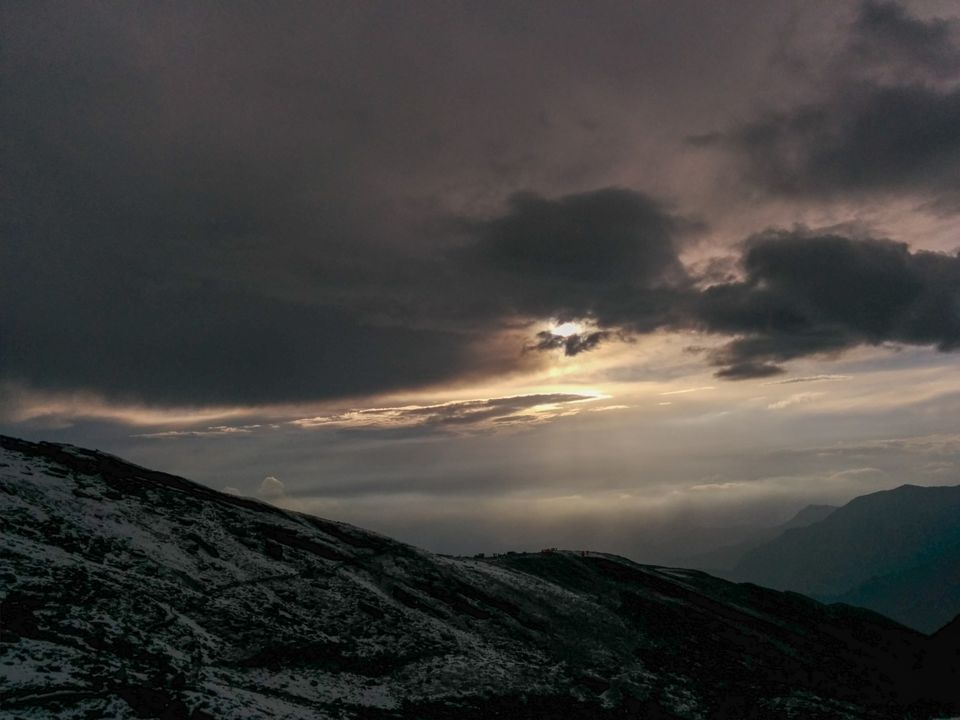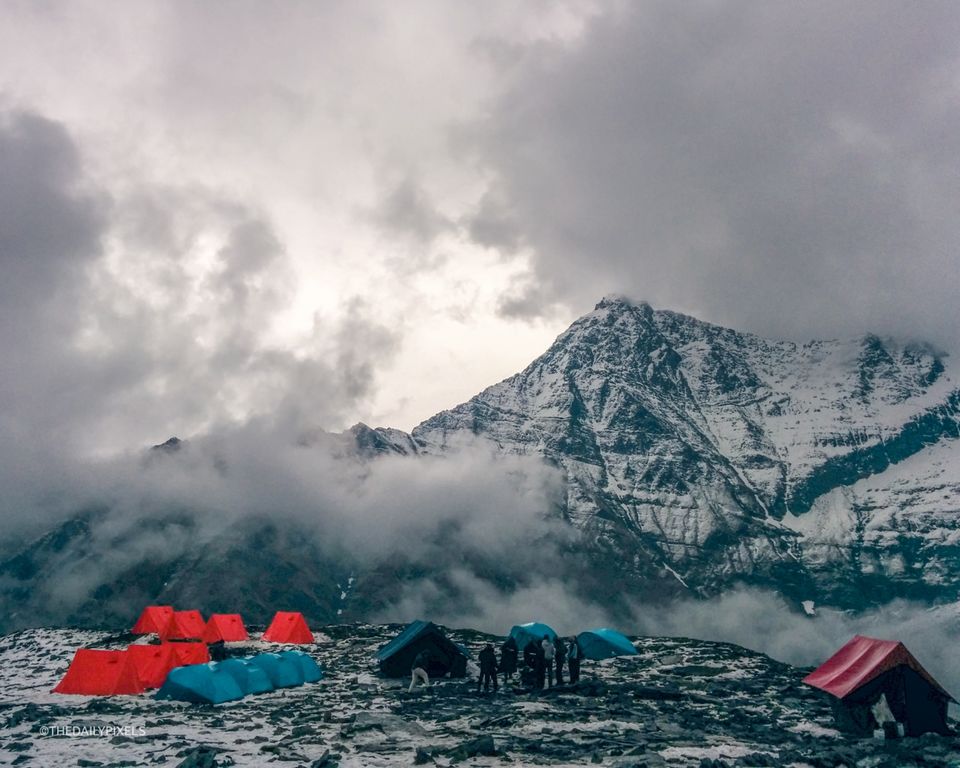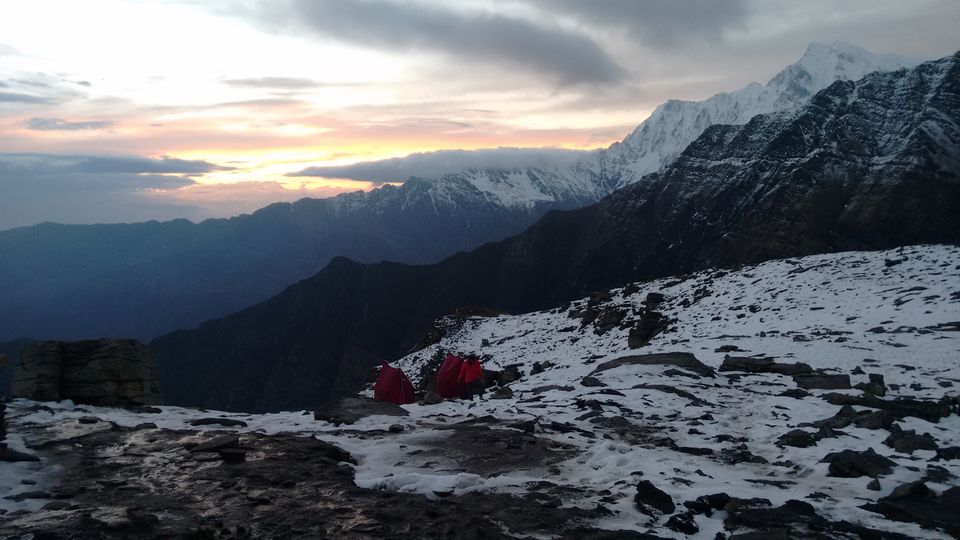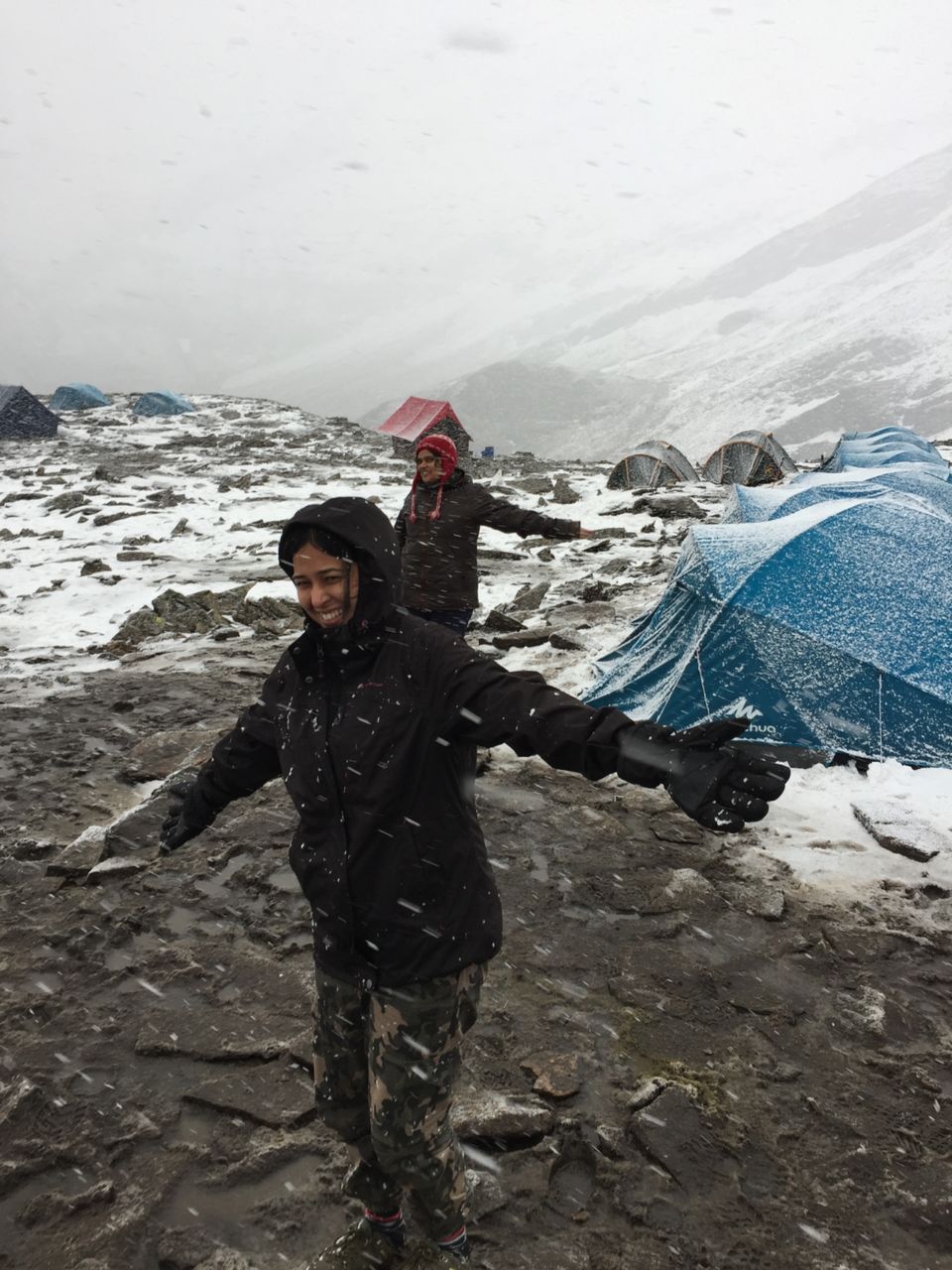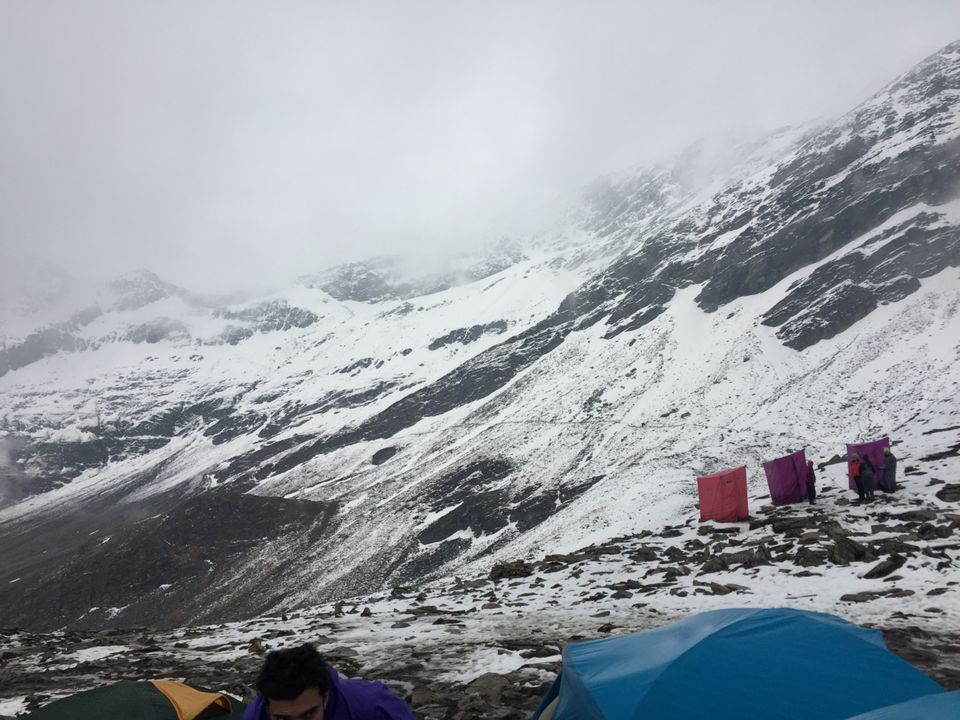 Bhagwabasa to Roopkund 15,800 Feet
The final day, the snowfall happened last evening was in our favour as out crampons will grip more easily now. But we have to make sure to ascent before sunrise, if we are late then the fresh snow will start melting and it wil be difficult to ascent.
All grouod at Bhagwabasa were ready even before 2AM, after all we all were excited. We started at sharp 2AM, with head torches. We can see thin line of light of torches on mountain curves,in the pitch dark it was looking amazing.
It wasn't an easy ascent at all, it was tough, steep and 15000+ feet. It took everything from our body to climb up, we reached there at 7AM, and finally we can see the Roopkund lake : The Lake of Skeletons.
We were all happy, hugging each other, taking pictures, few of us went back 500-700 meters to help who were tired and couldn't ascent.
700 meters at 15000+ feet is like 7kms, every step you take you can count the number of breathes you took.
We were all on top finally, our whole group made it, we spent good one hour there. Everyone took their own time to sink in.
And then we descent to Patar Nachauni, yes directly to the base camp of day 4. The descent was amazing, we had fun coming down. We were less tired and it was really easy now to walk down.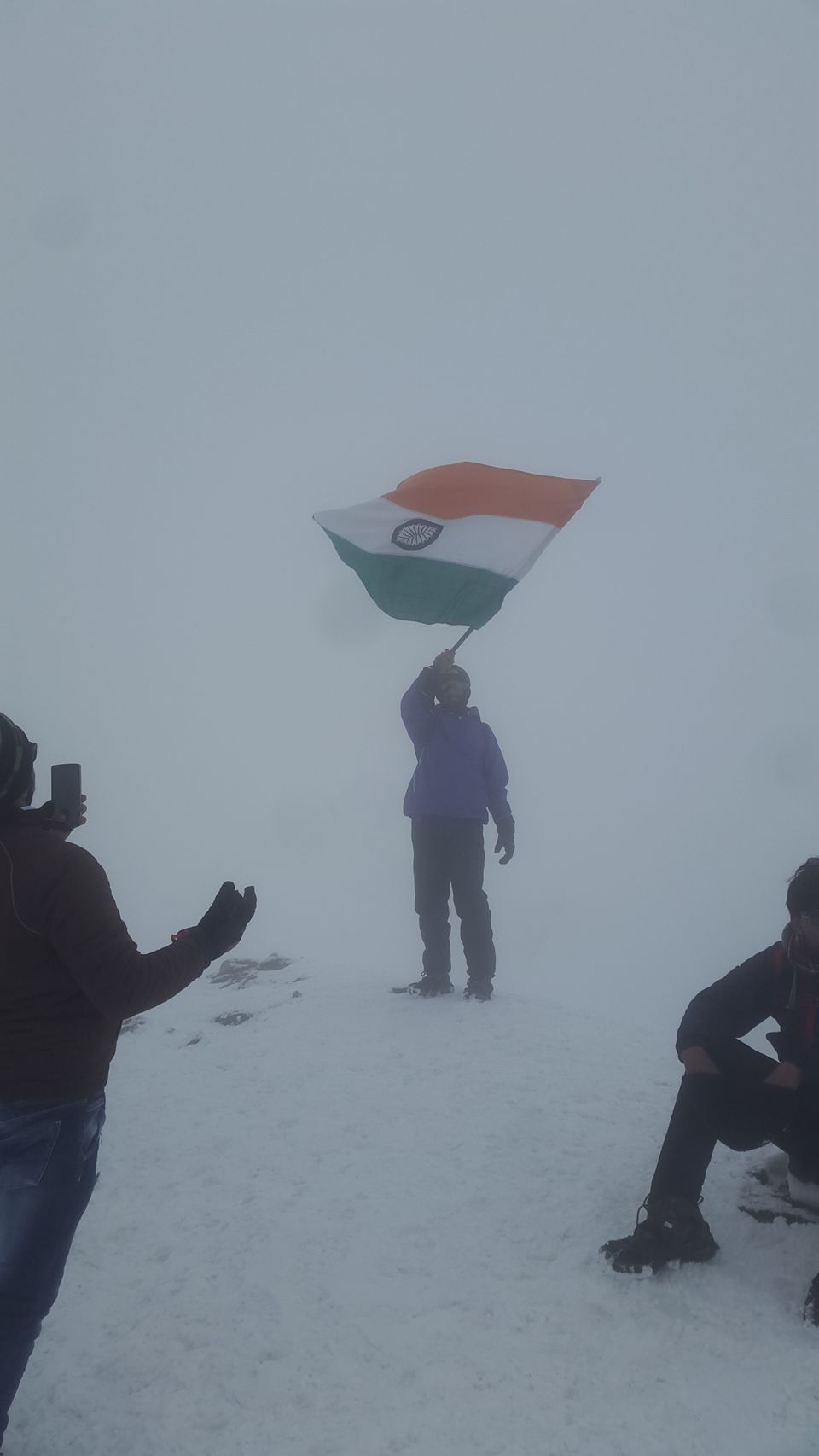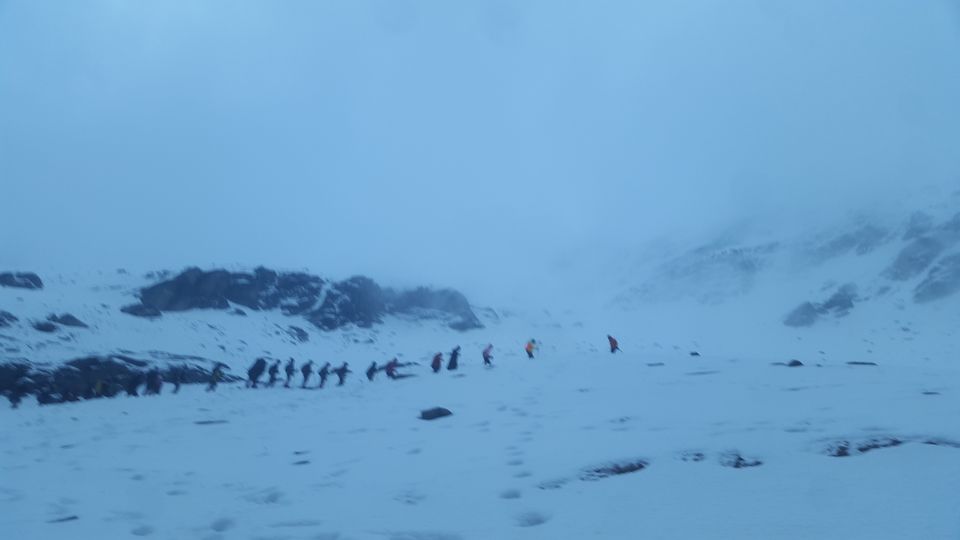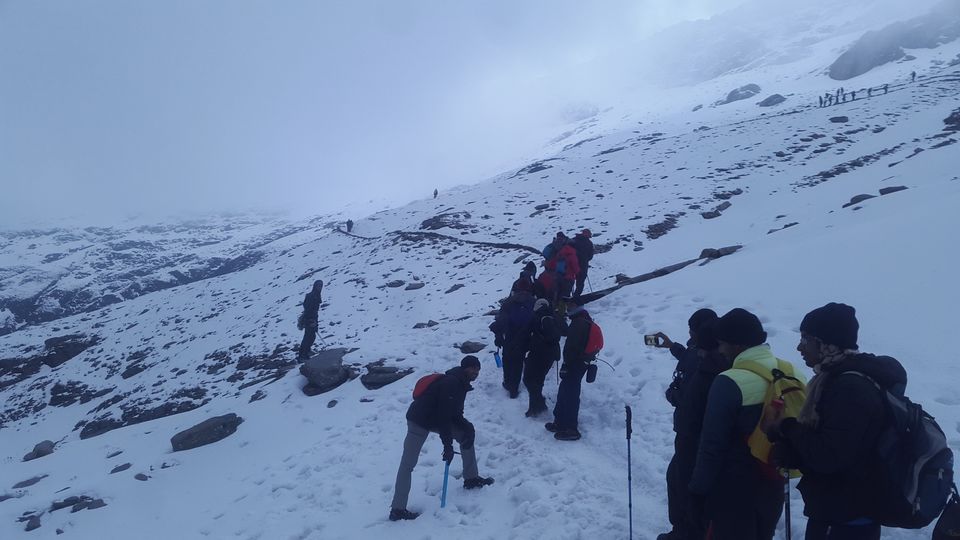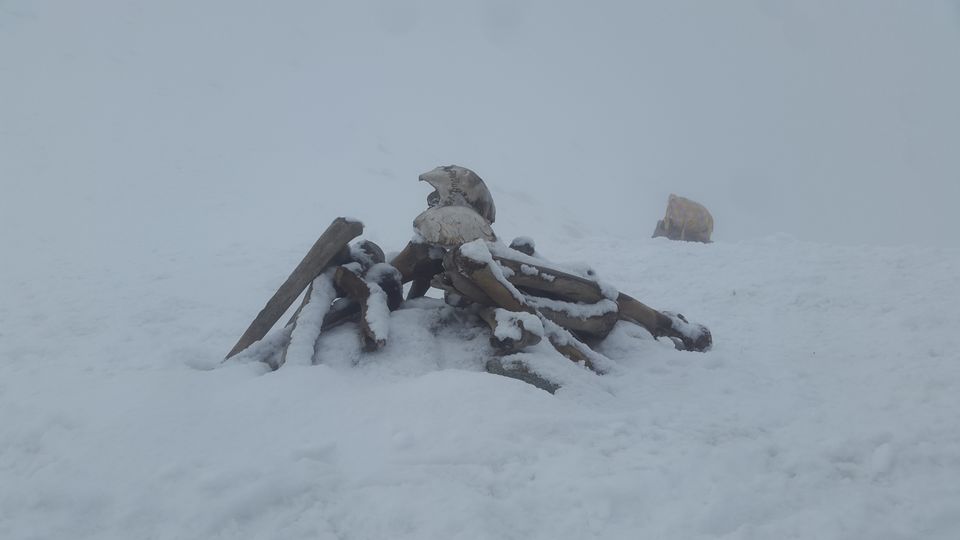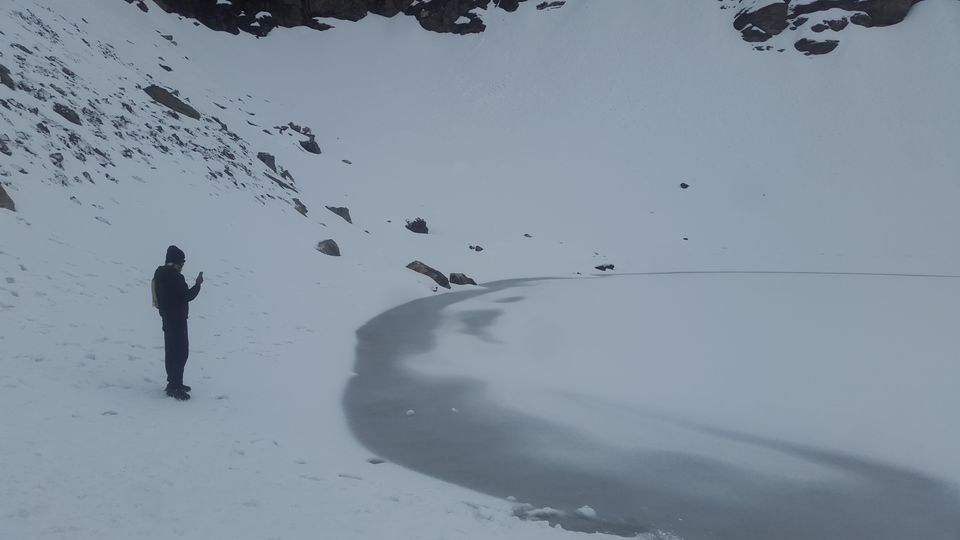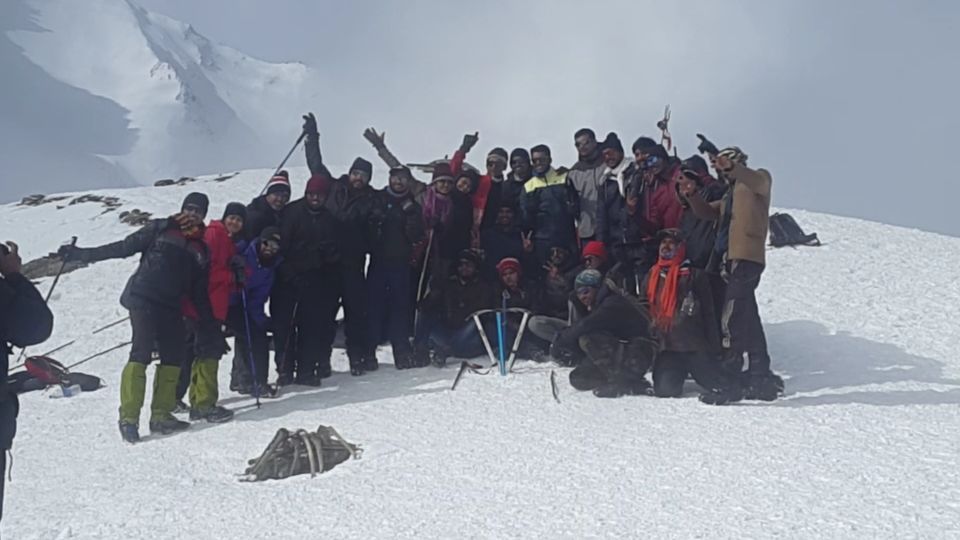 Patar Nachauni to Lohajung via Bedni Bugyal
The night at Patar Nachauni was the true mountain night as our leads told us.
Our camps were near a valley on mountain top. It was pitch dark, we were back in our sleeping tents, and the storm starts. The wind speed was too much, you can hear all kind of whistle sounds when the wind is passing under your tents, our kitchen tent (bug tent) was almost blown. We were instructed to see if our tents are properly tied, me and my tent mate couldn't sleep for hours, we had our head torch on and just laying there. We went out at 1AM, it was still same, everyone was awake, for few the tent nails came out. The TTH team were helping to fix them, and instructed us to remain in tents so that our tents won't fly.
This was one hack of a nigbt.
We woke up next day to some damage, the people of staying there have experience how to handle this, and did a great Job. We had out breakfast and started the 12KM descent to Lohajung.
To our homes with a bunch of new friends and an experience to share and cherish for lifetime.
This was my first trek and since then I have altogether a different meaning of life. Our team lead got very much connected to us, he became emotional while we were packing to leave.
There is alot to see, alotnof people to meet and alot to experience.
The value of little things, the value of human next to you, the value of a bottle of water, we got to know all this in these few days.
If you lost somewhere while reading, you can see the one minute video here https://youtu.be/HZ2-kAhopQY
Instagram : @thedailypixels
BUDGET : 8 Days 9 Nights . In 2017 we paid 9500 for Kathgodam to Kathgodam (It's the nearest railway station) , Nainital is 10 kms away from here. 3 Meals , evening tea was included. Mules were available as per the requirement. From Delhi you can get train to reach Kathgodam, and the taxi to the Day 1 stop :Lohajung. We were a group of 22 people.