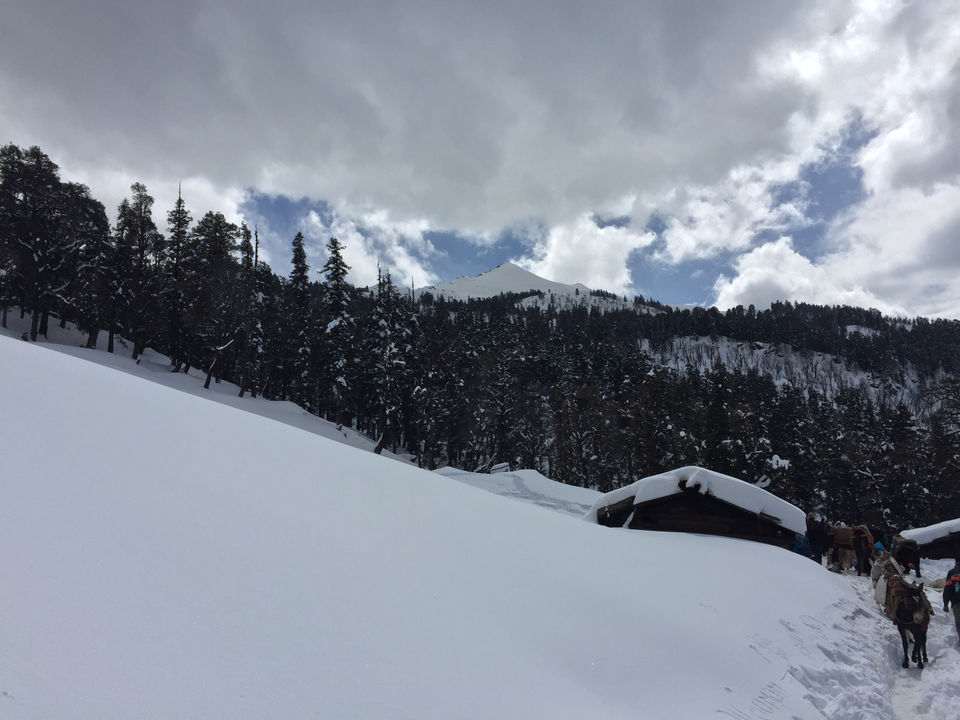 Dehradun to Sankri
We were a group of 23 going for a trek to Kedakanthak (12646 feet) organised by Renok Adeventures, starting from our base at Sankri (6400 feet). This was our first trek to Himalayas and heard this was one of the easiest of the lot.
We started from Dehradun station at around 9 am with one batch going ahead starting at around 8 am.
The weather in Dehradun was cold and we could see snow peaked mountains all around us from Dehradun itself. We had heard there has been snowfall for the last couple of days at Sankri and of course on our path of the trek, which we came to know later that it was the heaviest snowfall of the season. Such snowfall was unusual for this time of day the year.
Though we were mentally prepared for the trek, we never thought of what we were going to face the next three days.
The drive to Sankri was through Mussoorie where we saw fresh snowfall which made
the view lovely. The rest of the drive was uneventful as we reached Sankri at about 8 o clock in the evening.
It had become dark and now for the first time we felt the cold weather. Most of us were from metros and inexperienced trekkers and were feeling the shivers of the cold. Somehow we managed to have dinner which was delicious. Some of us ran to the kitchen, just to feel warmth of the 'chulha'
We were then given a small briefing by our trek leader 'Preet' who told us our general itinerary of the trek and the only sentence I remember.
'This trek though is termed 'easy' for most of the year but due to the weather conditions now it will be 'moderate' to 'difficult' for us.'
All of us were tired, so we soon got to our assigned accommodations for sleep. Most of us slept I guess through the night just about managing the cold. The temperatures at night went to about 2 degrees with a little snowfall too.
Sankri to Juda ka talaab base camp
We all got up at the assigned time of 6.30 am more or less and were woken up by a wake up call of tea (our routine wake up call) for the next three days.
All of the group were pepped up to go, with a light breakfast in our stomachs and few fresh supplies from the local market, we were off for the trek.
The adrenaline was running high in each of us which I guess helped to conquer the cold. We started at around 10 am, with a walk of approx 1 km from Sankri village, the ascent started.
We all were dressed to bear the cold with layers of clothes. Just after a few steps of ascent, we saw snow all around us. The excitement for us was palpable as we were going to walk on the snow upwards. It was not easy to walk on the snow as the footwear we were wearing was not suitable for it. However as we walked upwards, the body became warmer with the walk and we removed one layer of clothing.
Each one of us was walking at their own paces and were stopping and going as per their requirement. Yogi bhaiiya as he was fondly called (a local experienced mountaineer with a lovely sense of humour) was leading the trek; and Preet was our sweeper as they call it. The entire group has to walk between the leader and sweeper. Nobody ahead of the leader and no one behind the sweeper.
The trek was now taking its shape as the views around us were getting better and better with the each step. There were pine trees all around us covered with snow in their branches.
There was silence with no ambient noises of any kinds except the voices of nature, birds chirping, water falling off a cliff some place far and winds blowing through the leaves. Oh my god it was just awesome to just feel this and for me personally I started feeling one with nature.
We were very lucky with ample sunlight and a very mild breeze blowing. Just perfect to trek. Occasionally snow would fall from the branches of the trees, and in the silence, the sound was like a rock dropping from a height.
As we were ascending; we stopped at a place from where we could see the Himalayan ranges in full view. The view was breathtaking with the largest peak in front of us was Swargrohini. A collection of six peaks with 4 visible from the angle we were seeing. Swargrohini, according to Mahabharata, is the peak from which Yudhisthira and a dog ascended to heaven. The first thought that struck me was oh my, are we closer to heaven. Surely feels, sounds and looks like it.
The first major pit stop on our trek came around 1 o clock. I was just pleasantly surprised what we were going to get here. Somebody is going to give us fresh and hot Maggi. Oh wow. Most of us had Maggi with a addition of cut boiled egg as an addition along with a hot cup of tea.
Refreshed we started our ascend towards our first base camp near Juda ka talaab. Managing some steep climbs at some places, we trekked through the snow clad mountains, we reached the base camp at around the 3.30.
The camp which was at a height of approximately 9000 feet was already setup by the team from Renok Adventures and lunch was kept ready. We had hot lunch and then were briefed that we were going to go for acclimatisation walk to Juda a talaab at about 5 o clock.
We were assigned tents, with two of us given one tent to occupy. Some selected that three of them would stay in the tent while others had four inside the tent.
One of the attractions for us to select this trek was to get an opportunity to stay in a tent. As soon as we entered, we thought how are we going to spend a night inside this with this extreme cold. We were told we would be getting sleeping bags with an inner inside in which we have to spend the night.
After spending some time in the tent, we started our acclimatisation walk at around 5 o clock to Juda ka talaab.
Juda ka talaab is a lake and one of the prettiest sites that you could see on the trek. In the summer it's lush green, but the way we saw it was a frozen lake. Still it was one of the best sites on the route.
Acclimatisation walks are done so that the body gets used to higher altitude where the air starts getting thinner. This is exactly what was happening to us and also were getting used to walking on the snow. The snow was two feet deep around the side of the trail we were walking through. It was getting difficult for our shoes to grip the snow especially when going down where few people managed to slide down while myself was forced to slide down as I was slipping every few feet.
We reached our base camp where twilight had set in and were welcomed with a hot cup of tea and pakodas. The evening cold was setting in and all were shivering. Everybody now gathered around inside a slightly bigger tent which was termed as a dining tent. We were given small stools and somehow there were 15 people sitting in the tent and it felt warmer inside than outside. There was another briefing to tell us the schedule of the next day.
The group had now started to gel well together and after a round of dumb charades made the team bond better. After an hour of fun and games, we had dinner and were ready to go to our tents.
Once we came out, it was a task to just walk to the tent which was hardly a few feet away. However this was a full moon night and the peaks and trees around us were looking magical all around us. The snow glowed in the moonlight, ah just magnificent. I hoped to watch this for a longer time but it was so cold that we had to go into our tents.
We were given a theory lesson as to how to wear a sleeping bag and an inner which we need to slip into. Practically doing this was a difficult task the first time. We need to get into the inner and then slip into a sleeping bag which would be zipped from the side. Once we managed to get into them, we felt warm. The tents were setup on the snow and the level of the same while lying down was not flat. Hence sleeping on the uneven surface took us getting used to. Some managed little sleep, some slept well and some did not sleep well at all.
Juda ka talaab to upper base camp below the kedarkanthak peak
We were again woken up in the morning with a cup of hot tea bought to our tents this time. Once we opened the tent door or zip as we should call it, we could see the Himalayan ranges right in front of us.
Snow clad peaks and mountain ranges just staring down at us. Just an awesome sight with the morning sun on them.
Most of us did not feel like coming out of the tent due to the cold, but once we got out and felt the sun on us, it felt nice. There are a few things that happen in this weather which is peculiar. The temperatures at night must have fallen to -5 or so. The shoes which we had removed were already wet from the climb get frozen in the night. The water in them gets frozen and its difficult to wear them. The shoes have to be warmed by taking them near a fire. Even the water bottle filled at night with hot water gets frozen and turns into ice.
We all got ready, had breakfast and guess what, it was Holi today. Some of us had brought colours along with them and started celebrating. We applied colors on each other and were wishing each other happy holi. The colors fallen on the white layer of snow made it looked even better. Wow celebrating holi at 9000 feet, just amazing.
We were then given a small lesson to unhook our tents which we would then setup ourselves with help of the Renok team at our next base camp. It's surprising how a place where we slept the whole night just gets wrapped into a small bag which can be easily carried by hand ourselves.
While doing all this, we were a bit late than the scheduled time as we started our ascent to the second base camp. The climb was through snow now so we were provided with micro spikes which were fixed below our shoes. These made the shoes grip to the snow surface better. It definitely made my walking easier.
The trek to the camp again had some steep climbs and some easier walks. The view of the ranges around us was getting better and better. The peaks looked closer and much wider as we climbed. We reached the base camp which was at around 11000 feet after about a two hour walk. The Renok team had prepared lunch which we all had.
From our base camp now we could see the Kedarkanthak peak at its full glory. The summit seemed so near yet so far which we would ascend the next day.
The entire team then came together to setup the tents and most importantly before doing so we flattened the snow below the tent so that we could all sleep well at night. We all then went inside the tent for a little rest. The weather started getting a little worse so the acclimatisation walk for today was cancelled. Again the team got together inside the small dining tent and played games till dinner time. It was fun and kept us warm till sleeping time.
We then retired to our tents at about 9 o clock. The surface was better than yesterday. Getting into the sleeping bags was easier than yesterday. Again some of managed some sleep some of us could not.
This is a time to mention the dogs which had accompanied us right up to this base camp. These dogs are really friendly with all humans and at the same time fierce. We were told at night there are foxes which roam around the base camp as they smell food in the kitchen. There was also a mention of bears running around. This was not at all an exaggeration as the dogs were barking at their full voices to keep the animals away from the tents. They used to run all around our tents; barking so loud. But I guess they were just doing their jobs.
Base camp to Kedarkanthak peak
We got up around 6.30 at least some of us did and after a cup of hot tea and breakfast, all of us excited to walk to the Summit. After all the morning activities, the usual warming of shoes which had got frozen we started our walk to the peak at about 9 o clock. We were now covered with extra layers of clothing. I was wearing about 6 layers on top as it was going to be colder than this at about 12000 feet.
The walk was now through snow which on the sides was about 3-4 feet deep, though our trail was clear to walk. Stop and go whenever we get tired of walking. It was getting easier to walk, but the temperatures were dropping as we ascended. After walking for about two hours, we reached a hut about 600 feet below the summit. There was a fire burning inside and all of us cramped inside to get warm. The weather outside was cold and felt far more cold due to the strong winds blowing. This made staying here for long impossible. There were few pictures taken with peak in background. We were at 12000 feet now and it was now not possible to go up. The route going to the peak had vanished in the snowfall which happened couple of days back.
But so what guys, this was our summit, coming here itself was our achievement. So kudos to all of us who made it.
We started climbing down through the same route and there were places where some of us could slide. Some of us enjoyed sliding down. The descend was much easier and faster. The trek down to the base camp was done without a break and we took half the time we took to climb up.
We reached the base camp at around 1.30 and had hot lunch of rajma rice. The Renok team had done a great job preparing food for us everyday. Each meal was different and well cooked, and of course hot. There was variety and at dinner they served us one sweet dish which I am not sure how they managed at these heights.
We then retired to our rooms for rest in the afternoon. We came out in the evening at about 5 and were served Maggi and hot tea. It was amazing again to have this. Again as it got colder we went inside the dining tent and started chatting and enjoying ourselves with a game of Antakshari.
Then there was something special in store for Deepa. It was her birthday today, and to my surprise the Renok team had made a cake for her. It was just a special experience. All got around to sing her the birthday song and to cut the cake by blowing the candle. It will always be a memorable birthday to be celebrated at 11000 feet in a tent at these cold temperatures. Thanks to the Renok team for this once in a lifetime experience.
We went to our rooms at about 9 o clock to sleep. The sleeping bags were getting just a little bit easier to get into and sleeping in them was getting better. The dogs were again barking at their loudest whole night keeping other animals away. We definitely heard some noises of other animal than dogs that night
Upper base camp to Sankri and back to Dehradun
This was our last day of our trek and we were to descend to Sankri at one go, from 11000 to 6400 feet. After having our breakfast, we all together for taking group pictures as this would be our last day together. We stared our trek at about 9 o clock which was one hour late than our scheduled time.
This climb down was easier as the breadth did not get heavier and we required less breaks. The micro spikes were still on our shoes. All the while still clicking pictures, we trekked down. The snow around us was definitely reducing as we got down, hence at a point we had to remove our micro spikes. From this point on, the descend became difficult. The path was full of wet mud which had developed due to snow melting in the track. It was difficult to walk on them and balance ourselves. The walk was getting very slow as it was getting tricky to manoeuver around the wet and muddy track. This was for me the most difficult stretch of walk on the entire trek. Finally after about 5 hours of trekking down, we reached Sankri. Most of us had fallen at least once. The clothes were covered with mud. We changed our clothes as soon as we reached and for first time in four days, we were able to get into one layered clothing. We had a quick lunch and were off to Dehradun in a mini bus. We were about 2-3 hours late than our schedule and hence the driver had to drive fast so that each one of us could take their scheduled transport to their destinations.
We were done with a amazing experience of the last four days. If I were told that this was what in store for us before the trek, I don't think we would have opted for this.
Hence as it was unknown, we were going through each moment and experiencing its full length. Be it the extreme cold conditions or the small tent for sleep or any other small little things. I will just end this by the following few lines:
We are living our lives at a pace so fast,
I say stop and have such experiences which would last,
As Renok says, those who wander are never lost,
It's so true, so wander before time and body exhaust,
I am going back with memories which make my eyes glow,
Wondering when I will get to sleep on another bed of snow.