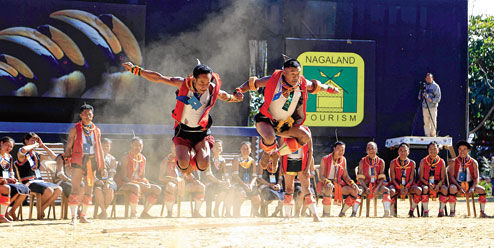 On 1 December 2017 at the Naga Heritage Village of "Kisama" which is about 12 km from Kohima, Last year President Ram Nath Kovind inaugurated the 18th Hornbill Festival and State Formation Day celebrations of Nagaland.
The name of the festival derived from a bird which is only found in North East Great Indian Hornbill.
During the festival you can see and experience Culture of 18 major tribes of Nagaland. These are;
1- Angami 2- Ao 3- Chakhesang 4- Chang 5- Dimasa 6- Kachari 7- Garo 8- Khiamniungan 9- Konyak 10- Kuki 11- Lotha 12- Phom 13- Pochury 14- Rengma 15- Sangtam 16- Sumi 17- Yimchungru 18- Zeliang
Every year Nagas celebrate Hornbill festival from 1st to 10th Dec. It's start with celebration of Nagaland Statehood Day on 1st December. It brings together all the tribes and sub-tribes of Nagaland and they show their culture and tradition in the form of dance, food, game and many more colorful events which are unique and show their tradition.
People come from all part of India and as well as from foreign country to witness and enjoy the festival of festivals.
If you want to go and experience it Live then you have 2 option to reach their.
How to Reach:
The nearest railway station and airport is in "Dimapur" which is around 74 km away from Kohima. This station has regular trains from Guwahati and Kolkata and for flyer Dimapur Airport is also well connected to major cities of India like Guwahati, Imphal, Kolkata and Dibrugarh. ... It has regular flights to the places such as Aizawl, Bangalore, Delhi, Kolkata and Silchar. You can hire a taxi from Dimapur to reach Kohima.
What to Do:
In the Day Time:
>Experience Folk Dance Songs and Games of Different Tribes:
You can Also Experience so many traditional and cultural small event which takes place throughout the duration of the festivals. All the tribes of Nagaland perform their Folk Dance, Songs and Game which are so mesmerizing.
>Participate in Various Unique Competition:
There are so many competition running throughout the festivals and if you want you can participate and win. But the competition are so unique Like: Chili Eating, Pork fat eating, Piglet Catching, Greece bamboo pole climbing, Wrestling etc.
>Witness to Naga wrestling:
Enjoy to see their traditional techniques of wrestling.
>Experience to Visit Art and history of Nagaland:
Visit the Museum where you can see the history of World War 2
>Miss Nagaland Beauty Contest:
You can enjoy the beauty contest
>Fashion Show:
Many Talented Designer show their talent with the designing Nagaland traditional dresses with modern touch.
In the Evening:
>Enjoy Rock Concert in Evening:
In the chilling Night and a Open air rock concert by various artist what anyone want more to spend a good evening.
>Enjoy Bonfire in chilling Night:
All the tribes perform their folk dance nearby bonfire wich was lit by Miss Nagaland on the Last day of Festival.
For Food Lover
>Improve your Taste Bud with the taste of traditional food:
When you will go to place of festival you will find Morungs (kind of Hut) every tribes have their own Morungs with restaurant where they serve their traditional food. You have to try their Rice Beer
For Shopaholic:
>Shopping:
All the place convert into the market where you can buy traditional things which show the art and culture of Nagaland. Like Things made by Bamboo, beads Jewelry
How Much to Pay for Entry
If you're staying near the grounds or camping on the grounds then the price is FREE. If you're visiting from outside then you pay 20 rupees per day on the gate. DLSR charge is 30 rupees and Video charges will be 50 rupees.
(Note : Visit the Morungs early means before the festival start to take picture with Morungs and with tribes before the crowds.)