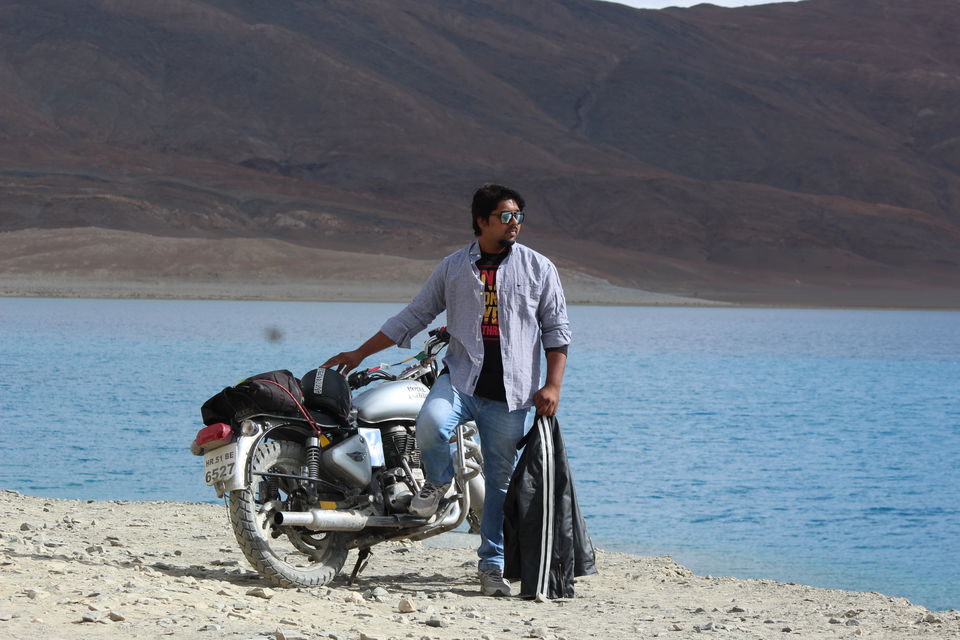 22 JUNE 2018
'Pangong Tso' means 'long, narrow, enchanting lake. Pangong lake is at height of around 14k feet. It was recorded under 10 degree temperature on this day. It is beautiful, magical and most panaromic lake in this region. The reflection of spectacular range shimmering in the ever changing blues of the lake's water. It is the place which can be listed as "see before you die".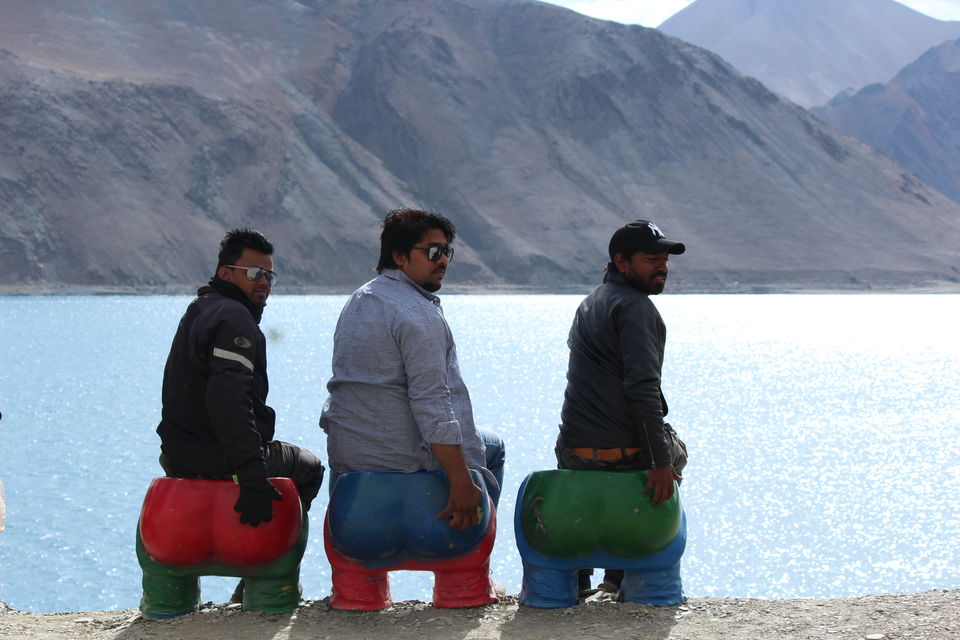 We started from pangong to leh after breakfast. We took our vehicles towards the sandy shore and drove till the shooting point. This stretch was made famous by the movie
'3 idiots'. We clicked some pictures. I have never seen something so magical and beautiful.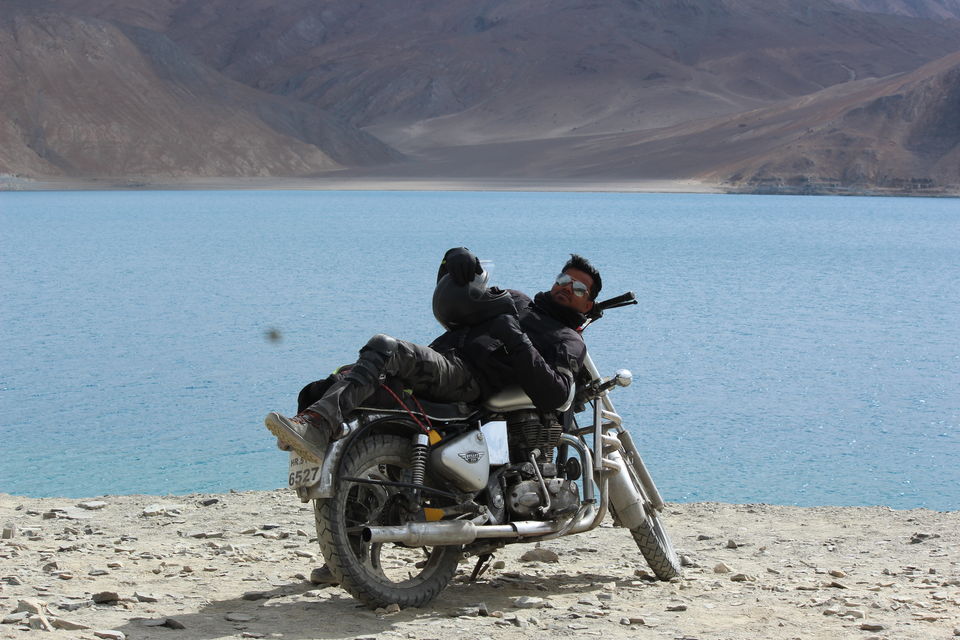 It churned up so much emotions inside me that I felt like spending my entire life there.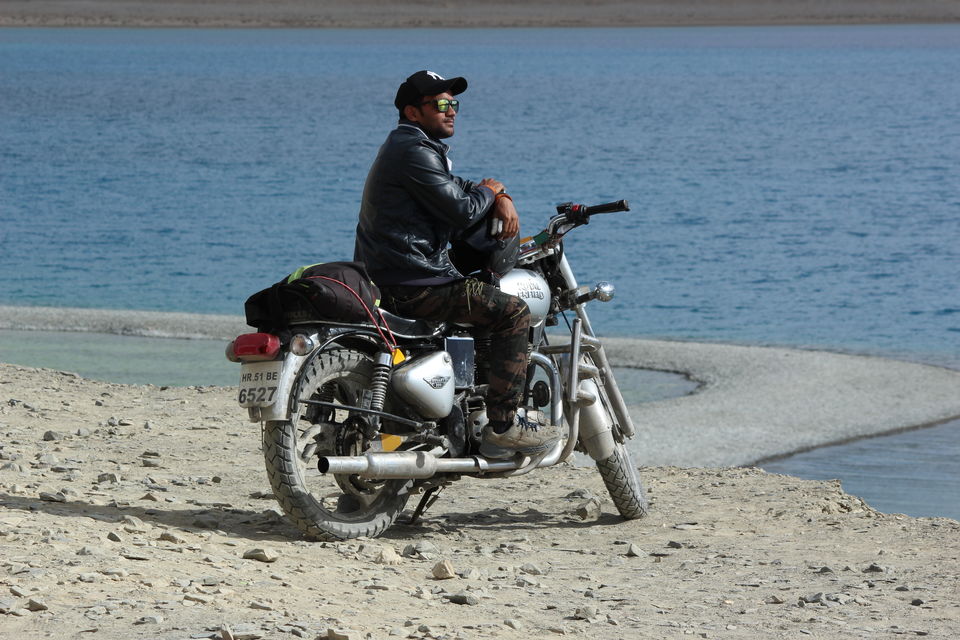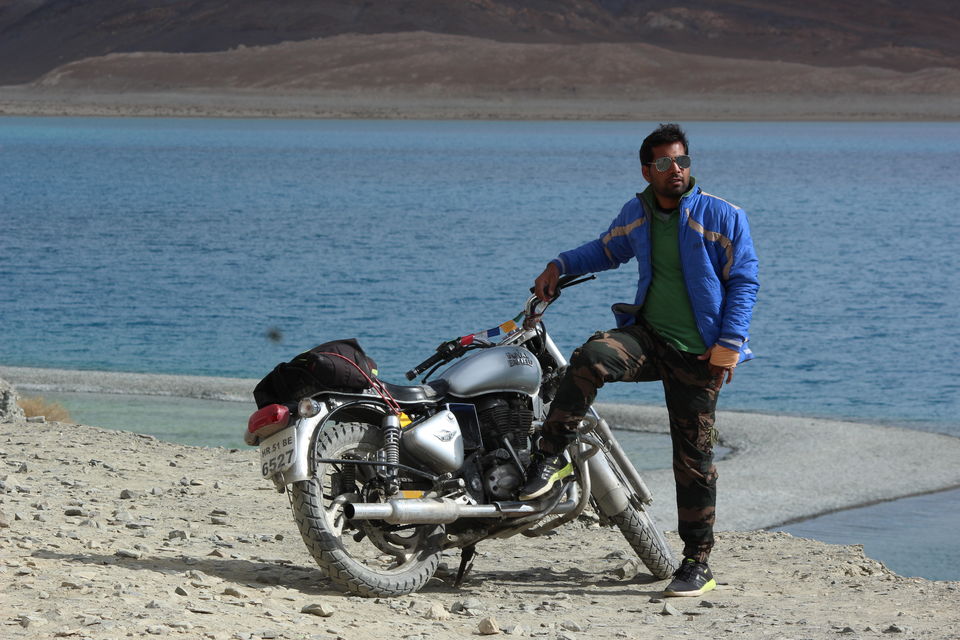 But, we need to move on towards leh. The roads are good which made comfortable ride except 10kms of ride. This bad road includes world 2nd highest pass, " Mighty Changla". Height is around 17688 feet.
Moving ahead we saw road is closed for some maintenance work. It had a diversion. Really really bad steep road it was. Road was consisting with all loose sand. It had the most dangerous edges of the road. It wrong move and you may go to deep valley. It was very difficult to cross this off road diversion. After some distance, good road starts and we kept moving.
We reached at karu around 3pm. This place is 35 kms before leh. Our bikes demanded some service so we spent some time at service station at karu. we looked at some hotel at karu but, we didn't find suitable one for us. So, we went back to Leh at the same home stay hotel. We confirmed the lady owner before going to leh.
Deadlock situation:
Till now we have option of rider shift. But, Atul and Khush were not feeling well confident and was not prepared to ride on bike on such roads after they met small accident.
For bikes we have four option, me, Dhirender, Prashant and Vishal.
For car we have only three option, Dhirender, Prashant and Vishal.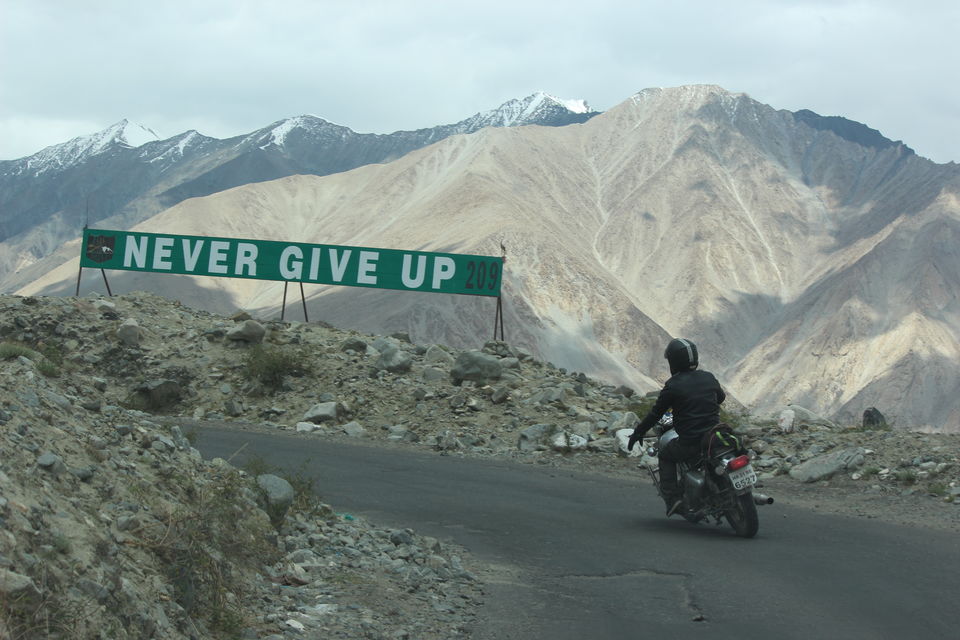 So, I got to know that I have to ride the bike from leh to delhi. There were some people in group who demanded to change the route and go from Srinagar-Jammu-Delhi, due to bad roads. But, we finally chose to go from Manali.
Since we have only two days to reach at Delhi. We pledged to woke up early in the morning. Luckily, we managed to do. The owner lady has made a very good tea that morning. After having tea. It was around 7:00 AM in the morning when we started our journey. We thought to reach Manali by 10pm.
We went to refill our vehicle's fuel tank. But, petrol pump had very long queue. So we thought to go ahead and refill at karu. we covered leh to karu, 35kms in just 27 minutes.
We took our breakfast at upshi and moved ahead. We saw some really good roads here. People were telling us that we would get good roads till place called Pang.
We enjoyed every moment of this region. When you are travelling through Leh-Manali route. You should wear all worm cloths. As you are going through some of the coldest high mountain passes.
It is around 473 kms from leh to Manali. It is being said that in the land of mountains weather is unpredictable. It could rain, it could be all sunny and windy day. It could be snow fall or anything can happen. So, prepare yourself for the all-time weather.
We have crossed yet another high pass "The TaglangLa". It is at altitude of 17582 feet. Roads to reach at this place is good in condition. Infact, it was the only high pass where we got good conditions of road. It is 108 kms from Leh.
Before reaching our next meeting point Pang, we took small halt. We had nice tea at dhaba. You will find bed like seats at dhaba in this route. They offer short warm blanket also if you need to warm-up your body. They also offer to bed to sleep. They charge around 200 INR. So, if you feel you are tired or due to bad weather you can't to ahead. Rush to these small dhaba.
Rider shift …!
Dhirender wanted to enjoy the ride of car in this area. Now, me, Prashant and Vishal were the bike riders and rest of the person was in car.
Frequent Searches Leading To This Page:-
best tour packages for leh, top leh tour packages for family, top leh tour packages with price, budget trip packages for group to leh, things to do in leh, leh holiday tour packages