#TripotoTakeMeToSandakphu
Phew… within a short span, just three weeks, I was done with two totally different cities, with totally different mantras, Eat and Pray (see my previous posts). The one left was something which I have always been afraid of and knew by my heart that it's not gonna happen. But what occurred was somehow very close to it. Now, come on, don't make a presumption that I fell in love or something! A class trip back to Delhi was organised in no time for study of Urban places and the activities going on at Urban level.
From being in solitude, unexpectedly, I was told to pack my bags and move back to the city life! Within just twenty days, I was back in town, to study of course. For the first time I was afraid to roam around in my own city. Delhi is a strange place. Here, no matter how many people are residing in the city, you tend to bump into people you know, while moving in Metro, in a mall, in shopping places, etc. And the probability of the same increases especially on weekends, that's when we reached Delhi.
According to the movie plot, or rather, the plot of the novel, the protagonist returns to Bali and finds her "love affair". Here, my tale couldn't match the original plot. Maybe that's why they say that life is not a movie. Though I lacked the 'love affair', I had memories. Memories of the time spent, memories of the places I have visited before, memories of the 'feel' of my own city – Dilli, memories which are as dear to me as my 'love' would be. In short, my memories became my "love affair" on this trip.

We started the study with C.P. and our assembly point was, by default, chosen as C.C.D. at Rajiv Chowk, always. Waiting there you'll never feel bored. Every moment the person standing next to you would be replaced by another one as they all are 'waiting'. A guy leaned on the tilted wall calls someone and a moment later the 'someone' comes, they greet each other & leave, another guy or girl takes over his place. This activity or cycle moves on and on. Well, you must be wondering what I was doing there. I have spent hours waiting there for friends. Memory of those waiting hours is my 'love affair'. In architectural terms, I studied the importance and need of a Landmark.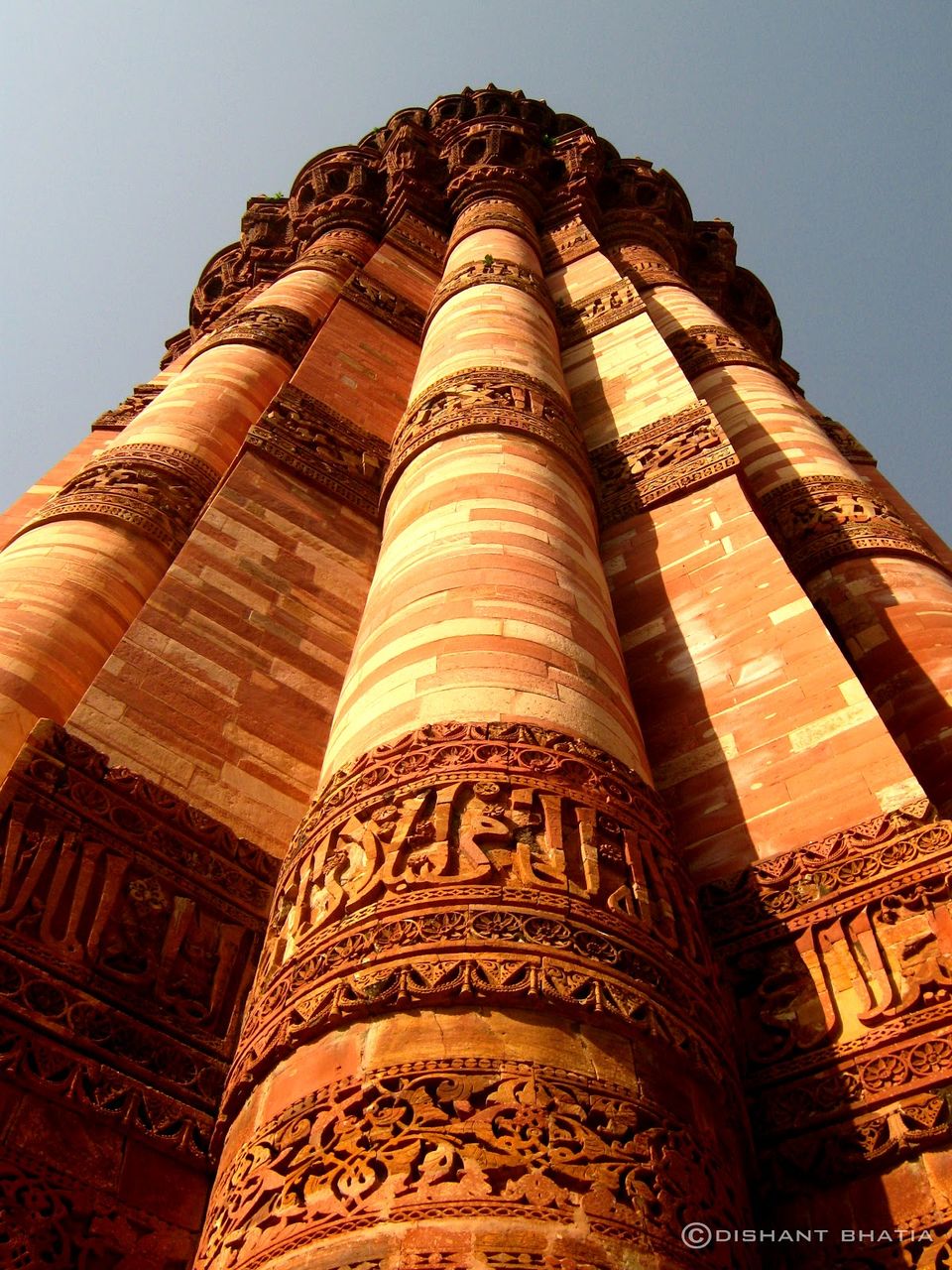 Qutub Minar, one of the three World Heritage Sites of the city. Memory of my last visit to the monument was so empowering that I couldn't feel any charm of going there again. But to 'study its role at urban level' was the task given to us. The weekend rush, scorching heat, and limited time, all these factors made it a dull study. The only thing I could relate to my 'love affair' was the 'ruined' part of the complex.
"It's like a precious wound… like a heartbreak you won't let go of because it hurts too good…"
"We settle for living in misery because we're afraid of change, of things crumbling to ruins."
"Ruin is a 'gift'. Ruin is the road to transformation. It shows that we must always be prepared of endless waves of transformation…" ~ Eat Pray Love
In architectural language, I studied how a monument lives so long and becomes the Icon for the city.
Next, the busy long road, people rushing either towards or opposite to you, small pavements, hundreds of shops, preoccupied crowd moving like zombies, and you moving just with the 'flow', that's when you know you are in Chandni Chowk. No matter from where you are or which place you belong to, this heritage street shows you that you are 'nothing'. The moment you step into the crowd of Chandni Chowk, you are either lost or carried away by the 'flow' of it. Here, no one stops for no one. The flow is nonstop, pedestrians, vehicles, autos, rickshaws, even bullock-carts, all looking for their space and you find yourself fighting to get yours. My 'love affair' with the place is longstanding just as the place is. When I feel low I prefer to visit this street. It reminds me of the value of time and thus to 'move on'. In technical terms, I studied the characteristics of an Urban Street.
Visit to District Center, Janakpuri was again a revival of my 'love affair' with the place. Shattered, the place is still managing to survive and serve its people. Sometimes I relate buildings with people and emotions. I found it looking for answers for its dusk. Why its value has gone down, just because other better options are available? Or it has some faults within? Academically, I studied the 'decline' of an Urban District.
Likewise, the three days trip covered other spots like Kashmiri Gate Station, Malviya Nagar, Janpath, etc. The first is an Urban Node i.e. an important junction, in bookish language and as far as my 'love affair' is concerned, it's my place to 'meet up'. I know Janpath as the place to buy that Rs. 150 tee, whereas they call it just an Urban Street. Malviya Nagar, a perfect example of an Urban transformation also happens to be 'my' place to define 'change'.
By the end of the trip, I was totally empty. It's like I buried every single 'love affair' of mine at the place where it belonged to. Every place that gave birth to the 'love affair' is its tomb now! Time changes everything and within these thirty days, I went through loads of changes. When in Mumbai, I 'lived' with my appetite and just after that I bowed down to the mighty nature, in Campus, that showed me the way to 'emptiness' and still does. The last stop, Dilli, displayed the value of 'love affairs' or memories and their effects if they remain.
I could have describe this 'journey' of mine in any way, but Eat Pray Love provided me with a way to express all as, miraculously, it matched with the 'real' life plot. And so does the result or "the physics of the quest", and thus I would quote down a phrase which will define and conclude this romance.
"The rule of the Quest physics is as follows:
If you're brave enough to leave behind everything familiar and comforting… and set out on a truth – seeking journey, either externally or internally, and if you're truly willing to regard everything that happens to you on that journey as a clue… and if you accept everyone you meet along the way as a teacher… and if you are prepared, most of all… to face and forgive some very difficult realities about yourself, then the truth will not be withheld from you!
I can't help but believe it, given my experience!"
(article first published on panwaditales.blogspot.com)