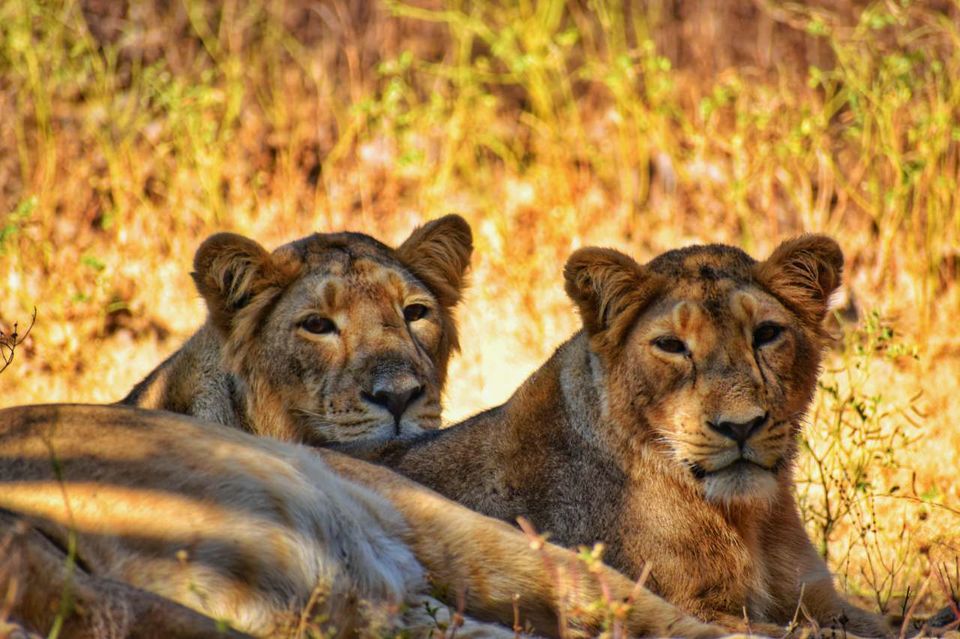 Sasan Gir (commonly known as Gir), is a National Park, spread over 1882.6 sq km at the Land of Gujarat, India. It's the only place in India to see Asiatic Lions in their natural habitat from an Open Jeep Wild Safari.
Luckily, when 2018 was about to end, I was able to plan a visit to this forest to catch a glimpse of the majestic Lions (Gir hosts 523 Lions as per 2015 census) with five of my friends.
There are 3 slots daily for Jungle Safari from 6AM-9AM, 9AM-12PM and 3PM-6PM. However, the best timing is 6AM-9AM as it increases your chances to encounter with wilds.
We booked the 2nd Slot from 9AM - 12PM online for Jungle Safari including the Permits which are required from Forest Department.
Also, Carry your original ID proofs which're used while online booking and it's advisable to reach 1 hour early as you'd need fill some documents. Safari can be booked through Gir National Park Website.
We had some quick bites at nearby food outlets to kickoff our Jungle Safari. Open Jeep Safari is the only option of Jungle Safari in Gir National Park which requires prior permissions from the Sinh Sadan Forest Lodge Office. Generally, the online booked safari includes all these charges and permits.

After driving a couple of miles, we entered in the boundaries of National Park. The jungle was serene and visitors are requested not to make noise as it can drive the wilds away from you. (However, We were trying hard to stick to this instruction ;)
Gir hosts 606 different plant species, 39 species of mammals, 37 species of reptiles and over 300 species of birds and more than 2,000 species of insects.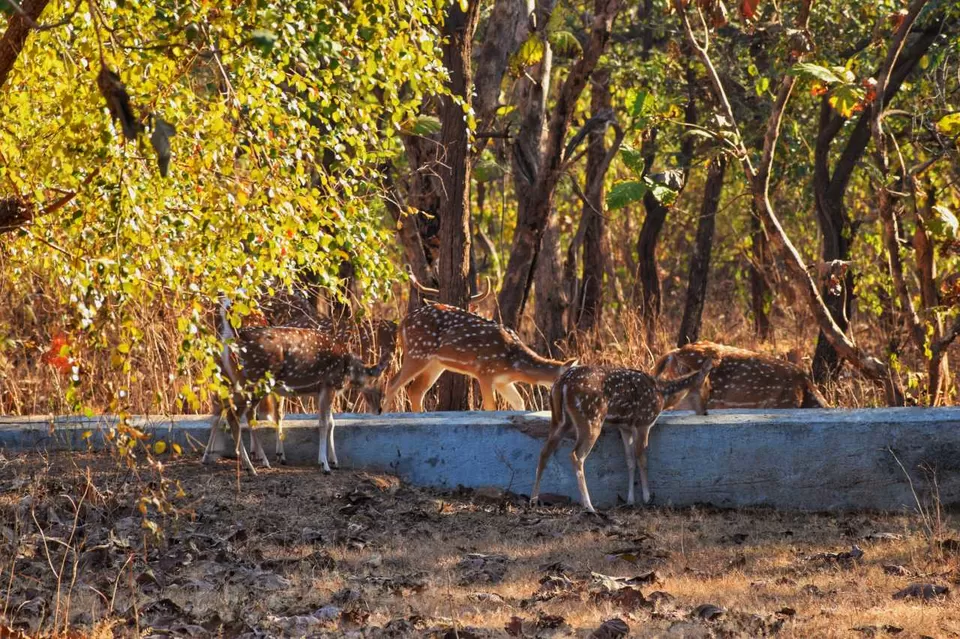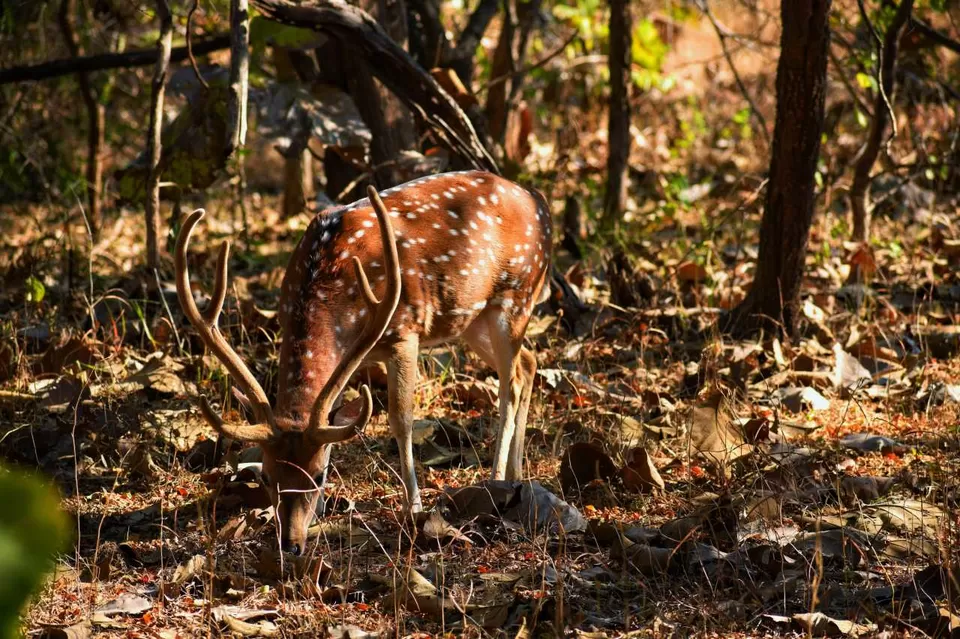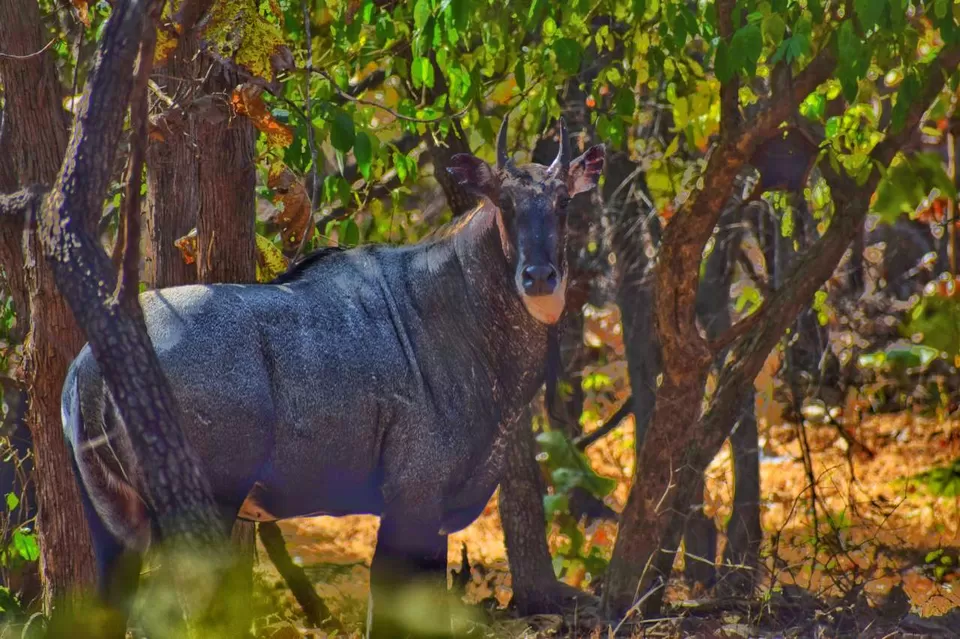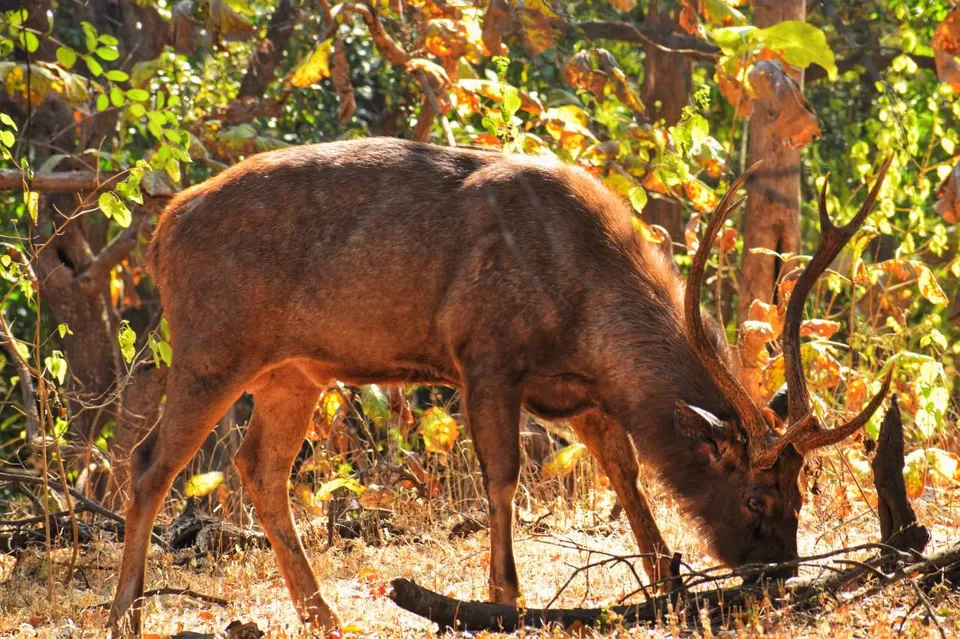 Some of these species includes Florican, Osprey, Indian Pitta, Red-headed Vulture, Sambar Deer, Antelopes, Spotted Deer, Wild Boar, Blue Bull, Indian gazelle and the Chowsinga, the world's only four-horned antelope etc. And we were lucky enough to get a chance to see and capture those moments.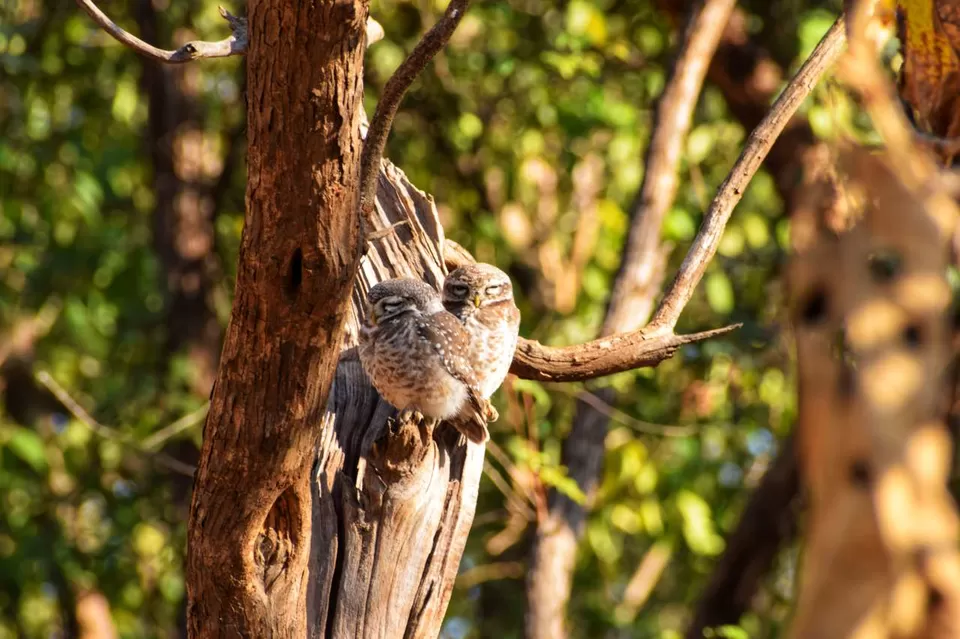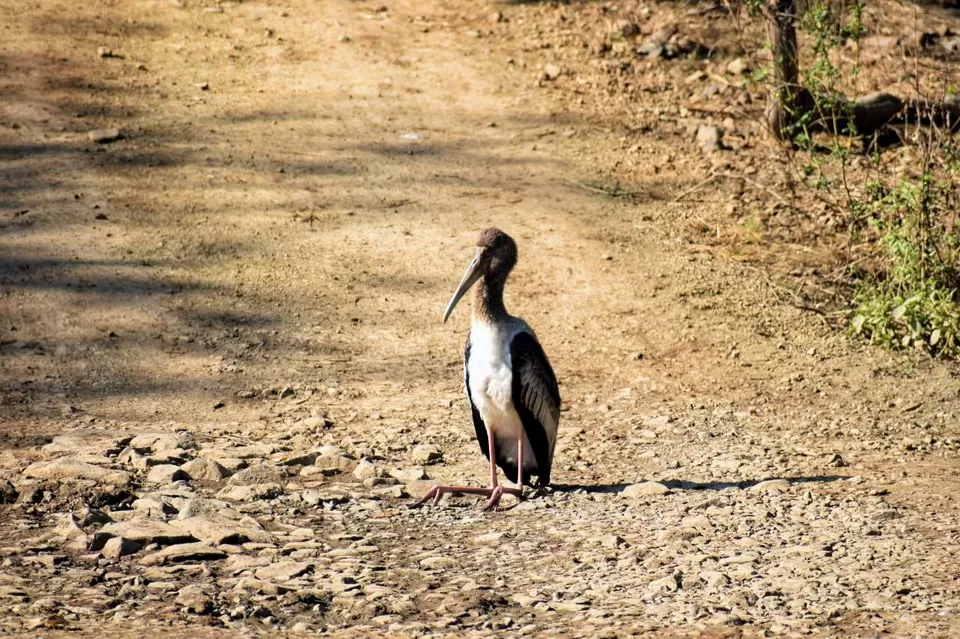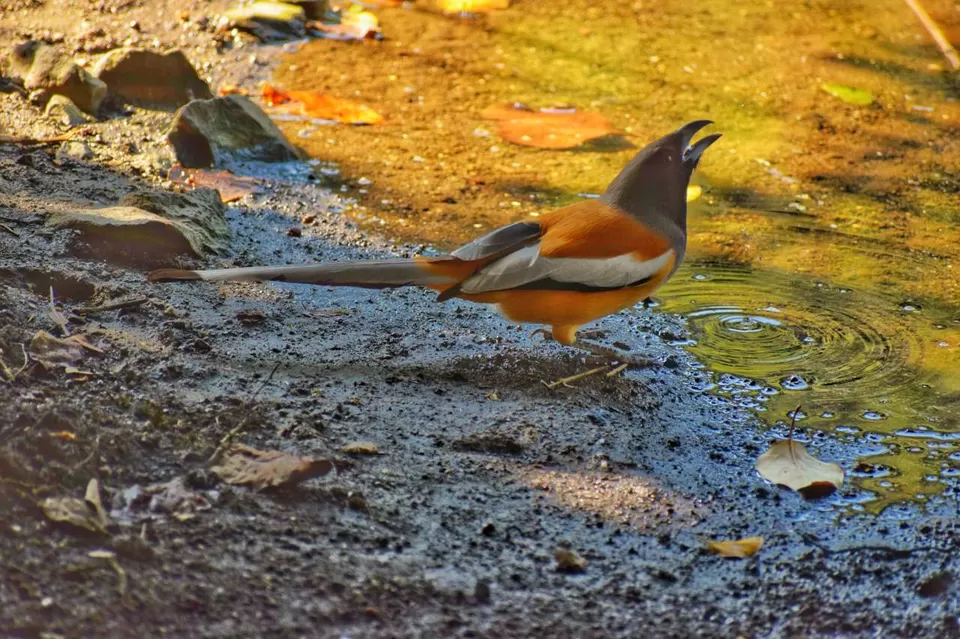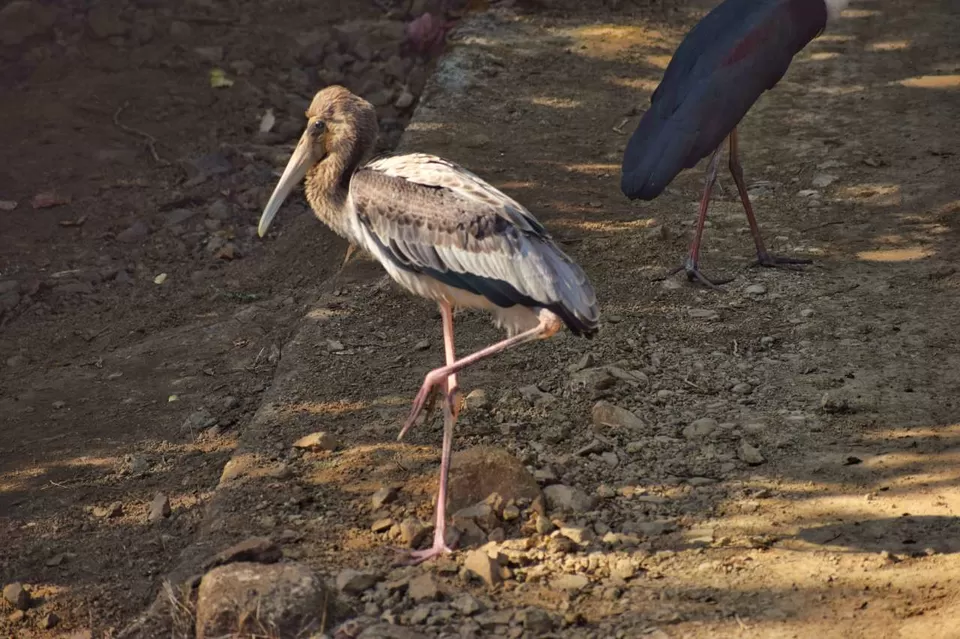 Gir also has one of the densest concentrations of Leopards in India and we soon realized it when one Leopard who was relaxing exchanged an eye contact with us. But seems like He didn't like us filming him so he decided to run back to some other secluded place in the forest.
We were done with 75% of our trail but yet to see the King of the Forest. By now watching a Herd of Deer and many other wilds had become a common sight, but we were eagerly waiting for a glimpse of Lions. We're continuously asking our Guide to take us to some place where we can watch them closely, to which he inquired for the last known location of Lions' sight; from local villagers (Yes, there are few small villages inside the forest), forest rangers and other Guides.
And finally he got a clue about the location and our driver was quick enough to take us there. As soon as we reached that place, we felt elated to see three Lions (1 Male, 2 Females) dozing near a water pond.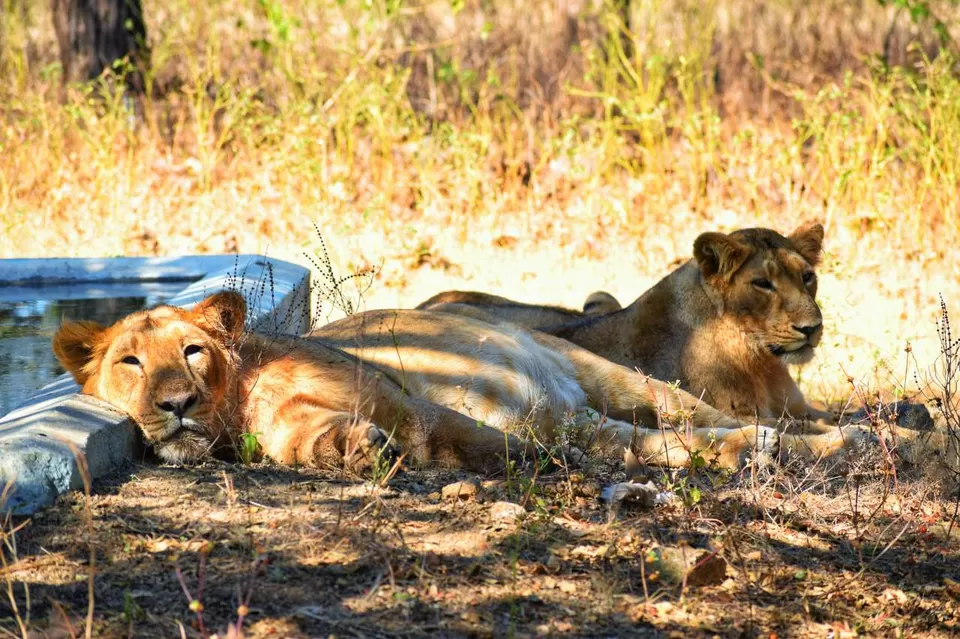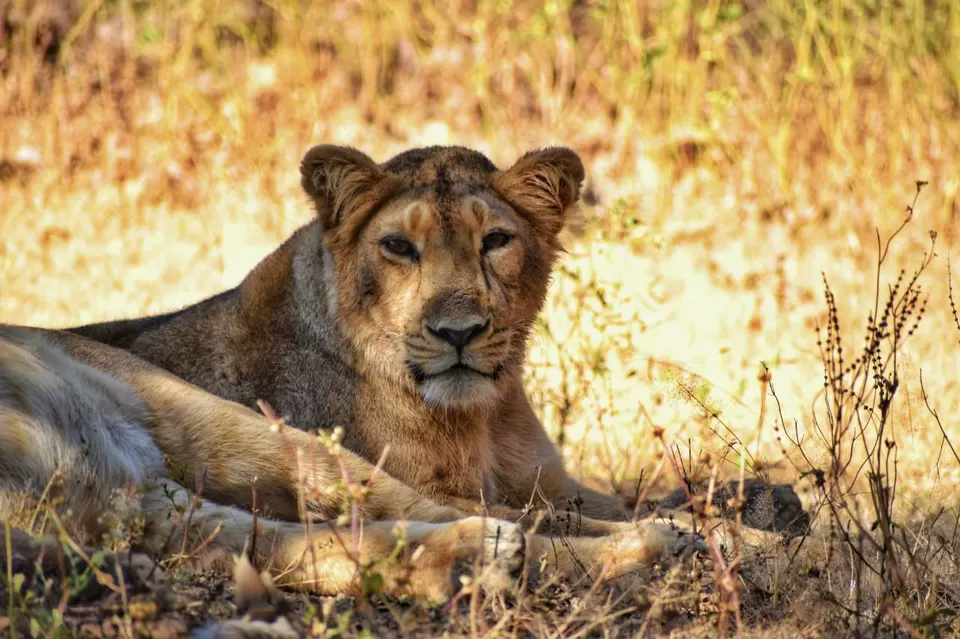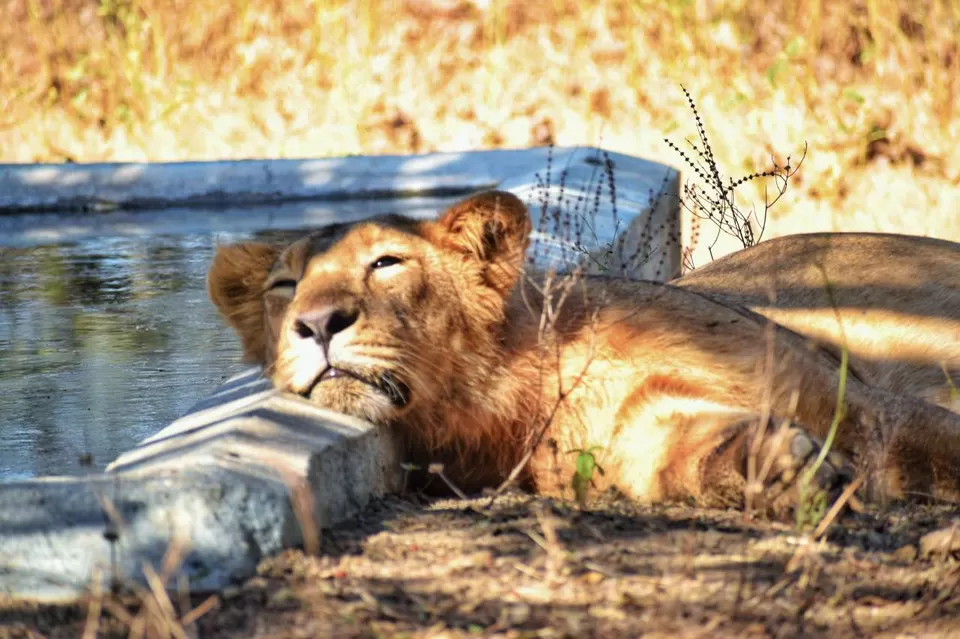 Initially, we were little far from their sight as the Forest Rangers generally don't allow visitors to go close to Lions. But we requested our guide for a close look of Lions to which he discussed with Rangers and they agreed and allowed us to go pretty close to Lions. Our Driver quickly halted the Jeep near to them and we hastily captured some amazing snaps.
We spent another couple of minutes there and then it was a successful end of our Safari too so we soon drove to exit.
The Magnificence of Lions, Tranquility of the forest, Agility of Deer and Warble of various birds was worth for this safari.
Some Useful Additional Information –
How to Reach Gir National Park-
Diu airport is closest to the Gir National Park (nearly 85 kms). From here you can either take a bus or hire a taxi which takes approximately 2 hours to cover this distance.
Ahmedabad which is nearly 410 kms is another option from where you can get direct buses either to Gir or to Junagadh. You can also hire Taxi from here.
Junagadh (55 kms from Gir) receives trains from different cities and can be a good option to reach Gir by Train.
Places to Visit Nearby-
Since visiting Gir National Park doesn't take more than one day, You can club few amazing nearby places in your itinerary to make the trip more memorable. The two best nearby places are-
Somnath (coastal town nearly 50 kms) is a significant pilgrimage and tourist spot of Gujarat. It is home to first among the twelve Jyotirlinga shrines of Shiva. It's also the holy place where Lord Krishna and his elder brother Baldev left the earth for the heavenly abode.
Diu, the popular coastal town of Daman and Diu union territory is particularly famous for its serene beaches and beautiful Portuguese architecture. Fairly connected to Indian state Gujarat, this island is perfect getaway for those looking to spend pleasant holidays on pristine beaches basking in sun and enjoying water-sports.
Tips to Remember-
Don't get confused with Devalia Safari Park (or Gir Interpretation Zone), which is a fenced area established to avoid straining Gir Forest from tourists and to provide whole wildlife (like Asiatic lions, Leopards, Blue Bull, Sambhar, Chital, Jackal, Black buck, Wild Boar etc. and rare birds including Peafowl and vultures) at single place in their natural habitat within a short period of time at cheaper rates.
The Devalia Safari park is open throughout the year except on Wednesdays. On the other hand, The Gir National Park is open from Mid - October onwards till mid June.
So what are you waiting for ? Pack your bags and rush to Gir ! Tell me your experience in comments or Share with our worldwide community.