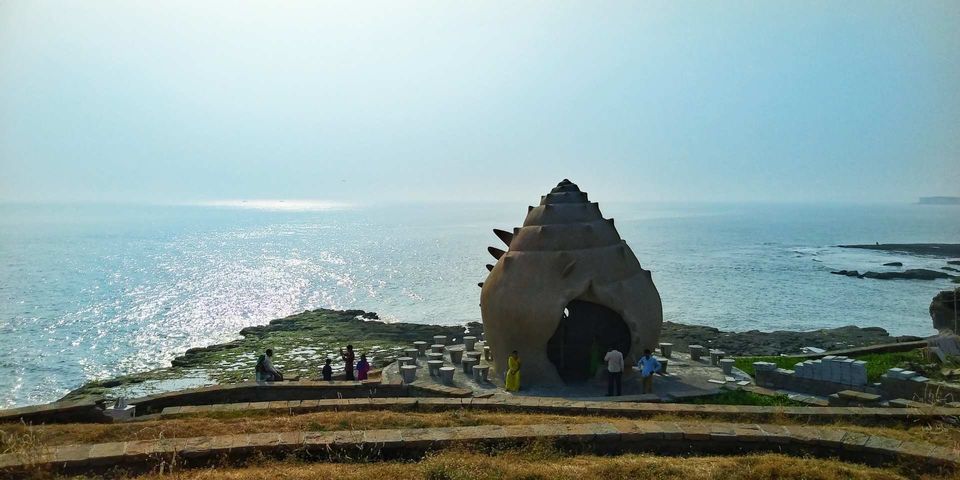 Whenever a long weekend arrives, it brings a gleam on everyone's eyes to take a break from routine life and plan for some amazing getaway. But most of the times, this happiness is short-lived because entire long weekend is spent just laying on couch; planning of the destination.
So, I have come up with an ultimate guide for your next long weekend. This hand-crafted guide will take you to Explore Gujarat - the land of Legends and Lions!
Read on to experience Open-Jeep Lion Safari at Gir National Park, a divine walk down the streets of Somnath while basking at pristine beaches of Diu Island and ultimately exploring the heritage of Ahmedabad – India's first UNESCO Heritage city
Best Time to Visit Gujarat
The best time to plan this trip to Gujarat is between November and March as the weather is pleasant. Summer months (April-June) will be quite hot to enjoy as most of this expedition is outdoor. And for obvious reasons avoid rainy season (July-October).
Budget for this trip
A 3N4D travel and stay to these places should not cost more than 5-7k per person excluding fare from home city to Ahmedabad, which is the starting point of this Journey. Moreover, these prices will fluctuate depending on season and category of accommodation chosen by you. But, at all these places, hotels suiting all range of budgets are readily available with pretty pocket-friendly local transportation.
Itinerary for this trip in Gujarat
Even though a 3N4D long weekend is good enough to cover all these places, if you have a super-long weekend, then stay can be extended at your favourite destination amongst these. I've listed my suggestions periodically within the article.
This itinerary will take you through following destinations: -
Ahmedabad – Gir National Park – Somnath – Diu Island – Ahmedabad
Let's Begin this Journey
Start your first Day with an enthralling safari at Gir National Park. In order to make it to the morning slot, try to reach Ahmedabad by 8'o clock the previous night. From there Sasan Gir is nearly 410 kms and you can get direct buses either to Gir or to Junagadh. You can also hire Taxi from here at additional costs. Another option will be to catch a direct flight to Diu airport which is nearest to Gir National Park (nearly 85 kms). From here buses and taxi ply to Gir taking approx. 2 hours.
There are 3 daily slots for Jungle Safari from 6AM-9AM, 9AM-12PM and 3PM-6PM. However, the best timing is 6AM-9AM as it increases your chances to encounter with wilds. I'd recommend to book safari online through Gir National Park Website which includes the Permits required from Forest Department.
During the safari you can expect to spot diverse species including Florican, Osprey, Indian Pitta, Red-headed Vulture, Sambar Deer, Antelopes, Spotted Deer, Wild Boar, Blue Bull, Indian gazelle and the Chowsinga, the world's only four-horned antelope etc. Gir also has one of the densest concentrations of Leopards in India and if lucky, you can get to see a few. Finally if everything goes into place correctly, then you should be able to Spot the Kings – the Majestic Lions.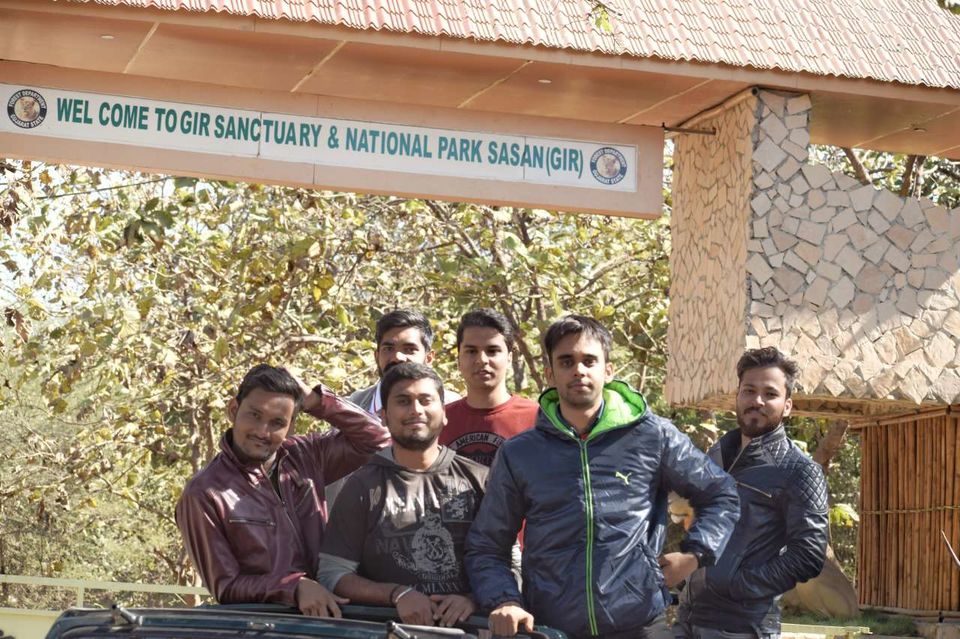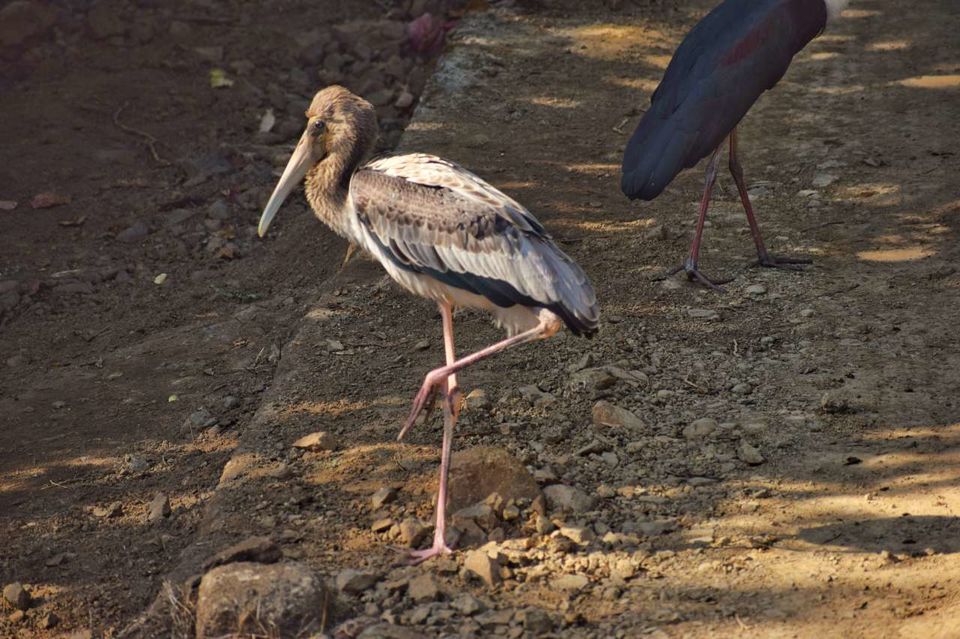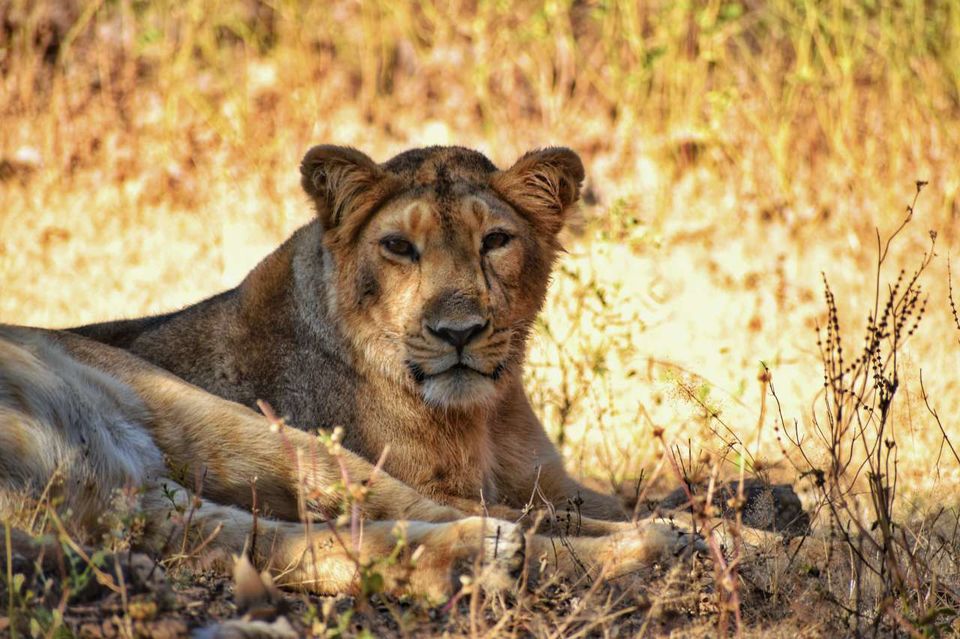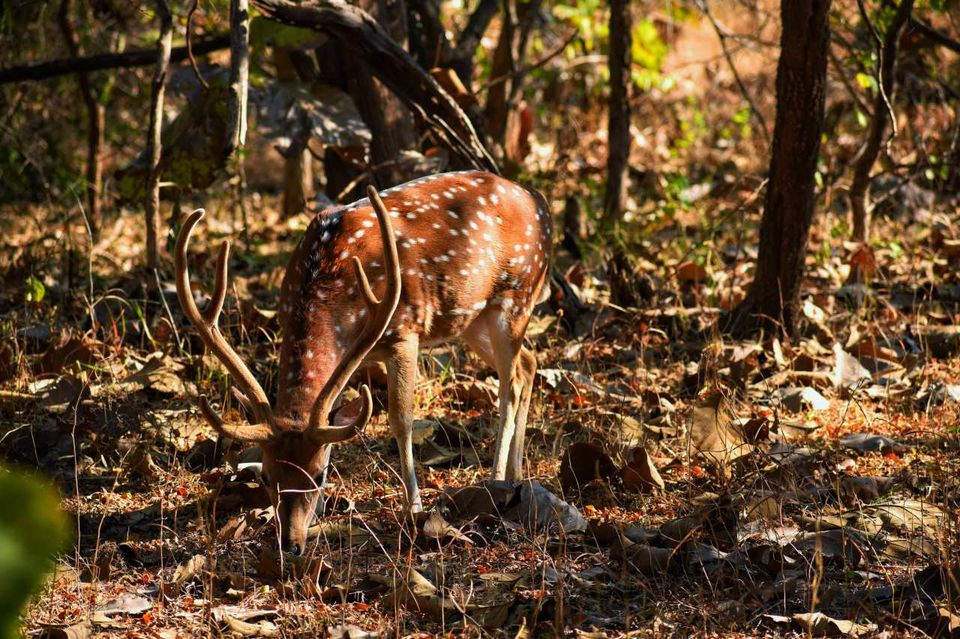 Click here Read the full trail to Gir National Park
In case you're on your super long weekend plan and like to enjoy a stay amid forest, then you can plan to stay at any of the forest resorts and hotels at Gir. You can check Gir National Park website for list of some popular ones. Otherwise, head to the Somnath – the next destination of trip.
Somnath is just 45 kms from Gir National Park, which can be traversed easily in 1-1.5 hour through Shared Transport available such as buses or Autos.
Somnath, the first among twelve jyotirlinga dedicated to lord Shiva, is a beautiful destination of Hindu's beliefs located at western coasts of Gujarat. Somnath is epitome of perseverance as it resurrected from destruction and invasion at least 17 times.
Here after some rest, during evening, begin the trail with Bhalka Tirth which is a prominent place of Hindus as at this place Lord Shri Krishna got fatally wounded and made His sacred journey to Neejdham from Dehotsarg near Triveni Sangam, where footprints of Shri Krishna are also carved.
Then move 2.5 miles towards sea-shore from where huntsman Jara supposedly aimed at Shri Krishna. Temple dedicated to bhagwan Shashibhushan with Bhidbhanjan Ganpatiji was later established here. In the vicinity of Dehotsarg, few more divine destinations are present which hold strong historical significance as per Hindu scriptures. Amongst these are The Gita Temple and Laxminarayan Temple where the divine chants of Shrimad Bhagwad Geeta are engraved on beautiful Marble pillars.
Nearby is an ancient holy cave known as Baldev Gufa, it's believed that Lord Krishna's elder brother Baldev disappeared to the netherworld from this cave in his indigenous serpent form. Paanch Pandav Gufa and Suraj Mandir are another exemplar of heritage. You can also cover Parshuram Temple on the banks of Triveni where Lord Shiva alleviate Lord Parshuram from his curse and Kamnath Mahadev Temple with a pond believed to cure any human diseases with just a dip in it.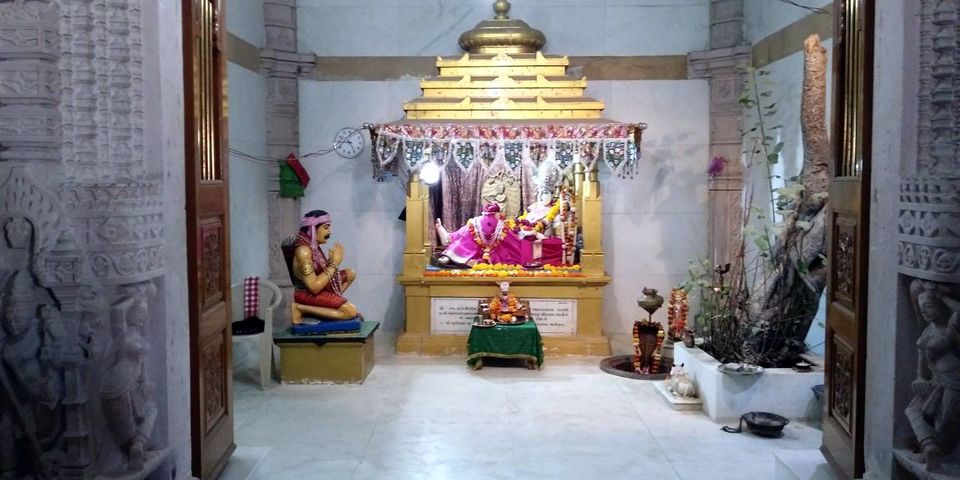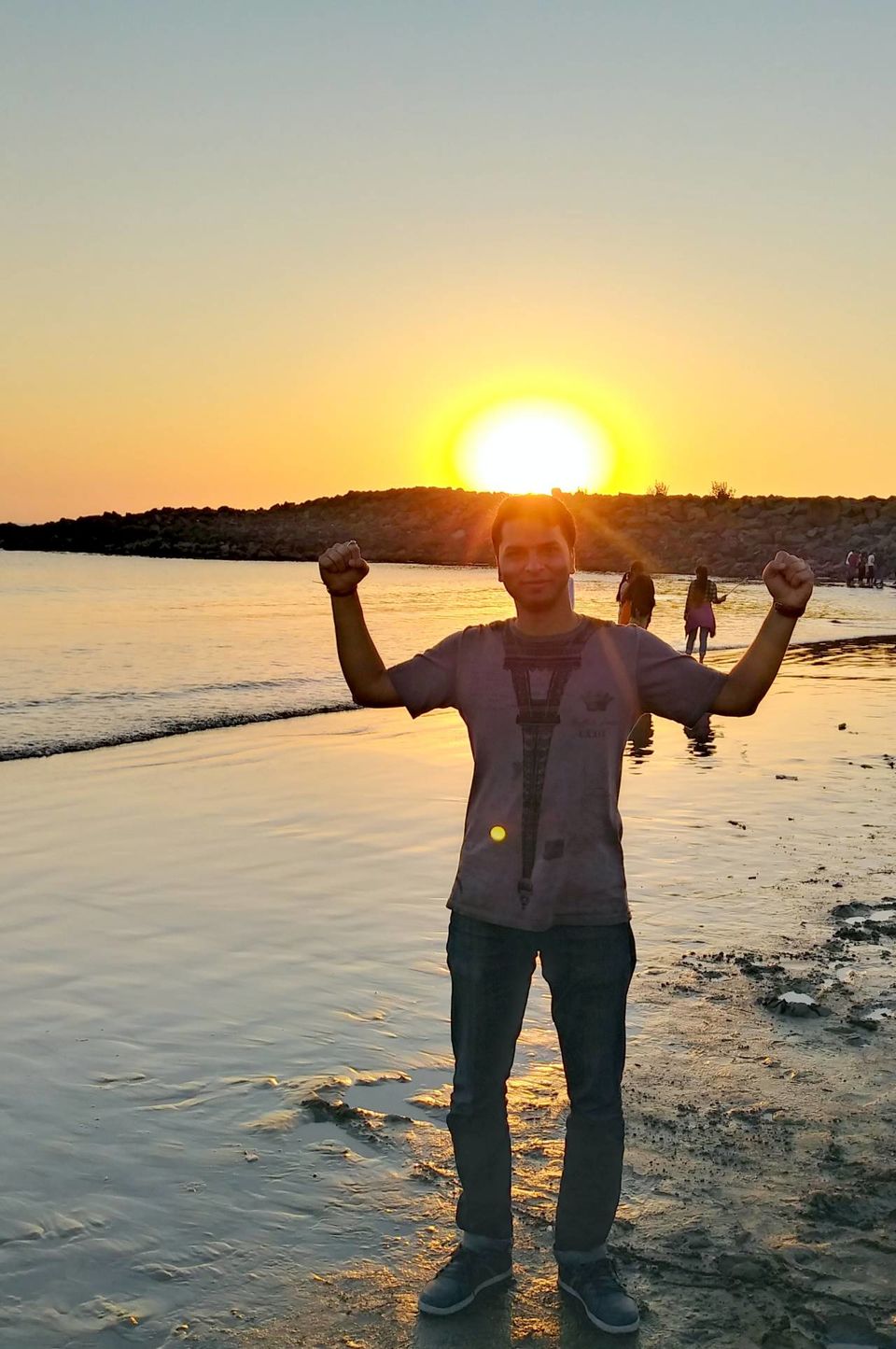 The next pit stop on the list should be Ahilyabai Temple which was built to cover the actual Jyotirlinga from being raided. And finally, you can proceed to, the magnificent Shri Somnath Jyotirlinga Temple located at the verge of Somnath Beach.
I'd recommend to reserve the evening time for this so as you can witness the pleasing Aarti at 7 PM and the astonishing "Jay Somnath" Sound and Light Show from 8 to 9 PM. Generally, the Darshan timings at temple are from 6 AM to 9 PM.
Before that, you can sip some fresh coconut water and lip smacking street food at Somnath Beach Chowpatty where numerous local food joints and shops selling handcraft items are congregated. With dusk spreading in sky will make the entire ambiance picturesque.
After attending the beautiful Aarti of Shri Somnath, roam around the exquisite realm of temple and then gather at amphitheatre to watch the "Jay Somnath" Sound and Light Show. And believe me, it will be the most breath-taking event of the day! A show walking through the history of temple with stunning lasers projected on the temple with fantastic sounds.
After this awe-inspiring show you can enjoy a sumptuous Gujarati Thali at one of the restaurants nearby. Then walk towards your hotel to end your day and prepare for journey to pristine coastal town of Diu next morning!!
Click here Read the full trail to Somnath
Begin your day 2 expedition towards Diu Island, the popular coastal town of Daman and Diu union territory and particularly famous for its serene beaches and beautiful Portuguese architecture. You can get direct shared transport as well as hired taxi from Somnath. This island is perfect getaway for those looking to spend pleasant holidays on pristine beaches basking in sun and enjoying water-sports.
You can check-In at any hotel near Fort road which faces Arabian sea. Considering its proximity with Diu Bus stand, this area is full of ample hotels suiting all budgets and amenities. Best way to explore the town is on rented wheels, be it two or four; depends on choice. But make sure to book it in advance as you might land into problem of unavailability! otherwise you have to rely on other shared transports such as auto-rickshaws.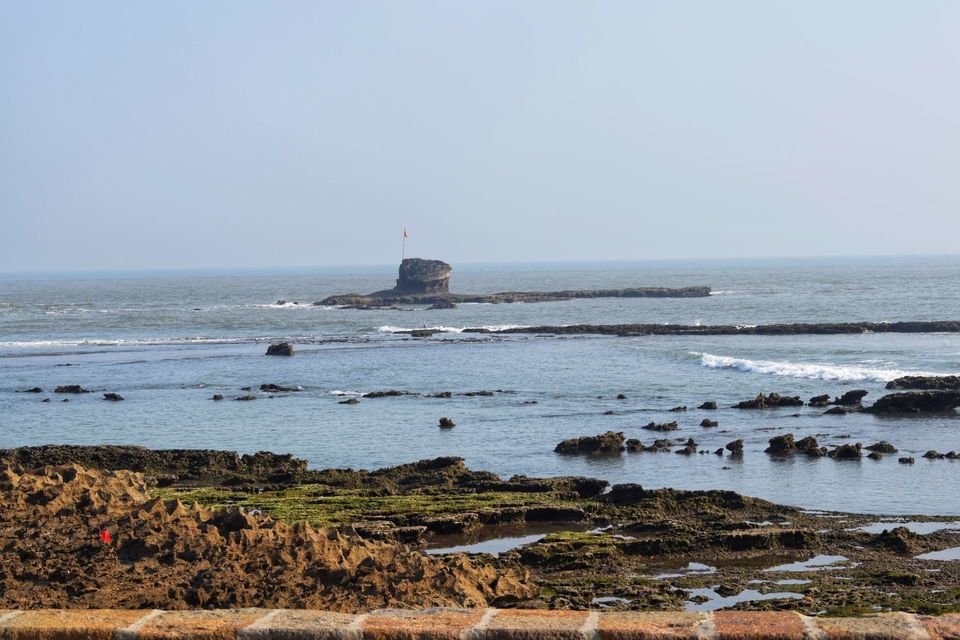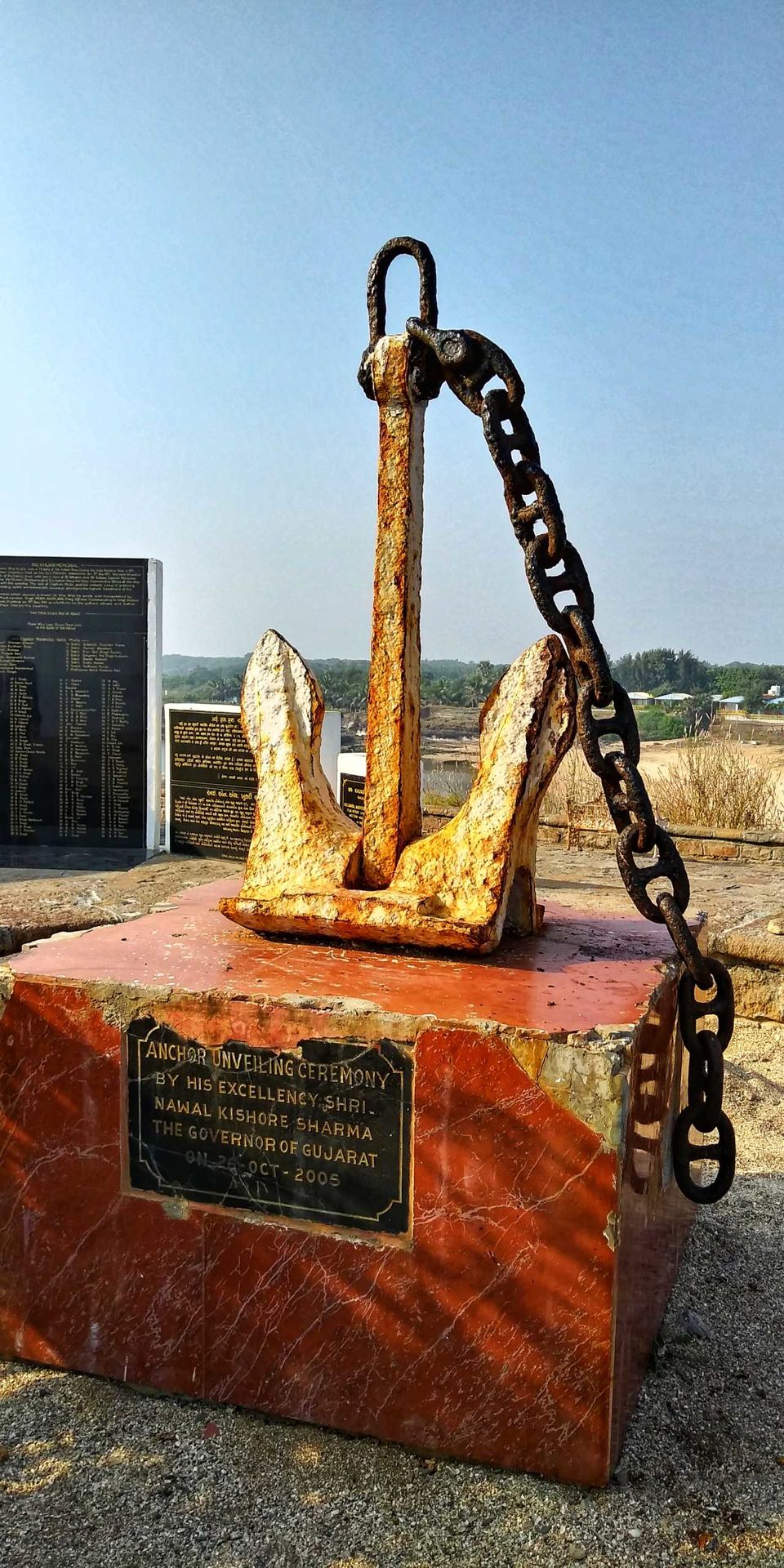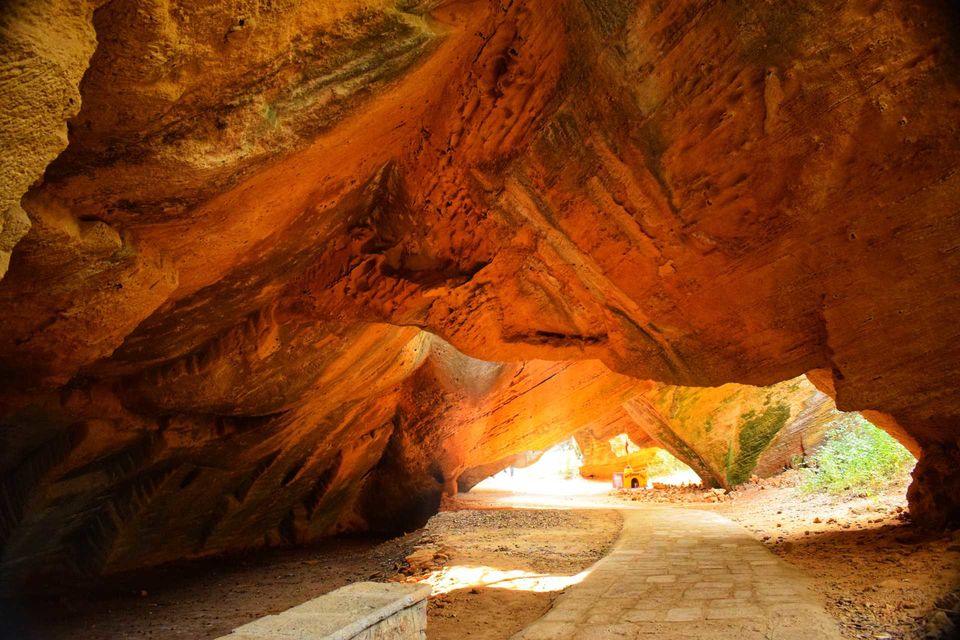 Now first satiate your hunger with a sumptuous authentic Gujrati Meal and then start your expedition with underground Naida Caves passing through remains of Old Diu Fort. A coastal trail surrounding Jalandhar Beach from Naida caves will lead you to INS Khukri Memorial. INS Khukri Memorial, situated atop a hillock overlooks adjoining Chakratirth Beach is dedicated to Indian frigate of Indo-Pak 1971 war holding various war artefacts and mini-replica of INS Khukri.
On the way, you'll find a vantage point for sunset known as South Pole Point. From here you can head to visit ancient Gangeshwar Mahadev Temple located midst of the rocks on seashore built during Mahabharata times by Pandava Brothers, here the Five Shivalingas of Lord Shiva are often washed by the high tidal waves of clear sea-water.
Relish yourself with fresh coconut water and slice of fresh fruits in the tranquillity of this place soaked in utter peace. Sea Shell Museum with a rare collection of diverse sea-shells should be next stop and from there directly head to last stop of the day, that is, Nagoa Beach.
Nagoa Beach is the most popular sand beach of Diu with ample of activities to do including water sports, parasailing and paramotoring etc. Plunge yourselves in sea-waves and have unlimited fun at beachside shacks till dark to conclude our first day at Diu.
Start your day 3 with a ride to Baroque architectural style St. Paul Church which is near Diu Museum. And then to the Most popular destination of Diu, The Diu Fort. Located at sea-coast, Diu Fort was built by Portuguese in 1535. Fort is spread over a vast area, with brass canons on walls and Church/temples inside. A huge Light house is situated across gardens inside the fort and is a good place for a panoramic view of entire Fortification
Fort Diu is perfect vantage point for a former prison and fortress Pani Kotha or Alfiston jail. During night colourful lighting of Pani Kotha adds to the beauty of Diu island. Diu Fort is bustling area with lot of shopping kiosks and eateries. Enjoy some refreshments before heading to Ghoghla Beach, the most serene and beautiful beach in entire island. Spent your entire day enjoying rides on the sea and booze on the beach.
Ghoghla beach much more peaceful and is very less crowded compared to Nagoa Beach. And hence very less options of Beach shacks and other activities. But, it is a must go place if you're looking to spend some time in serenity, sprawling in sun, enjoying your potion of drink and sea-rides such as Banana-ride, Bumper-ride and Parasailing.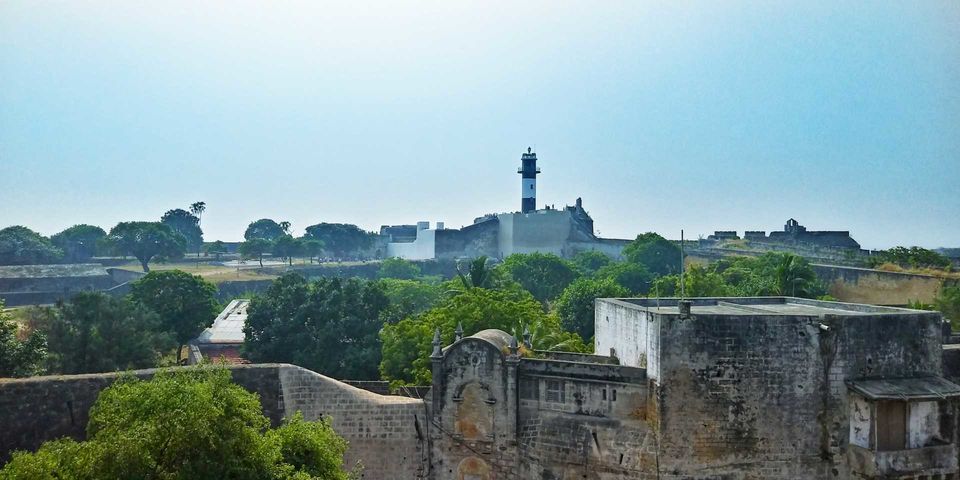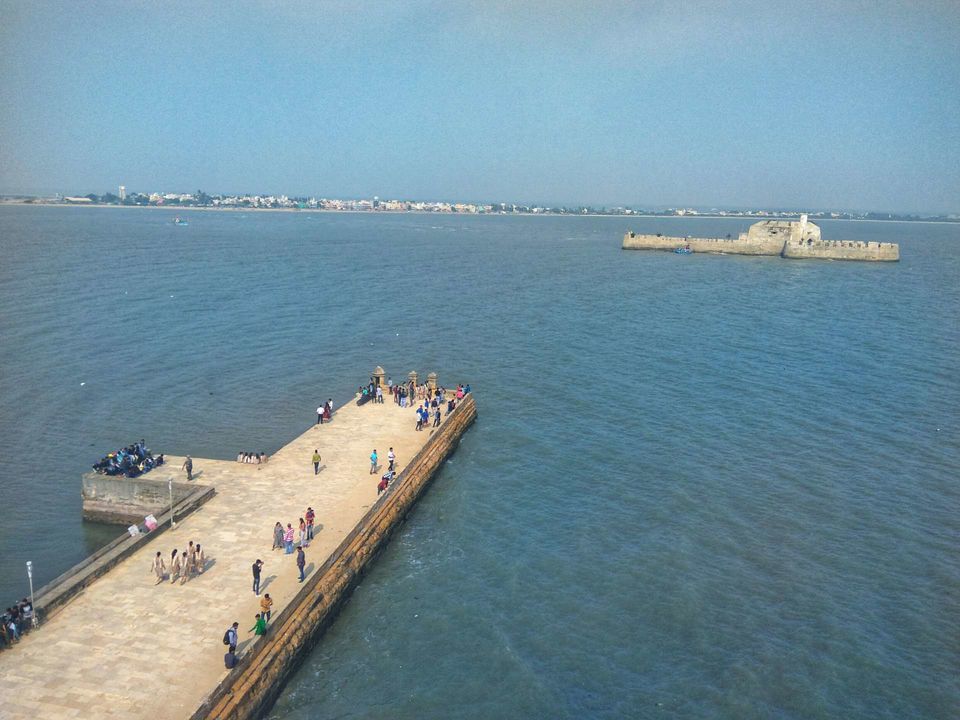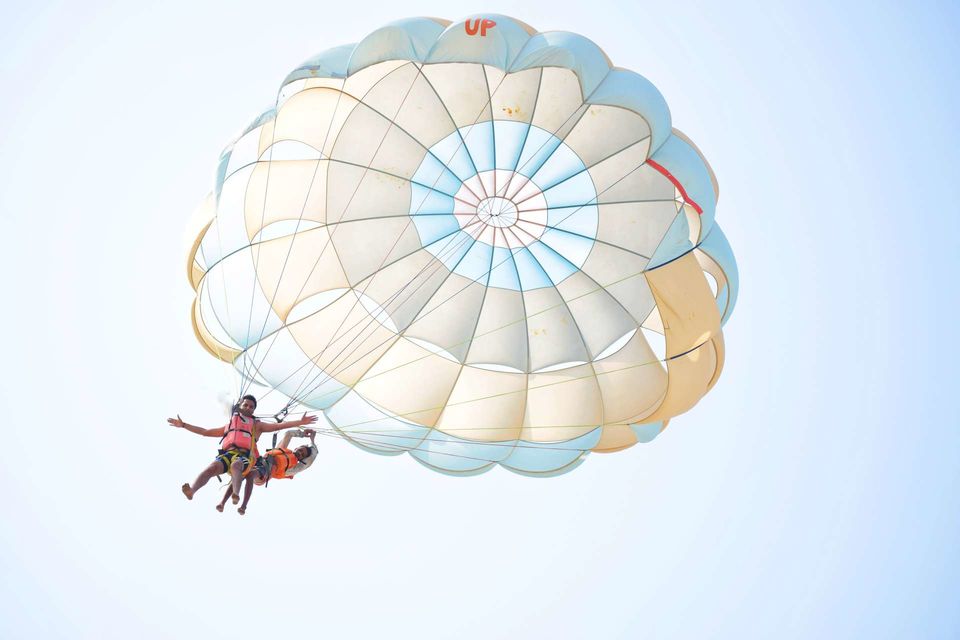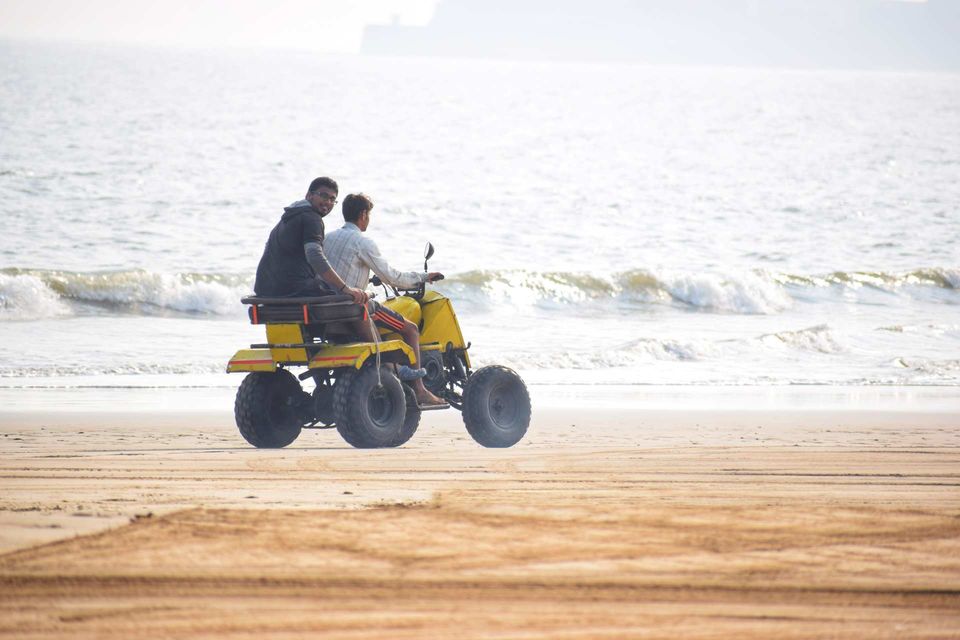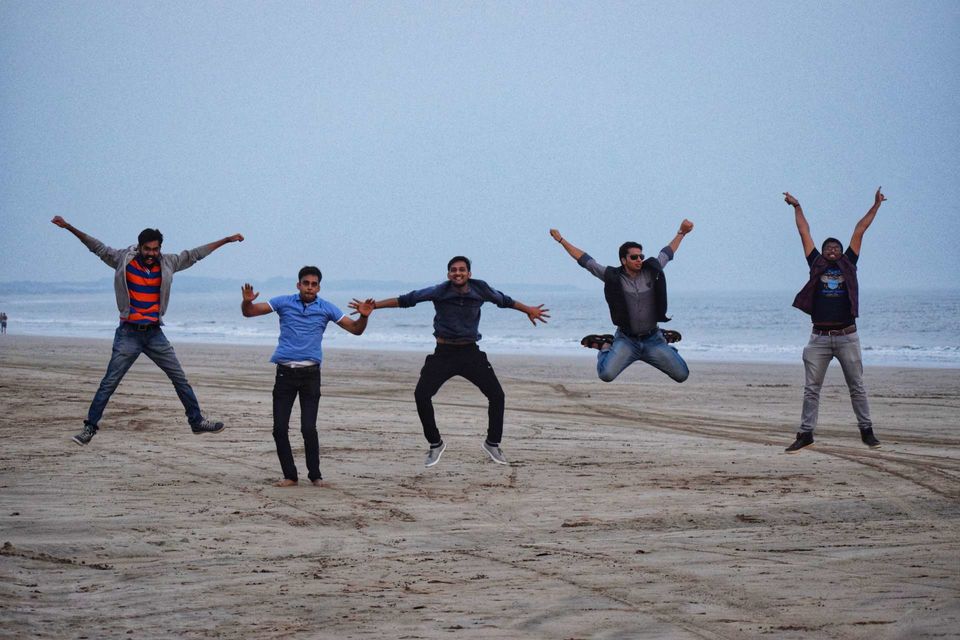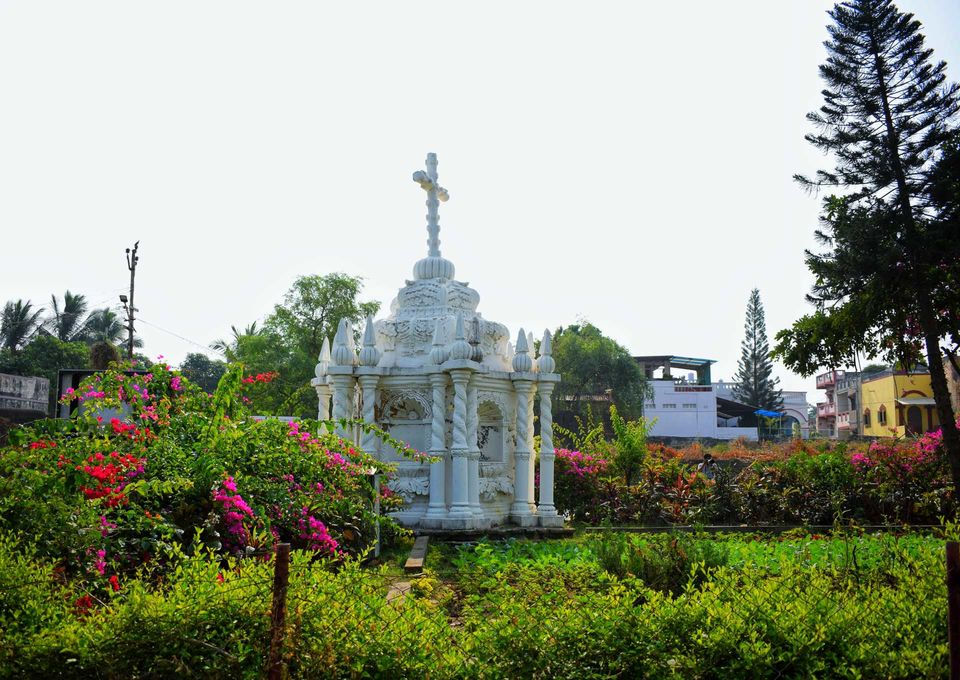 After a day-long fiesta and mesmerizing sunset at Ghoghla beach, Conclude your trail of Diu. Hence simply check-out from Diu and catch a bus or taxi to Ahmedabad which is the heart of Gujarat bestowed with rich cultural heritage and exceptional medieval architecture. This politico-cultural city of Indian independence movement has been honoured with India's first heritage city by UNESCO in 2017.
Click here Read the full trail to Diu Island
After an overnight journey from Diu, Make an early morning check-in to your hotel at Ahmedabad. If you've your flight back to home from Ahmedabad on the same night, you'd have a full day to explore the heritage of this city. In case you're on your super-long trip, then stay overnight at Ahmedabad to explore night flea markets for food and shopping. Also, you can club some nearby destinations on your additional day suggested later in this blog.
Autorickshaws are a good way to explore Ahmedabad city, as they are economical, and can take to narrowest of the streets. You can hire the same to drive you to all places of Itinerary.
Begin your trail started with a visit to the beautiful Sidi Saiyyed Mosque popularly called as Sidi Saiyyed Ni Jaali due to its grandeur latticework with the designs of interweave trees and foliage carved in ten stone latticework windows. Then head to Bhadra Fort passing through the crowded streets of famous Lal Darwaza market. Bhadra now converted to Government offices doesn't take much time to be explored and provides a serene atmosphere amidst lush greenery.
Make Jama Masjid as your next stop which is one of the largest mosques in India built by founder of Ahmedabad, Emperor Sultan Ahmed Shah. The road to Jama Masjid goes via Teen Darwaza, which was once the gateway into the Maidan Shahi, where royal processions and games were organized.
Before moving to another architecture wonder, called as Jhulta Minar you'd love to spend some time in serenity of this divine place illuminated with sunlight falling on dazzling white marble courtyard. Jhulta Minar or swinging minaret are part of a small mosque named Sidi Bashir Mosque and holds a mystery that if one of minarets is shaken then the other minaret shakes automatically.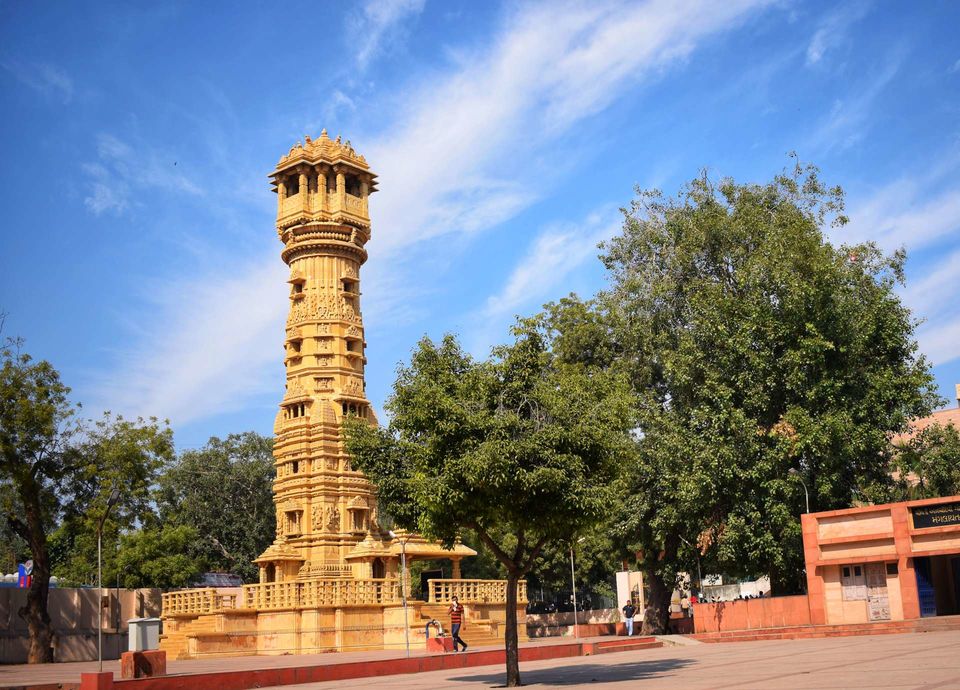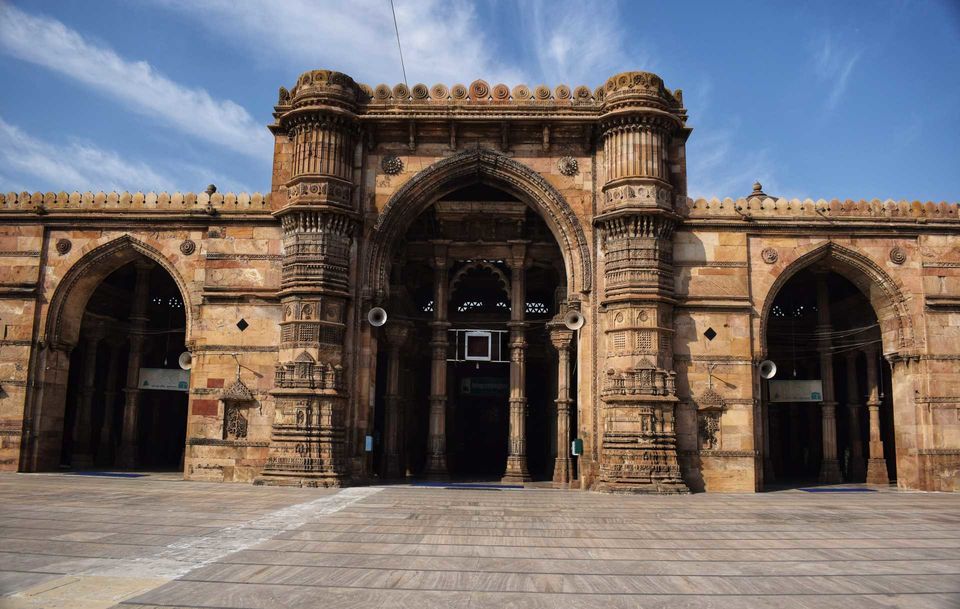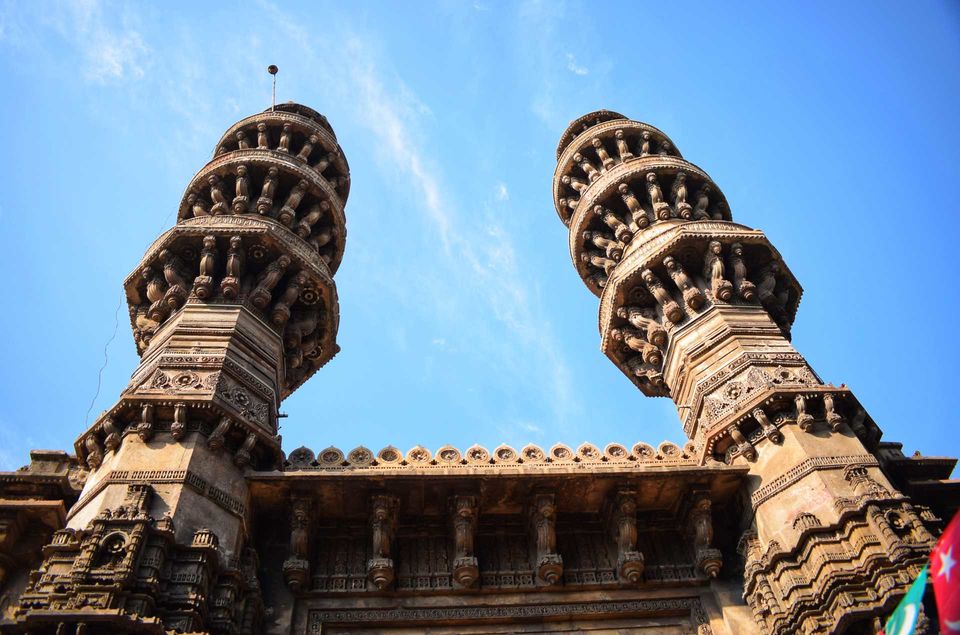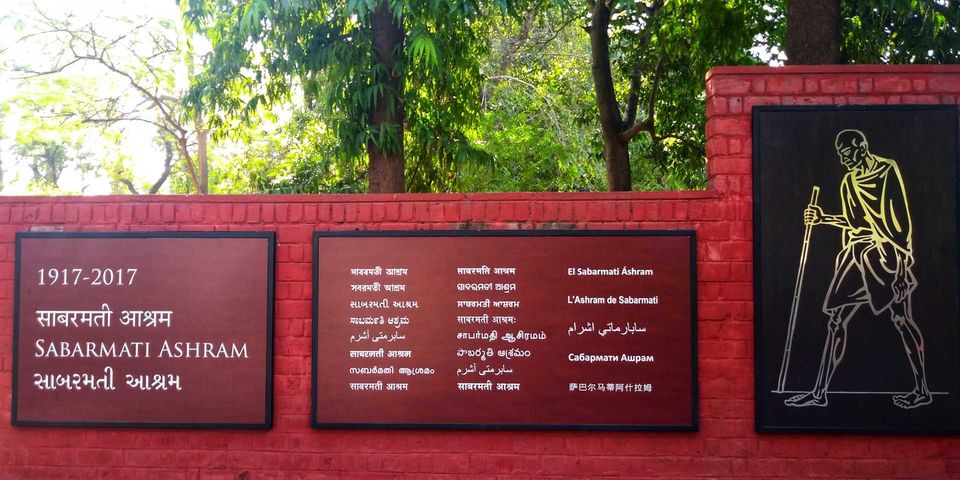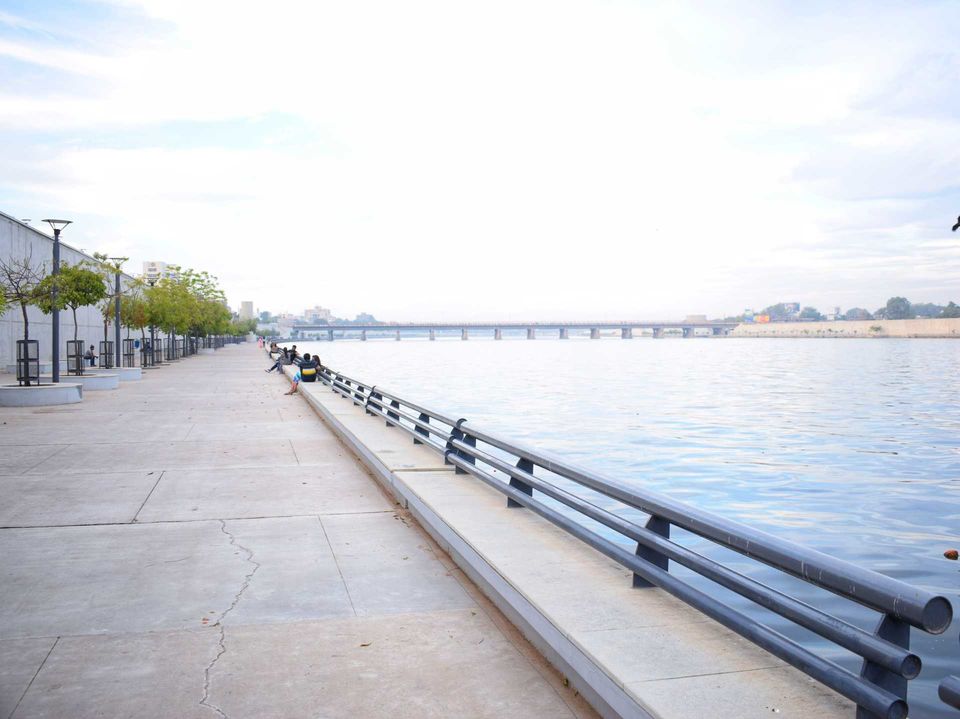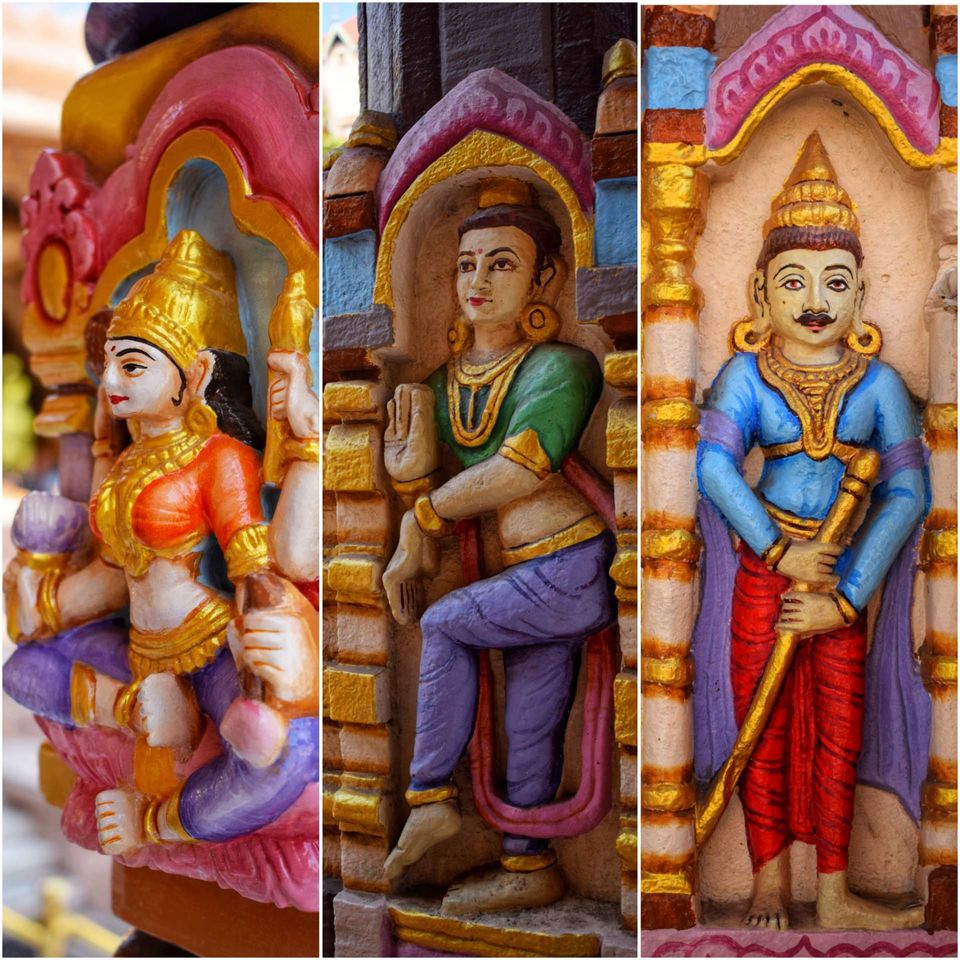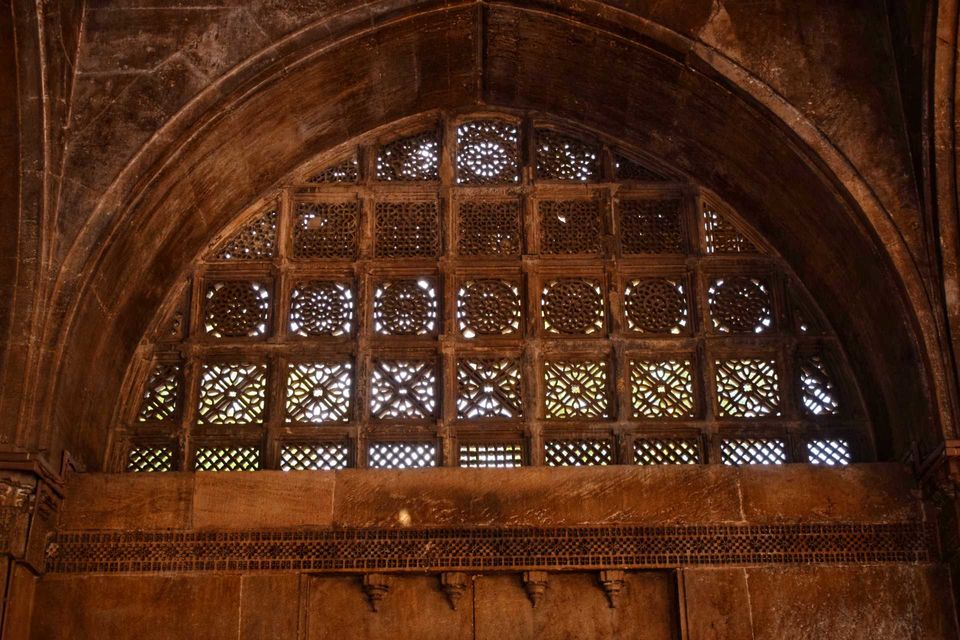 Ahmedabad visit is incomplete without a step well hence now proceed towards Dada Harir Vav, an octagonal five storeys deep stairwell. Each floor carved with beautiful motifs, huge vents and pillars. As you'll step down in it, a deep network of stairs and pillars plunging down multiple storeys will start appearing with rays of sunlight illuminating its beautiful carvings.
Next stop will be Hutheesing Jain Temple, built with white marble, adorned with beautiful domes, with a unique Manastambha (Pillar of honour) inspired by Chittore's Kirtistambha. In the vicinity is Shri Swaminarayan Mandir, the first temple Swaminarayan Sampraday established by the Founder Lord Swaminarayan Sahajanand himself.
And now head to the most popular destination of Amdavad, the residence of Gandhiji named as Hridaykunj or popularly known as Sabarmati Ashram. Located on bank Sabarmati river and now converted to a museum, this huge place not only depicts the entire timeline of Gandhiji, but also displays various photographs, paintings, books and other belongings including his true relics like world famous charkha or spinning wheel.
To satiate your hunger, try the delicious food served at Sabarmati Restaurant operated by same organisation simply opposite to Ashram. By this time, sun will be settling down making it a perfect time to visit Sabarmati Riverfront. Recently emerged as a major tourist attraction this place encourages environmental sustainability and cleanliness among people.
Spend some time relaxing in soothing ambience of various parks and boulevard built along Sabarmati riverfront and then visit the biggest lake in Ahmadabad, Kankaria Lake for some entertainment packed flea markets and authentic food stalls. Mark this place as your last stop of the day.
In case you're long-weekend is over, then left to airport to fly back to home! But In case you're staying another day in Ahmedabad, then plan on visiting following places: -
• Sardar Vallabhbhai Patel National Museum dedicated to Iron Man of India, exhibits many objects related to Indian National Movement surrounded in beautiful gardens.
• Vechaar-Utensils Museum with an extensive collection of utensils dating back to 100s of years in time till now.
• Kite Museum housed in Sanskar Kendra in Paldi displays of a plenty of uniquely carved kites consisting mirror-work and block print kites etc. Whereas Sanskar Kendra itself exhibits Ahmedabad from its cultural, historical and architecture point of view. Interestingly, it houses the longest incense stick in the world as well.
• Calico Textile Museum and L.D. Museum of Indology are too among this list which deserve a visit when in Ahmedabad.
ISKCON Temple or Hare Krishna Temple by world famous ISKCON group to experience spirituality
Adalaj Stepwell another magnificent architecture and bigger version of Dada Harir Vav situated close the capital city of Gujarat, Gandhinagar.
Lothal(around 80 kms) is 4500 years old popular Indus Valley Site civilised on the banks of the mystical extinct Saraswati river. Wonder of its ruins reveals to tales ancient civilisation discovered in excavations here.
Click here Read the full trail to Ahmedabad
So, did you like this itinerary and now planning to experience the same? Share your experience with Tripoto Community here.
Frequent Searches Leading To This Page:-
Best Tour Packages for Gujarat, Gujarat Affordable Tour Packages, Best Travel Packages for Gujarat, Best Budget Trip to Gujarat, Gujarat Holiday Tour Packages, Top Gujarat Packages for Family, Gujarat Honeymoon Packages from Delhi