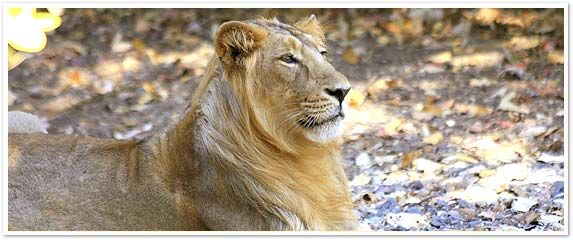 Jungle Highlights: Asiatic Lion, Leopard, Chowsingh
Due to its supported species, established in 1965, Gir is one of the most important protected areas in Asia. Spreaded over 1412 square-mile the Gir National Park evolved as an effort to conserve the Asiatic lion from poaching and hunting. Placed in the southwest of Gujarat, Gir National Park is gifted with low hills and the green vegetation this perfect home is the only place where you can see Asiatic Lions after Africa. Apart from the majestic lions, you can find here many rare animal species and colourful birds.
Major wildlife attractions in Gir National Park A distinct belt of vegetation Species like Jambu, Karanj, Umro, Vad, Kalam, Charal, Sirus and Amli are mainly have created this forest. These trees are mostly evergreen. They have created giving the area a cool shade and the moisture, perfect for the royal beast.
According to official census figures, Gir national park houses over 400 critically endangered Asiatic Lion population. Apart from this Gir National park houses 300 Nilgai, Chinkara, Sambhar, Black Bucks, the four horned Antelope, Wild Boar, Indian Flying Foe, Grey Musk Shrew, Indian Hare, Pale Hedgehog, Small Indian Mongoose, Small Indian Civet, Indian Pangolin, Indian Porcupine, Ratel, Indian Fox, and Jackal. The three smaller wildcats - the Jungle Cat, Desert Cat and the Rusty Spotted Cat
Several non-venomous Snakes such as the Indian Rock Python along with the four venomous varieties of Indian Cobra, Common Krait, Saw Scaled Viper and Russell's viper are the another show stopper in this wildlife reserve.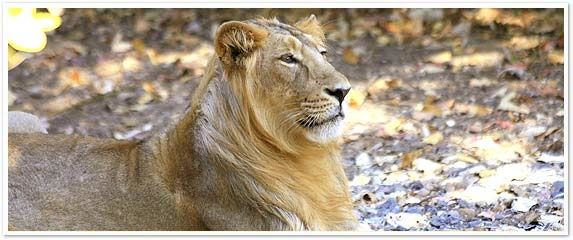 It is estimated that you can see around 300 bird species in the Gir National Park. The Paradise Flycatcher, Black Headed Cuckoo Shrike, Pied Woodpecker, Bonelli's Eagle, Creset Serpent Eagle, Painted Sandgrouse, Bush Quail and Grey Patridge are the commonly found varieties in the park.Things to do in Gir National Park Gir National Park is the last remaining bastion of the Asiatic Lion. To travel inside the park in the uneven terrains you can rely on a sturdy vehicle. Mini buses are operated by the park administration for the tourist. But you need to do prior book your seats.
Jeep Safari Jeep Safaris are an ideal way to observe the big cats. The park authorities will let you take your own vehicle inside the park but only with the compulsory addition of a park guide. Jeeps can also be hired from the office at Sasan or from the tour operators.
Jungle Resorts in Gir National Park There are several lodging options in Gir National Park. You can choose according to your travel need and requirements. If money is not the prime concern and you want to enjoy the nature at its best, then stay at The Lion Safari Camp. It is the first Luxury Jungle Safari Camp of its kind in Gir National Park.12 Luxury Tents with large bedrooms with well-appointed bathrooms with bathtub, shower and hot/cold running water will offer you state of art living.
Some of the best accommodation options in and around Gir National Park include
The Gir Birding Lodge
Jungle Lodge
Sinh Sadan Guest House
Maneland Jungle Lodge
Important Information
The best time to visit – December to April Visiting time for the park is 0800 to 1100 hrs and 1500 to 1700 hrs everyday. Entry fee of the park is Rs. 30 for Indians and US$ 5 for foreigners. You can take your private car inside but you have to take a local guide.
How to reach Gir National Park Diu Airport is connected to Mumbai by air. Sasan Gir is just 100 Km from by road from Diu. It will take 2 hours to take reach Sasan Gir by road. For the tourists, who are traveling from Gujarat, buses are available from Junagarh and Veraval. Sasan Gir is connected to Rajkot through a daily train. You also take another route. Travel by air to Rajkot (180 km) and then hire a taxi from there which is very easily available from there to Gir National Park.