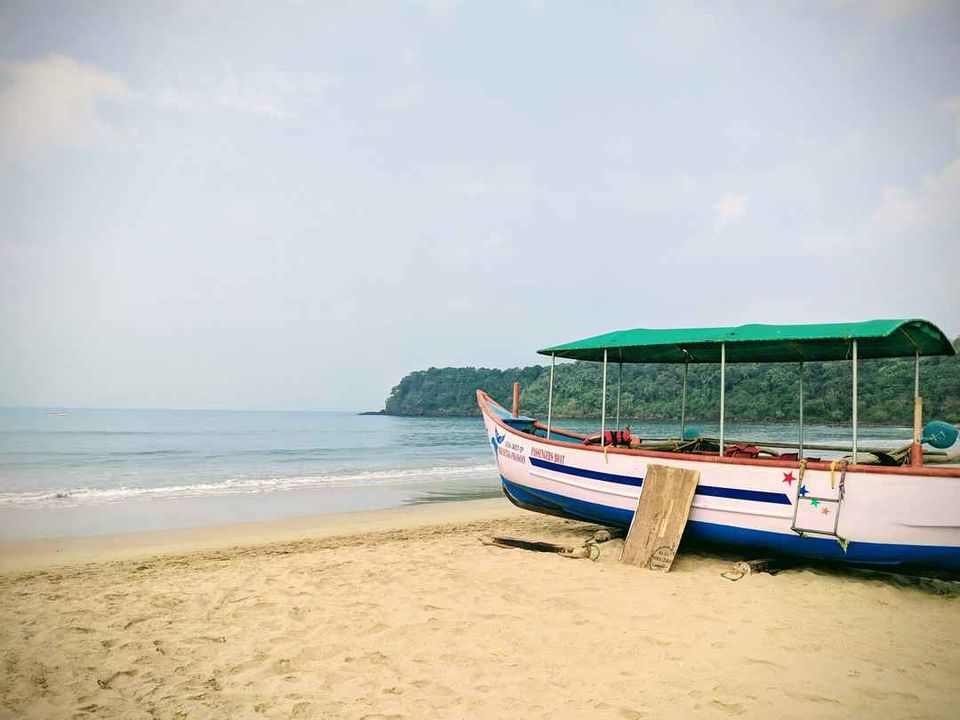 For almost two decades my Goa experience had been purely voyeuristic in nature. Watching Dil Chahta Hai whenever the pang of unfulfilled wanderlust engulfed me and more recently spending endless number of hours going through every YouTuber's goa vlogs.
But none of that compares to the real experience of Goa once you get to walk the quiet beaches in tranquility with ocean waves crashing at your feet.
But I think I'm getting ahead of myself. So let's start with how I set out on my Goa journey.
The journey started from Pune (that's where I'm currently residing) to Mapusa (North Goa) on a sleeper bus which I boarded at about 10 PM from Wakad. Bus is the cheapest and reasonably comfortable with only 1 stop in between. We reached Mapusa the next morning at about 8 AM. First thing we did was to rent a scooter for 4 days.
We got the fuel tank filled and left for Arambol. At about 10 AM we were chilling on the beach in a shack with our luggage in a sweet hotel nearby and were having our breakfast watching the morning sea. Arambol beach didn't have too many people – I guess because it was morning but there were quite a few foreigners.
After having a delightful breakfast, we went back to our hotel and rested for a bit. Around 1PM we took the scooter out to see the rest of North Goa.
So first stop was Anjuna Beach. But before that we went to a place called Artjuna (clever name right?) a café with some incredible falafels. The place has interesting art works on every wall, every corner of the café. Its run by an Israeli couple & has a lazy but relaxed vibe to it.After absorbing plenty of art and good food, we went to Anjuna beach. The beach has the famous or infamous shack – Curlies Beach Shack which I'm pretty sure has featured in multiple movies. Anyways, if you like you can have a beer and enjoy the small beach.
Next stop was Vagator Beach(the beach has silver sand) right next to Chapora fort or more popularly known as the Dil Chahta Hai Fort. It's a sight to see group of friends trying to pull the same iconic pose as in the movie. Then I can't blame them having attempted the same myself.
Important detail – on our way to Vagator Beach we stopped by a juice centre – "Scarlet Juice centre". This juice centre isn't known for the juices per say but for fruit plate served with ice-cream. It was a delicious pit-stop that I crave every day now.
The last place we decided to go on this 1st day was Baga Beach. Baga beach is filled with long trail of beach clubs/bars/shacks. There is music playing everywhere. It's definitely the most crowded beach of all but its charming too. We had some pizza, hung out on the beach and made a retreat to our hotel.
Day 2 – we started our day with a quick dip in the hotel pool. We packed our bags, got ready and hopped onto the scooter to ride to Panaji from Arambol. Its roughly an hours ride but to sure to put on plenty of sunscreen else your arms & legs would be roasted due to sun burn.
We reached Panaji around noon via the remarkable Atal Setu, checked into a home stay this time in an old Portuguese style heritage villa. We looked online for an authentic Portuguese restaurant and found just the right one. Nestled in the interiors of the heritage area of Panaji. I was digging this Portuguese - Goa restaurant/cafe with tiny balcony seating overlooking the street with an array of colorful heritage buildings. Sipping onto my mojito with some incredible Portuguese food on a tiny balcony with a view of old goa was one my favorite moments from the trip. After our little Portuguese rendezvous, we came back to our villa and slept off the tire from riding.
In the afternoon, we decided to go and see the famous – Basilica of Bom Jesus. It's a UNESCO world heritage site and houses the mortal remains of the Saint Francis Xavier. The church's architecture is impressive and is a symbol of Portuguese Goa.
After the visit to the church, we went to Dona Paula that has the Singham point is also where Goa Raj Bhavan is situated. Dona Paula viewpoint was under reconstruction so we couldn't go to the other end but never the less decided to indulge in good old Pani Puri and chat.
From Dona Paula we decided to check out a Panaji Beach which is more like Mumbai's and feels less like goa's. After that we decided to check the beautiful white church with multiple stairways which is in the backdrop of every Bollywood movie or song ever shot in goa – Our Lady of the Immaculate Conception Church, Goa. From the top of the church, you can see pretty much a good portion of the city although it's not that high.
We parked our scooter somewhere close and just took strolls in the fashion district of Panaji lined with high retail stores and fancy restaurants. After a light dinner went back to the room and watched some South Indian Hindi dubbed Mahesh Babu movie (Not sure why? But it was fun).
Day – 3 we decided to do the something brave. Go from Panaji to Agonda(South Goa) on scooter with our backpacks. The journey was of 2.5 hours and the scorching sun was unforgiving. We made stops in between to have coconut water or sugarcane juice to keep ourselves hydrated. We also carried a portable Bluetooth speaker on which we were playing music & singing along as we riding.
We reached Agonda at 1 PM and checked into – wait for it – our beach hut. Yes! our beach hut with view of the Agonda beach. Best part about the beach is that unlike Palolem beach its not crowded at all. There are huts along the beach and there is unmatched peace & tranquility. This is the place I was talking about when I said "walk the quiet beaches in tranquility with ocean waves crashing at your feet".
This was the Goa I had come for – sit on the porch of a beach hut, legs stretched, beer in one hand, favorite music playing in the background of the breathtaking view of roaring waves rising and falling. You see this and say to yourself "Goa is the perfect holiday destination".