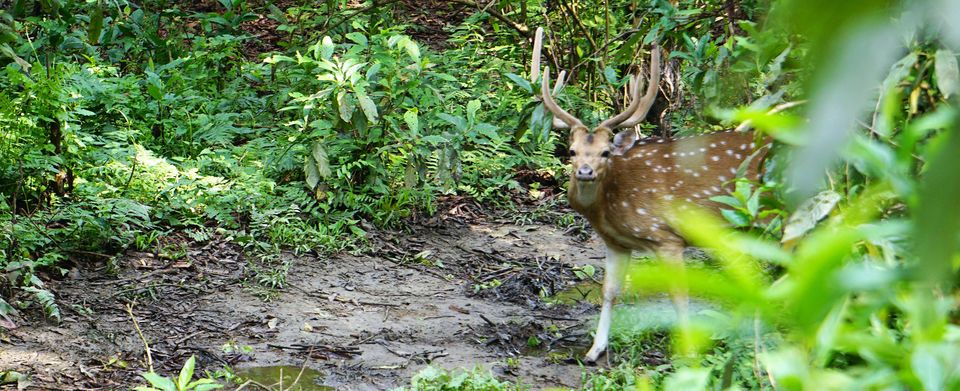 (Please check Part-1 of Nepal blog here )
Chitwan is in the lower land of Nepal and part of Terai region. It is known for its biodiversity and home for one horned rhino, Bengal tiger, plenty of other mammals and birds. Lots of alligators and crocodiles are also found in shallow rivers and creeks. High grasslands, dense forest, treacherous terrain make Terai one of the fiercest jungles in the world.
We started our journey from Pokhara and around 5 hours of drive took us to The Safari Adventure Jungle Lodge. If you are visiting Terai prepare yourself for hot and humid weather specially during summer.
I have experienced problems in arranging safaris by own during my previous jungle visits in India, so we decided to book this place as 2-day all-inclusive packages from Kailash Journey.
After sumptuous buffet lunch we took some rest and then got ready for the village and river walk. Resorts here typically arrange for visits to traditional Nepali village and we were taken to Tharu village. It was good but nothing enchanting.
Our guide took us for a walk along Budhi Rapti river where we spotted some alligators! Confluence of Rapti and Budhi Rapti is very scenic, and we spent some time over there however missed famous sunset due to clouds.
Soon it started to drizzle, and we had to cut our stay there. We tried to rush to our resort, but suddenly heavy thunder storm started, and we had to take shelter in a village house. Guide asked if we want to try some Rakshi, which is a local alcoholic drink and we said oh yes. They served us in still glasses and the clear drink tested like Korean Sozu. I had a glass and half only, as Rakshi is well-known to be very potent.
After dinner we called it a day as everyone were dead tired. And heavy downpour through out the night helped us to sleep comfortably.
Day-2
We woke up early with freshness of a new day and lots of enthusiasm. Finished our breakfast and headed towards the Safari point. There are two options in package either two hours of elephant safari or four hours in jeep. We selected first one; even if one is not lucky to spot animals, ride on back of elephant through dense jungle would be exciting.
After standing in the queue for a while it was our turn to take safari ride. We crossed the river twice and entered the core area. Our mahout was friendly and realizing our enthusiasm he took us deep inside.
For a long time, our elephant got isolated from rest of the group and we went inside dense forest. It was quite a thrill!
We could spot lots of deer, crocodile and several species of birds but not tiger or bear.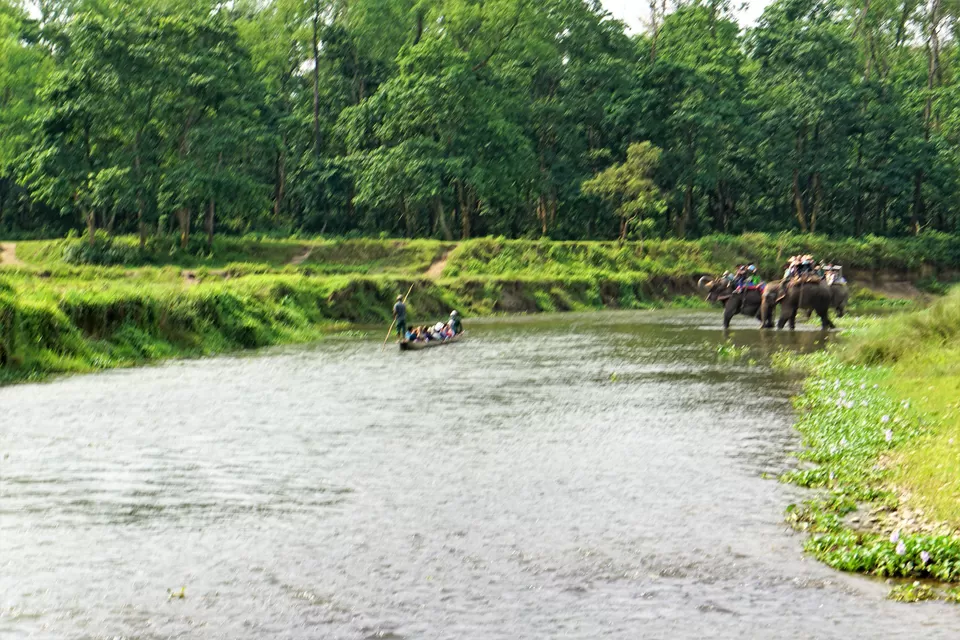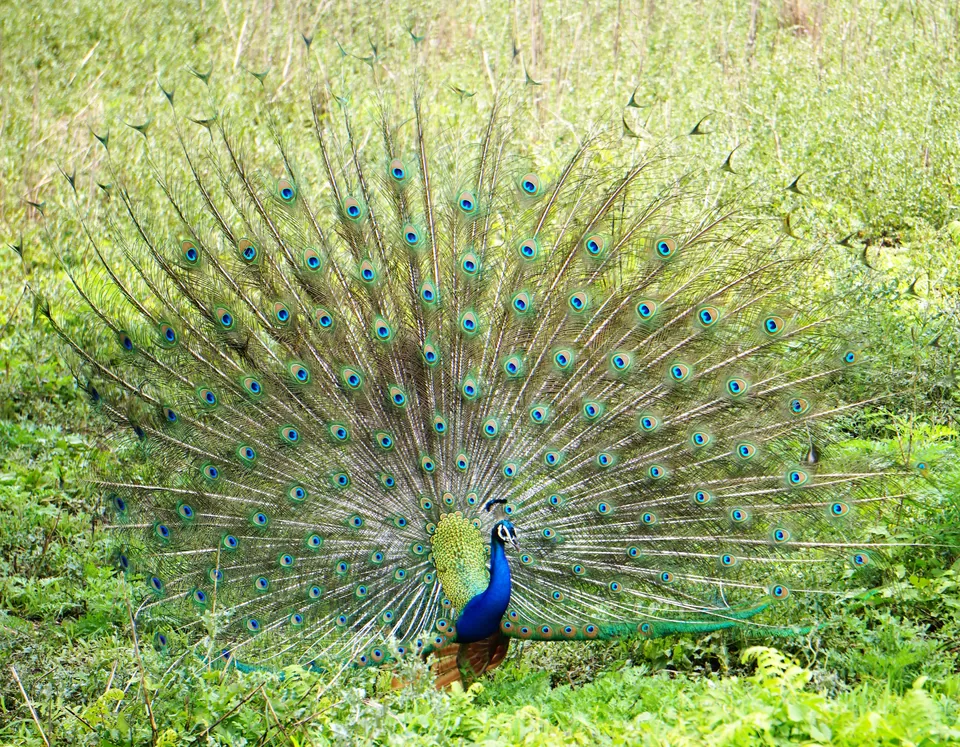 But winner of the safari was this dancing peacock. Seems he is successful in art of seduction; see number of peahens going around him!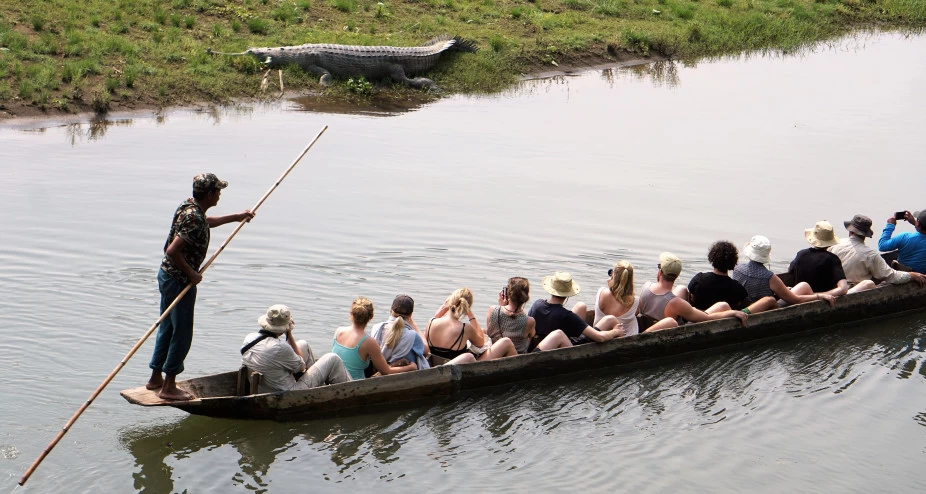 After 2 hours of awesome safari we came back to resort. Our next activity was around afternoon, and we had nice rest after sumptuous lunch.
The resort package included a canoe ride on Budhi Rapti river, and we were taken to the boating point. Boatman and our guide helped us to settle down on the boat, which is a tricky task. They also briefed us about the do's and don'ts, like not making sudden movement which may topple the boat.
As our ride progressed, we spotted many beautiful birds, crocodiles and alligators. We could see crocodiles floating as near as few feet from our boat.

Guide told the shape and color of the boat make those crocs believe this is a bigger one and that's why they don't attack. How assuring!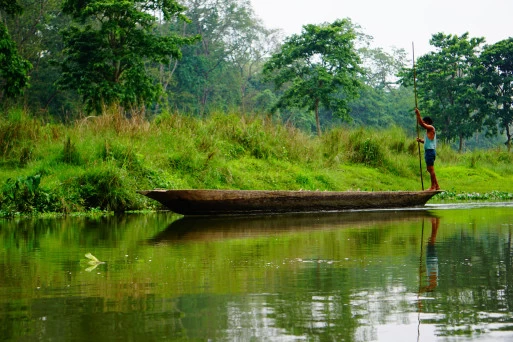 Overall the ride was completely out of the world experience! A must do activity in Chitwan.
The boat took us to other side of the river where we visited elephant breeding centre. The information centre there provide good knowledge on life and habitat of elephants. Also, we could see lots of elephants in stable. Good place to spend an hour.
On our way back we stopped by a riverside teashop to get some masala tea and watched amazing sunset.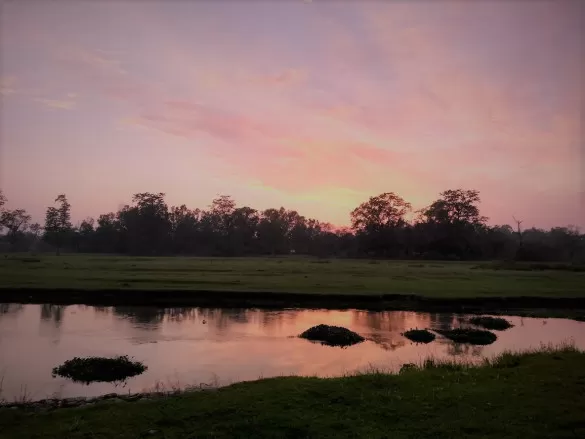 Our resort arranged for tribal dance performance in the evening. All gathered around the open area to enjoy the performance. Dancers from nearby Tharu tribe performed number of dances and acrobatics for us. Even we joined them for the final dance. It was fun!
Post dinner we had some chito-chat and wrapped our day. Next day is beginning of last leg of our trip i.e. Kathmandu valley and we had some plans to do enroute.
See you at Kathmandu, stay tuned here !
If you want to see vlog version of this trip and rest of my Nepal travel series please check here and subscribe to my Youtube channel.
Frequent Searches Leading To This Page:-
Visit Terai at Chitwan National Park, chitwan national park accommodation, chitwan national park from Kathmandu, about chitwan national park