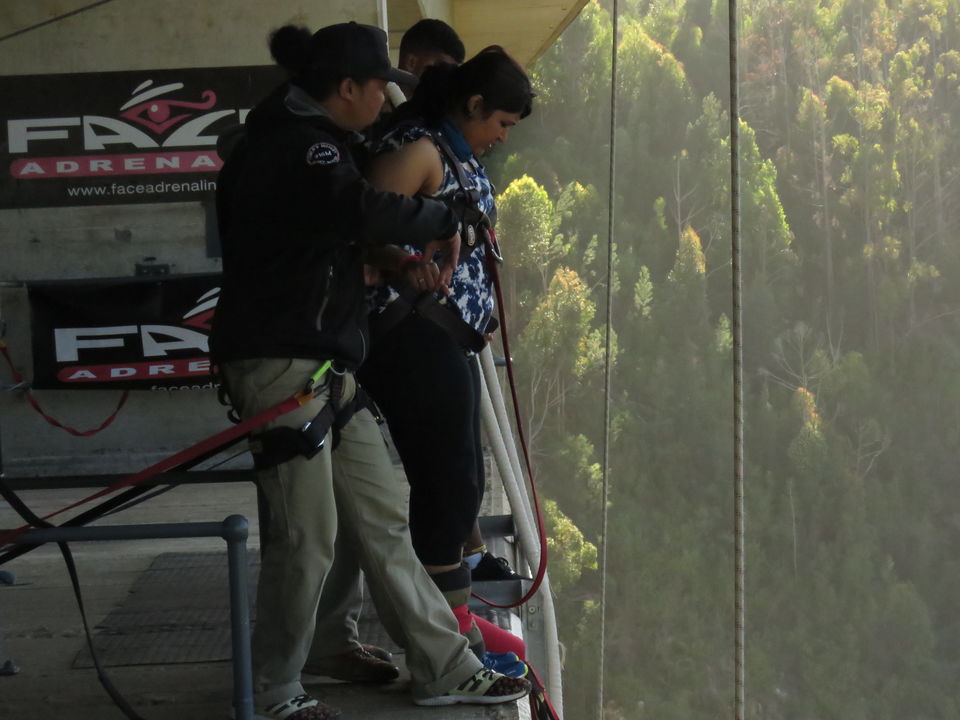 We were driving through scenic Tsitsikamma National park at western cape of South Africa... it is said to one of the most scenic routs around the world.. The Garden Route.. And it was indeed.. But I was scared ...not scared may be it was mix of scared and anxious about our next destination..Once you cross Storms River & Tsitsikamma national park ..there comes a Bloukrans River & the famous bridge on it.. A Bloukrans Bridge, height of 216m above the bloukrans river. This bridge itself is a feast to eyes ... But we were thrilled not just about that.. this bridge boosts home of world's highest of the bridge bungy jumping center-Face Adrenalin..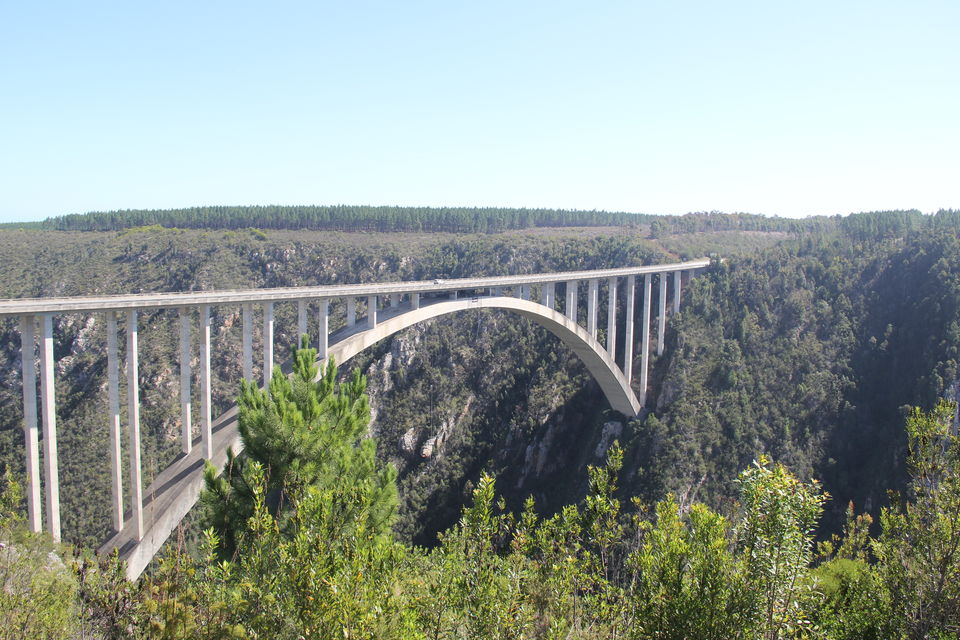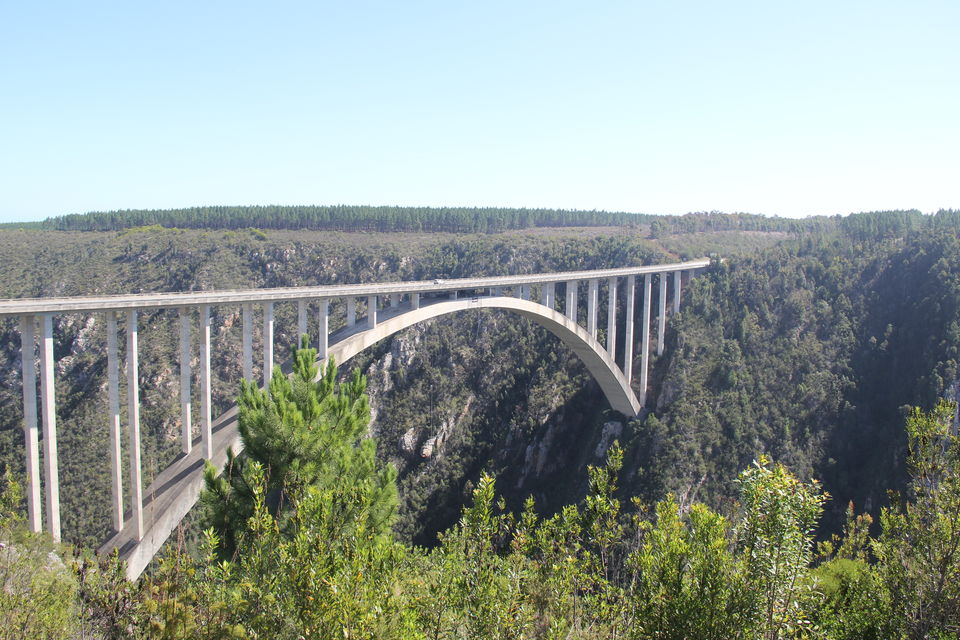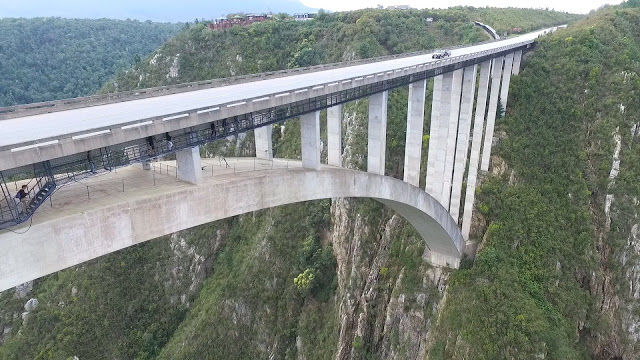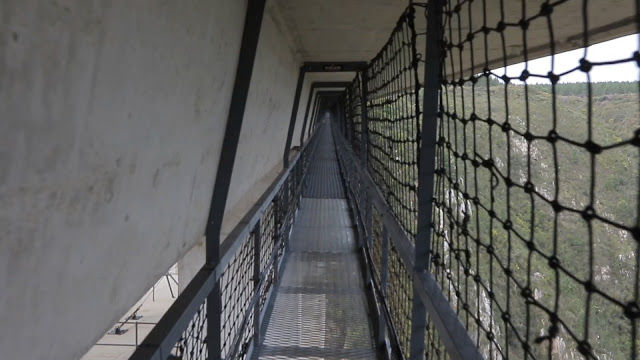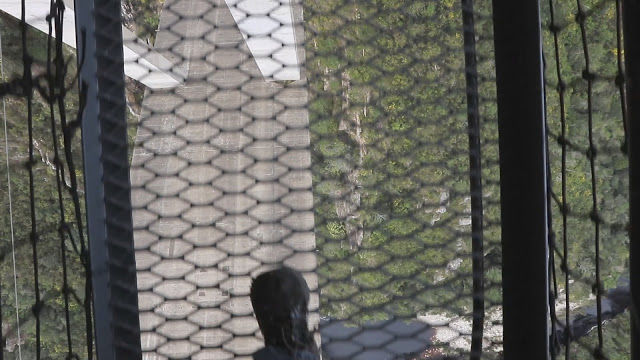 We came across this when we were doing some planning of for our South Africa trip and were quit thrilled to view some videos & pics. We swore to ourselves ten times that we gonna definitely do that.. but as we were approaching that bridge my mind was shaky..when we reached parking lot of the site, I was quite reluctant to come out..but we did.. there was a booking office, one nice restaurant & A awesome view point from where you can see other people jump off the bridge..!!!
Trust me it was scary enough to watch other people do that, At restaurant there was screen installed and you can watch quite a close up view of people who are jumping of the bridge. I stood there watching those people one by one, when one is standing on edge of bridge about to jump, I was searching for some thrill, some excitement on their faces and no.. I couldn't find that, The only emotion clearly visible on each face was FEAR..!!!
I came out of restaurant more scared.. and there was this poster staring at me..
It boosted my moral little bit ..yes fear might be temporary ..one has to try. Somehow, Anirudha convinced me that we gonna jump.. we filled the forms, paid and enrolled.. Generally I dont go near any weighting machine but here it was compulsory.. To see the figure on weighing machine turned out to be equally horrific experience & as if that horror was less they marked this figure on our fists Black and Bold..! Nope I am not gonna post that pic here.
Ours was group of eight, there were some highly enthusiastic Brazilian girls and one couple from Sydney. Equipped with full body harness, we set out for this adventure. Jump off point is at middle of bridge and up to that point you got to walk through a metal cage.. As we started walking through it, valley started unfolding under our feet, it got deeper and deeper. I looked through shaky net below my feet and water churned in my stomach. Nope, I decided that very moment, I am not gonna jump.. to hell with adventure..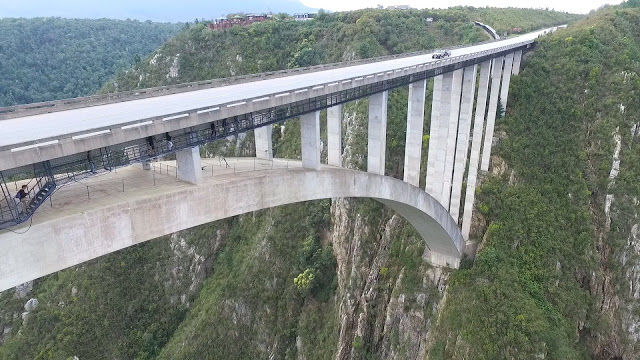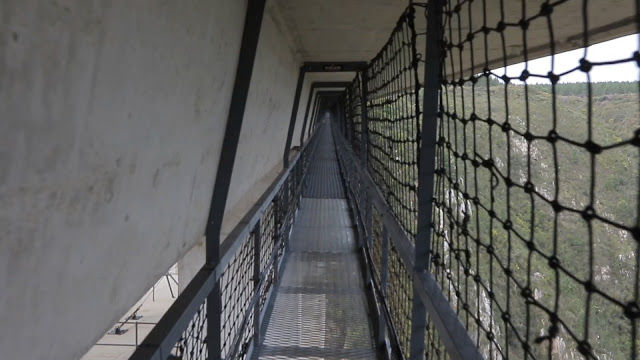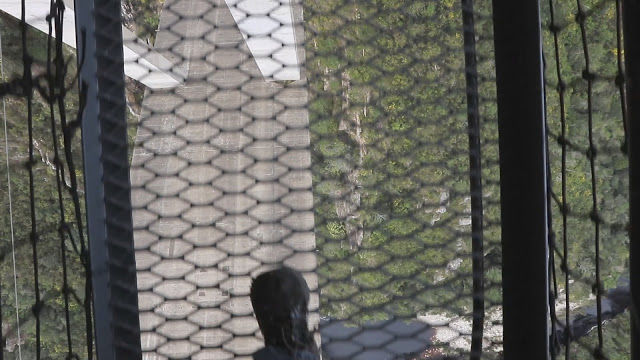 Somehow we reached middle of the bridge, it was quite windy. I was any way shivering, there was no need for wind actually. It was my husbands turn first, I knew he was scared but he jumped off quite easily, and then it was my turn
I wanted to wait for him to return safe and sound but our skipper was quite eager that I must go now , I stood there at edge, with both legs tied, in that situation it was impossible to run off. I saw a nice lush green valley stretched before me..but looking down again churned my stomach,. Fear boiling withing my self, What If..? What if rope breaks, what if I get a sever jerk? There were so many what ifs and I was trying to console them by assuring, dont worry..everything will be fine..it was in vain but somehow I took off..
Now let me clarify, I never experienced free fall in my life, I never fell of from bed even for that matter. But when I let my self go in to that 216 m deep valley it was horrible & yet soothing, light, weightless feeling. Chilled wind blew on my face & after what seemed as eternal fall, I got pulled off by rope. Something within me rested in peace that yes I am tied to some real earthy point and not gonna fell off.. but that peace lasted only for a second and followed by huge swing of rope, a whole view rotated around me. I wanted to scream but, voice failed me in that void. After two swings rope settled a bit. I was hanging upside down in that serene deep valley, Bloukrans river still looked like a tiny stream of a water from there. And for a moment I realized what amazing place it is... If one has to die.. whats better place than this..? whats better way..? Immersed in deep void of this tranquil valley..
In those few moments I realized just a one thing, Facing Fear is not about confidence that you will survive. Facing fear is knowing that you are quite negligible spec in universe & Its OK to Die..!
This blog was originally published on
http://deepti-reflections.blogspot.in/2017/03/fear-is-temporary.html
Frequent Searches Leading To This Page:-
winter weekend getaways south africa, top places to visit in south africa, best places to visit in south africa cape town, south africa tourism from india, top south africa tourism from india, best south africa tours from delhi