Being a wildlife enthusiast, I've spend weeks in Kenya - hopping from Masai Mara to Amboseli, just to spot the BIG 5 in their natural habitat. I always believed that nothing can match Africa's wildlife scenario, and game drives can't be better anywhere else in the world, until recently, when I saw a friend sharing photos from a trip he took in Southeast Asia! Well, I have to say, I was spellbound!
And it was Borneo!
Nestled in South Asia, this captivating island offers an extraordinary wildlife experience that rivals even the African savannahs. From orangutans swinging through ancient rainforests to elusive pygmy elephants roaming freely, Borneo is a hidden gem that promises a perfect wildlife vacation.
Three Countries, One Island:
Borneo is not a country itself but is divided among three nations. Indonesia claims the largest portion of the island, covering approximately 73% of its landmass. Malaysia occupies 26% of Borneo, while the remaining 1% belongs to Brunei. Each country offers its own unique experiences, from the dense jungles of Indonesian Kalimantan to the modern cities of Malaysian Borneo.
With its prime location near the equator, Borneo boasts a hot and humid climate that is perfect for lush rainforests and diverse wildlife.
Reasons why you should consider traveling to Borneo over Africa!
Well, after visiting some of the most popular national parks in Kenya and South Africa, I'm here to vouch for Borneo.
Breathtaking Natural Beauty:
Borneo is renowned for its stunning natural landscapes and rich biodiversity. The island is home to one of the oldest rainforests in the world, the Borneo Rainforest, which is a UNESCO World Heritage Site.
Diverse Cultural Experience:
Borneo is a melting pot of different cultures, with over 50 indigenous ethnic groups residing on the island. Each group has its distinct traditions, languages, and customs. By visiting Borneo, you have the opportunity to immerse yourself in diverse cultural experiences, witness traditional dances, try local cuisine, and interact with friendly locals.
Adventure and Outdoor Activities:
Borneo offers a plethora of thrilling outdoor activities for adventure enthusiasts. You can go trekking through dense jungles, climb Mount Kinabalu (the highest peak in Southeast Asia), explore mystical caves, embark on wildlife safaris, go white-water rafting, and even dive in world-class dive sites like Sipadan Island, renowned for its marine biodiversity.
Unique Wildlife Encounters:
Borneo is a paradise for wildlife lovers. Apart from orangutans and proboscis monkeys, you can spot an array of unique and endangered species, including pygmy elephants, Bornean pygmy rhinoceros, sun bears, clouded leopards, and a variety of colorful bird species.
Also, visiting wildlife sanctuaries and national parks in Borneo provides incredible opportunities for wildlife sightings and conservation efforts.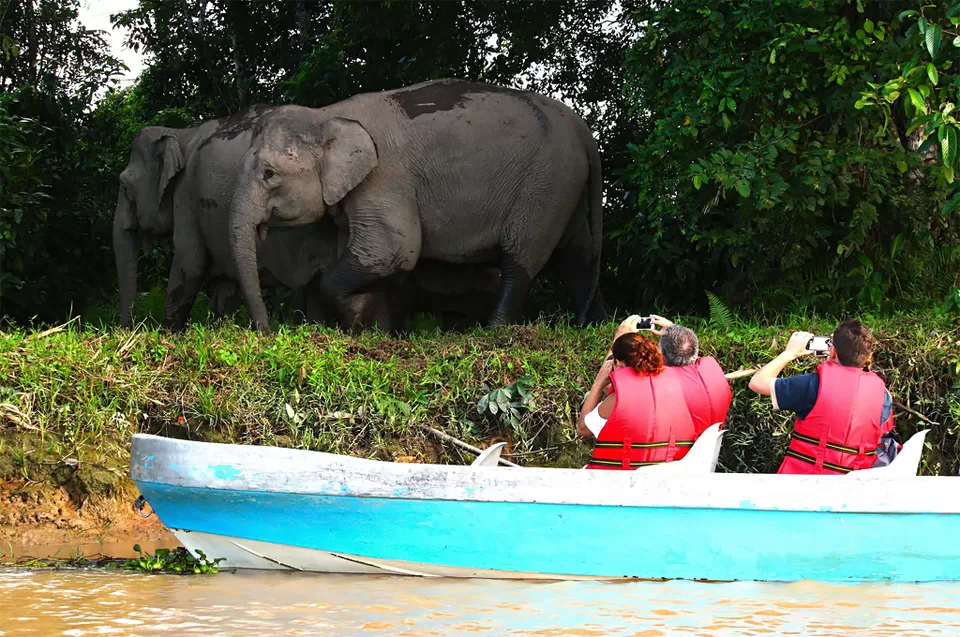 Getting to Borneo:
Airports and International Flights - Traveling to Borneo is convenient, with several international airports serving the island. The main airports are Kota Kinabalu International Airport (BKI) in Sabah, Sarawak's Kuching International Airport (KCH), and Balikpapan's Sultan Aji Muhammad Sulaiman Airport (BPN) in Kalimantan, Indonesia.
These airports are well-connected to major cities in Asia and beyond, making it easy to reach Borneo from anywhere in the world.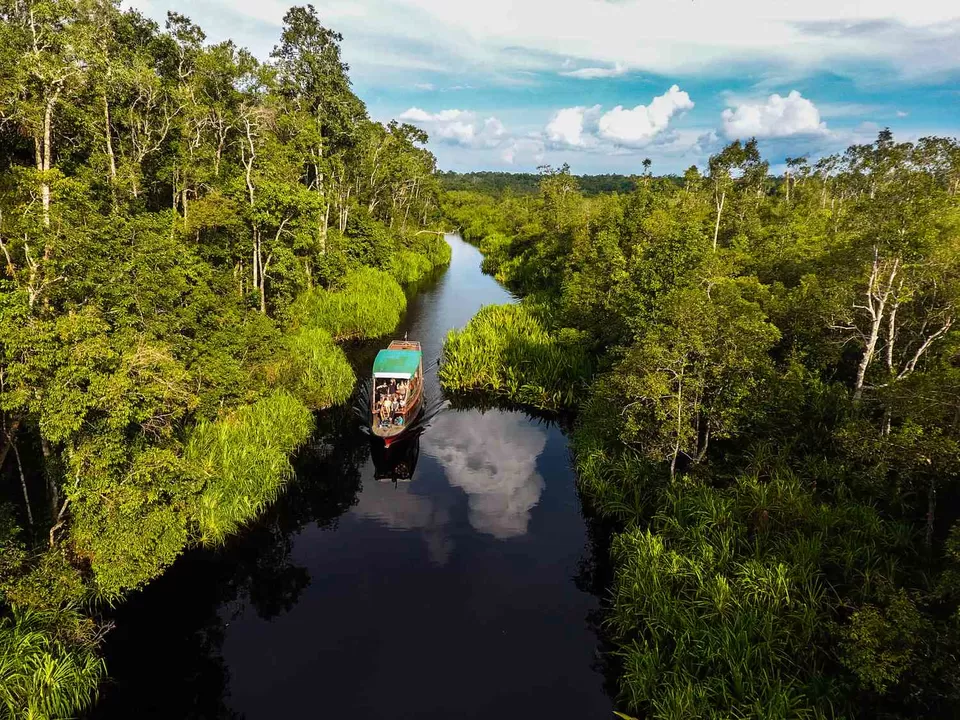 Visa Requirements - Before you pack your bags, it's important to check the visa requirements for your country of residence. Most nationalities can enter Borneo on a tourist visa, which is usually valid for 30 days.
For Indian travelers heading to Borneo, here are the visa requirements:
Malaysia (Sabah and Sarawak): If you are planning to visit the Malaysian part of Borneo, including Sabah and Sarawak, Indian citizens usually require a visa to enter Malaysia. The type of visa will depend on the purpose and duration of your visit. For short-term tourism, you can apply for a Malaysia eVisa (eNTRI) or a regular tourist visa (Multiple Entry Visa). The eVisa allows a stay of up to 15 days, while the tourist visa allows a stay of up to 30 or 60 days.
Click here to know more about Malaysia Visa for Indians.
Indonesia (Kalimantan): For Indian citizens traveling to the Indonesian part of Borneo, which is Kalimantan, you can get a visa on arrival.
Click here to know more about Indonesia visa for Indians.
Brunei: Indian citizens traveling to Brunei, a small sovereign nation on the island of Borneo, may be eligible for a visa-free entry for a certain period, typically ranging from 14 to 30 days. However, it is recommended to check the latest visa regulations with the Brunei High Commission or Embassy before traveling.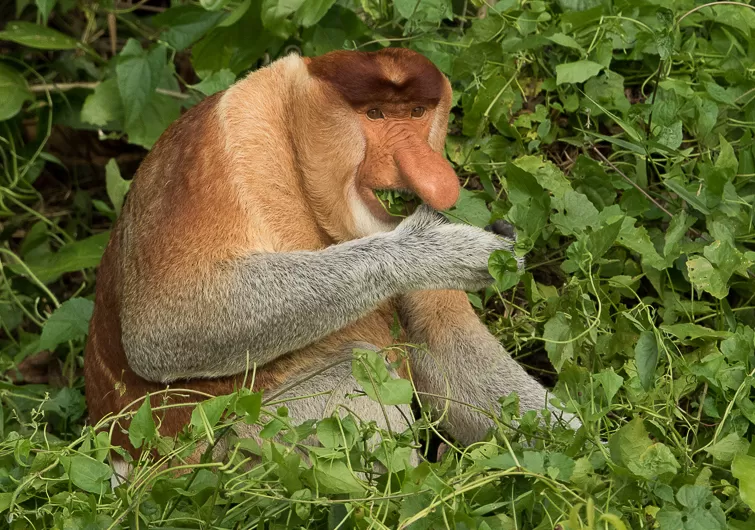 Best Time to Visit Borneo:
Weather and Climate: Borneo enjoys a tropical climate year-round, with high temperatures and humidity. The average temperature ranges from 80°F to 90°F, offering warm and balmy conditions for your adventure. However, the island experiences two distinct seasons: the dry season and the wet season.
Dry Season vs. Wet Season: The dry season in Borneo typically lasts from March to October, offering less rainfall and more sunshine. This is considered the best time to visit for outdoor activities, wildlife spotting, and exploring the national parks. The wet season, which occurs from November to February, brings heavier rainfall and occasional storms.
While it may limit some activities, the lush greenery and lower tourist numbers during this time can create a unique and tranquil experience.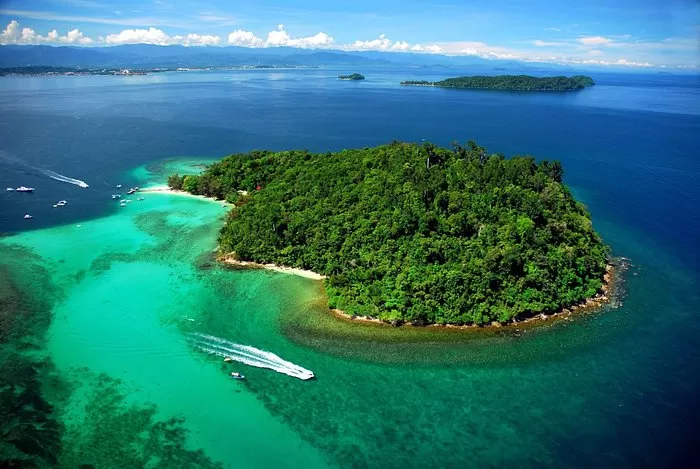 Exploring Borneo's Wildlife:
For someone like me, who finds immense joy in exploring the wilderness, spotting animals in their natural habitat, Borneo would be the perfect place. Truth to be told, the animals residing here are highly endangered and can't be found anywhere else in the world.
(Some of you might even have thought that these are extinct, but they aren't - and it's our responsibility to conserve them.)
Orangutans: A Majestic Primate
No trip to Borneo is complete without encountering orangutans in their natural habitat. These majestic primates are native to Borneo and Sumatra, and Borneo is home to the largest population. The best place to observe orangutans up close is at the Sepilok Orangutan Rehabilitation Centre in Sabah.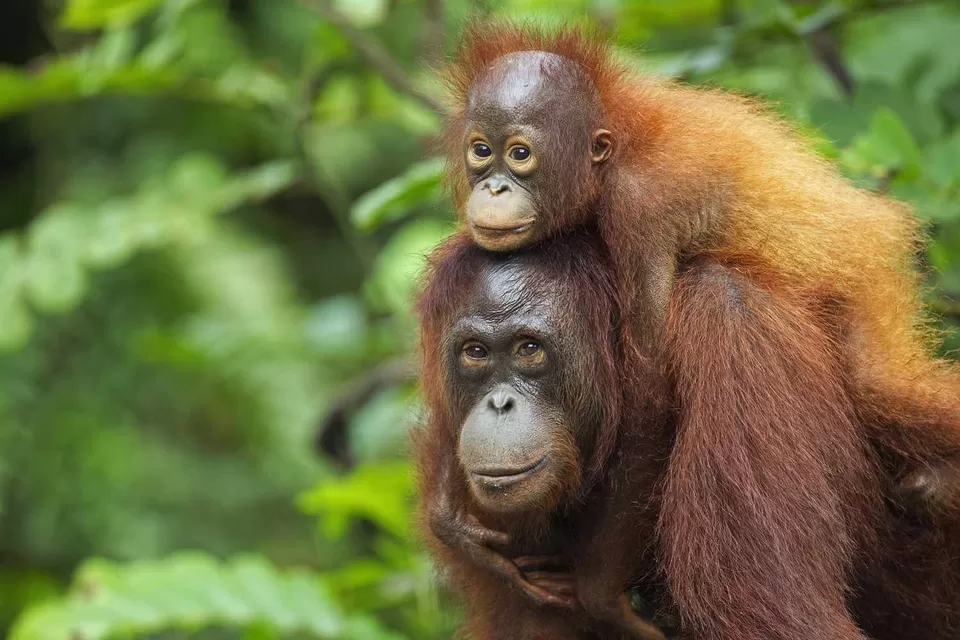 Pygmy Elephants: Gentle Giants of the Jungle
Borneo is also famous for its pygmy elephants, a subspecies of the Asian elephant. These adorable creatures are smaller in size but carry the same gentle nature as their larger African counterparts. The Kinabatangan Wildlife Sanctuary in Sabah is a prime spot for elephant sightings, where you can witness these magnificent animals in their natural habitat.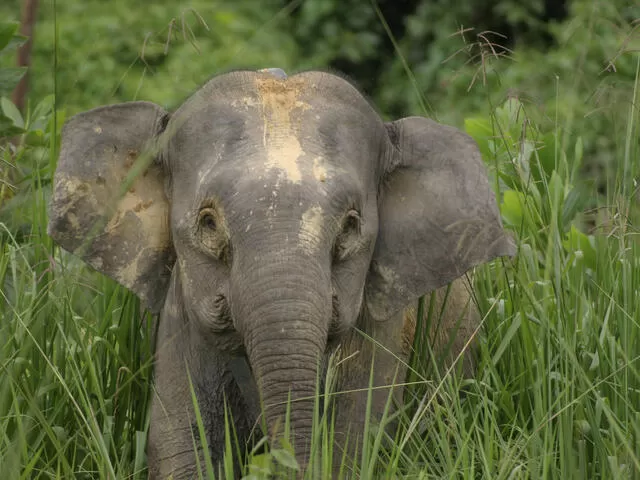 Proboscis Monkeys: The Quirky Natives of Borneo
Known for its distinctive long nose and potbelly, this quirky primate is endemic to Borneo. The best place to observe these fascinating creatures is along the Kinabatangan River, where they swing from tree to tree and entertain visitors with their acrobatic displays.
Borneo's Unique Birdlife: Hornbills and More
Borneo is a bird lover's paradise, with more than 600 species of birds calling the island home. One of the most iconic species is the hornbill, known for its impressive size and vibrant colors. The Bornean rainforests are teeming with these majestic birds, and birdwatching enthusiasts will be thrilled by the opportunity to spot them in their natural habitat.
Keep your binoculars handy, as you never know what feathered wonders you might encounter!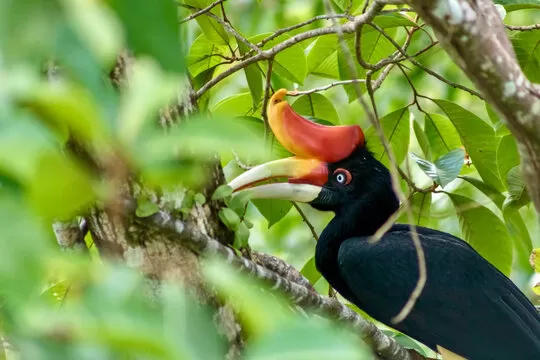 If you're seeking a truly immersive wildlife experience, a visit to the Kinabatangan Wildlife Sanctuary is a must. Located in Sabah, this sanctuary is home to a remarkable variety of wildlife, including orangutans, pygmy elephants, proboscis monkeys, and countless bird species.
Embark on a river cruise along the Kinabatangan River, where you can spot these incredible creatures in their natural surroundings. The sanctuary also offers the opportunity to stay in eco-lodges, allowing you to truly connect with nature.
Best places to stay:
Kinabatangan Wildlife Lodge, 9500 INR per night for 2.
Sandakan Homestay Sea-Forest View, 5000 INR per night for 2.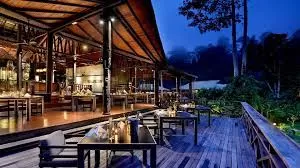 For an up-close encounter with orangutans, head to the Sepilok Orangutan Rehabilitation Centre in Sabah. Here, orphaned and injured orangutans are rehabilitated and prepared for reintroduction into the wild.
Visitors can observe these magnificent creatures during feeding sessions and witness their playful behavior. The center also plays a crucial role in educating the public about orangutan conservation and the importance of protecting their natural habitat.
Best places to stay:
Sepilok Forest Edge Resort, 10,000 INR per night for 2.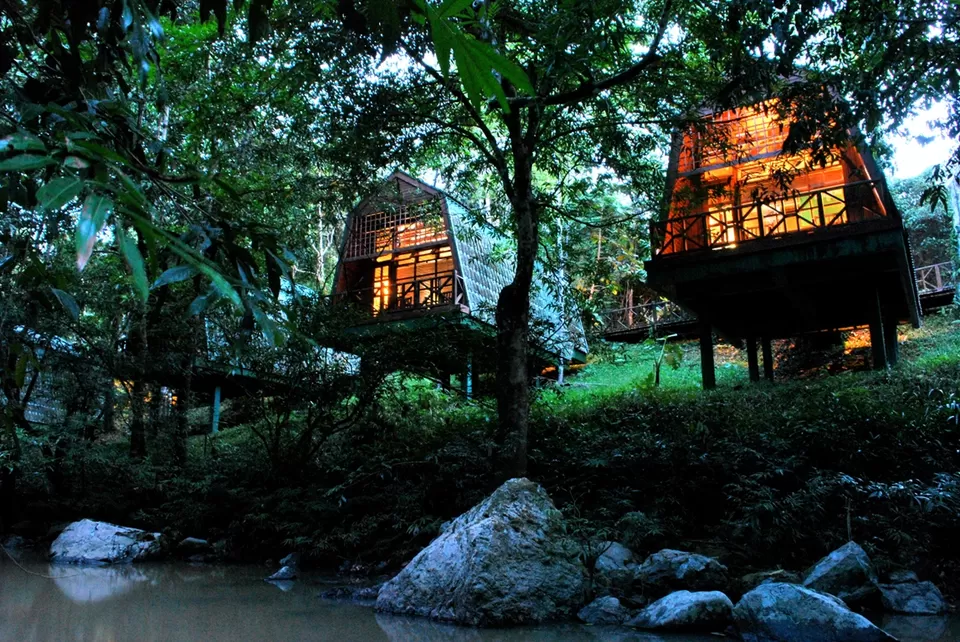 Bako National Park, located in Sarawak, is a treasure trove of natural wonders. This park is a paradise for hikers and nature enthusiasts, offering a diverse range of landscapes, from dense rainforests to stunning coastline.
Explore the park's extensive network of trails, where you can encounter unique wildlife, such as the proboscis monkey, silvered langur, and pitcher plants. Be sure to visit the iconic rock formations at Tanjung Sapi and enjoy breathtaking views of the South China Sea.
Best places to stay:
Cove 55, 14,500 INR per night for 2.
The Culvert, 7000 INR per night for 2.
For a truly immersive experience, consider staying in one of Borneo's unique ecolodges, where you can witness up to nine primate species, including crocodiles, butterflies, and rare birds. It is advisable to book your accommodation in advance to secure your preferred choice.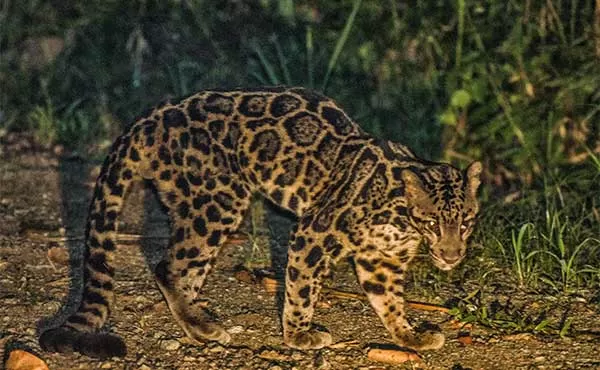 Africa may be the go-to destination for wildlife enthusiasts, but Borneo, with its lush rainforests, diverse ecosystems, and remarkable wildlife, offers an equally captivating experience.
From orangutans and pygmy elephants to proboscis monkeys and rare bird species, Borneo is a wildlife lover's dream come true. So, swap the savannahs for the untamed beauty of South Asian Borneo, and prepare for an unforgettable adventure that will leave you in awe of the natural wonders that call this paradise home.
Get ready to embark on a wildlife vacation of a lifetime in the heart of Borneo's wilderness and soak in the serenity, as you witness nature at it's best!
Have you been to Borneo and think we missed out on something? Tell us about it in the comments below. Or write about it here on Tripoto.