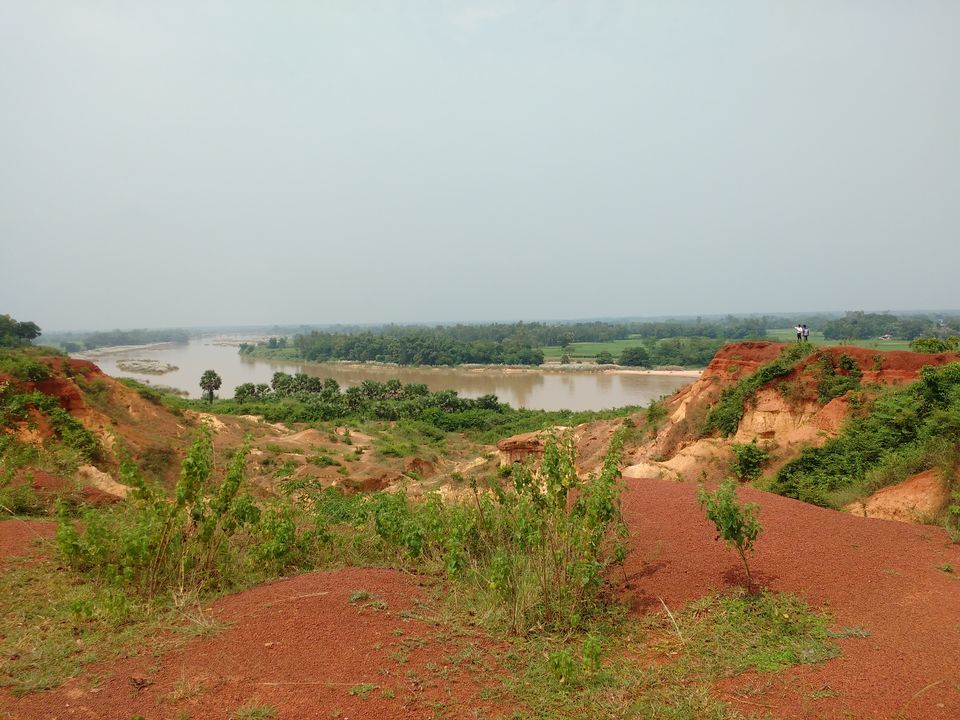 If you want to just break the monotony of your daily life , want to take a road trip and enjoy a pillion ride ????, want to come back to your cozy home that day only and moreover, want to explore the very antithetic of 'shasya shamala sujala sufalam' epithet of West Bengal then you must go to Gangani, the Grand Canyon of West Bengal.
Gangani of West Midnapore district of West Bengal is a natural canyon and as rough as you can imagine compared to what Bengal mainly is.
We took a bike ride in the auspicious day of Durga Saptami
and started our journey at 6 o'clock in the morning. We set our route on google map and sailed in. The route is via NH 6- Uluberia- Bagnan- Garbeta. It will take about more or less 5 hours to reach there. Though it was Autumn season but our skin was scorching to the hell. So, before planning a tour to Gangani ,always do it at peak winter season.
When we reached there we saw from the highland the Shilabati river is flowing and surrounding it the canyon was formed.
Let me be honest here. These days no place is untouched or unseen by netizens . These days one or two people go to an offbeat place and make it popularized to such extent that sometimes it becomes overhyped. Before going to Gangani, I too read some blogs/ articles on it and seeing edited pictures on those blogs ,it left an different expectations as well as impression of that place.
But when I reached Gangani, I was left disappointed. No! I am not saying you should not explore it. But you should go Gangani with a mind of an geologist , archaeologist and also as an environmentalist ! It would be much fun then !????.
Otherwise scorching heat will engulf your fun after riding 5 hours in bike. ????
Leaving some unedited pictures for you to get a sneak pick and the rest should be explored by you. Yes! Every turn you take within canyon will leave you with question of pre historic era. Every curve you see of the rock formation will make you curious about your life too. You may suddenly get an epiphany about life in that rough rude gorge ????????
And yes, go with adequate water bottles and dry foods as you will not find any eating place let alone accomodation. You may find a dhaba just beside Garbeta College which is 5 km away from Gangani.
As they say, the journey is important and not the destination. You must visit Gangani keeping this philosophy in your mind and you may find a hidden treasure trove there. Good Luck ????????????