A Ginormous Task of Travelling with our dogru by train From Kolkata to Mumbai - Part 1
Having travelled to Kolkata from Mumbai 8 months back, it was time for us to return to Mumbai (the locations to submit the documents in Mumbai and things to carry while travelling with pet has been explained in detail in my past article - https://www.tripoto.com/west-bengal/trips/butt-de-mutts-first-train-travel-experiencing-long-distance-travel-with-my-baby-60dc92277aa05) and it was just the beginning of a ginormous task to get Butlee's travel documents ready. Getting her documents prepared in Mumbai was way easier than getting it done in Kolkata. Although from "Calcutta" (I still prefer calling it that) I have found it less pet-friendly than other cities I have lived in (Bangalore and Mumbai). So researching on where to submit her documents and the location of the parcel office to get her booked was always on my mind. While researching for the location to submit application for 1st class coupe, I came across several blogs suggesting to visit Koilaghat. Thankfully, I decided to check the parcel office at Howrah Station Junction before visiting Koilaghat. It was here that I was informed the location to submit application for 1st class coupe has changed from Koilaghat to South Eastern Railway Colony, Garden Reach which is popularly known as BNR (Bengal Nagpur Railway).
When we reached BNR, no one had a clue as to where the application should be dropped. All we heard was "it must be the new building, the retail division, not us". After running from pillar to post for only about 5 minutes (by then I must've lost around a hundred calories by drenching in my own sweat!!! You should experience "Kalkatta ki garmi"), we finally made it to "The New Building", went to the third floor, where again no one had a clue until a an employee recalled having another person come some day with the same request. So, she directed me to the second floor, where just beside the staircase stood a solitary box waiting to be filled by application of pet parents, senior citizens, V.I.P.s and honeymooners for a "coupe".
So, here are my two-cents on pet travel from Kolkata by train
# Preparations Before the Travel Date:
1. Check for trains where 1st Class AC is available
2. Buy the 1st class AC tickets (we bought 1st class AC tickets (12810 – HWH CSMT SF EXP) that leaves HWH Junction at 19:50)
Cost comes to around 11k for two berths. The cost of the tickets vary as per the trains.
# Documents to apply for 1st Class AC Coupe
1. Application (sample below)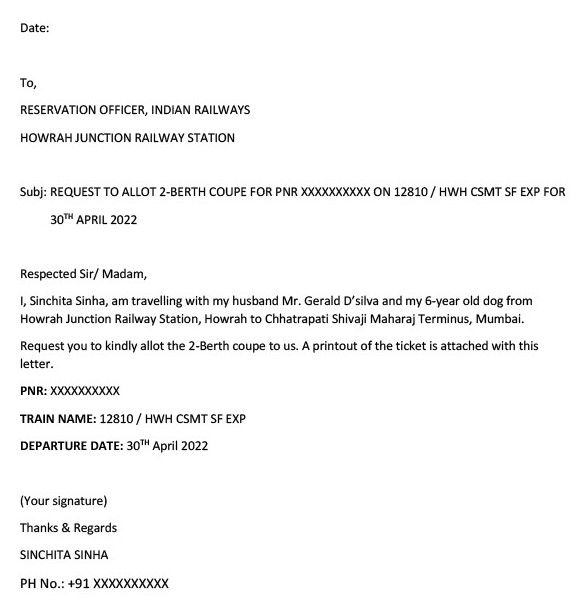 2. Copy of Ticket
3. Copy of Aadhar Card
4. Copy of your pet's vaccination report (From the office they mentioned to get it.)
# List of vaccines that was administered to my dog
RABISIN - anti-rabies
Nobivac DHPPi - vaccine for immunization of dogs against canine distemper virus, canine adenovirus, canine parvovirus and canine parainfluenza virus.
Nobivac LEPTO - vaccine for immunization in dogs against canine leptospirosis
# Drop the application with all the documents a day prior to your journey (sometimes people submit two days before travel, but I have heard railway officers asking to submit a day prior – it may be because the chart for 1st Class AC is prepared four hours prior to the train's departure)
# Location of submitting the application
11, Garden Reach Road, SE Railway North Colony, Rail Colony, Garden Reach, Kolkata, West Bengal – 700043
To hire an Uber you can select your destination as below: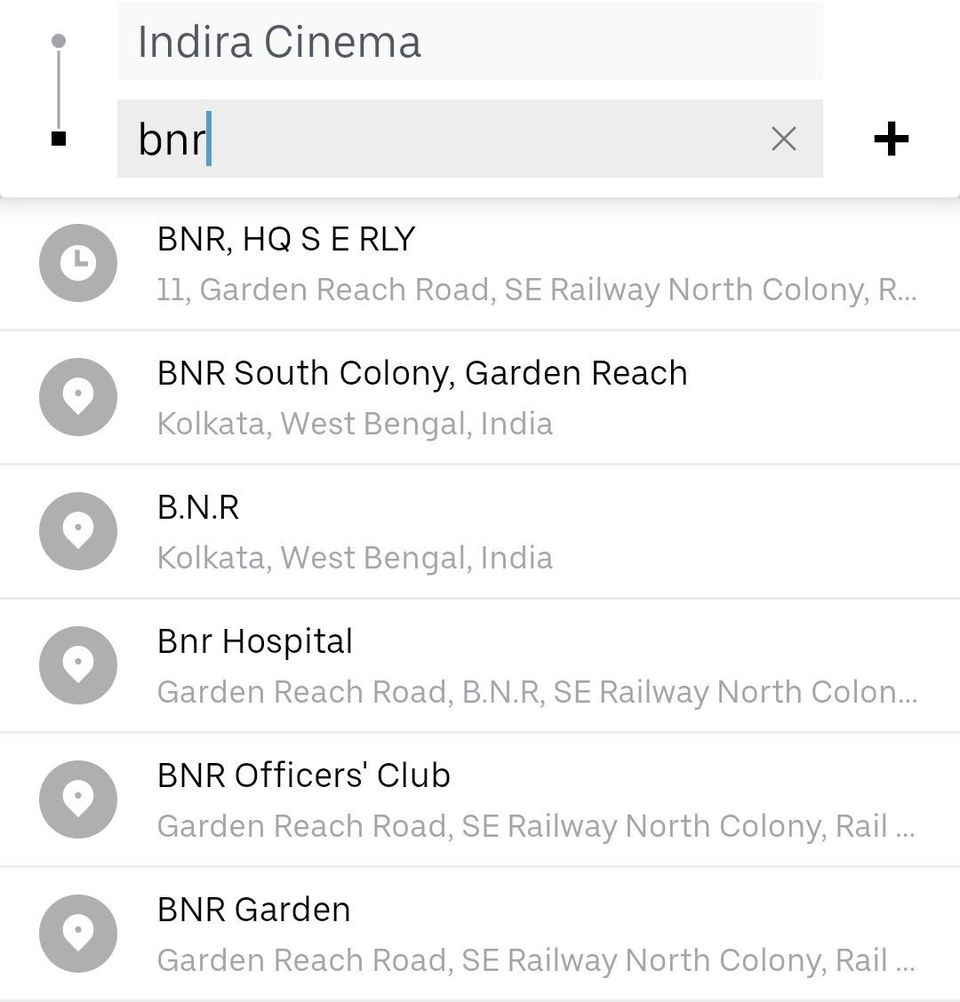 This is the place you need to stop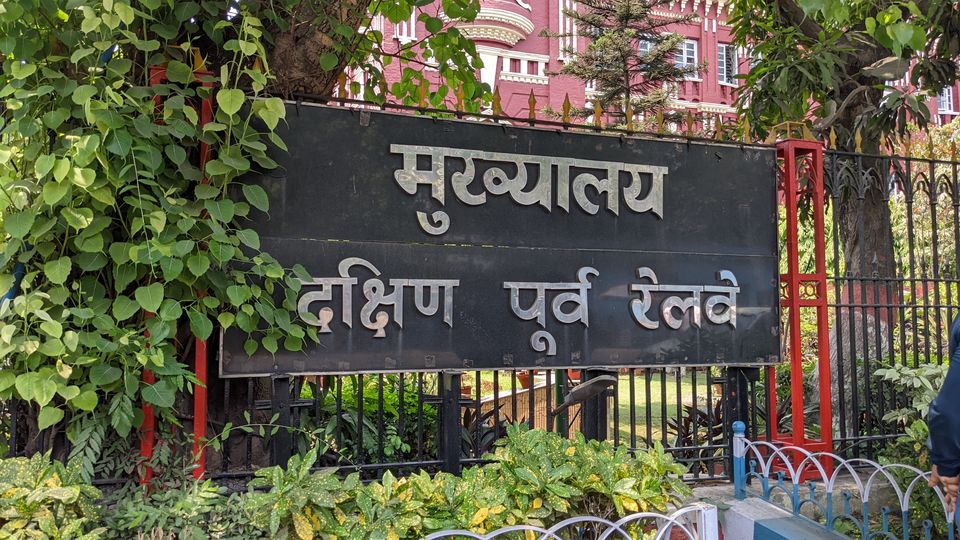 This is the entrance. After entering, you will find a train replica on your left, a little ahead of it is a left turn, you have to take that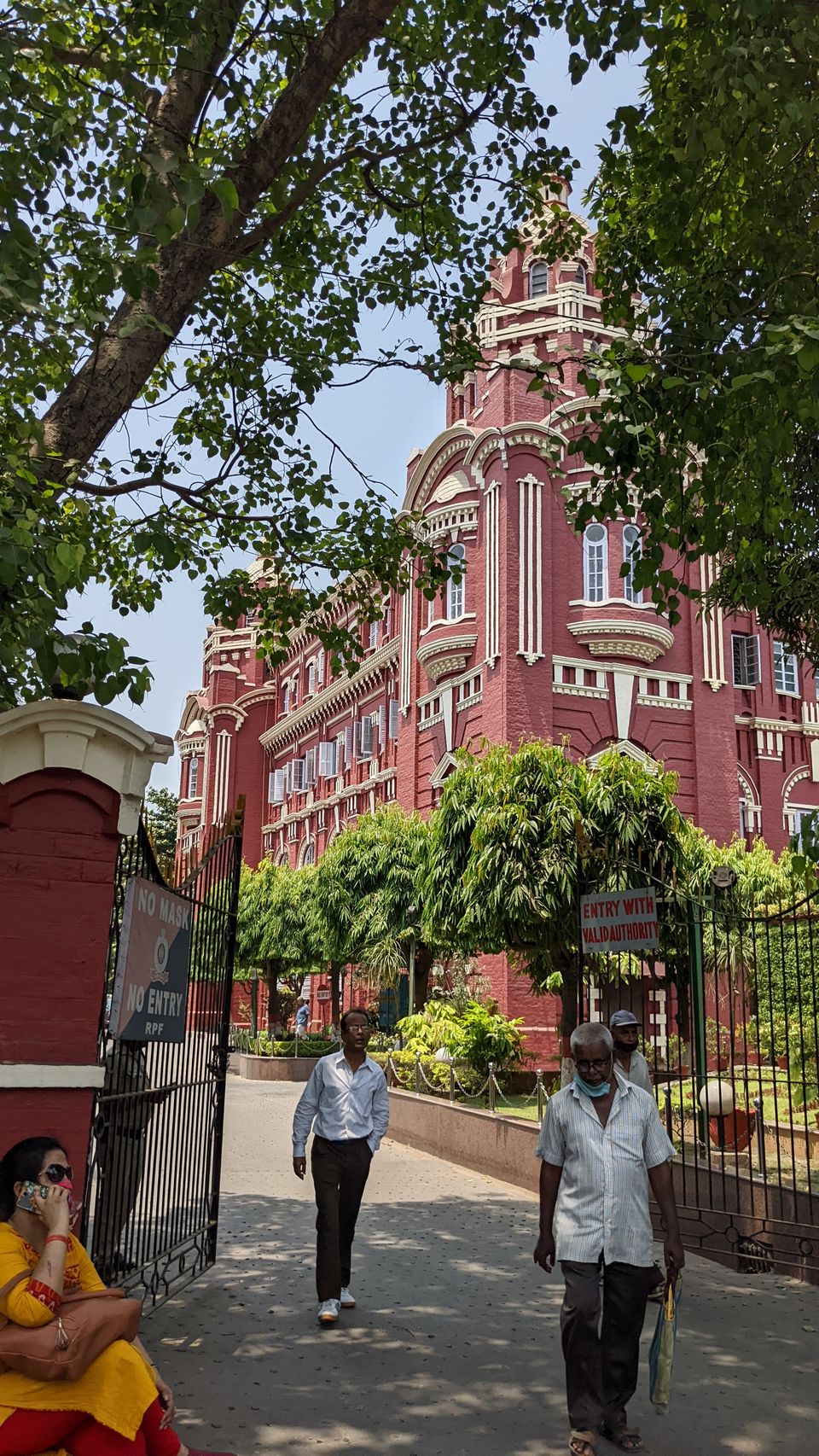 This is the train replica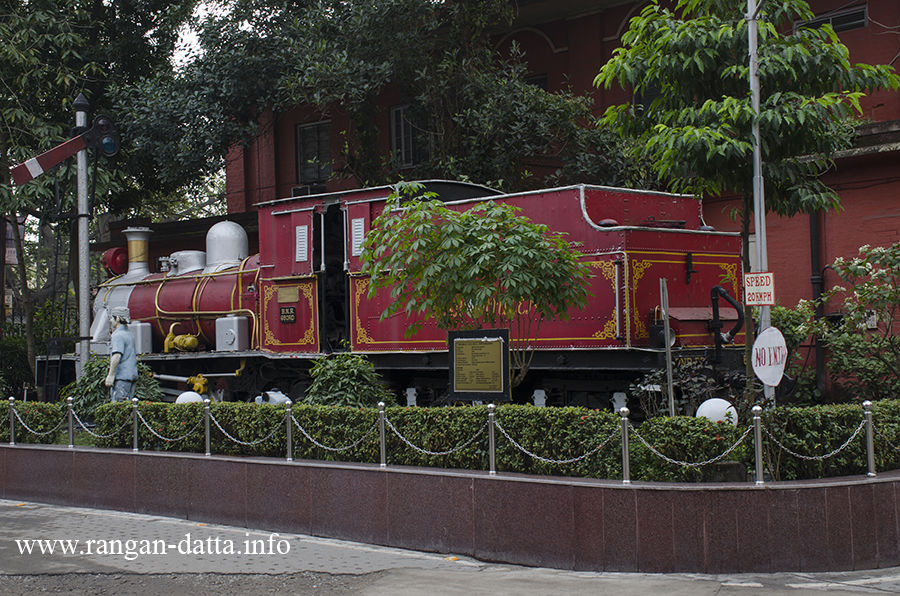 The lane to the new building. You can see the white and red building - that's the one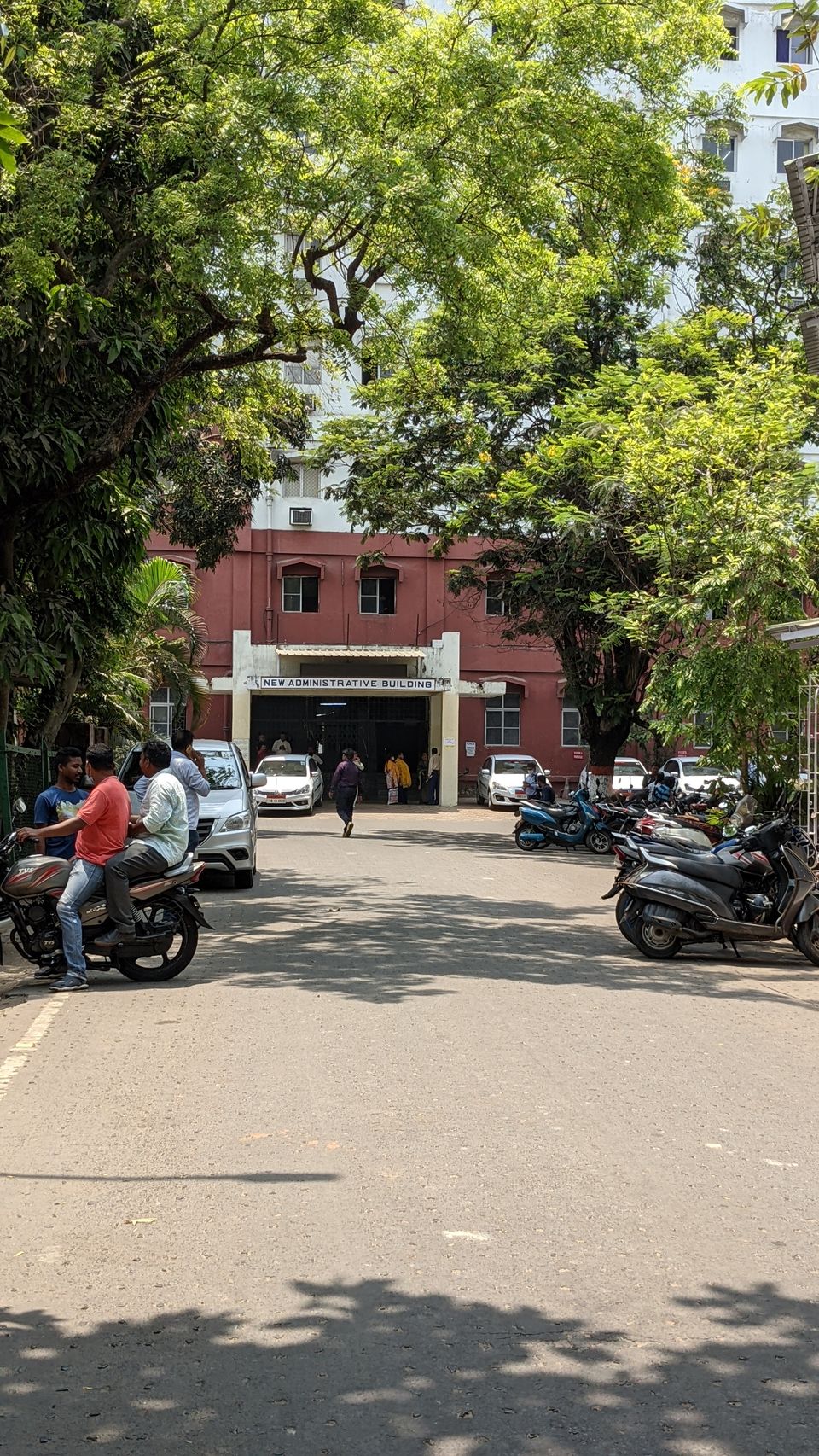 Enter the building and take the first flight of steps on your right. Head to the second floor.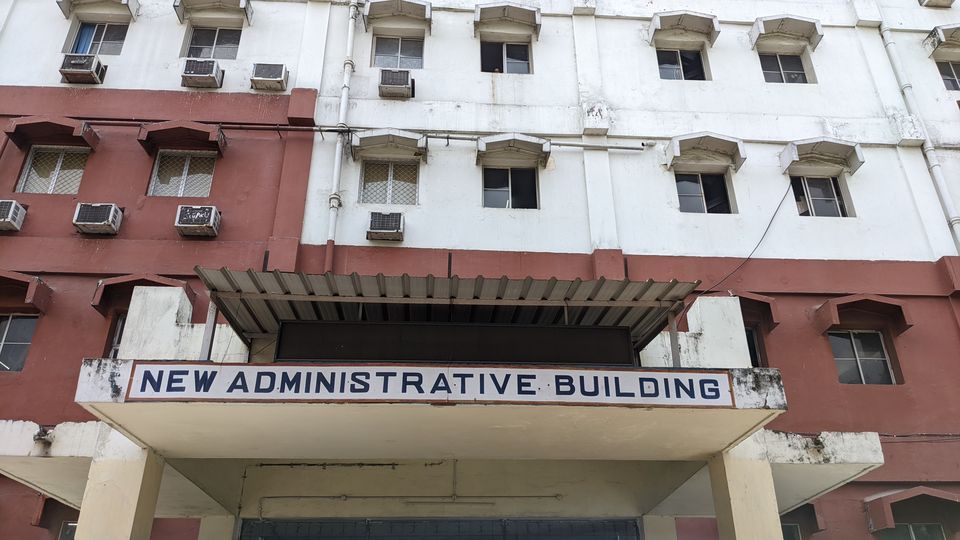 When you reach the second floor, you will find this box on your right waiting to be filled by applications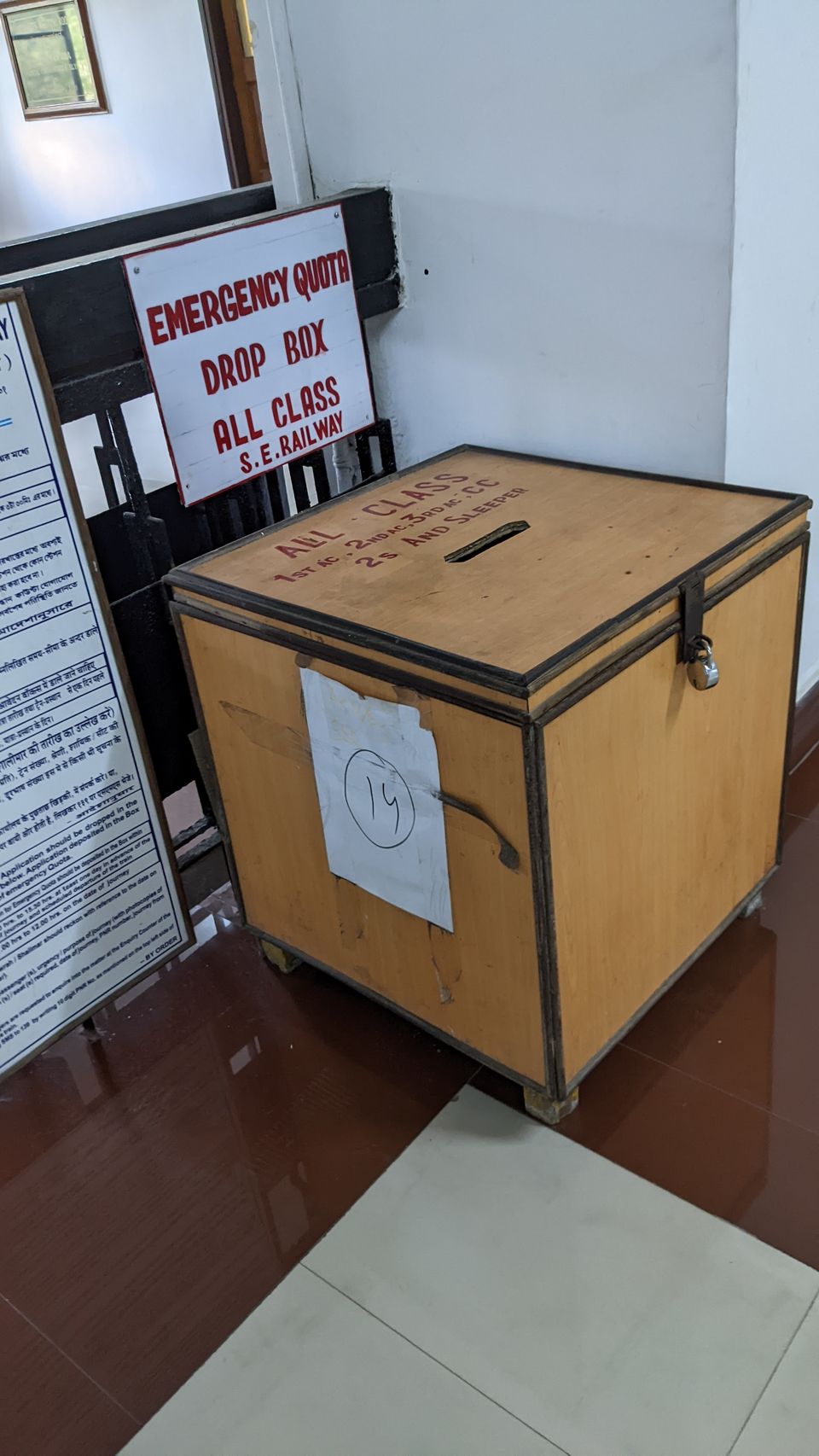 # List of vets to get your pet's health certificate (not all private practioner's are well-informed, below is the list of clinics that issue fit-to-travel certificate). The list that I curated are mostly in and around Bhawanipur. In case you plan to visit other vets, I suggest you call to check with them if they issue fit-to-travel certificate
1. Moitri Veterinary Clinic (I went to these guys after calling a few vets, some of whom weren't sure of what the procedure is or are way too expensive like Rs 1600 which is preposterous!!!). They charged Rs500. Get your dog's updated vaccination certificates and also ensure dog is dewormed (they asked if mine was).
Address - 15B, Deshapriya Park Road beside Primary Carmel School, Kalighat, Kolkata, West Bengal 700029 (I stay in Bhowanipur so this was pretty close to my place)
Phone - 098745 81624
2. Dr. Arnab Kumar Majie - 094324 41865
3. Advanced Pet Care
14B, Anil Roy Rd, Hemanta Mukherjee Sarani, lake Terrace, Ballygunge, Kolkata, West Bengal 700029
Phone - 098301 22960
4. Pet Vet World- Best Pet Clinic in Kolkata (Pet Clinic)
Address - 36, Ballygunge Gardens Rd, Dhakuria, Ballygunge Gardens, Gariahat, Kolkata, West Bengal 700019
Phone - 074397 31399
This is all about the pre-travel documentation that needs to be done. The next part of the travel will be posted in Part 2
Till then........... HAPPY READING!!!!!!!!!