Before I get criticised for putting the really really grand Grand Canyon and the sandstone gorge of Gangani (pronounced 'Gongoni') in the same bracket, let me clarify that Gangani is lovingly called the 'Grand Canyon of West Bengal' for bearing some similarity to the famous canyon. It is a mere comparison of an underrated gorge in a corner of West Bengal to the most popular one in the world.
About Gangani
On the outskirts of the Garhbeta town in West Medinipur district of West Bengal, lies a beautiful anomaly of nature. The plain landscape that marks the area of West Bengal is disrupted here by tall gorges formed over thousands of years by the Silabati River. The wide red soil gorge is locally called 'Gongoni Danga' or 'Gongoni Khola'. Formed after a long period of natural soil erosion and river movement, the Gangani Gorge is a beautiful and unique marvel that is frequented by locals and tourists alike.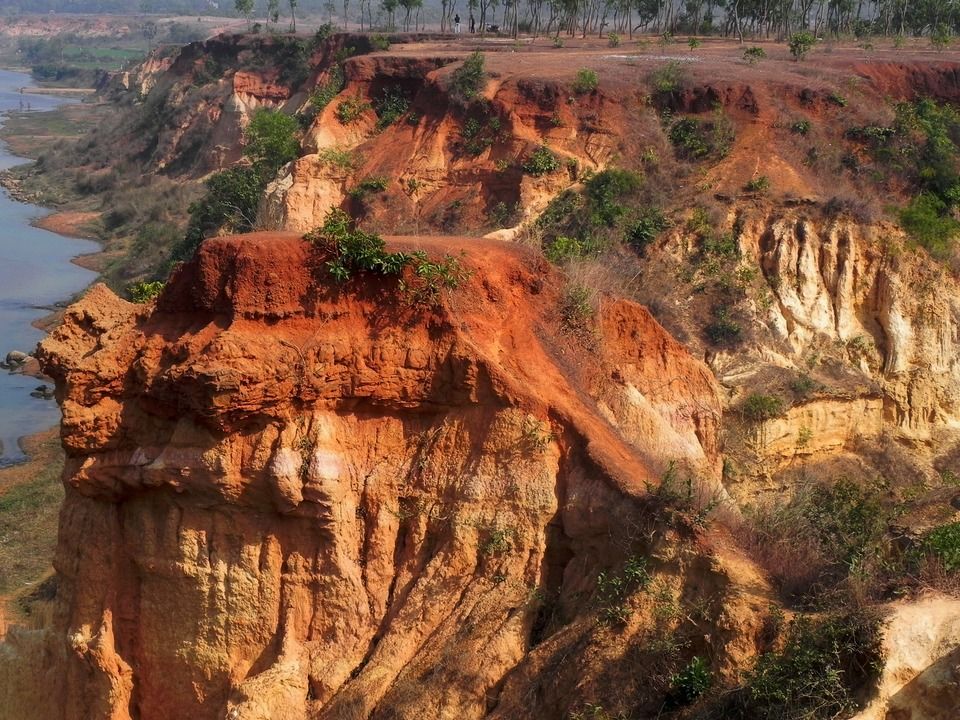 Just a few hours away from Kolkata, Gangani is a destination that brings together a stunning coalition of green forests, sandstone hills and fertile riverbeds. When monsoons arrive, the Silabati River can be seen flowing through the Gangani (Gongoni) Gorge, which is known to resemble the Grand Canyon of Arizona. Government authorities recently built a staircase at the highest point of Gangani that goes all the way down to the river, and when its not raining, you can even cross the river on foot as the water is not too deep.
Gangani or Gongoni finds a mention in the epic of Mahabharata as well. Locals believe that this is the place where Bheem, one of the Pandavas, killed a demon called Bakasura.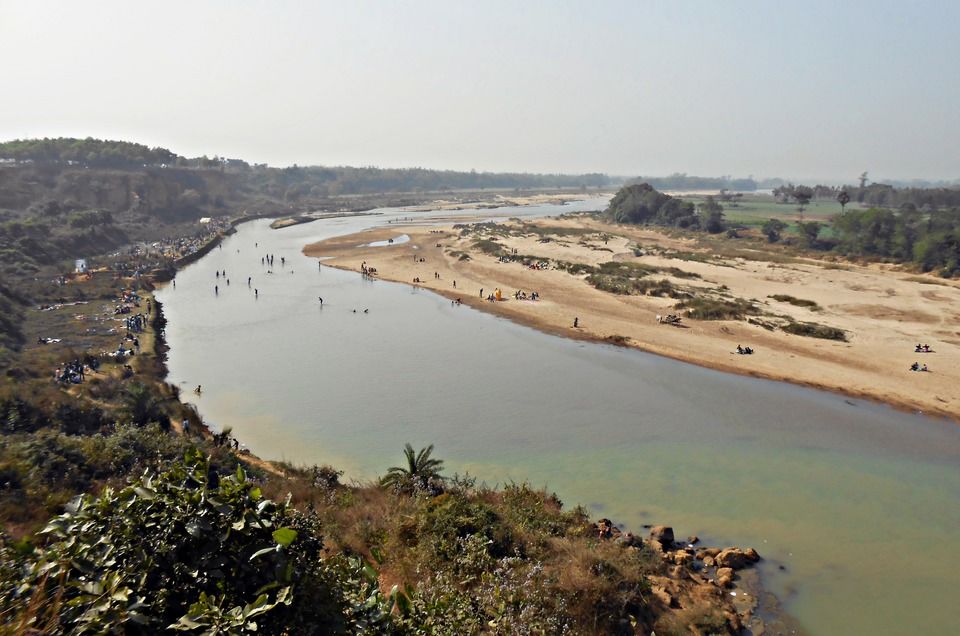 How to reach Gangani
Gangani is easily accessible from Kolkata by both road and rail. You can either take a road trip till here or cover the distance on a scenic train ride.
By road: If you have decided to drive down to the 'Grand Canyon of West Bengal', then take the NH6 from Kolkata all the way to Uluberia via Bagnan. From there you can take two different routes, either go towards Chandrakona Town via Ghatal or Salboni via NH60. Gangani is just a few kilometers from either of the towns.
By train: The nearest town to Gangani is Garhbeta, which has its own railway station. All you need to do is board the Rupashi Bangla Express from Satragachhi Station at Howrah and get off at Garbeta Station after a few hours.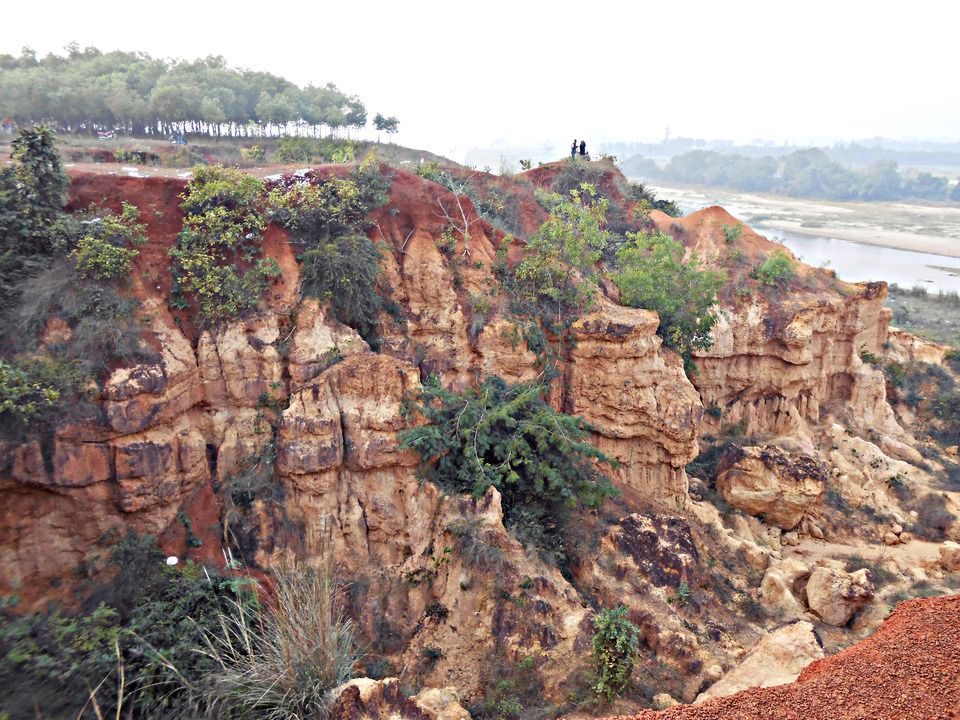 Where to stay in Gangani
There are no accommodation option available at Gangani exactly, but the nearby towns of Garhbeta and Bishnupur have a few hotels that you can stay at. Garhbeta Town is fairly developed, and you will have access to all basic facilities.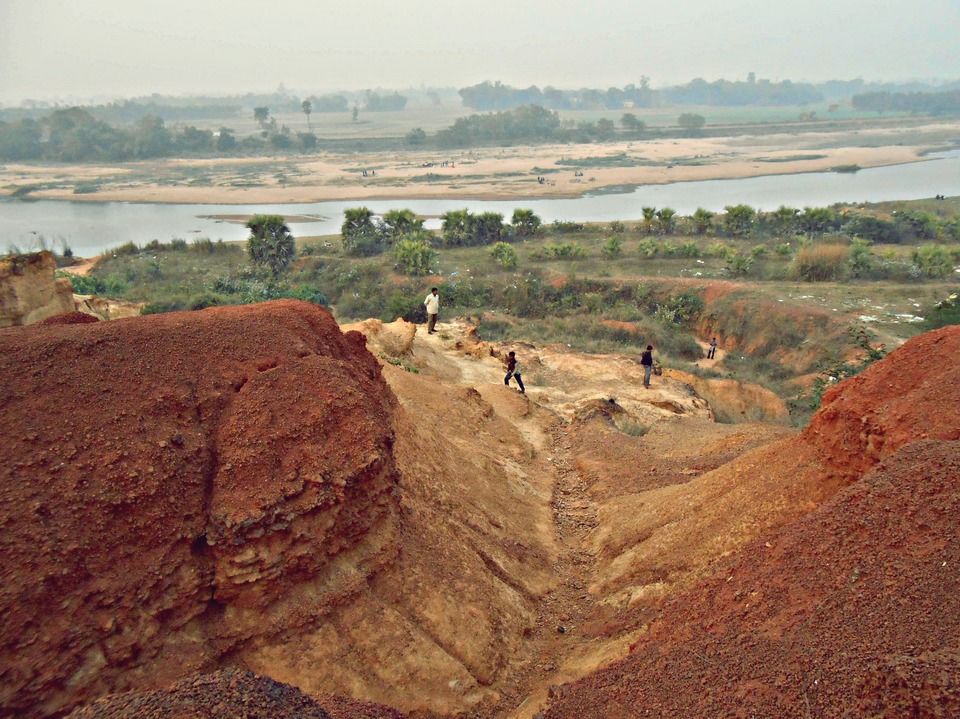 Places to see around Gangani
Sarbamangala Mandir: The Sarbamangala Mandir is a 16th century temple built by the Bagri king, Nripati Singha. The temple is dedicated to the goddess Durga, whose idol here is carved out of basalt stone. The complex is also a fine example of unique Oriya architecture.
Raikota Fort: Built somewhere between 1555-1610 AD by the Chauhan Rajas of Bagri, the Raikota Fort is remnant of the glorious Oriya architecture. Though all that remains now are ruins, but it still makes for a great spot to watch the sun go down.
Bagri's Krishnarai Jiu Temple: The areas around Gangani are primarily known for being home to ancient temples. Bagri's Krishnarai Jiu is one of such temples that holds great spiritual and traditional value for locals. Made out of black basalt stone, the temple was built by Rajyadhar Roy, a minister of the Bagri king, Gajapati Singha.
Heads up
Gangani (pronounced 'Gongoni') is not exactly a hidden destination for people in West Bengal. From school kids to rowdy teenagers, a large variety of groups find their way to the shores of Silabati River to have a good time. So don't expect Gangani to be an isolated and quiet corner in the lap of nature. But you can be a little clever about planning your trip so you reach at a time when it's not crowded. A suggestion would be to reach Gangani at the crack of dawn and witness the sunrise here for a beautiful and peaceful experience.
West Bengal is enriched with hidden gems for travellers. Take your pick from any of these experiences, have the time of your life and come back to tell the story!
Frequent searches leading to this page:-
west bengal tour packages, west bengal tour packages from kolkata, west bengal tourism darjeeling package, north bengal tour package, kolkata to siliguri tour package, west bengal tourism andaman