A mojor Landmark in pune and its beautiful gardens. So i will write and give accounts on Todays special "PUNERI GARDENS".As Peshwa used to love luxurious lifestyle these Gardens were Lavish and some were created By government.
Saras Baug
Saras Baug is a major landmark in the city of Pune in India. The place where the park now stands was once occupied by a small lake. However, the lake dried up and was later developed into Saras Baug. The whole 25-acre (10 ha) complex is known as Saras Baug.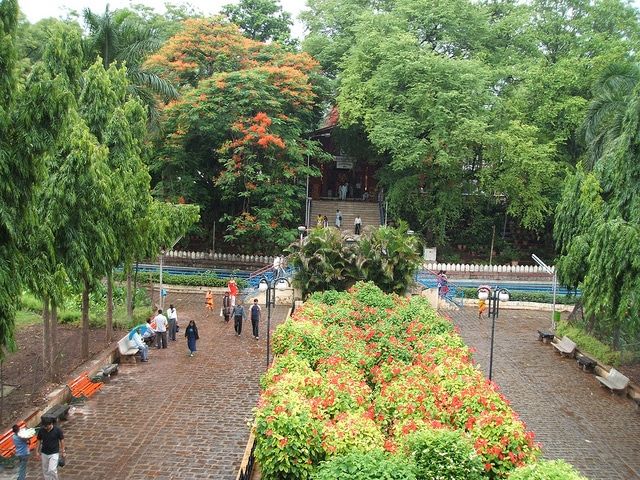 The Ganesh temple in Saras Baug is also known as Talyatla Ganpati (in Marathi:तळ्यातला गणपती ) which translates as the Ganpati in the lake
Saras Baug has a special place in every Punekar's heart. One of the most worshiped Ganapati / Ganesh Temple in the heart of the city. The temple was built during the Great Marathi Kingdom of Peshwas. It is still under the patronage of Peshwas. Ample place for kids to have an amazing play time & small lake surrounding the temple. This place is always packed with all the devotees and tourists visiting Pune City. Special occasions are Ganesh Chaturthi & Diwali Pahat (First Dawn of Diwali Festival).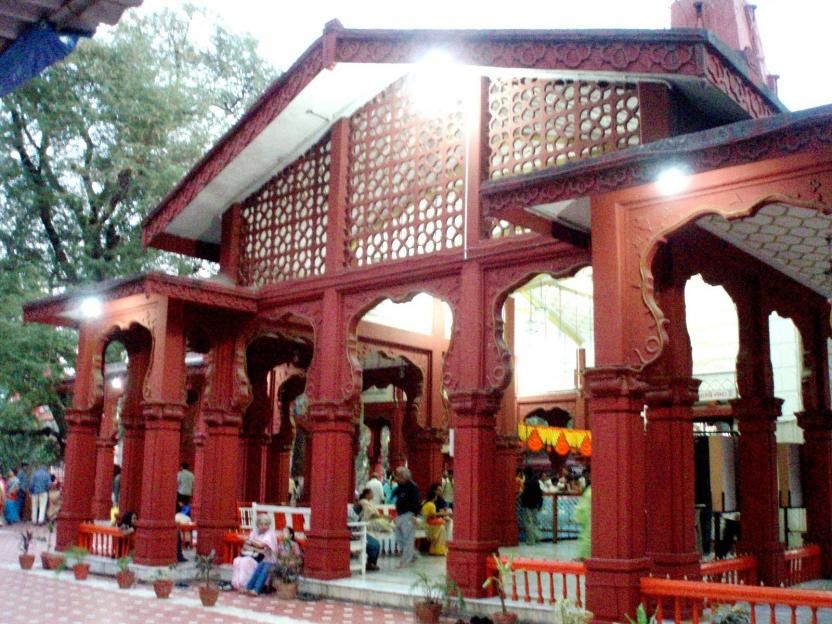 Location
The temple was constructed within 3 miles (4.8 km) of Parvati Temple.

Saras Baug is located within a km from Swargate bus station, which is a ground transport station for Pune and 3.6 km from Pune Railway Station.
Sambhaji Baug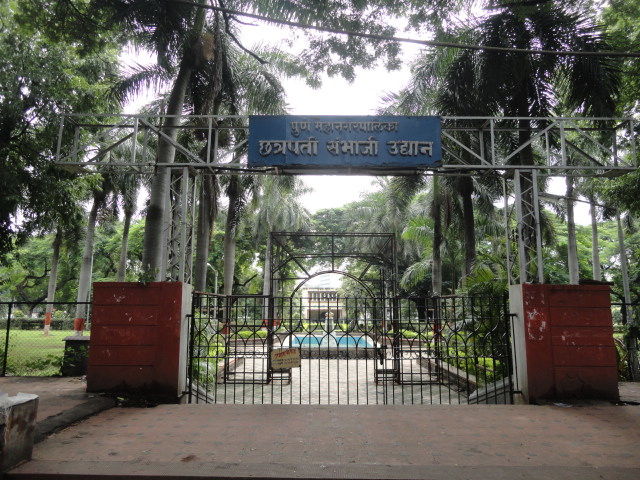 It is situated near Balgandharv Pune with its Naturalistic Aura it is must garden to visit.
Attractions of the park
Aquarium: Sambhaji boast a small aquarium where all the aquatic world lovers can take the pleasure of watching the variety of fishes. The aquarium mainly appeals the kids.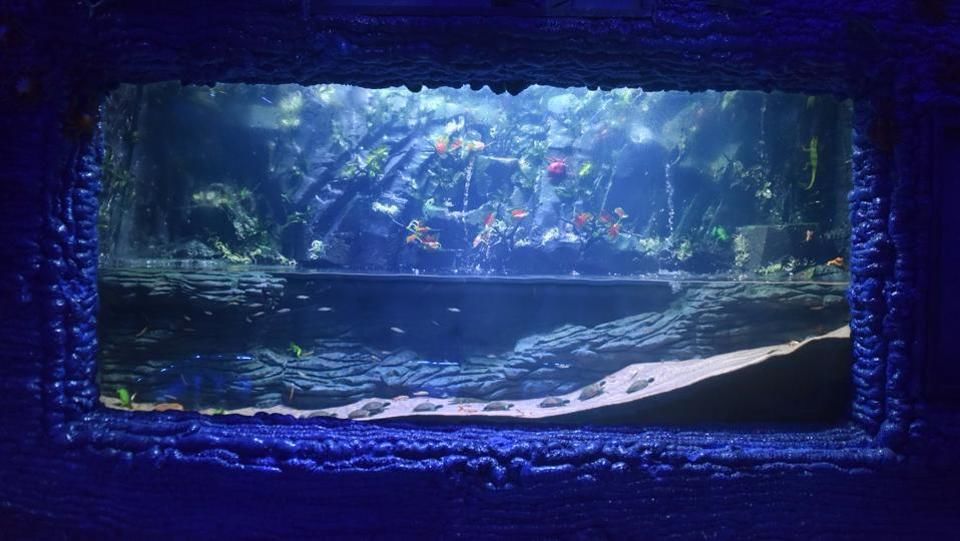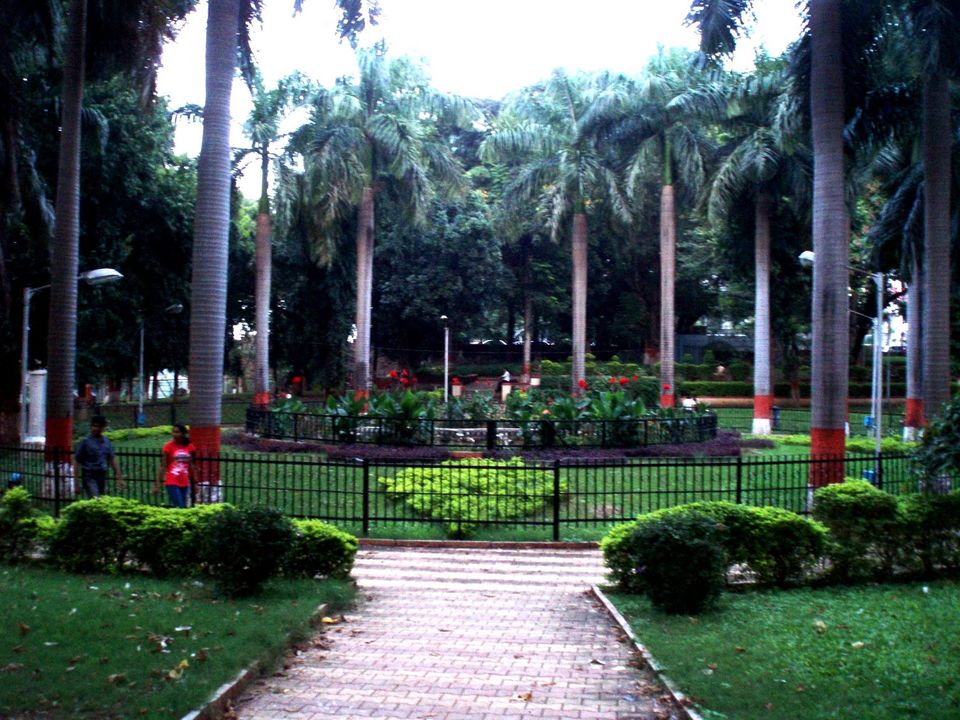 Rare Trees - Mani Mohar, Rudraksh, Kailaspati, Golden bottle brush, Bhadraksh, Sitaashok , Kanchan are some of the rare trees that are housed in this garden.
Exhibitions: The Pune Municipal Corporation every year organizes some exceptional exhibitions in this park. Flower exhibition and fort exhibition are the prime highlights during Diwali, fort exhibitions are organized in this part. Participants come and construct the forts by traditional techniques. Best fort is honored by prize.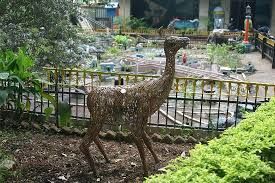 Location
Jangli Maharaj Road
Google Map.
LATE P L DESHPANDE GARDEN
Theme - Pune Okayama Japanese Style Friendship Garden
Pune Okayama friendship garden is a symbol of Indo-Japanese friendship between partner cities of Pune and Okayama and the garden is truly the pride of Pune.
This is the biggest Japanese style garden, out of Japan, in Asia. The idea of recreating the original Japanese garden in Pune was, of course, inspired from the 300-year old Okayama Korakuen Garden developed by the Ikeda Royal family in the 12 spacious hectares in Okayama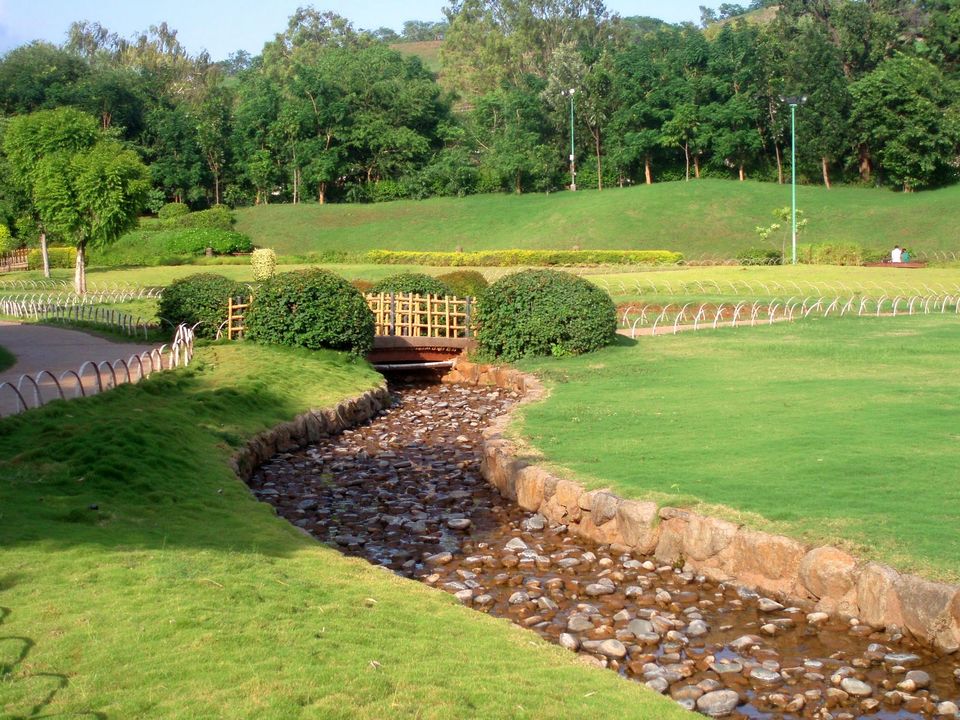 The Japanese garden is spread over an area of 10 acres, representing the culture and intricate ideology of an authentic Japanese Garden. This garden is a perfect bridge between to cities of Okayama and Pune, encouraging cultural, traditional, economical, industry and friendship ties.
The garden is named after eminent litterateur Pu La Deshpande, who, we all know, as a well­ known Marathi writer. He was popularly known by his initials (Pu La) and was awarded Padma Shushan in 1990.

Attractions of the park
Harmonious Experience:The garden is planned in such a way that it gives the visitors a pleasing experience throughout the year. As a person strolls, he/she can enjoy the wide lawns, ponds, artificial hills and forest, while listening to the murmur of meandering stream. This brings one close to nature, revitalise one's senses and rejuvenates spiritually. Characteristics of the garden are a composition of fire, harmony, line, spirit, world and water. Thus, the garden expresses various elements to speak about light and darkness, soft and hard, stillness and motion, warm and cold. It is based on the Yin and Yang philosophy.There are wooden pergolas to sit and rest. There are bright red orange fish in the ponds.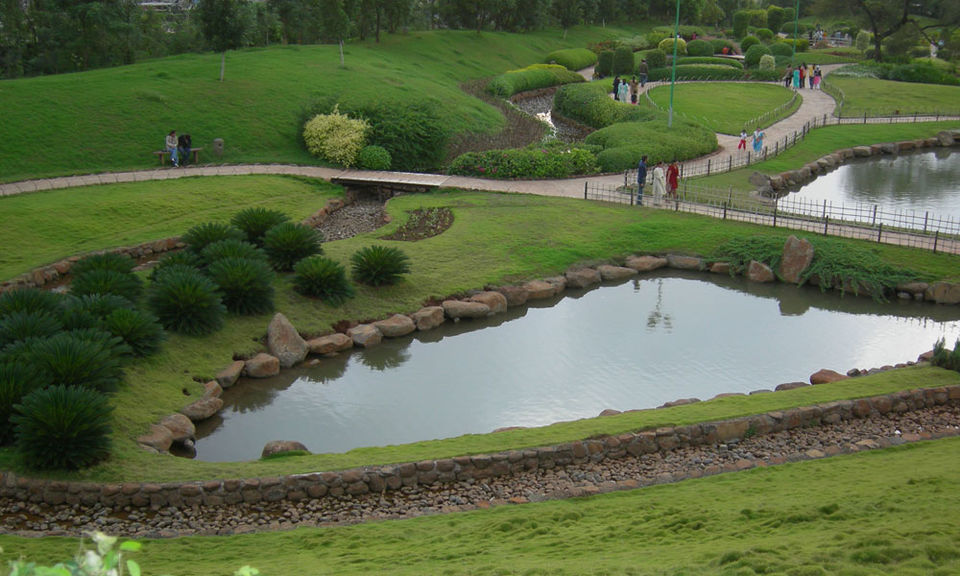 Outside the park
The garden is maintained by PMC's Garden Department. There are no food stalls outside this garden.
Entry Fee
Rs. 10 per person (for adults), Rs. 5 per person (for children )
Timings
6:00 AM to 10:30 AM
4:00 PM to 8:00 PM
Location: Sinhagad Road
Google Map
PESHWE SAHASI UDYAN
Theme - Adventure Park
It has been named after the Peshwas who were prime ministers to the kings and owners of the Parvati area. The park is located adjacent to the Sarasbaug garden and in the vicinity of the Parvati temple hill.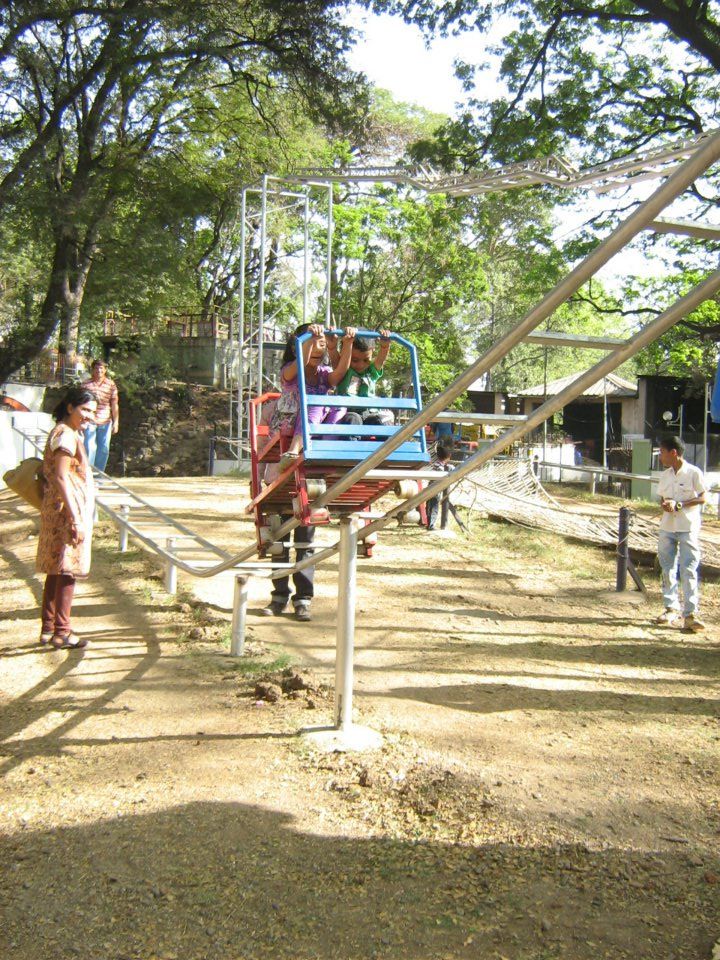 Attractions of the park
Adventure Park for Children - Previously the area was part of a lake that was subsequently converted into a garden. The Peshwe Park is now called 'Peshwe Adventure Park', especially after the induction of 50 types of adventure sports games/activities like net climbing, walk rope climbing, wall climbing, grappling, tower climbing, balancing, high altitude cycling, rope skidding, crossing the pond on a rope, etc. are just name of few (for 3-16 age group).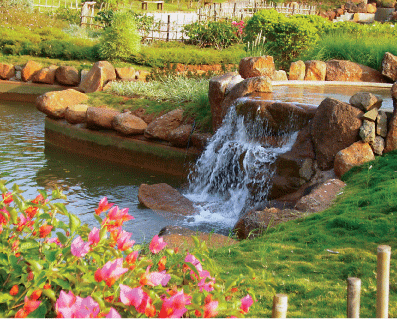 Children are also provided a safety gear to practice these adventure games (of course, under watchful supervision of instructors). Tarzan jump, sliding belt instrument, body motion gene,memo park, bicycle rope,skyway, dragon and slider are some of the popular games. The idea behind the park is to remove the fear element in kids from a young age as was first mooted by it's designer 8 S Deshmukh.
Educational Models - Pune Municipal Corporation has attempted to increase the general awareness regarding the importance and the need of non-conventional sources of energy. Educational models of solar energy, hydel energy and biogas energy projects are presented which provide information about their basic concepts to young minds.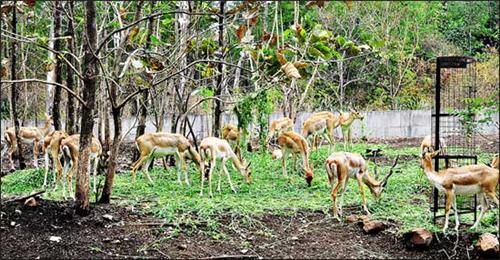 Outside the park
Mouth-watering chopati is just the outside of the park to tickle your taste buds wait for visitors to come and enjoy the chaats. You can find various stalls of bhelpuri, panipuri, vada pav and other chaat items. Please bring your own drinking water.
Entry fee
Adult - Rs 20
Child - Rs 10
Timings
All days of the week
10 AM To 1 PM
2 PM to 5:30 PM
Location: NearSarasbaug, Sadashiv Peth
Google Map