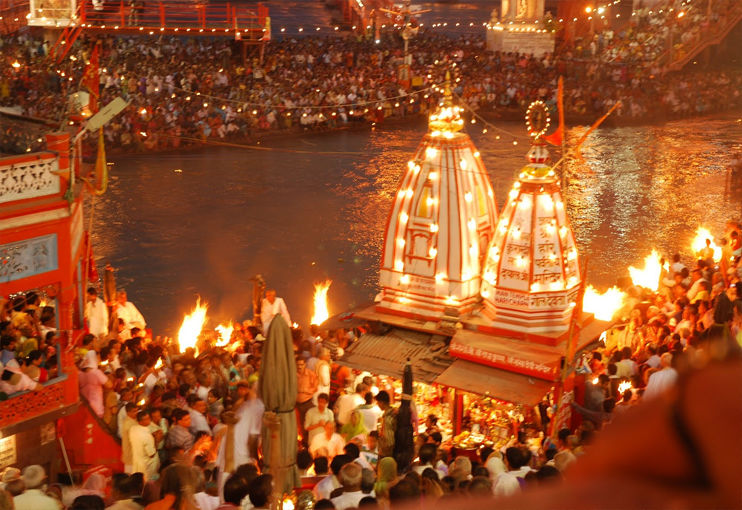 Uttarakhand also known as God's land, and it is true in literal sense because as soon as you enter uttarakhand. It gives us the feeling of strong and omnipresent powers present in the surroundings. In the journey our first stoppage would be the first pligrimage place that is haridwar. Here when you take bath in "Har ki podi" you will realise that howsoever tired you were, after taking bath you feel energetic and rejuvenated. At haridwar we can see how people are devotional to god and their firm belief can be seen which states that there is presence of god in that particular region.
When you split the word haridwar in pairs, it comes out as Hari ka Dwar means "the main gate to God's place".
Haridwar is an ancient city and important Hindu pilgrimage site in North India's Uttarakhand state, where the River Ganges exit the Himalayan foothills. The largest of several sacred ghats (bathing steps), Har Ki Podi hosts a nightly Ganga Aarti (river-worshipping ceremony) in which tiny flickering lamps are floated off the steps. Worshipers fill the city during major festivals including the annual Kmbha Mela.
Haridwar is regarded as one of the seven holiest places (Sapta Puri) to Hindus. According to the Samudra manthan, Haridwar along with Ujjain, Nashik and Prayag (Allahabad) is one of four sites where drops of Amrit, the elixir of immortality, accidentally spilled over from the pitcher while being carried by the celestial bird Garuda. This is manifested in the Kumbha Mela, which is celebrated every 12 years in Haridwar.
Elevation: 314 m
Area: 12.3 km²
Weather: 28°C, Wind W at 5 km/h, 90% Humidity
Area code: 01334
POINT OF INTEREST :
Mansa Devi temple
Har Ki pouri(temple & history )
Chandi Devi Temple
Bharat Mata Mandir(Temple dedicated to a hindu goddess)
Crystal world(Ammusmant park with rides water slides, boating, & video games )
Pawan Dham (Glass Temple )
Shantikunj (ashram for spiritual focus & learing )
Raghuvans puri ka ghar(museum)
Haridwar is the place where people from across the India visit for pilgrimage and to take a holy dip into the holy river Ganges. Haridwar city is an ancient and it is one of the most sacred cities in India. The diverse nature of the Hindu religion has attracted foreign visitors from all around the world. Foreigners always attracted to Haridwar because here they can closely experience India's complex culture, various Hindu rituals and the ancient civilization.
Haridwar contains two words Hari and Dwar. Hari means god and Dwar means gate. Haridwar means gateway to the god. There are four holy temples Gangotri, Yamunotri, Kedarnath and Badrinath on the hills also known as chardham. Haridwar is like a entry point to these chardham. People visit Haridwar before visiting these temples so the town was became famous as Haridwar. Shaivites call it Har Dwar Gateway to Lord Shiva (Kedarnath Temple) and Vaishnavites call it Hari Dwar Gateway to Lord Vishnu (Badrinath Temple) It is also said that Haridwar is blessed by the presence of all three major Gods of Hindus namely Brahma, Vishnu and Maheshwar. Thus, with all these mythological links attached to its name, it's little wonder why Haridwar is often referred to as 'gateway to god'.
Haridwar is being one of the seven holiest cities in India. Haridwar often bustles with devotees. It propitious location near the holy river Ganga has made it gain more popularity. With the passes of time it has become more than just a religious city, where people thronged to perform immersion of the ashes or took a dip in the water to wash away their sins. It has in fact evolved into yoga, cultural and spiritual center and has also become a prime hub for learing Sanskrit language.
The modern day's, Haridwar is the reflection of the culture of India.
HOW TO REACH :
The nearest domestic airport is Jolly Grant Airport in Dehradun which is a located 35 km from Haridwar. Indira Gandhi International Airport in New Delhi is the nearest International Airport. The Haridwar Railway Station located in Haridwar is under the control of the Northern Railway zone of the Indian Railways.
You can easily get buses to haridwar from other major cities of the country.
Here is 2/3 day are sufficient for visiting Haridwar.