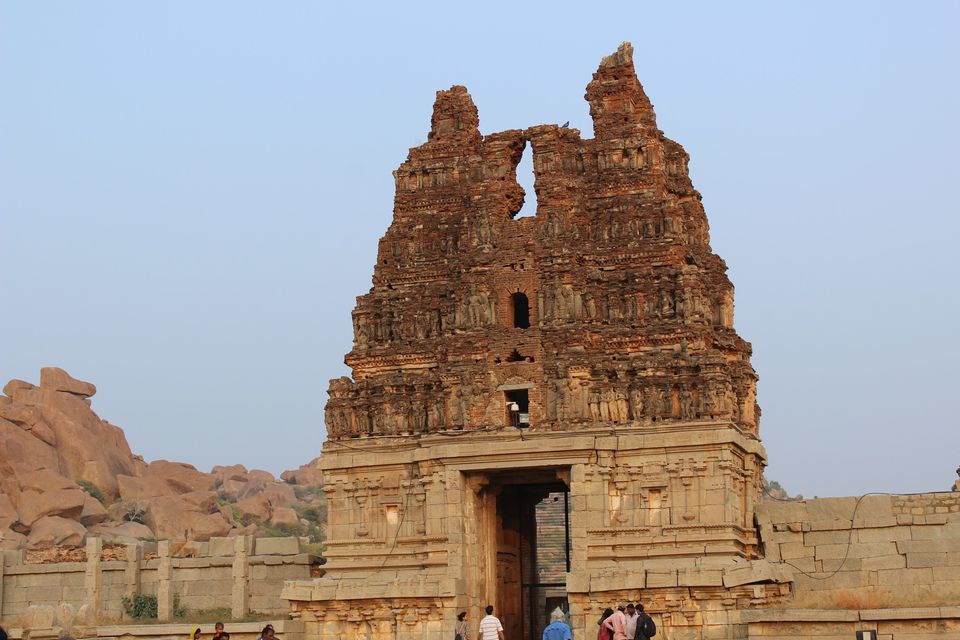 We stayed in Mayura Bhuvaneshwari Hotel which is Run by KSTDC in Kamalapur,located just 15kms from Hospet(Nearest Railway station to go around places like Hampi,Pattadakal,Aihole,Badami).
Hampi or Hampe was capital for Vijayanagara empire.These are ruins and with the help of guide,our imagination takes us to the kingdom which was once flourished with diamonds,gold,culture,literature and especially architectures.Hampi was chosen by Vijayanagara empire as its capital. This is a good strategy as one side surrounded by Tungabadra river,other side hemakutta hills.This is the reason why Hampi still has traces of its richness in land.
We booked KSTDC trip for one day to see all ruins of Hampi and started with visiting Virupakshi temple first.You can have guide as well as a part of this trip (Rs.600 per head and Guide cost-Rs.30/- per head).Through out the day we see many people go around in bicycles for checking these ruins.If you know the history and the places then you can prefer cycle otherwise its better to have a package with Auto (Rs.800-900/- for a day trip excluding Guide )
1.Virupakshi temple
Sun,moon,pig and sword is an emblem of Vijayanagara empire and is engraved in a pillar after the entrance.There are many columns before the entrance which was bazaar during krishnaraja rayar era.Those shops used to sell diamonds,gold etc in litres. Our guide has good knowledge in History and interested in travelling to many places.He is good in narrating too. He is a multi linguist,speaks french as well.There are many french tourist flocking Hampi.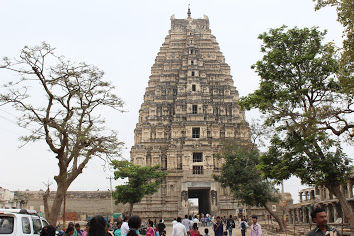 This temple was not affected by invaders as it was showing islamic style also inside the temple.And also pig in the emblem stopped them to damage any of the temple's parts.It's still used in Worship as it's the one which is not affected among the ruins.
Guide took us to show one mystery where you can see the shadow of main gopuram which is inverted.It's called pin hole effect(not sure how it was possible at that era).
2.Kadlekalu ganesha
A big ganesha monolithic statue built and there is a little damage in the belly so there is no worship.Belly is in chick pea shape hence its name(Kadle in kannada means Chick pea).There is a open mantappa before the sanctum and its pillars are carved with many characters and from here you can see the virpaksha temple in a different view and this is a point where you can take in a good view of Hampi Bazaar.
3.Sasuganesha
One more little ganesha statue and its well protected by guards so did not enjoy much there
4.Krishna temple
It was to mark the victory over orissa king by Krishnaraja.This is partly collapsed temple and not functioning here as well.Bala Krishna statue of this temple is currently in Madras museum.There is a pillared hall with many different Yali .Outside this temple complex there is a donation box made in a stone with inlet and outlet.
5.Hampi museum-where u can see musical pillars which is in Vijaya Vittala temple but can't be touched by common people as its protected by guards to avoid further damage to the ruins.There is model of hampi also.
6.Vijay vittala temple
Here is where you can see the beautiful stone chariot.It is one among 3 places in India (1.Konark temple,Orissa 2.Mahabalipuram,chennai 3.Vijaya vittala temple,Hampi)where you can see stone chariots.It takes atleast one hour to see all the pillars of the mantapa here.There are so many sub stories of Ramayana in each pillars and many yalis in the brackets of each pillar. One eye is not enough to enjoy the beauty of this temple.Here is where you can see the musical pillars which you can touch and hear in Museum but not allowed in this temple to avoid further damage.The wheels of stone chariot were once movable but Government has put cement to block its movement to avoid damage by people.It is not a monolithic structure but built with many granite blocks.The joints are hidden by decorative carvings and still you can see fresco paintings with red,green color traces even after ages.There is a small vishnu statue inside shrine in the chariot.Elephant stone statues are positioned infant of chariot.These were brought from somewhere since there were horses originally positioned in that place whose legs are still visible.
This is completely ruins and your imagination is the guide plus boss to look around this place.There is a beautiful pushkarni-step well tank,the first step from top has a design repeated for 7 times then followed by second step with a repeated design for 5 times then next step with repeated design thrice and last step with repeated design once.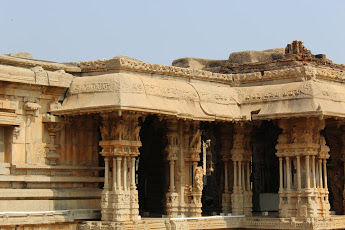 7.Queen's bath
Kingdoms were that rich hence they built a palace in Indo islamic style just for queen to take bath during summer time.There is a temple near to palace so that after taking bath queen can go to temple and dance over there.This palace is only for the present queen and not for any of the queens.
8.Elephant stable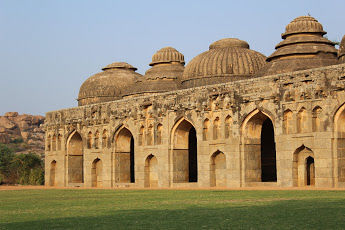 9.Lotus mahal
It's a summer palace which is surrounded by a water pool .Pillared hall whereas inside pillars are not void.Guide told us there would be small way inside pillar for the water to go around which makes it cool.Even pillars were constructed in such a way it would be cool throughout the summer.There would have been curtains made of pearls which also adds attribute for cool breeze.Such a care for Queen after all she is Queen.One can see Watch tower,well around this Lotus mahal.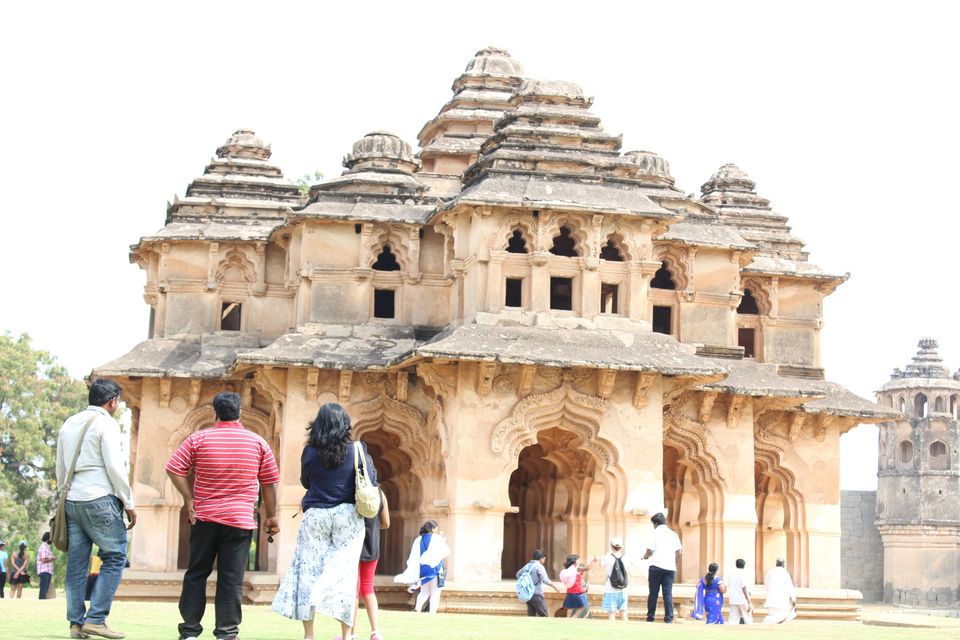 10.Underground shiva temple-This was built for longevity of parents of king krishnaraja.
Recommended Guide:
Mr.Shekar,reach him @ 91 94838 49255.He takes your imagination and you will thoroughly enjoy the history.
You can go solo trip or girls only trip as well to Hampi. I recommend you to read at least little about the Vijayanagara empire to delve deeply into this historical rich place.If you are not so keen into history and architecture then this place may bore you to some extent
Eatery to try
1.Mango tree
This place is listed in lonely planet and also in 'n' number of sites.Food is good and ambience is pleasant. You can go and be laid back about it all with no disturbance.