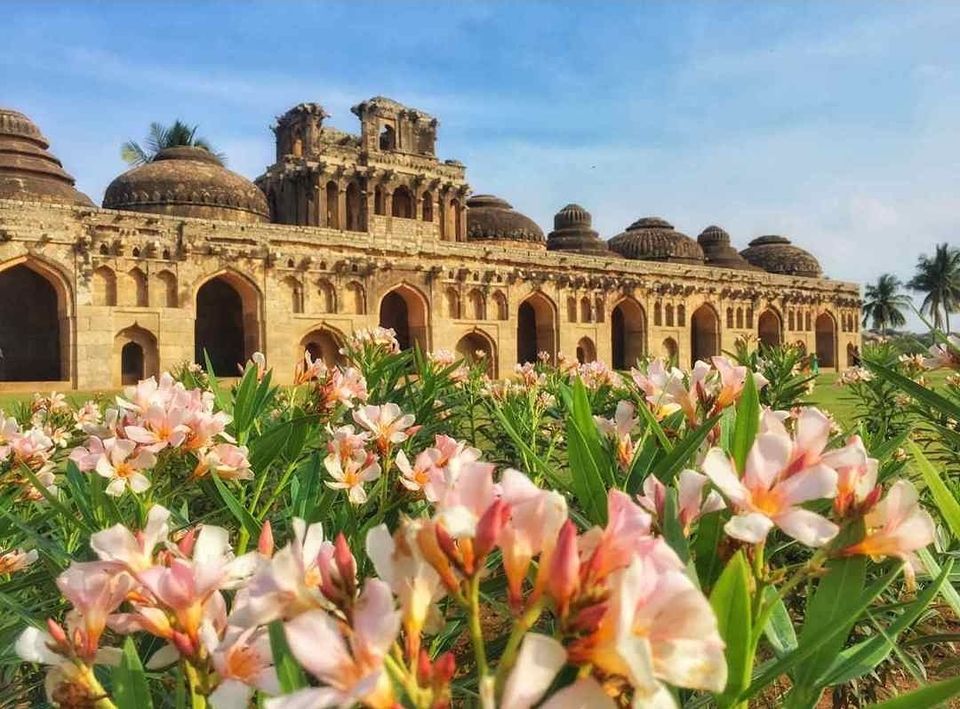 So one fine day, a friend of mine texts me saying 'Next weekend Hampi?' and I am like 'Am I ever going to say no to trips!' So this is how plan for Hampi began and I was soon going to tick off yet another place from my list!
Soon sleeper bus tickets were booked from Mumbai to Hospet (nearest city to Hampi), Mumbai to Hospet by VRL travels and Hospet to Mumbai by SRS travels. Return bus tickets cost me Rs.3045. Advice you to book the tickets atleast a week in prior as the bus tickets shoots up as the travel date nears.
So on 16th November, I left office a bit early as I had to board the bus from Vashi at 7.15pm. Three of my friends (Nikita, Pankaj and Reshma) accompanying me had already boarded the bus. Bus came by 7.30pm and my journey to the World Heritage Site began. We were all quite excited to visit the place but had no idea as to where to stay or which all places to visit, as we were going to figure it out once we reached. We chit chatted for some time, had aloo paratha and dal khichadi (Rs.240 total) when the bus halted for dinner and then went off to sleep.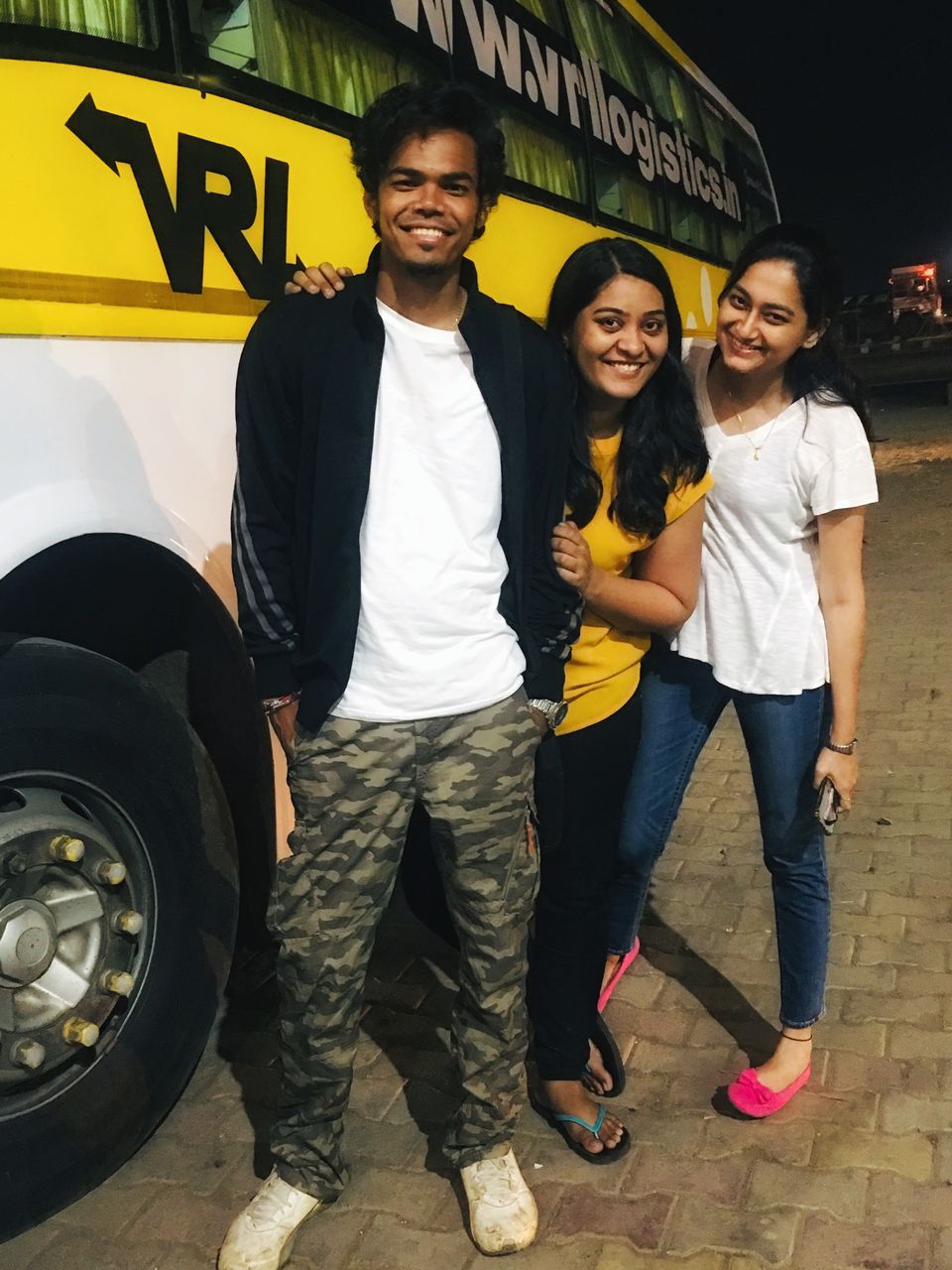 After reaching Hampi, we took an auto (Rs 20) from Hampi bus stand to Hampi city center to search room. Finalized Hamsa Guesthouse which is right at the beginning of the Hampi city center. They charge you Rs. 700 for a room with attached Bathroom and Rs 450-Rs 500 for a room without attached bathroom. The rooms are small but it is okay as you just have to sleep. We all then freshened up and hired an auto for Rs 1000 for full day site seeing where he would take us to all the main places.
Our first stop was Krishna temple, Krishna Bazar and Pushkarani. Krishna temple is situated on the Hampi main road. It is known for its exquisite carvings and elegant architectural designs. The main idol installed in the temple was the figure of Balakrishna (Lord Krishna as infant). This idol is now displayed in the state museum at Chennai.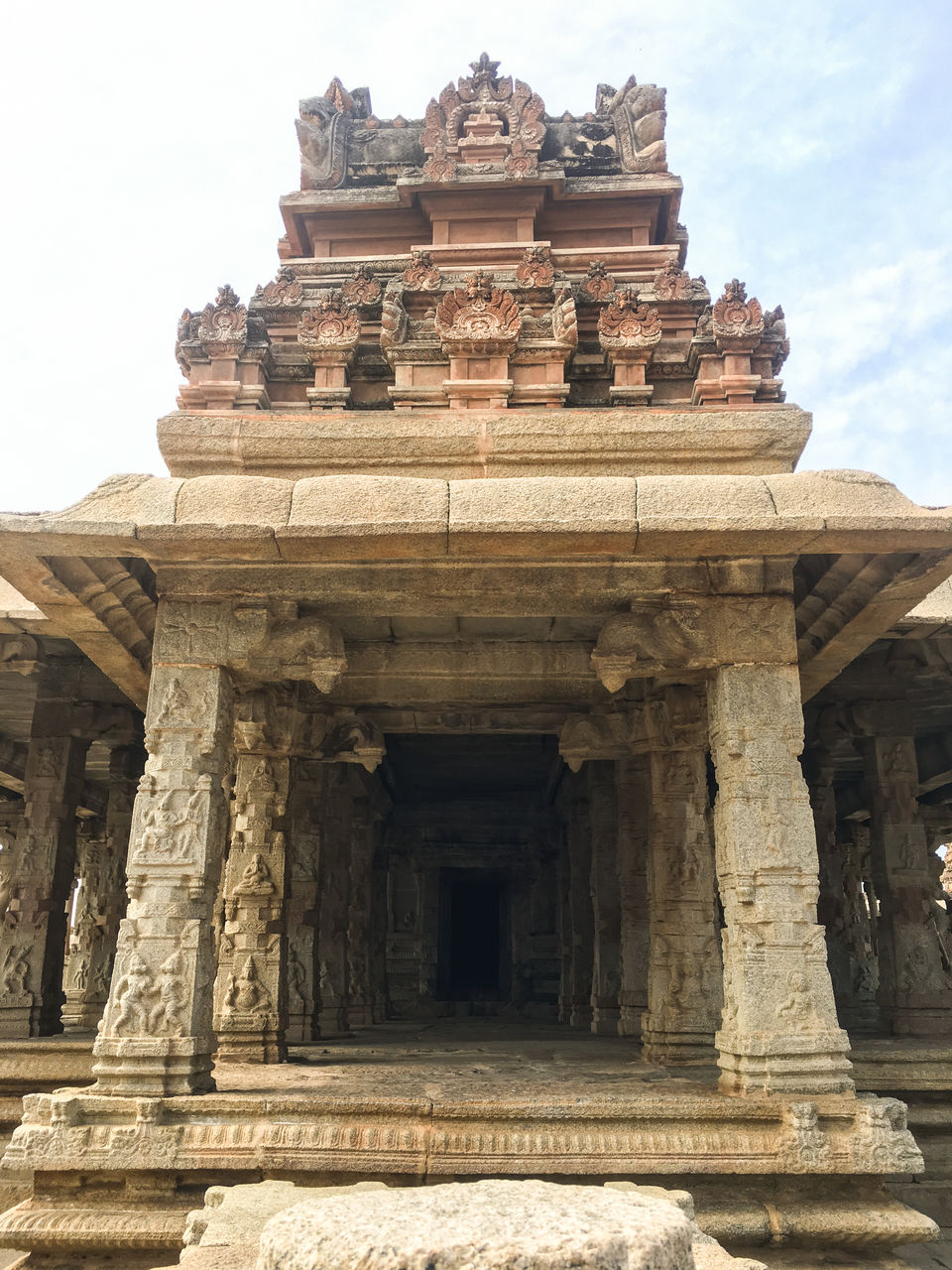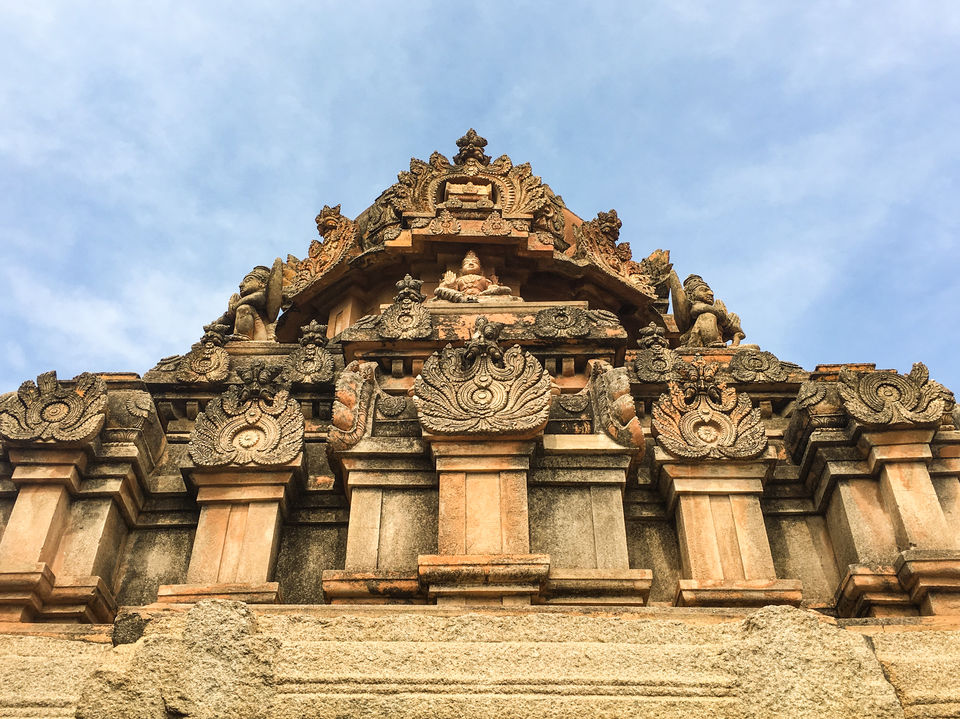 The open area with pillared corridors right opposite to the temple is known as Krishna Bazaar. The long pavilions were shops in the market street. If you walk along these long structures, you would reach the impressive temple pond called Pushkarni, with nice structures around. It was a sacred water tank which is now dried up. We also had a local candy from an icecream vendor which tasted much like Rasna.
Next stop was Lakshmi Narasimha temple and Badavilinga temple. The magnificent Lakshmi Narasimha (Narasimha means half-man half-lion in local language) stands at a height of 6.7 meters and is one of the most imposing sculptures found in the ruined town of Hampi. It is one of the finest example of Vijayanagara sculpture. The speciality of the sculpture is that it is the largest monolith statue in Hampi and has the lord sitting in cross-legged position on the coil of a giant seven-headed snake Adishesha.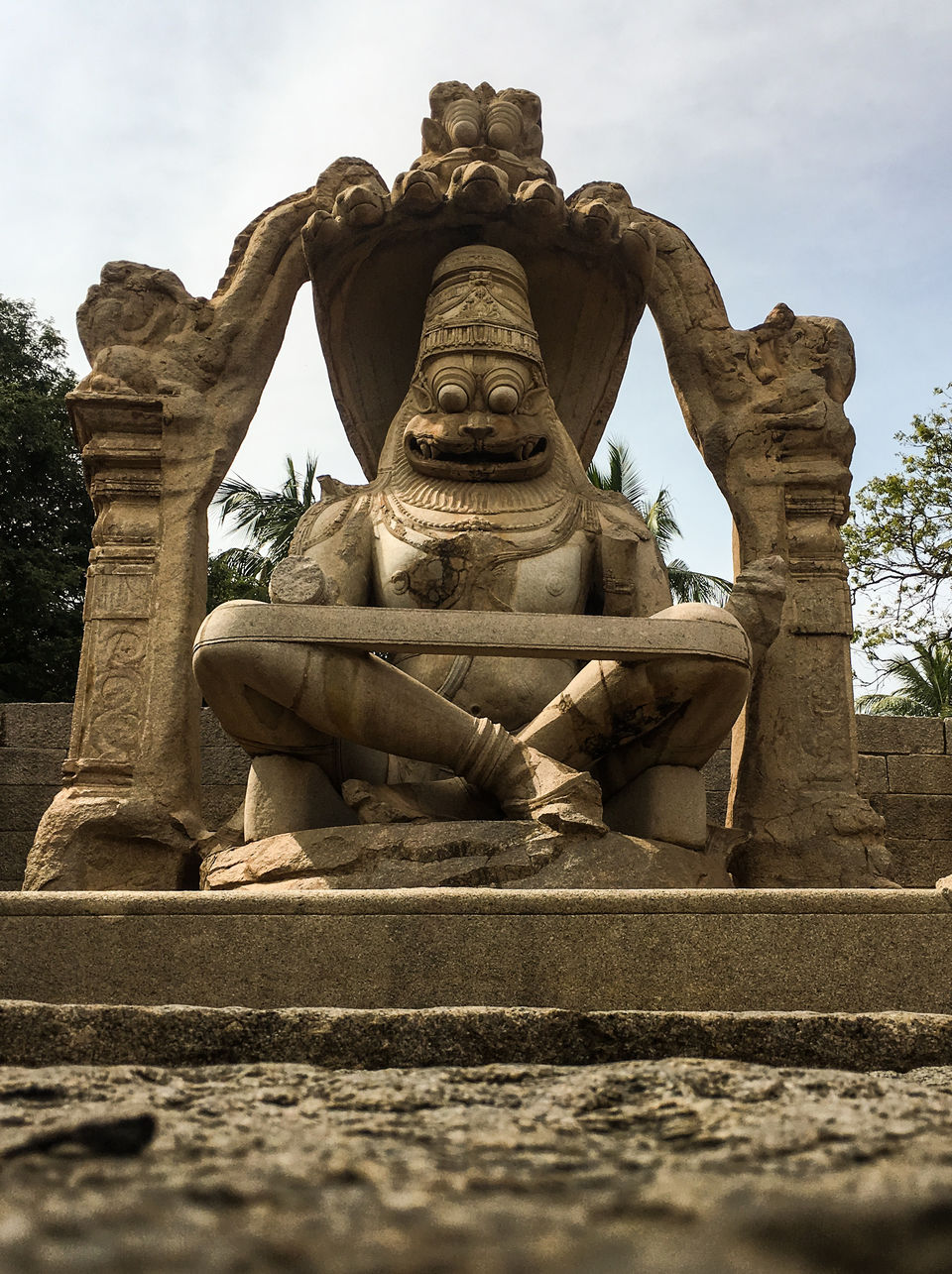 Badavilinga temple is a 3 meters high Shiva Linga which is also a Monolith similar to Lakshmi Narasimha, carved out of one rock. The name Badavilinga is a combination of two words – Badva and Linga. In the local language Badva means poor and Linga represents Shiva. Legend has it that the Shiva Linga placed inside the temple was commissioned by a poverty-stricken peasant woman. Hence the temple came to be known as Badavilinga Temple.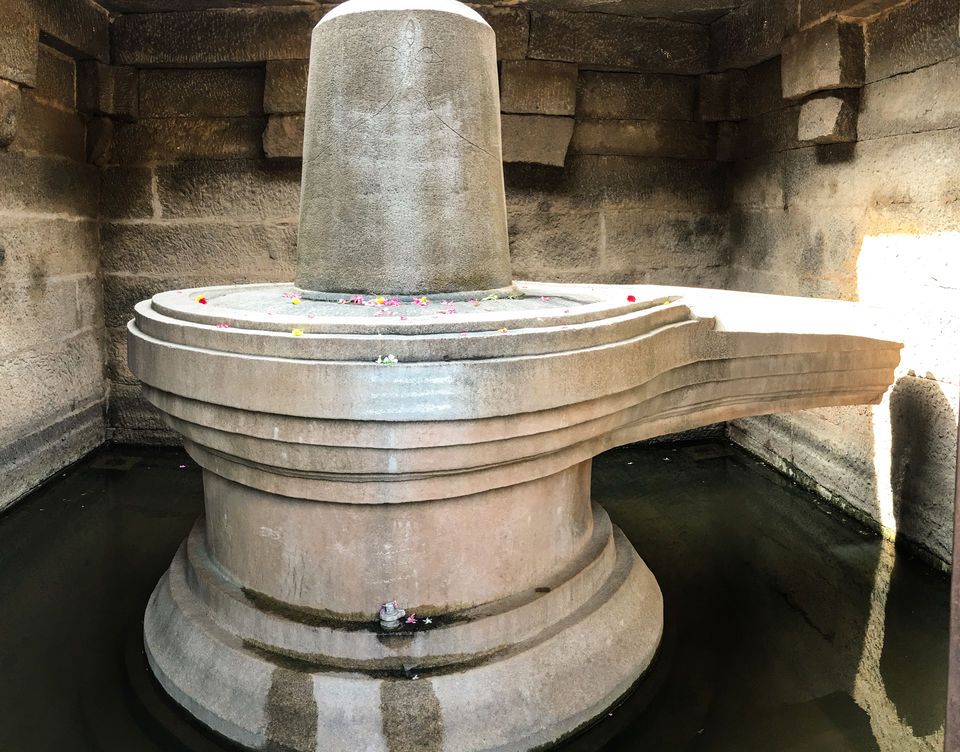 Then on the way we saw Akka Tangi Gudda also known as Sister rocks which is a formation of two gigantic boulders that are in a leaning position against each other. It is a natural arrangement of rocks that have been standing at the site from ancient ages. There are many variants of the local stories as to how these boulders came into existence. One such story says that they were two sisters and they became stone as a curse when they ridiculed the place.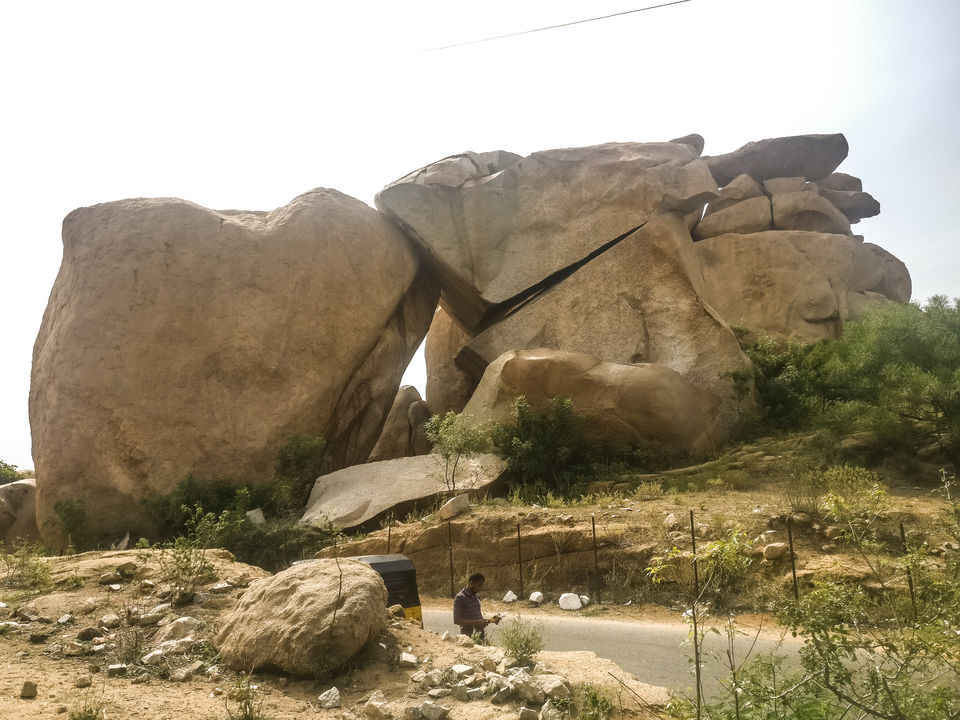 Next stop was Prasanna Virupaksha Temple or Underground Shiva Temple. It is called underground temple simply because the roof of the temple is at par with the present ground level and the temple is in a low lying area. The temple has a simple and beautiful structure that is located inside a large courtyard surrounded by an enclosure wall. There is a beautiful lawn built around the temple.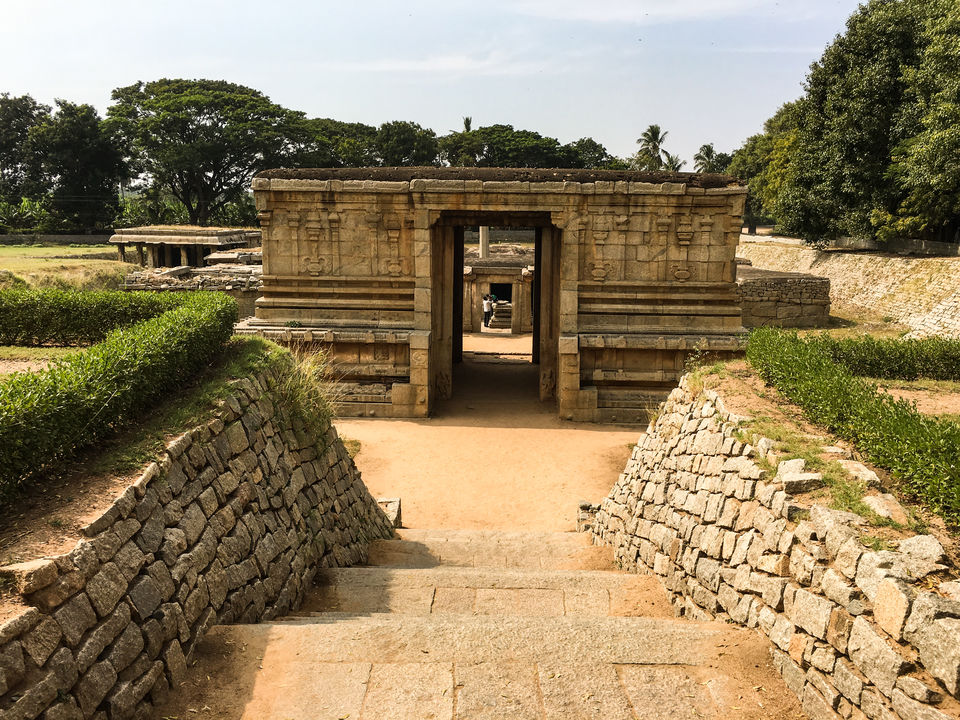 Next place was Zanana Enclosure. You have to take an entry ticket for visiting Zanana Enclosure. Entry ticket is Rs 40 for Indians and Rs. 600 for foreigners. This ticket can also be used while visiting Vithalla Temple. Zanana Enclosure was a fortified and secluded area reserved for the royal ladies of the Vijayanagara Empire. The enclosure has a sprawling compound that had tall walls surrounding it on all sides and watch towers to keep guard against any trespassers.
Zanana Enclosure is an area that has quite a few interesting structures. The fortified area includes several structures such as the Lotus Mahal, Basement of the Queen's Palace, Water Pavilion, Treasury Building and the Watch Towers.
Basement of Queen's Palace is a ruined structure that has only the basement as a proof of its existence.
Lotus Mahal also known as Chitragani Mahal and Kamal Mahal is one of the fine architectural designed palaces that are uniquely identified by its lotus like structure. The remarkable and unmistakable design is the main highlight of the palace. The palace is a two-storied building, well-structured and symmetrical.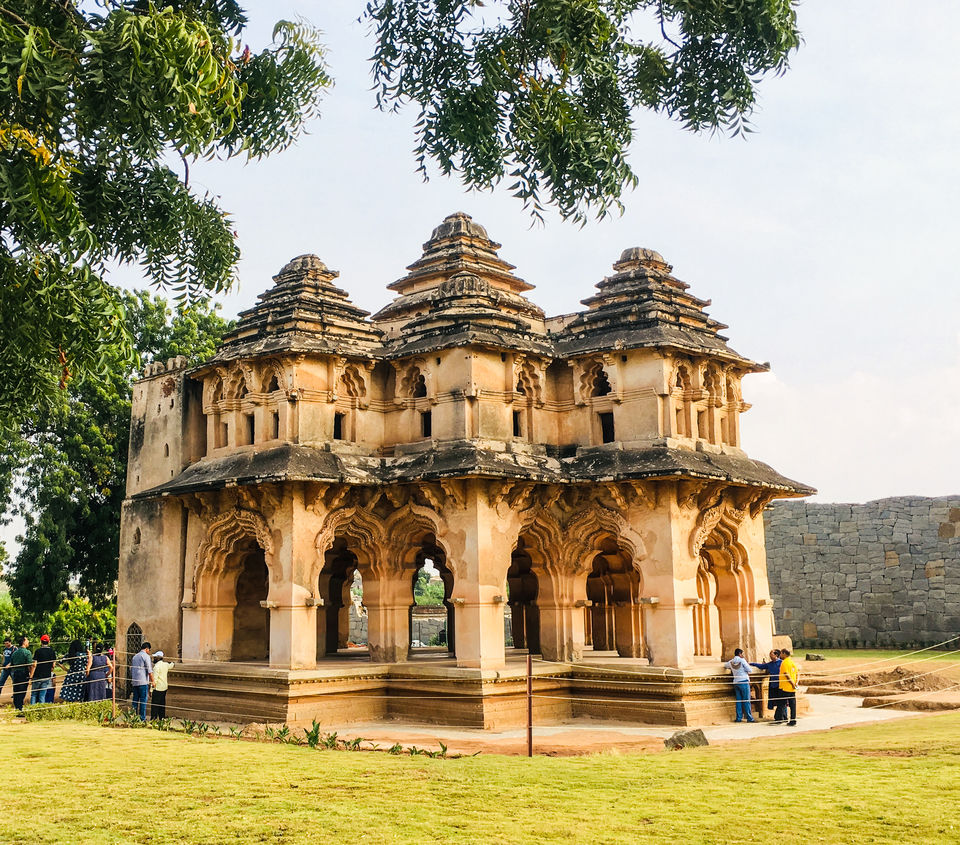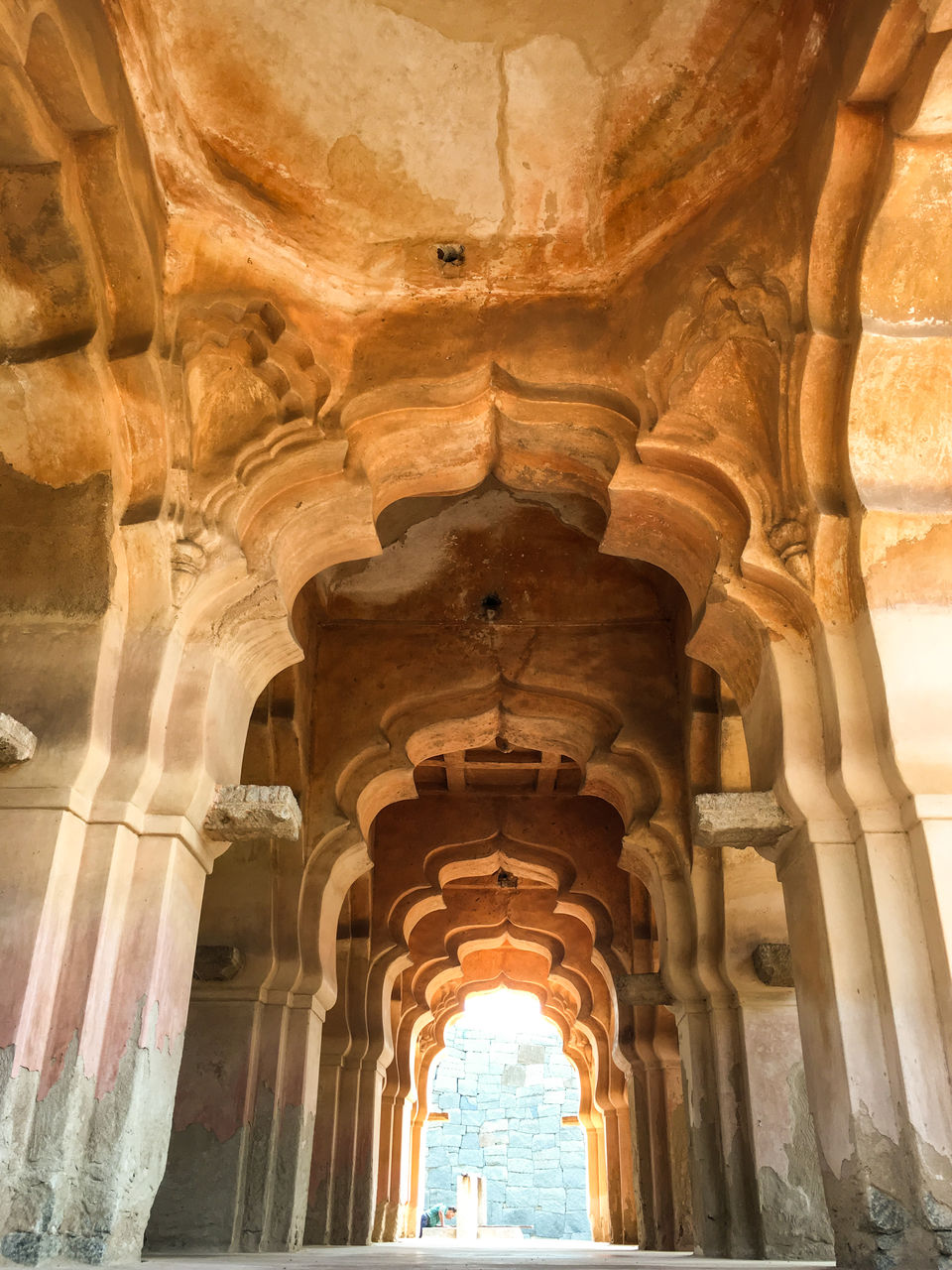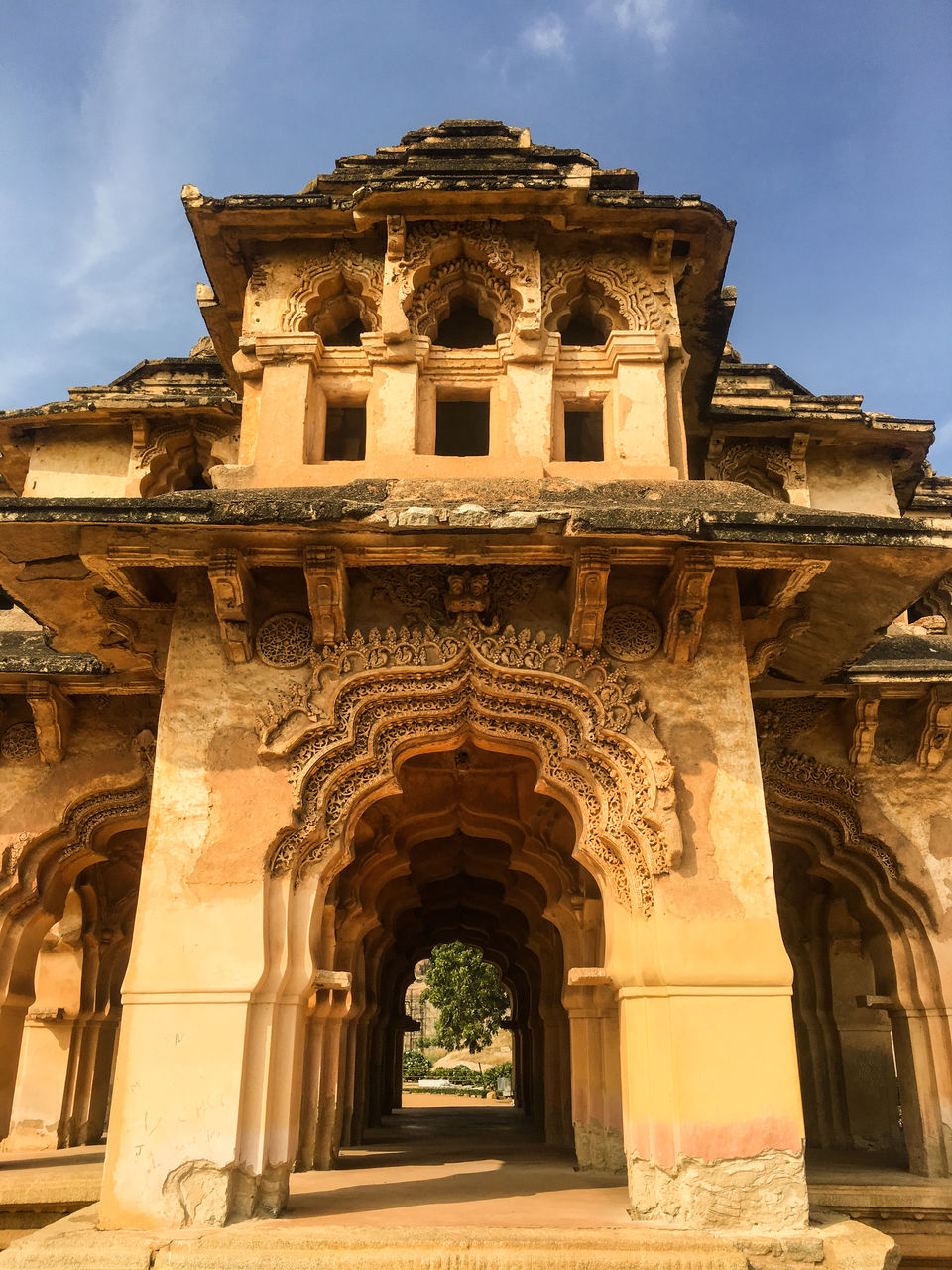 The three Watch Towers that are located in three corners of the enclosure is built in the Indo-Islamic style of architecture.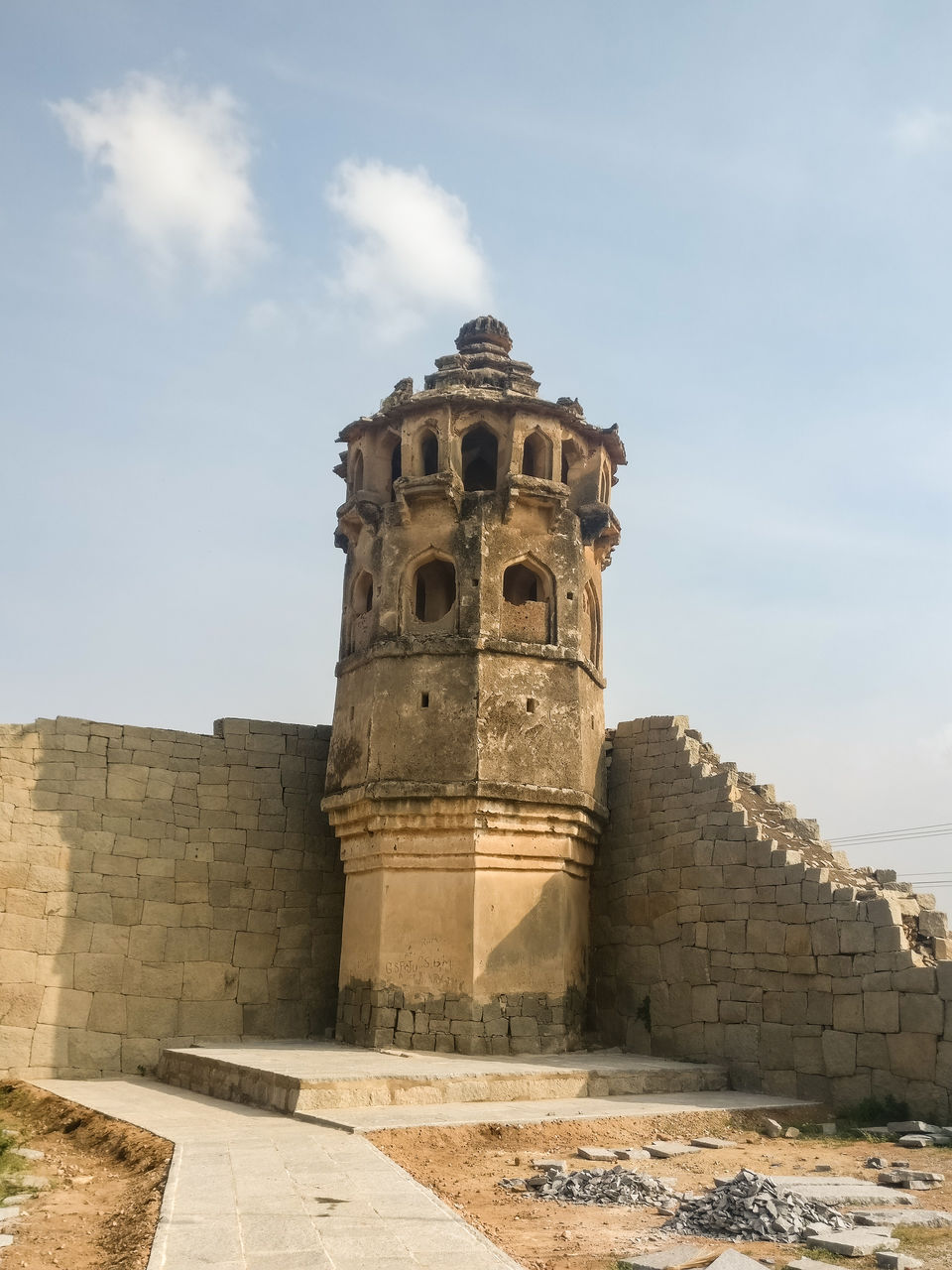 At the back side of Zanana Enclosure is the Elephant Stable which is magnificent and long rectangular structure. It has eleven large domed chambers interconnected with large arched openings. Each chamber is large enough to accommodate two elephants at a time.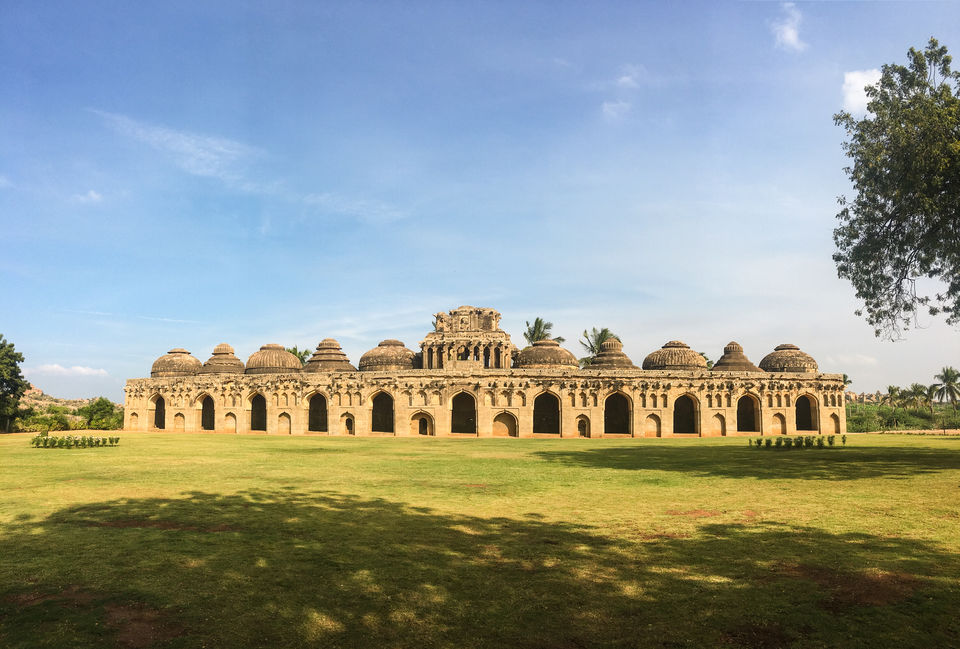 Next we went to Royal Enclosure of Hampi. It has often been compared to an open air museum. Apart from giving the visitor a glimpse into what life was like under the Vijayanagara rulers, it also showcases the architectural excellence of the era and the level of destruction the city witnessed after the decline of the Vijayanagara kings. Sprawling over many hundreds square meters, Royal Enclosure contains the ruins of several palace bases, water tanks, temples, ornate platform and canals and many other structures.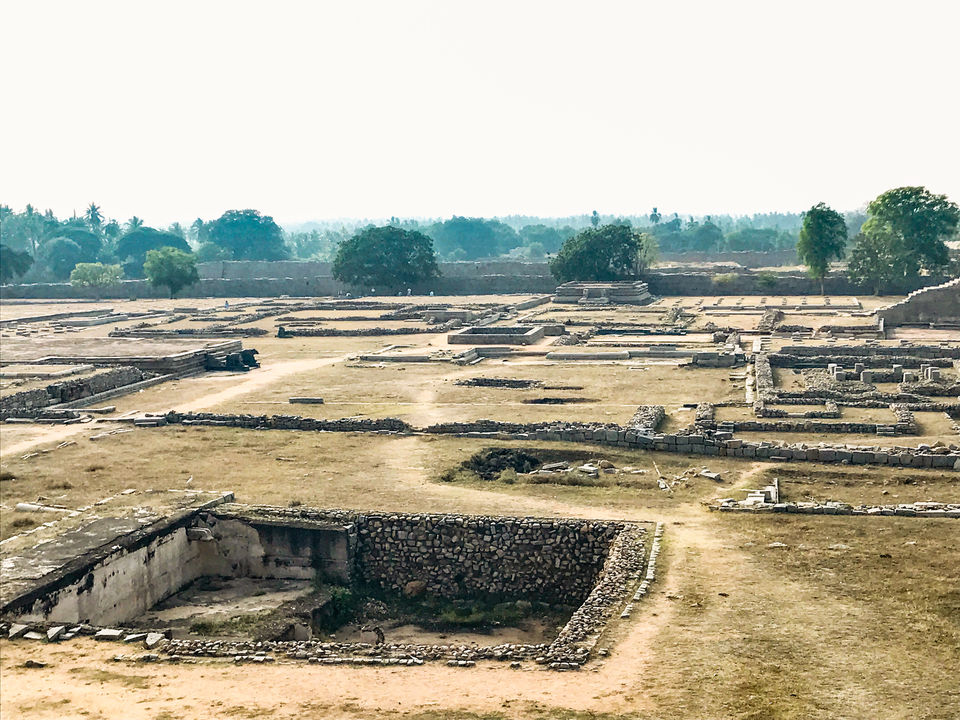 Mahanavami Dibba is three tiered 8 meter high platform and is the only structure that still stands as it did centuries ago. It is a pyramidal platform that was vital to the Dussehra celebrations observed during the Vijayanagara Empire. The main attraction of the high platform is its decorative carvings of elephants, horses, soldiers and stately processions.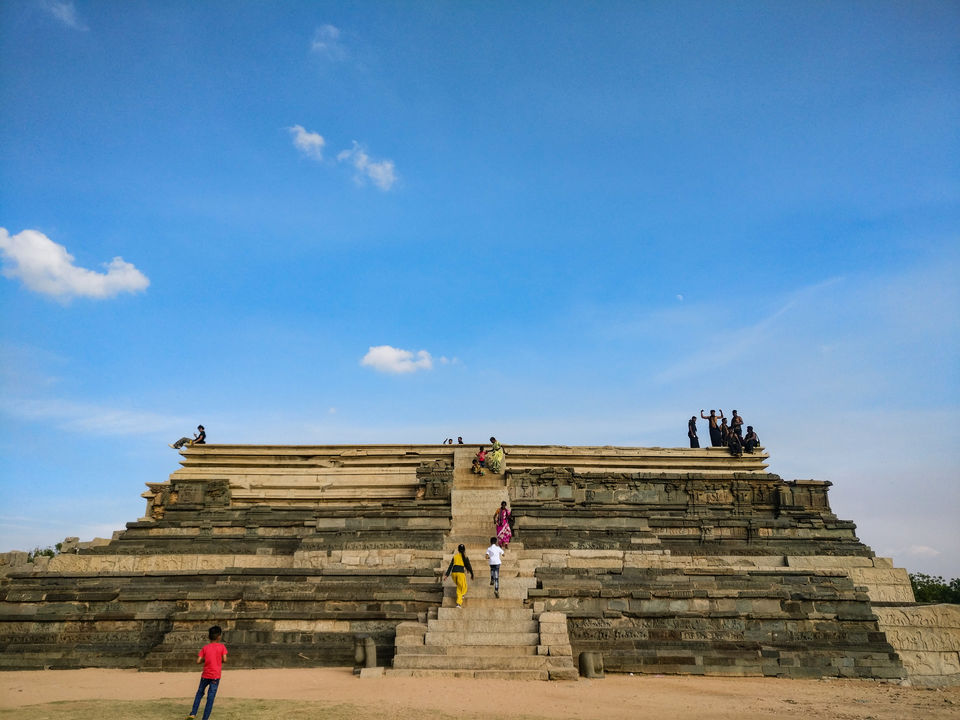 Stepped Tank is considered one of the most well-preserved structures in the Royal Enclosure. This is a five tiered tank that covers an area of 22 square meters and has a depth of 7 meters. Two other significant bathing pavilions in the Royal Enclosure are the Octagonal Bath and the Queen's bath.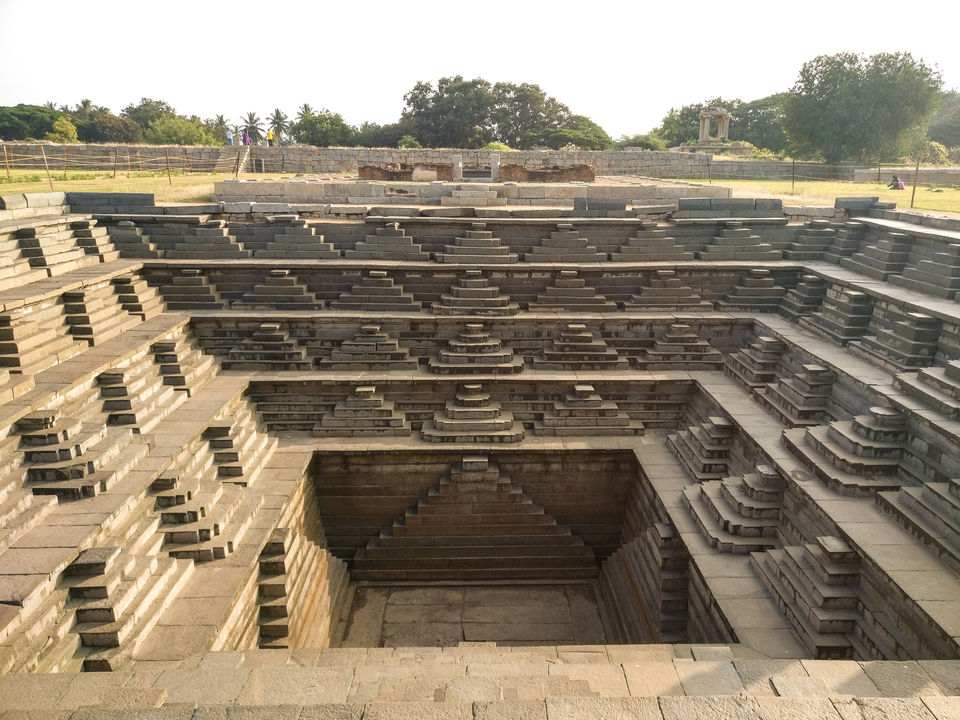 Then we went to Vitthala Temple, which is considered to be one of the largest and the most famous structure in Hampi. You can walk towards the temple or there are small vehicles that take you to the temple (charges you Rs 20). We decided to walk as it is hardly 15mins walk. On the way we saw Gejjala Mandapa on the right side while going towards Vitthala Temple. Gejjala Mantapa is located against the backdrop of coconut and banana trees which adds to its beauty. On the way we also saw Pushkarni which is also to the left hand side and has same structure like the Pushkarni we had seen while visiting Krishna Bazar.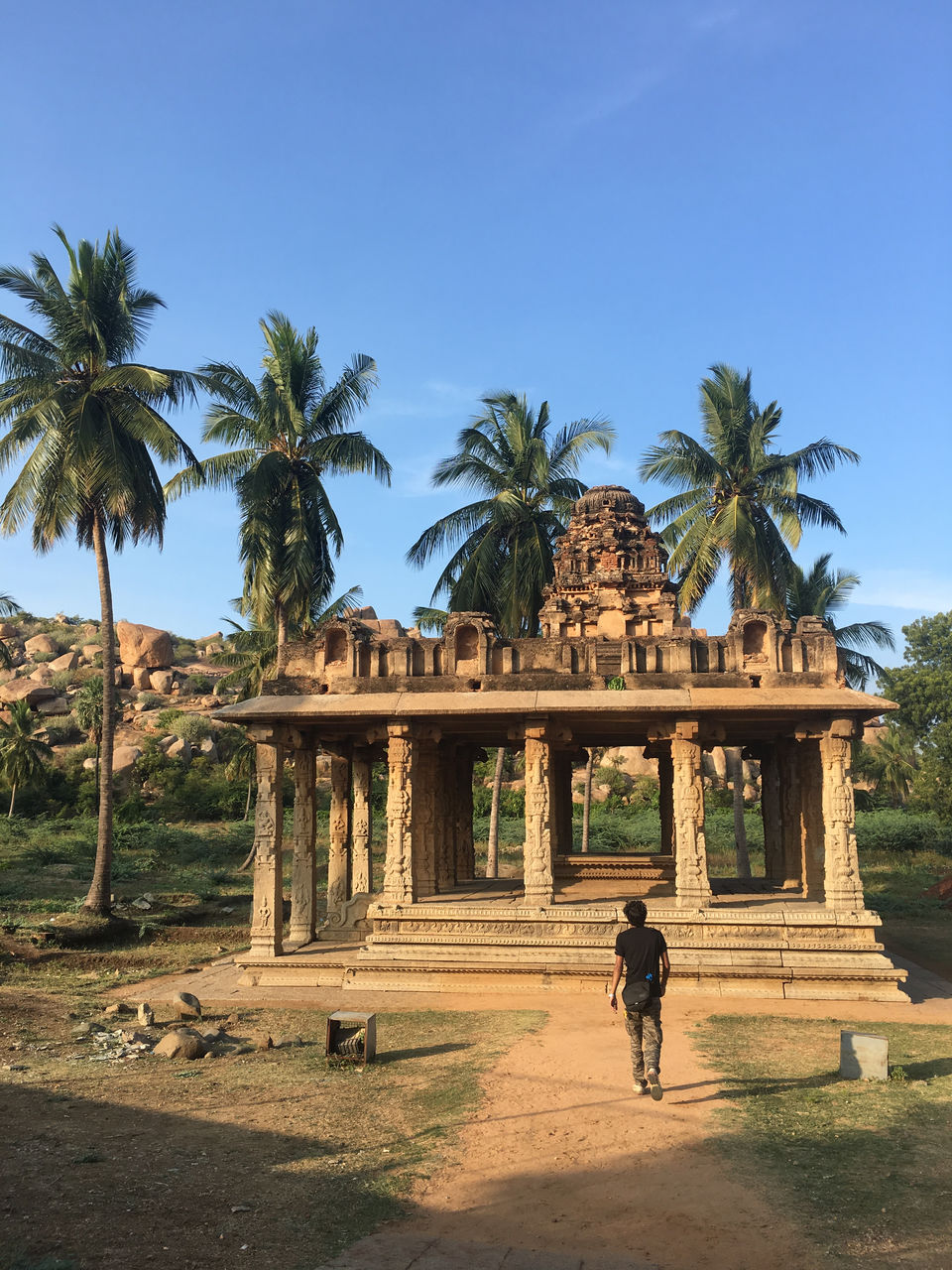 The road leading to the Vitthala temple is in a completely ruined state. The road was once the location of a thriving market place. The market was known as the Vitthala Bazaar and was famous for horse trading. The ruins of the market can be seen on both sides of the road.
Vitthala temple is famous amongst tourists for the stone chariot which you will also find at the back side of the new Rs 50 note. It is richly sculpted Stone Chariot, which is considered to be the most stunning architecture of the Vijayanagara kingdom. The Stone Chariot or Ratha stands in the courtyard of temple. It is one of the three famous stone chariots in India. The other two chariots are situated in Konark (Orissa) and Mahabalipuram (Tamil Nadu). The wheels of the chariot can be rotated but the Archaeological Survey of India cemented them to avoid the damage caused by the visitors. The complex contains four large mandapas.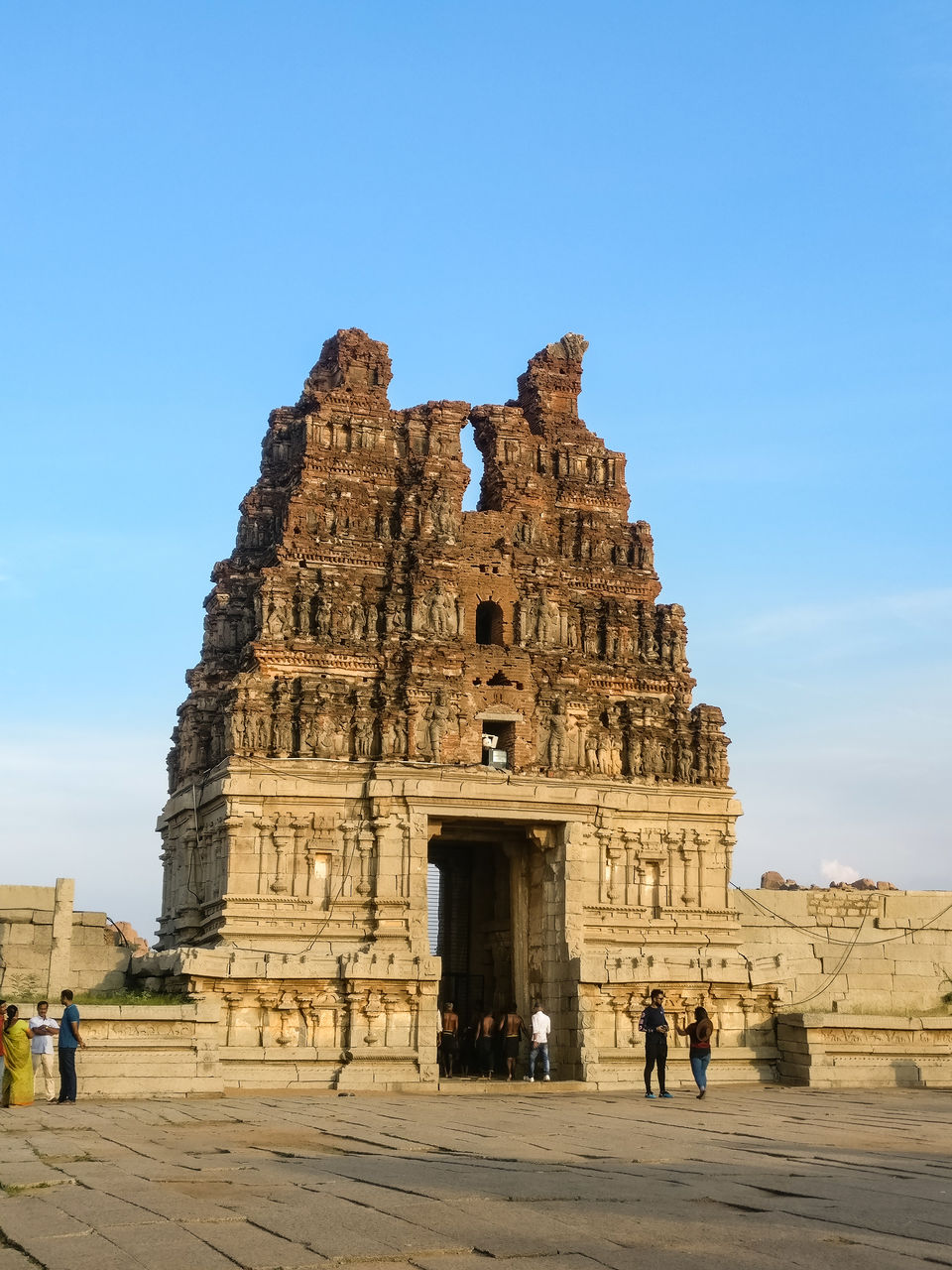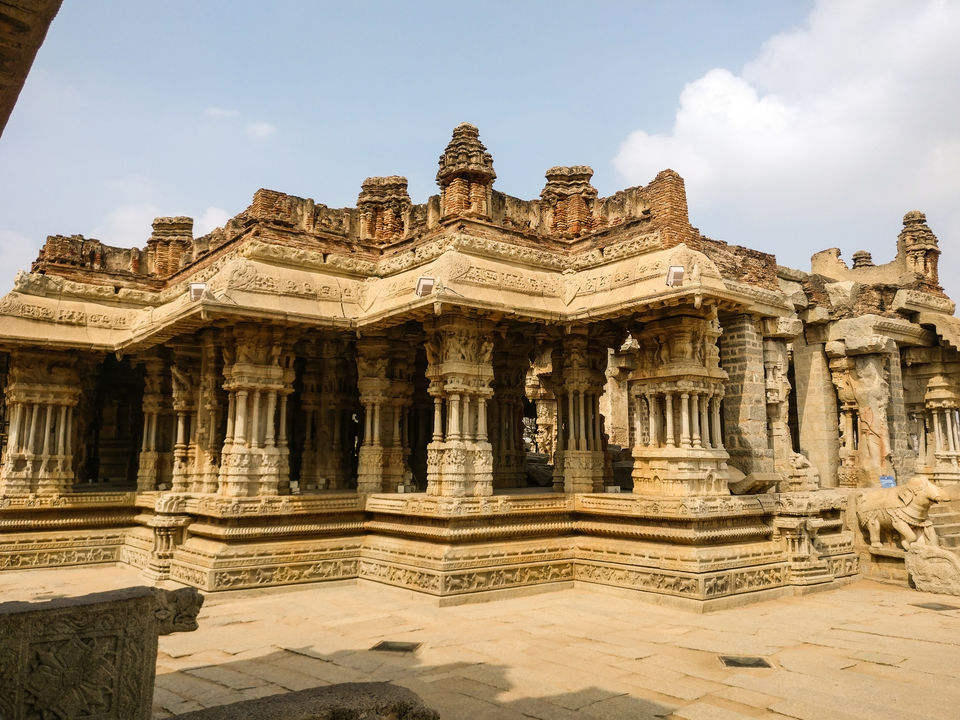 The Ranga Mantapa is another main attractions of the Vitthala Temple. The large mantapa is renowned for its 56 musical pillars. These musical pillars are also known as SAREGAMA pillars, indicating the musical notes emitted by them. The musical notes can be heard when the pillars are tapped gently. The main pillars are designed as musical instruments. Every main pillar is surrounded by several minor pillars that emit different sounds of the instrument. Currently even tapping the musical pillars to emit musical notes is prohibited, as tapping over the years have caused some damage to the musical pillars of the Ranga Mantapa. If you are too curious to know about it you can watch old Youtube videos on it where you can actually hear different sounds of music coming out of the pillars.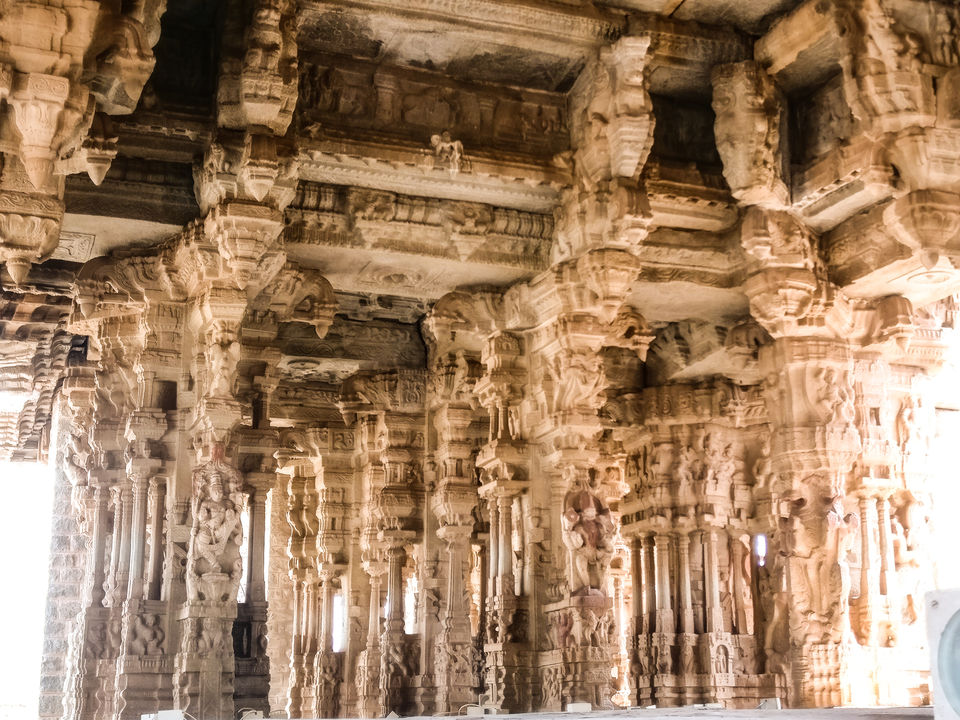 Note: The Vitthala temple opens at around 7am in the morning. Try to visit this place as soon as it opens in the morning so as to see and photograph peacefully before the crowd builds up. Since it was very crowded when we went we had decided to come again the next morning.
Post that we went to Sasivekalu Ganesha Temple where there is a huge statue of Lord Ganesha which is carved out of a single block of rock. It is about 8 feet tall. It is situated on the slope of the Hemakuta Hill. We then hurried up to the Hemakuta hill which is the best place to watch sunset. It is just behind the Virupaksha temple. It's a small climb up the hill from where you can watch beautiful sunset.
After watching a peaceful sunset we headed back to the main bazar area. There are lots of shops and cafés in there. We decided to have early dinner at Hampi Roof restaurant since it had free wifi! Do Note: Most places in Hampi don't have proper network coverage. The ambience of Hampi roof Resturant was cool and had two types of siting- you could either sit on chair or you can sit on the floor on cushions. We sat down on the cushions, played music on the JBL speaker and started uploading photos on social networking sites after ordering the food. Since we had skipped lunch due to heavy breakfast, we were hungry now so we quickly ordered and hogged on French fries, Thukpa, pizza, pasta and dal rice. French fries, Thukpa, pizza and dal rice was good but pasta was very bland (Rs 910 total). After sitting and relaxing for sometime we went to bed as we had to start the next day early to catch the sunrise.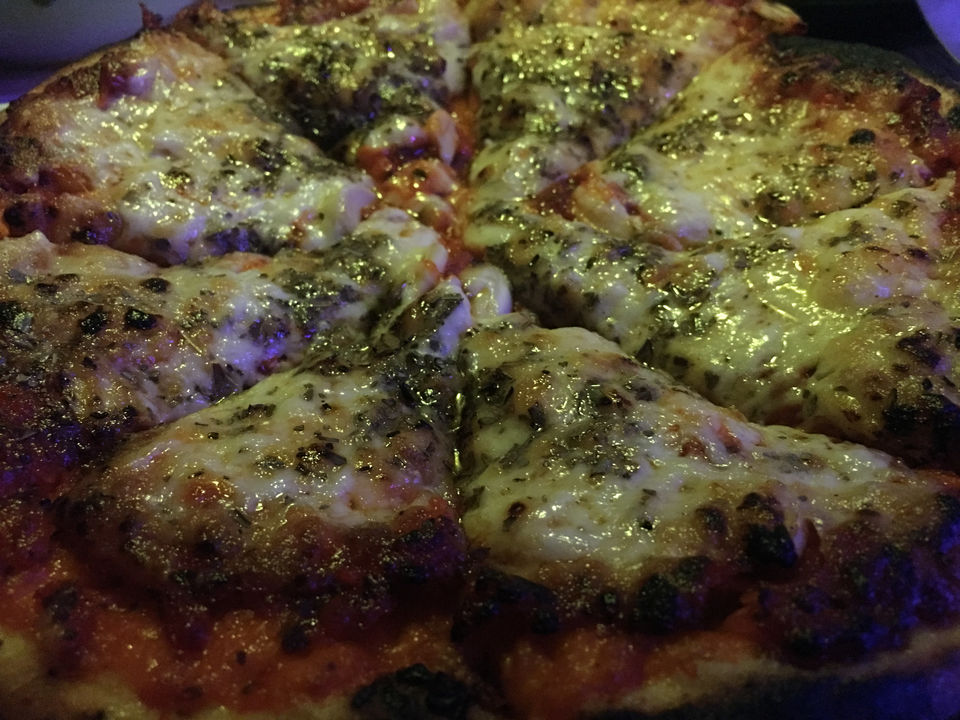 On the way near Virupaksha temple we saw a lady selling homemade idlis and dosas. We had our breakfast there- believe me 4 idlis for Rs 10 only with the spiciest chatni ever!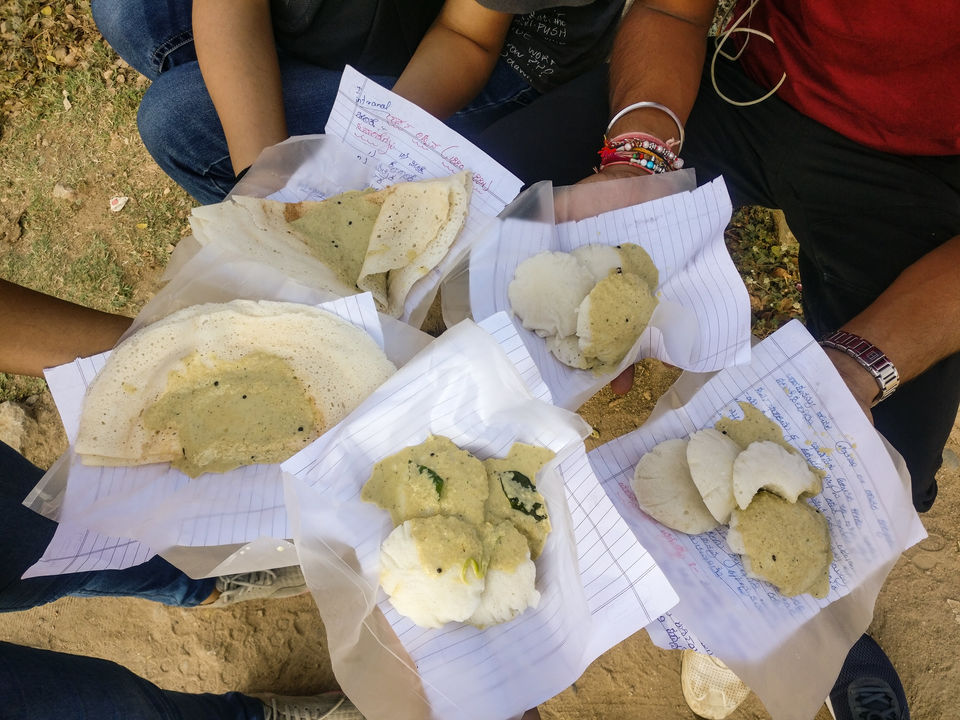 After that we went to our room, freshened up and checked out of our guesthouse. We had decided to rent cycle today. I was confused whether I should go for a cycle or a moped since I wanted to ride a moped but then I settled for a cycle as everyone was going to ride a cycle. You can rent cycle for Rs 150 and Moped for Rs 350.
Off we went to Vitthala temple again. We took a shortcut route. It was rocky in between so we couldn't ride our cycle full time. On the way we also came across Tungabhadra River and could see coracle ride. You can have a coracle ride, he quoted Rs 350 for half an hour where he would take you around the river.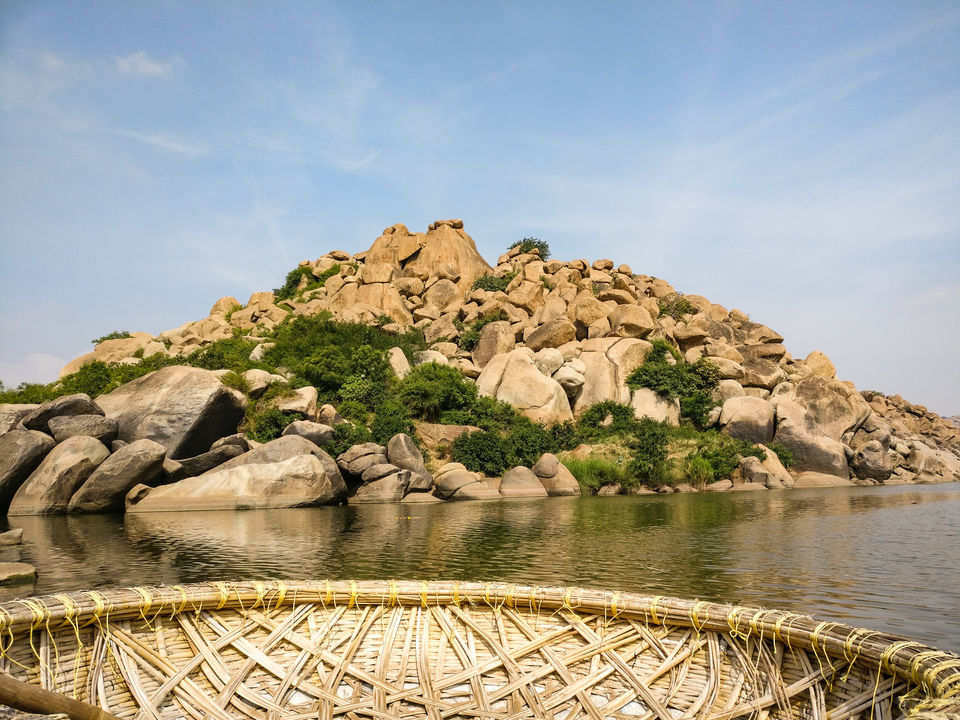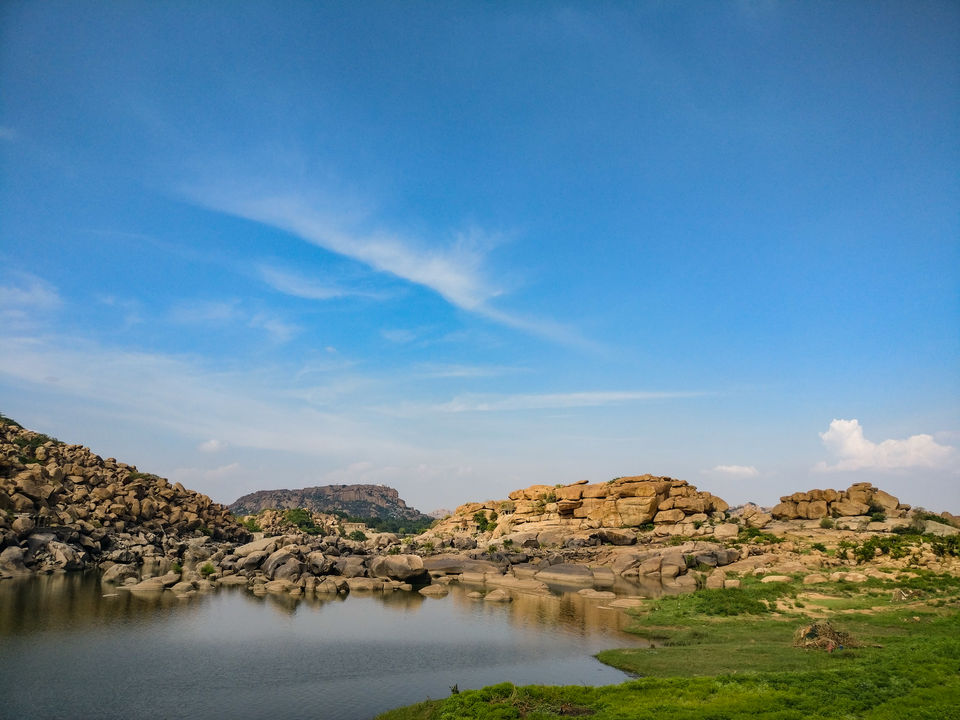 Enroute had sweet coconut water (Rs 25) while we were on the way. Soon we reached Vitthala temple. The scorching sun and the crowd again made it difficult for us to click good pictures, but we waited for some time and soon got good opportunity (of course after a lot of struggle). Also took photos of the chariot along with the Rs 50 note. You can also find lots of guides over there who tell you about the history.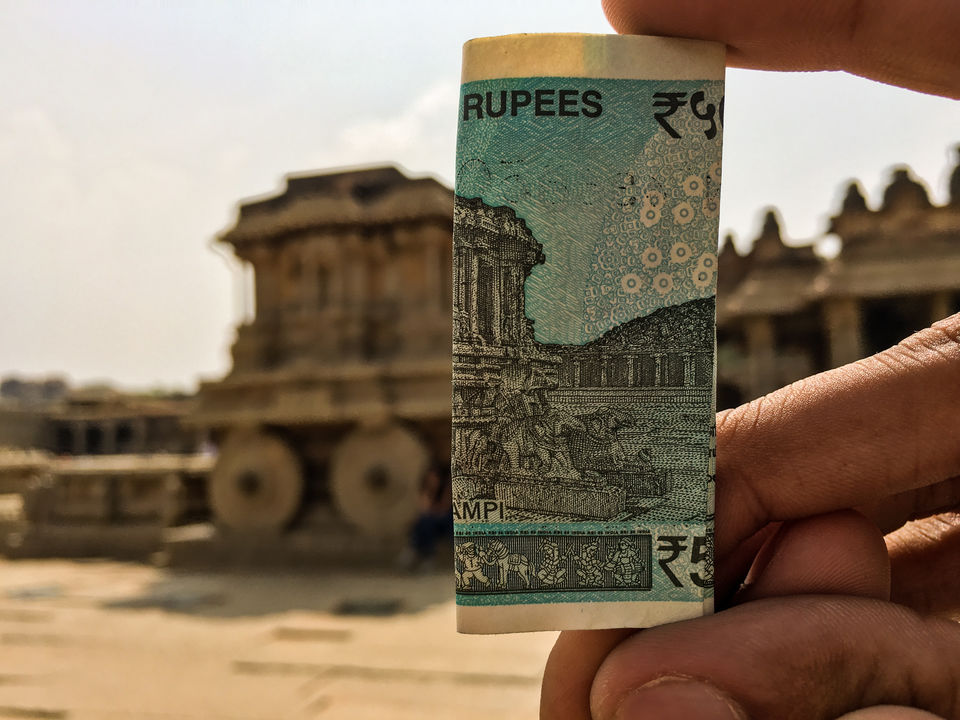 Post that we went to Tungabhadra riverside and took photos. While going back, two of us decided to go back from the same route from where we came, while other two friends came from proper road cycling almost 8km. After reaching main market we gave back our cycles and had lunch at Tibetian restaurant. It too had wifi and had almost the same ambience. We had pizza which was quite nice (Rs 510 total).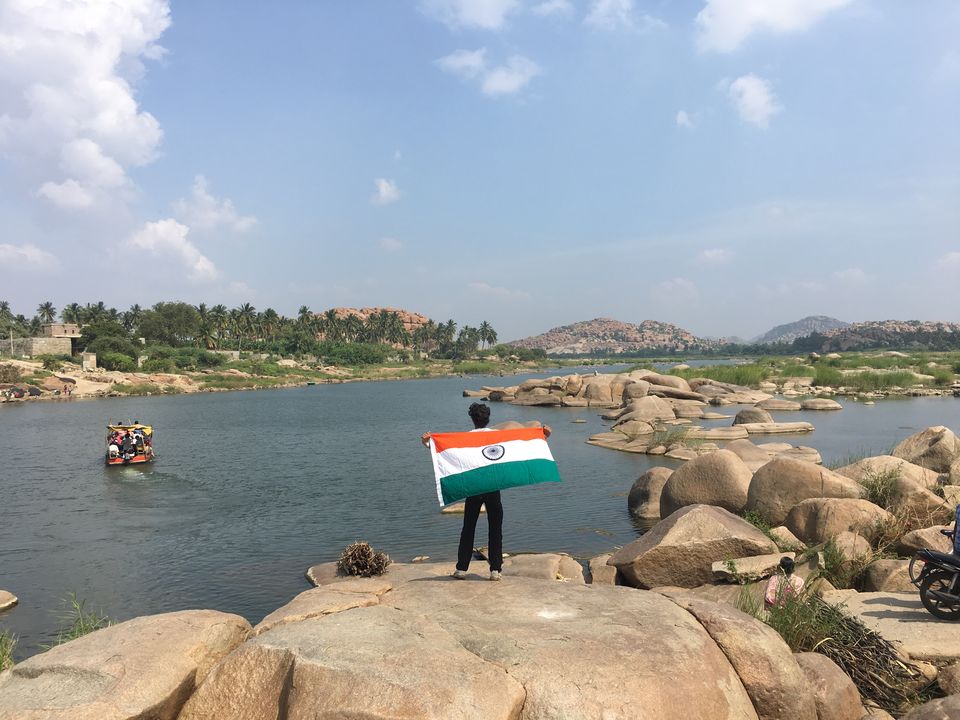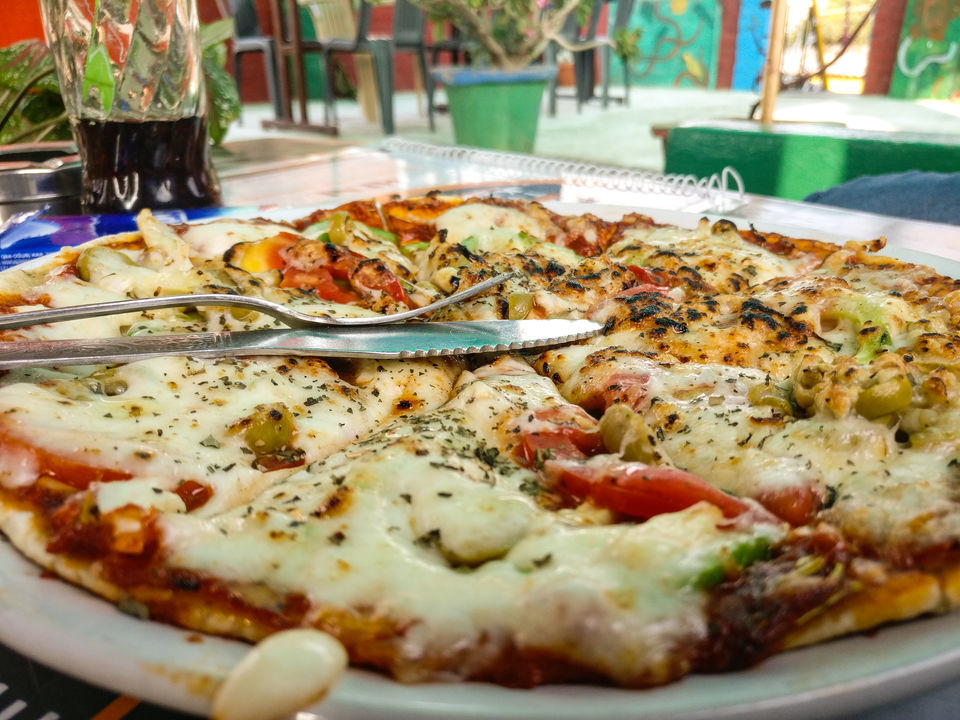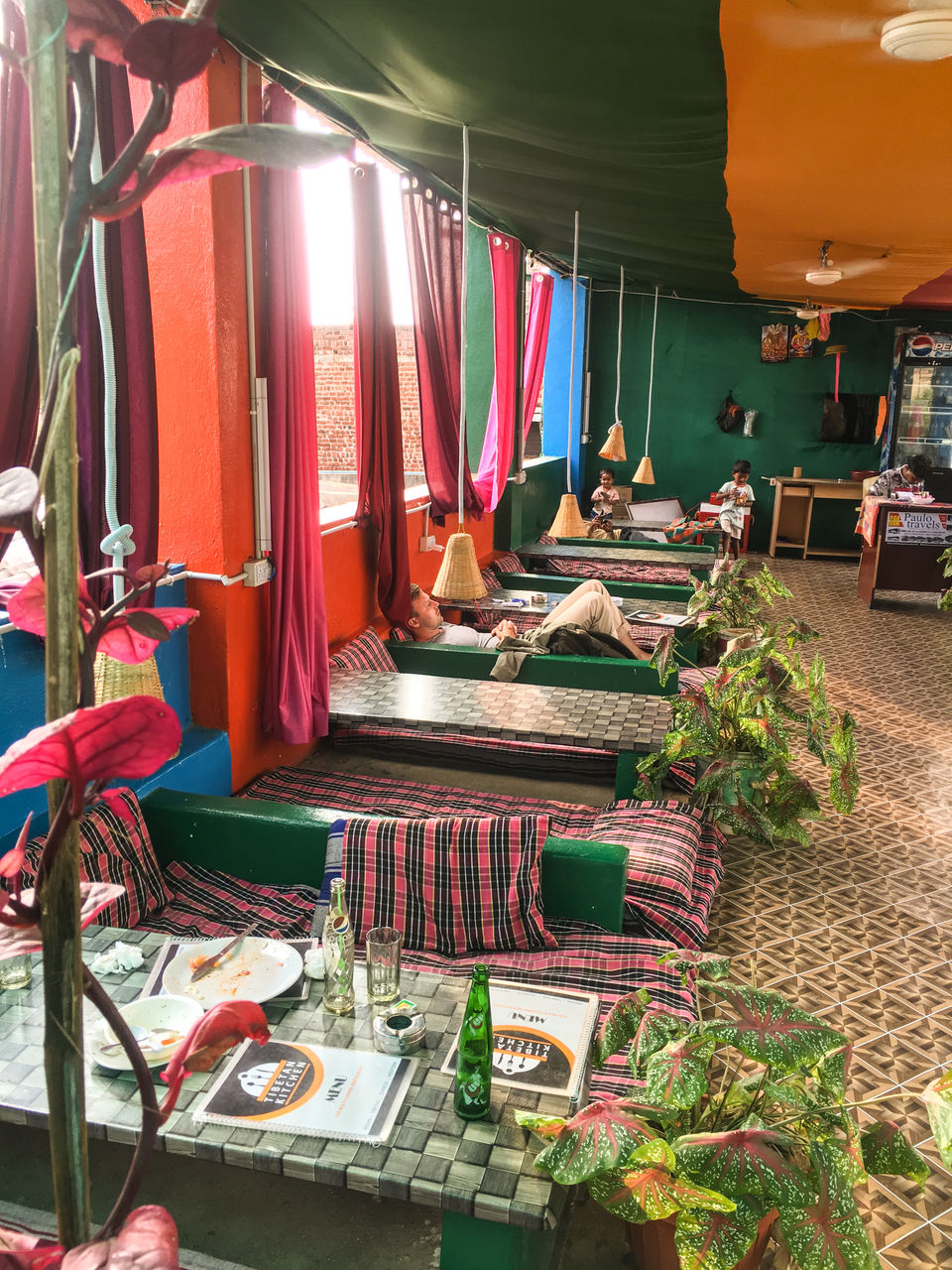 By then it was almost the time for us to leave Hampi, we went to hampi bus stand. Bus was already waiting for us, got seat and went back to Hospet.
We had had light food in lunch since we wanted to hog on some chicken in hospet as you don't get chicken in Hampi as it is considered sacred place. Found Deepa restaurant which is 10-15mins walking distance from bus stop. It was designed like a train with all tracks and your table was inside the train, nice idea isn't it?. We quickly ordered chicken lollipop, kabab, chicken masala and naan (Rs 687 total). Soon it was almost 6.15pm and our bus was almost about to come. We quickly went to SRS stop only to find our bus already waiting for us. We had made Just in time! The bus halted in between for dinner in Hubali. It had rained over there and it was totally cool. We ordered one dal khichadi (Rs 115) and shared and ate it. All of us were very tired as Day 2 in hampi was a 'leg day' for us. Morning trek and then the cycling part.
We had a sound sleep at night only to be waken up at early in the morning at 7am as our stop had come. All of us had office and had to rush to our office. So this is how my two days backpacking trip was!
You can follow me on Instagram @iamniyu23 for more photos. Hope you liked the blog. Do let me know in the comments section if you need to know anything or need any help in planning your trip to Hampi!
The next morning at around 9am we reached Hospet. As soon as you get down the bus, all auto drivers come up and ask if you want to go to Hampi. Just ignore them as they will charge you some Rs. 300 for a distance of 12km which is not at all worth. We went to Hotel Shanbhag near to Hospet Bus Stand (JSW Vijayanagar Bus Terminal) and had yummy idli wada on the traditional banana leaf and coffee (Rs. 250 total). Hospet bus stand was two minutes' walk from there and as soon as we entered the bus stand we saw Hospet-Hampi-Hospet bus. We quickly hopped onto the bus. The bus takes around 30 minutes to reach Hampi and the ticket is just Rs 16. On the way you will see Kamlapur Lake on your right side and nice fields on your left side. The buses are quite nice and spacious as well.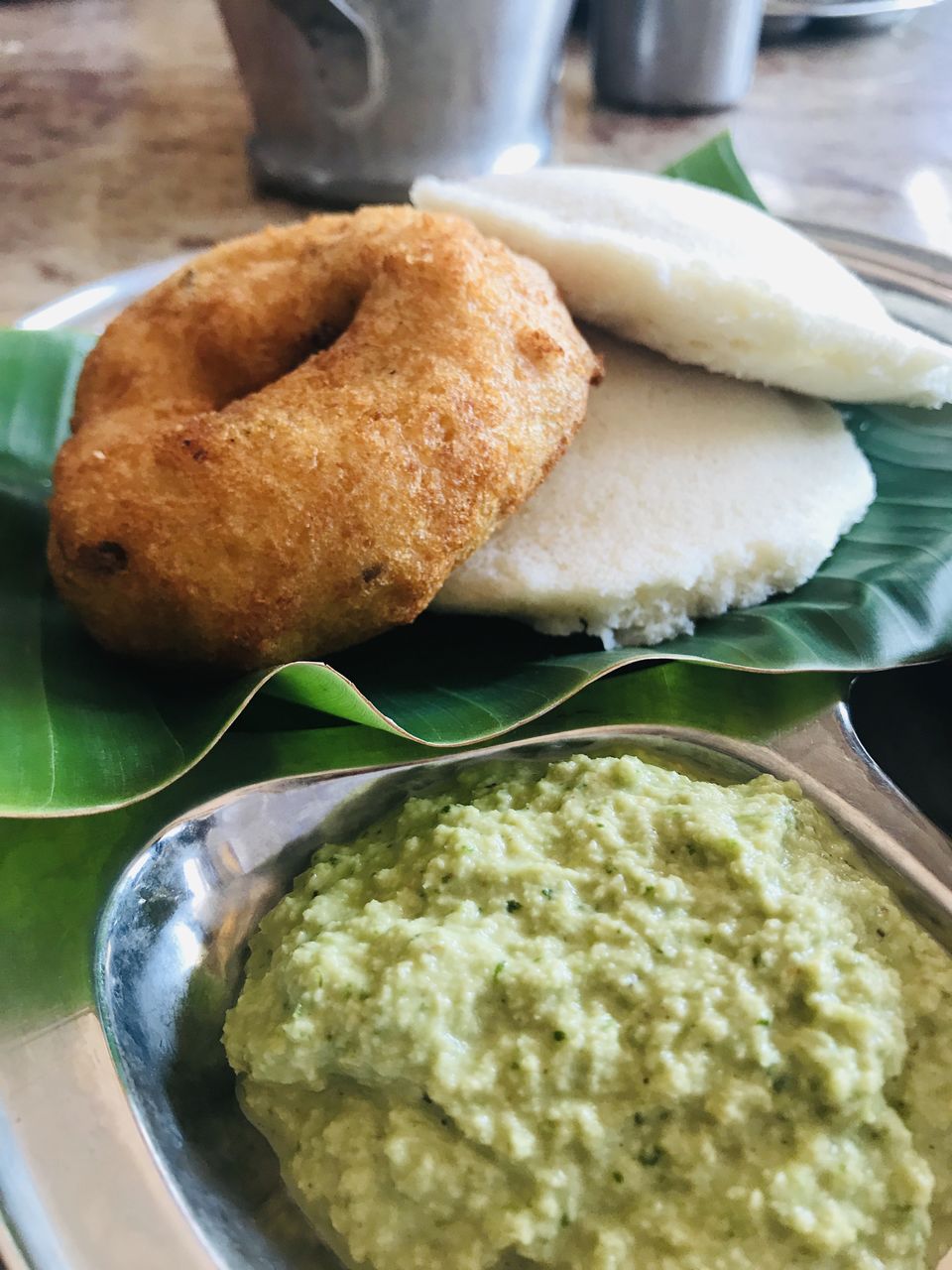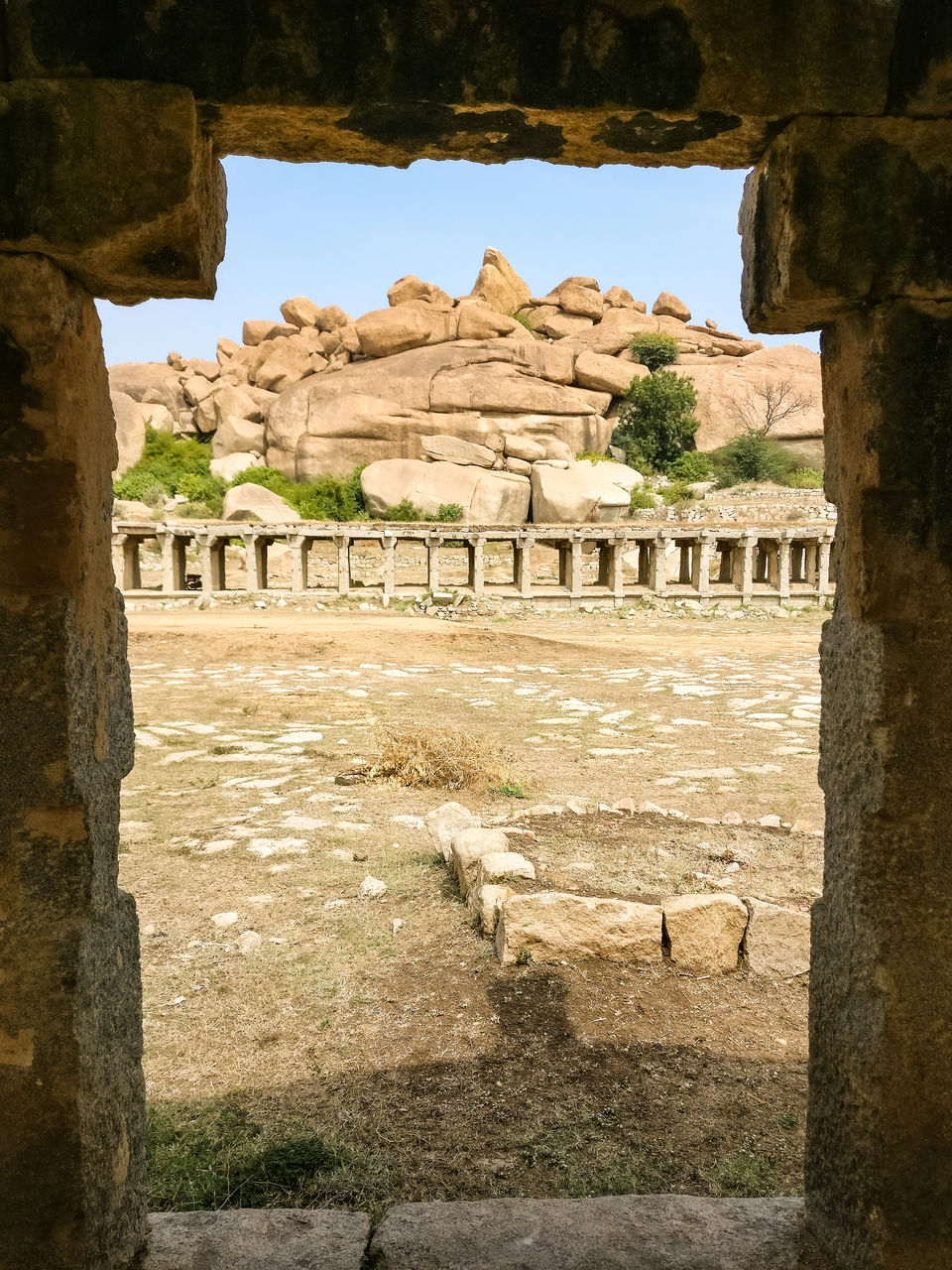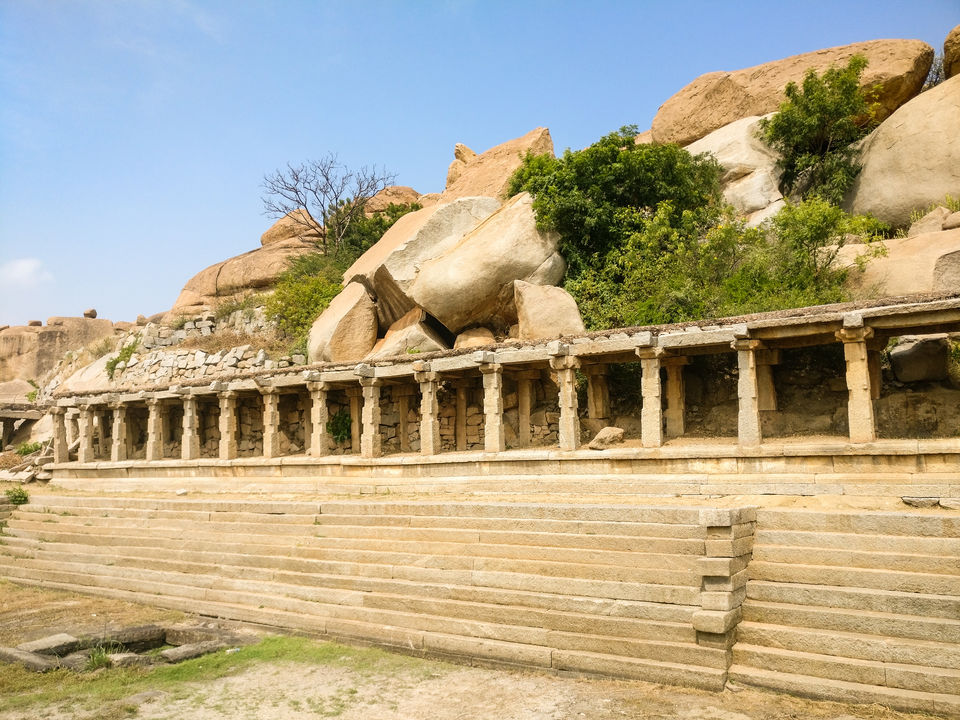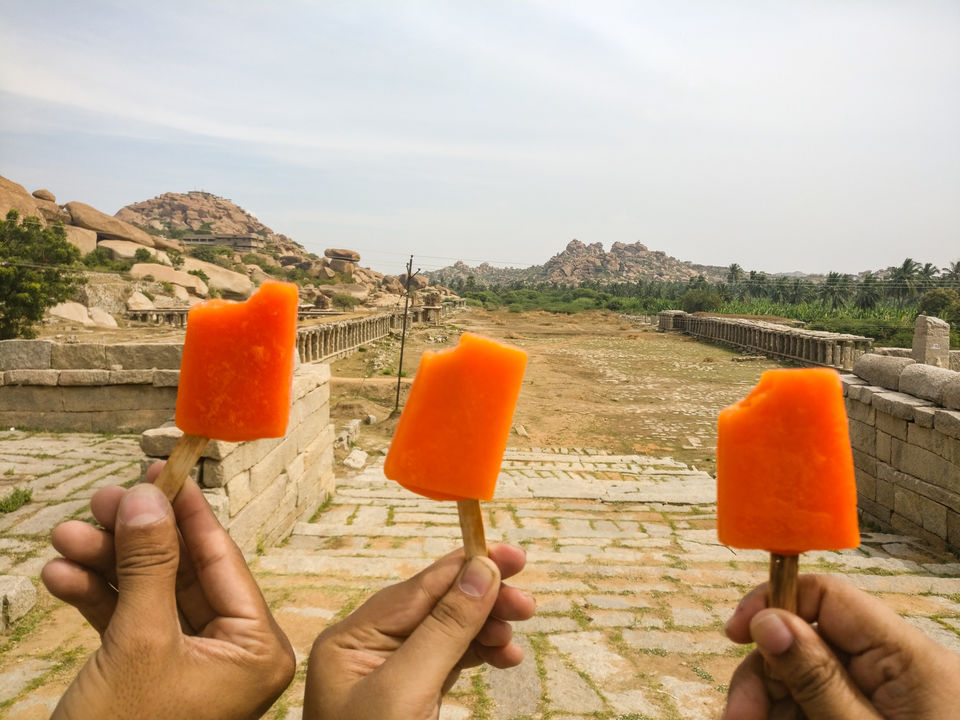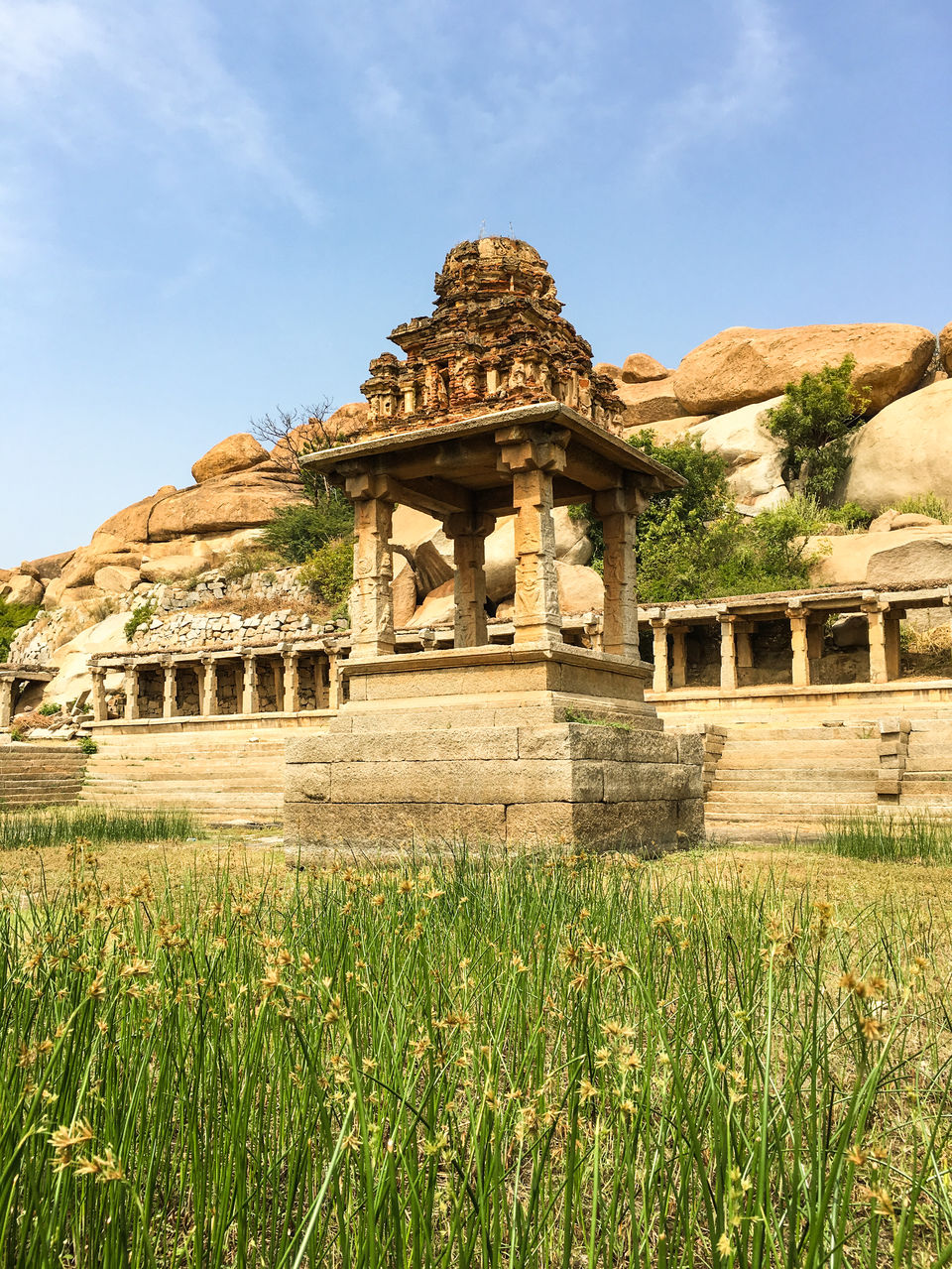 Next morning alarm woke us up at 5am. We freshened up and left for Matanga hill- the highest point in Hampi. It is a 30-45min trek, a bit difficult too, but believe me it is worth all the effort. Soon we reached the top where the Veerabhadra Temple is located. Found a good spot to sit and fixed my cell phone on the tripod with time-lapse ON. As the sun rose, you will be amazed to see whole of Hampi in single glance. Beautiful rocks, river, ruins, green fields, you can literary see everything. We clicked many photos and sat there for quite a long time. We then descended the hill and walked back to our guest house.