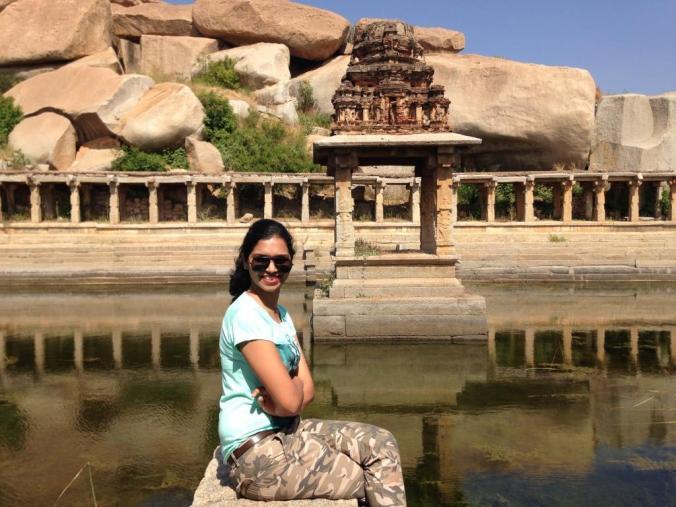 Place Name - Hampi
1st Day - Hampi 2nd Day - Other side of Tungabhadra River- Tungbhadra River Ghats,Anjani Hill,Sanapur LakeHow to Reach -
Private and Government buses available from major cities like Pune,Mumbai, Bangalore.
Accommodation -
In Hampi Bazar and other side of the river starting from Rs 200 to 1000 In Hospet - from Rs 1000 to 4000
Suggestion - Stay in Hampi to avoid 13 Km travel from Hospet.
Public transport-
Government buses and private Auto Rickshaws (shared) are available at good frequency from Hospet to Hampi. Suggestion - No need to hire full day taxi for Hampi sightseeing. For 1 day Hampi sightseeing Auto-Rickaws available. Charges in between Rs 600 to 800.Other transportation options
In Hampi Moped bikes, motorcycles and bicycle available on rent (Bikes - Rs 300 to 500 per day and bicycle - Rs 100 per day)
Where to eat -
Authentic south Indian hotels are available in Hampi. Must try Mango restaurant in Hampi Bazar for worldwide cuisine. Many other good options are available in Hospet.(nearby city bus stand)
What to buy in Hampi- Antique gifts.
Must carry- Shoes , sunglasses, sunscreen lotion, water, fruits etc.
Approx tour cost - 20,000 INR for 2 inclusing All.
The history of India is very vast and the place "Hampi" is a live example of historical architecture. I think it's most superb architectural concept and design innovations in the world. Hampi is 560 km from Pune which is situated on the banks of river Tungabhadra in Karnataka State. Hampi known as "Vijayanagar Empire" of south and also knows as "Kishkinda Empire" which is mentioned in the Ramayana. We can feel the liveliness of this place because of very old and grand divine temples, monuments and heterogeneous relics. Hampi is an ancient village and UNESCO World Heritage Site.
Hampi is a boon for people who love to explore Architecture, civil concept, civil design, history etc. This is the ideal place for many Indian and overseas students for architecture study and research. The perfect season to visit Hampi is Aug - Feb. If you are mad for biking then you must plan for road trip to Hampi.The Pune-Hampi is a smooth and enjoyable ride.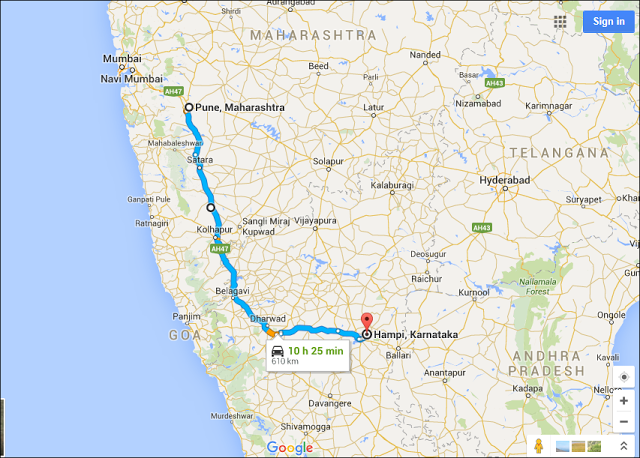 We planned our trip in first week of December. We took VRL bus from Pune to Hospet. We reached Hospet in the morning at 8 the next day. It was a roughly a twelve-hour journey. The distance from Hospet to Hampi is 13 km and government buses are continuously available starting from 5 AM to 11 PM. We decided to keep flexibility and explore the place better by bus and Auto-Rickshaw. Roaming by public transport helps us explore more about local life. Many options available for stay in Hospet as well as in Hampi. My suggestion is to stay in Hampi to avoid the daily 13 km travel from Hospet. Homestay facility is also available in Hampi local market and the other side of Tungabhadra river. Rooms are available from 200 Rs ~1000 Rs. Motorcycles and bicycles are available on rent starting from approx 300 per day in same area. This is the most comfortable option to explore the Hampi's surroundings. There are many multi cuisine restaurants in Hampi Bazaar. We enjoyed morning breakfast with authentic south Indian varieties. Must visit Mango restaurant for worldwide cuisine.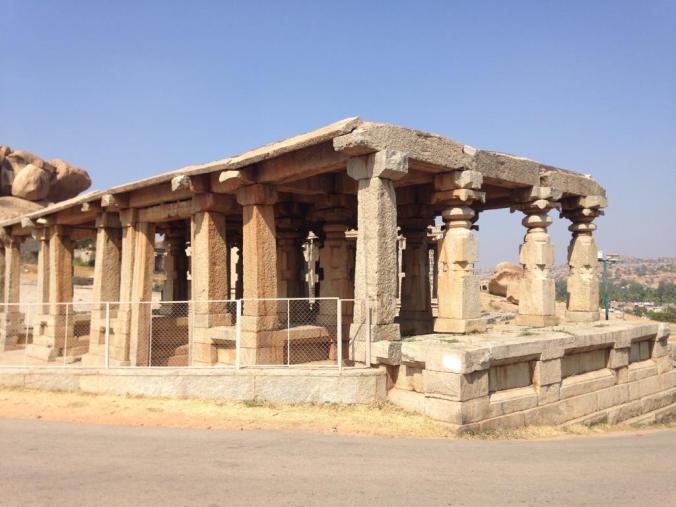 After breakfast we started for Hampi. As we reached Hampi, I looked aside and everywhere I could see massive stone temples and large mountains. This was a glance of "Vijayanagar", the empire of Krishnadevaraya. We hired an auto- rickshaw for the whole day's sight-seeing. The auto- rickshaw charged us Rs 500. We met Raju, our driver. He was not only a driver for us but did a fantastic job as photographer and guide. At every monuments there are informative boards are placed at important locations hence a full day guide may not be needed. Although this is a personal preference,but I would suggest please hire a guide at "Vittal Mandir" and Hajara Rama Temple.
We began our tour with a visit to Ganapati temple named "Sasivekalu".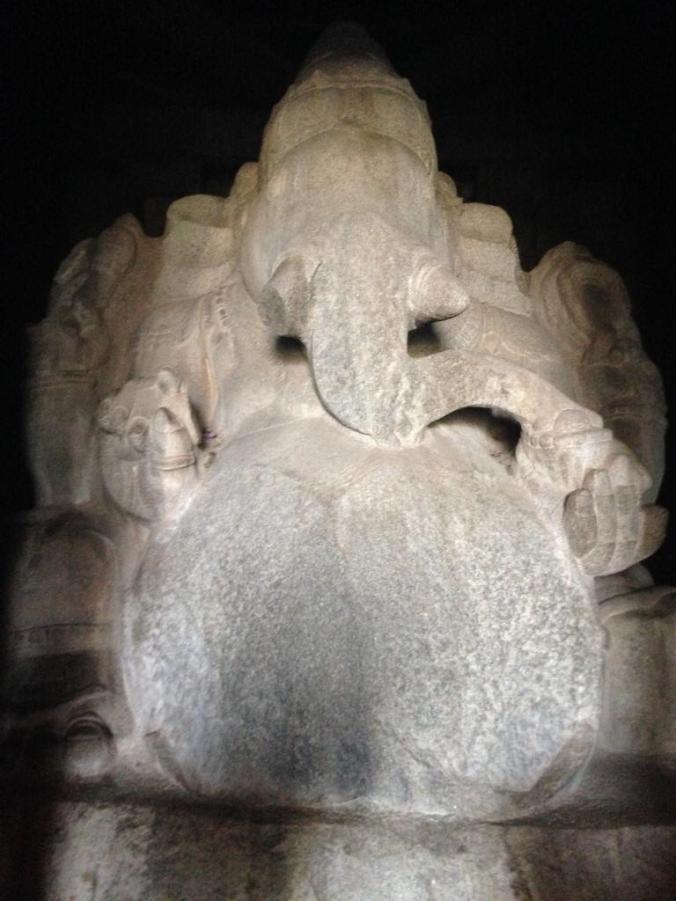 Then we visited Lakshmi-Narasinha temple. The Lakshmi-Narasinha idol standing at a height of 22 feet is big and attractive. The Idol of Narasinha is in good condition in the padmavastha state with a Sheshnaag on his head .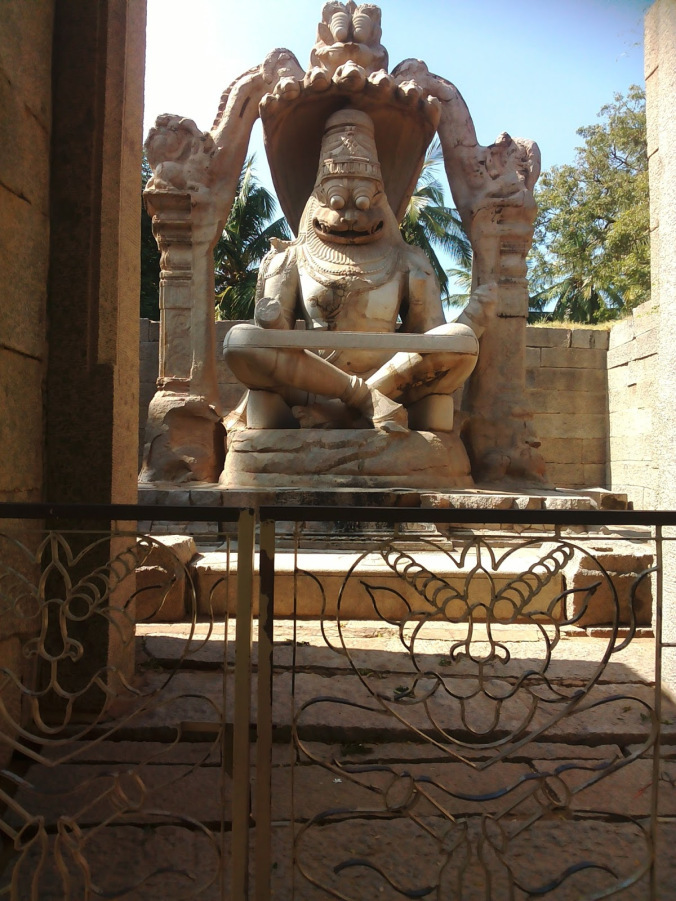 Next to the Lakshmi-Narasinha's statue the Lord Shiva's "Badavilinga" temple catches our attention. The best part of this temple is God Shiva is always surrounded by water. If we notice carefully on the top of the structure a delicate "Bella's leaf" is carved.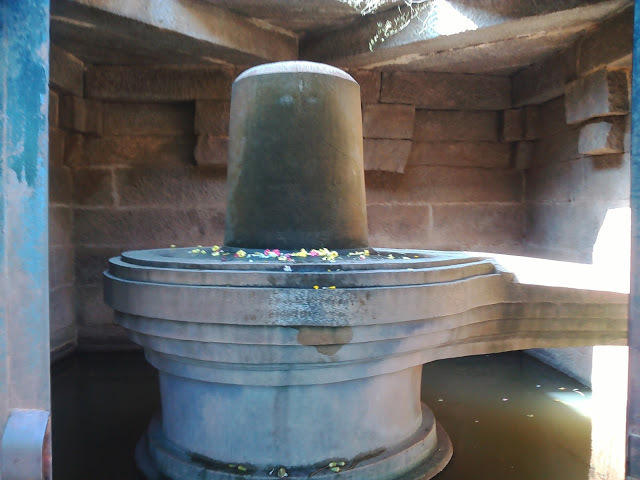 The next temple we went to "Acchutraya Temple". The area of the temple is very huge. The main door of the temple is small but overall structure has good height.This temple is build by elder brother of Krishnadevray named "Acchutraya". Almost all the temples has been destroyed by Mughals hence there is no worships, no idol of god.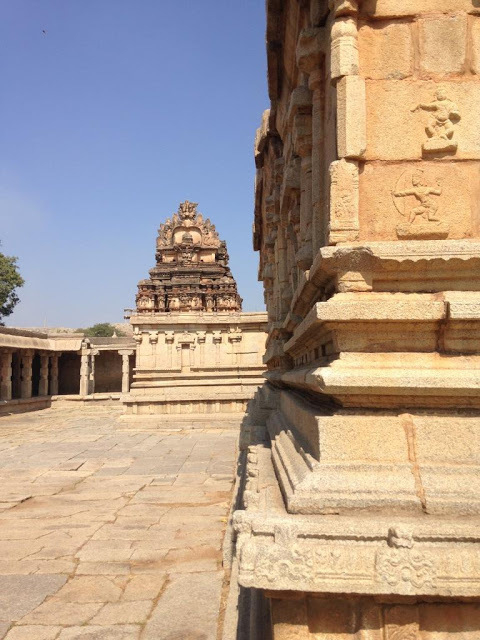 Exactly opposite side of this temple we can see small shops built-in stone pillars. All shops are in straight line and in same size.This place is known as market (Bazar).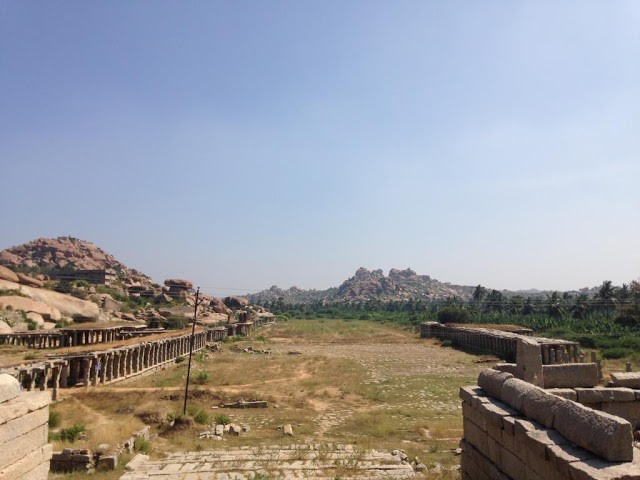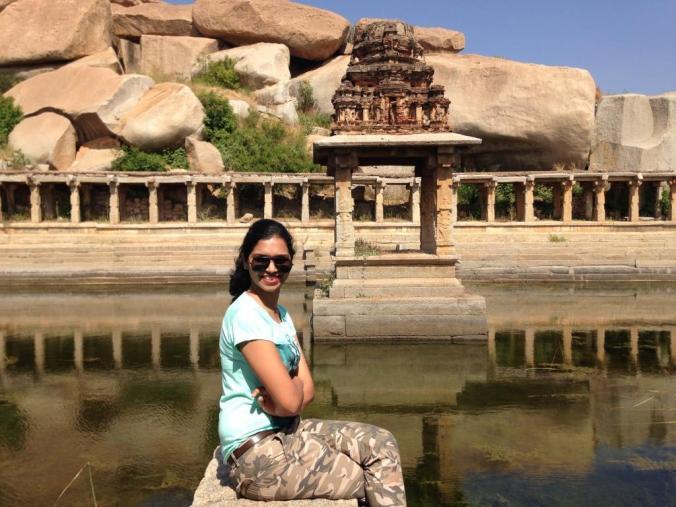 A small tank (kund) of water is situated at the rear side of this market, it's small in size but it has own beauty because of the structure and design. Hampi local people called such tanks (kund) - "Pushkarni". Just because of the structure and building style of the Pushkarni, I think people used to take rest nearby this place after shopping in the market. Very Logical!!
We also took rest near Pushkarni and started heading for "Hajari Rama" Temple.The name-Hajari Rama, itself self-explanatory. Total 1000 Ram has been carved in entire temple. The carving of Ramayana stories are admirable. In interior area of the temple we could see delicate carving on black shiny marble. It's better to hire a guide if you are interested to know more about the temple and Ramayana's stories.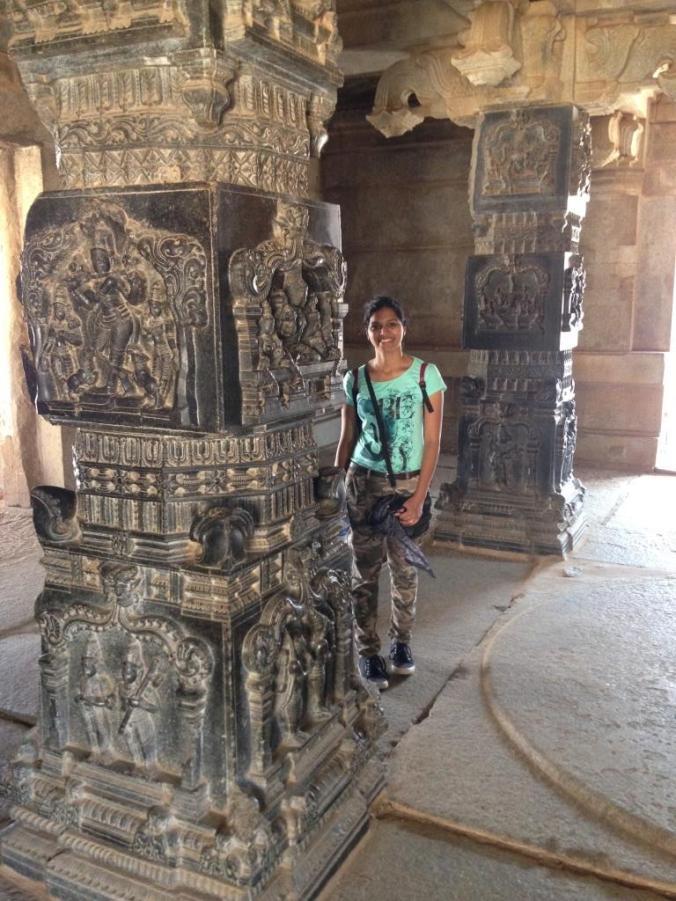 After this temple we went to visit the famous Stepping tank (Pushkarni) which was built-in the black stone and "Deshera Dibba"(stone table/box). These 2 places are center of attraction for traveler because of the structural beauty.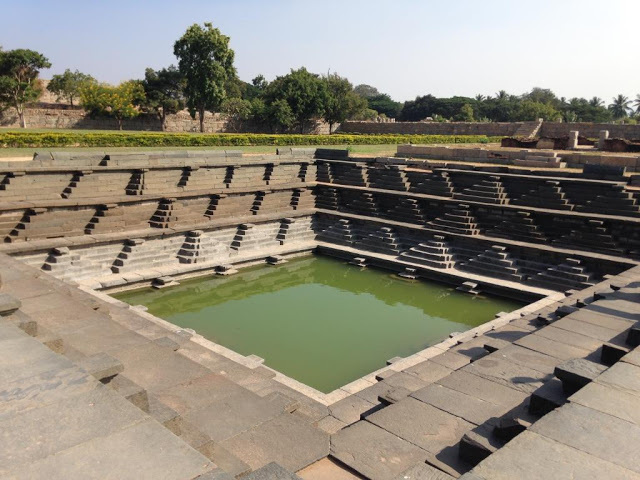 The structural design of stepping tank is build on scientific base for water purification. The mud in water getting fetched because of artistic composition of steps in the tank. The triangular shape of steps help to filter soil and purify water. Wow, What an Idea!!
Opposite to Pushkarni you can see a big stone table .The tallest and bigger square of stone in this area. The named " Dashehra Dibba"It's says that people are used to gather here for "Durga Pooja" (Dashehra) festival. From table top you could see widespread "Vijayanagar Empire and other surroundings of Hampi".
Black and grey stone used in Deshehra Dibba structure . We found clean carving of many social and cultural events such as elephants, horses, lions, Group of people are rejoicing the music etc.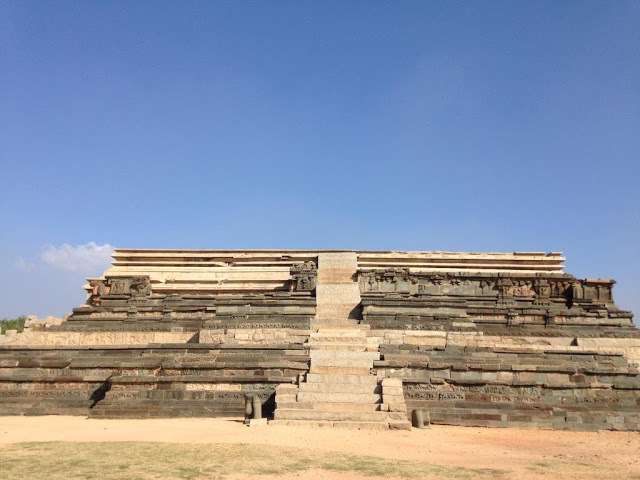 Other than these places we visited to king's court, private discussion place and other small monuments in same area.
In Hampi there are many other interesting places to visit like Lotus Mahal, Elephant's stable, Queen's bath etc. A whole day may fall short to visit all places nearby Hampi monuments.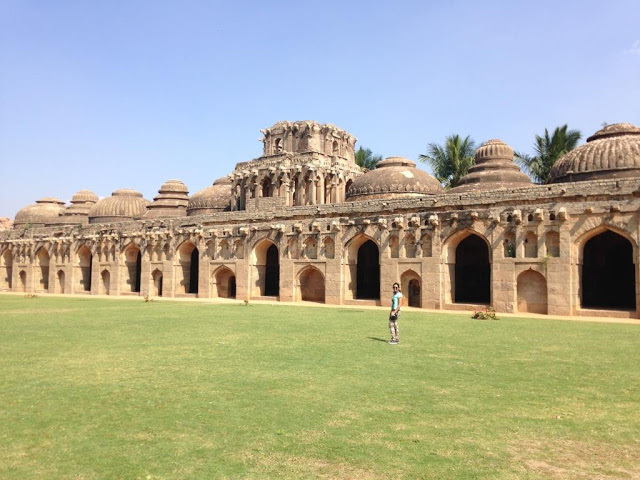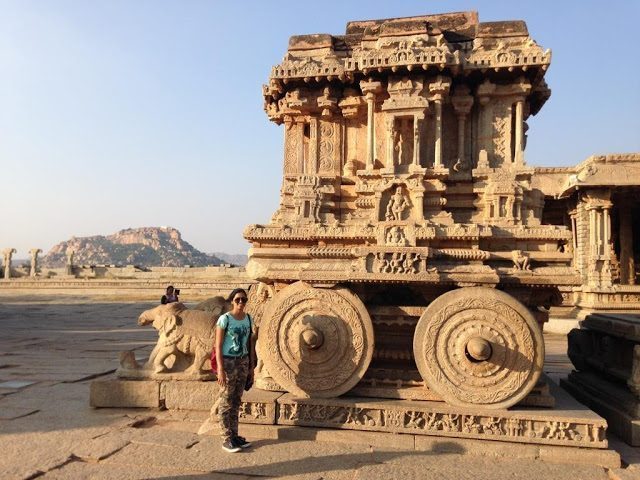 I was so eager to visit "Viajaya Vitthal Temple" because of it's chariot which is same like Konark's sun temple (Surya Mandir) and it's magical musical pillars. The chariot was build in 27 different part of stone. The entire stone structure has interlocking system between pillars and base.
There are many big mandapa (Hall) in Vitthal temple but "Musical Mandap" is most famous and centre of attraction for tourists because the pillars plays real sounds of various musical Instruments. It's worth to have guide for this wonderful Temple.(Guide fees 250) Our guide explained and shown us stories behind wonders in temple.Also,he played Sa, re,ga,ma on pillars for us.
Beside this he shown us other Famous Mandap named- "Kalyan mandap".This Mandap was build specially for marriage ceremonies. The engraving of Ram - Sita's wedding ceremony is marvellous. We found combined carving of Chinese Dragon and Indian Lion.
We took one hour to see this beautiful temple. We exit back side of the temple and again we seen the river Tungabhadra. When we stepped out of from temple sun-set was began and we enjoyed the colorful evening with fresh wind. As evening was beautiful so we spend some time near bank of river.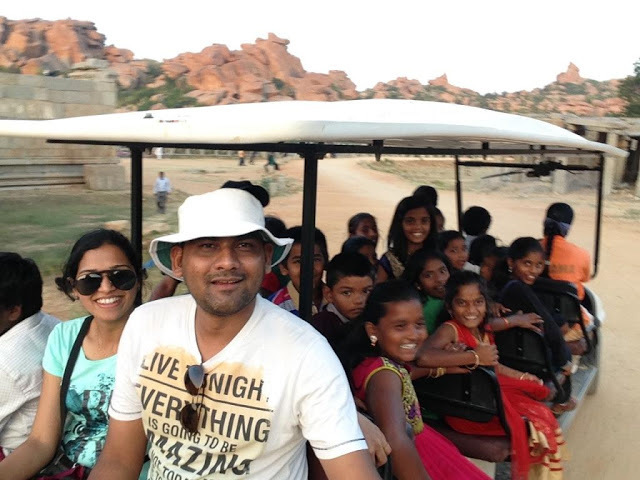 Then we began our return journey with school going kids and had fun time with them.