UNESCO world heritage site Hampi is located in east-central part of Karnataka, India. This site is not only important as historical heritage but for religious and architectural importance too. India is a land of many religions. And so was Hampi. Even though Hampi is believed to established as capital and biggest trade city of Vijayanagar empire during 14th century but this place has been mentioned in Hindu epic Ramayana which is supposed to had taken place in 1 century BC. Hapmi derived its name from Pampa which is old name for river Tungbahdra which flows through it. As per our guide, Hampi has some 1200 temples/sites to visit. Although 83 are recommended. Most of them have been sabotaged and destroyed. It breaks one's heart to see the wrath these monuments were put upon. These places are of utmost importance in terms of religious and architecture. Even though we are so much advanced in science and technology but when I saw Hampi , I realized how great that civilization must have been.
There are basically Shiva and Vishu temples in Hampi. The society had two different sections - Savities (Shiva followers) and Vaishanvites (Vishnu followers). The epicenter of this cult was the Virupaksha temple. Even today it is one of the important pilgrimage centre for Siva worshipers. There are numerous shrines and motifs of Lord Hanuman across Hampi. The biggest of the Hanuman motif is located inside the Ranga Temple near the Elephant Stables. Presence of so many Lord Hanuman motifs further strengthen the belief of the fourth chapter or "kanda" of Ramayana mentioning Kishkinda, which is the citadel of a king named Vali or Bali.
Many temples have influence of Islamic culture too. Few sections of temples could be seen having design similar to Islamic monuments. This shows that Hampi had cosmopolitan outlook. In the epic, Prince Rama comes to Kishkinda in search of his abducted wife Sita. Here Rama and his brother Lakshmana meet Hanuman, who leads them to Sugreeva, the ousted king of Kishkinda and brother of Vali. Sugreeva takes Rama to a nearby cave where he has hidden jewellery that Sita dropped as she was being abducted by Ravana, the king of Lanka. Rama kills Vali and restores the throne to Sugreeva, who in return agrees to help Rama find his wife Sita. Later Rama along with Sugreeva and his army of Vanaras wage war against Ravana of Lanka to free Sita.
Many of the places mentioned the Kishkinda kanda are found in the area. Pampa Sarovara where Rama met old woman Shabari who adviced him to seek Hanuman is north of the river Tungabhadra. A short walk from there is the Rishyamukha hills where Hanuman is said to have met Rama for the very first time. Anjanadri Parvat that is believed to be birth place of Hanuman is also set to the north of the river. Other places mentioned in the epic such as Matunga hill, Sugreeva's cave, and Malyavanta hill are all located in the vicinity.
While exploring Hampi, it feels like one can know about that time by understanding the carvings on temples. Lot of importance has been given to life depicting through carvings. From civilization to Epic Ramayana , carvings say the stories. We just need to understand them.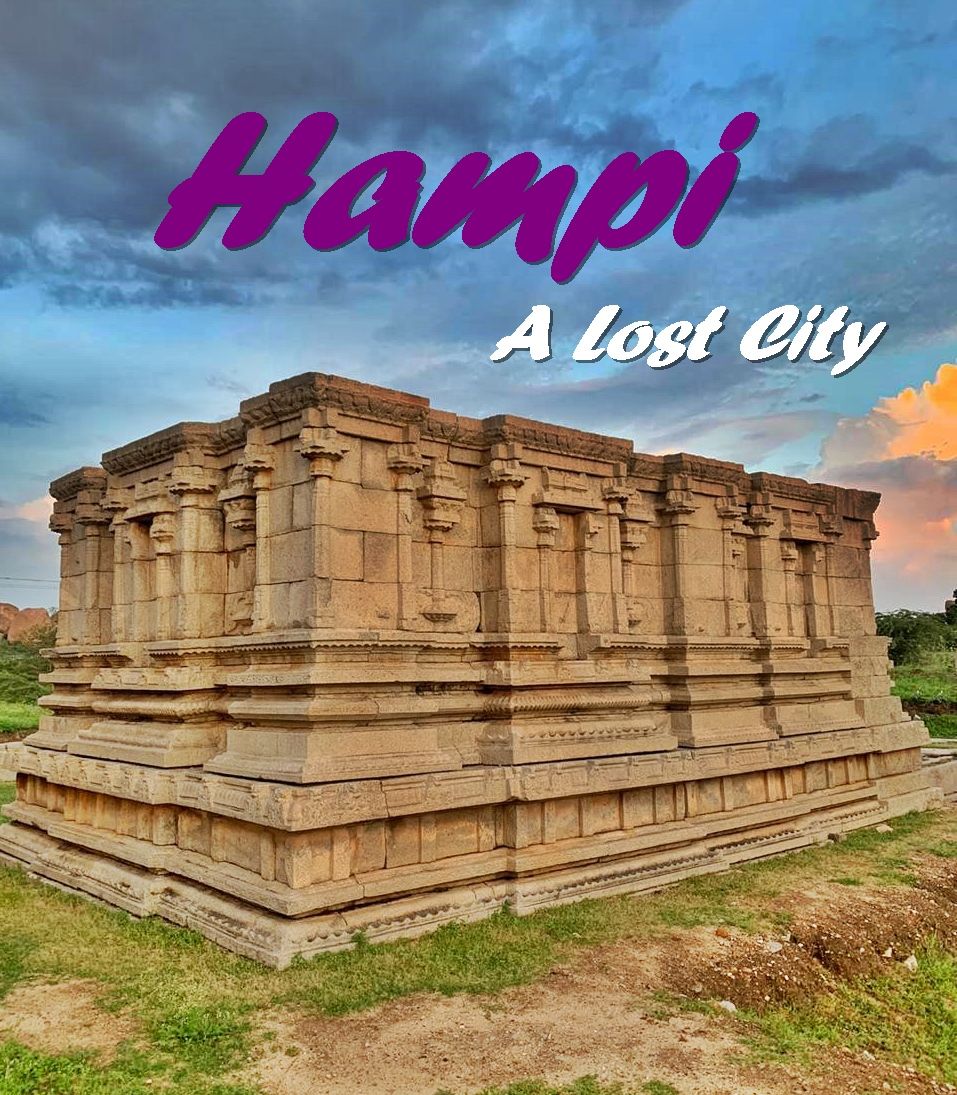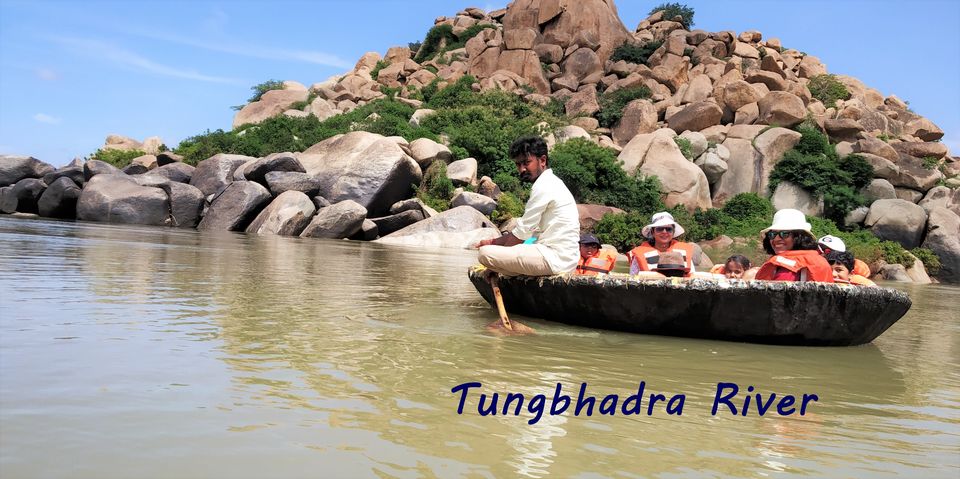 The ride in coracle around Tungbhadra river.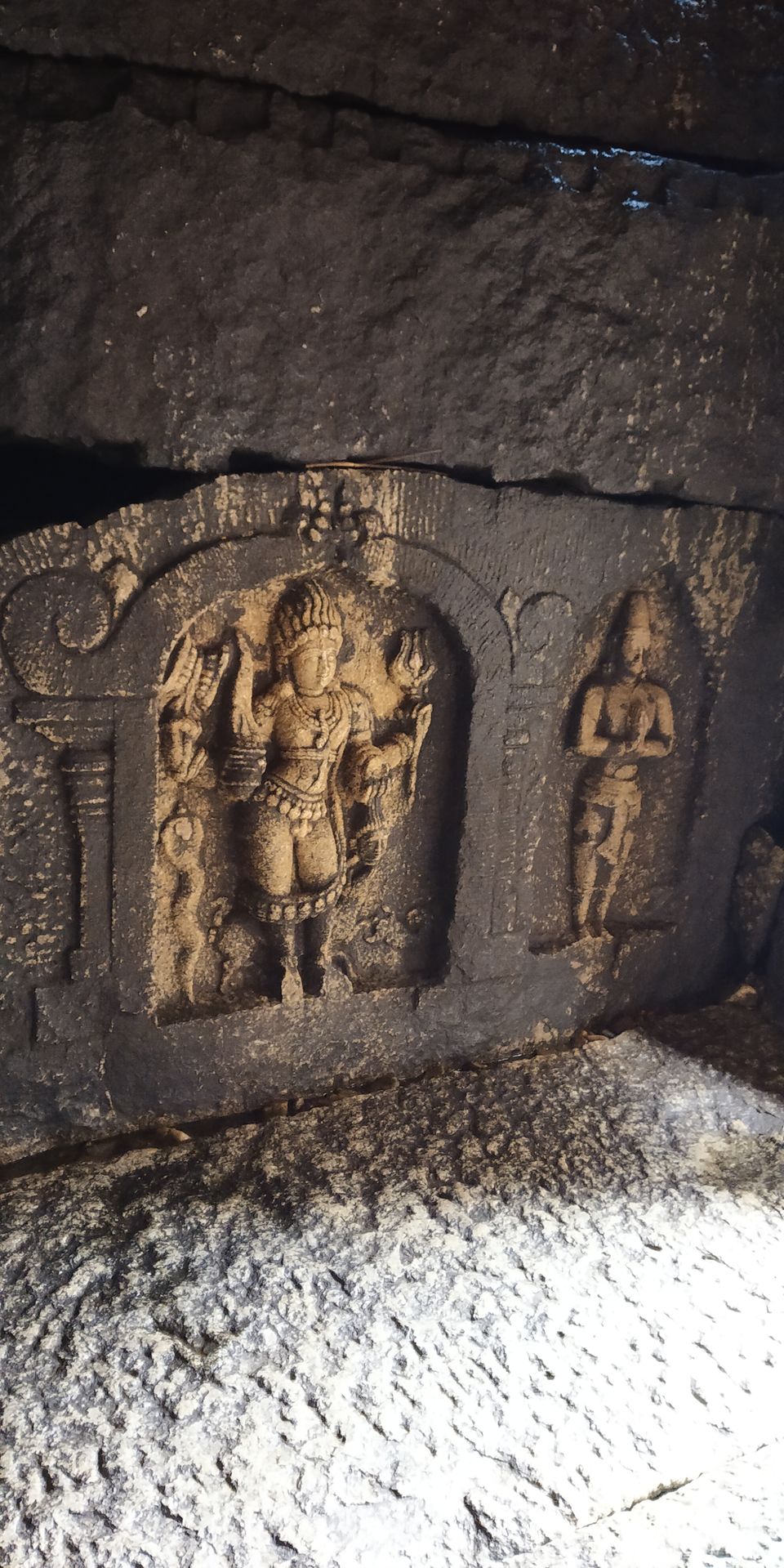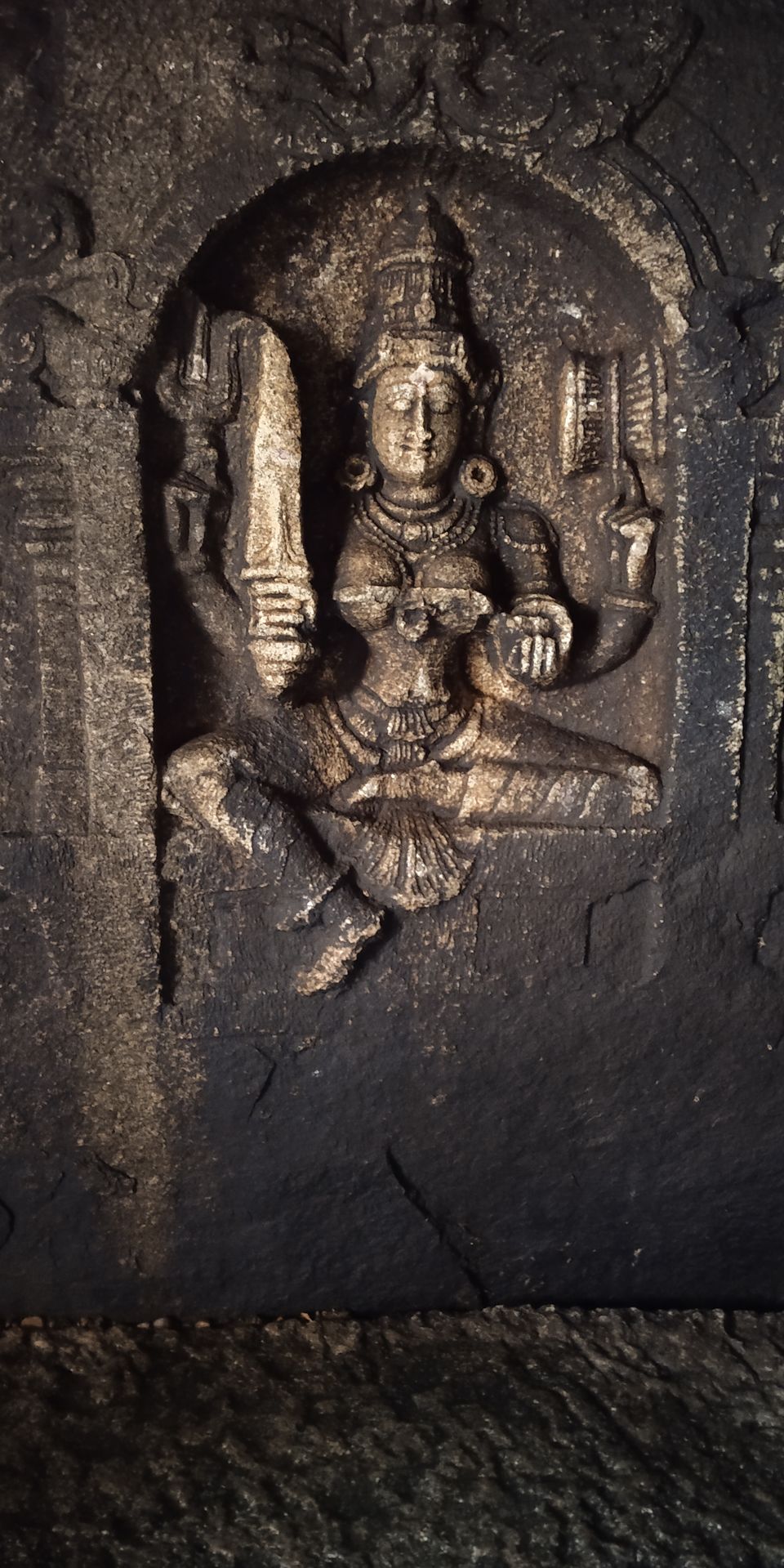 Most of these temples are centuries old. Because the idols have been vandalized, puja does't happen anymore.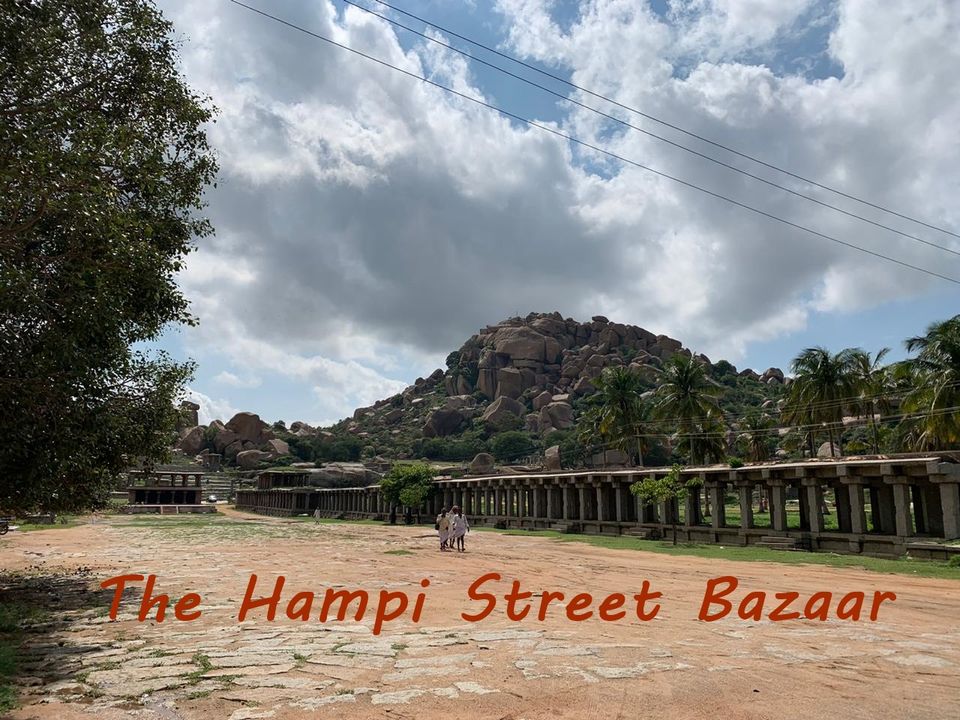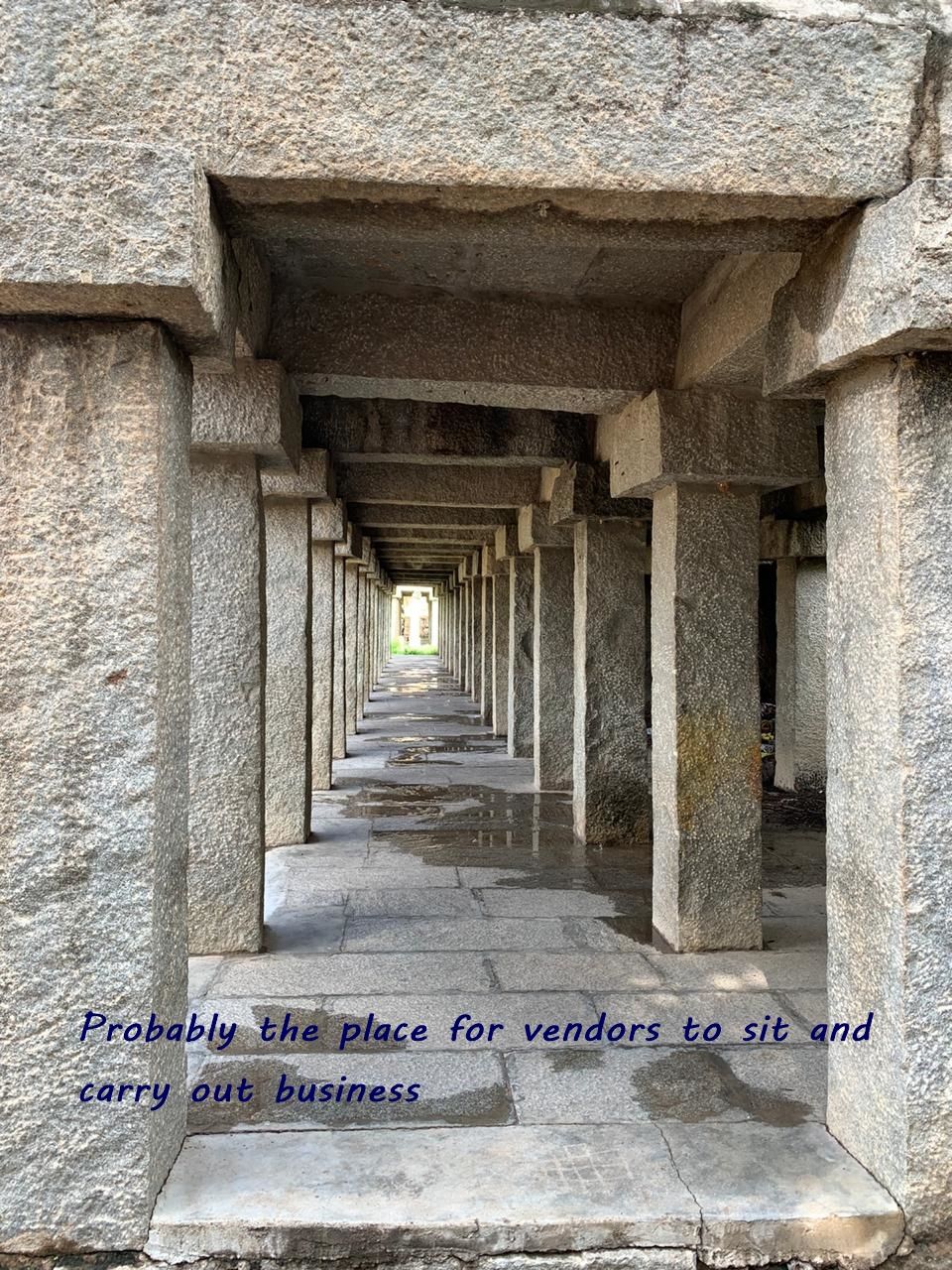 The Hampi Street Bazaar : This site shows the age old street bazaar of Hampi. It is a stretch of a one-kilometre-long road in front of Virupaksha Temple. Even though you can only find the ruins of Hampi on either side of the street, but it will take you back in time for sure.
Virupaksha Temple - Virupaksha Temple is the main center of pilgrimage at Hampi, and had been considered the most sacred sanctuary over the centuries. It is intact among the surrounding ruins and is still used in worship. (Source Wikipedia)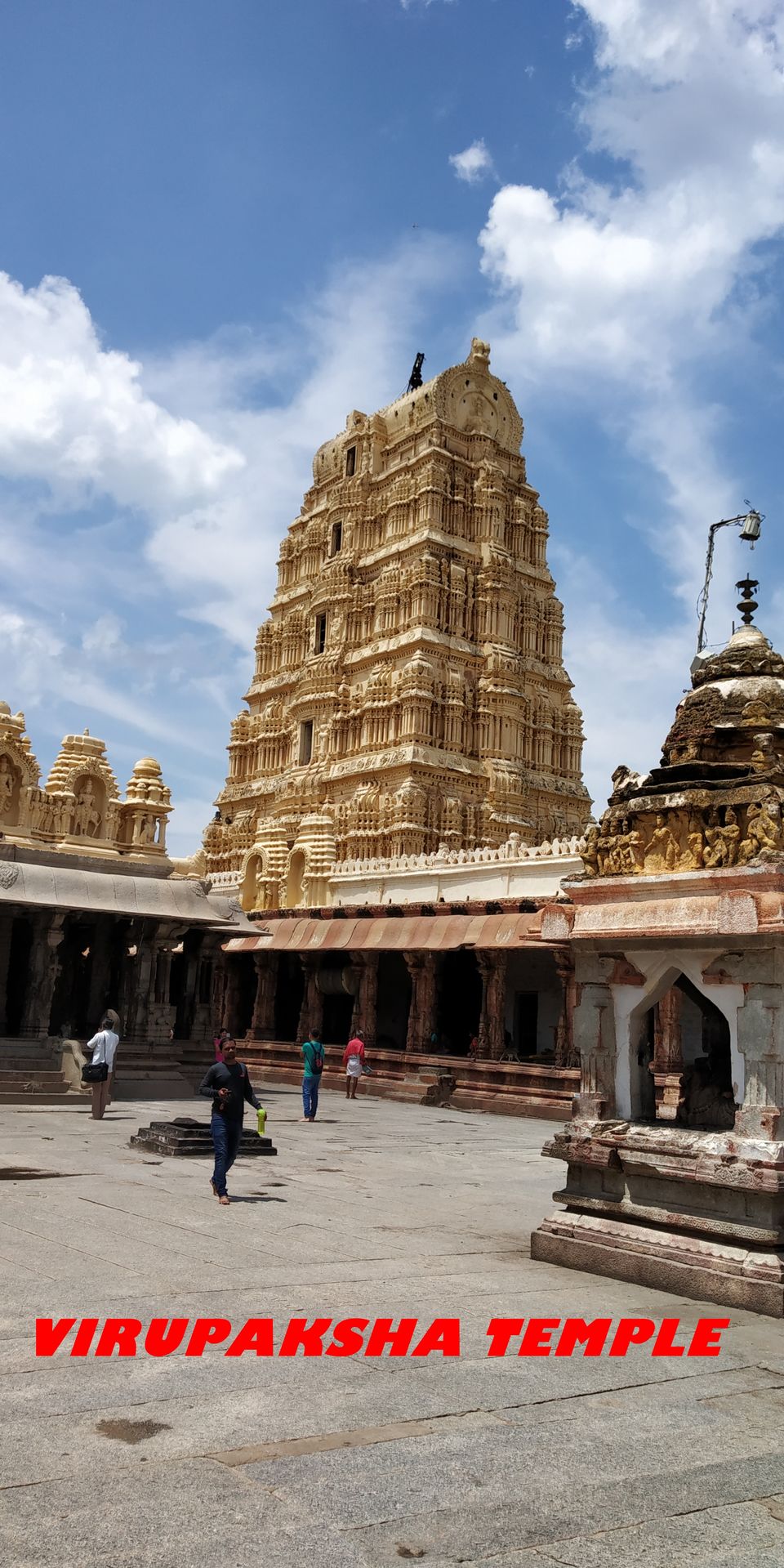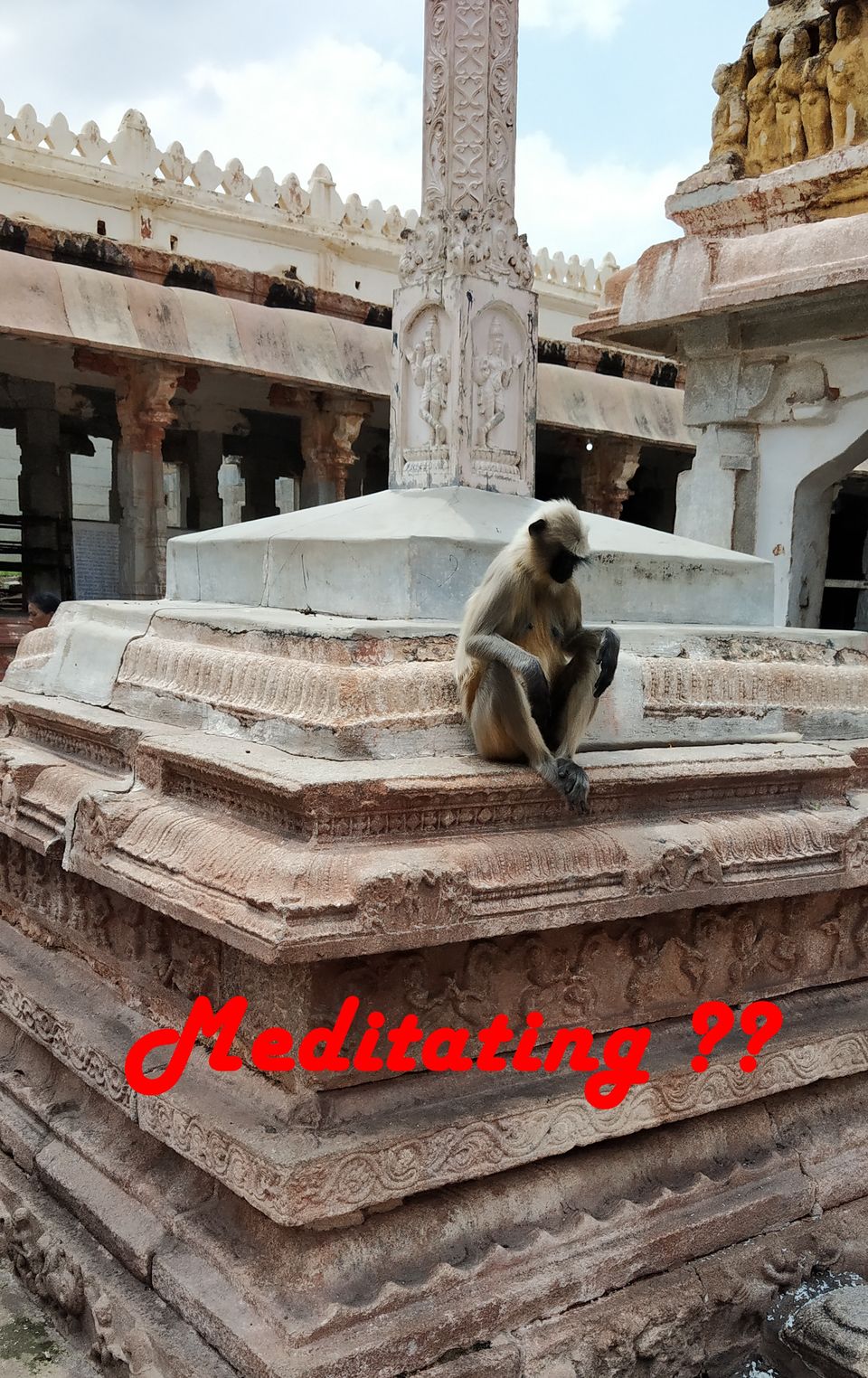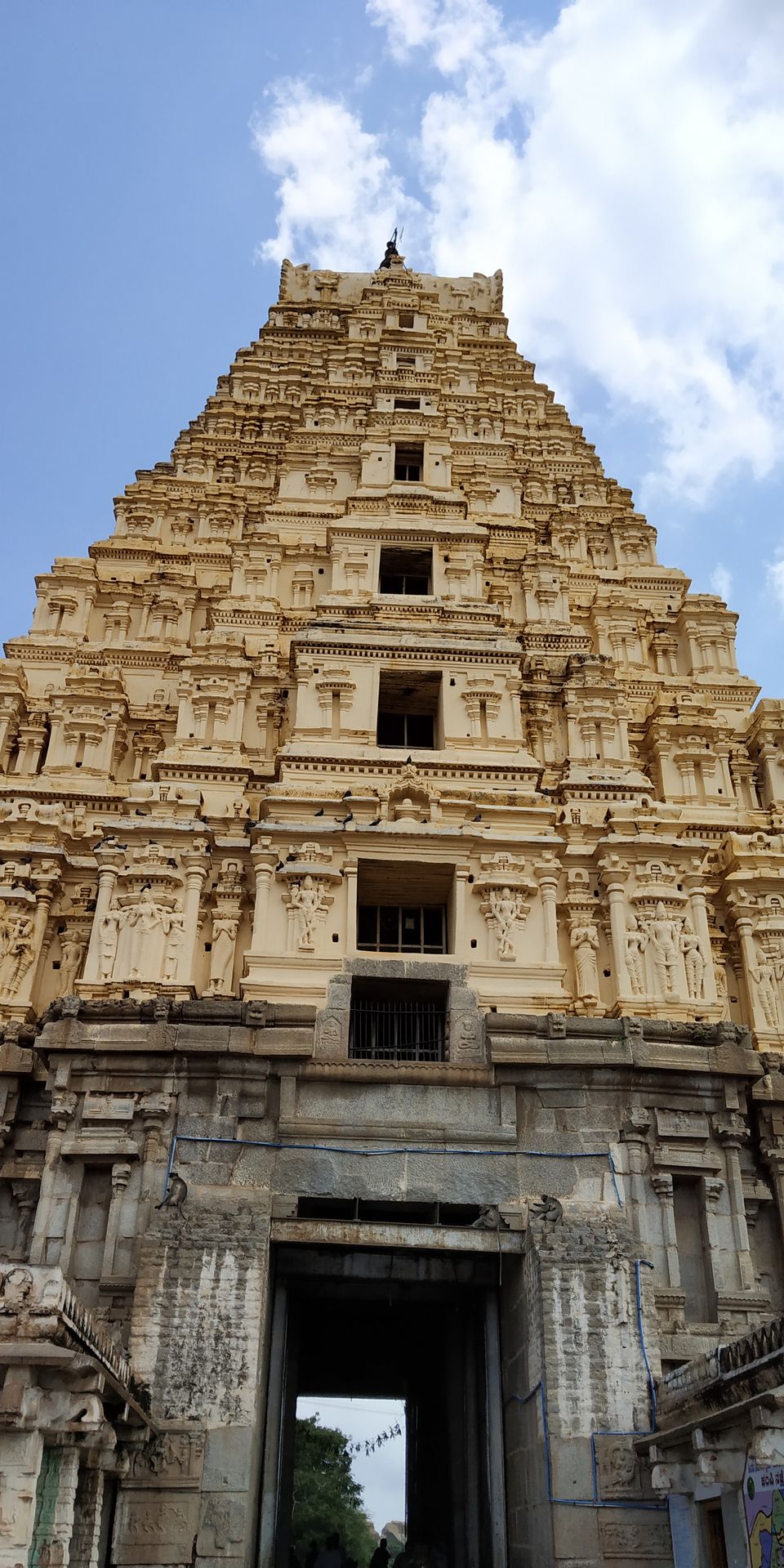 Badavilinga Temple : The Badavilinga Temple is a shrine that has not escaped the destruction that had befallen Hampi several centuries ago. However, the good part is that the Shiva Linga stands intact even today. The inner walls of the shrine, surrounding the Shiva Linga, have also escaped any severe damage. The Badavilinga Temple in Hampi has the largest monolithic Shiva Linga in Hampi. The beautiful Linga is made of black stone. It has a height of 3 meters. It is believed that the temple has been in existence since the period of the Vijayanagara Empire. The base of shiv linga is submerged in water. Guide said its about 3 feet deep and not allowed to step inside. The Badavilinga temple is located near the Lakshmi Narasimha Temple.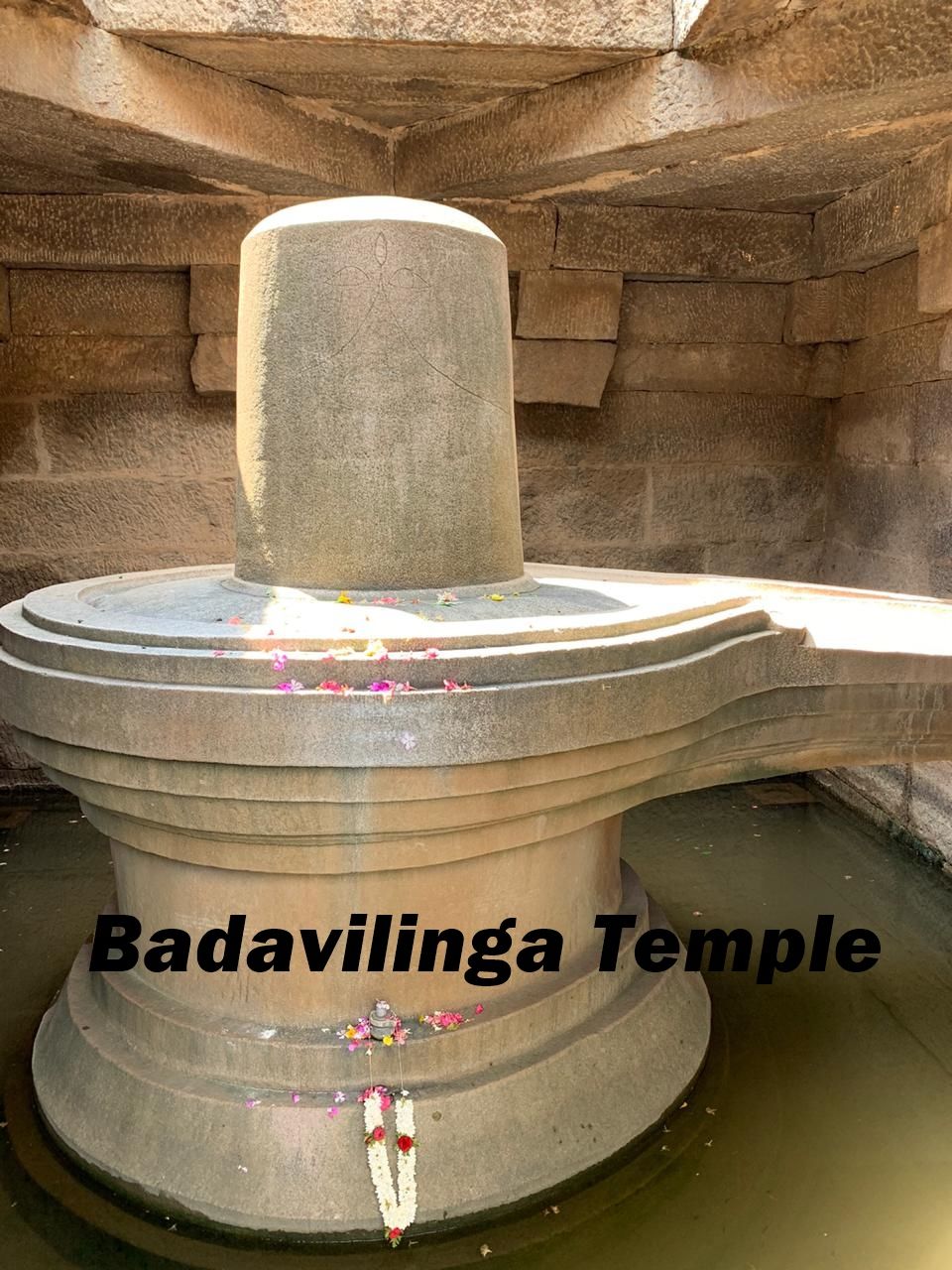 Lakshmi Narasimha Temple :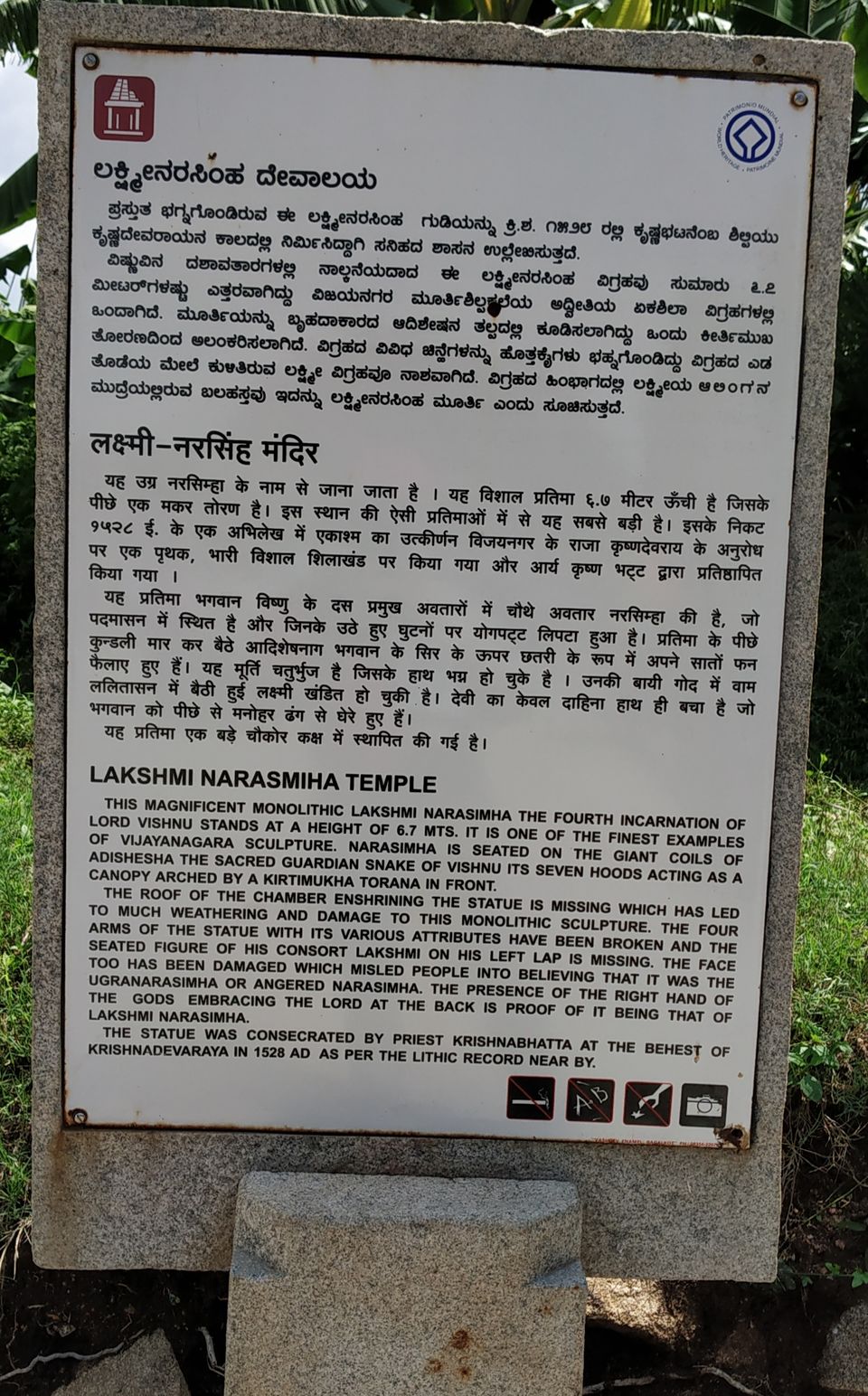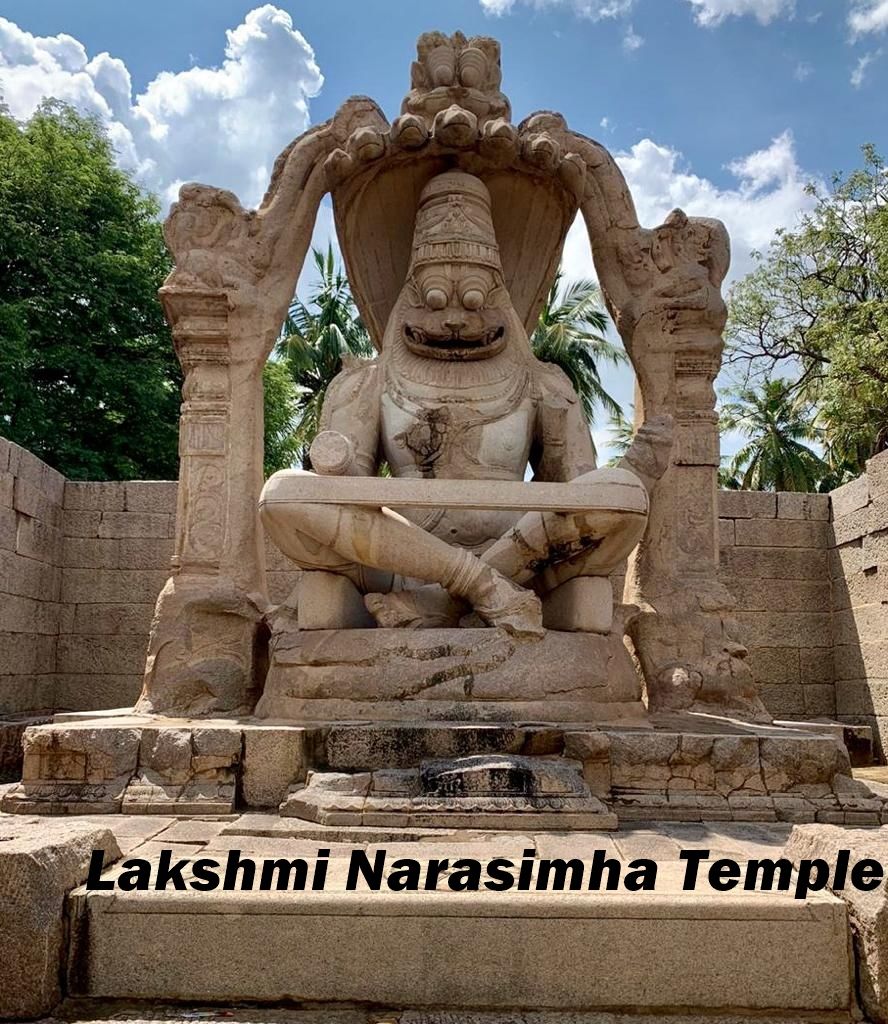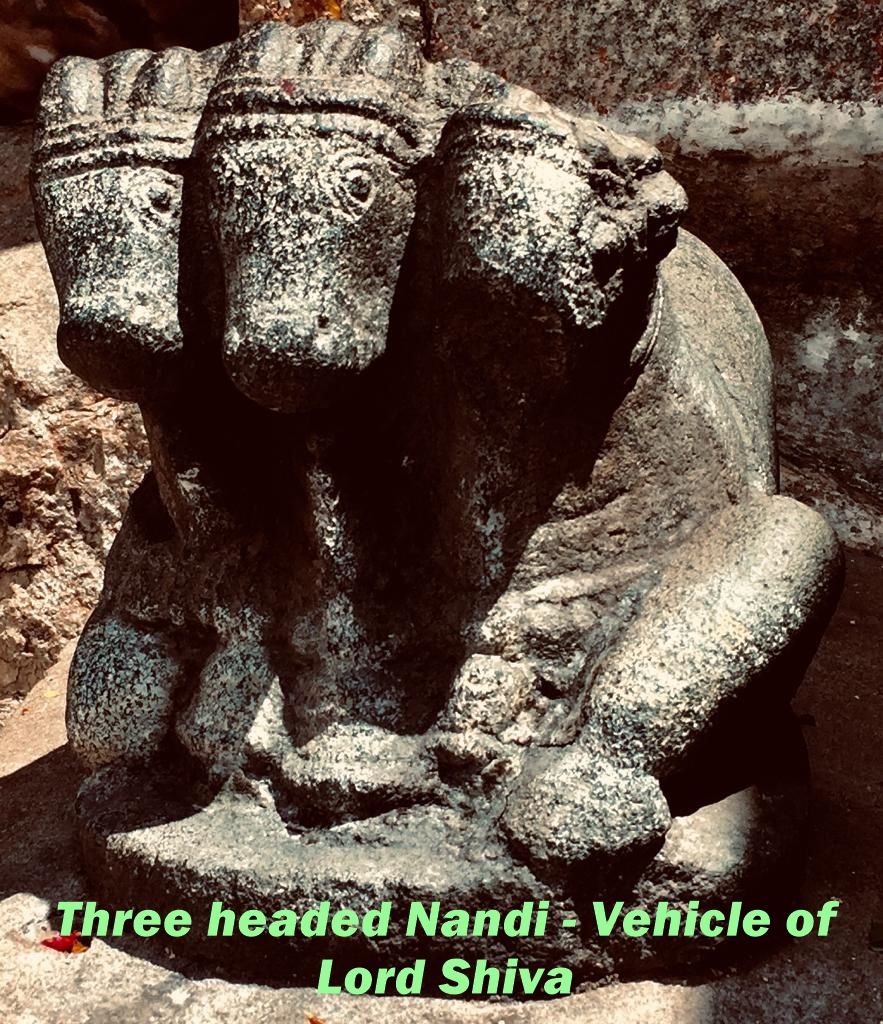 Vittala Temple: One of the astonishing masterpiece of architecture is the Vittala Temple. The temple is built in the form of a sprawling campus with compound wall and gateway towers. There are many halls, pavilions and temples located inside this campus. This temple is dedicated to Lord Vishnu. After entering the temple from entrance door, there is a shrine in form of a stone chariot. This stone chariot is one of the only three present after Konark and Mahabalipuram. Inside the chariot, there was statue of Garuda- the vehicle of Lord Vishnu. But it is missing now. People says it was destroyed when Vijayanagar was raided. The chariot had been painted with natural colors of fruits and vegetables and is visible today too. Two elephants are in front of chariot. As with most other elephants statue, their trunk and teeth were also missing. Originally horses were placed there. Their remains are present behind the elephants. A damaged stone ladder is there in front. The three wheels of chariot are holding their position as original stone clamps are present. One wheel has lost its clamp which now has been cemented to ground.
Further moving ahead we reach Vittala temple. Its awe inspiring. The carvings and structure is mind blowing. The carvings are so intelligently designed that they you see different image by changing the viewing angle. The main highlight of the structure is its richly carved giant monolithic pillars. The outermost of the pillars are popularly called the musical pillars. These slender and short pilasters carved out of the giant pillars emit musical tones when tapped. The access to them has been blocked to preserve them. Do take a good guide and he will explain the carvings , their meanings and whole history around it.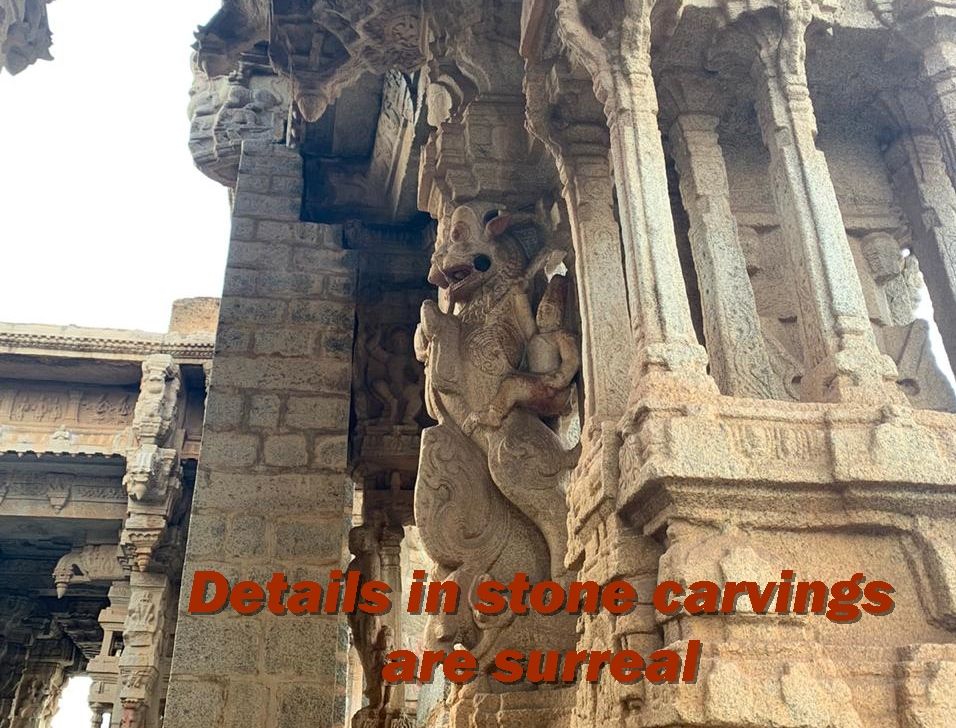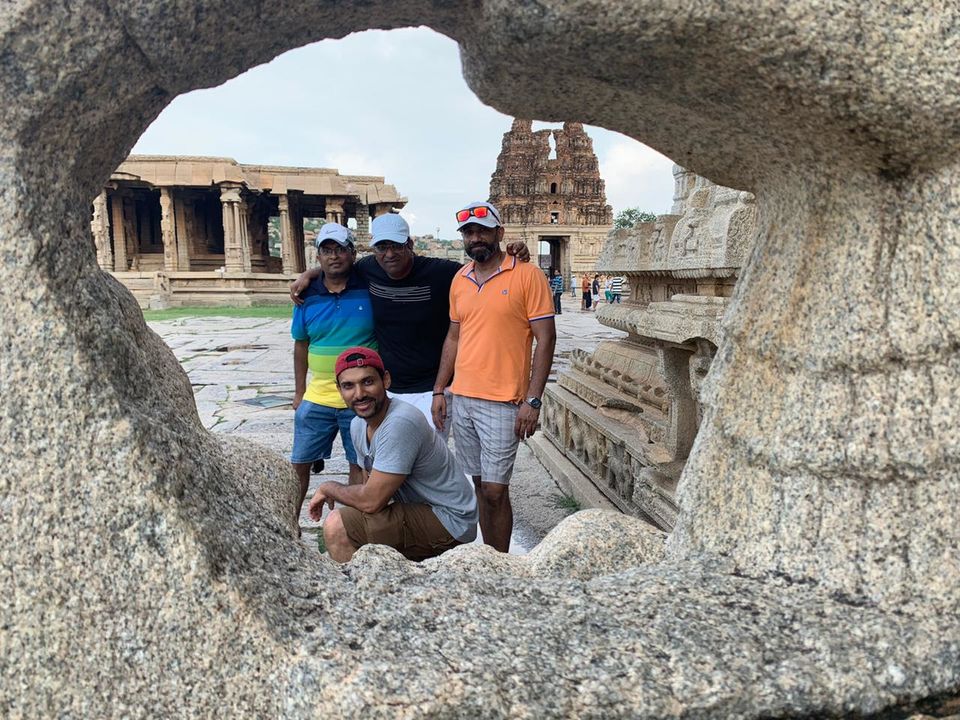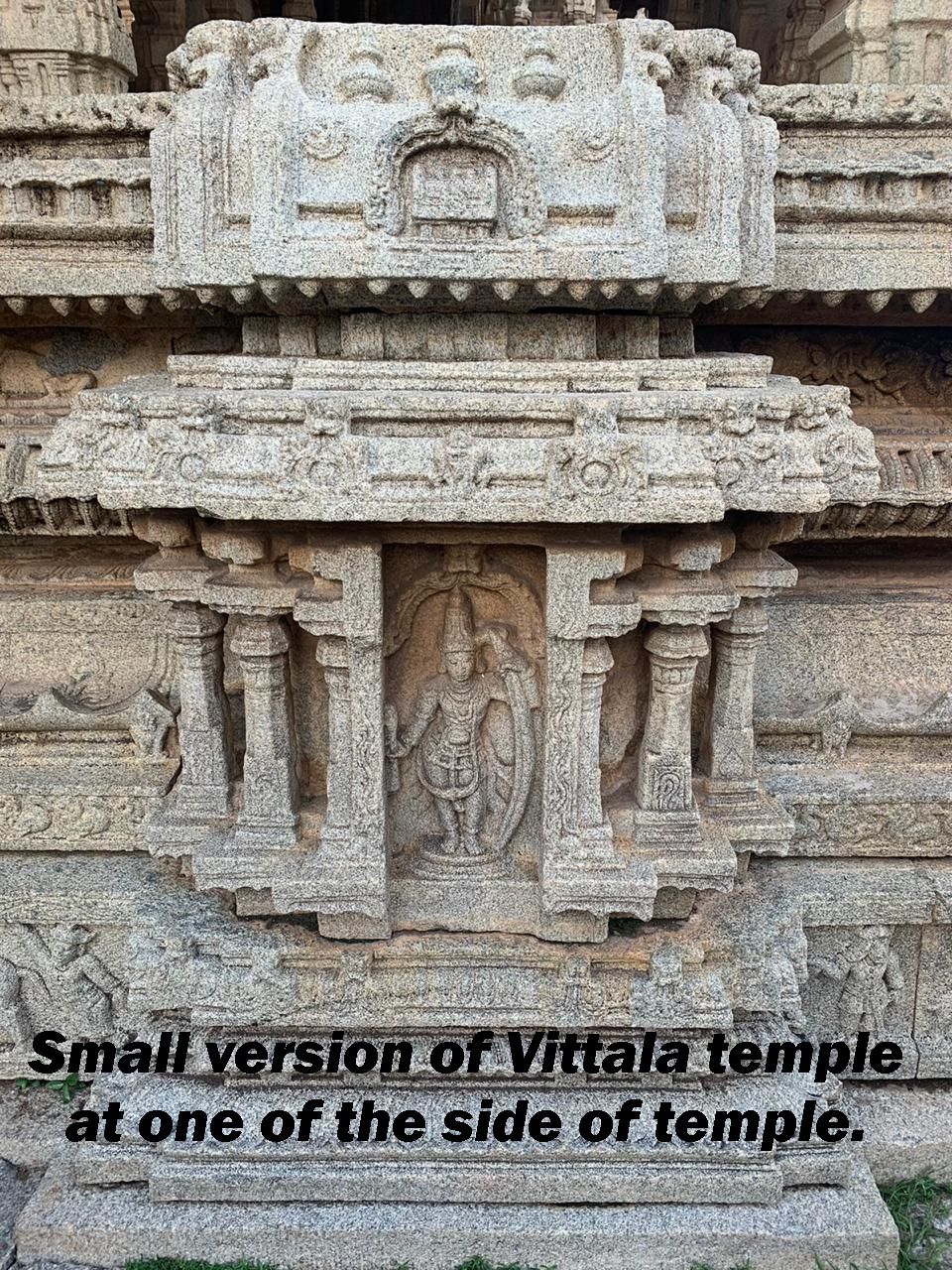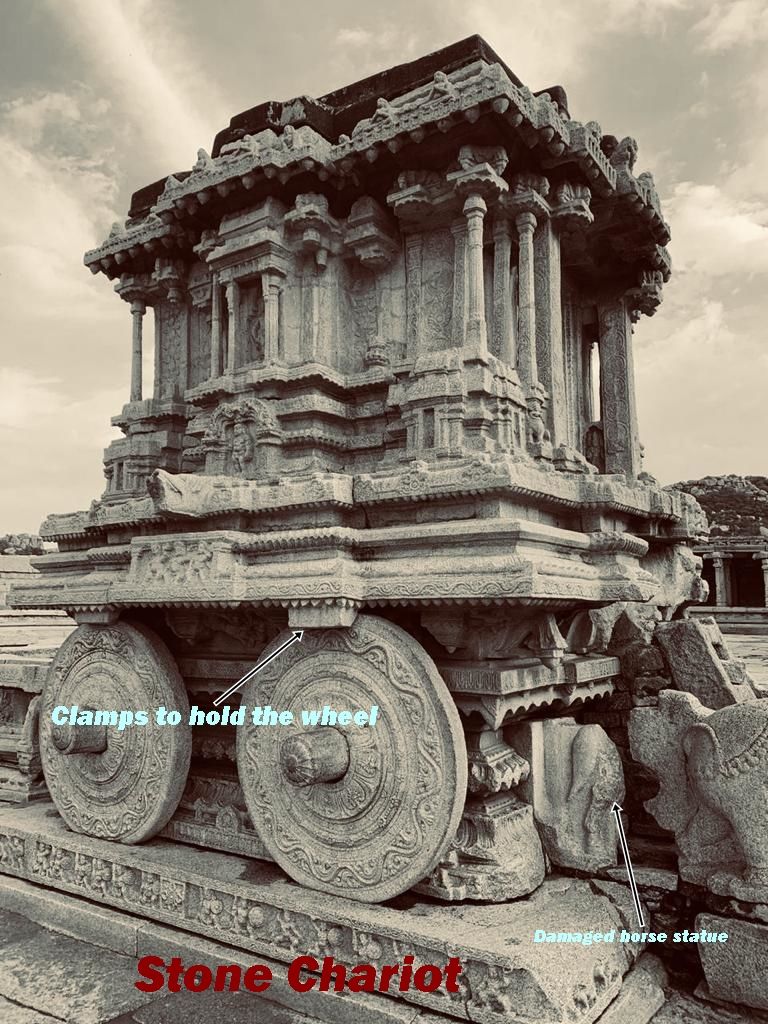 Lotus/Kamal Mahal: This structure is located inside the Zanana enclosure. Zanana means ladies, hence the place where ladies of Vijayanagar kingdom resided. It is again mixture of Hindu Islamic architecture with archways and balconies in dome style. This give it a lotus bud shape and hence the name. Surprisingly this palace is not damaged that much. There are pipes running around the pillars which can carry water. There is a reservoir in front of palace. Soldiers used to fetch water from there and pour into the pipes. This water circulation was used to keep the palace cool in summers. So our ancestors had the knowledge of air cooling that time only. There are four watch towers at four corners which again are in ruins but still look magnificent. Little ahead is the Elephant stables. A long huge building in dome shape for elephants to stay. Total 11 domes. At the rear of each hall are small manhole type openings for the mahouts to enter the elephant compartments. Next to this building is place for mahouts to stay. Again the statues and idols have been damaged beyond repair. A little south of kamal mahal is Ranga Temple. Lord Hanuman is portrayed on a large stone slab. One of the largest we saw in Hampi. The carvings and posture is again mesmerizing.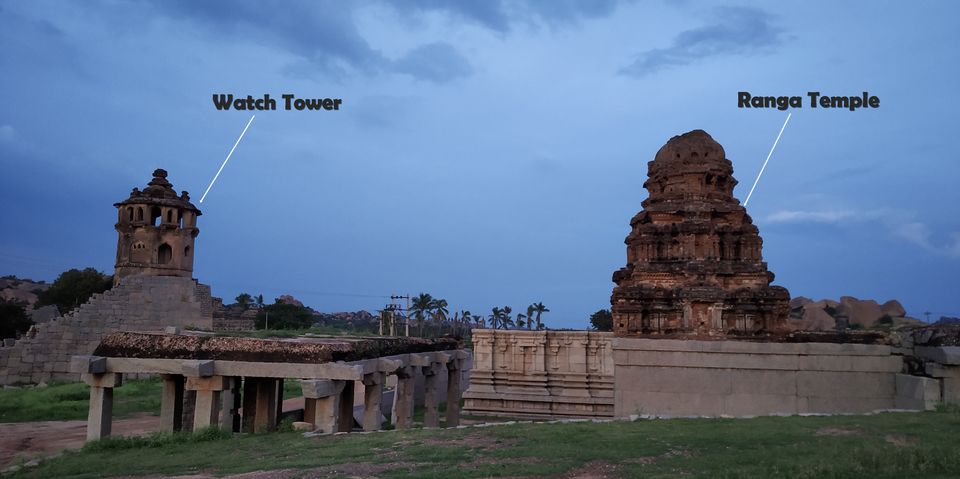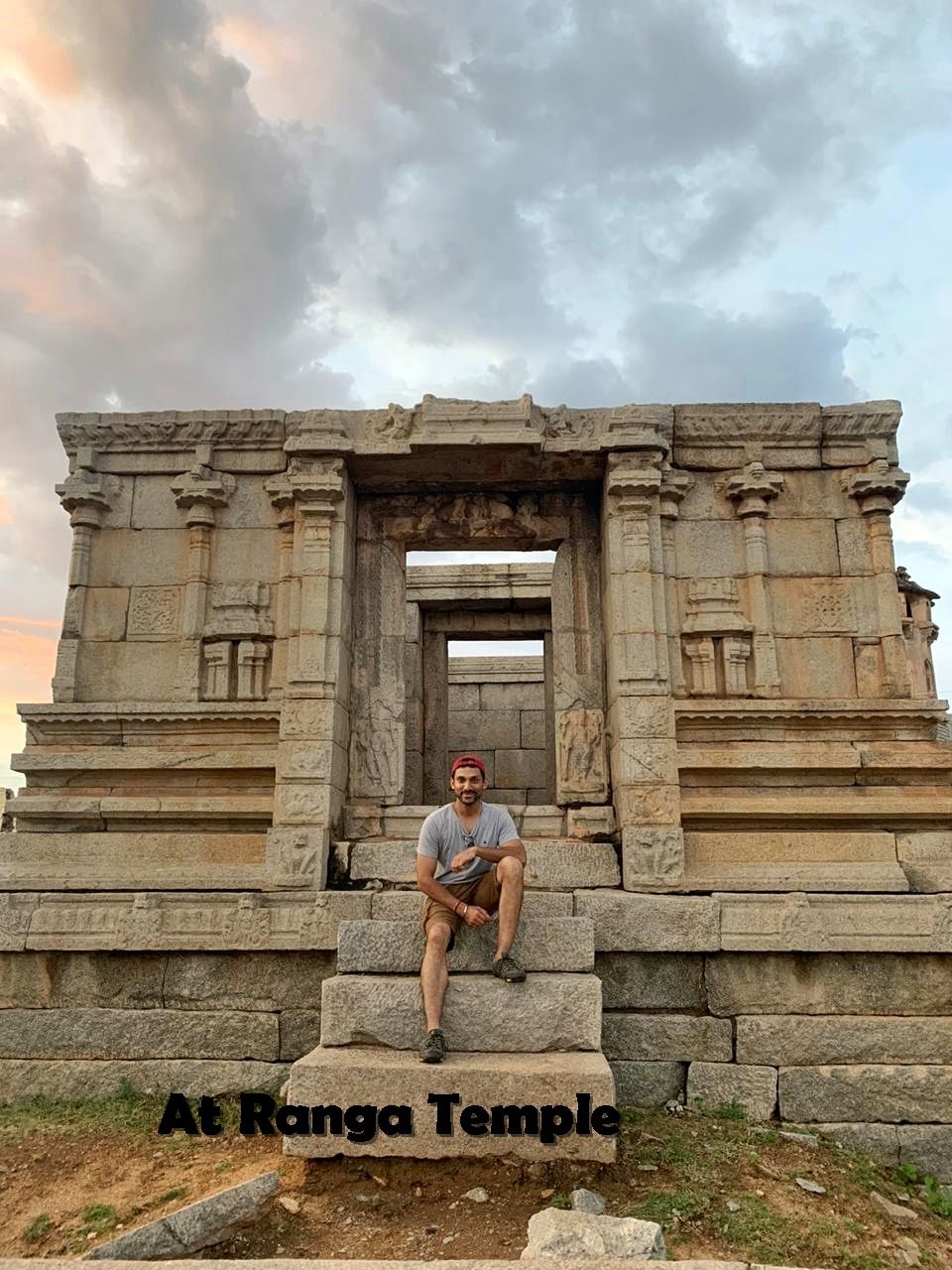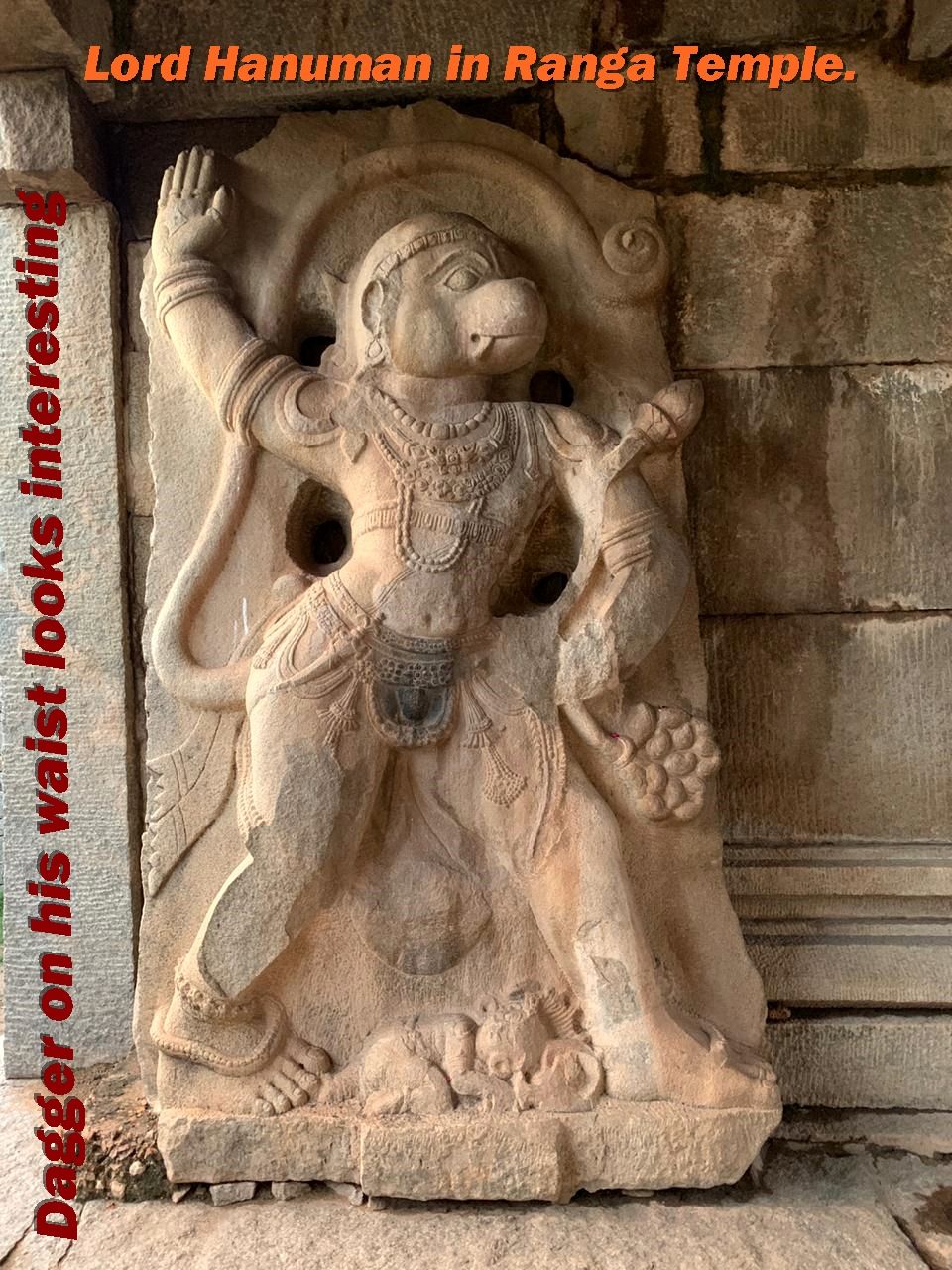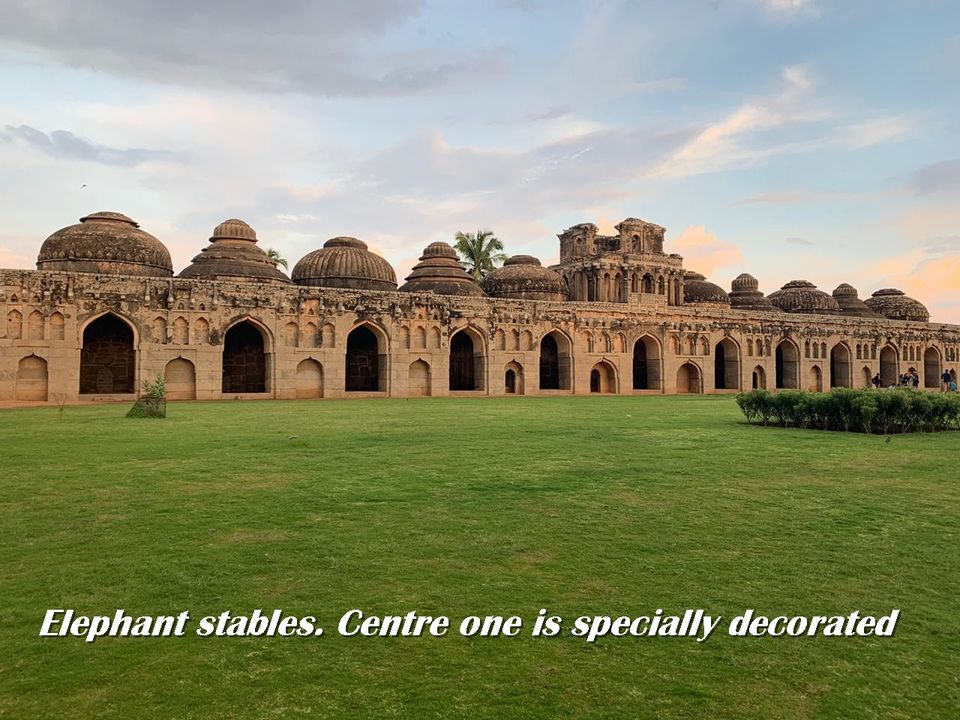 Birthplace of Hanumanji- Anjani Parvat : Anjeyanadri hill is believed to be birthplace of Lord Hanuman. It is not as much publicized as other monuments and temples in Hampi. It has 575 steps to reach top and there is temple of Hanumanji. Lots of monkeys are there. Start early by 5-6 am to witness the amazing sunrise or in the eve for sunset. Keep the food items in bags as not to attract monkeys. Few shops are available at base of steps for tea and snacks. It will take max 30 mins to reach top and not difficult at all. Complete view of Hampi can be seen from here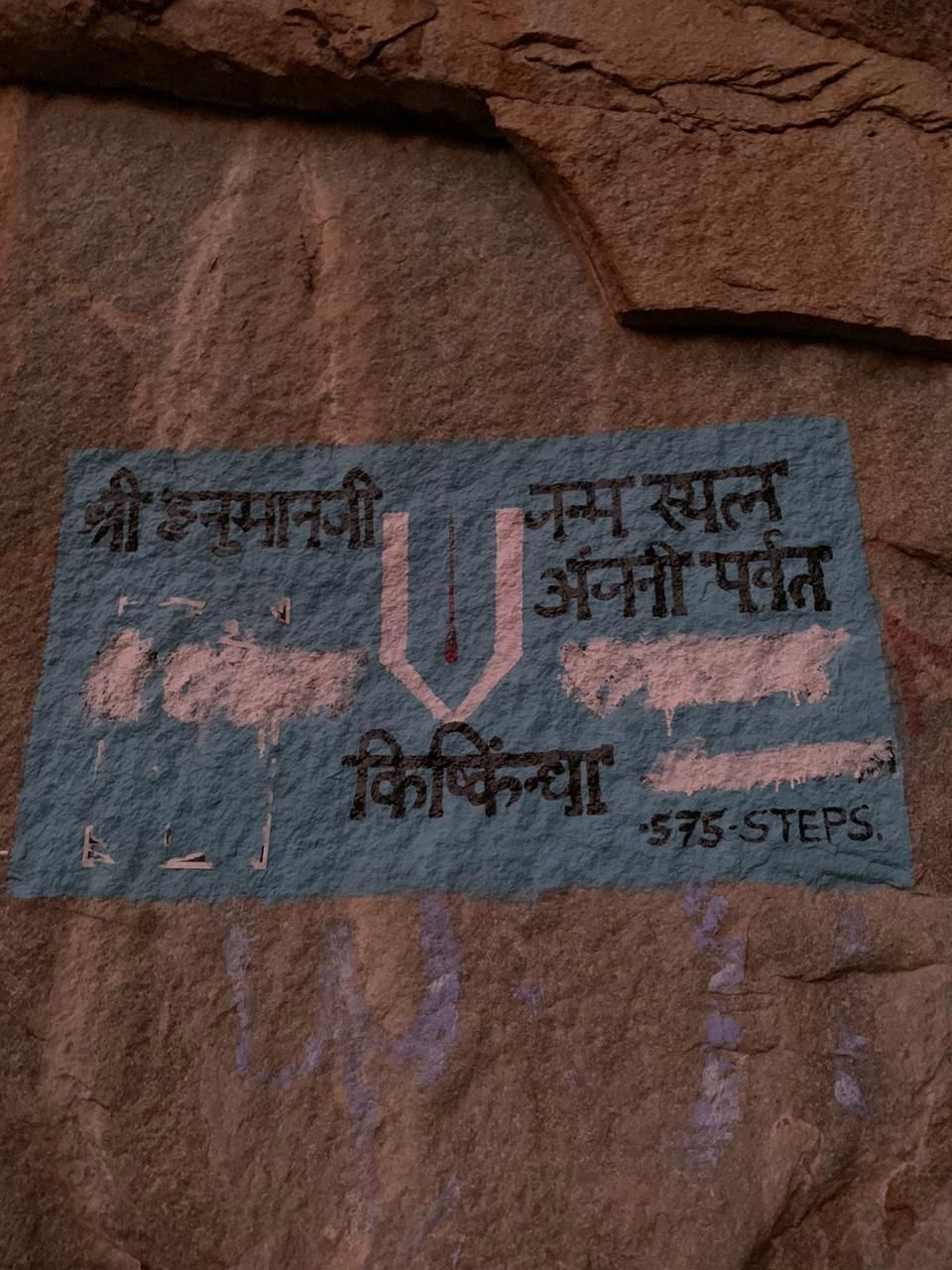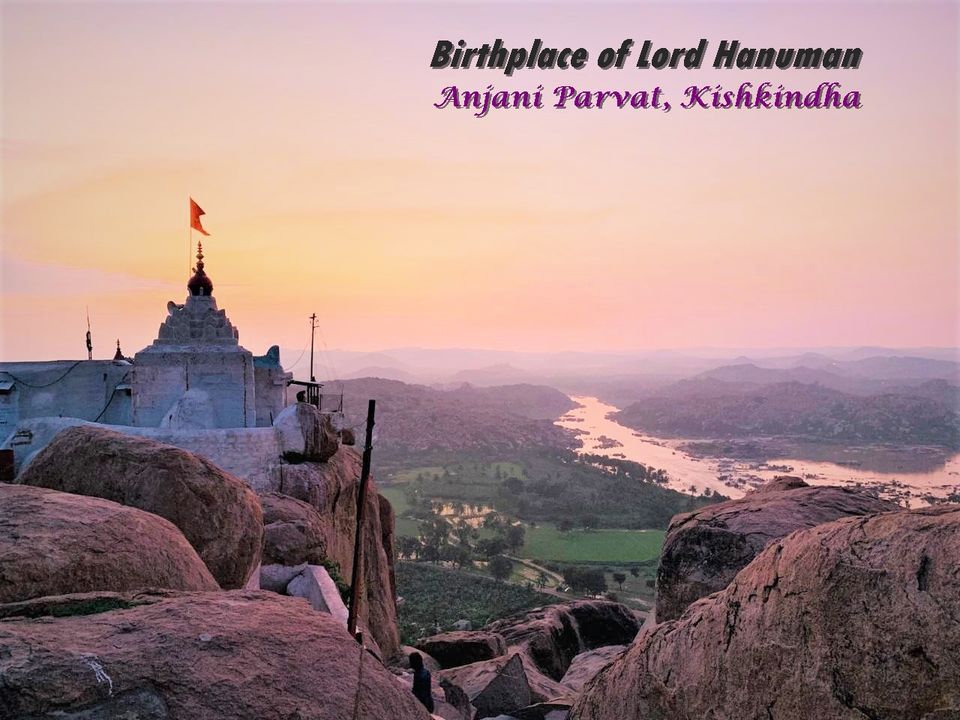 How to reach - We did road trip. Nearest railway station is Hospet. Roads are in good condition apart from few stretches.
Where to Stay : Stayed at Clark's Inn. Location is good but not the service. Few other resorts are there within 5 kms of city center. Other option is to stay as Hospet.
Exploring Hampi : One can explore Hampi on his own. But if you need to learn about the history of relics, take a guide. Bike/scooter on rent is available. Too many things to explore here. Wander at your pace and enjoy it.
Hampi is really awesome place. Get to learn about its history and its connection with Ramayana. In that way, one can relate , understand and enjoy the Hampi at the same time.
Travel Responsibly !!