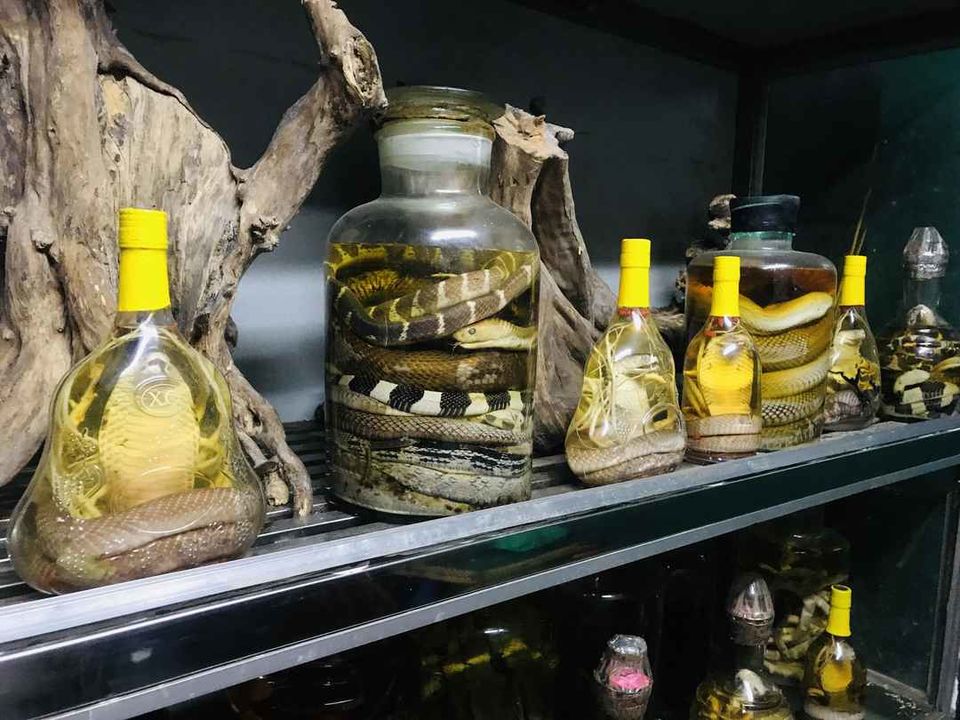 You may have heard about gastronomes from all over the world but here I am bringing to your table about my wierd food fetish experience from my recent trip to Vietnam.
The place in question is Le Mat village in the city of Hanoi which welcomes curious travelers from around the globe craving for different type of cuisine.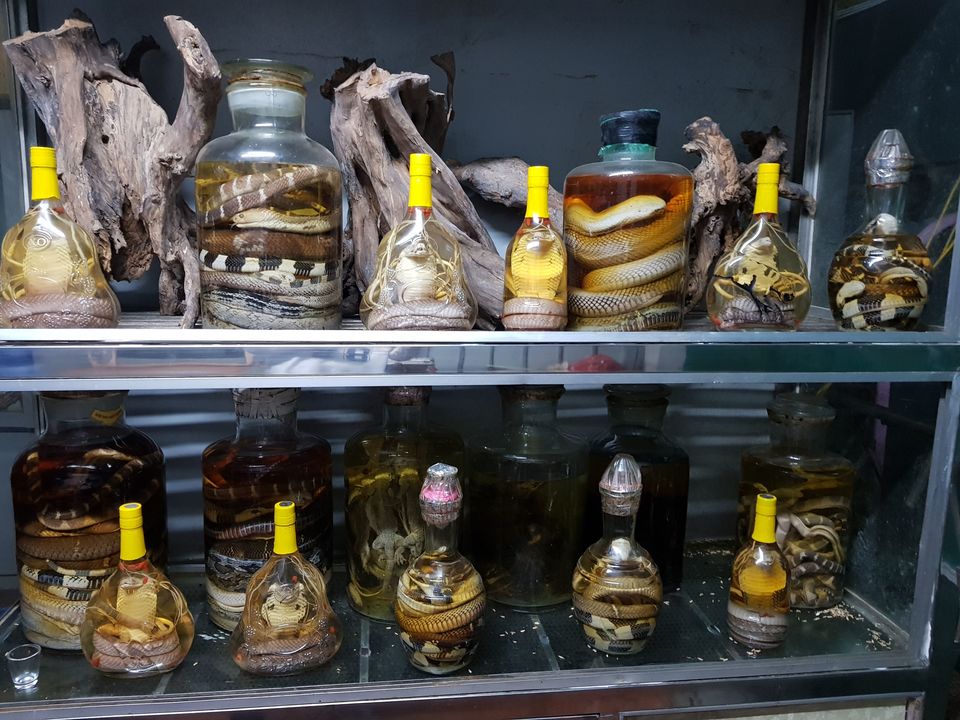 Le Mat is a tourist village where you are given a chance to choose & slaughter live snakes before sitting down for an eleven course meal made entirely out of the kill. Currently, there are roughly 70 snake-farming households in the village. Snakes are bred for restaurants and pharmaceutical purposes.
GET IN:
I went to the most famous restaurant of Le Mat snake village - The Hung restaurant. This restaurant is situated 7km northeast to central Hanoi.
Easiest way to get to Le Mat village is to take a 20-30 minutes bus travel on city Bus No. 10 to Long Bien Bus Station. From Long Bien it's only a few hundred metres to Le Mat. Alternatively, you can take a grab for a 15-20 minutes drive directly to the snake village.
CONCEPT:
My interest of serpent cuisine started as I booked my ticket to Vietnam. It was one of top adventure things to do in the capital city and I am hell adventurous.
Guests to this restaurant have to choose from three types of snake - Bamboo Snake, Mountain Snake and the great King Cobra. All of them are non venomous as their poison is extracted after breeding is done.
A whole snake weighing almost 1-1.2 Kg is given to you for photoshoot under the guidance of caretaker. Once photos are taken, I sat down and watched as breeder pinned the snake's head to the floor, cut into its belly and let the blood drip into the shot of homemade rice wine . He then sliced out the heart, dropped it into the rice wine shot. This is called beating heart shot, one of the USP of this place. Never see this act if you want to eat the same snake.
Putting aside my guilt, I went to my table and waited as their chefs turned entire reptile into 11 lip smacking dishes. The hotel owner even gives demo as how to eat those dishes.
MENU:
Most famous drink of the village - the beating heart rice wine is highly not recommended by chef as foreigners are not used to digest such things. I took the plunge,after a resounding chant of 'Mot, hai, ba!' (one, two, three), gulped down the explosive cocktail in a flash. . MAN!!! I am still feeling the warmth of that drink. Snake heart hit few walls of tongue, food pipe and straight to stomach. It is advised not to chew the heart as people might puke and it also can cause reaction within.
Every body part of snake was a dish on table. The spread included soup, spring rolls, crushed-bone poppadoms, porridge, fillets and spare ribs, and was actually pretty delicious.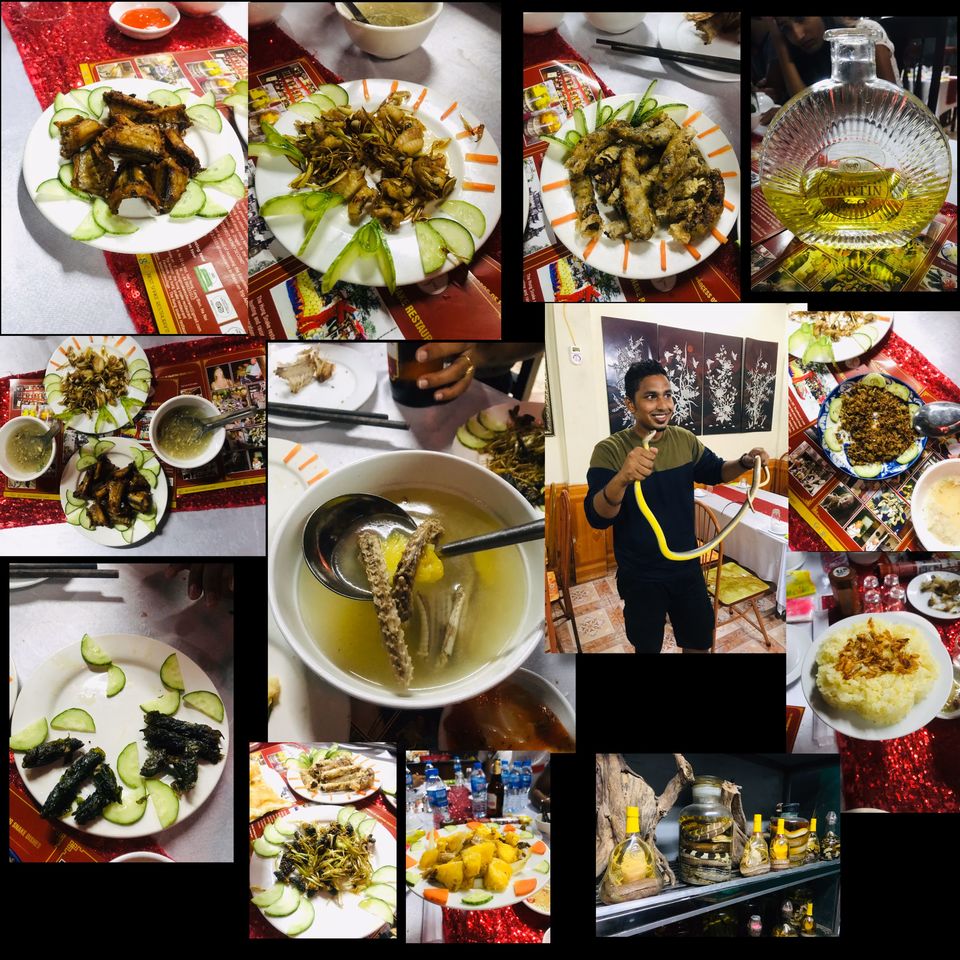 Boiled stomach & liver along with pineapple and dried snake skin were the only minuses but indeed, It was a sumptuous meal. For everyone wondering how snake tastes, the taste of snake meat is a halfway between that of fish and red meat.
COSTING:
Snake is considered a luxury meal in Vietnam. It surely burns some hole in your budget trip but worth every penny of it. Here is the list of meal and their prices:
A Bamboo snake meal costs 120,000 VND (3800 INR)
A Mountain snake meal costs 150,000 VND (4700 INR)
A Cobra snake meal costs 180,000 VND (5600 INR)
Taking a large group will be a ease on your wallet.
As we paid the bill and stood up to leave, a local waiter pulled me aside and told me that snake heart is good for improving sex drive in men with a wink that makes me smile till date.
One thing I thought on my way back in cab is that snake meat is far tastier than other exotic meat and I did swallow the live heart and I am equally astonished. May be it was easier than I thought it to be.
YES! I ate and drank Cobra and that is one of the highlights of Vietnam trip and even the entire years' travel diaries.