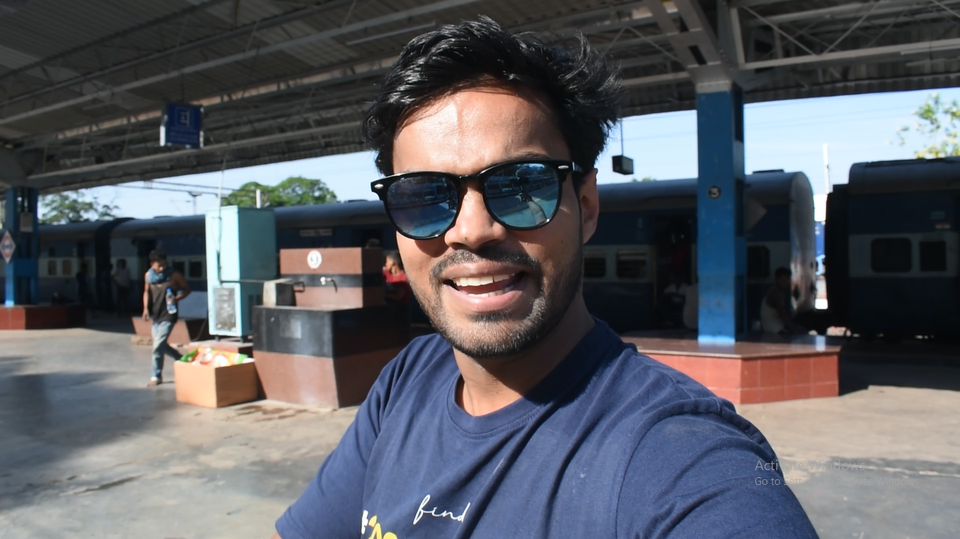 While some of the initial thoughts that come to mind when you think about trains would be conveyance, crowd, the constant chugging and rocking, and whether or not you'll get a seat (especially if you're travelling in Mumbai locals), long journey trains hold so much more than just destinations on a connected track.
The quintessential sips of chai in the white little IRCTC cups, the calls of a hundred varied vendors in the train and stations, the co-passengers with such interesting background stories - each taking their own personal journey on one common track and the ever-changing landscape out of your window – are some of the many dear memories we travel with, along with our luggage on a long distance train journey.
But how long is truly long?
Here's presenting an account of India's longest train journey – bothin terms of distance and time. Something that tested my patience and most definitely challenged my mind. Something - probably the first time ever, to be covered on vlog (in three parts, that too!).
Say hello to Indian Railways train #15906, the Vivek Express. Contrary to common conception that the longest distance would be from North-South, say Kashmir to Kanyakumari, the top 2 longest routes in India actually connect North East to South.
The second one is a Superfast from Silchar (Assam) to Thiruvananthapuram (Tamil Nadu), covering 3,931 km in about 76.5hrs. Himsagar Express, connecting Katra (J&K) to Kanyakumari falls on number 3, covering a distance of 3,797 km in around 73 hrs.
This brings us to the longest route on the Indian Railways, with 4,273 km in about 83 odd hours on the Vivek Express – Dibrugarh (Assam) to Kanyakumari. Announced in the Railway Budget of 2011-12 by then Railway Minister Mamata Banerjee, four pairs of Express Trains under the Vivek Express series were started as commemoration to the 150th birth anniversary of Swami Vivekanand.
While holding the prestigious record for the longest running train in the Indian Subcontinent, it is also the 6th longest in the world.
And as exciting, adventurous and literally rocking as it sounds – it isn't nearly as easy. I'd like to add a disclaimer to people who would want to take this journey – please do not make this your first.
If you aren't well-versed with long train journeys in India, this is definitely not recommended. Take a trip on a few trains before boarding the Vivek Express, and make sure your immunity isn't too weak.
Now let's begin with the good things – and mind you, they can well compensate. I started off from Platform 2 at Dibrugarh – the originating station, at 23:45hrs. Since the express only operates on Saturdays from here, my journey would come to a destination on Wednesday, about 09:50hrs.
I'll be honest, I may have traveled in many ways to many places, but this one, long shot in a train for 83hrs straight, made me nervous. You realize many things that actually affect you during a train journey such as this, but more on it later.
My seat was in Second AC. This train has Third AC, Sleeper and unreserved coaches along with a Pantry Car, carrying a total of over 1500 passengers at an operating speed of 50 km/h.
With 56 halts across eight distinct states in the country, it's a vision looking at the transcending landscape outside and the subtle cultural variations around. While most of the passengers get down before the last stop, my objective was completing it to the T, for the entire experience.
Back to the journey, after New Tinsukia came Hojai on Day 2, Sunday- the top growing district in Assam, with a staggering literacy rate of 91%. The station had quite a posh, airport look to it, with 3 wide platforms.
Then we passed major stations like Jagi Road, Guwahati, an amazingly lush green stretch to Golpara, over the wide Brahmaputra on the Naranarayan Setu to New Bongaigaon, Alipurduar Junction to New Jalpaiguri – 1042 km later!
I had bread omelette for breakfast from the pantry and veg thaali for lunch and dinner both –sans Chapati.
This was the point when I noticed food might be slightly difficult to manage, since there was a scarcity of Chapati (I got none the entire day) and very limited options for vegetarians on the North East Frontier.
I do eat egg, so it was still manageable, but my advice to you would be to stock up on fruits, stay hydrated with a lot of water and liquids, and get plenty of sleep.
It seems like there isn't much to travelling in trains – but the journey eventually takes a toll on you. Especially when it's so long.
The next day we reached Durgapur, 1500 km down the line – entering West Bengal. We then crossed Asansol Junction, Adra, Bankura (where I almost missed the train on getting down for breakfast), Midnapore and Hijli, chugging into the next state – Odisha.

Baleshwar, Cuttack and Bhubaneshwar – the twin cities of Odisha (the Rasagulla originated here along with Chhena Gaja and more, the traditional, special sweets of Odisha), Khurda Road and Palasa were the stations later in the day, completing a distance of about 2332 km by 22:30hrs.
By this time, I had started having my meals fresh from the stations. Masala Dosa and cold coffee from Bankura, Puri sabzi (finally something close to chapatis, from Hijli) and egg curry with rice (from Khurda Road) were my major meals for the day.
This is the moment the exhaustion kicks in, with all the constant motion, the stiffness, the food and often not very clean washrooms. Three days without a bath can start to feel really bad.
And if you aren't accustomed to it, you could suffer from infections, motion sickness, digestion issues and more.
The fourth day we were in Andhra Pradesh, crossing through some of Kerala and entering Tamil Nadu. On reaching Vijayawada, food options became easier. The landscape outside gradually changed from lush green rice fields, hills and wide rivers to coconut groves and seascapes.
We reached Coimbatore – the Manchester of South India around 22:30hrs. I couldn't wait for the journey to end now, my patience was wearing off, and though I mostly slept well, I felt almost nauseous and exhausted. Fortunately, my destination was much closer now.
The final day of the longest train journey arrived and I was at Trivandrum Central. Most of the passengers got down here. By the time I finally reached Kanyakumari, I had pointers to keep in mind while on a journey like this. One was paying good attention to what you ate. Always eat light.
Take a meal every 2hrs, but reduce the quantity. Smaller, frequent meals help you stay energetic throughout the day and reduce bloating and other digestion issues. Two, stay hydrated. Three, get good rest and sleep.
The train for me often acts like a cradle, rocking me to better slumber. Four – try and get a seat in the AC compartment.
It gets even more difficult travelling via Sleeper or General, and trust me, I salute those who do. So even though this was a journey confined to the coaches of the train sometimes opening to station platforms, I felt like I'd traveled most of the country already!
Of course, it was tiring, it tested my patience, it challenged me mentally and physically, but by the end of it, the sense of accomplishment and the many memories made on pebbled tracks, the many sunrises and sunsets witnessed on the window panes, the local specialties discovered and the overall experience only made me add to the 200 more reasons to travel!
If you are planning to travel on this train remember to prepare yourself mentally. For any other help pls do connect on Instagram or YouTube.

Happy Travelling !!!