Jaisalmer, the Golden City, is all about forts, cultural people, sand-coloured structures and endless desert. Amidst all the beauty stands a mighty yellow sandstone structure, called the Jaisalmer Fort or the Sonar Quila or the Golden Fort. It is one of those ancient forts where people still live and have a livelihood. The fort never fails to amaze travelers as it has the ambience that takes people back in the bygone era.
2) ​It's a World Heritage Site
The gorgeous Jaisalmer Fort is a UNESCO World Heritage Site. The entire fort is made of yellow sandstone and looks absolutely stunning. People specially come here to witness sunsets. Sun rays embellish the whole fort and make it shine and shimmer! The yellow walls of the fort, bathed in golden sun rays cast a camouflage on the fort and hence the name Sonar Quila.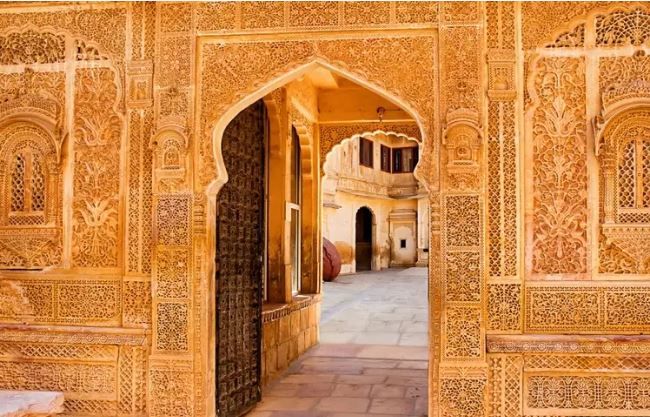 The fort also houses some of havelis, including the Patwaon Ki Haveli, Nathmal Ki Haveli, Saalam Singh Ki Haweli and Saalam Singh Ki Haveli among others.

4) Inspired Satyajit Ray to write Sonar Kella
The eminent filmmaker and writer, Satyajit Ray was so inspired by the fort's beauty that he spun a story around it. He went on writing the acclaimed mystery novel, Sonar Kella or Shonar Kella, in 1971. Then, in 1974, Ray directed a film based on the book, also named Sonar Kella.
5) Largest desert living forts
The Jaisalmer Fort is the world's largest desert living fort. Also, it is the second oldest fort in Rajasthan. A major landmark, it has thousands of people living within the premises. There are myriad shops where locals sell handicraft products.

6) Built on Trikuta Hill
The fort is built on Trikuta Hill, which is a heritage site now. More than a century old, the fort was built in 1156 by the Rajput Rawal (ruler) Jaisal, from whom it derives its name.

Please make sure you travel responsibly and keep the place litter free.
Please do comment for any information.
Thanks for reading our blog. Do subscribe, like and share our YouTube channel and we keep updating our trips and tricks for travel on our Instagram page: " BloggersWithoutBorders "
YouTube Channel Name: Bloggerswithoutborders
HAPPY AND SAFE TRAVELING