Previous posts on this trip → Kolkata to Delhi → Jodhpur
On our Rajasthan Trip, after Delhi and Jodhpur it was time for the city of 'Sonar Kella' the Golden Fort!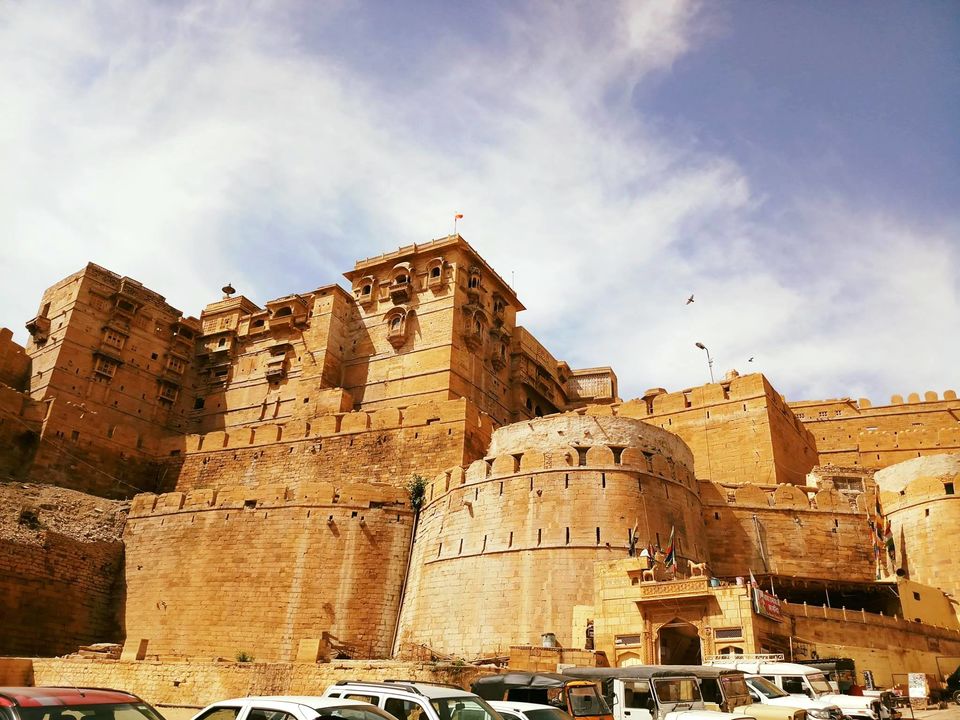 Our train, Jodhpur-Jaisalmer Exp., left Jodhpur at 11:30 pm. There are many foreigners visiting Rajasthan all the time. I had interaction with a couple from Europe occupying the berths opposite to us. The guy had more knowledge on India's link with Yoga than I do! After a comfortable night's sleep we reached Jaisalmer before 6 am the next day. Jaisalmer hotel agents and desert safari operators have their men in Jodpur as well. They track tourists and will mark the train berth from Jodhpur. One guy handed me his card-cum-brochure at Jodhpur station. When the train enters Jaisalmer, their men will come and try to lure you to their hotel and safari. Almost all hotels have tie-up with safari operators and hence they offer a package, which includes 2 day hotel rent, transfer to Sam Dunes around evening, cultural program, night at tent, morning transfer to hotel. In my opinion it is always better to search the net, speak to the people and book a package before reaching Jaisalmer, which I had done. So the disheartened agents who had approached me at station, offered me a drop to my hotel instead.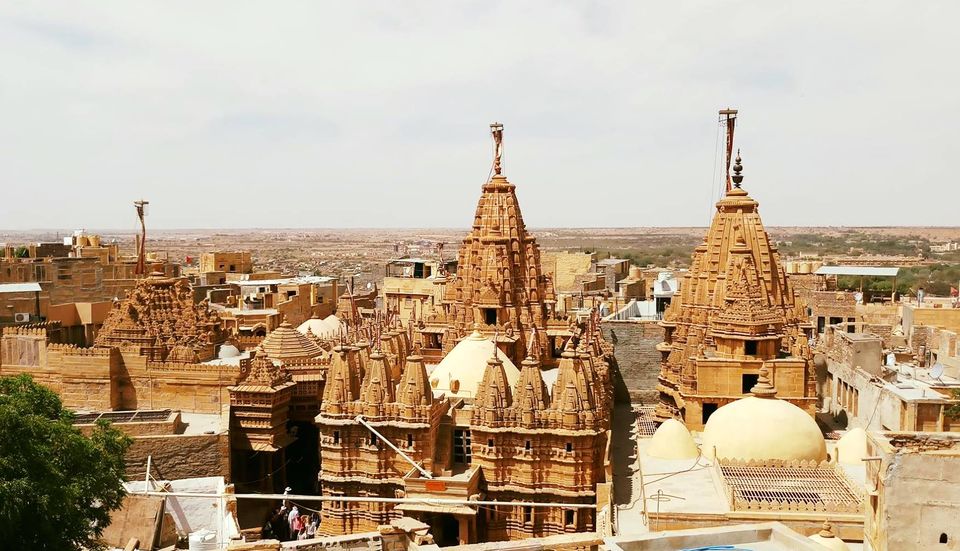 Being a die-hard fan of Feluda (the fictional Bengali sleuth made immortal by the immortal film maker-writer, Satyajit Ray), Sonar Kella (the Golden Fort) always occupied a special place in the heart. It was a dream-cum-true moment for me when I found myself in front of the fort (though now it looks nothing like depicted in the film 'Sonar Kella'). Jaisalmer is a very small town, and mostly spread around the fort. So the fort is visible from the terrace or balcony of most hotels. Interestingly, the fort is still inhabited by descendants of the original inhabitants. It is the only Living Fortof India. Jaisalmer Fort (open 24 hrs as it is living fort, entry free) was built around 1156 by King Jaisal (again after whom the town is named) and named as Trikoot Garh (after the hill on which it was built). Being constructed of sandstone the fort changes colour with the position of sun, Bright golden at dawn and dusk and rich brownish yellow during the day. The main attractions inside the fort are: Raj Mahal (Royal palace), Havelis of prosperous traders, Jain temples and the Laxminath temple. There are guides available outside (INR 200) the fort who will take you through the Royal Palace (it is the largest building after entrance, with great views from top), one Heveli (here one can take photographs with antique items in traditional Rajasthani attire) and finally a gift shop. Patwon ki Haveli are a group of havelis, across the main market outside the fort. They were constructed by affluent traders, and now form a heritage tourist attraction. In the market infront of the fort, on way to Patwon ki Haveli, there are some local sweet shops selling delicious Kachoris (a local delicacy).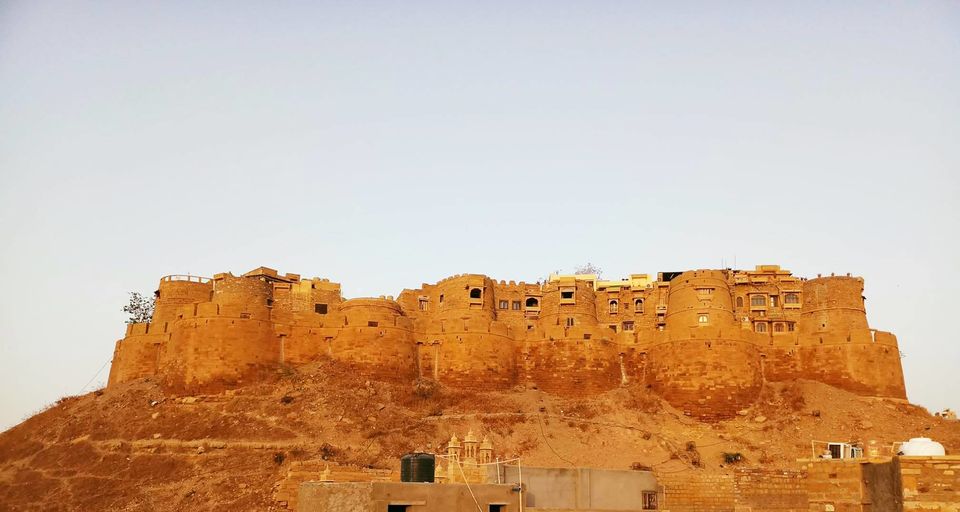 One interesting item available here in abundance are, cups made from real fossils rocks! One can see and feel the compressed black fibrous material forming the surface. Locals claim that milk left overnight will turn into curd (my sister bought one during her visit, experimented and confirmed the fact) and drinking water kept in it overnight can cure diabetes.

Real sand dunes can be seen at either Sam Desert or Khuri Desert. Sam Desert is more commercialized with resorts for night stay, jeep and camel safari. Most, if not all, operators will want to take you there. Khuri on the other hand is rustic dessert village, with few households now serving as guest house and camel safari operators (search for Badal Singh or Arjun Singh). They welcome you with home-made food, have their own camels for safari and can accommodate for night stays. Resorts are also present, so one can choose where to stay. I chose Khuri and arranged for a camel safari through Badal Singh Guesthouse at Khuri. I did not opt for a package and negotiated a much cheaper deal with a travel operator for to and fro journey to Khuri. But unfortunately my son had a bad cold and I had to drop my dessert safari plan. If travelling with kids you have to be flexible.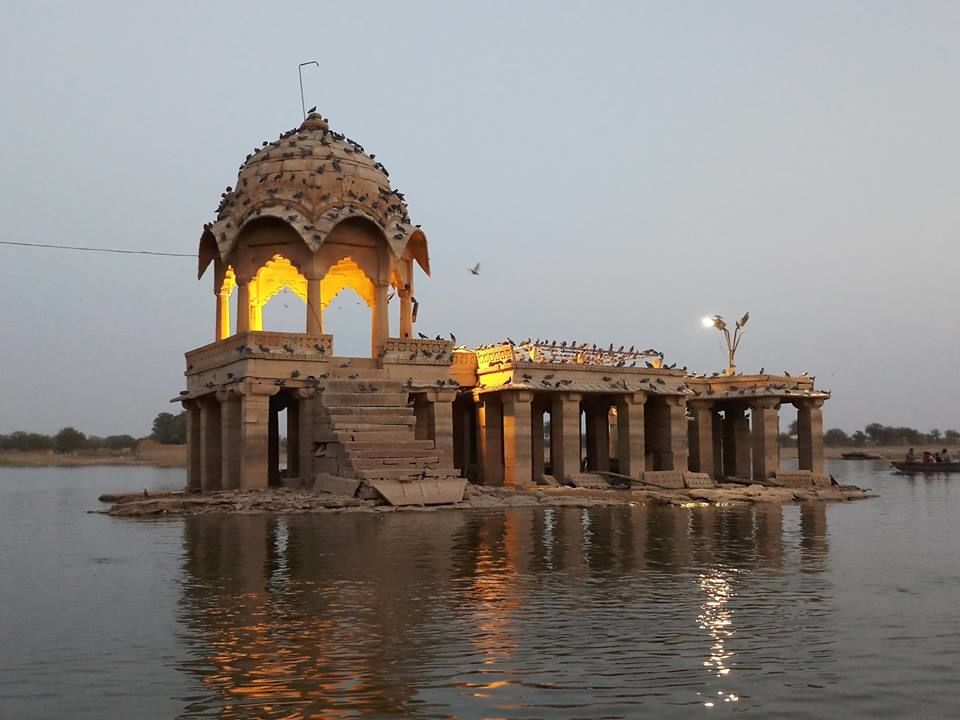 Day 2 at Jaisalmer was mostly spent indoors. By evening my son felt better and we went off to Ghadisar Lake (entry free). It is a rain water lake supplying water to the town. There are several temples on the shore. Empty tombs (or cenotaphs) around the lake and one in the middle give it a royal touch. Boating can be done on the lake (open till 8 pm, INR 100 for an hour in paddle boat). There are huge number of fishes in the lake (catfish as per Wikipedia), which can be fed with bread-crumbs sold on shores.

Being a small town, streets of Jaisalmer becomes dark and empty after sun down. There is no or little nightlife. The place has barracks of military and BSF, and is continuously patrolled by them. Our train to Bikaner was on night of Day 2 in Jaisalmer. So we wrapped up and prepared ourselves for the journey to another desert town of Rajasthan.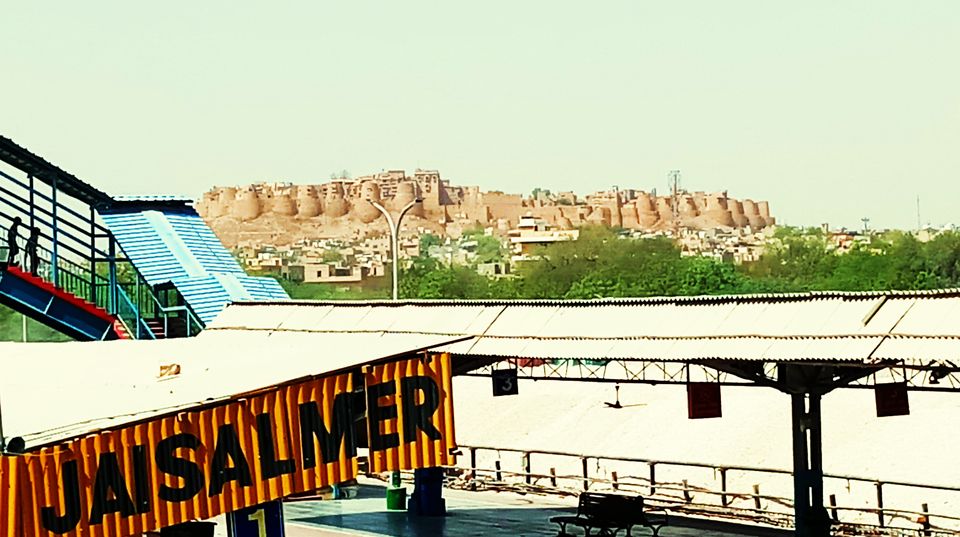 This entry was posted in Travel and tagged Rajasthan, Jaisalmer, Golden Fort, Sonar Kella on by The Secured Traveller.