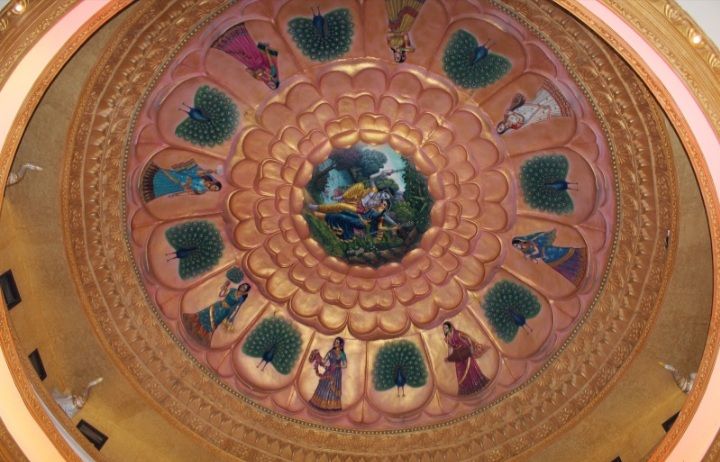 "Chanting the Hare krishna mahamantra, vanquishes all the effects of sinful activities."
Temples have always fascinated me right from childhood. The mesmerizing sanskrit shlokas and hymns chanted by the priest, the musical voice in the background speaker reciting melodious bhajans, wonderful atmosphere for meditation and sitting quietly to absorb the vibrations. You can feel the power of centuries of worship and devotion.
The temple experience gives a glimpse into the eternal life of bliss, ananda. There is singing, dancing and eating. Meeting with like - minded people. Association with sadhu, shastra and guru.
There was a beauty throughout the creation and artistic expression in so many areas of life. The entire temple structure was mercy arriving directly from the almighty. It is his way of helping us even though we have turned away from him for so long.
Iskcon - pune
ISKCON temple all over India are very maintained and you feel blessed to visit. It's an awesome place for devotees of shree krishna and shree Ram. This temple is also very famous and beautiful. You will find large number of devotees during festivals and holidays.

About Mandir
There is a small garden before the temple. You have to climb some steps to enter the temple. On ground floor there is a meditation centre. Temple has 3 sets of idols inside the mandir. First one is Balram and krishna, next one is Krishna and Radha and the third one is a replica of puri jagannath idols along with subadra and balabadhra.
The interior
The interiors are designed amazingly and there are so many pictures /paintings depicting different events of Lord Krishna's life. There are pictures depicting the festival of puri jagannath which happens in orissa state every year.
Once we came out of the main temple, the entire surrounding walls were beautifully designed with pictures of Lord Krishna and few other avatars of lord vishnu.
Once we reach back of the main temple, on the left side of the main temple we can see stairs leading towards 'Balaji Mandir'. You are allowed to take photographs here as well. Here they sell laddu which looks same like Tirupathi laddu and they charge around Rs 50/- each laddu. Taste is not exactly same as Tirupathi laddu but its nice.
As with all Iskcon temples the more time you spend in the temple the more peaceful it will be. We spent almost 3 hours when we went for the first time. Outside of the main mandir, there was a grass lawn where we can relax and it's really calm place with the cold wind blowing continously.
Arti experience
Ofcourse when we are in temple than how can we forget about arti. We attented arti of the temple. The burning of agarbatti or dhoopbatti (perfumed incense sticks) has an instant calming effect on the mind. A feeling of freshness and energy flows through the body. The aroma of champa, roses, mogra, etc. soothes the soul and takes away the mind to a zen point.
The one and only sip of panchamrutham (holy nectar) would taste divine and leave you longing for more. The mouth watering prasadam with generously added pure ghee to further satiate your sweet cravings.
Gift shop
While walking towards the exit of the temple from Balaji mandir on the right you will notice a gift shop where you can purchase a wide variety of gift articles of Krishna.

Food court
Near to exit, you will find small food court managed by iskcon, same like you find in all ISKCON temples. The taste of food was fine and all varieties of food are available here like Chinese, chats, dosa's, bakery items and more.
Parking area
There is parking space available but it could be difficult to find a parking spot on heavy rush day. Good thing is that it has free parking.
I would conclude by saying that temples are indeed a melting pot of incredible sensory experiences along with a package of ancient mythological richness with magnificent architectural expertise.
Temple has a very peaceful environment and I was feeling very good spending some time inside the temple. And if you add your devotional beliefs and holy practices, then it would definitely be an even more enjoyable experience.