There are numerous places around Kolkata which can be visited over a weekend. Mayapur is one such place. It is the headquarter of ISKCON (International Society for Krishna Consciousness). Mayapur along with Krishnanagar and Nabadwip can easily be your next weekend getaway from Kolkata…
Holy cities of Mayapur-Nabadwip and historical city of Krishnanagar are pleasant weekend getaways from hectic city life of Kolkata. Situated in Nadia district of West Bengal they are a perfect green pill for the eyes and fresh air for lungs, along with flavors of history, spirituality and holiness as per one's taste.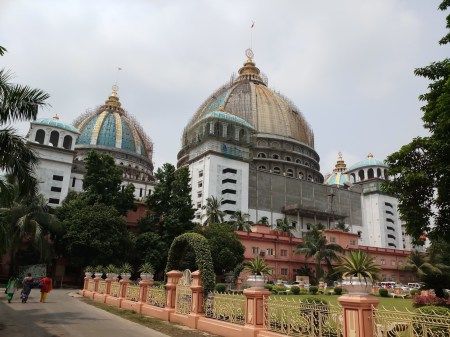 This travel-account covers Kolkata to Mayapur trip via Krishnagar by train and Mayapur to Kolkata trip via Nabadwip by train, as on June 2018. I hope this information will be useful for someone planning a trip to any of these places. Detailed historical information about the places-to-visit are easily available on Wikipedia and so mostly excluded from the write-up.
Mayapur is famous to the world as headquarters of ISKCON (International Society for Krishna Consciousness), but to the followers of Chaitanya Mahaprabhu it is the birthplace of their lord. Later fact was unknown to me as well, till a week back. To reach Mayapur one has multiple option. It is 130 kms to the north of Kolkata and can be easily reached by one's own car or cab. Ola fares for one way drop to ISKCON campus from Kolkata is around INR 2,100. Alternately ISKCON Kolkata operates bus service to ISKCON Mayapur 3 times a week. These are AC buses and have multiple pick up points within Kolkata starting from Tollygunge Metro, Gariahat, ISKCON Temple (Minto Park), Ultadanga, Airport, Barasat. Leaves at 5 am and reaches around 11 am. Fare is INR 475 per head. West Bengal Transport Company (WBTC) also operates a daily bus service from Esplanade to Mayapur (via Ultadnaga, Barasat, Ranaghat, Krishnanagar) leaving 6 am and 3:30 pm daily. These are non AC buses with fare around INR 100 per head. They go till right inside the campus, beside Vamshi Bhavan Guesthouse. By far the cheapest option is by train. Mayapur is reachable from two stations, namely Krishnanagar City Jn. and Nabadwip Dham. Both are connected to Kolkata by frequent express and local trains. Krishnagar City is connected to Sealdah by trains originating almost every 30 mins and terminating at the station. Fare is INR 25. From station take a INR 10 toto (e-rickshaw) ride to bus terminus and take a bus to Mayapur. These are privately operated buses, and go till the main entrance of the campus. One can also take a toto till Swarupgunge Ghat (around 13 kms) on Jalangi River, take a boat ride for INR 1 (yes really!) and reach Hular Ghat on Mayapur (which is what we did).
Alternately Nabadwip Dham station is on Howrah - Katwa line. Trains are more crowded on this route. Fare on both train route is INR 25 from Kolkata. If going via Nabadwip route getting down at Bishnupriya (i.e., one station after Nabadwip) will be a better option as ferry ghat is closer. From either station take a toto to Mayapur Ghat (INR 10-15). Then one has the option to take a motor fitted country boat ride for INR 3 or steamer ride for INR 6 to reach Hular Ghat. From Hular Ghat take another INR 10 toto ride to ISKCON campus. If you are staying at ISKCON guesthouse, my advice will be to pay some extra money and tell the toto to take to the respective guesthouse since they are widely spaced within campus.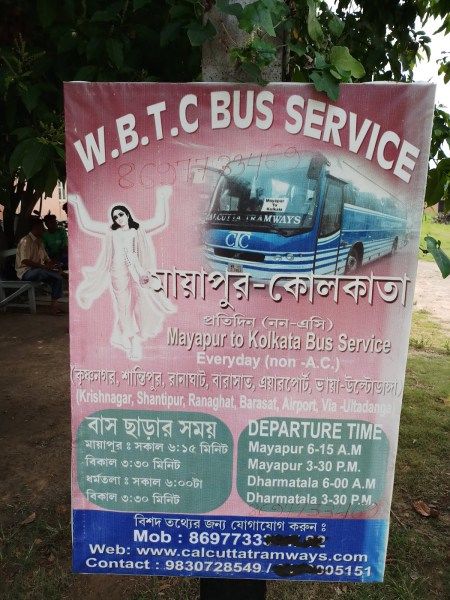 While in Mayapur the best place to stay are the ISKCON Guesthouses, if one can arrange for it. If planned 1 month in advance rooms are mostly available through the online reservation portal (www.visitmayapur.com). Alternately one can call the central reception of Gada Bhavan and enquire. They have 5 guesthouses to cater to devotees, but not all are available to visitors. Some are reserved for VIPs, life members, etc. Lunch and Dinner bhog are available at Gada Bhavan and Geeta Bhavan from 1-2 pm and 8:30-9 pm respectively. Coupons have to be collected from the reception of the respective guesthouse at least 30 mins before start time. Bhog at both the places are equally good but price wise there is difference. At Gada Bhavan lunch is INR 70 dinner is INR 50 per head, while at Geeta Bhavan lunch is INR 50 dinner is INR 40 per head. Additionally Khichuri Bhog coupon is available in morning for INR 30 per head near main entrance.
There are lot of budget hotels outside the campus as well, if rooms in campus are not at all available. Some hotels have rooms facing Hooghly river. Toto is mostly available from early morning to attend the Mangal Arati, if staying outside.
While in campus main thing to see is the Chandrodaya Temple and Pushpasamadhi Temple. The former has two altars. First is dedicated to Chaitanya Mahaprabhu and his first disciples. The second is dedicated to Shri Krishna, Radha and eight sakhis. There are altars dedicated to Nrisingha Avatar of Bhagavan Vishnu and A. C. Bhaktivedanta Swami Prabhupada (founder of ISKCON) as well. Beside the main temple is a courtyard across which there is a small shrine for Garur Deva (mythical bird vahana of Vishnu). There is also a permanent exhibition on the life of Chaitanya Mahaprabhu through sculptures and 3D paintings. On one corner or the courtyard there are stalls selling puja items and Mahaprasad. Interestingly enough the Mahaprasad here ranges from sweets, pastry, bhujia to noodles and even pasta! Mahaprasad stalls are present at multiple locations within the campus, including the Govinda restaurant (it is open 24 hrs). Do watch the evening arati and the early morning mangal Arati in the main temple. Such confluence of people from all over the world chanting 'Hare Krishna' and akhanda kirtan takes the place to another dimension of spirituality. Pushpasamadhi Temple is located behind the main temple (right hand from main entrance). It is the Samadhi of the founder of ISKCON Swami Prabhupada. The temple complex is a huge white domed building surrounded by manicured gardens. Since the current main temple lacks the visual glamour, till the TOVP is completed Pushpasamadhi Temple will continue to be the center of attraction of tourists. Also one may visit the Goshala in the campus. Best to visit in early morning as it is around 10 minutes' walk from the Guesthouses. It houses large number of cows (more than 200), indigenous and exotic, who are being cared for by ISKCON. Dairy products from Goshala is also available for sale in the campus. Apart from all this, anyone is bound to be mesmerized by the grandeur of huge Temple of Vedic Planetarium (TOVP) being constructed in the campus for an estimated cost to $90 million and to be completed by 2022. It is being claimed to be world's largest temple once completed. Electric carts are available in the campus for those who are unable to walk as some locations are widely spaced.
For local sightseeing of Mayapur Town, one can hire a toto from right outside the campus. A 2 hr tour can cost anything between INR 200-300 (depending on negotiation) and should cover Chaitanya Mahaprabhu's birthplace (established by Bhaktivinoda Thakur in 1880s and houses the neem tree under which Prabhu is said to be born as Nimai), Chaitanya Math (which is Prabhu's aunt's place and has a beautiful pond where one can feed the huge fishes swimming in the pristine water), Chand Kazi's Samadhi (a Muslim devotee of Chaitanya Mahaprabhu) and Jagannath Temple (considered next to Puri temple in importance as the same lord resided here for some time to slay a demon).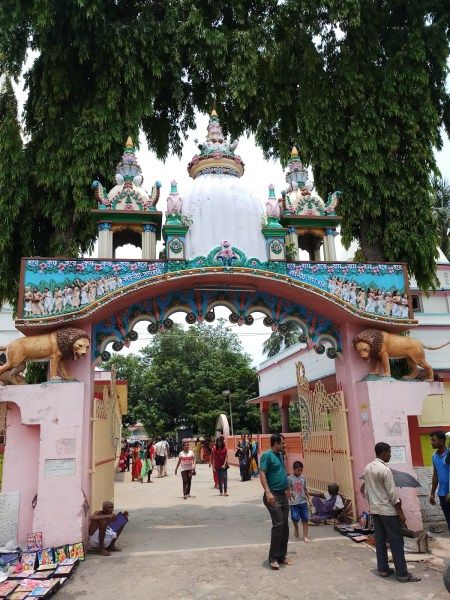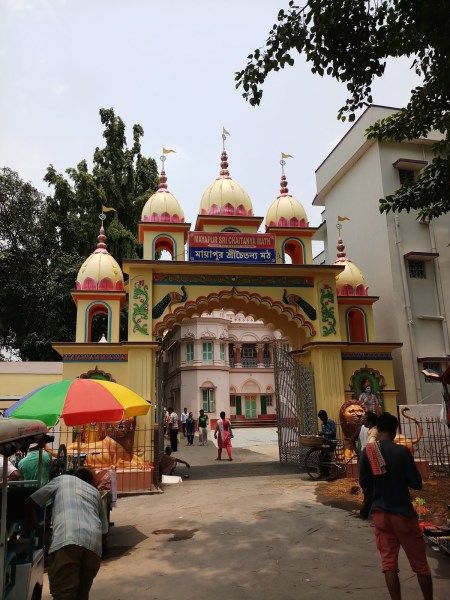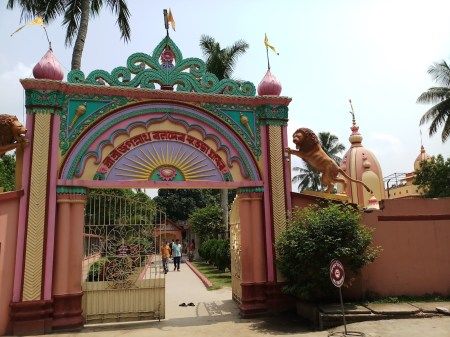 Nabadwip is a historical town. Sena Dynasty had their capital here. Archeological Survey of India (ASI) has excavated remains of a brick structure at Ballal Dhipi at Mayapur dating back to 12th century AD. At that time Hooghly river used to flow at west of Nabadwip and the current riverine division between Nabadwip-Mayapur was nonexistent. The city was attacked and plundered by Bakhtiar Khilji, paving the path for Muslim rule in Bengal in 12th century AD.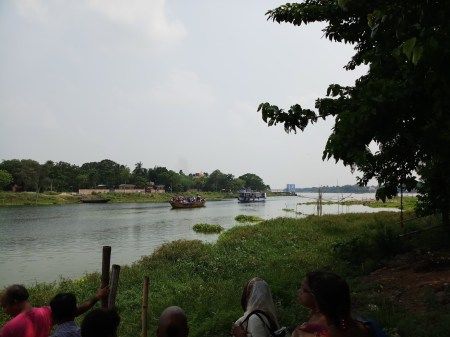 If coming from Mayapur, from Hular Ghat (at Mayapur) every 15 minutes boats or steamer depart for Nabadwip, which is across Hooghly river. En-route the boat crosses the confluence to river Hooghly and Jalangi. The difference of the colour of water of both river is clearly visible. Jalangi being dark and Hooghly yellowish.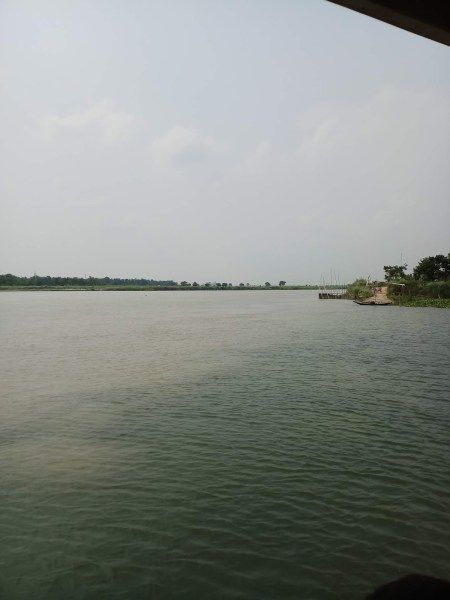 From the Ghat, toto can be arranged for around INR 200-300 to visit the major temples. Major attractions in Nabadwip are Gouranga Mahaprabhu Temple (said to be oldest in Nabadwip and currently under renovation), Bishnupriya Temple (she was spouse of Chaitanya Mahaprabhu before he took sanyas), Adyaita Acharya Temple (he was the saint who requested Shri Krishna to send his avatar in Kali Yug, was a disciple-cum-friend of Chaitanya Mahaprabhu and considered as avatar of Vishnu and Sada Shiva in Goudiya Vaishnavism), Sonar Guourango (or Golden Gourango), Nityananda Temple (birthplace of Prabhu Nityananda), Pora Maa Mandir and Shiv Mandir (in same complex and surrounded by an ages old banyan tree). Being a historical holy town, there are several other temples and math in Nabadwip, which may be visited.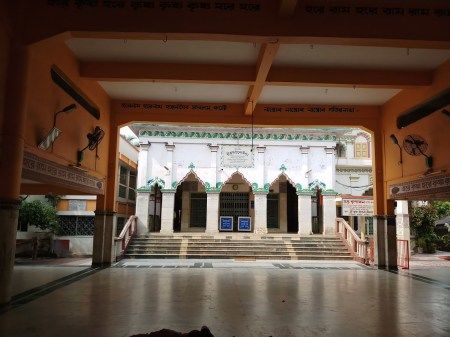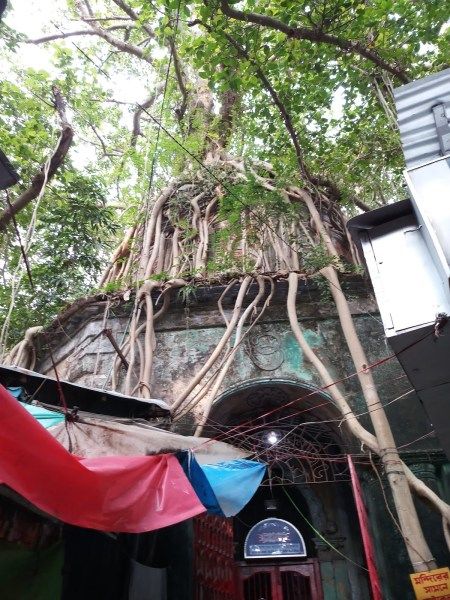 One thing to be kept in mind is that most, if not all, of the important places to be visited in both Mayapur and Nabadwip towns are temples. So do maintain decorum and try to reach before 1 pm or after 3:30-4 pm, as traditionally Hindu Temples are closed from 12-4 pm (with slight variations).
This was our itinerary over a weekend from Kolkata. Started at 8 am on Saturday and returned to base by 8 pm on Sunday. Extremely spiritual, refreshing and cost effective weekend trip. I wish to take the trip again sometime in near future and hope this first-hand account of my travel will be useful for someone wishing to take the trip.
Hare Krishna!!!
Originally posted by The Secured Traveller
Frequent searches leading to this page:-
nabadwip to mayapur, nabadwip mayapur tour guide, nabadwip dham to mayapur, nabadwip city, mayapur ghat