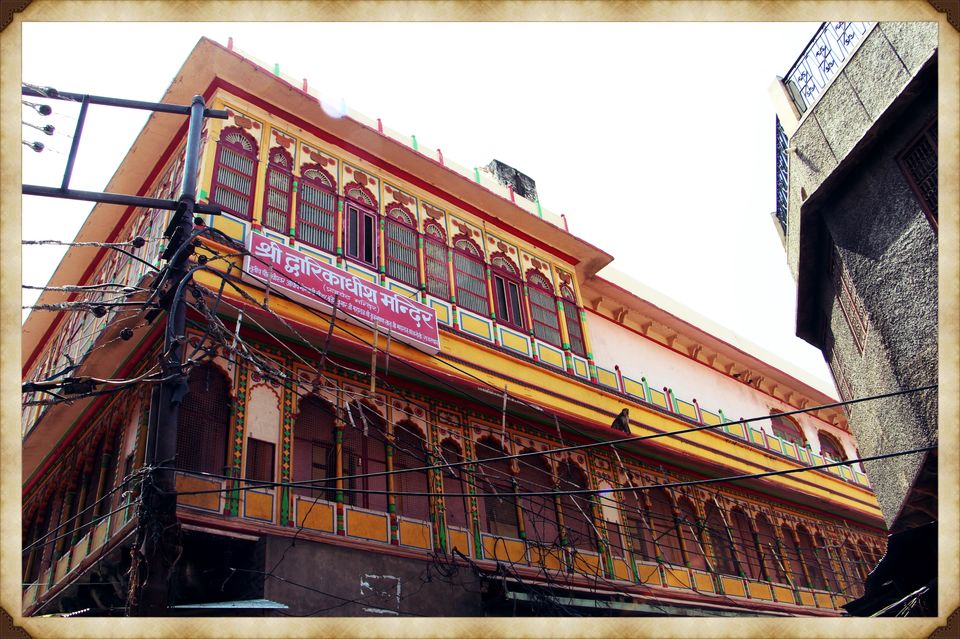 This month, I visited Mathura and Vrindavan – two of the holiest places closely associated with Bharatvarsh and Sanatan Dharma. It is located in close proximity to New Delhi, the national capital and easily accessible by railways and roadways.
Mathura: As we stepped out of the platform, a joondh of rickshawallas, autowallas and e-ricks folks surrounded us. After the price negotiation, we reached the revered Shree Krishna Janambhoomi Mandir - The birthplace of Shree Krishna. This site has undergone many transformations and last being carried out at the orders of the Mughal Emperor Aurangzeb. From ancient times, Mathura is at the cross-junction of Uttarapath and Dakshinapath and therefore has been a flourishing city since time immemorial. During the Kushana period, it was the Centre of Mathura School of Art. Together with Gandhara School of Art, contributed immensely to the history of Bharat/the Indian sub-continent. Its richness and wealth always attracted invaders and the city was frequently sacked and plundered to rise again like a Phoenix.
Shree Krishna Janambhoomi is a grand temple complex with good facilities and space available for pilgrims and travelers. Then, we headed to Shree Dwarkadheesh Mandir inside the lanes of the old Mathura through an e-rickshaw. This temple is in close proximity to River Yamuna and the famous Vishram Ghat. It is a private temple and entrance is closed by 11.30am for the morning darshan. We did not get to visit the temple and walked to the Vishram Ghat. After barely spending 15 minutes, we could not bear the smell and decided to head to Vrindavan. In this area, it is difficult to find an auto, which can take people directly to Vrindavan. Either you board an e-rick to the main road or than catch an auto or if lucky, you will get an auto to take you directly to Vrindavan.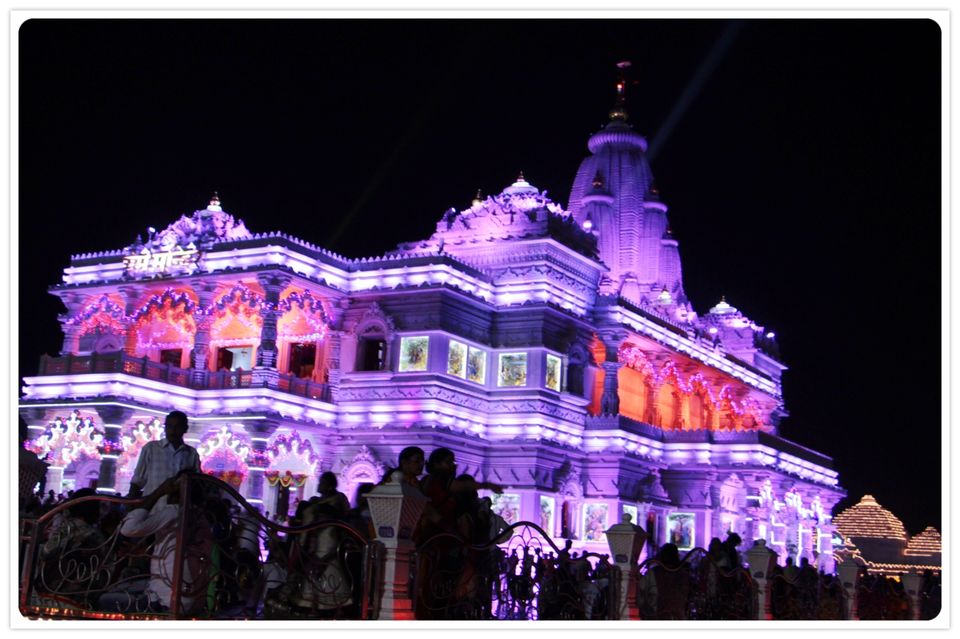 Vrindavan: Road to Vrindavan is dotted with multiple ashrams. We had planned for one night of stay and opted for a budget hotel 'Rishi Dham'. It is located at the Motijheel, on the road connecting the famous Brijwasi hotel and Vidyapeeth Chauraha. Climatewise Mathura and Vrindavan are quite hot and we rested for a while. In the evening, we took the Gandhi road towards Bankey Bihar temple and opted to visit the Shree Radha Vallabh temple first. Since it was Radha Ashtmi, there was special pooja at the temple. We thoroughly enjoyed it but got trapped into the narrow alleys while exiting and that was an experience of lifetime. The entrance to Radha Vallabh is through a narrow low ceiling walkway, which if packed, can be quite dangerous for people. But what to do, these are old temples in the narrow alleys of Vrindavan!
Since this was my first time, I tried to follow the Google Map and got so misdirected that I decided to use the time-tested formula of asking directions from people. After walking in wrong directions, we boarded an e-rick on a hefty price, we moved towards Prem Mandir. Prem Mandir is the most important evening attraction of Vrindavan these days. Due to its grand decoration, it attracts thousands of visitor's everyday. There are hundreds of temples in Vrindavan and as per my experience a good tour of Vrindavan should certainly visit the following places:
1. Begin with darshan of Shree Banke Bihari temple. Reach before 7.30 am. Temple Timing – 7.30 Am to 12 pm; 5.30pm to 9.30pm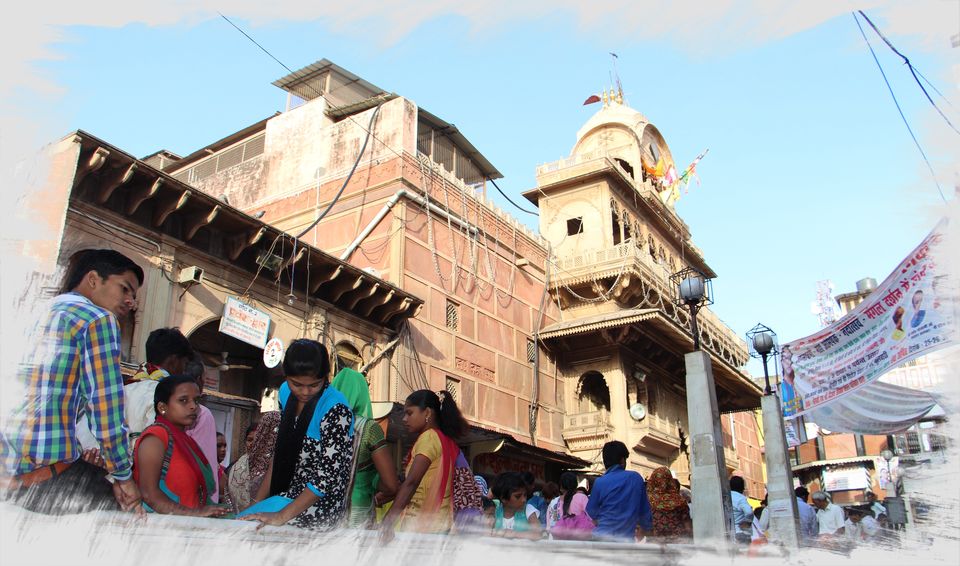 2. Visit the Shree Radha Vallabh temple next located closeby.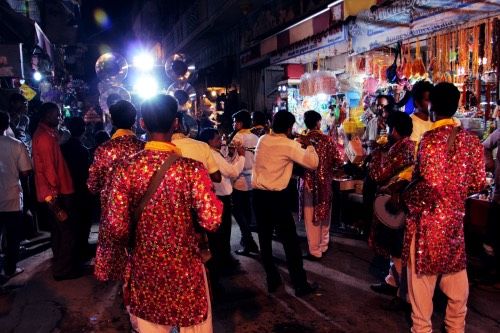 3. Than walk to the famous Nidhi Van (about 1 km); visit the tedhe medhe khambho wala mandir (Formally known as Shahji Mandir built in year 1868 A.D.) nearby.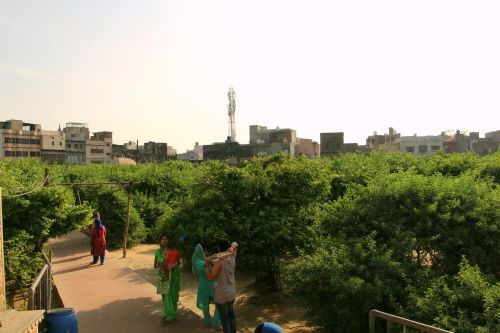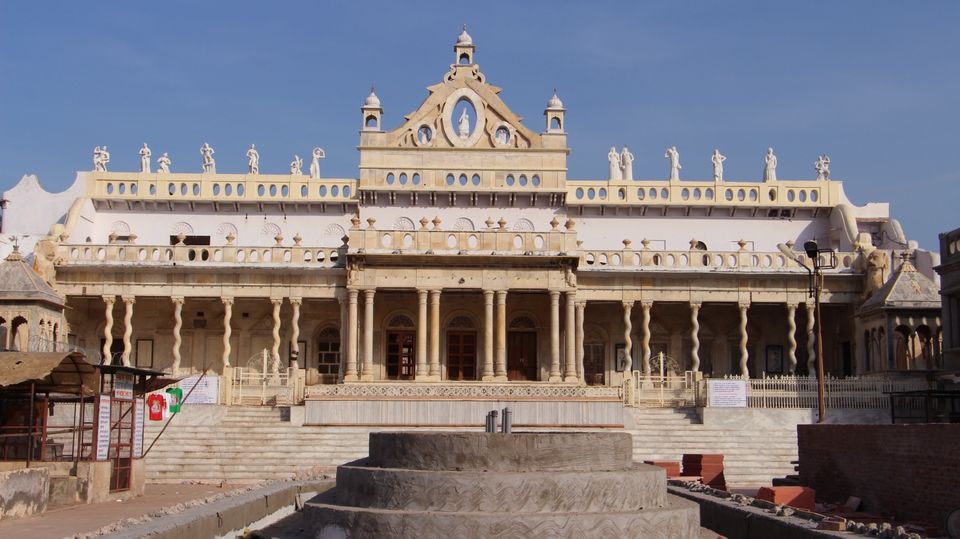 4. From Nidhi Van, walk towards river Yamuna bank through the narrow lanes or Go to the Govinda Dev Ji Temple and Ranga Ji Mandir (Ranganath temple)
5. Visit the site of Kadam Ka Vriksh (Parikrama Marg) then walk towards Kesi ghat
6. Enjoy the walk through the old depilated building and ghats of Vrindavan (It is better than Mathura) and reach at Kesi Ghat.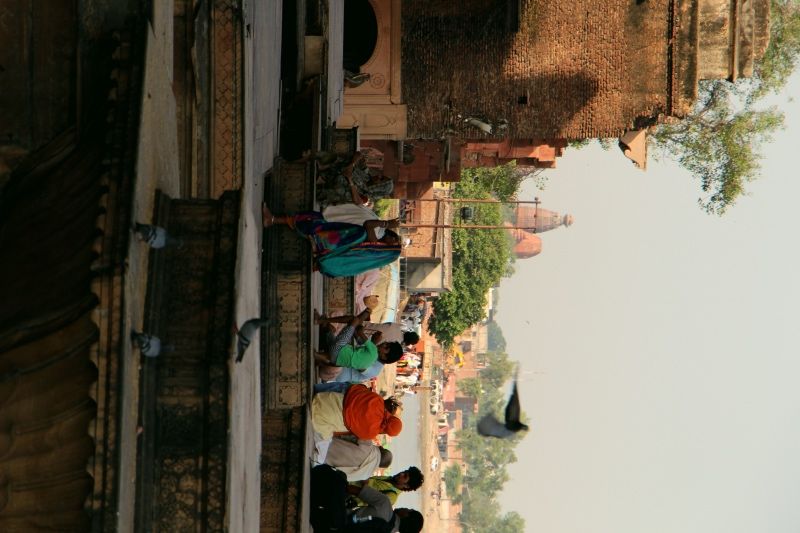 7. From Kesi Ghat, walk inwards via the Manipur Bari, stroll in the lanes of Vrindavan and visit the famous Shree Shree Radha Gopalnath ji Mandir built in 1559 A.D. Beware of Monkeys here. It is among the three most important temples of Vrindavan and was once a walled structure like a fortress.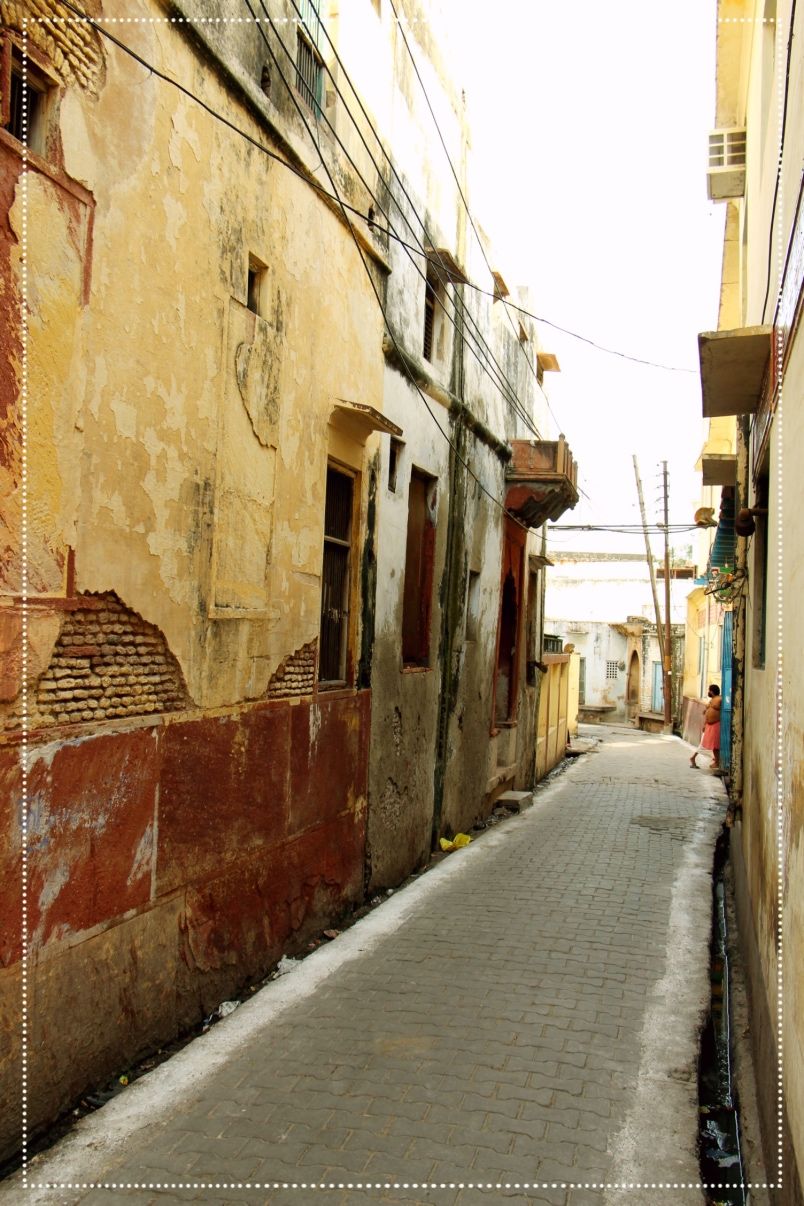 8. Then follow the road to Shree Radha Raman Mandir. From there either take a e-rick or if strength permits, walk to the Kadam ka pedh.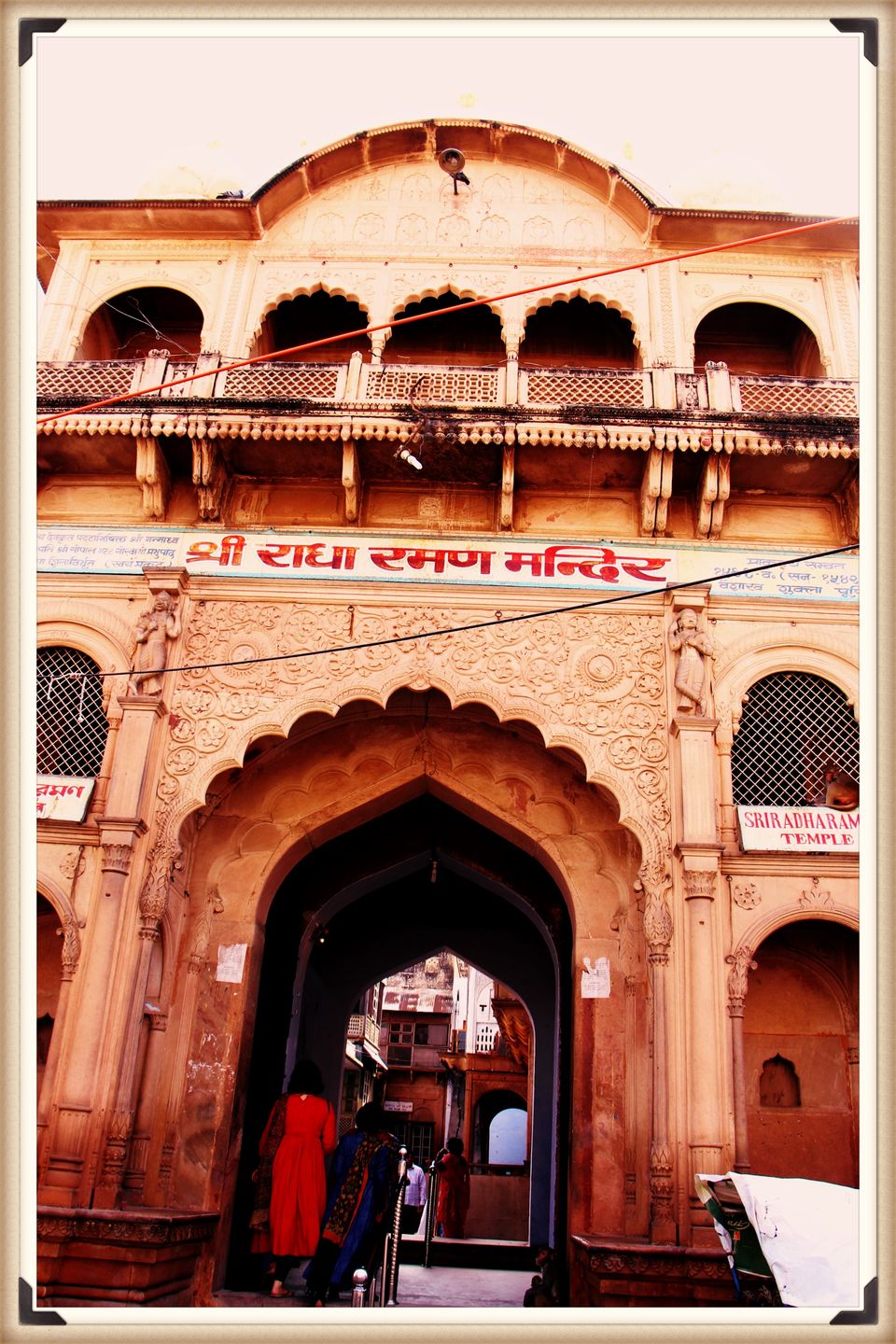 9. Then follow the Parikarma marg along the river Yamuna and reach to the famous ruins of Shree Madan Mohan Mandir.
10. Then either walk to the Kadam ka Vriksh and follow the Parikarma Marg along the river Yamuna Ji to reach the famous ruins of Shree Madan Mohan Mandir.
11. One can either opt to continue to walk on the parikarma marg, pass through the ISKCON gaushala and arrive at the famous ISKCON temple & Prem Mandir (Timing – 6pm to 8.30pm).
How to reach:
1. Board Taj Express from Nizamuddin Railway Station and by 9 am arrived at Mathura.
2. Mathura Junction to Shree Krishna Janambhoomi Mandir: E-Rickshaw - Rs 50 (4 people). There are autos available directly for Vrindavan too. Shared autos are also available at Rs 20 per seat from the station.
3. Shree Krishna Jamanbhoomi to Dwarkadheesh Mandir/Vishram Ghat - Rs 40
4. Distance between Mathura to Vrindavan – 12 to 14 km depending on where one gets down. 
5. Dwarkadheesh Mandir to Vrindavan's Vidayapeeth Chauraha (in close proximity to the Banke Bihari Mandir area) - Rs 130
Key points
1. No dearth of accommodation facilities in Vrindavan, all sorts of from Dharamsala to hotel - No need to pre-book! 
2. There are many important temples in Vrindavan, which with proper research can be explored

3. Temple entry timings are sacrosanct. Generally from 11.30 am to 4pm, nothing is open. Hence plan accordingly.
4. Do not use the Google Maps for exploring as many temple locations are wrongly tagged. Ask from locals and if necessary ask multiple times to be sure that you are in right direction and at the right place.
5. Rickshaws and autos overcharge so negotiate the prices. An e-rickshaw minimum price will be Rs 40 and max can be as much as they can ask.
6. I observed that local business thrive on the pilgrims and tourists but rather than being a bit modest about this, some were found to be quite rude and taking people for granted. A famous one liner by a local near the Shree Banke Bihari Mandir – Gaali aur Gandagi to hamari shaan hai. This behaviour I found to be quite appalling as it gives a bad reputation to the place.
7. Enjoy the delicious (a bit overpriced) local snacks of Vrindavan
8. Beware of Monkeys. Never ever leave your footwear unattended or keep it a safe and secure place. Do not hold mobile in your hand as monkeys will snatch it too.