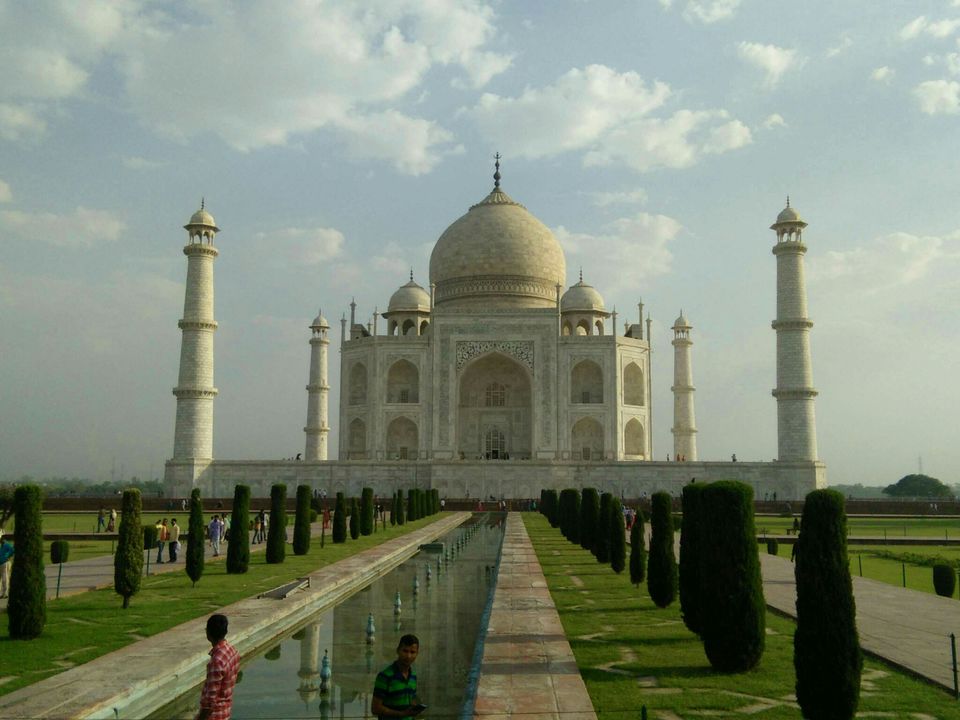 One doesn't really visit Agra unless one is a Taj Mahal fanatic. Luckily for me, that was not the only reason go visit Shahjahan's place. I had to give my entrance test at Aligarh and while returning, there was no availability of trains from Aligarh to my hometown. So we had to move via Agra as it is the nearest major city that has pretty fair connectivity with other Indian cities.
Taj Mahal is a paradise for historians and artists alike. If only I could sit and marvel about the grand white marble architecture. Agra is a city with many grand mausoleums, gardens and forts alike. People from all over the world visit Agra to marvel on its beauty and leave with hordes of memories and petha dabbas. It is a place that has seen rampant construction and deconstruction, only to figure out a new Agra every time.
Tales of Time
Agra was referred to Akbarabad, known to be civilised after Akbar, the successor of Babur, came into power. Akbar worked on making Agra a place for learning arts and religion and made improvements into beautifying the city. Babur had already laid the establishment of 'Char-bagh' or quadrangle gardens and this idea was carried forward in major Mughal architectures of not only Agra but in others as well, in the times to come. Other rulers who continued the lineage added other jewels, quite literally to the already fascinating face of Agra, the last being by Shahjahan in the form of The Great Taj Mahal. Since then, Agra has been a delight for the wanderers and draws them from far-off places to study it deeply, to gaze at the centuries-old constructions and to fathom the grandeur prevalent in those golden days.
Playing Hopscotch with Hotels
We had arrived Agra by dusk and were already exhausted even though the bus ride from Aligarh to Agra was what, three hours? (delays included)
The best part of the trip which I want to lay emphasis on was that I was travelling only with my mum. So it was two women straddling between cities and having the best time of the year essentially.
Mum knew some hotel person from her earlier Agra visit so we had made contact with them before departing for Agra. It was a moderate 3-star hotel only a walking distance from the Taj Mahal. We decided to stay the night in the hotel, relax, eat max and explore the city next day as we had only the next day itself to roam around (train back home was on day 2 noon). Pretty jammed up right.
Night at the hotel was serene. We walked up the terrace of the modest hotel to see the night view of Taj and of the city from atop. I could see by-lanes and by-lanes within, crisscrossing into each other with homes interspersed and weaved into a chikenkaari. Old style arched homes with white-tending-to-blue whitewash and intricate jali work in windows. Golden bulbs hanging by doorsteps which lit up the lanes. It was the month of May and summers had well set in. I could see people sleeping on their terraces, classic Indian example of living summer nights under the starry blanket. It was all utmost peaceful and undisturbed as if some prayer of the Mughal ruler had worked till this date.
Giddying up for the Taj
We came to know that the Taj Mahal opens up early morning, anywhere between 7-8 a.m. So when we were up for our Fajir prayer and there was still time for Taj to open up, we again made way for the terrace of the hotel to experience the same views of last night, but in morning light.
The sunrise was astounding. I am always anyway any day a fan of the sky when it is in pretty colours and shades. And Agra summer morning sky was breathtaking. It was full of hope and energy, welcoming its viewers with open arms and bringing glimmer on the eyes of the onlooker.
After hours of taking in all that view, we readied our stuff, packed it up so that we were ready to leave by the time we had visited the Taj. We set off by foot in the still empty morning streets of Agra and within 5 minutes we were towards the west gate of Taj.
The entry line was still long considering we were quite early. As I sipped my tea standing in the line, we came to know that Taj Mahal's opening hours in summer is 6-6.30 a.m! We were definitely late! But considering the time spent at the terrace, we didn't mind ;)
Entry fee is Rs 50 for national tourists and Rs 200 for international tourists (as of May 2019) but Rs 50 is for when you want to explore the place and not the inner periphery where the actual dome is.
Morning walks overseeing the lush expanded gardens of the heritage place is divine. Few people, lots of good views to capture and a feeling of walking at a place ages old.
If you have been here or any other heritage place for that matter, you know, the instant you step into the premises and you are flocked by local guides willing to 'guide' you. Even though the world knows about it, you have seen and known about the place in countless movies and from so many other sources, you still need a guide? Mum insists and so we hire one old man with whitening beard. He accompanied mum while I was in my muse, clicking any clickable object and listening to the titbits that the guide had to offer.
It is in the little detailing that the beauty lies. As I gazed on the magnanimous beauty, I couldn't help but notice the intricacies and attention to detail fine work on it. The floral motifs, paisley patterns and stone carvings are an example of fine craftsmanship. The Ayah's (verses) of the Holy Qur'an that are inscribed (black stone cut out and stuck) on the minarets and arches shows the hard labour that went into creating a masterpiece of its kind.
There is so much to elaborate but I must stop here. To let you marvel on the tall cream and handsome beauty that the Taj is. Hurriedly we were off this place with a new promise of visiting again. Then running off to hotel, grabbing bags and catching a moving train are all part and parcel of a seasoned traveller like you and me.
This one's for all the Taj Mahal fanatics out there. When the world is a better place and there is better health for everyone, we'll meet someday, gazing at that marvel as if it had been in waiting all this time.