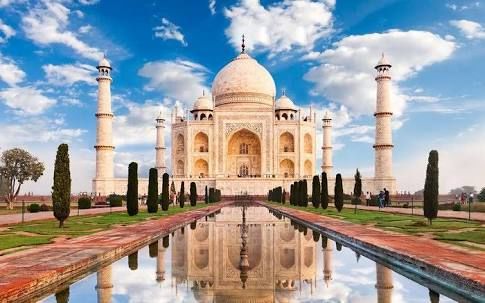 Hi friends!! This is my traveling experience when I visited Taj. I Was studying Bachelors in Engineering when I visited The TAJ. I booked a train to Agra and I was very excited that I'm going to visit Taj. That was my first trip that I have done out of my native state. As it was the first trip out of my state I was very nervous rather than excited. It's around 3 in the morning when the train reached Agra. I just stepped out of the station and found a group of people rushing towards me. As I'm new to the city I was damn in shock and couldn't realize what's going on. Then I came to know that those group of people are Auto-Rickshaw people. I decided to take a rickshaw because I felt that it will be safe enough. He dropped me near my hotel. It was around 3 degrees and I couldn't take that much of cold since I'm from a hot place.
VISIT TO TAJ :
It was 6 in the morning. I thought to visit Taj as many said that Taj will be tremendously beautiful in the dawn. I took local share Tuk Turk and reached Taj. The counter was not much crowded. I have bought a ticket and was very very excited to see one of the seven wonders of the world at that time. There was a security check that too the guards and police were very very strict towards the visitors. They didn't even allowed food items into the place, they only accepted water bottles to carry with.
I was completely supersized with the monuments at the begging that were built at that time. Then I found huge doors which are leading towards Taj. When I watch Taj for the first time I experienced goosebumps on me. Literally I was filled with joy and happiness, I can't even have words to express my feeling. The Taj was fantastic just fabulous to me. I felt that I could stay one full day just watching the beauty of Taj. I can see the same feeling in everyone's eyes around me.
I roamed around exploring the two huge dargahs on the either sides of Taj. The beauty of Yamuna River was awesome. There are various gardens surrounded around TAJ. Taj was built with a white marble stone by Mughal Emperor SHAHJAHAN. He loved his wife MUM"TAJ" very much that he had built TAJ MAHAL on the Tomb of MUM"TAJ". We can see the Tomb of Mumtaj inside the Taj Mahal. But Note that Photos are not allowed inside The Taj. I almost spent half a day in the Archaeological site of Agra "The Taj". When I was about to exit Taj by the ticket counter I was shocked to see atound 150 visitors in the line ofticket counter.
It was an emotion rather than a feeling. It's a life time Memory that will bring you a smile on your face ,whenever you recollect the memory of the beautiful "TAJ".
PLACES TO STAY IN AGRA:
1 TAJ HOTEL :
https://www.tajhotels.com/en-in/our-hotels/hotels-in-agra/
2. RADISSION BLU :
https://www.radissonblu.com/en/hotel-agra
HOW TO ROAM AROUND : There will TUK TUK which are economical for all. There will several tourist companies who will arrange CAR ON RENTAL to show around Agra City.