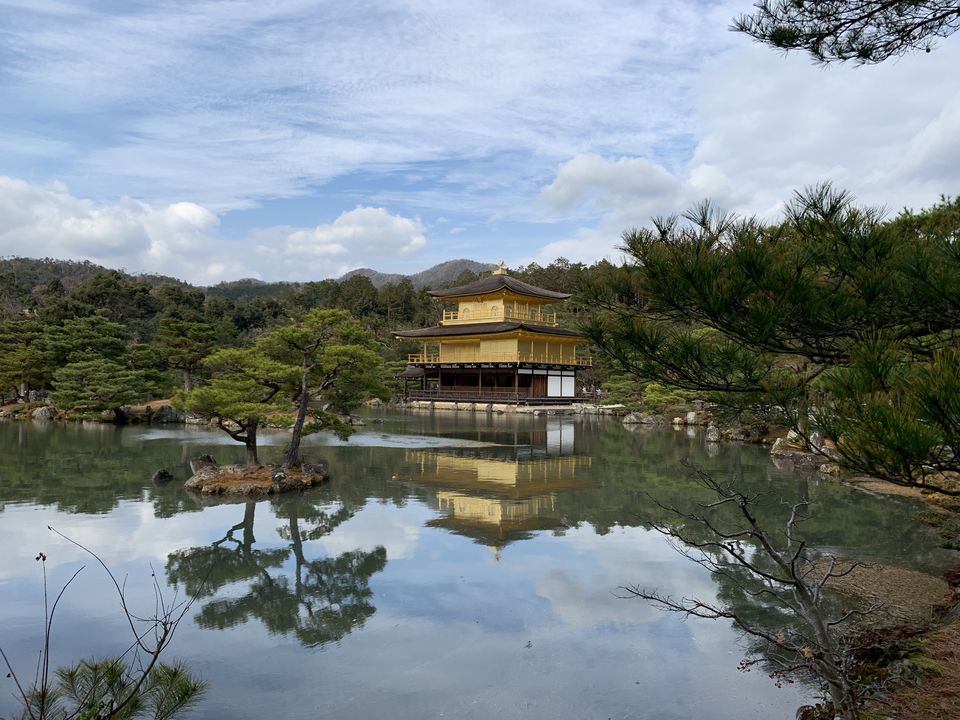 About us:
Family of 2, we got married in 2016.
We love to eat and most of trips are centered around food and that's why we chose japan. My wife is vegetarian and I will eat anything that moves.
Every year we travel in the month of December.
Reasons why we travel in December, holidays, my birthday and to avoid the peak summer travel season.
Before the trip:
Made a detailed itinerary
Made a list of things to buy from japan
Decided a budget
Downloaded useful apps
Travefy for itinerary
TrabeePocket for expenses
Google translator
Japan travel guide for train timings
Booked the JR pass online (must be bought before arriving in japan)
Cost approx 38k for 2
Arrives in 3-4 days
Booked and confirmed hotels and Airbnb
Pre booked the global advance communication pocket wi-fi. Cheaper compared to the other pocket wifis.
Basic itinerary of our trip:
Tokyo- Kyoto- Nara-Hiroshima & Miyajima- Osaka-Tokyo
17th December-30th December
Kyoto 4 days with day trip to nara
Hiroshima/miyajima -day trip
Osaka 2 days
Tokyo 5 days
Cost 4L INR
600000 yen
Approx 12-14000 yen per day for 2 ppl for food, sightseeing, souvenirs and local traveling.
Day 1
Flew to narita, travelled to Tokyo, checked in, slept.
We flew Cathay Pacific from Mumbai via hongkong, landed at narita airport at around 830. We collected the pocket wifi after immigration.
There are 3-4 ways of reaching Tokyo from narita. We chose the most affordable mode.
We took the airport shuttle for 1000 yen per person and got dropped off to Tokyo station in an hour.
Why we chose the airport shuttle:
Taxis are too expensive. Express trains are more expensive than buses but almost take the same time. Local trains are also reasonably priced but you have to change trains and haul your luggage.
Since our flight landed at 830pm we reached Tokyo by about 945pm.
Our plan was to travel to Kyoto the next day so we checked in at a hotel close to one of the stations.
The rooms and beds in most of the Tokyo hotels are small even after paying 5-8k INR per night.
Checked out, Shinkansen to Kyoto, dinner
We checked out and left our luggage at the hotel. We went to Shinjuku to buy an Apple iPhone at the Apple store. We needed a new phone with a better camera for the trip so this was priority. (Unclocked Apple phones are only available at Apple stores in japan)
Apple phones and electronics are cheaper in japan since they are tax free (make sure to spend above 5000 yen and to carry your passport)
After that I had breakfast at a grocery store. Grocery stores like family mart, 7-11, Lawson (are all over japan and open 24x7) have hot snacks, ready to eat meals, will give you hot water for cup noodles. After that we went to the Tokyo station, we activated our 7 day JR pass and booked 2 seats in the Shinkansen to Kyoto. After that we went to T tan tans vegan ramen place (only vegan ramen place inside Tokyo station) for my wife's lunch.
The train took about 3 hours to reach Kyoto, on our way to Kyoto we saw Mount Fuji. So this saved our trip to hakone or lake kawaguchiko.
At Kyoto station went to the tourist information centre. Got maps and bus numbers. (very helpful)
From Kyoto station we took the local train to our hotel in Gion. Relaxed for a bit and went out to explore the gion area in the evening. Went to yasaka shrine which is lit up at night & then had dinner at a tendon tempura restaurant (waited for an hour) in nishiki market and came back. Nishiki market closes at 5 in December but the restaurants and shops are open till late.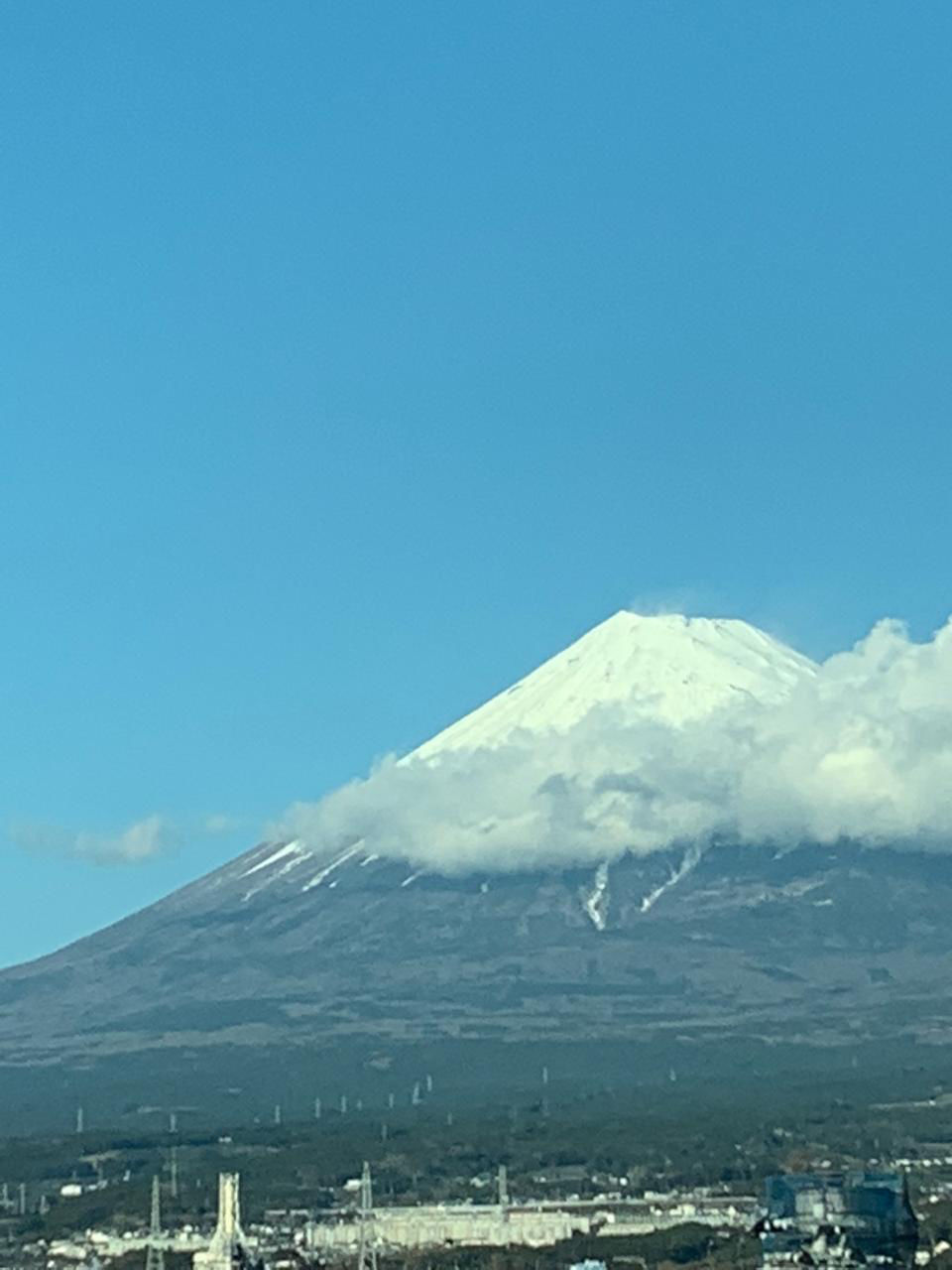 Sightseeing in Kyoto
Bought the Kyoto bus day pass 600 yen per person.
We visited Kiyomizu Dera shrine (entree fee 600 yen pp) you can roam around the shrine without entering. The main shrine is under renovation till 2020 so we were slightly disappointed. From there we walked to Yasaka Pagoda & Kodaji Temple. The Kodaji Temple had an entrance fee of 600 yen per person. There is buddhist temple next to it with a large buddha. You might want to visit that too. We also stopped by at the Star bucks located in the heart of Higashiyama. This star bucks is like none other since it was orginally an old house. Kinkakuji (400 yen per person) which is a must visit. On our way back we got down at Nijo Castle, it took us an hour to cover the entire castle. You get to enter the castle and see the paintings. No need of the audio guide since they have explanatory boards all over.
All these places are covered if u take the bus pass.
We skipped ginkakuji to save time and it's similar to kinkakuji.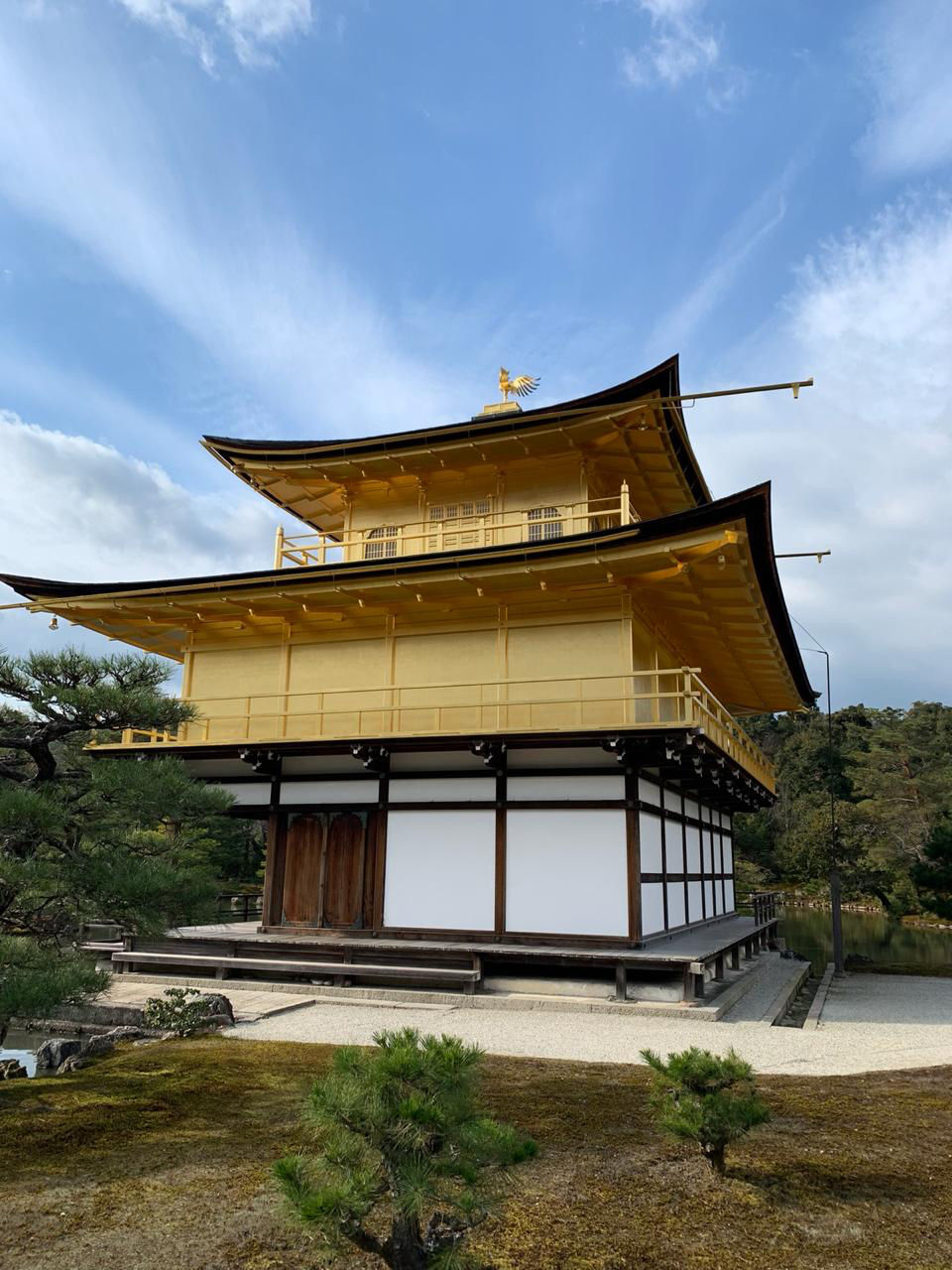 Fushi-inari & nara
We went to the Fushi-inari shrine, the key to travel in Kyoto is to start your day early before everyone else. The popular shrines get really crowded and most of the places get shut by 4-5pm in winter. The Fushi- inari shrine is know for its orange toris, the main shrine is up the hill. The trek will take 1.5-2 hrs so make sure you wear comfortable shoes. We climbed all the way to the top, it wasn't easy and we were too tired for the rest of the day. The shrine at the top of the hill isn't grand, it's perfectly ok if you climb till the half way point to get a view of Kyoto. Since we had only few days in Kyoto we had to travel to nara which is an hour away if you take the jr train from the inari station. Nara is known for the todaji temple and the courteous deers that bow when you feed them. The 1 hr rest in the train was helpful. After reaching nara we walked to the famous mochi shop in Higashishi area.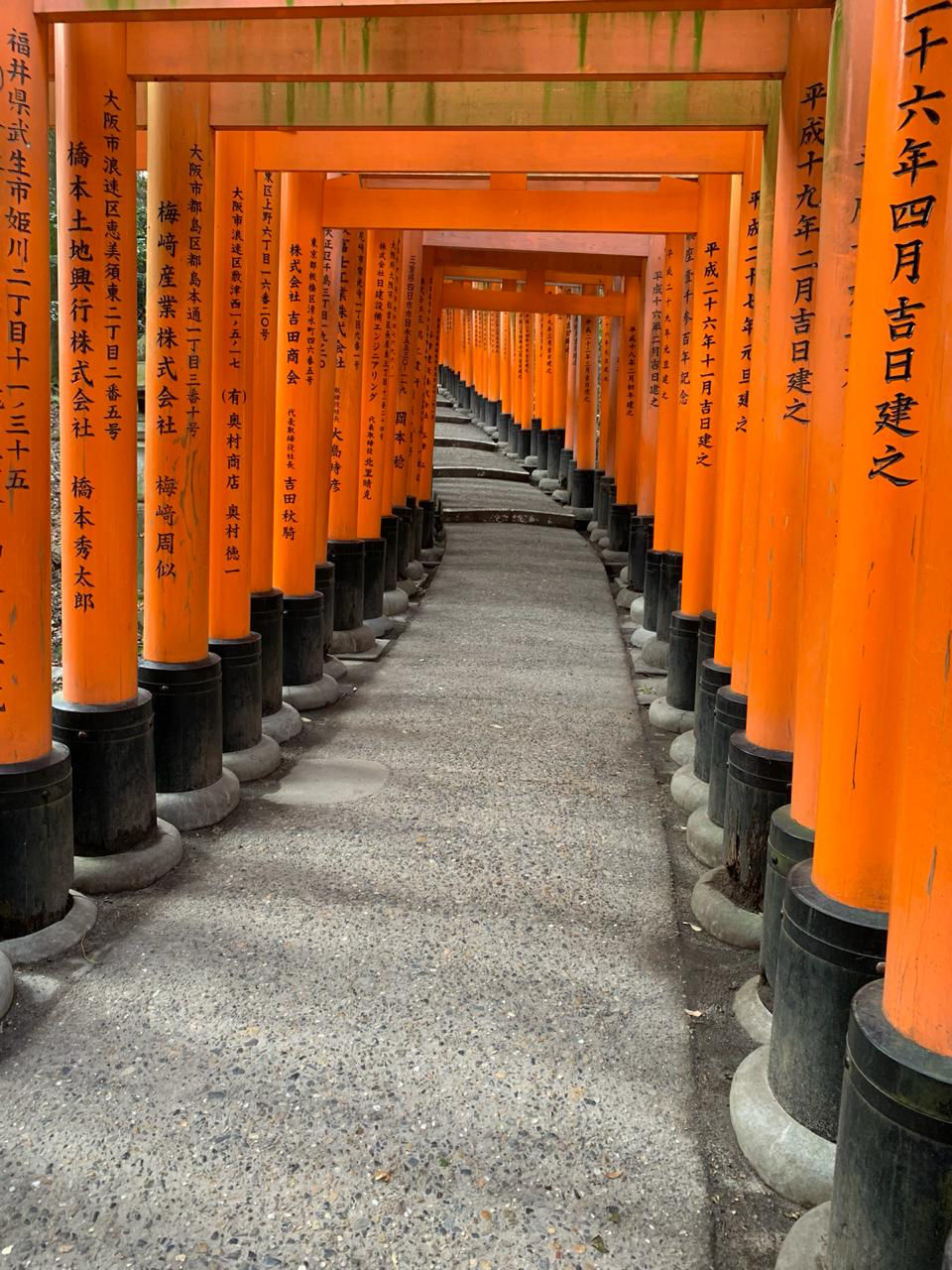 We walked to kofukuji temple from the station and walked to todaji temple through nara park. Nara park is full of deers, you can interact with them on your way to todaji. Once you reach todaji make sure you take the free English guide. It's 600 yen to enter the temple.
We then walked up the hill to nigatsudo, you can see nara from top and they have a beautiful prayer hall. After that we walked to kasuga Taisha. We then walked all the way back to the station. You can also take the nara hop on hop off bus if you don't want to walk but the buses will only drop you to the main stop you will still have to walk through the park. We finally took the train back to Kyoto.
We had exhausted ourselves that day and decided to take a taxi back to the hotel.
Nara is closer from Osaka so keep that as an option.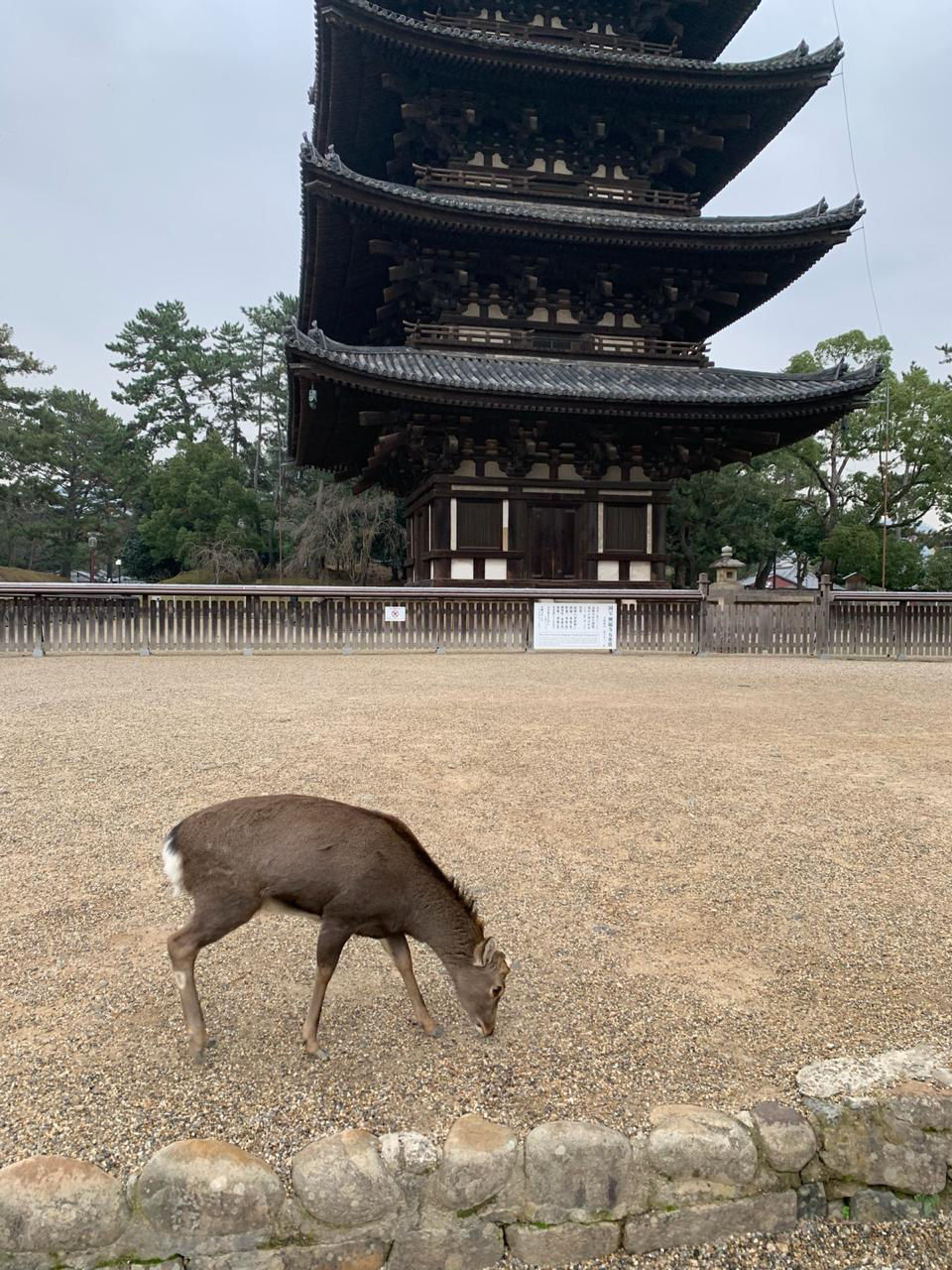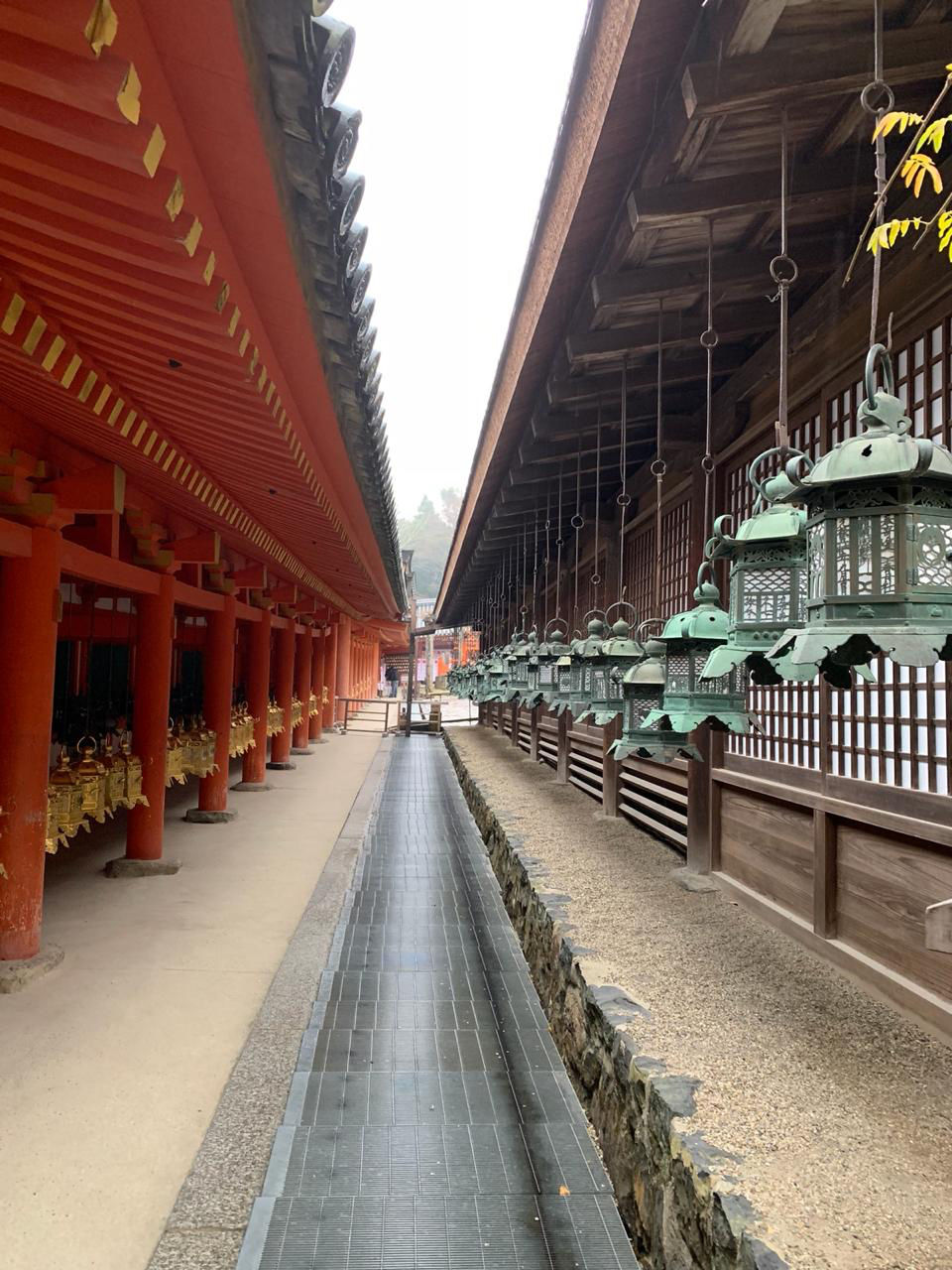 Sightseeing in arashiyama
We took the Kyoto bus day pass every single day in Kyoto. Each ticket is approximately 200 yen so if you plan to take the bus 3 or more times it makes sense.
Our bus dropped us off near tugetsukyo bridge and took an hour from Gion area.
After taking some pics at the bridge we headed to bamboo forest. The bamboo forest is slightly disappointing, it's small and is always crowded. Make sure you go early, it opens at 7am. Next to the bamboo forest is the tenryuji shrine, which has outrageous entry free 1200 yen for the shrine and the garden. You can only do the shrine or only the garden too for 600 yen. We did only the garden. If you have seen kenkakuji it can be skipped. But since you have spent an hour to reach arashiyama you might not.
We then walked from the bamboo forest to the sagano scenic railway line station. We bought 2 tickets for 600 yen each. The romantic route takes about 25 mins one way to umahori station. The train travels along a winding track next to a beautiful river and a mountain on one side. This was the highlight of our arashiyama trip.
Since we had the jr pass we walked for 5 mins to the jr station and got back to Kyoto. Alternatively you can take the same train back.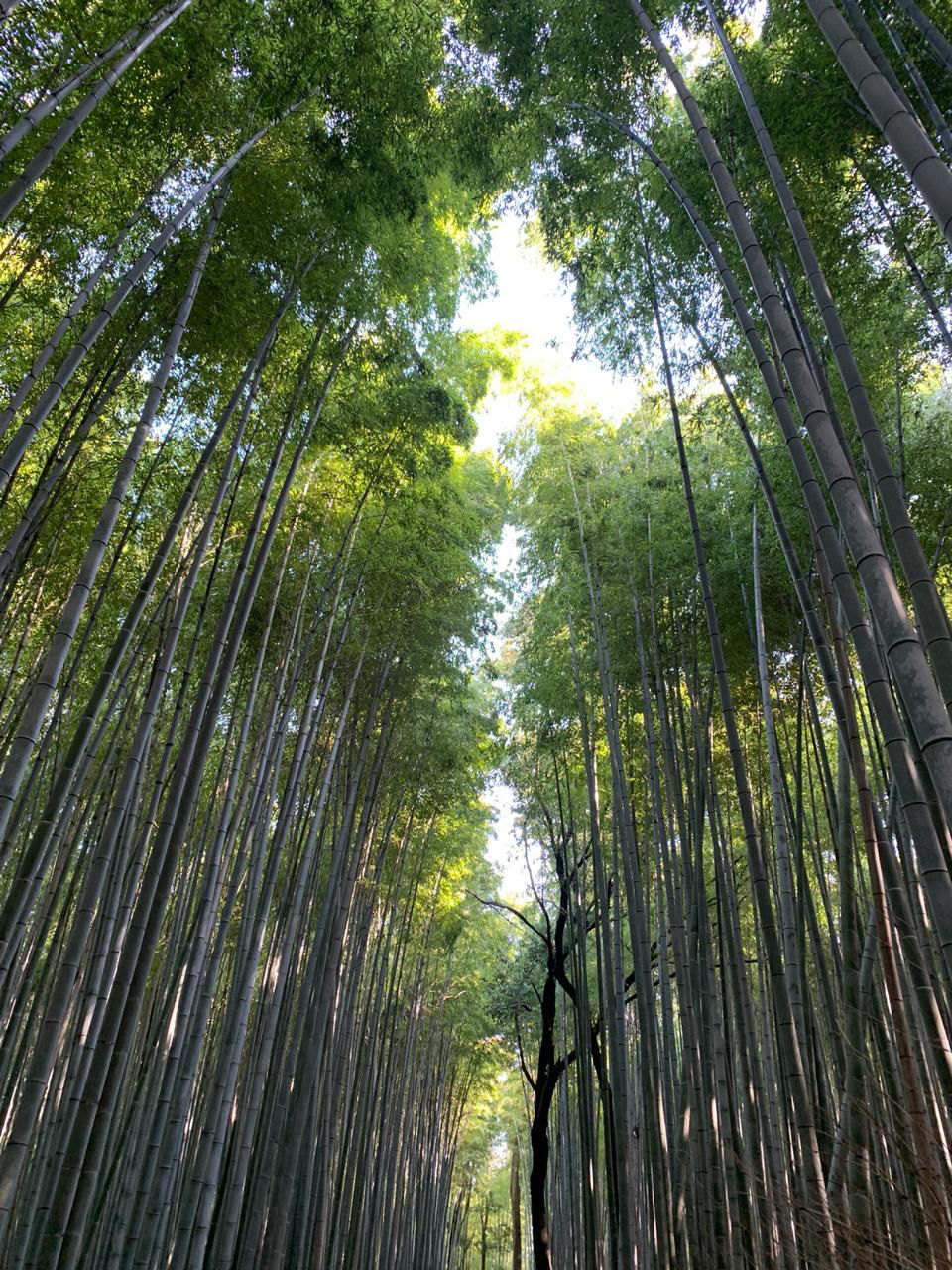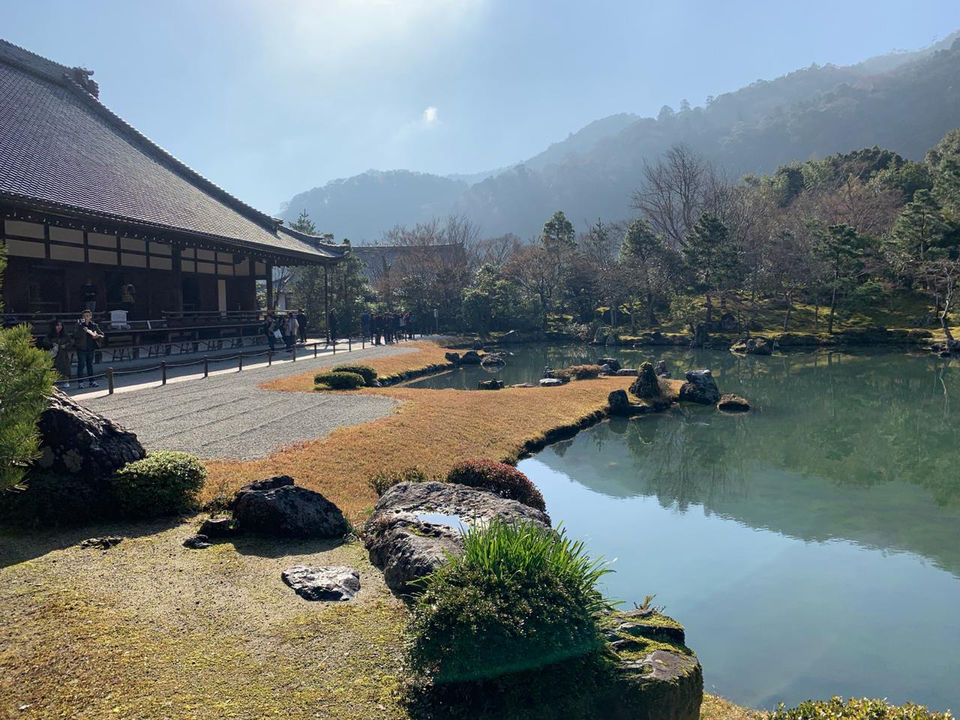 Day trip to Hiroshima & Miyajima.
We checked out of our hotel in gion by 8am. Rushed to Kyoto station and took the jr train to Hiroshima station. We reached in an hour and then dropped our bags at the storage facility for 800 yen a bag. We then proceeded to miyajima.
Miyajima is a small island and can be accessed by using the 15 mins JR ferry. (included in the jr pass)
Miyajima is famous for its submerged tori gate, free roaming deers and fresh sea food.
Since we had only half a day in miyajima, we could only do the main shrine and the pagoda, we skipped the park and the trek to the top of the hill.
Don't forget to buy the star shaped cakes, they were delicious.
We caught the 12 10 pm ferry back to Hiroshima and immediately took Hiroshima sight seeing hop-on hop off bus which is also free with the jr pass.
Our main reason for visiting Hiroshima was to tour the peace museum. So we decide to take he green route bus which takes you there first. The most famous building in Hiroshima is the atomic dome remains that survived the deadly explosion.
We spent couple of hours at the peace museum and the victims centre after that.
We did not have enough time to see the art museum and the castle. We had to catch our train to Osaka at 6 30.
You must keep a day for Hiroshima if you want to cover all the attractions.
We reached osaka by 930pm and checked into our Airbnb. Since we reached Osaka on Saturday, we decided to venture out to Dotombori for dinner and drinks.
Dotonbori is the liveliest part of Osaka with amazing restaurants and the most tasty okonomiyaki and takoyaki.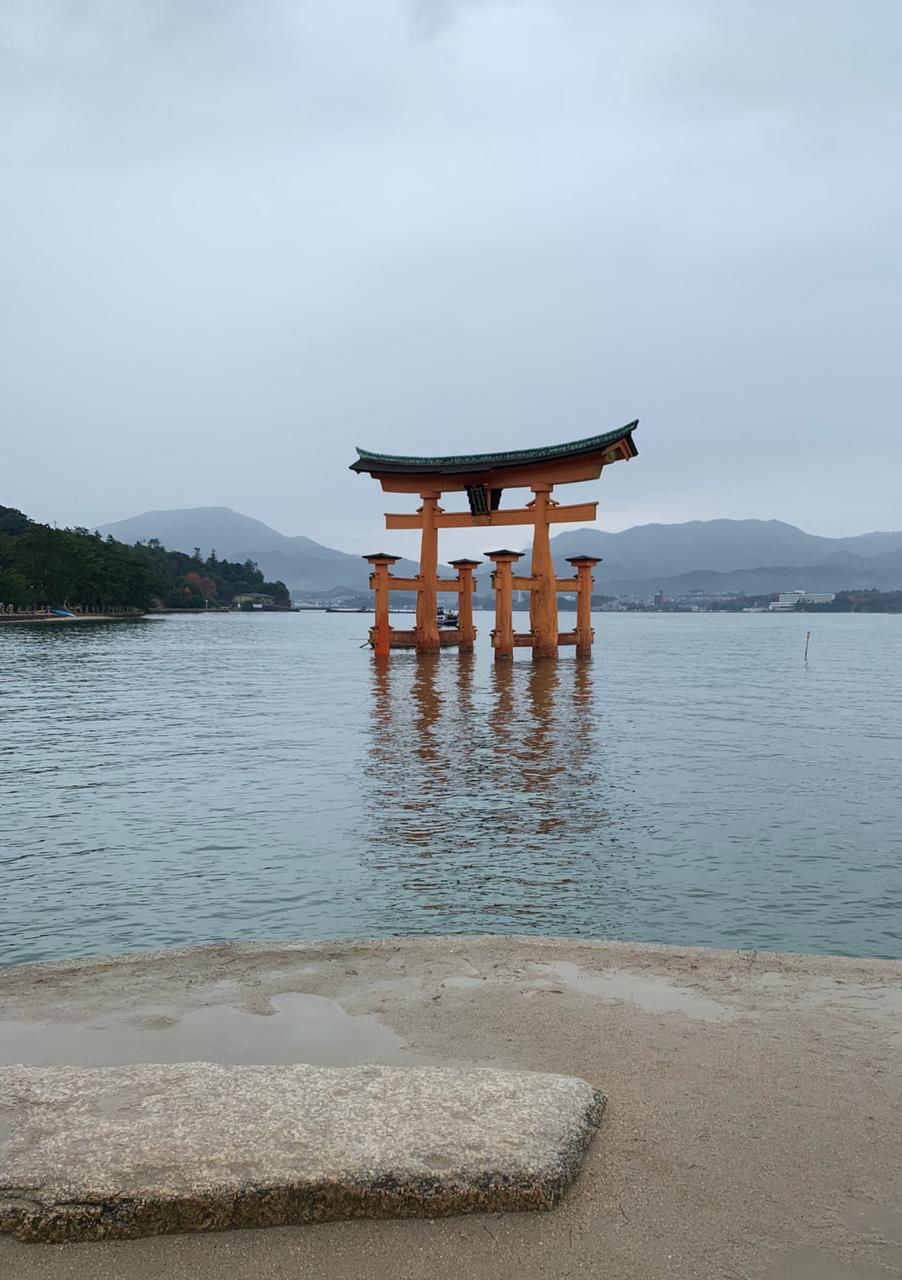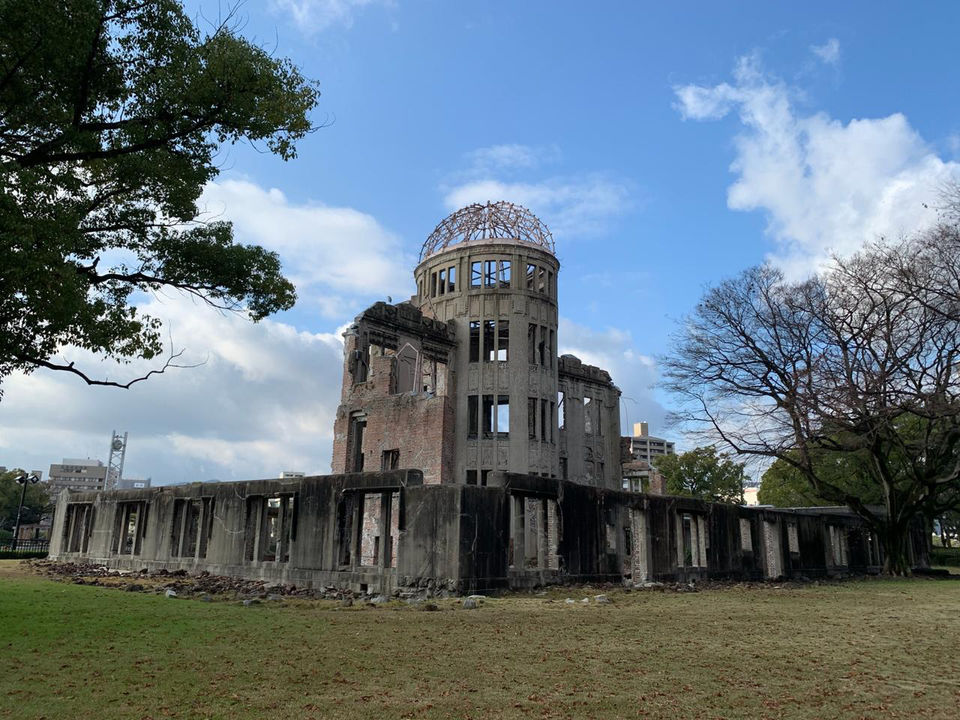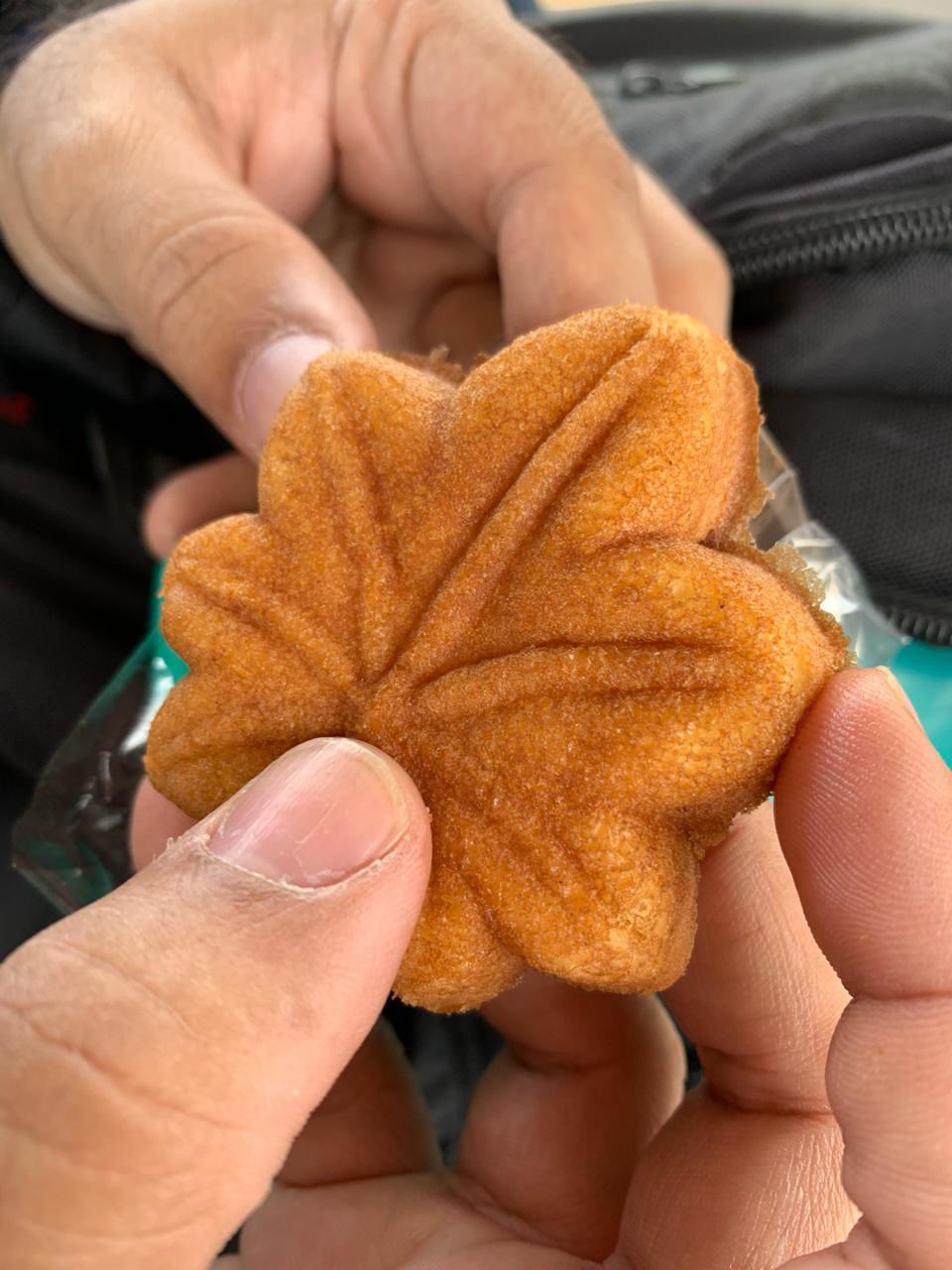 Our 7th day started a little late since we were at Dotonbori till late night. The osaka loop line is covered in the JR pass, so going to Osaka castle wasn't difficult. The castle has an entrance fee of 600 yen, you can either walk up or take the lift, we chose the lift. You get a good view of osaka from the top. On our way back to namba we stopped at Rukiro Ojisan Cheese cake which is located in one of the shops in Osaka station. We were lucky to find it. After that we went to shinbashi, which is one of the longest shopping streets in Japan. After that we had dinner at a famous Gyoza place. The staff was super helpful, and made speacial veg food for my wife.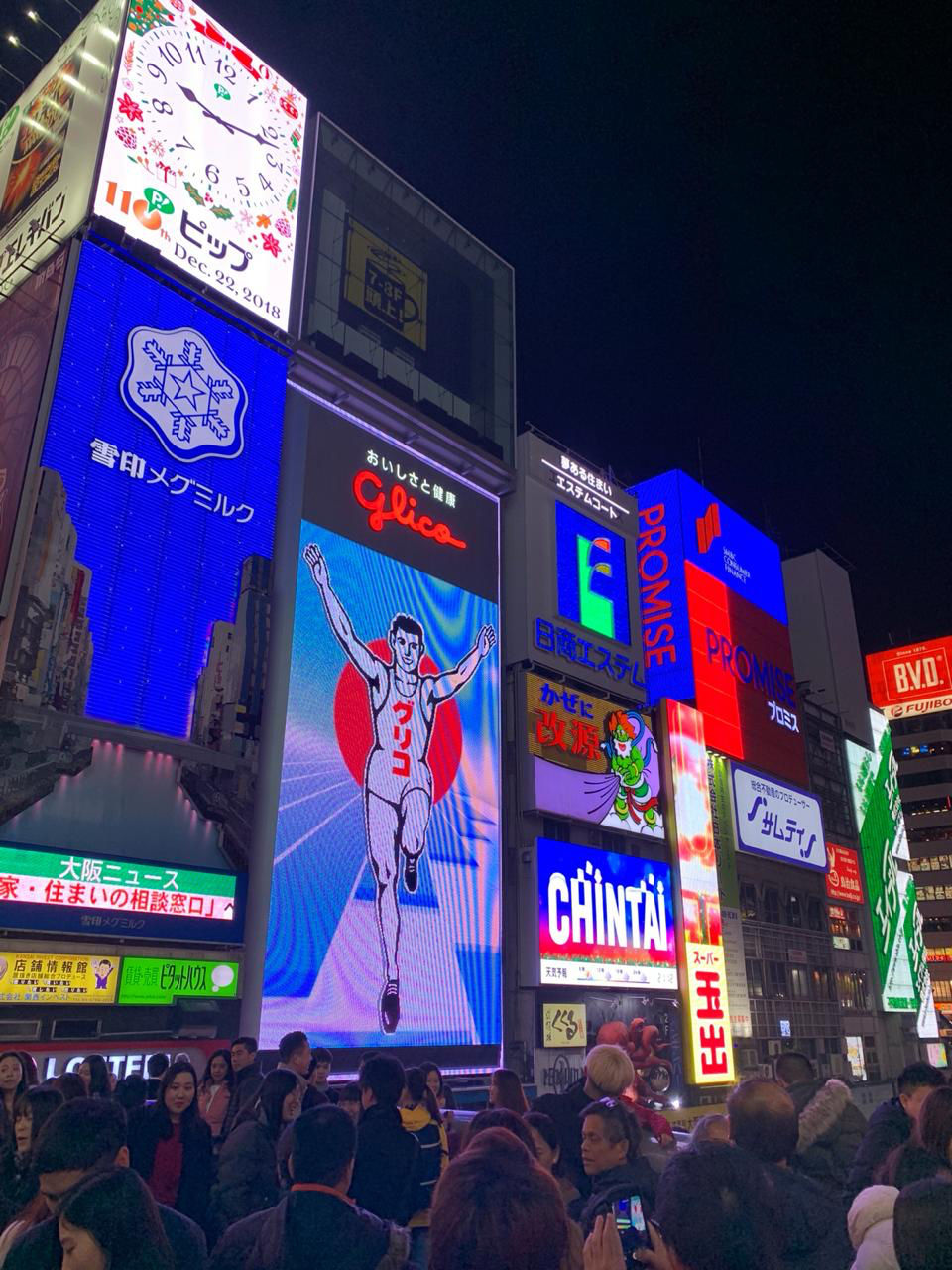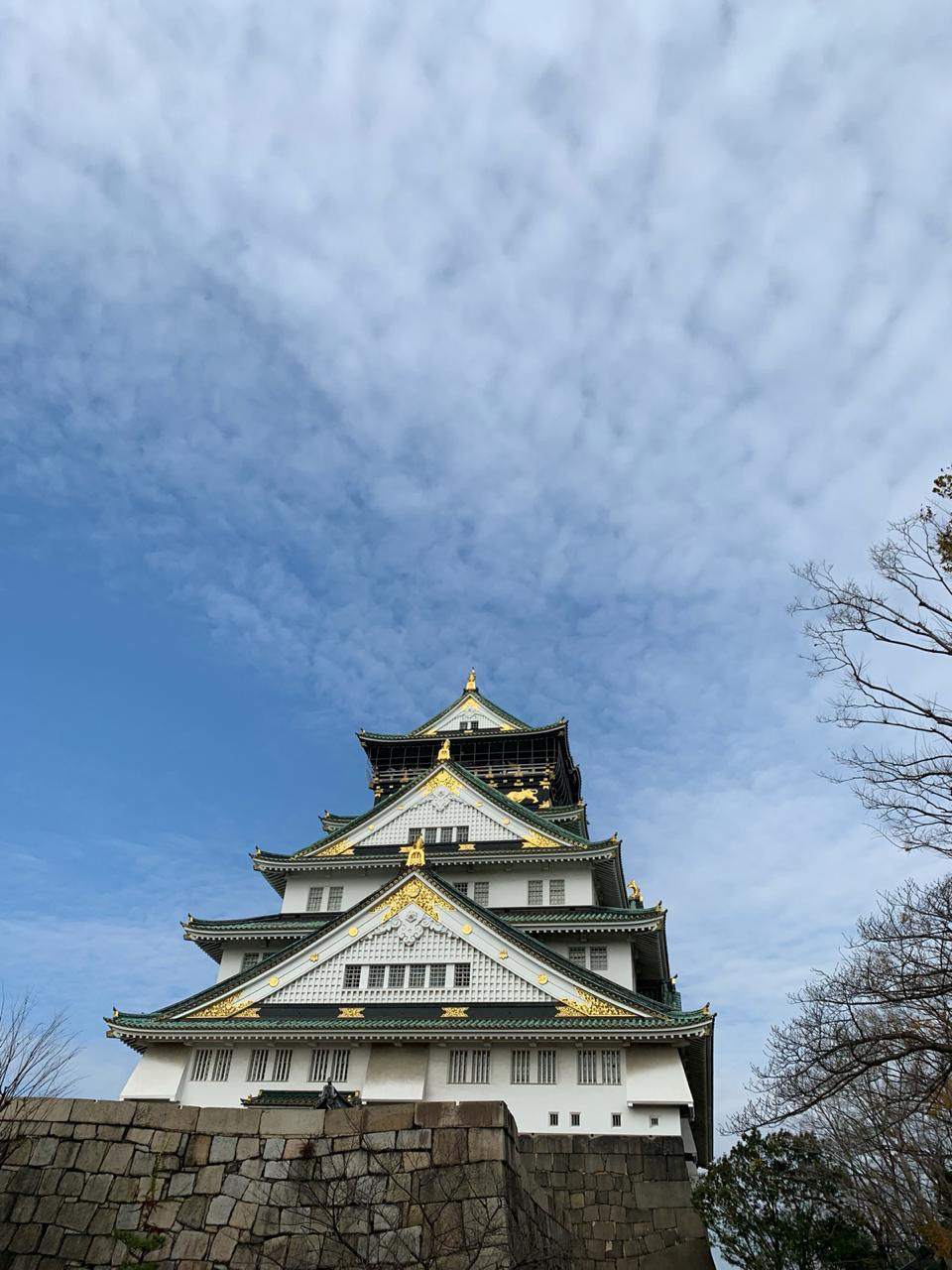 The day started with us wasting time to drop of our luggage at Osaka Station. During the holiday season the lockers and blocked and the only storrage service has a long queue. We then chose to go to for a ride on a ferris wheel on top of the Hep 5 mall,the charges are 600 yen pp. There are couple of ferris wheels in Osaka, other one is a near the coast. After that we headed to the Tsutenkaku, which is the old part of Osaka, they have a famous tower and a lot of interesting food joints. I risked my life & tried the fugu fish at a restaurant famous for it. The staff was warm & friendly. The other option was a restaurant that let you catch your own fish before cooking it. It was late so we decided to go back to Osaka station to take the shinkasen to Tokyo.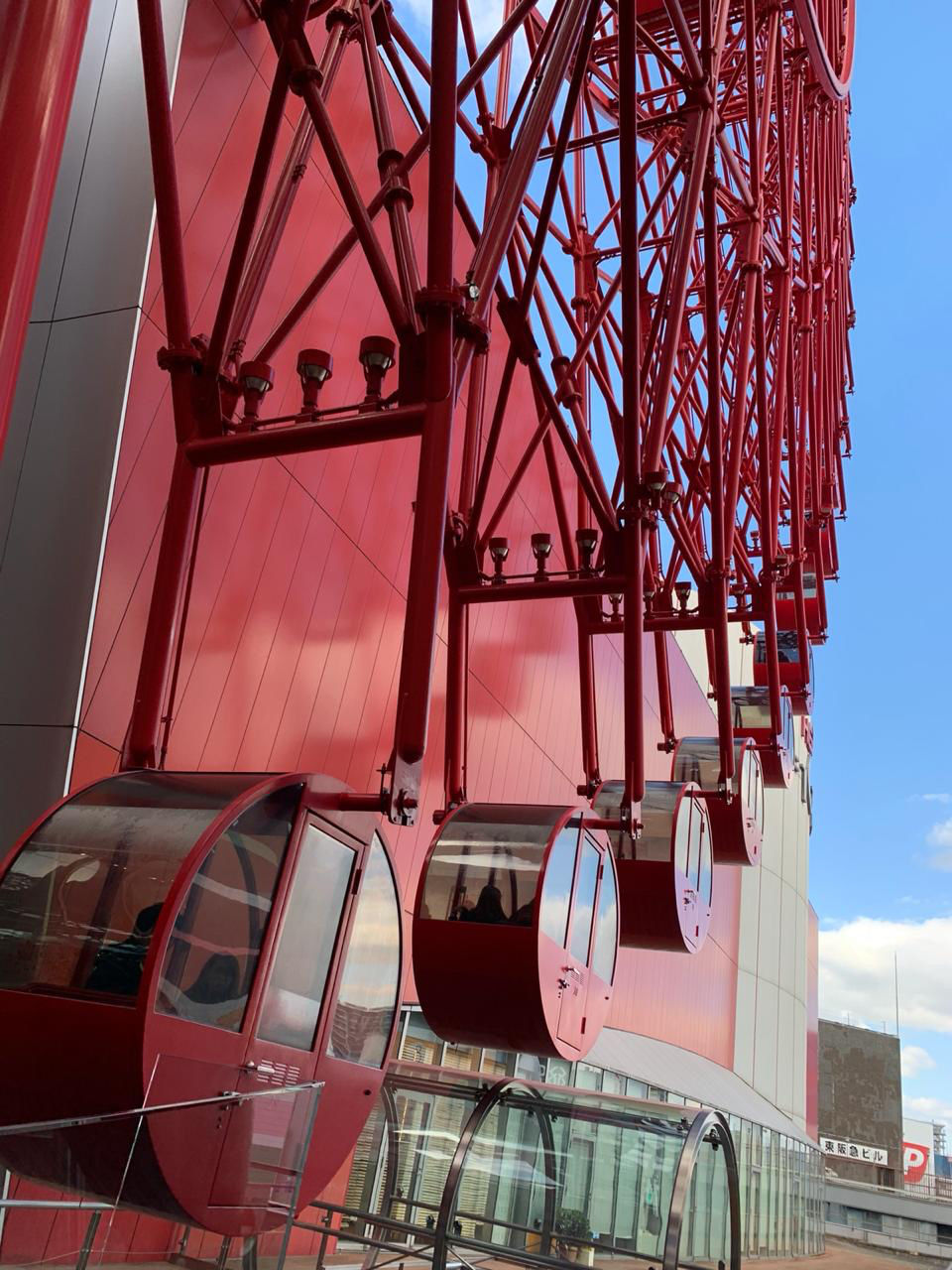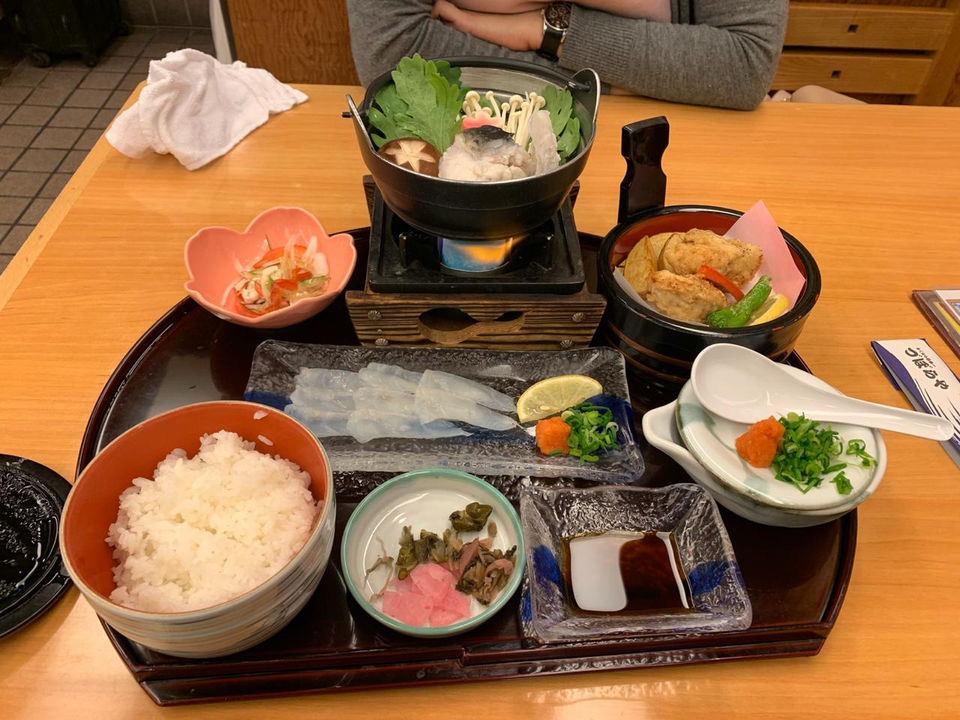 Shopping at shibuya, Xmas lights
Our JR pass expired so we bought the 900 yen subway and metro pass, we found the pass to be very useful and bought it almost everyday during our stay in Tokyo.
After breakfast we went to shibuya, saw the hachiko dog, roamed around shibuya. This day was for my wife's shopping, went to don qiote and uniqlo. Ate sushi from the conveyer at Genki sushi. (cheap and amazing conveyer belt sushi). In the month of December especially during Xmas, tokyo is lit up. Areas to visit are Caretta shiodome shopping mall, Roppongi hills, Tokyo midtown. These areas use anywhere from 100000 to 500000 leds for decoration. We spent the night walking through these lit streets.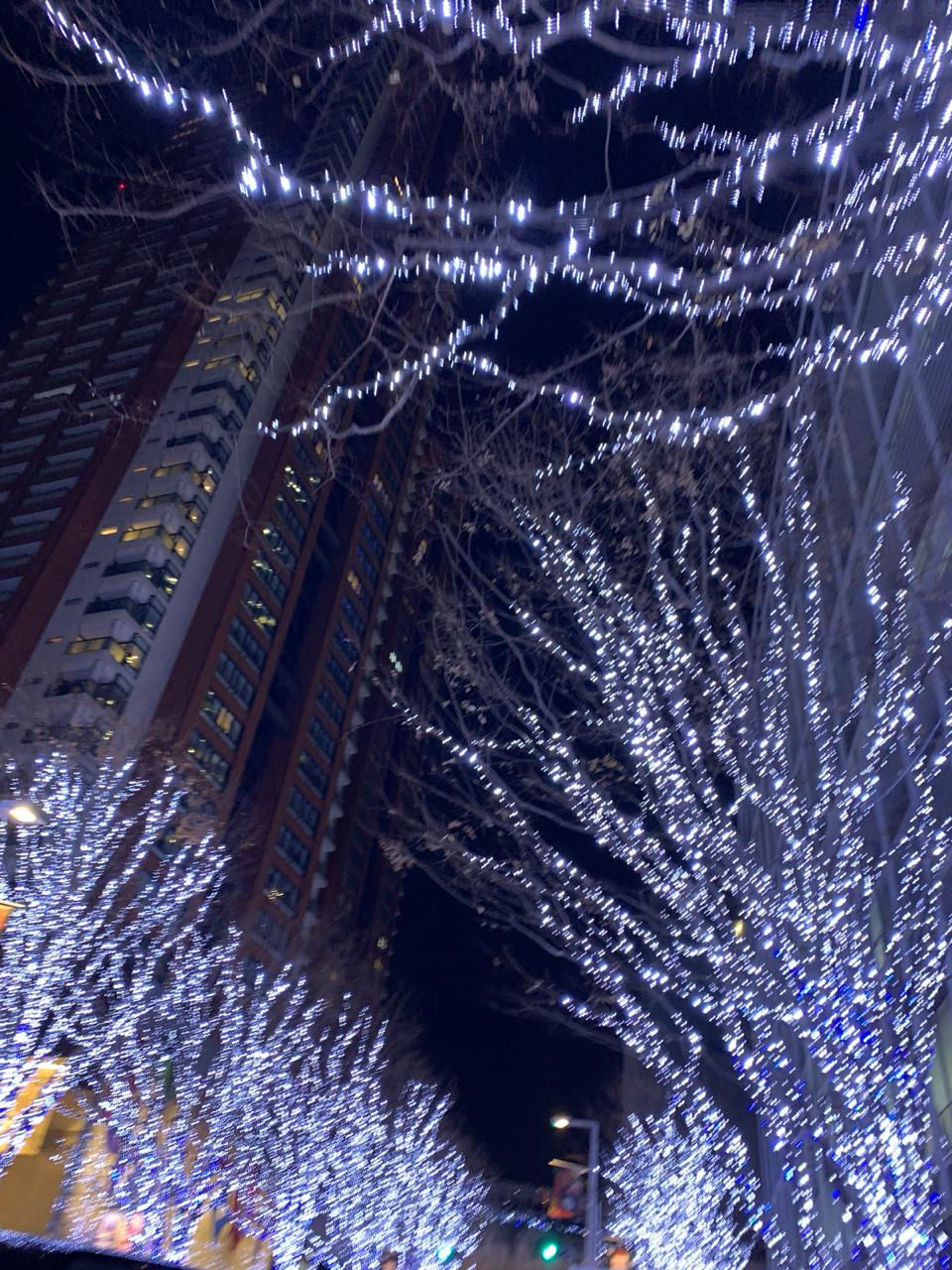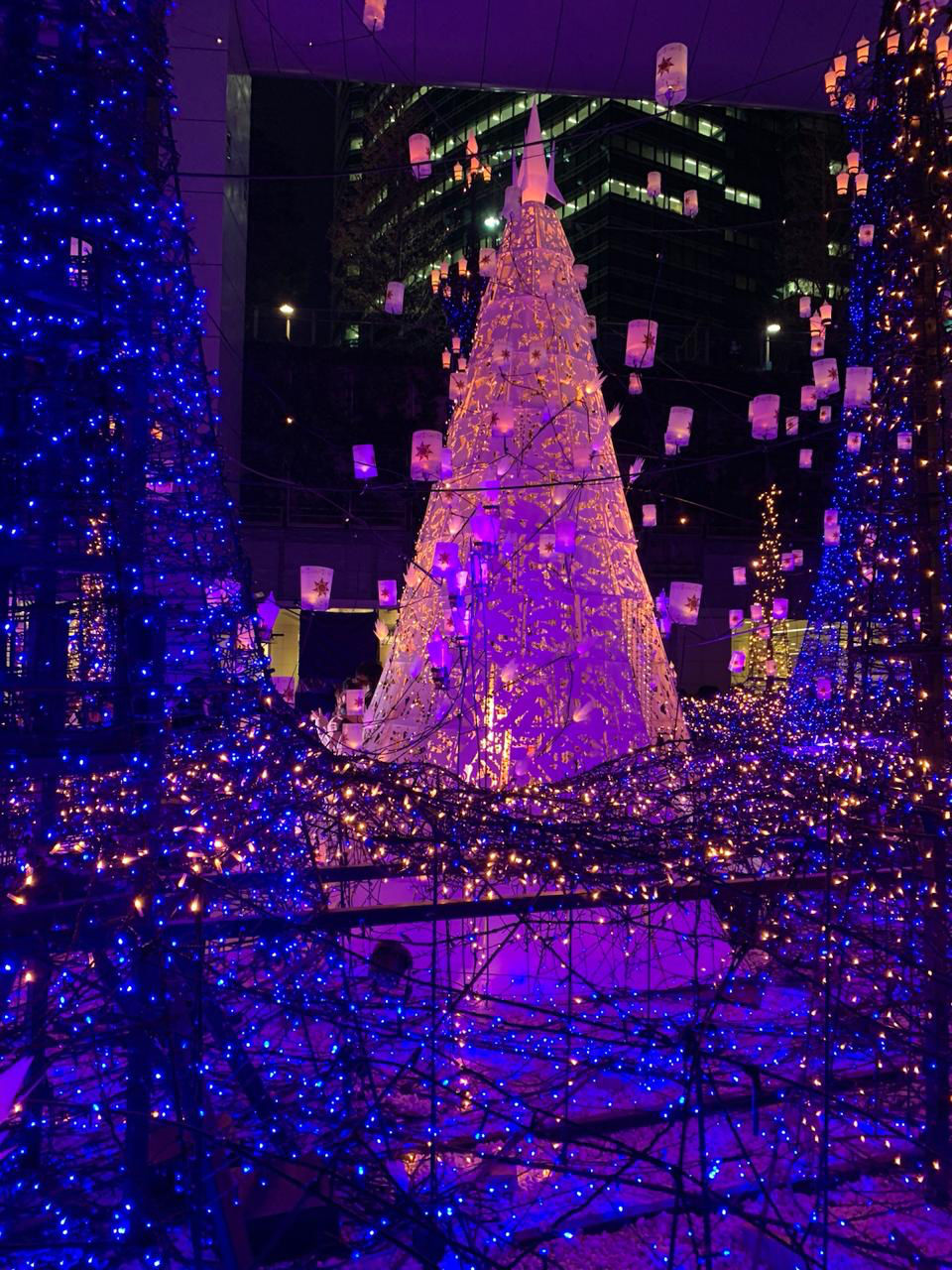 We had to change our hotels in the morning; after that we went to Meiji shrine inside a beautiful park. The walk to the shrine is amazing. We then walked to Harajuku, which is a quirky street full of Japanese teenagers. The place is also famous for the crepes and cotton candy. We found the different flavoured kitkats (which you should buy as souvenirs) were the cheapest here. After harajuku we went to kabukocho, it has a few landmarks like the Godzilla on top of the gracery hotel and the robot restaurant. For pre dinner we went to omoide yokocho, they have small bar restaurants, a bit pricey but worth a try. If you want to drink where the locals drinks you can also go to golden gai.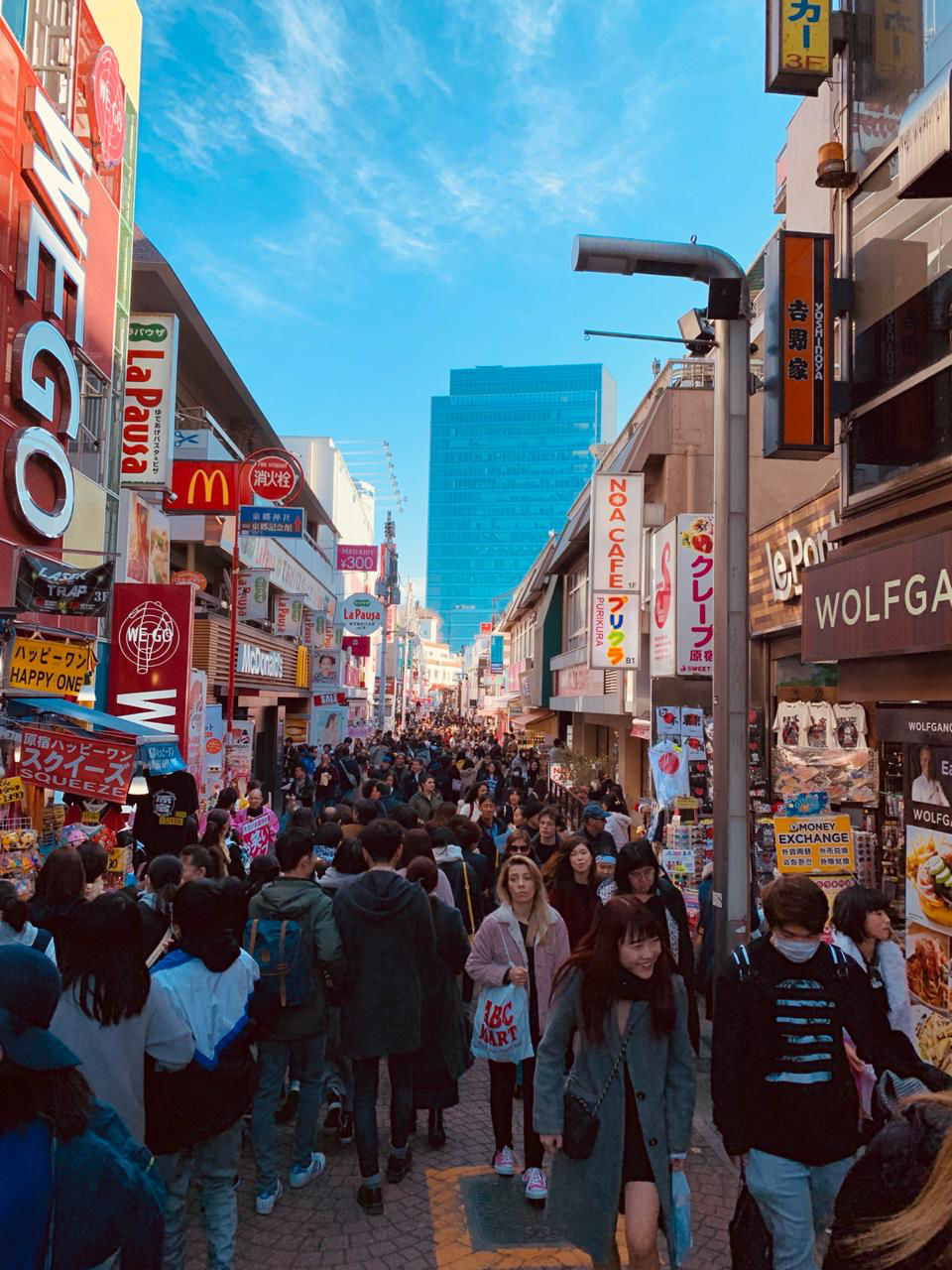 Sightseeing in Asakusa
Started our day off with a visit to sensoji shrine, had melon pan( a must try) , bought souvenirs at nakamise street. Walked to the asahi beer (turd building). Visit the top floor tourist centre near nakamise street for a good view of the temple and the area. They also have free events for tourists. We took the Japanese calligraphy 10 min course.
After that we headed to dempion street and hoppy street for lunch. The Japanese people waiters are very friendly and genuinely nice. They made veg food for my wife even though they dint have anything in their menu. ( Also you don't have to tip in japan). If you want to buy knives, Japanese cutlery and fake food head to kappabashi street which is a short walk from hoppy street.
After that we took a train to go and see the Tokyo tower; bought the ticket to the main deck. (900 yen pp). We then took the metro to akihabara famous for cheap electronics, gaming arcades, maid cafes( google it if you don't know what those are)
We went to sega played some arcade games and then entered the massive shops.
Go to akhibaoo for cheap electronics, then visit bic and yodobashi camera.
Bic and yodobashi are the biggest stores for electronics that you will find in japan or anywhere else in the world. They have many outlets and all offer you tax free and 5% off on visa card.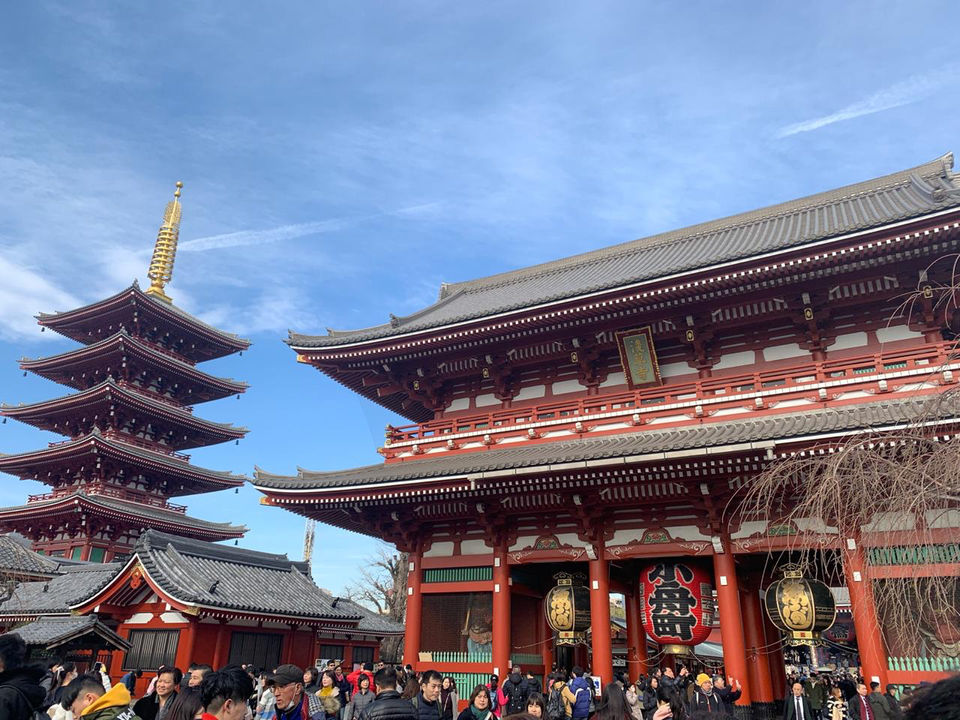 Zoo, Tsukiji fish market, akhihabara
We started our day off with Ueno zoo (600 yen pp) the zoo is nice, the kids will love it. The monorail is not worth it. There was a 70 min waiting to see the panda exhibit, so we skipped it.
We then went to the famous Tsukiji market , had fresh fatty tuna sashimi. Beef pot and then finally sushi. I tried to cover all the places recommended by YouTube food guides. All of them were worth it. Some of the places close by noon so make sure you reach before 12. Tsukiji fish market's tuna auction and fish selling area has moved to a newer location from 2018 but the restaurants and food joints are still there.
We finished our day at akihabara; since we had some shopping left.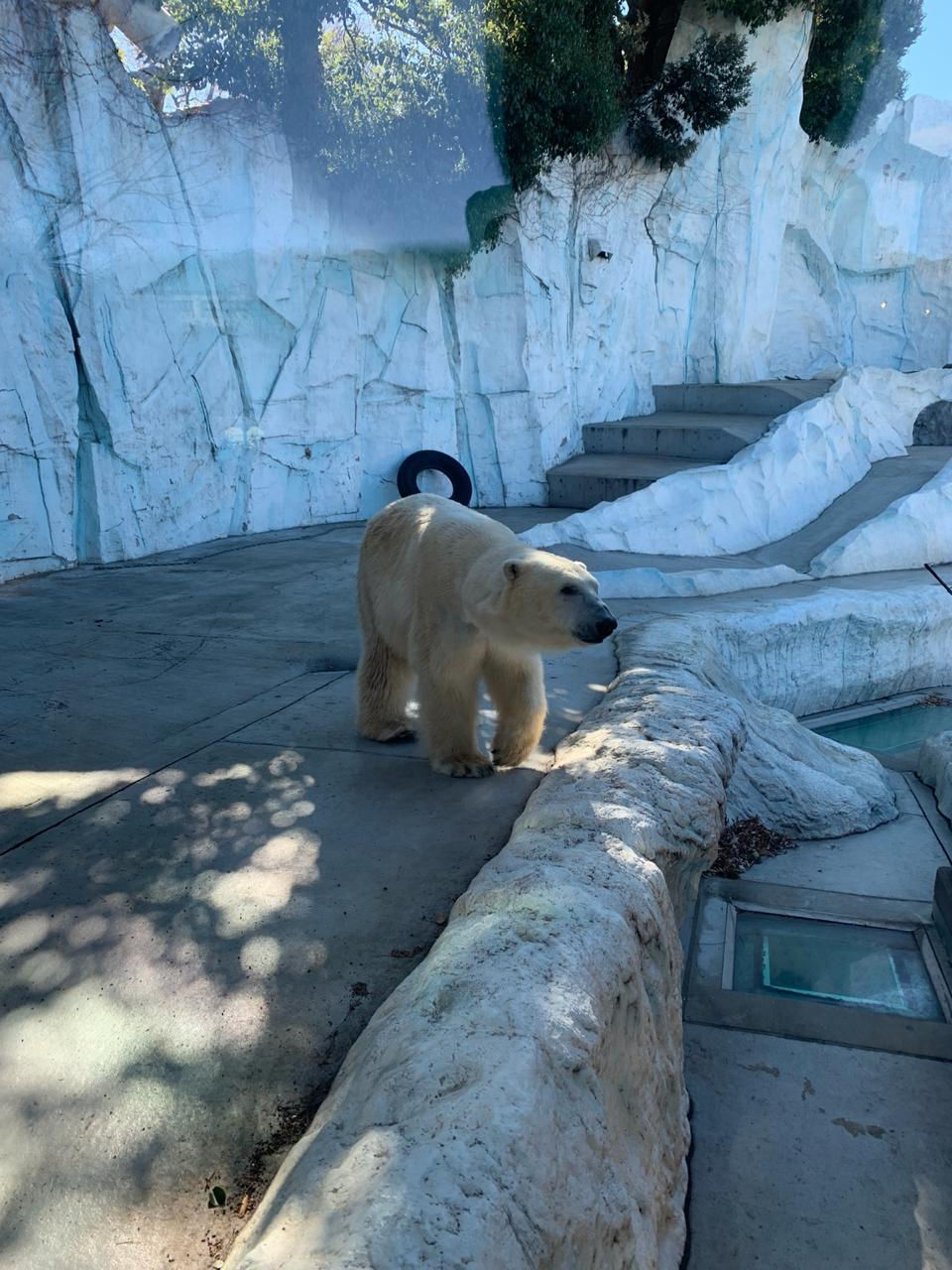 Michelin star restaurant, shopping
Birthday day. Went to nakiryu ( Michelin star ramen place) reached 1145. This place opens at 1130. Ppl start queuing up at 10, we entered the restaurant at 3.15.
Yes we waited for 3 and a half hours for this. But it was all worth it and I would do it again. After lunch we went to imperial palace which was unfortunately shut. We headed to Harajuku to buy the cheap kitkats as souvenirs and to have some food. From there we went to shibuya to shop at don-Qi had melon-pan for the last time and went back to our hotel.
Bye bye japan
Packed and stuffed our bags, had breakfast left for Tokyo station.
We took the bus shuttle to narita airport.
Tips :
Take the JR pass
Take the pocket wifi
Book flights hotels 4-5 months in advance to save cost.
Don't be afraid to do day trips with your luggage, all major train stations have storage facilities. 1000 yen per bag, you have to pickup the bag by 6/8 pm. You can also use coin lockers.
Shop souvenirs at daiso, kitkats at harajuku, don Quito for other things.
Uniqclo for clothes.
Shrines and museums, some shops and restaurants are shut from 29th dec to 31st.
Visit Hyperdia for train timings
About the JR pass:
Is perfect if you are going to change cities in japan. Works all over japan but not valid for nozomi and a few trains (don't worry it won't make a difference)
Available for 7, 10 and 14 days.
Is also valid for the local JR Trains and ferry in Hiroshima.
Use the JR calculator if you have a doubt.