The Corbett National Park is home to numerous endangered species. Tourists have spotted distinctive predator species exclusive to the area. The Corbett Tiger Reserve houses the mighty Bengal Tiger, which is a source of major attraction to the Park. Other species include a huge list of distinctive fauna such as, sambar deer, hog deer, chital, Sloth, Himalayan black bears, Indian grey mongoose, otters, yellow-throated martens, Himalayan goral, Indian pangolins, langur and Rhesus macaques. The park also embraces several types of cats besides the Leopard and the Tiger. One of the major attractions is the reptile -Indian python. The exclusivity of the fauna sets Corbett apart from other national parks and sanctuaries. Among the birds, the place is enriched with species of birds like the crested serpent eagle, the red jungle fowl and the blossom-headed parakeet.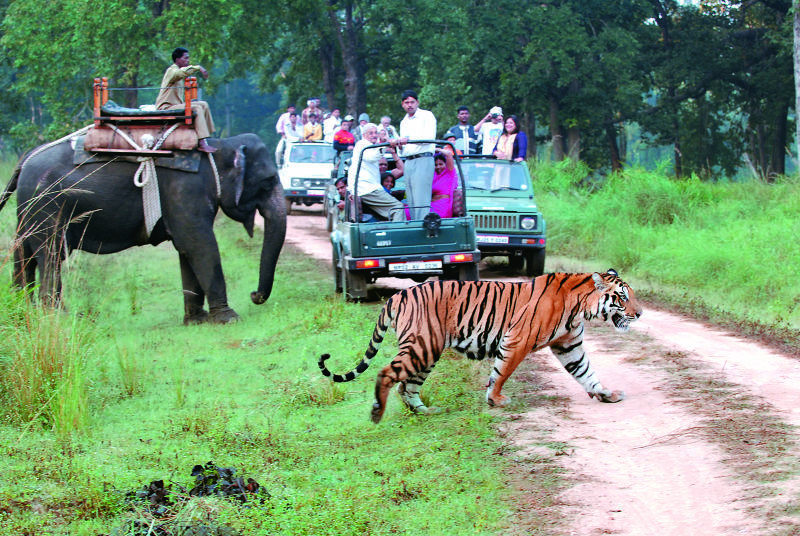 All in all, the jungle is home to around 500 species of birds, 33 species of reptiles, seven species of amphibians, seven species of fish and 36 species of dragonflies, which makes it a perfect spot for the adventure seekers who are fond of nature and aim to dip into the wild with all their inquisitiveness to explore.
The government has set specific timings for specific zones for the visitors to spot the mesmerizing creatures. There are two schedules for the safari timings: morning and afternoon, which are further, set as per the season. From October to March, the morning safari begins from 7 while the afternoon safari is from 2. From April to June the morning safaris begin from 5.45 while the afternoon safari from 03:00. Limited to Dhikala Zone, the afternoon safari timings start from 11.30 from November to March contemplating from April to June the afternoon safari is scheduled from 12.30 pm.
The place offers best of safari resorts in India that cater to the tourist needs at the best. If one plans a trip to enjoy the whimsical beauty of nature then they must look for the best tiger resort in Corbett that offers them all the services and facilities they are looking for and make their experience all the more elevating.