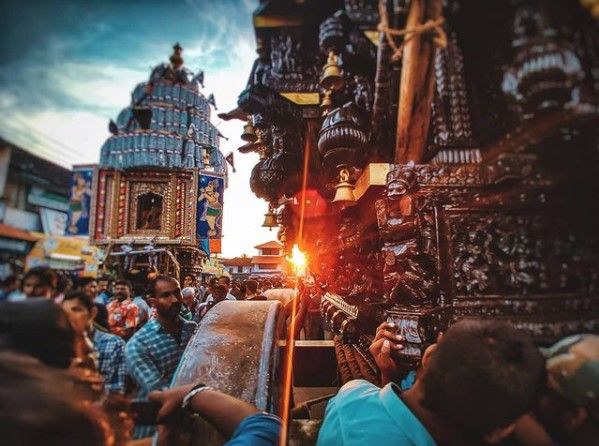 A reunion which the indigenous natives never miss to celebrate and have fun is the great Kalpathi Ratholsavam festival. Displaying the extravagant cultural ethnicity, the festival is mainly held in the month of November in the streets of Kalpathi in Palakkad district, Kerala.
. THE FESTIVAL .
Kalpathi Chariot Festival(Ratholsavam) is based on Vedic Tamil Brahmin culture. The main Centre of the festival is Kalpathi Sree Viswanathaswamy temple. The three satellite temples in the village of new Kalpathy, old Kalpathy and Chathapuram also celebrate the festival this period.
The festival is celebrated over a period of 10 day.
Vedic recitals and cultural programmes are held in the temple during the first four days of the festival. On the last three days, thousands of devotees crowd the streets to pull the decorated temple chariots through the streets. The main chariot carry the idol of lord Shiva and the additional 2 small chariots are for his sons lord Ganapathy and Murugan.
Along with the procession, traditional musical instruments like Chenda and Panchavadyam are played along side with people cheering around the Ratham throbbing to the percussion beats.
. HOW TO GET THERE .
> Nearest bus stand: Palakkad Stadium Bus Stand 3 km
> Nearest railway station: Palakkad Junction - 3 km
> Nearest airport: Coimbatore International Airport - 70 km
So, here was all that you needed to know about this unique, grand and sacred Chariot festival. Kalpathi Ratholsavam gives a strong message to the society that a festival reunites many minds.....