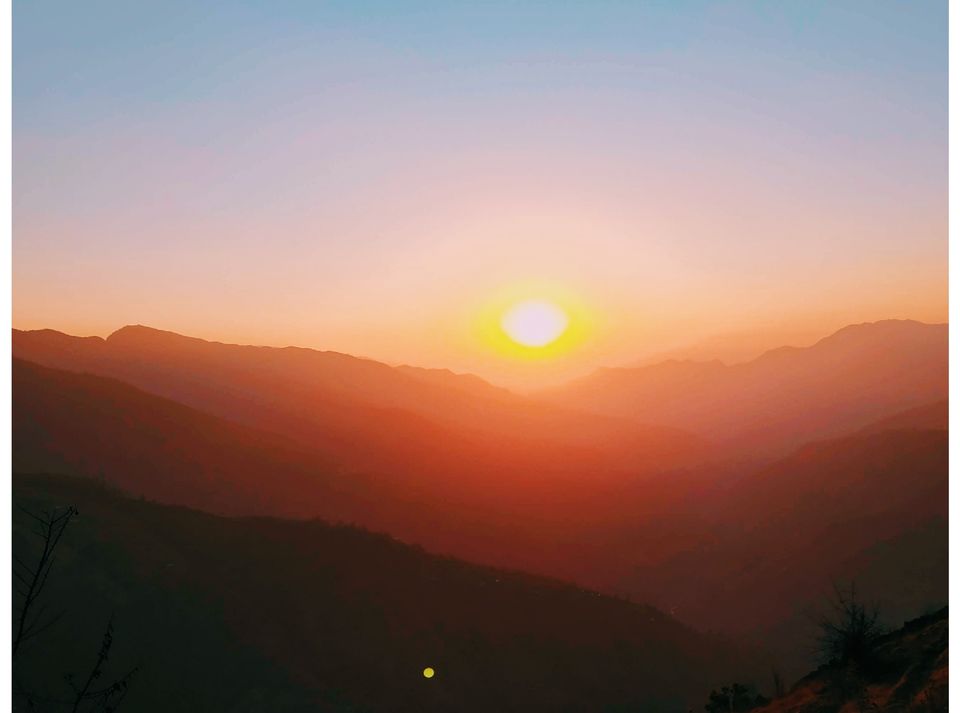 I was measuring the distance between the sun and the horizon with my hands. Seeing the moon on the other side bringing darkness with it, as it grew bigger and brighter every passing minute, sent chills down my spine. The sunset was too beautiful to not halt and enjoy but the thought of walking through a forest in the dark before I reach the campsite really persuaded me to keep moving. Every 30 minutes I would extend my hand, as if it were an astronomical instrument, to estimate the time left till doom.
I had to reach there before sundown. I had to.
The sun was gone now, leaving behind an array of colours in the sky, getting darker by the minute. The night had completely covered the sky except for some parts near the horizon, which were still beautiful. I think I could've reached the camp in time if I didn't have to take care of an injured person, who needed my help in completing his journey. But it didn't matter then. All that mattered in the moment was the pain, the thirst and the fear in our minds.
But we saw someone. A local from a village nearby who had accompanied us. He was our ray of hope. I wasn't afraid now. I just wanted to see my friends who were probably waiting for us at the campsite. We walked through the forest while Rajender, the local, kept assuring us that the animals in the forest wouldn't harm us. In the midst of all these things I could hear the faint voice of my other friends. A few more steps and there they were. They hadn't reached the campsite yet but the situation felt much better now that we were together.
We still had a long way to go.
We reached the campsite. I slept like a baby wrapped in warm towels while everyone was struggling. The -11°C temperature didn't bother me. The feeling of safety and Kishore Kumar's playlist were enough to put me at ease.
The morning that followed will always be etched into my memory. I walked out of the tent and stood there, in silence, looking up at the sky contemplating how amazing all of it was.
On the way back home I was still confused. Because I wanted to do it again. All of it.