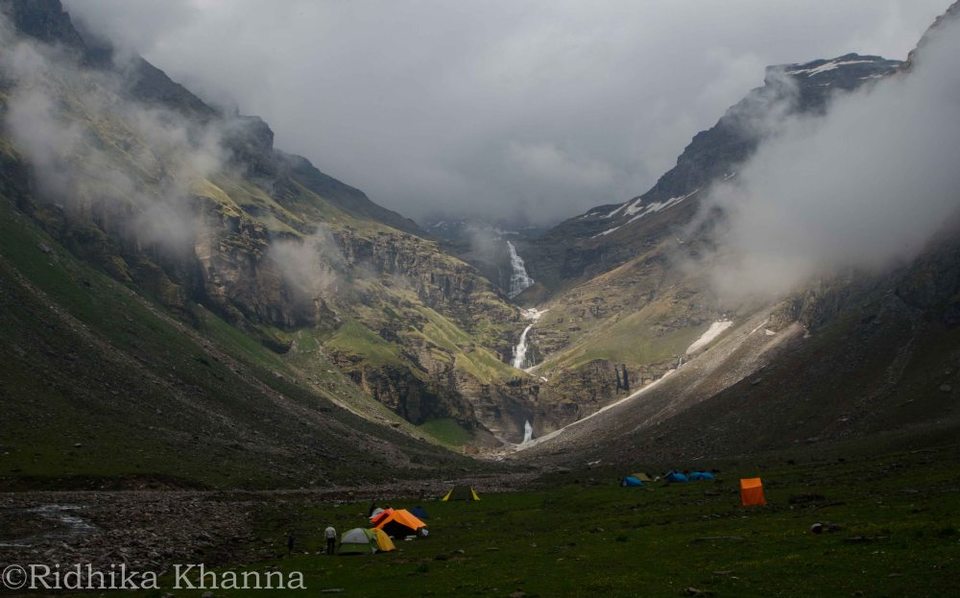 Hi Everyone!
My name is Ridhika and I completed the Rupin Pass Trek in June 2016 with a company called Trek the Himalayas. This blog is about my experiences.
Here is a snapshot of the camping altitudes. This is just used for representation purpose and in no way tells you how steep the climb is. Also, camps can be shifted by trekking companies (private and local) as per availability, feasibility and weather conditions.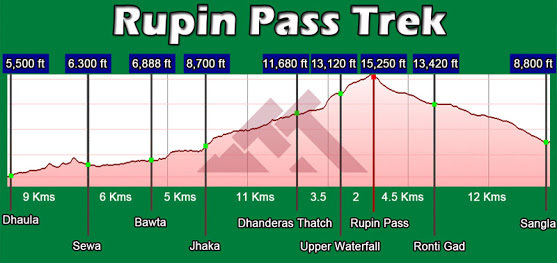 Day 1: Reach Dehradun and drive to Dhaula
After a comfortable overnight train journey to Dehradun, we assembled at the railway station. We all met our trek mates and exchanged news of their respective hometowns. Our group consisted of 17 members.
TTH had arranged three vehicles in all, Tata Sumo/Bolero kind of vehicles. We started our journey with a 9-10 hour road trip from Dehradun to Dhaula. Thankfully most of us had slept well while travelling to Dehradun.
The route goes from Mussorie to Uttarkashi district. We passed through some stunning sceneries and savored every mountain in sight.
Towards the end of the road trip, the roads decided to take a toll on us. We had a bumpy ride for the last 20 kms or so. It completely broke my already problematic back!
We reached Dhaula somehow and I was completely soaked in by the sight of Rupin River. Driving further, I saw a point where two rivers: Rupin and Supin meet to give birth to Tongs river. It was a beautiful sight with two different colors of rivers meeting.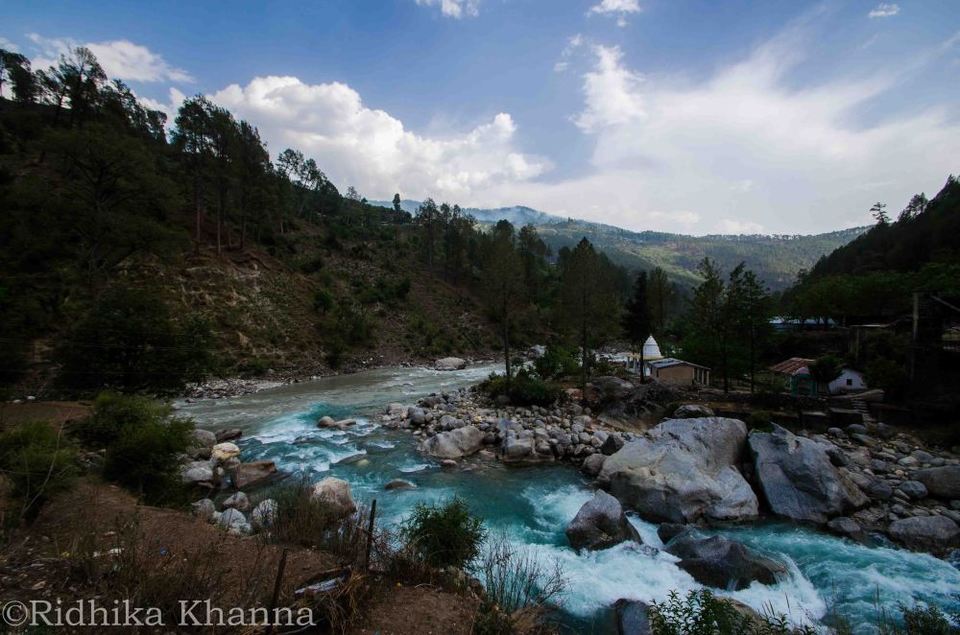 Dhaula is a small and quiet village in the Uttarkashi district of Uttrakhand. It has a small cluster of village homes and huts. There is hardly any mobile network available here except BSNL and hence you instantly disconnect from the rest of the world. I liked this village a lot. It was very quiet and peaceful. We stayed at a small lodge there. Unfortunately, there was no electricity there for the past week and we had to make do without any fans or lights.
All of us spent time in the balcony. We easily lost track of time as we chatted with each over the slow swirling vapors emanating from our hot cups of tea.. In this technical age where everyone is so busy with gadgets, it was a real treat to actually sit among people and discuss stuff about life, the mountains and beyond!
It grew darker and the voices of people slowed down. The tiredness of the drive was slowly overcoming everybody. We saw the sun set and stars popping up one after the other. A spider hung upside down from the wooden roof of the lodge busily spinning its web. The mountains gave a soothing feeling to the onlooker. I was lying on my back seeing all this in a topsy-turvy fashion. I stayed silent for some time. It was serene!
We got briefing about our trek from the trek leader Himanshu. He was with us all through the trek and helped us a lot. We were told about high altitude sickness, hazards of climbing and the ways to overcome them.
Later, we were served dinner which included roti, sabzi and rice. We had our fill and retired to our respective rooms. We were provided with 3 big rooms. The boys adjusted themselves in two while the girls were given one room.
We had a little difficulty sleeping because there was no fan and Dhaula is a hot place in June. But, it became cooler as the night progressed and we slept well.
Speaking from personal experience, I would like to point out that the mosquitoes and bugs in this village are really poisonous. Please keep yourself covered from head to toe to avoid a crazy itch. Insect repelling creams and lotions do not help to keep them away.
Day 2: Dhaula (5,500 ft) to Sewa (6,300 ft)
We woke up at leisure at about 6:30 AM. We were told to get ready and pack our sacks by 9 AM and move. Breakfast was ordinary yet nutritious which included porridge and poori aaloo. At sharp 9, we began our climb. We started walking uphill which was a gentle climb and saw the village disappearing as we walked ahead. It was too sunny and we wished we had started earlier, say at about 7 to cover more distance and avoid the burning sun. But what was lost was lost.
The beginning of the climb was quite easy but as we kept on walking, we climbed many patches of steep ascents. Those were usually followed by gentle walks. We took a break at a small hut which sold refreshments to hikers and other villagers. After having our fill of water and some packaged namkeen, we started towards our destination again. As the sun became harsher, it became difficult to walk. We did not come across any river or even a patch of shade and hence found no relief while walking. The last leg of the walk was very easy with almost a straight path and gentle climbs.
We reached Sewa before 1 P.M. and felt relaxed. We stayed at a small lodge for the night. It had a beautiful temple just opposite to the lodge. Strangely, this temple opens only once in 15 years for praying. However, the priests clean the temple annually. I liked the peculiar architecture of this temple which is generally seen in the North-Eastern states of India. Local children hang their trophies which they win in village tournaments in games like cricket, etc. on the face of the temple.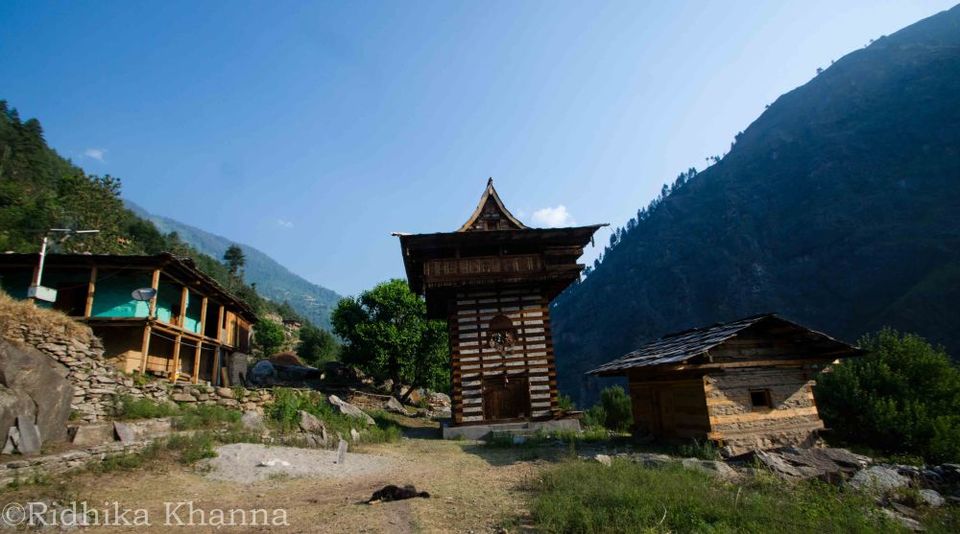 We spent our time taking photographs and chatted with each other. Our trek leader strictly told everyone not to sleep as you feel more exhausted. Also, another thing I really liked about trekking with TTH was that we were taken for acclimatization walks in the surrounding area each day before dinner. This way, we got a chance to know more about surrounding villages and to interact more with local people. It also helped us to get properly acclimatized to high altitudes. Like the rule goes, climb high and sleep low!
Today, we were taken to a nearby meadow. It was an easy climb and it felt effortless to walk without load. We all reached this place and rested on the grass meadow for a while.
I climbed a small boulder and clicked some pictures.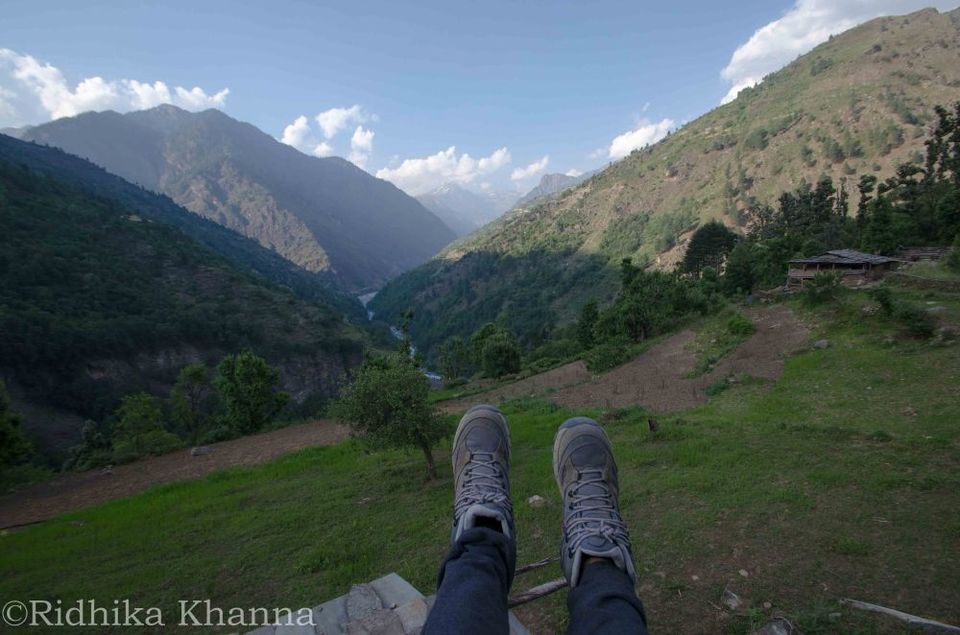 After resting for some time, we climbed down to our lodge. While we were back in the lodge, we played a few games which helped us know each other better. Later, we had dinner which included Chinese noodles and some gravy dish.
I wanted to try night photography here and set up my tripod in anticipation in the dark. Unfortunately, the sky was not clear and I couldn't get any decent photograph.
Day 3: Sewa (6,300 ft) to Bawta(6,888 ft)
After a good night's sleep, all were energized the next morning. While having morning tea and breakfast, some of us attempted to climb boulders near the lodge. We pulled each other's leg when someone was not able to climb. It got funnier when most of us ended up getting teased by each other as no one was able to climb a particular boulder. A few guys got their first taste of rock climbing/bouldering. They confessed that it looks like an easy sport but only after climbing one, you get to know the amount of effort one needs to put in to climb even simple rocks.
It looked like a merry and enthusiastic start for a day. Within no time, it was 8'o clock and time to move. We packed our backpacks/rucksacks and started the trek. The route took us down on a decline which we happily welcomed. We had to go down towards the Rupin river and then ascend up the hill. All reached the riverside easily.
The initial uphill climb was a little hard and that's when I thought that the trek has truly begun. The sun burned with the same intensity as the previous day and gave us no respite even for a few meters. We climbed many steep ascents and always prayed for it to be the last.
However, the route had other plans for us. After climbing uphill for a few hours, we saw a motor able kuccha road. This meant that we had entered Himachal Pradesh. Our trek leader Himanshu informed us that we had to walk on this road for 3-4 kms. Finally happy that the steep ascents are over, we took a sigh of relief. We clicked many pictures near the rest point and started towards Bawta again.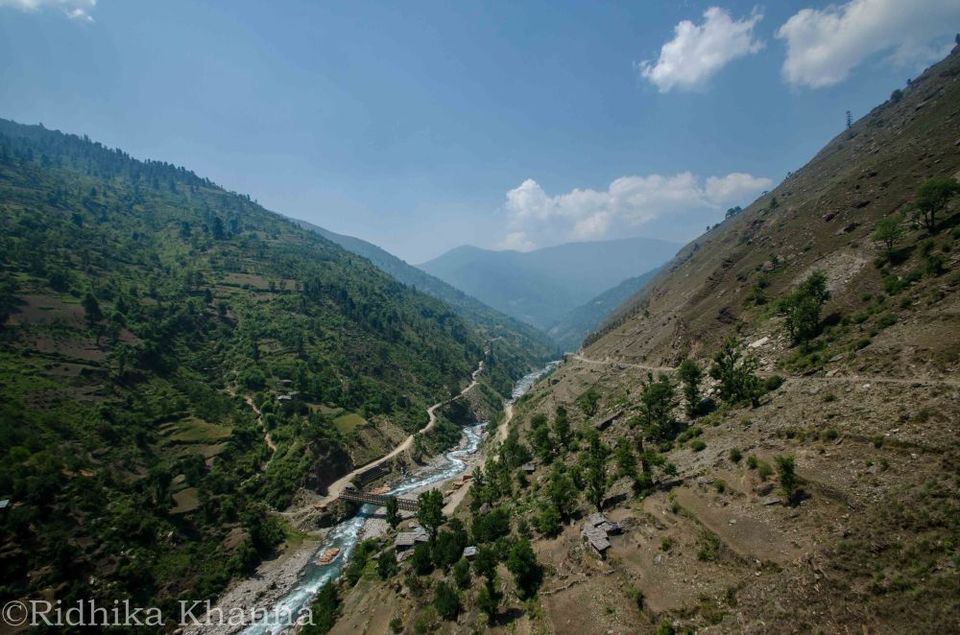 I was so relieved to know that we had to walk on a road that I completely forgot about the merciless sun above me. I walked only for half a kilometer and realized my folly. It was becoming even more difficult to walk and now I missed those steep ascents. How ironical!
All of us encouraged each other to walk further in the hope of finding a tree shade. Truly speaking, we were so exhausted that we began craving for even an inch of shade. But, there was no relief.
Somehow, towards the end of the trek we found a small barn round the corner of the road. All our prayers were finally answered. We unloaded our sacks and rested for some time. We drank water and ate the chocolates given by the TTH team for the trek. As soon as everybody was feeling a bit better, we decided to move so that we don't over exhaust ourselves. Himanshu told us that we are hardly 2 kms away. We had to take a detour from the road and climb up a hill. Feeling relieved that our grueling and long trek is finally going to get over; we loaded ourselves with our sacks and headed out of the barn.
We got a little dumbstruck while in front of the hill we had to climb. It was very steep, long and sloppy. Even the mules found it hard to climb. They were slipping but the mule owner managed them really well and made sure they climbed without falling. We decided to take it slowly and steadily. Following each others' step one by one in a single file, we were atop the hill after a few excruciating minutes. Extremely happy, most of us congratulated each other. I was really happy to see our team work and something felt like family. Surely, we were each others family here and in this moment, in this trek and in this journey, we just had each other to share our joys and sorrows.
This climb was surely the most difficult one after the Rupin Pass climb and after having cleared it, we craved for lots of food (irrespective of its taste) and a cozy bed.
The route again decided to ruin all our happiness. Our dreams of food and rest were shattered by yet another steep climb (sorry for being a little over dramatic). Honestly speaking, none of us wanted to climb another step but then the promise of a hot meal and rest lured us back on the track. I reached the log cabins at Bawta very slowly. On reaching, I simply threw my rucksack, undid my shoes, peeled off my stinking socks and lied down for a while.
Before having lunch, I took my rucksack to the allotted room. The lodge in which we stayed had a beautiful view from the balcony. After lunch, we stayed in the balcony for some time and savored the site. I felt asleep on one of the bunks. Soon, it was time for tea and our acclimatization walk. We requested and begged Himanshu to forsake us today as we had a long and a tiring day but he did not listen to our excuses and made us walk.
Again, it was a steep climb but thankfully without the heavy rucksack. Regardless, I hated every minute of it. The path became very narrow towards the end of the walk. There was hardly space for two people to walk side by side.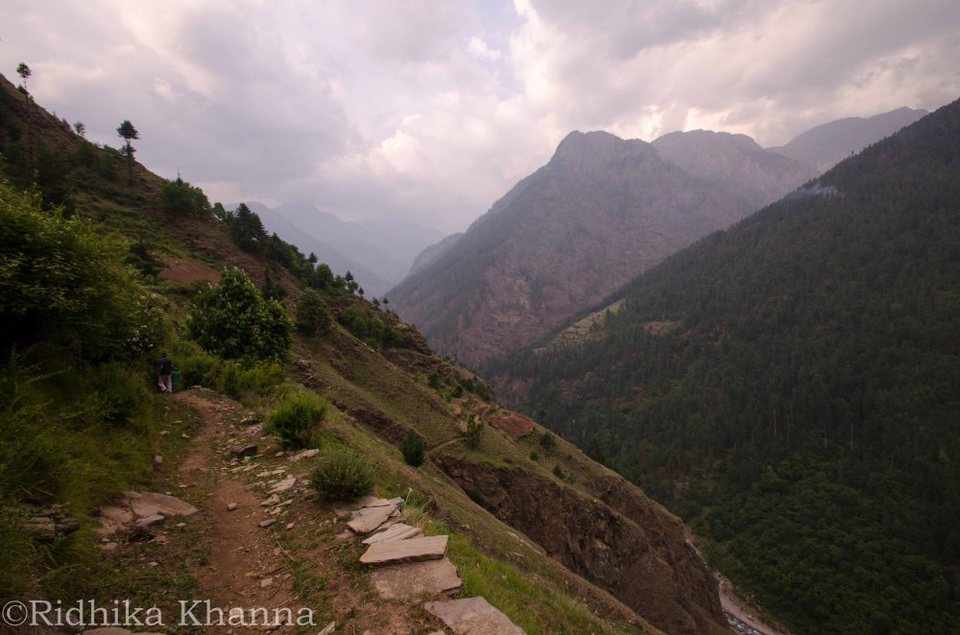 After walking for about 2 kms or maybe less, we entered a cave like place which had a waterfall pinned on its opposite face. The location as well as the waterfall was unbelievably beautiful. I thought such places exist only in fantasy books and movies. I forgot all my pains and soreness of muscles in a second.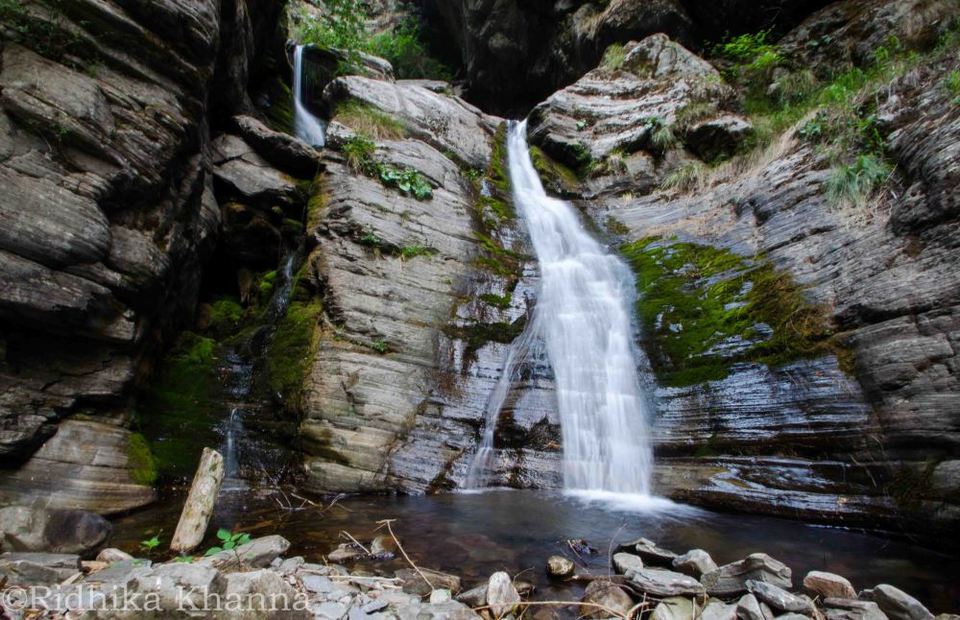 I rushed off to Himanshu to thank him for encouraging me to come and apologized for becoming a little morose. Really, you never know what surprises are in store when you are in the mountains. This walk felt like therapy to our tired bodies and souls. We sat near the waterfall and took many pictures. I didn't waste the opportunity and dipped my head in the water for a drink. I never imagined that this long and exhausting day would end like this.
We were all happy while walking back to our lodge. All of us had hot maggi and later had dinner. We rested for some time in the balcony. I slept happy and contended.
Day 4: Bawta(6,888 ft) to Jhaka(8,700 ft)
All of us woke up on time to start our day. We had a nutritious breakfast and got ready for the walk. Himanshu told us to gear ourselves for a long walk and we prepared our mind accordingly. Luckily this day took us in and out of forests. Finally some break from baking in the sun. It was a pleasant trail and quite enjoyable. They were some steep accents but by now our body grew accustomed to it and we didn't feel much pain or soreness.
There was a beautiful waterfall at which we rested, had fun and took many pictures. A long waterfall surrounded by majestic hills gave you the feeling of being in Scotland. Everyone enjoyed the scenery and spent time here.
We walked ahead and were surprised by many scenic views en route. Again, there was a patch in which we had to walk in the sun. Thankfully, it ended soon as we discovered another waterfall at the corner of a turning. It was a small one. We climbed and drank water from one of its streams. After enjoying for half an hour or so, we made a move.
Covering a couple of kilometers, the village of Jhaka came into view. One cannot estimate the beauty of this village from the bottom. As I climbed, I realized that we are reaching Jhaka and that too in practically no time. It was only 2-2.5 hours since we started. Most of us simply ran up the village with joy of reaching early.
On the way up to Jhaka, Aishwarya noticed many Himanalayan birds. She is into bird watching and I was amazed to see that she recognizes so many bird species. Walking with her was a delight as she easily spotted some rare species of bird flying around. One more factor that helped me forget the hardships of a climb.
We spent some time at a local shop and then moved to the village. At Jhaka, we stayed at a villager's home. It was a very cozy place with a small balcony where we sat and spent our day. The girls were given a separate home.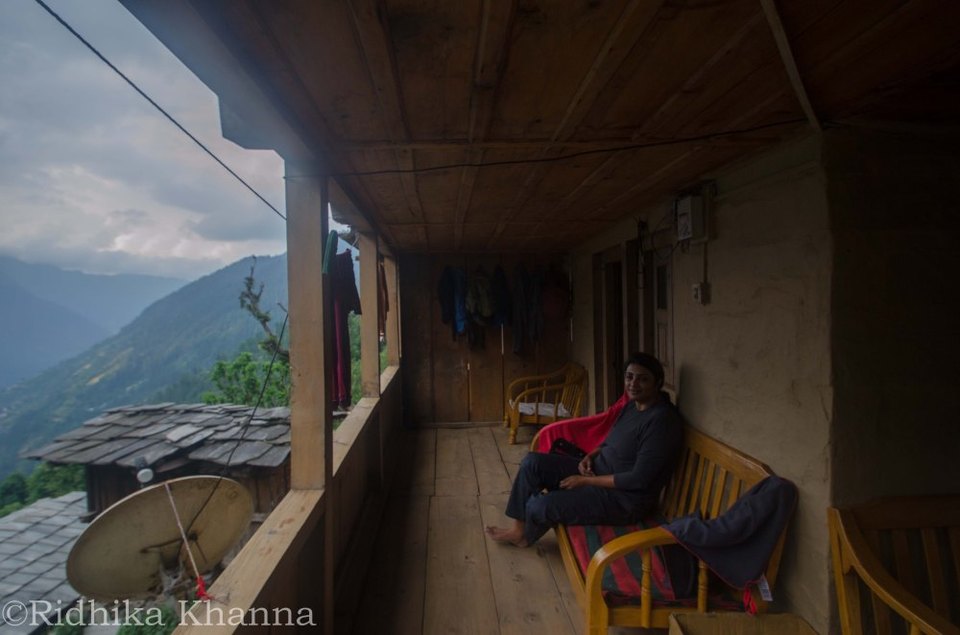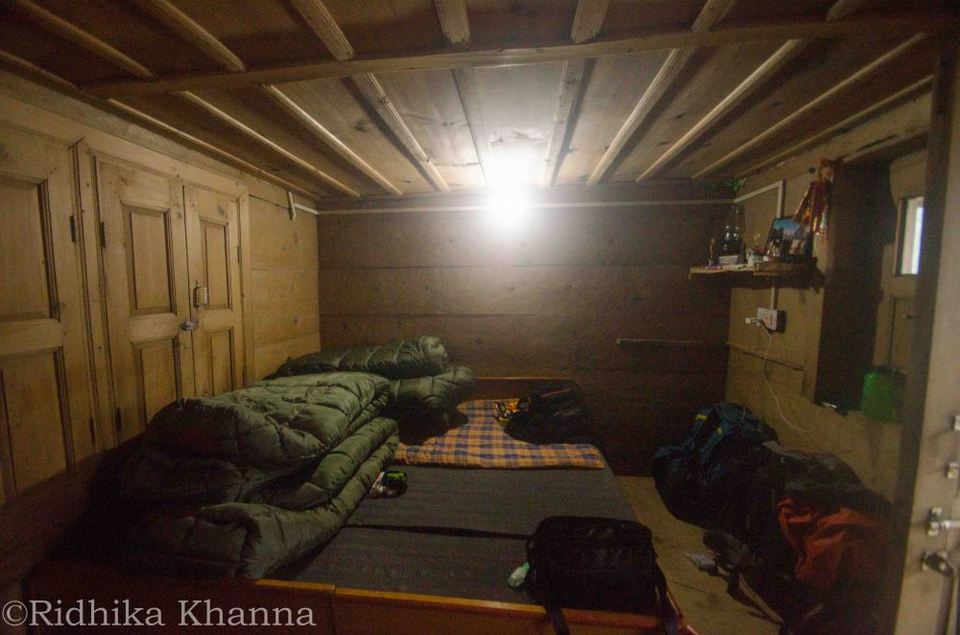 Our home for the night at Jhaka
The family of the house was very friendly and welcoming. They had small farms, cattle and a lamb. There were four people in the family; Husband-wife and their two children. A boy and a girl. I was amazed at the way they had brought up their kids. The girl had finished her schooling recently and was taking vocational courses in the nearby institute. The boy was studying in 8th standard. Both the children were friendly and cheerful. The boy particularly showed his interest in photography. He took many pictures from our cameras and we were astonished to see his compositions. He confessed that this was the first time he held an SLR. Despite that, he had no problems in operating one. I hope he gets an opportunity in life where he can go ahead and do something in photography for a career. ????
After lunch, some of us had a small nap and the others were chatting away their time. Soon, it was time for our acclimatization walk. We had to walk up to the other village called "Dhara" from where we got a good view of the hanging village Jhaka.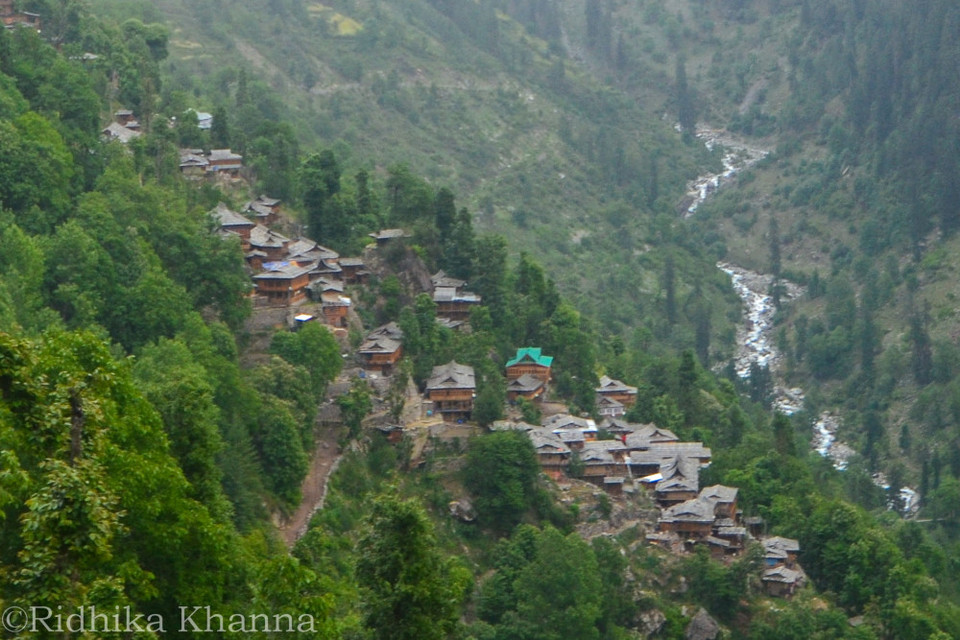 On reaching Dhara, we saw that a game of cricket was going on between the local boys. A few guys from our group became interested and were happily invited to play in their teams. Slowly, everyone from our group joined them. The pitch for cricket was not leveled and so the ball spinned and bounced a lot. We all were terrible that day. All of us literally made no score and could hardly take any wickets. We laughed at each other and even ourselves. We had real fun.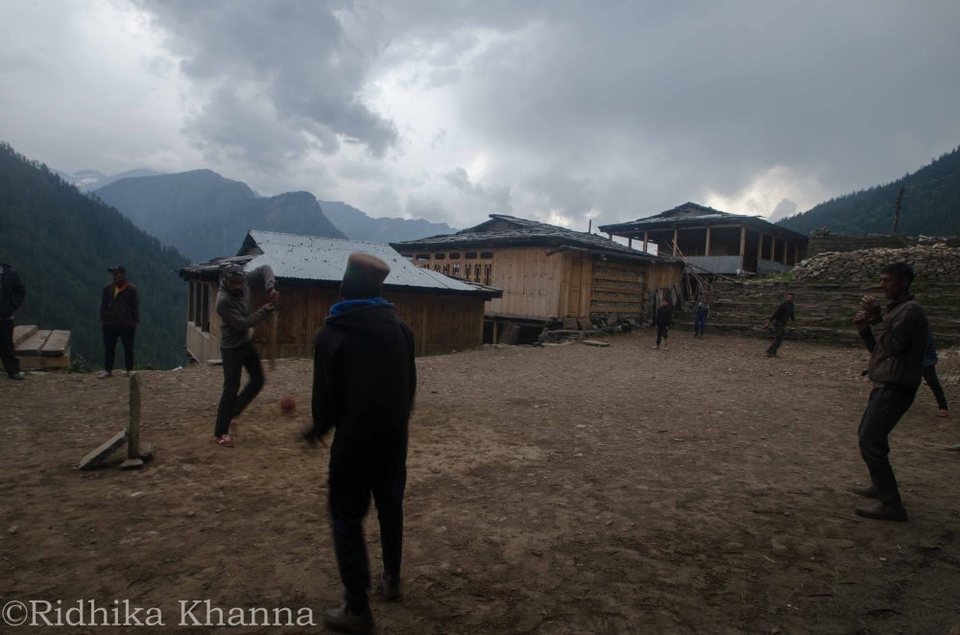 After terribly losing, we roamed around the village and visited a temple which was under construction.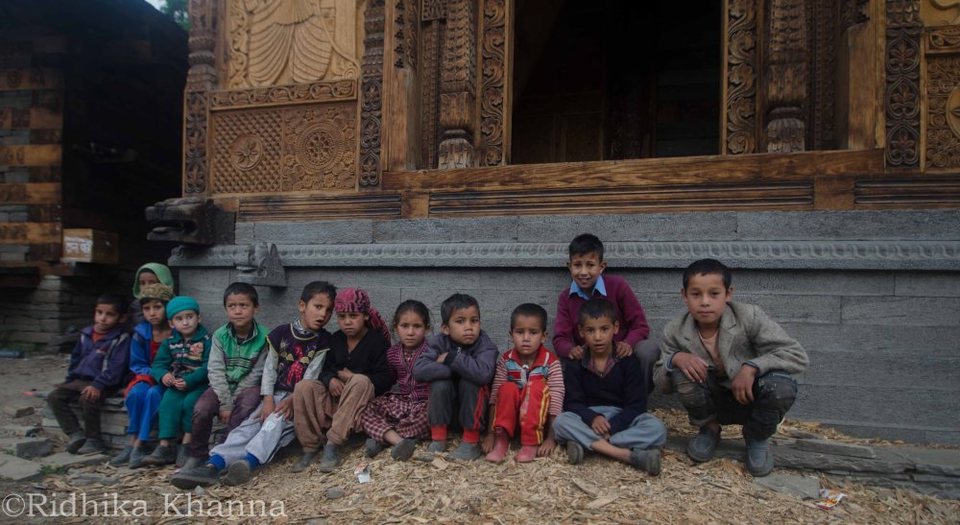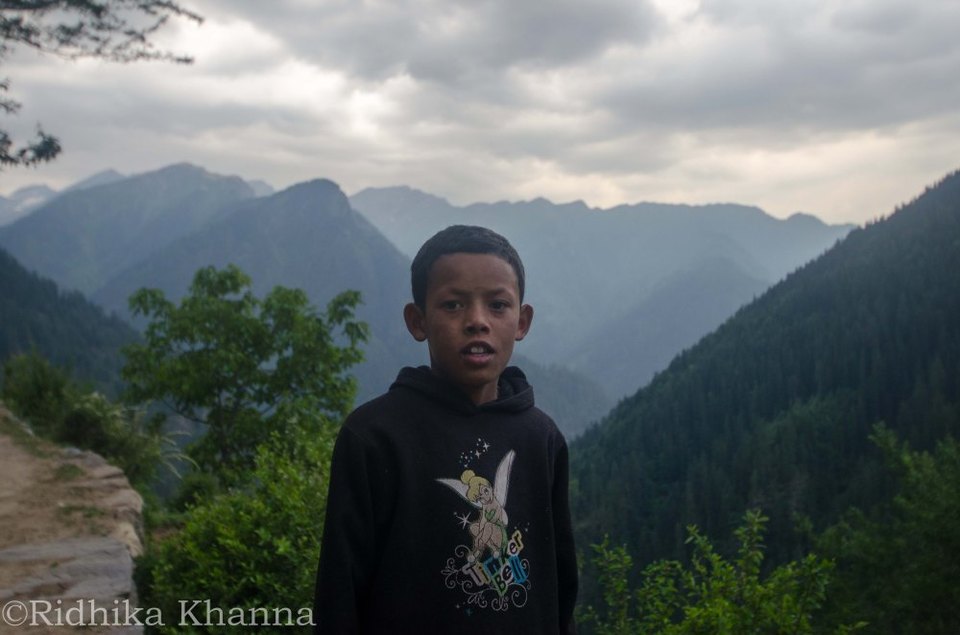 Later we walked ahead for some more time and made a retreat on reaching a point.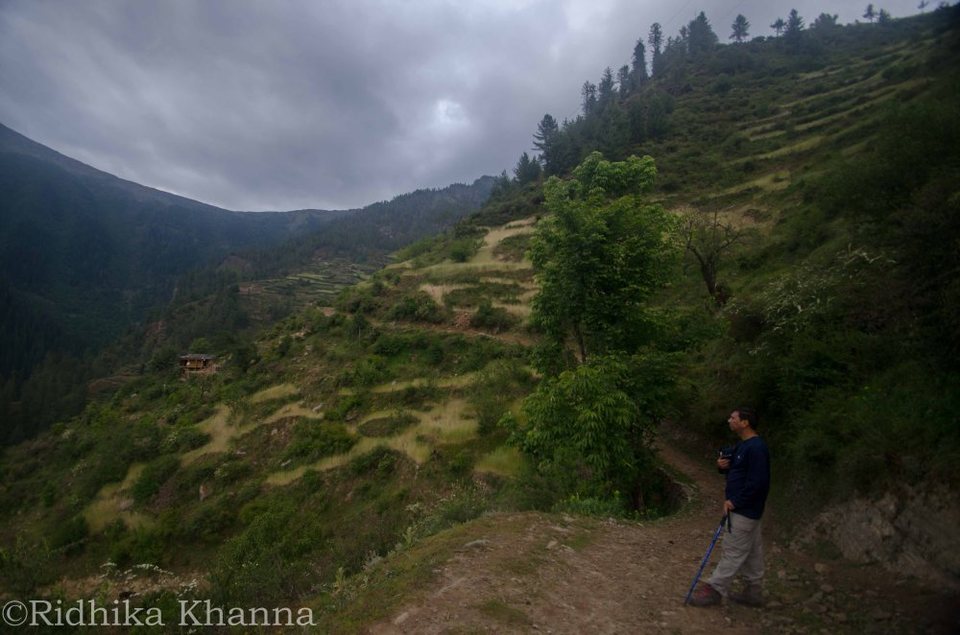 On reaching back to our village homes, we saw a lamb running from one place to another near the houses we were supposed to stay for the night. We petted the lamb, played with him and fed him. It was a very different and pleasant experience.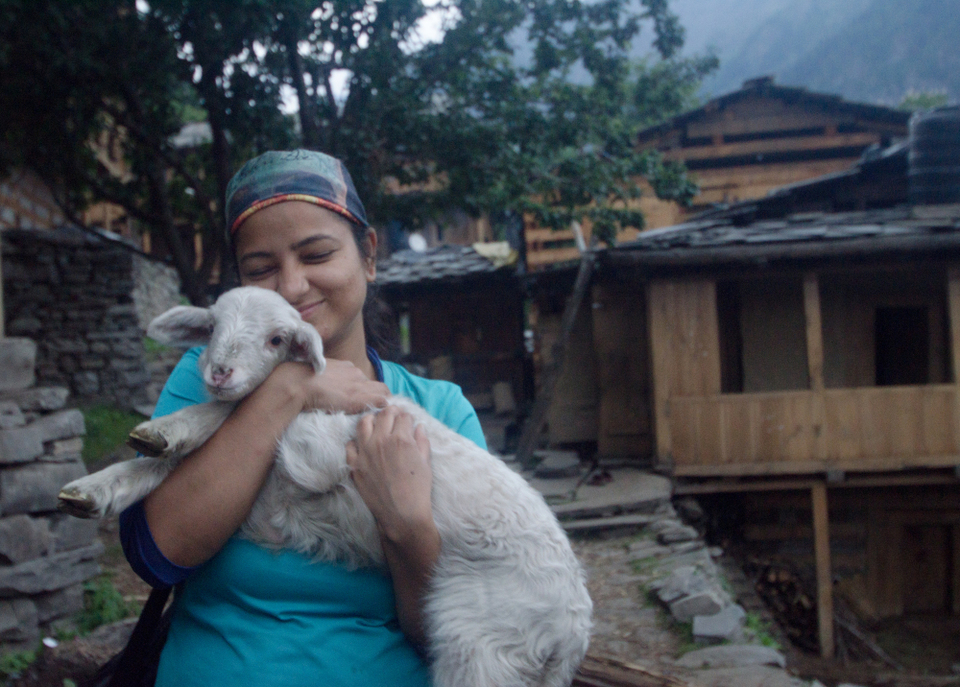 After dinner, we called it a day and went to our respective rooms for the night.
Day 5: Jhaka(8,700 ft) to Dhanderas Thatch(11,680 ft)
A good night's sleep and rest energizes one to prepare for a long day. We all met at breakfast and were briefed about our today's hike. Clearly looking at the height gain (almost 3000 ft) and a distance of 11 kms (maybe more), it would not be easy. This day, we essentially were covering two days of trek in one. On previous days, we had the opportunity to go slow and shift camps closer to each other than planned. Hence, today was the day to make up for the loss.
(Special Note: Please remember that the camp location may not always be the same as in the itinerary. It all depends on the availability, weather conditions and feasibility of the camp location. The distance and the route mostly remains the same.)
All knew this and were looking forward to the hike. I must say that I was lucky to be in a group of experienced trekkers. Nobody complained or cribbed for anything at all. I have been in other treks where people whine a lot about walking and even the smallest things. Thankfully, all my group members had a positive and a helpful attitude.
We started our walk and bid goodbye to this beautiful hanging village and the beautiful people we met here. The trail initially takes you into the forest. I simply love walking in the woods. I love the fragrance of plants and trees, a song of the bird in the backdrop, occasional noise of critters, humming of insects, rustling of leaves and the sound of the gush of a water stream nearby. It is all food for soul. ????
Walking in shade and savoring every minute of it, we didn't even notice how time flew by. We encountered the River Rupin again. The downhill climb to the river was steep and sloppy and one had to be very careful while walking.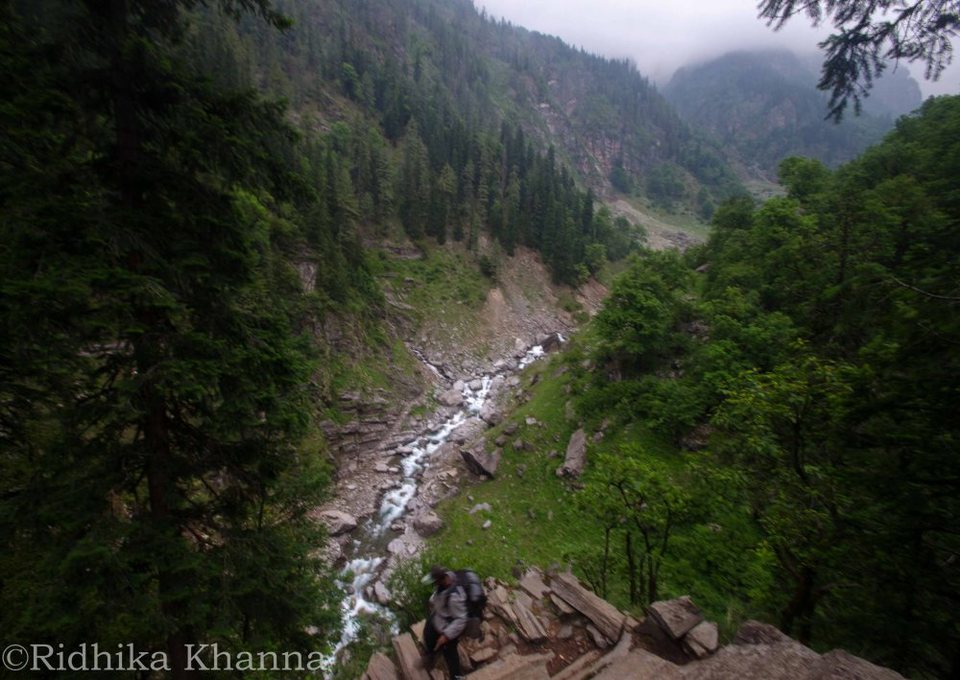 On safely reaching the river, we noticed that it was getting cloudy and it may rain anytime. We didn't spend as much time as we wanted to. We refilled our bottles and decided to cover more distance before it started raining.
While climbing up the hill, it started drizzling and we all had ourselves covered with rain covers and ponchos which we had kept handy. The trail was a very narrow one and could accommodate only one way traffic. All of us walked in a file, helping each other with their rain covers and ponchos. It was an uphill climb but we managed well.
This day, we had mostly uphill climb and longer accents than previous days. After some point of time, I started feeling a little fatigued. My friends encouraged and cheered me up. Motivated by them, I felt stronger and went on with my usual walking speed.
We soon reached Saruwas Thatch campsite. It had beautiful scenery and was on a riverbed. A company called IndiaHikes had set up their camp here. I immediately felt envious of them and wanted to camp here. But that obviously wasn't possible.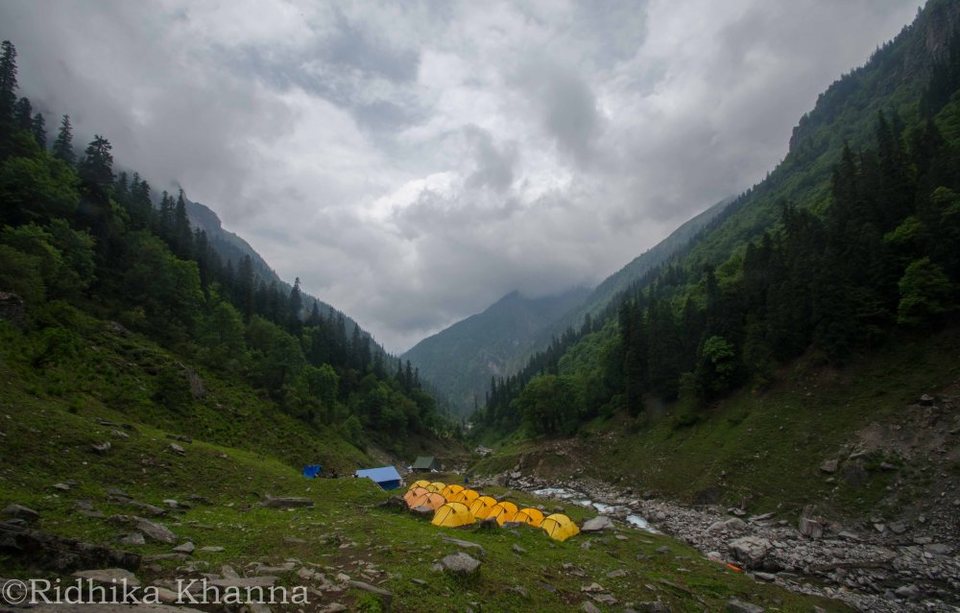 I walked ahead halfheartedly and joined my fellow mates. We walked ahead and soon the scenery changed. The mountains grew more majestic and one could see perpetual chain of mountains. That is the beauty of walking in the remote Himalaya. You will be surprised by its beauty when you least expect it.
We were almost halfway down and decided to take a lunch break. We were provided with packed lunch today. I am not a fan of packed lunch as the food gets cold and soggy and finally looses taste. No one was happy to have packed lunch but then we still had a long way to go. Thinking about the distance which still has to be covered, we fueled ourselves with some food. Luckily, some guys had a pack of sweets and chocolates which they gave away generously. There were chocolates and local sweets. Looking at sweets, we realized how hungry we were and all of us wolfed them down as if eating for the first time.... ????
All of us were in high spirits again and thanked Kevin, Pankhil and Karan for the sweets. They saved our day. ????
There is one more thing I would like to appreciate and highlight about my group and TTH. Everybody had mountain awareness. Nobody ever littered in the mountains. In fact, we were encouraged to pick up waste and garbage lying around on the trail. We did all that was possible.
After walking for a few minutes, I started developing a headache and nausea. It became difficult for me to walk and soon I was walking far behind the group. Pradeep (A TTH instructor) walked with me to assist. My friend, Praveen realized that I was not well and he was also by my side to encourage me to walk further. This is something we see only in the mountains when one helps the other to the extent of sharing each others load, forgetting their own pain and misery. But thankfully, it had not come to sharing loads.
The three of us sat down for a while and decided to take it slow and steady. The instructor told me that this condition is due to dehydration and mountain sickness. He advised me to have some water now and lots once I reach camp.
Despite having someone who was continuously cheering me up, I mostly tramped my way ahead. The trail as such was not very difficult to walk through but it's difficult to walk in such a physical state. I walked slowly ahead and after some time started feeling a little better. Pradeep was ahead of us but Praveen and I soon caught up with him and the last group of walkers of our team.
We reached a point where we had to walk through a patch of glacier and then there was an uphill climb. The thought of walking on the glacier, that too after a long time, excited me and I started walking up the glacier. I had almost forgotten how I had walked on glaciers before. It took some time but soon I was able to walk on it easily.
For some guys, it was their first glacier walk and I could see joy and a twinkle in their eyes. They enjoyed walking on the glacier despite its difficulties and laughed and sang. Looking at them, I felt really happy and forgot my pains for some time. Truly, one finds joy in simple things. ????
I climbed up the hill with little difficulty. On reaching the top of the hill, I was taken by a surprise as the beautiful meadow of Dhanderas Thatch enfolded in front of me. The top of the hill was like a plateau, there were small yellow buttercups on the ground. My friends who had reached early were taking pictures. I just wanted to reach the camp and throw my heavy rucksack aside. I paid little heed to them and walked on.
On reaching the campsite, I told Himanshu about my condition. He told me to drink at least 2 litres of water. I settled in my tent and started doing the same. Everybody was out enjoying themselves and I confined myself in my tent. Surely, didn't feel very good.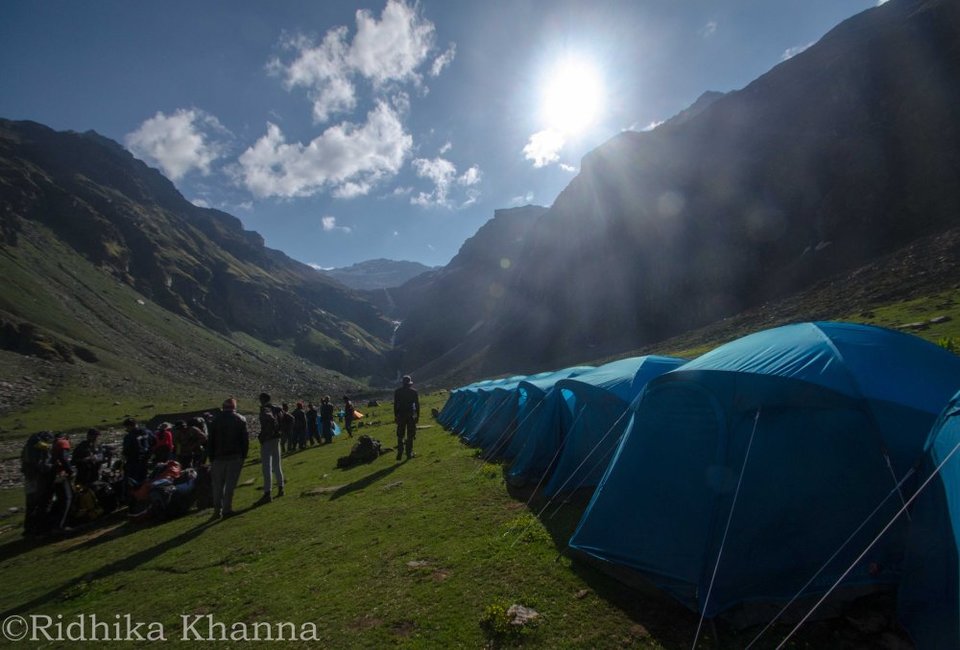 I decided to skip the acclimatization walk in order to get rid of my headache. It proved to be a good idea. I drank a lot of water which helped me ease my headache to a large extent. I wandered around the campsite and waited for my friends to return. Surprisingly, when they returned, they were not very happy with the walk. It was a short one with nothing significant to see. I felt less guilty as I didn't miss much by not going for the walk.
Later, we had hot sweet corn soup and popcorn for snacks. Since, now I felt better, I was able to appreciate and observe my surroundings much better. It was a beautiful campsite with a huge waterfall in the front. This is also the famous U-shaped Rupin valley.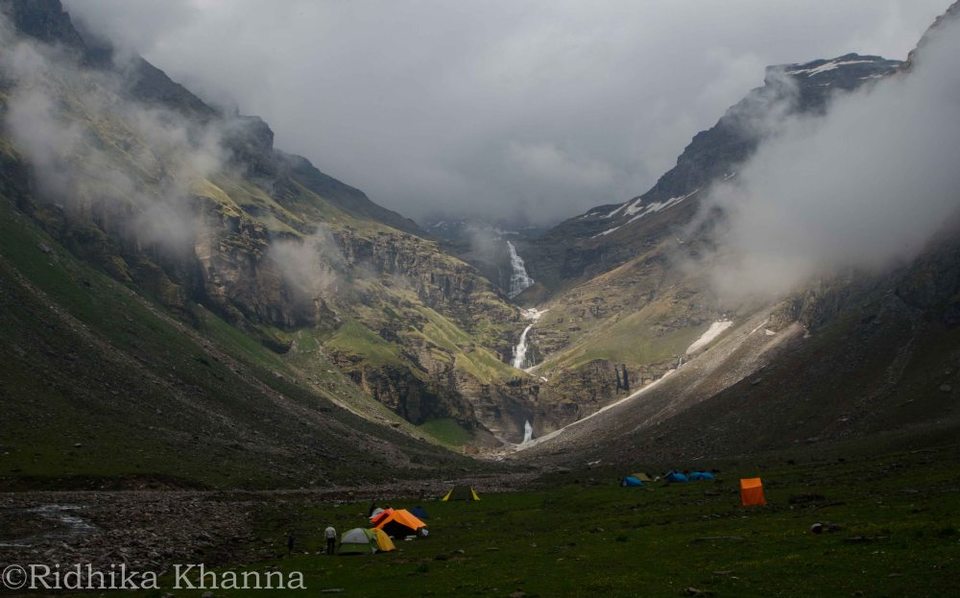 I wanted to capture a night shot of the stars but unfortunately that didn't look possible. The sky was still cloudy and not even a single star was visible.
We had a delicious dinner early in the evening and retired to our respective tents. I woke up early in the morning at around 4 for a nature call and the sky stunned me. The Milky Way Galaxy was clearly visible. I really wish I had a shot of that sky in my camera but doing all that work at 4 in the morning was not an inviting idea. I spent a few minutes under the stars and went back to the coziness of my sleeping bag.
Day 6: Dhanderas Thatch(11,680 ft) to Upper Waterfall Camp (13,120 ft)
I woke up with a fresh mind. All my pains and nausea was now gone. The best way to deal with mountain sickness is to drink more and more of water in order to get more of oxygen in thin air and also to adjust or acclimatize to the high altitude. As rightly put by mountaineers, "The only time you become a fish is when you are on top of a mountain."
I always make it a habit to pack my belongings before heading out of my tent. When I stepped out, most of my team was already up and waiting for breakfast. I walked around the camp and saw a mule grazing in the meadow. As if preparing himself for the climb. ????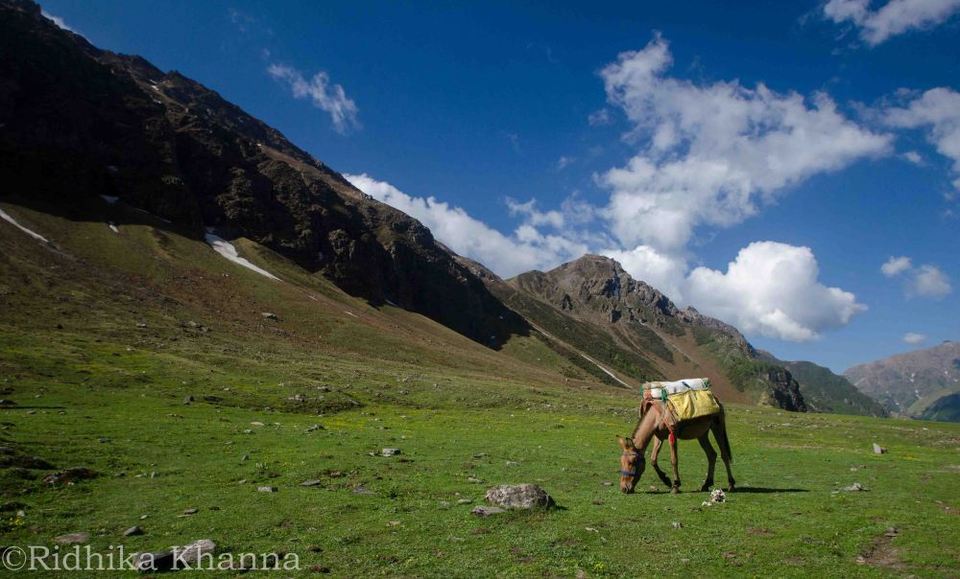 Back in the camp, some of us had an animated discussion about adventure books and movies. A good and enthusiastic start of a day.
Next, we were briefed about our walk and were advised to make a quick move. After breakfast, we didn't waste a minute and started our climb to the upper waterfall camp. One can judge by the previous photograph that it didn't look like an easy climb at all.
The waterfall is a three- tier climb. The altitude was quite appalling. I thought that this climb will be one of the toughest. We put all our faith in our trek leaders and followed them.
It was a power packed start and all of us were determined to climb the waterfall.
The route takes you up the mountain through an initial glacier climb (non technical, i.e, without any technical gear). Once you climb the patch of glacier, you traverse to a nearby mountain and head on.
There was a traffic jam towards the beginning of the climb as there is only one way to climb up but it gets better after a while. As we had to climb a steep patch of the glacier initially, it made the climb all the more slower. Many trekkers from other groups were struggling hard to climb. Many people took breaks in between and added to the crowd.
Once we cleared that patch, there was more room to walk and less jam. We took a short break at the edge of the hill and could hardly make out our campsite which was now a cluster of small blue dots (blue tents). This made me realize about our petite existence in the vastness of Mother Nature.
The best thing all of us practiced today was to take short breaks after long climbs. This way we climbed with much ease as compared to rest of the trekkers (other companies/agencies), felt less tired and hence climbed the difficult accents within no time.
Walking for some distance, we came across a snow bridge. We had to negotiate our way through it which didn't turn out to be as hard as we thought.
Above the bridge, we had an excellent view of the starting point of the upper waterfall. This view assured us that we will be arriving soon to our camps.
After crossing the glacier patch, we sat down on dry rocks to catch our breath. After taking pictures and enjoying the view, we started again towards our destination.
We soon reached the campsite, that is, Upper waterfall camp and that too in practically no time. All of us completed the trek in 2 or 2.5 hours. It was just 12'o clock when we reached the camp and all were still high on adrenaline.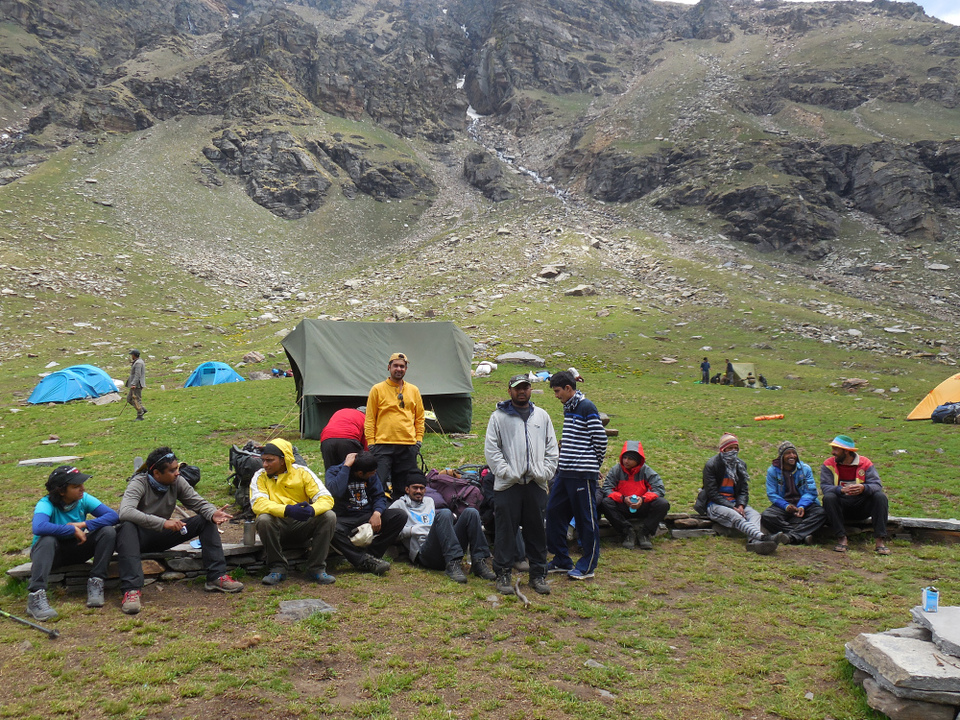 We wanted to walk to nearby sites to kill time but soon it started to drizzle. We settled inside our tents to avoid getting wet.
We were served an early lunch today. After lunch, the weather became worse and we were advised to rest for the afternoon. Something, all of us welcomed.
The rain graduated to a minor hailstorm. The wind was blowing with high intensity and soon filled the camp and surrounding area with fresh snow.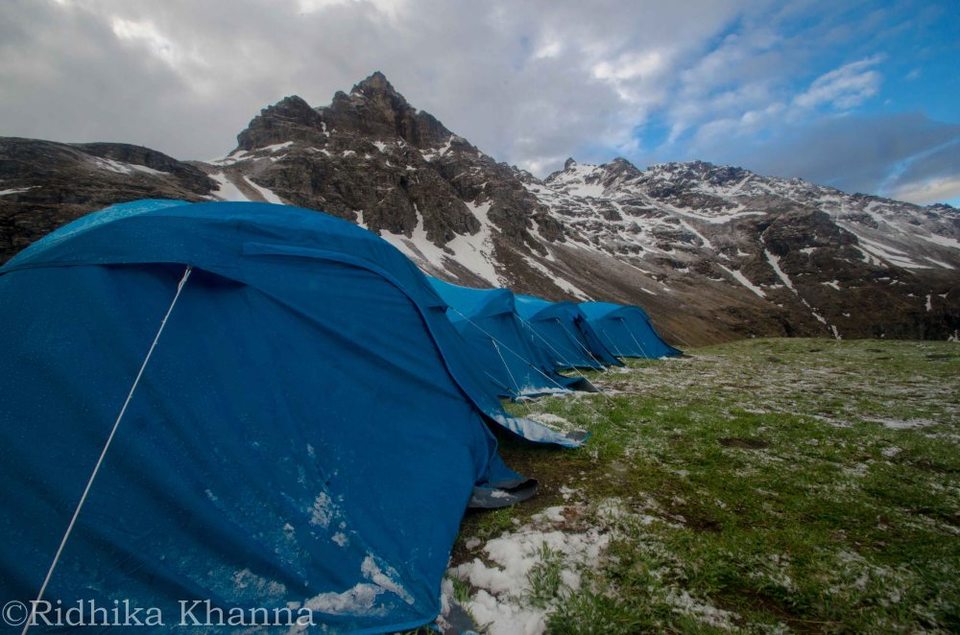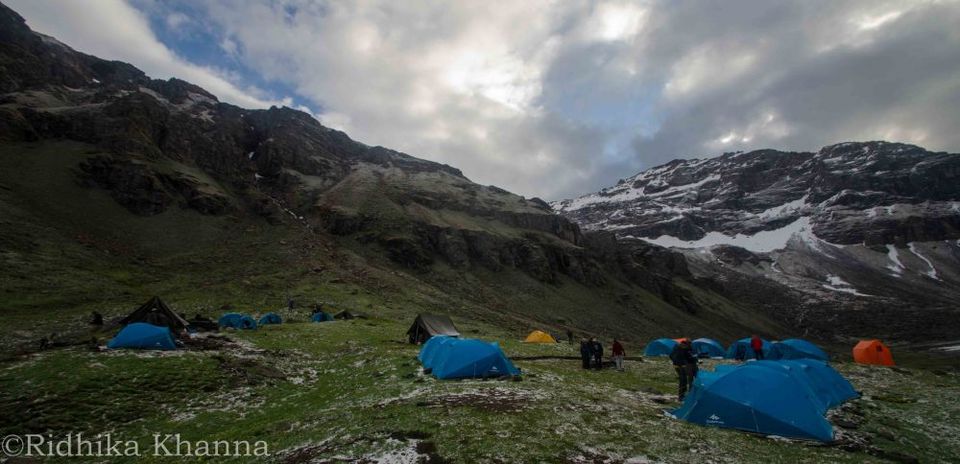 The cooking team of TTH served us hot tea in the comfort of our tent in an unbearably cold weather outside. A gesture I will never forget.
Later in the evening, we were taken to a nearby snow field to practice glissading. The next day we had to use this technique to climb down some snow patches.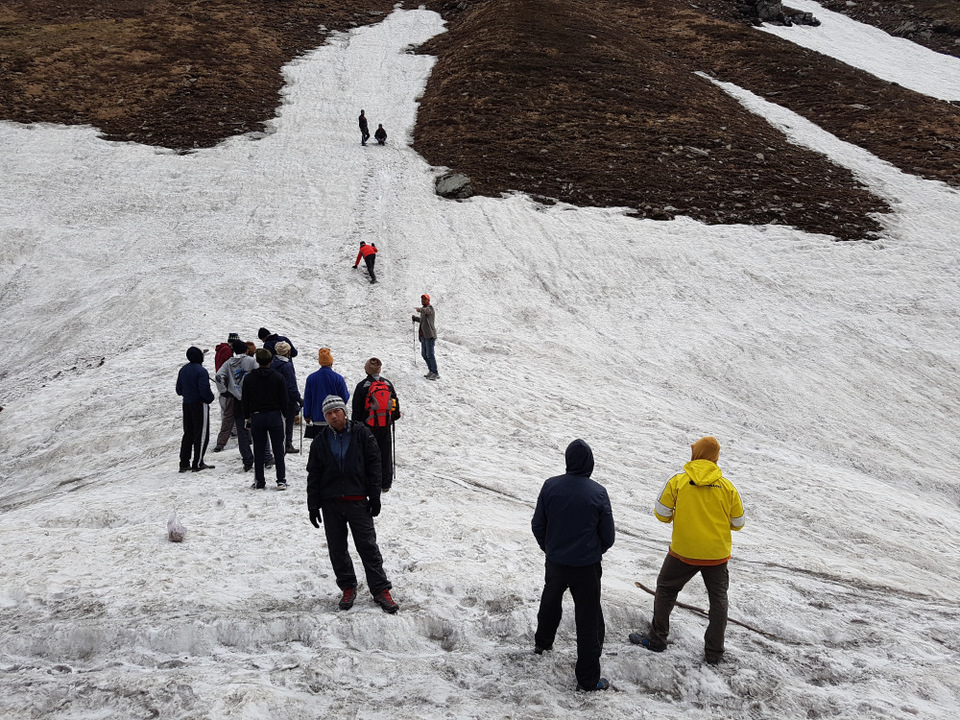 We had a lot of fun, threw snowballs at each other and practiced glissading to our heart's content. Many of us took videos of this fun activity.
When we got back to the camp, we had hot soup while enjoying the serene views. Later we had dinner.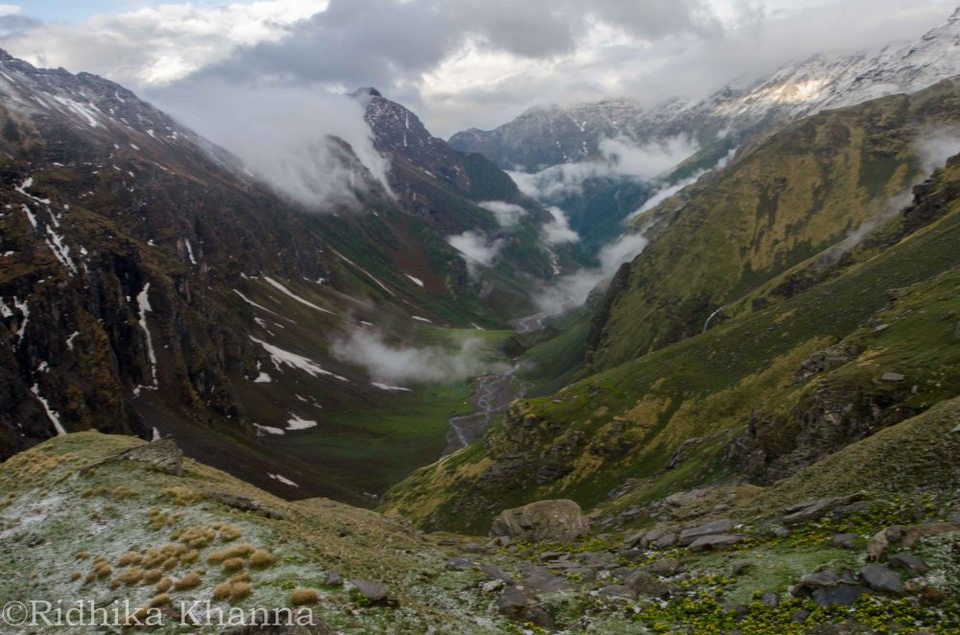 We called it a day and went back to our tents for the night.
Day 7: Upper Waterfall Camp (13,120 ft) to Rupin Pass (15,250 ft) to Ronti Gadh (13,420 ft).
We were instructed to be up by 5 so that we leave by 6 in the morning. However, nature had other plans. When I woke up at around 5'o clock, it was snowing and hailing really hard. I saw nobody even considered coming out of the tent and it was clear that we will have a late start. I slipped back in my sleeping bag and slept a while longer.
At around 6, the snowfall became placid and soon the whole camp came to life. Everybody was buzzing around with their packs. Some were rushing to the kitchen tent for breakfast; some were just sitting around sipping tea while some were helping each other getting all packed.
I packed my rucksack, freshened up and headed to the kitchen tent for breakfast. To our delight, we were served hot magi as we needed lots of energy to climb.
All of us were in high spirits except for Kevin who was a bit unwell. One of our group members Sarthak volunteered to carry his day pack for him. Like I said earlier, such things can only be seen in the mountains.
Today was a peculiar summit day (if you can call scaling a pass as "summiting". The word summit is used only for scaling a peak. But some trekking companies insist on calling scaling a pass wrongly as summiting).
Usually, you summit a peak and come back to the same camp from where you started. In cases of high altitude peaks, coming down to a lower camp is also practiced. This was different. You had to scale the pass and go to the other side of it. I asked Himanshu about this peculiarity but all he said was that it's difficult to climb down the Rupin Pass from the side we climb.
This meant that we had to pack all our belongings in our sack and carry the load all the way to our next camp, Ronti Gadh.
Nevertheless, all were in high spirits and soon we made a move.
The route took us high up on a ridge and after traversing our way to the adjoining mountain we had to head straight for some steep slopes.
As soon as we reached the adjoining mountain, the scenery changed and we could only see snow around us. The entire valley was soaked in snow. This gave us a new boost and all were happy to walk in snow.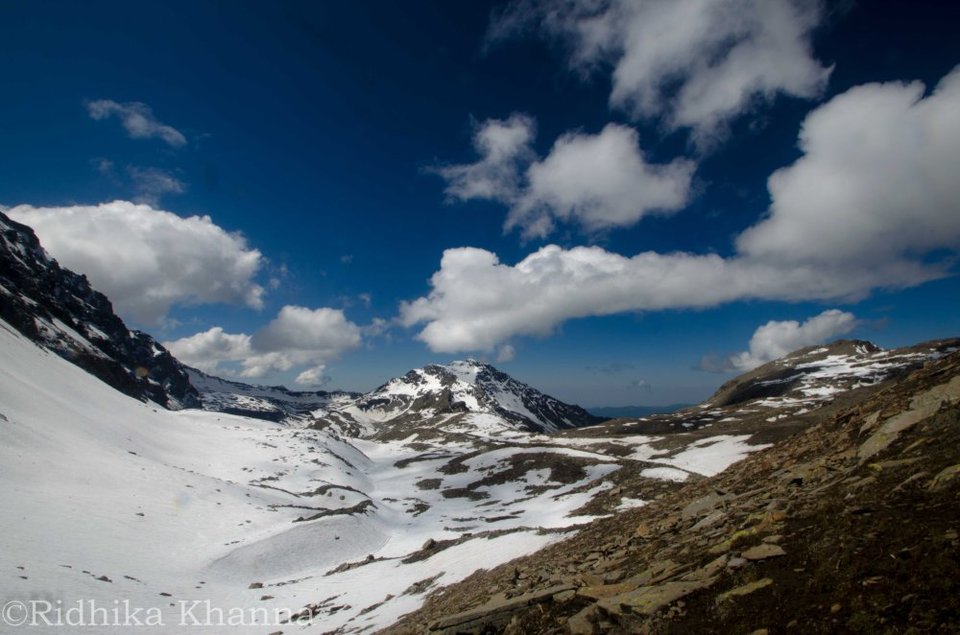 Unlike my earlier trek, the snow condition was good. It was neither too loose nor too tight. This made walking on snow much easier than I anticipated. The only problem in walking on a snow field is that it is quite exhausting and you feel thirsty too often. I drank water as and when possible and climbed on. We climbed many snow slopes on the way to Rupin Pass.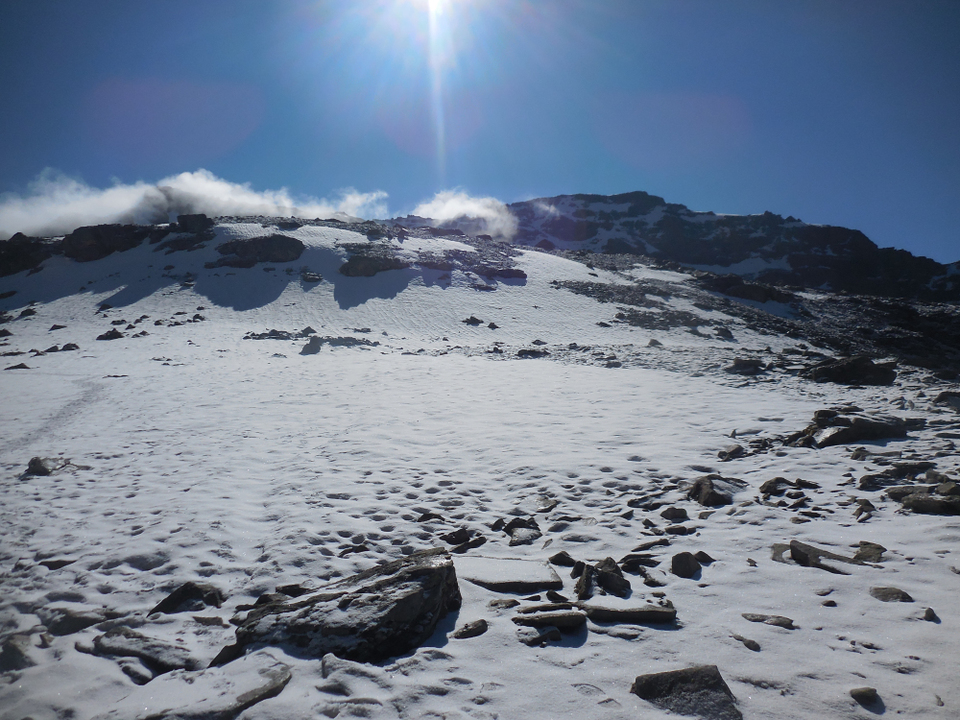 Negotiating Snow fields. Photo Courtesy: Pankhil Mistry
We had reached near the Rupin Pass at around 11'o clock only to find a big traffic jam there. Hikers from other companies/agencies had already lined up to climb the pass. We sat and waited at the dry rocks for what seemed like an hour or so.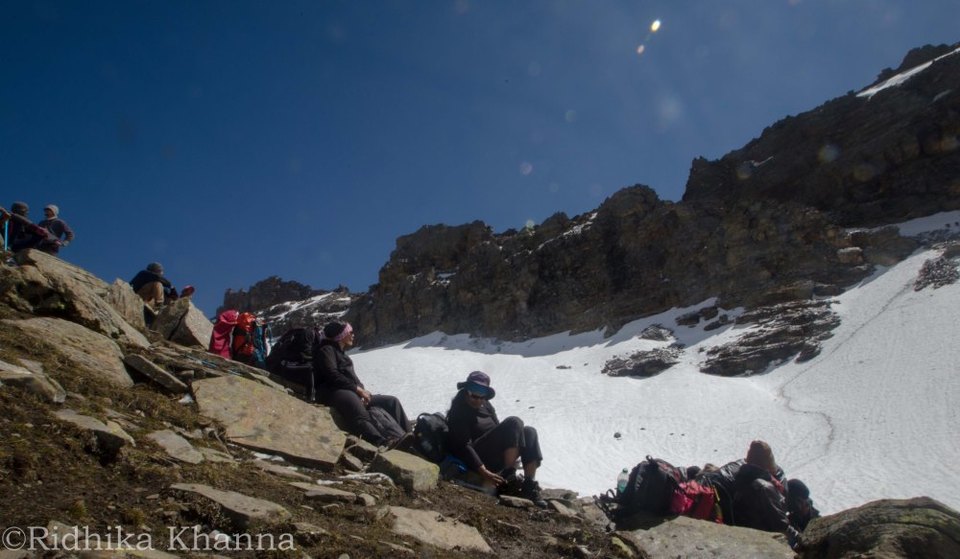 The climb was very steep. It is advisable to rope up while climbing to arrest a fall. But usually, when a few hikers have already climbed up, they leave their footprints on snow or they cut steps for themselves. The next set of hikers can simply climb up using those steps. In case, you have to do the step cutting task, it will be a very grueling one. It can take anywhere between 2-3 hours to do the same. But if a set of climbers have already done the step cutting for you, then it is easier to climb.It takes effort to climb those steps undoubtedly but if you have to cut steps and climb those too, then you are in for some real hard work. In our case, the steps were already there. We just had to follow them.
Personally, I am not in favor of such climbing. I like to climb the actual way like mountaineers do. I like climbing with proper gear and technique. I would have loved to do the step cutting task.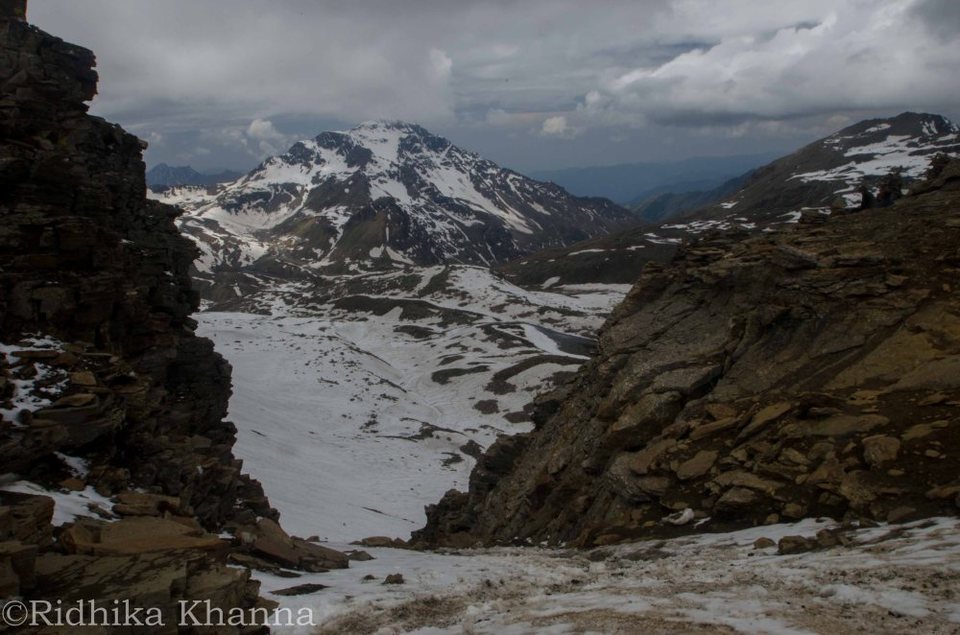 Anyway, the climb to the pass is not very technical. We were also provided with a set of mini crampons. This helps in walking on snow a lot and helps you place a firm footing.
We had to climb up the pass in a single file. This made the climb time consuming but then again safety is the most important practice. Walking in a single line also helps to be streamlined and to avoid crowding in the route and the pass.
As I was climbing, my head started aching again. I ignored it and my only focus was to climb the Rupin pass.
After putting in a lot of effort, all of us were able to reach the pass. We cleared the climbing route and sat down near the pass for a while. Finally, all of us had made it to this magnificent pass. We could only see snow clad mountains from here. Being at such an altitude with such a view is definitely worth the hard work and pain one incurs to climb.
As climbers, we are often asked the question of why do we climb? I have not found a one line answer to it yet and I realize that there can't be any. The feeling that you get when you are on the top of a mountain/pass/hill/ridge after all the pain and struggle you put in is beyond words. The view at the top is a bonus. This reward is all the more reason for people like me to climb. You feel that nothing can be more beautiful or more satisfying than this feeling.
Later when you are back in the city, living the same mundane life, the vistas and the mountains call you back again and again to relive what it feels like to climb a mountain.
That for me is reason enough for climbing. It is not an escape from life. In fact it is capturing life in the most natural and beautiful form.
Moving ahead with my blog. We took a few pictures, rested a while and decided to make a move. By now, I had developed a splitting headache. This is a symptom of AMS. Many of my trek mates had also developed a headache besides me. We were advised to quickly climb down to ease our pain. We had climbed up the pass and the only thing left to do was to climb down to Ronti Gadh.
We started our walk downhill in the snow fields. The snow had now become a little loose and was slippery. The TTH staff helped us a lot during this time. They were holding hands of many of us to help us get through the slippery areas. We also glissaded down a huge slope. As we had practiced it yesterday, all were in high spirits to go down again. It was thrilling going down such a steep slope in such a speed.
Once down the slope, we walked for a while and soon we could see the tree line. We thanked our gods when we realized that snow is over. It always happens this way. We are always excited to be in snow, to walk in snow and to climb in snow. Only after being in snow, one realizes that it is a grueling task to climb in this terrain. However, the more grueling, the more satisfying. ????
We sat at a dry patch and had our packed lunch. This time there were no sweets to hog onto. I was unable to eat anything because of my headache. It was a long break, so I lied down to ease my pain. After about half an hour we began again.
All of us were very happy to be able to scale the Rupin Pass and now the comforts of our camp awaited us. Many of us were walking in smaller groups while going down.
We climbed down many slopes and soon I came across the camp area of IndiaHikes. This meant that we had reached Ronti Gadh. I formed an impression that our camp area will be nearby. I went on the track with the anticipation of reaching the camp soon. Thankfully, it is a straight walk with no accent or decent. It was a respite for us. However, my idea of reaching camp soon was wrong. As there was no proper camping area nearby, TTH camped almost towards the end of Ronti Gadh. Our day's destination was hence much farther than we thought. We should have reached camp in 40-45 min. but it took us 3-4 hours to reach. At every turning, I looked forward to spot our blue tents and camping area but every time I was disappointed. It was really frustrating to walk when you think that you are just a few meters away from your destination when in reality it is far away. My head was still throbbing with pain but I paid no heed to it and walked without taking a break.
When I finally reached camp, I threw my rucksack aside and lied down on the grassy slope for some sun bathing. I also drank a lot of water. This eased my headache. When we met Himanshu, we expressed our disappointment on camping so far from other agencies. Himanshu very calmly explained us that we are not at loss. We had in effect covered the distance that we had to cover the next day. We had camped en route our next destination of Sangla. This meant that we have covered more distance today and we can easily reach Sangla early the next day and have the whole day to our disposal without tiring ourselves much.
Again, the distance and route remains the same. Only distance covered per day varies.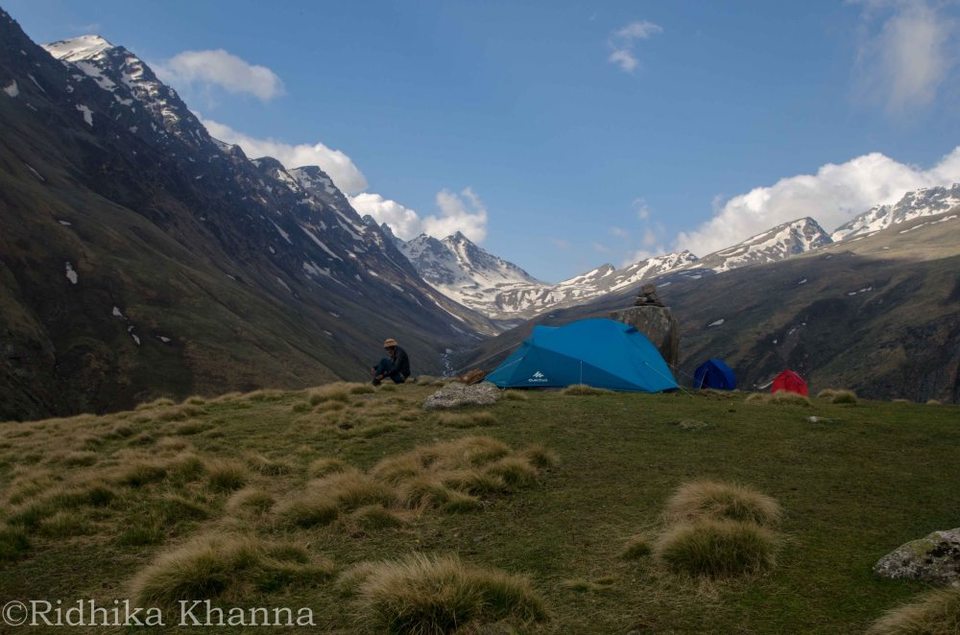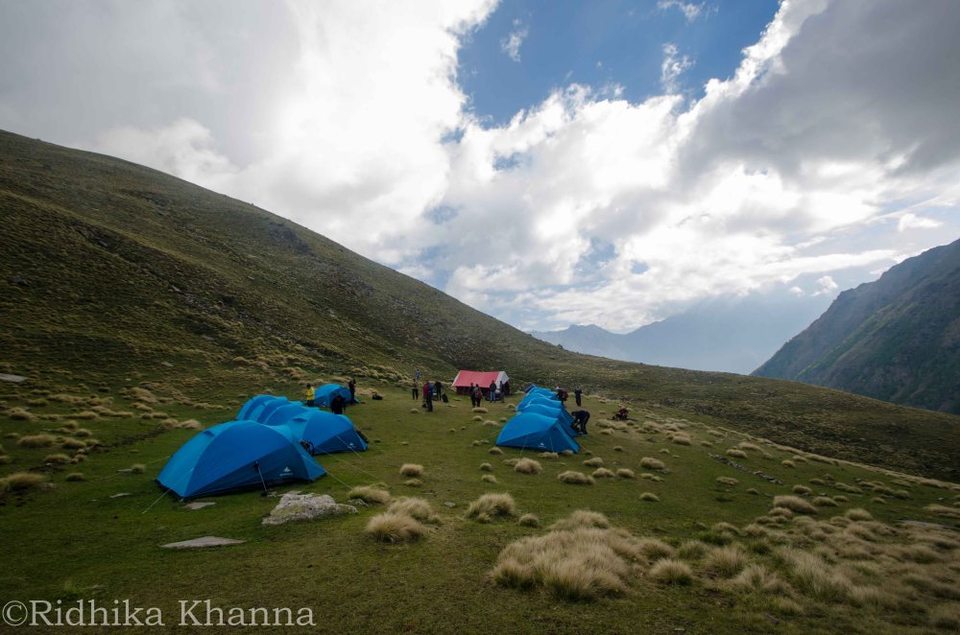 After this conversation, all of us were quite comfortable and nobody seemed to have any problem. Later, in the evening we gathered in our kitchen tent and everybody was relating their trekking experience of 8 days. It was a very emotional conversation as we had formed a special bond with each other. It seemed so strange that now the trek was over and all of us will begin our journey back to home the next day. Most of us wanted to stay in the mountains longer but our routine life and other obligations called us back to the city.
We had a nice dinner, sat and chatted with each other for a while and retired back to our tents.
Day 8: Ronti Gadh (13,420 ft) to Sangla (8,800 ft)
The last and final day of our downhill climb started a little late. Everybody was lazing around in the camp and nobody wanted to go early. As we had already covered most distance yesterday, the trek leaders were also relaxed. At around 8:30 A.M., we started our trek. We saw hundreds of sheep and lambs grazing in the meadow. It was a delightful view. I had never seen so many sheep together. I stopped there for some time to take it all in.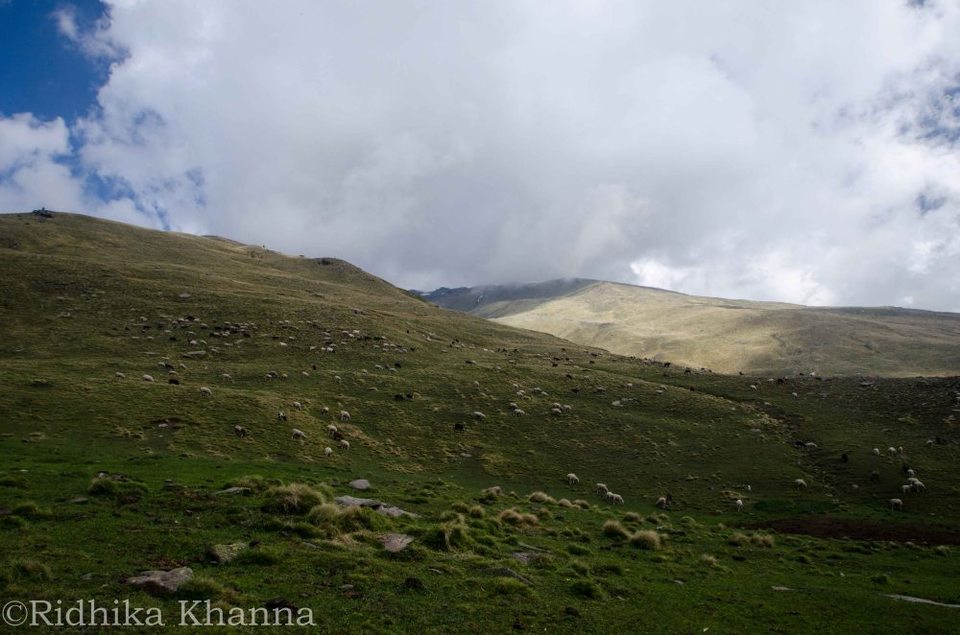 These small dots are sheep and lambs
Further down, we were welcomed with magnificent views of Kinner Kailash which is one of the five holy kailash. It was a breathtaking view. The valley itself was very beautiful. The route was easy and hence we enjoyed walking through the village and enjoyed the scenery to the max.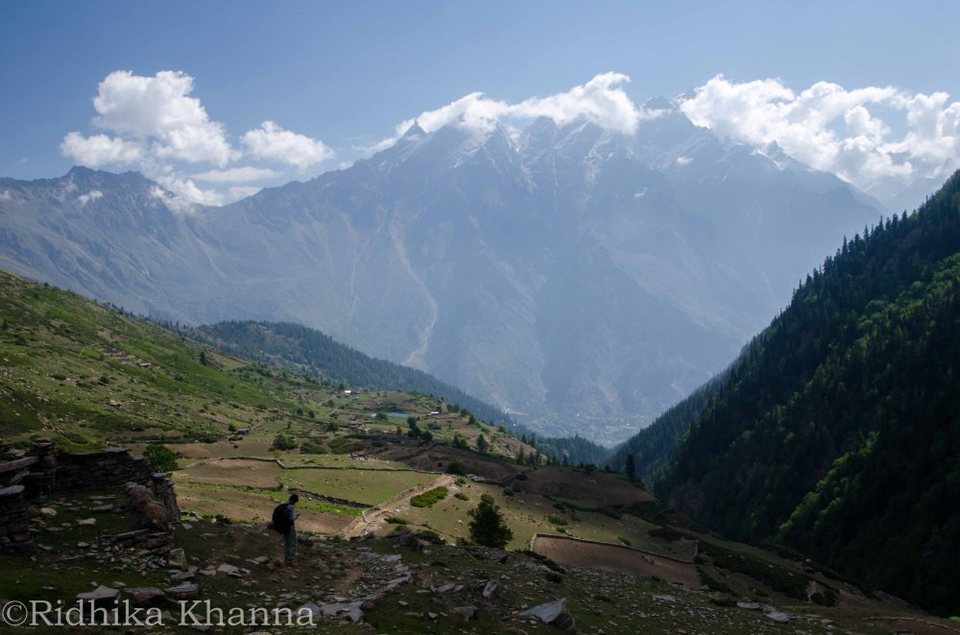 On reaching Sangla after about 4 hours, we stayed at a small guest house for a few hours. We took 4 rooms and adjusted ourselves there. We ate, slept and of course had a long, much deserved bath. After 8 days, bathing seemed like a luxury. I didn't leave my room as I preferred resting and chatting with my roommates.
There is hardly anything to see in Sangla except a temple and a monastery. Also, vehicles to Shimla are not easily available. You have to book them in advance. Bus timings are not very convenient. TTH had already arranged for our onward journey to Shimla in vehicles like Tata Sumo and Scorpio. Another good thing about TTH is that there are no hidden costs. Unlike other companies like IndiaHikes, TTH makes all your travel arrangements. So, our trek included the cost of both the car journeys, i.e., Dehradun to Dhaula and Sangla to Shimla.
If you are traveling with other companies or on your own, planning your onward journey from Sangla is an important element and I suggest not leaving it for the last moment. Also, it is a good idea to double check with your trekking companies/agencies about travel inclusions.
We left for Shimla at around 8 in the evening and reached early morning at around 5.
From Shimla, you can easily find shared vehicles or Volvos to Delhi and Chandigarh.
In the end, I would like to say that trekking The Rupin Pass was a refreshing and a memorable experience. I will always cherish the friendships and comradeship all of us shared.
Also, I would extend a special thanks to the TTH team for being so courteous and helpful throughout. I would love to trek with you guys again.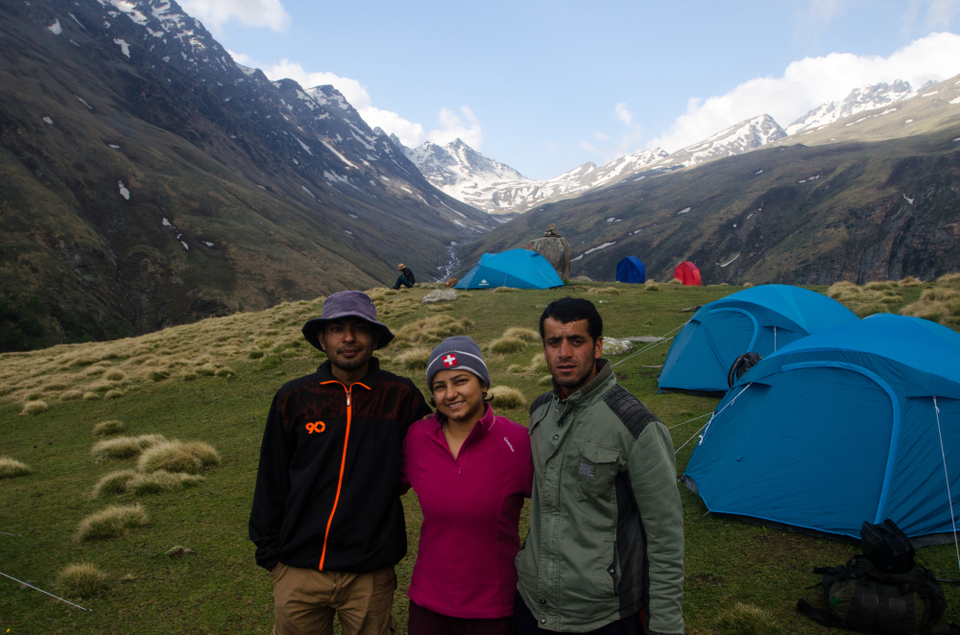 That's me with super cool trek leaders; Himanshu and Pradeep
I am now closing my blog with a few inspirational quotes. ????
"In the end, we only regret the chances we didn't take"
"Don´t hesitate or allow yourself to make excuses. Just get out and do it. Just get out and do it. You will be very, very glad that you did." ― Christopher McCandless
"One touch of nature makes the whole world kin." ― John Muir
"I felt my lungs inflate with the onrush of scenery-air, mountains, trees, people. I thought, "This is what it is to be happy." ― Sylvia Plath
"To see what others can not... You must climb the mountain" ― Ron Akers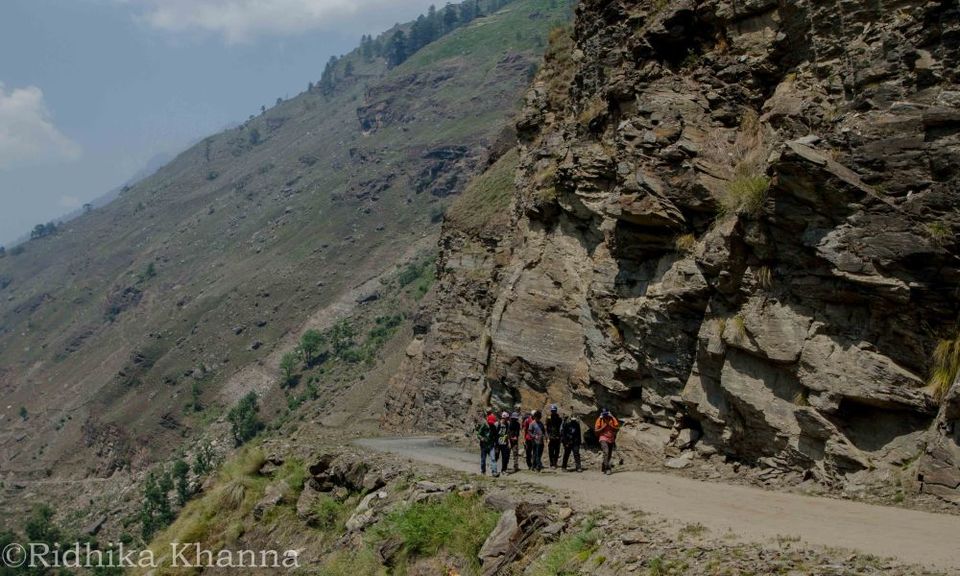 Thanks for reading through.