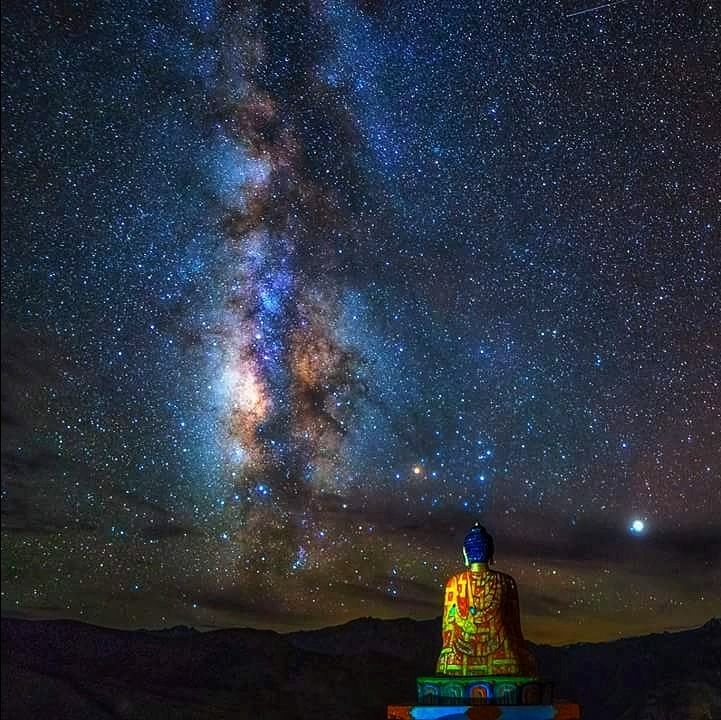 Letters to her ????????
.
Tonight we are like the stars, distant and dying. The only thing that makes me smile is , even though we are miles apart from each other , like this very specks of light, we are still under the same night sky, rolling in the same universe.
In this moment , with my feets on ground and eyes on stars , and my mind , soul and heart reaching for you, is how you exactly feel Infinite. And this are the very moments , that never let me , let go of you. Everytime I see something as spectacular as this , I try to fathom, what might have you felt or said, while here. It would be like, though, when something magical gets hold of a miracle. The stars are poetry of the paradise, everything that makes us believe in fairy tales.
And this fairytale of star gazing on a moonless night , in Langza, will be something I brood about , to add up as a chapter , in the incomplete story of you and I. It will be nice to lay side by side, you and I , accompanied by the meditating Buddha, and look into the past, into the stars, embracing our insignificance, and yet love as if the whole universe depends on it. Though it is obvious, that I would love to do this stargazing with you, but may be it will be pointless. I might be mostly gazing at you, the entire time.
It's incredible how you and I , are built , made and share the same components as this bright shinning lights. So on any given day , when you are scared or not so sure of anything, just let yourself know, that you are made of stardust and there's nothing to fear.
The stars are the last proof of Hope. When everything is dark , nothing is said or heard, the stars light up. It illuminates the farthest of horizons to guide you, to show you, that even at the darkest of nights , our life is beautiful. Maybe that's why , I hope that, I be your starry skies , on the darkest of nights. And finally when I find myself, someday among the stars, I will fall for you, so as to fulfill your wish. I hope, that night you are there , wishing and praying , smiling at me , your one last shooting star.

With Love
From Langza.
______________
p.c - Shreenathan Subhramaniam. the amazing photographer I guided in Spiti this time !