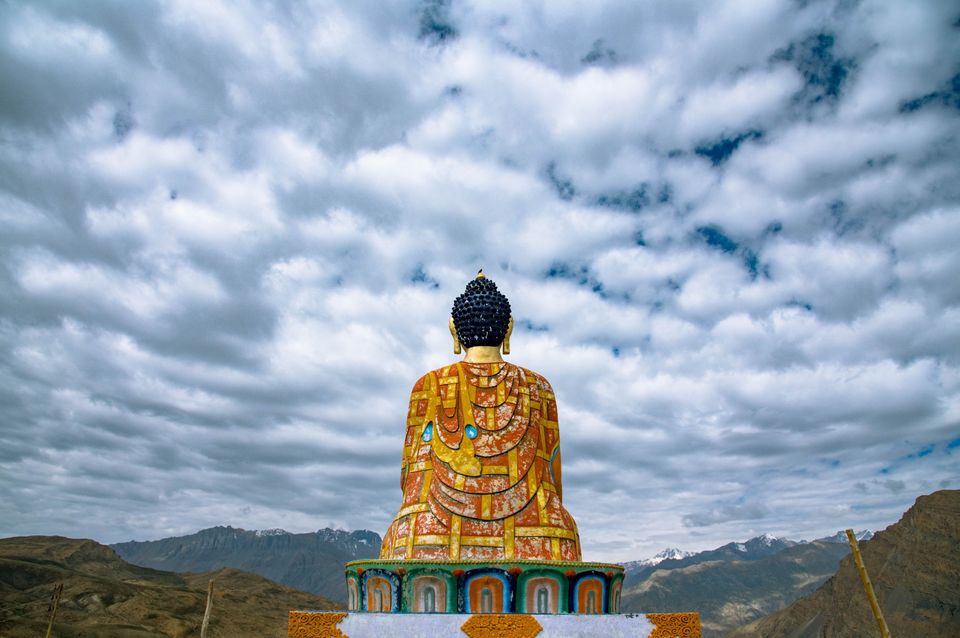 Two years ago after I had just finished off my college I decided to live my life long dream of travelling to the remote areas of the north. After some research on the internet I found the beautiful moon shaped lake known as Chandratal. I saw photos of Chandratal on the net and it was love at first sight. So it was decided, college was over and Chandratal was calling.
I went to Chandratal in 2016. We were 5 people and each one had the best times of their lives there. This was the first time i was introduced to Spiti Valley. Since we visited Chandratal from the Manali side and returned from the same side we had just touched the valley and returned.
After returning home I was so pleased with the trip that i decided to do some more research on Spiti Valley and what lay in the vast unknown landscape of this middle land. From looking at photographs of the valley on the net to talking to people who had been there i realized that Spiti was one of the places that had to be visited in a persons lifetime. And hence came to existence, my dream of completing the Spiti circuit, entering from Shimla and exiting from Manali.
After many efforts and failures in making my dream come true for the past two years, I finally decided to check Spiti off my list in 2018. I called out a friend of mine who was traveling with a group to the valley. I was able to get the last seat available with the group.
And so after two long years of waiting I was finally going to the Spiti. I packed all my essentials including two camera bodies and extra batteries and memory cards. The kind of excitement I had for the trip, I knew all my memory cards would be full by the end of the trip or even before.
I travelled to Delhi from my hometown Almora where I met the group members I was going to travel with. We began our journey at midnight from Delhi in two Innovas and later transfered to a traveller from Chandigarh for the rest of the trip.
Starting from Chandigarh early in the morning, the first days destination was Kalpa, a small hamlet in Kinnaur district of Himachal Pradesh. Now Kalpa from Chandigarh is around 350 kms and we had a whole day of sitting in the traveller and viewing the changing landscapes right from chandigarh to kalpa. We crossed Solan Shimla Narkanda and other beautiful locations before entering the Kinnaur district.
I remember crossing Rekong Peo just after the sun had set but there was still sunlight at the top of the high mountains that surround Rekong Peo and Kalpa. I was also very stunned to see a red light on the road from Peo to Kalpa. And people were actually following it. I am pretty sure it's the highest red light of India although I don't have any facts to back my assumption.
We reached Kalpa late in the evening and our hotel was above the main town in a quiet peaceful location with a beautiful apple orchard surrounding it. I remember it was about to get dark but there was still sunlight at the top of the mountains and trust me, this was the first view that gave me a feeling that this trip is going to be more than what I was hoping for.
I took out my camera, clicked some pictures before the light vanished and then after I had clicked the images. I put my camera aside. Sat on a stool with a cup of tea and a lit cigerrate and let my soul be there at that point and live it completely.
(Now that's the thing with me. Whenever I visit a surreal and out of the world location or be it some day when the weather has done some miracles. I tend to sit down quietly, light a smoke, take a puff and soak in whatever nature has in store for me. And places change, weathers change but this habit of mine is a constant amongst a world full of variables.)
After my moment of solitude. I freshened up, interacted with the group members, had dinner and went off to sleep because the next day we had to start early as the treacherous road was just about to begin.
The second day our day began early as there was a lot of distance to cover from Kalpa to Dhankar which was going to be our hault for the day. The whole day we travelled and entered the Hangrang Valley. We reached Nako at around 2 in the day and explored the village. We climed a little to get a view of the Nako village with Nako lake. Nako is a small village with a beautiful lake aside it. It is just like an oasis in a desert. By 4 we had arrived at Tabo where stands the oldest monastery of the Spiti valley, The Tabo Monastery. We explored around the Tabo Monastery, talked to the monks there and learned a little more about Buddhism in Spiti. We were at Dhankar by 7 in the evening. The sun had already set and it was almost night. Tired from all the travelling I had my dinner and went to bed.
The third day we began our day a little late because everyone was tired from all the travelling. As I got up and opened my balcony door there was total sunlight around and Dhankar was shining off like a heavenly entity. With clear blue sky and a breeze blowing by it was pure bliss standing at the balcony and having my morning tea in such a beautiful location.
After getting ready I walked a little to the Dhankar Monastery from where, trust me the panoramic view of the valley is unbeatable. On one side is the village and on the other side is around 500ft of drop and the view of the Spiti river that flows at the bottom of the drop. The sun is warm and pleasant and you just want to soak in the sun while looking at a view that only few people get in their entire lifetime.
After some alone time at the monastery it was time to head ahead to Langza. After filling up the travellers gas tank at Kaza we were off to Langza. We reached Langza just as the sun was about to set. Now as you are about to reach Langza, the village becomes visible from a distant where you are able to spot 20 houses midst vast green fields with a backdrop of a huge snow clad mountain and barren brown terrain. This view with the sunset is unbeatable. Langza to me was a place that out stood everything I have seen till now. It had so much to offer in itself that the outside world seemed useless. If gods were to reside somewhere on the Earth I am pretty sure it would be Langza. A village so remote yet so appealing, so small yet so vast that it changed my whole perspective of looking at places. On the top right of Langza is a statue of Lord Buddha sitting and I think Buddha himself must have chosen the location to meditate. We were staying at Lara's homestay and from our rooms we could stare at the vast greens and browns and blues the valley offers. Even the bathrooms and toilets had such amazing views you could sit on the pot all day. I would choose that toilet over any five star anyday. Langza is a place that has so much attraction and peace that you wish you could live your entire life there with no connection to the outside world. The vast landscape, the clear blue sky and peace. Peace that stands above all worldly things. I bet all the people that visit Langza must have at some point thought of leaving all the materialistic things and spending their remaining life in the land of Buddha.
As the evening faded away and the night came upon us Langza had a whole different scenery to offer us. Bright twinkling stars shone the sky and the night became a shimmering chanderlier. I remember going to the roof of Lara's and lying down on the roof and looking at the vast universe that surrounded us. A universe we are so unware of. A universe that has so many mysteries to get lost in. A universe that hypnotises you to such a point that you lose control of time and space and become a part of the vast surrounding. The peace that you gets as you look at the sky with stars and planets and galaxies visible with your eyes you realise how little you and your problems are. I think at that point you grow into someone you have never been. I think looking at stars makes you a totally different person. A more mature, more thoughtful human.
This is what Langza does to you. You visit Langza and you become a better human being. Your senses awaken and you truly become (what people call) ALIVE.
The next day it was time to move to a new destination and trust me leaving Langza was one of the hardest goodbyes.
We left Langza early in the morning as our next and last destination of this trip had a very trechourous road. The roads to Chandratal are very tough to drive on as there are just plain rocks and nothing else and you have to face water crossings in the way.
Before reaching Chandratal you cross the highest point in the Spiti Valley which is the Kunzum La. Every vehicle stops at the Kunzum La and people take blessings from the Kunzum Mata and then move forward. This is a ritual that has been going on for a long time and every traveller does the same because in such places you collect all the blessings you can receive.
We reached Chandratal around 3 pm and going there for the second time, I was imparting the little knowledge about the place I had gained on the first visit to my fellow travellers.
2 years back I had stayed in Tenzing Camp and there were just 3 or 4 other camps on the camping site that offered accommodation, but to my surprise there was a whole tent town that had developed in the camping area which made me a little sad as to how even so sacred and off beat places like Chandratal had turned into a tourist destination and what adverse effects it brings with it for the ecology of such fragile locations.
We stayed at one of the camps in the camping site and then around 5.30 moved forward to visit the lake. It had started drizzling and trust me witnessing rainfall in a cold desert is one of the most heavenly experience a person can experience. I even trekked to the north side of Chandratal and witnessed the most beautiful sunset of my life.
Whenever you visit Chandratal do visit the north side as it offers mind blowing views of the lake and the snow clad mountains in the backdrop.
I also happened to spot a small pond just above Chandratal and that location turned out to be apt for some pleasing shots that I was able to capture.
Later in the night as usual I sat under the sky with a billion stars above me.
It was at this point I realised that what Rudyard Kipling had written was one 100% true.
Spiti indeed is 'A WORLD WITHIN A WORLD'.