If you have ever done the tiniest bit of research on Maldives you would know the only thing you can get cheap is 'The Tickets' to Maldives. You can either choose to stay at Resort Islands or Guest House at local islands.
Resort Islands are meant only for tourists.Locals are not allowed on these islands. Staying in a Resort is expensive and reaching to resort additional expenditure. While a speed boat to resort varies between 100-150 USD pp, sea plane costs minimum 250 USD pp.
Staying at local islands gives you chance know the culture,food, language, interact with locals who are welcoming and greet you with big warm smiles.
So here how we did it - we traveled local!!
Our journey started from Hyderabad with almost 7 hours layover at Kochi. If you have similar layover you could try food at Palace Coffee Shop which is 10 mins walking from airport and exchange money at Akbar Travels who gave us the best rates.
We landed at 2:00 pm at Male airport from there we took ferry (MVR 10/-) to Male city which took 20 mins. We had speed boat at 4:00 pm to Omadhoo Island.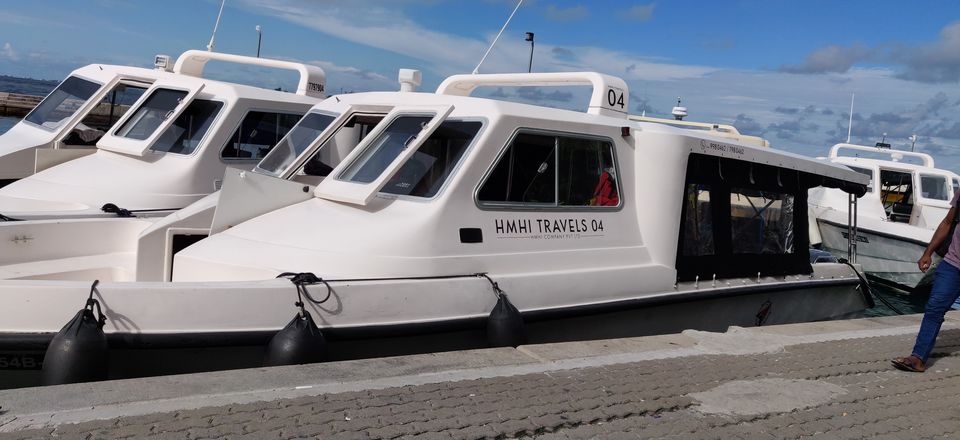 Breakfast at another beach. We chose this day as leisure to just sit back relax enjoy white sand and pristine turquoise calm waters of Maldives. Our guest house was right on beach with swings everywhere making sure 'La Dolce Far Niente (the sweetness of doing nothing)'.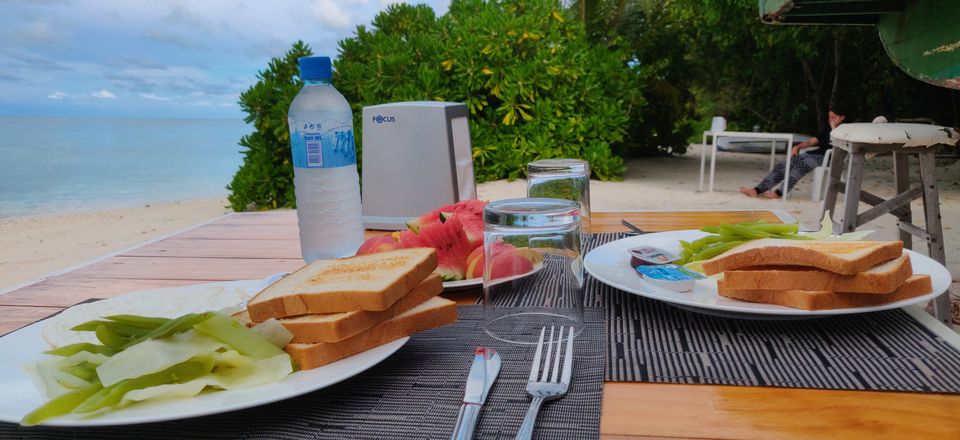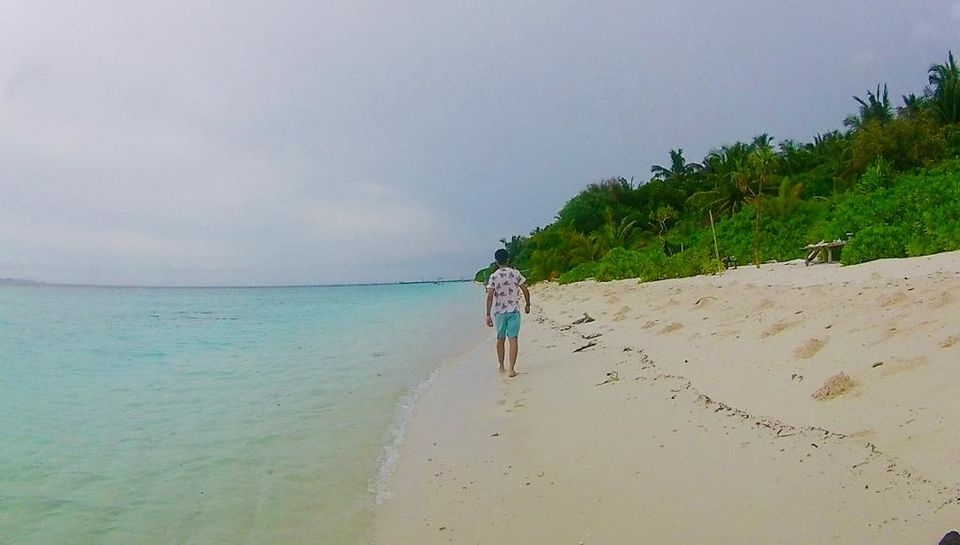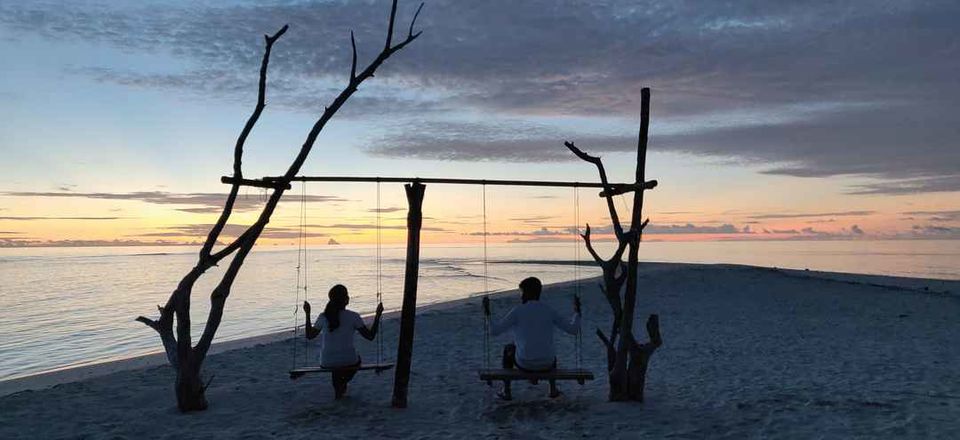 We took romantic beach side breakfast. It's one of a kind experience - you won't be able to decide if it's more beautiful or more tasteful!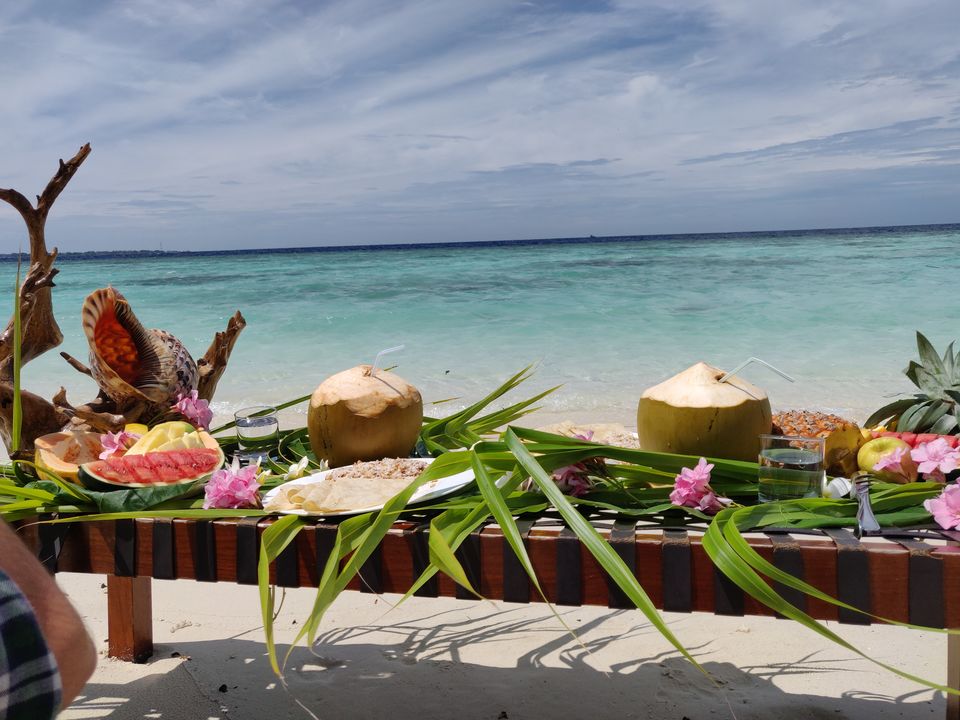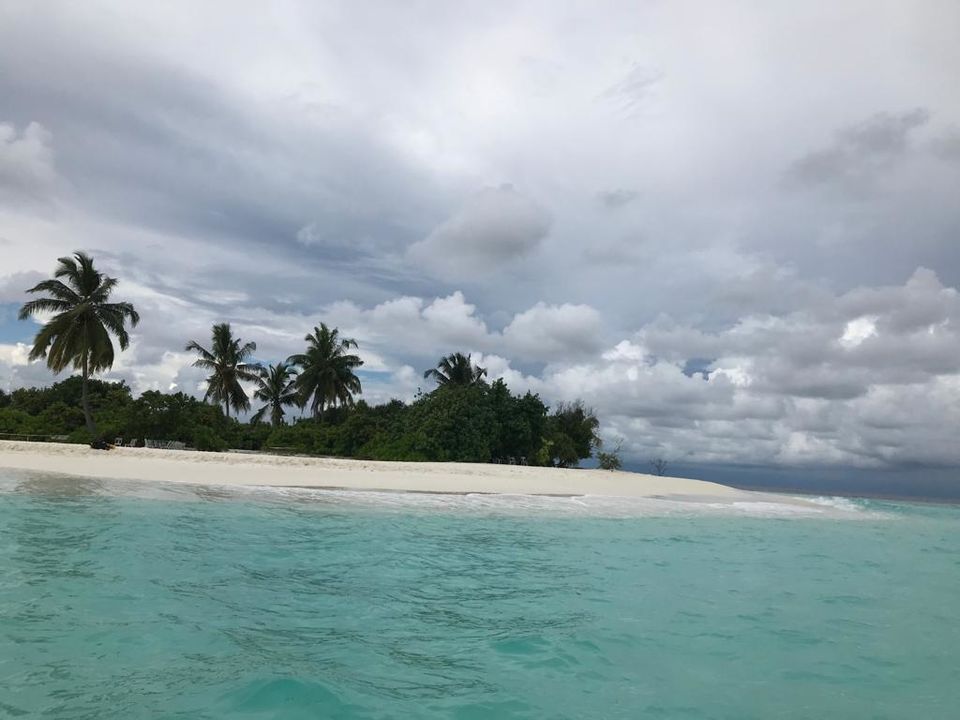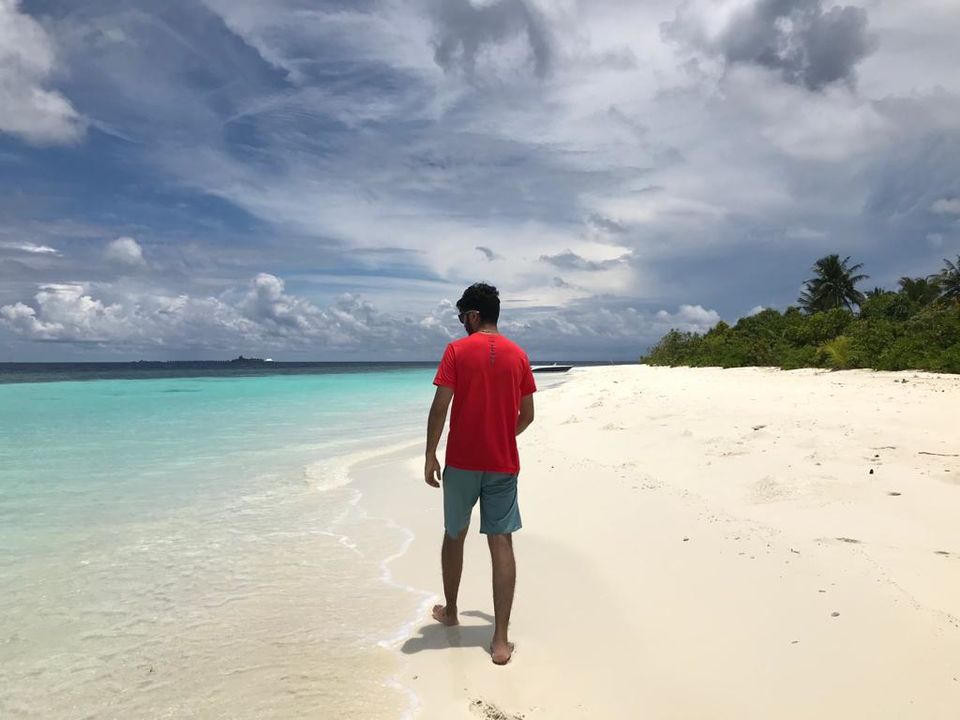 Our flight was at 2 pm from Male. So we had to leave Omadhoo by 7 am speedboat. Breakfast was arranged at 6:20 but since we got delayed , they graciously packed it for us (not sure if you can get service like this at a resort) .
After roaming around Male for a while we took ferry to Airport. Had lunch in food court and got complimentary WiFi for 30 mins. Shopped at duty free with remaining dollars and MVR.
Left this breathtaking Island country.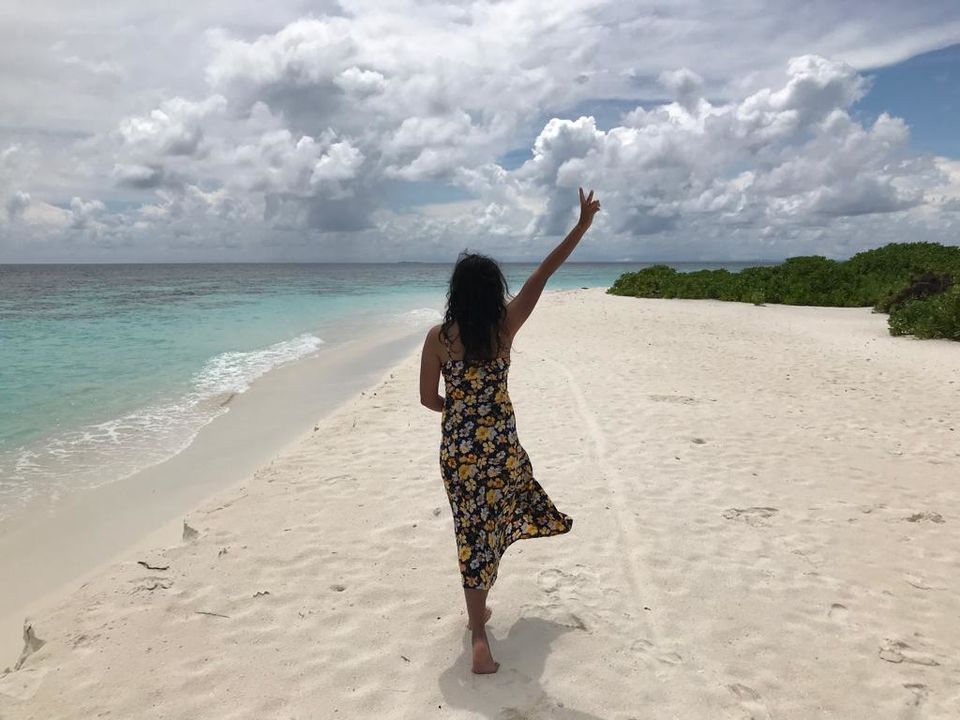 Once we reached the island our host from guest house was there to receive us at Harbor. Everything after this was like scenes taken straight away from dream.
We had a beautiful candle light dinner arranged at the beach. Retire for the day after long journey.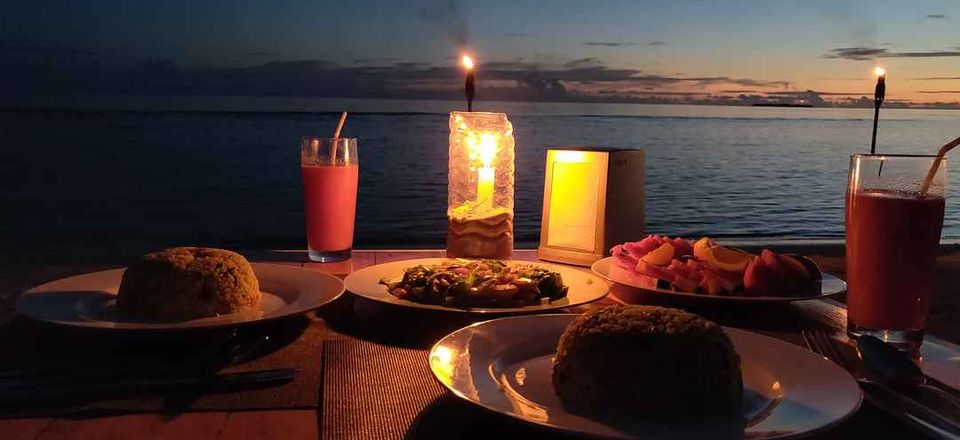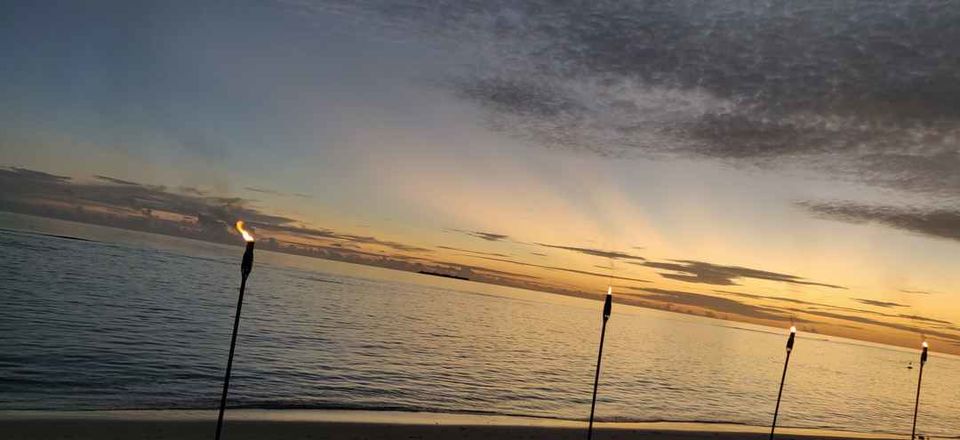 We went for 3 point snorkeling and Sand Bank trip. This was our very first experience of snorkeling. The first view under the water took our breath away (well, quiet literally). It's an experience of lifetime and I don't think I will ever forget the first sight of underwater world with so many colorful fishes, reefs and coral.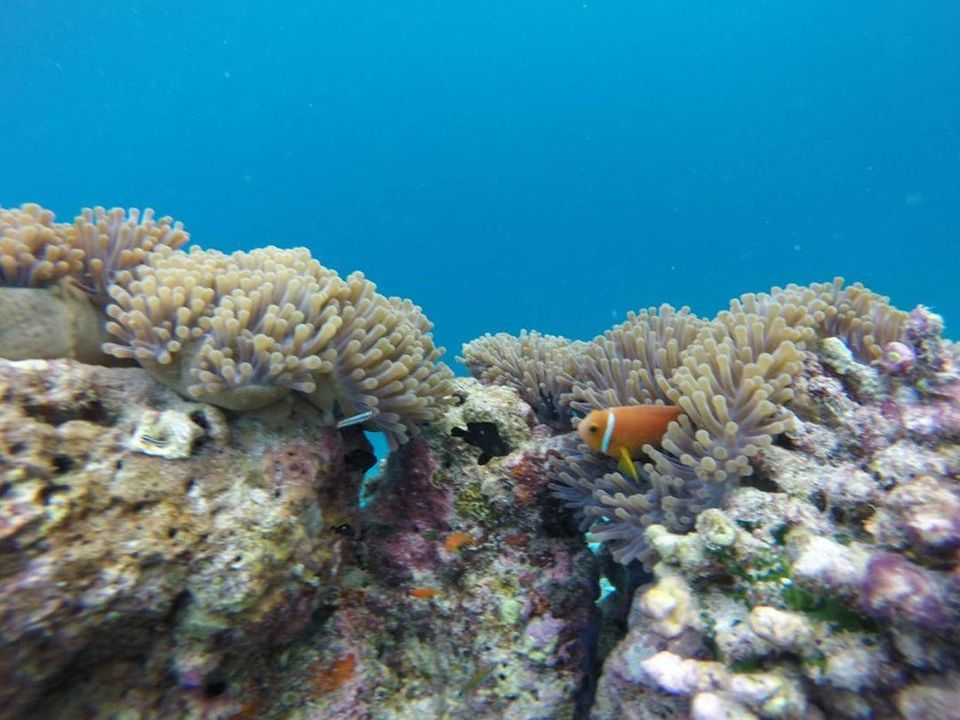 We had lunch at this island and then left for Omadhoo.
After breakfast we went to deserted island trip. The island felt like a Windows wallpaper.Every picture we took from our basic smart phone were amazingly beautiful.We had lunch at this island and then left for Omadhoo.
Post this amazing experience, we went to Sand Bank where our lunch was arranged and went for snorkeling again. We sighted baby reef shark and beautiful & colorful fishes and reef.
While returning we went for third point snorkeling, here we saw turtles apart from fishes and corals.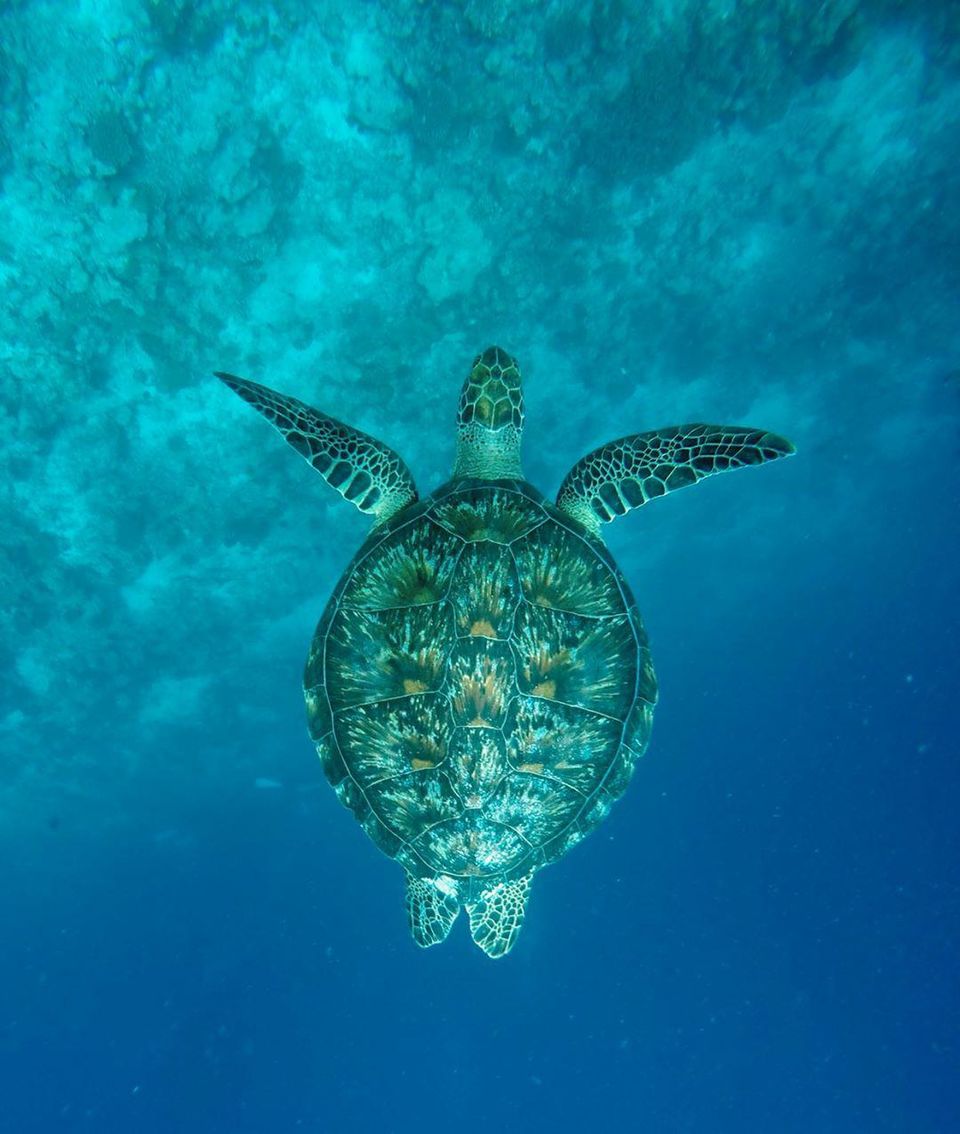 Important points:
- book your stay before your flights so you can match your flight time with ferry/speedboat timings.
- Friday and Saturday is holiday so less ferries and speedboat ply on these days.
- Alcohol is not allowed on local islands
- On local island,bikini is allowed only on bikini beaches and it is recommended to cover your shoulders and thighs to respect local culture.
- All activities are cheaper(almost at half rates) at a local guest house when compared to resorts.
Personal Notes:
- We stayed at Kirulhiya.
- Two way tickets on SpiceJet. On time, hassle free and great crew .
- We didn't buy local sim as guest house, restaurants, food court kept us connected throughout as they had Wi-Fi and we used WhatsApp call.
- Make sure to get reef and coral safe sunscreen or sunblocks.
- Since we were on budget we didn't stayed at Resort but I recommend experiencing Water Villa for 1-2 days then switching to Beach Villa or better local guesthouse to experience best of both worlds!!
Flights - 18k two way
Stay - 23k approx half board (depends on dollar rates)
Speedboat to Omadhoo :3600 (25$)
Misc : 5k
https://www.tripoto.com/travel-guide/maldives
Frequent searches leading to this page:-
cheap hotels in maldives all inclusive, best places to visit in the maldives, maldives trip cost for family in indian rupees, maldives trip cost from delhi