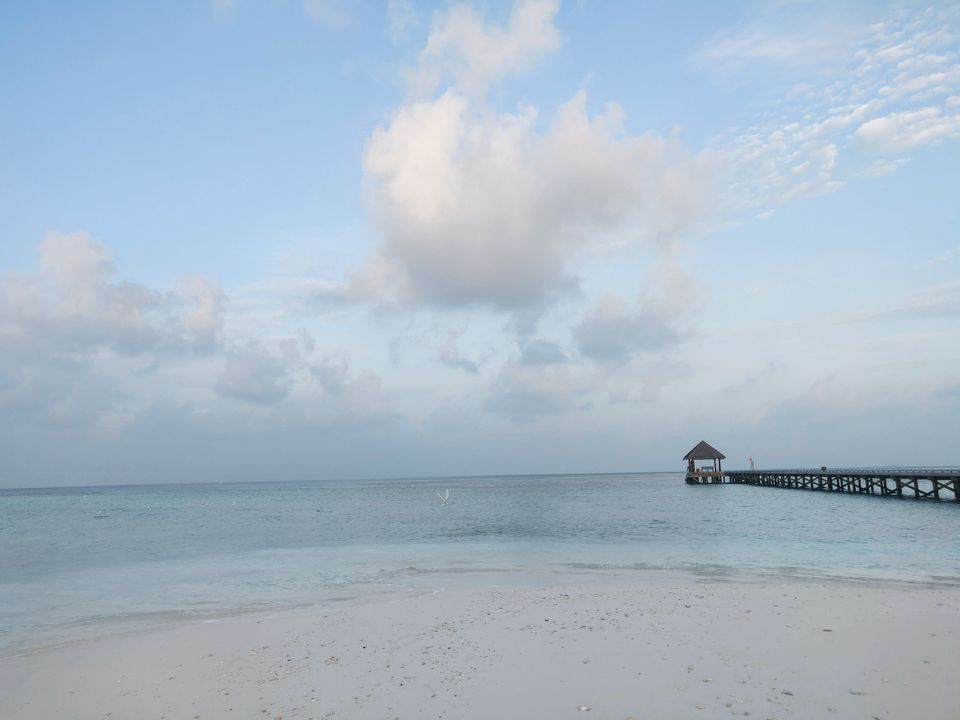 With Covid restrictions uplifting slightly, I along with my husband decided to plan our vacation after an year of lockdown to Maldives. Maldives is a tropical paradise and an epitome of luxury vacation so we were really careful of selecting the right resort for our 5day trip since every resort has its unique feature. After a lot of research and calls with the travel agents, we went ahead with Oblu by Atmosphere at Helengeli Island.
Arriving at Helengeli Island
I cannot think of a better way to arrive at your island than an exhilarating 45 minute speed boat ride with spectacular views of the turquoise blue waters of the Indian ocean! If your island is more than an hour by speedboat, then you may have to opt for a seaplane which costs around $700 both ways.
We reached Male International Airport after a 2.5 hour flight from Bangalore in the morning and were greeted by the resort representative. We waited for 15 minutes for our speedboat to pick us up and 45 minutes later we were at our paradise island- Oblu by Atmosphere at Helengeli located in North Male atoll.
A little bit about Maldives - it is an archipelago in the Indian Ocean comprising of 1192 islands which are grouped in 26 Atolls. Only 188 of these islands are inhabited with select few of them being resorts and hotels.
As soon as the speedboat reached the resort, we were welcomed by the staff with the traditional Bodu beru traditional drums being played. We were offered welcome drink in the reception area while they asked us for our details. We then were led by the staff to the main dining area for lunch while showing us all the amenities on the way. By the time we reached our rooms , luggage was already there. It was all very seamless and efficient without any formal check in procedure per se.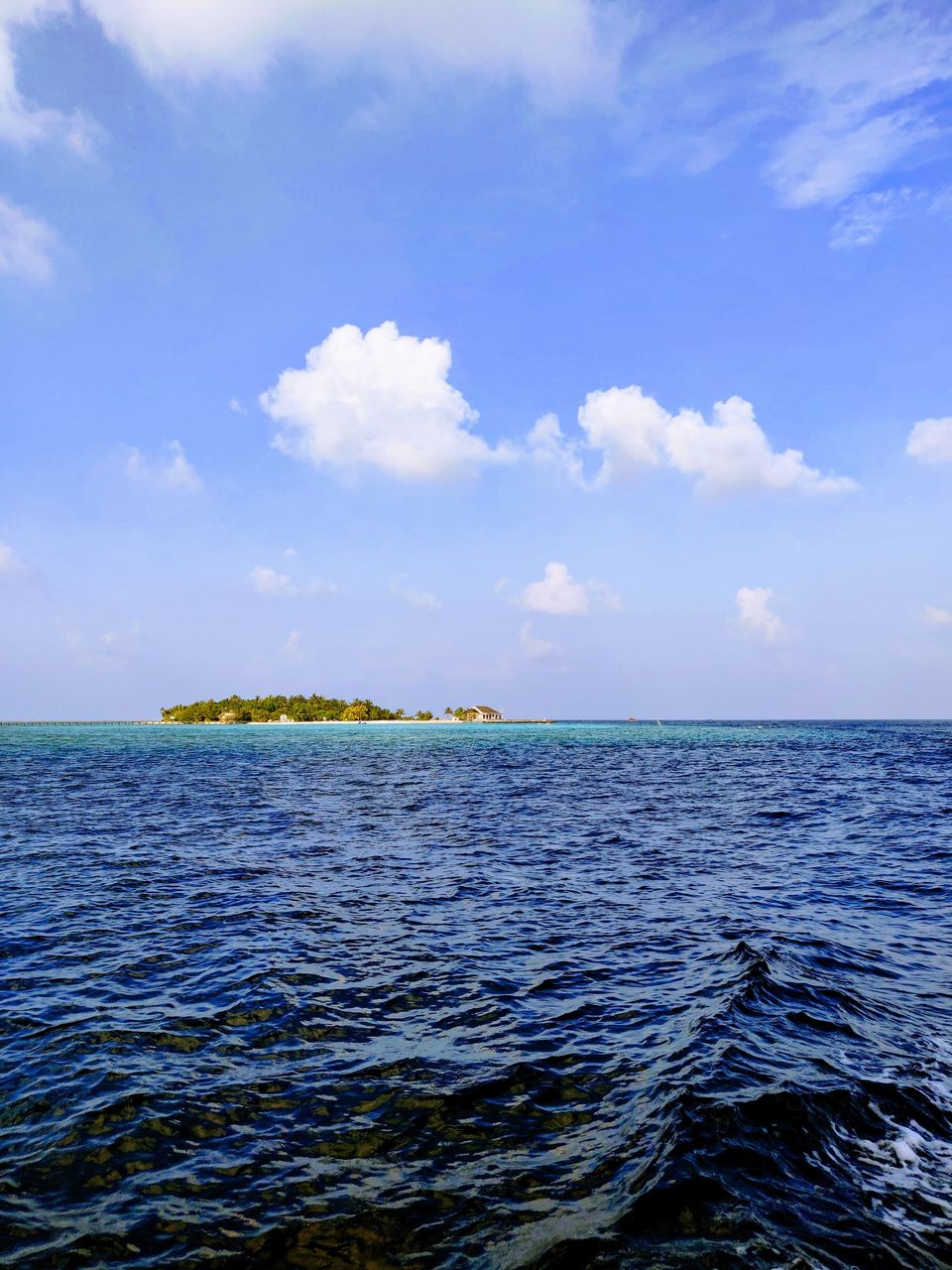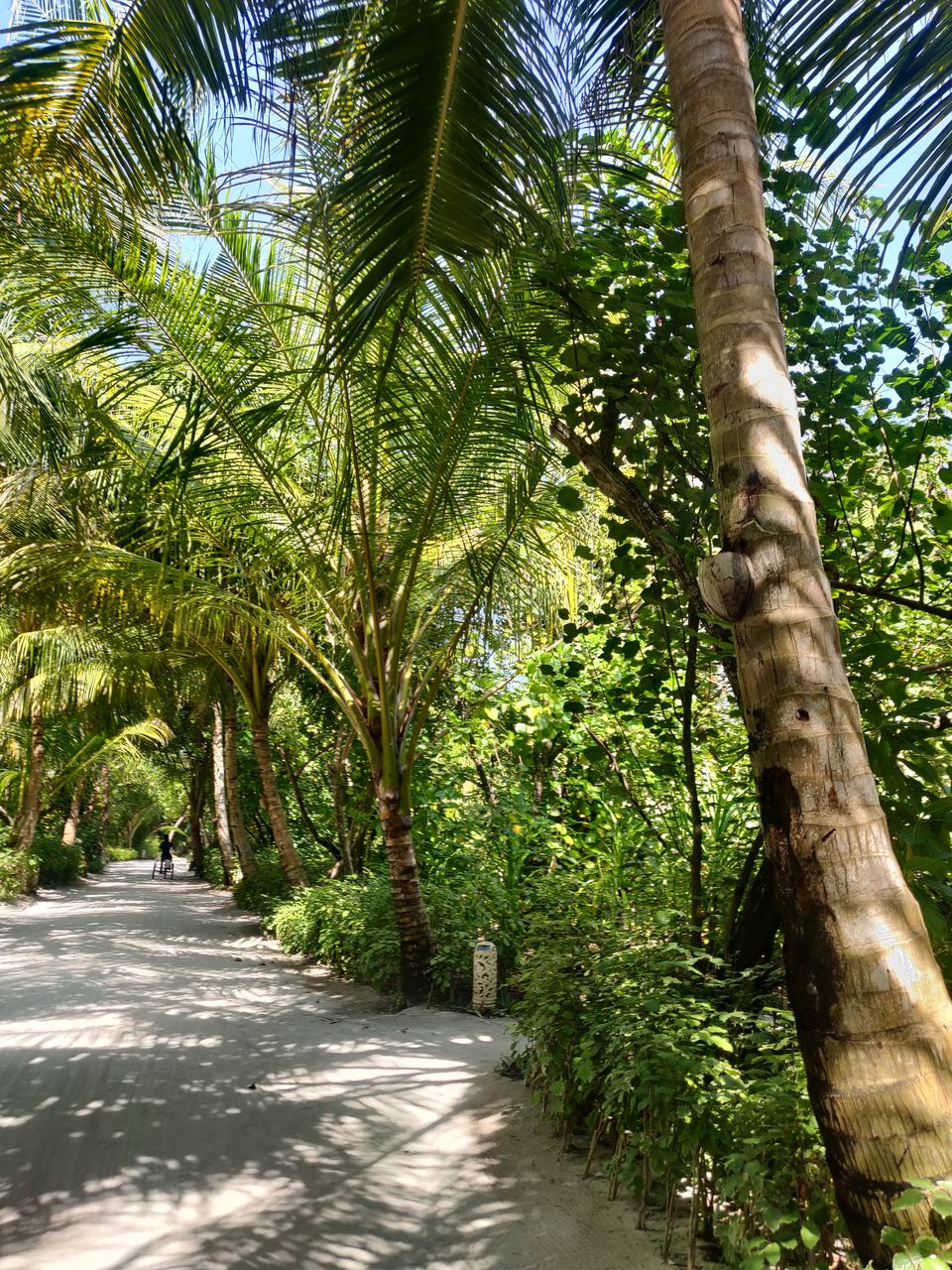 Our Stay
The property has a total of 116 villas in multiple categories, a gymnasium, two swimming pools, a bar, two restaurants and a beautiful relaxing spa along with multiple vantage points to relax. We had opted for an inclusive plan with meals and alcohol for 4N/5D with 2nights each at their beach villa and lagoon villa which turned out to be a good decision in hindsight. The trendy villas come with an outdoor open-air bathroom which are almost same size as the bedroom and gives you a feeling of being in a tropical garden.
I personally liked the beach villas more as they open up to the sparkling turquoise waters that beautifully contrasts with white sand. There is also a tiny sand bank on the island which was one of my favorite spots to take a stroll with feet dipped in the clearest of waters and leaving an imprint with every tread in the softest sand one can imagine.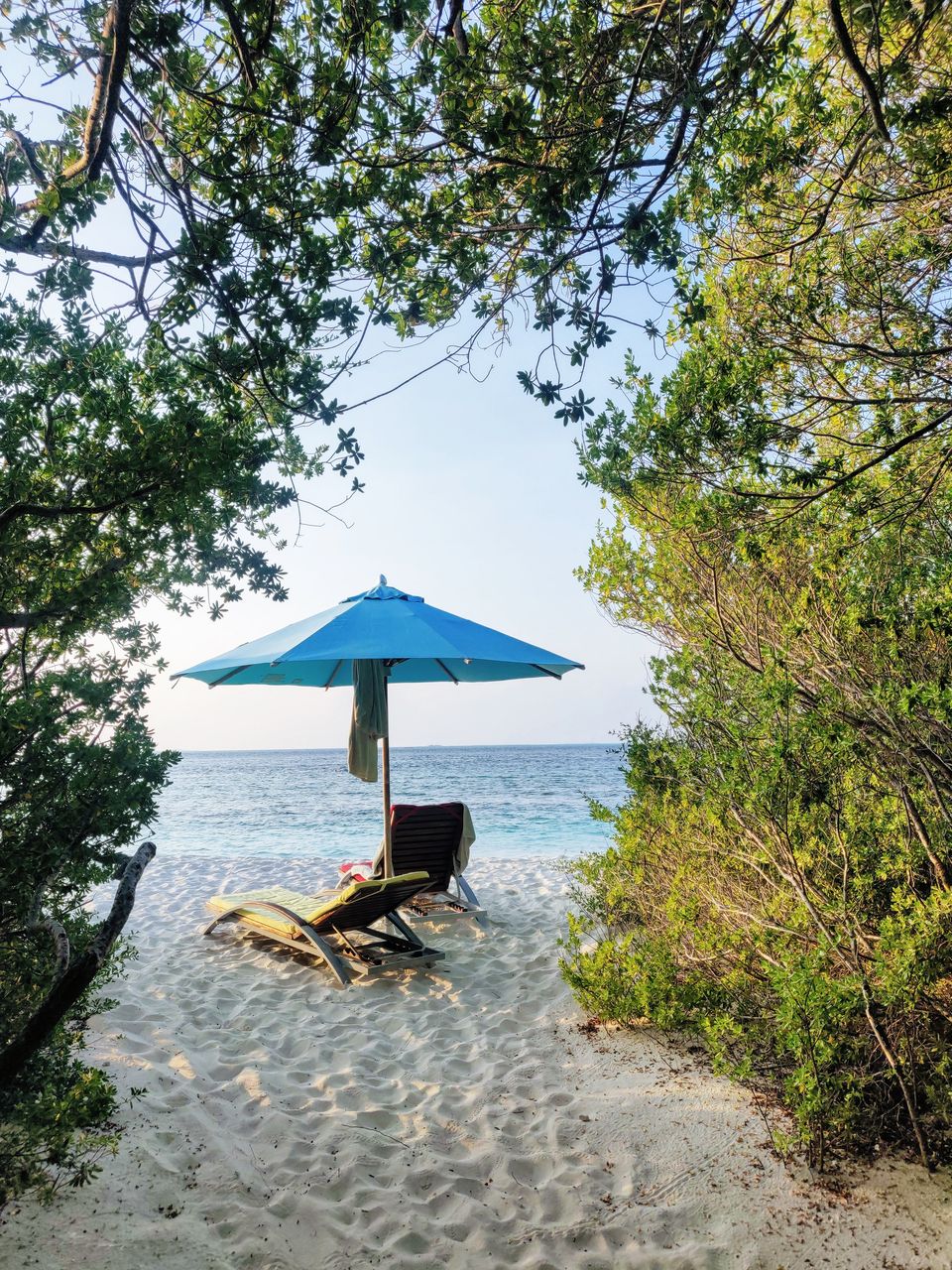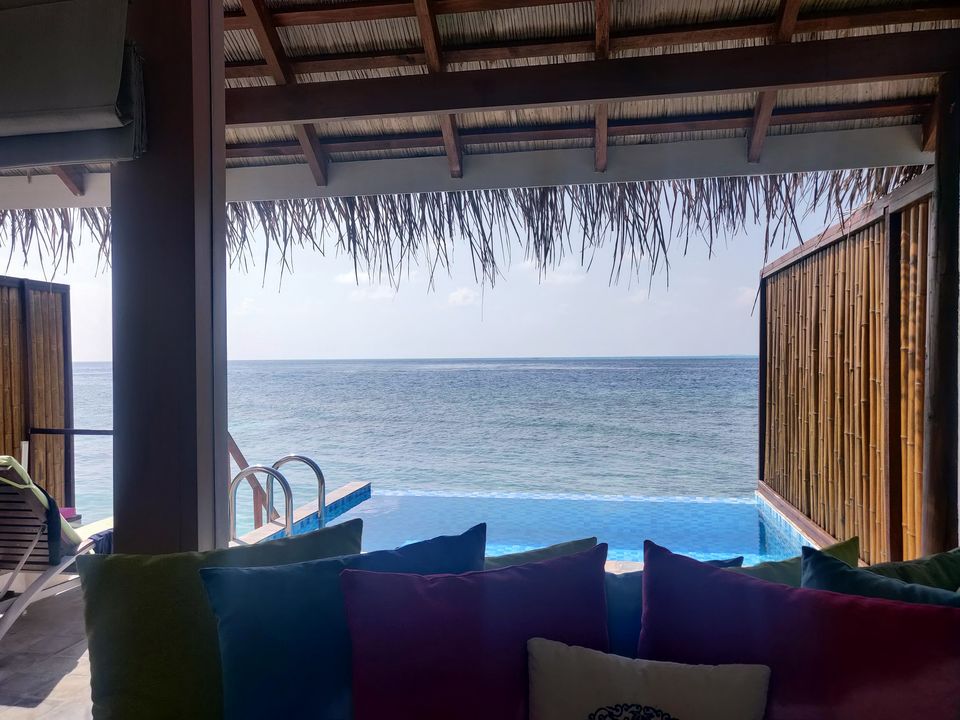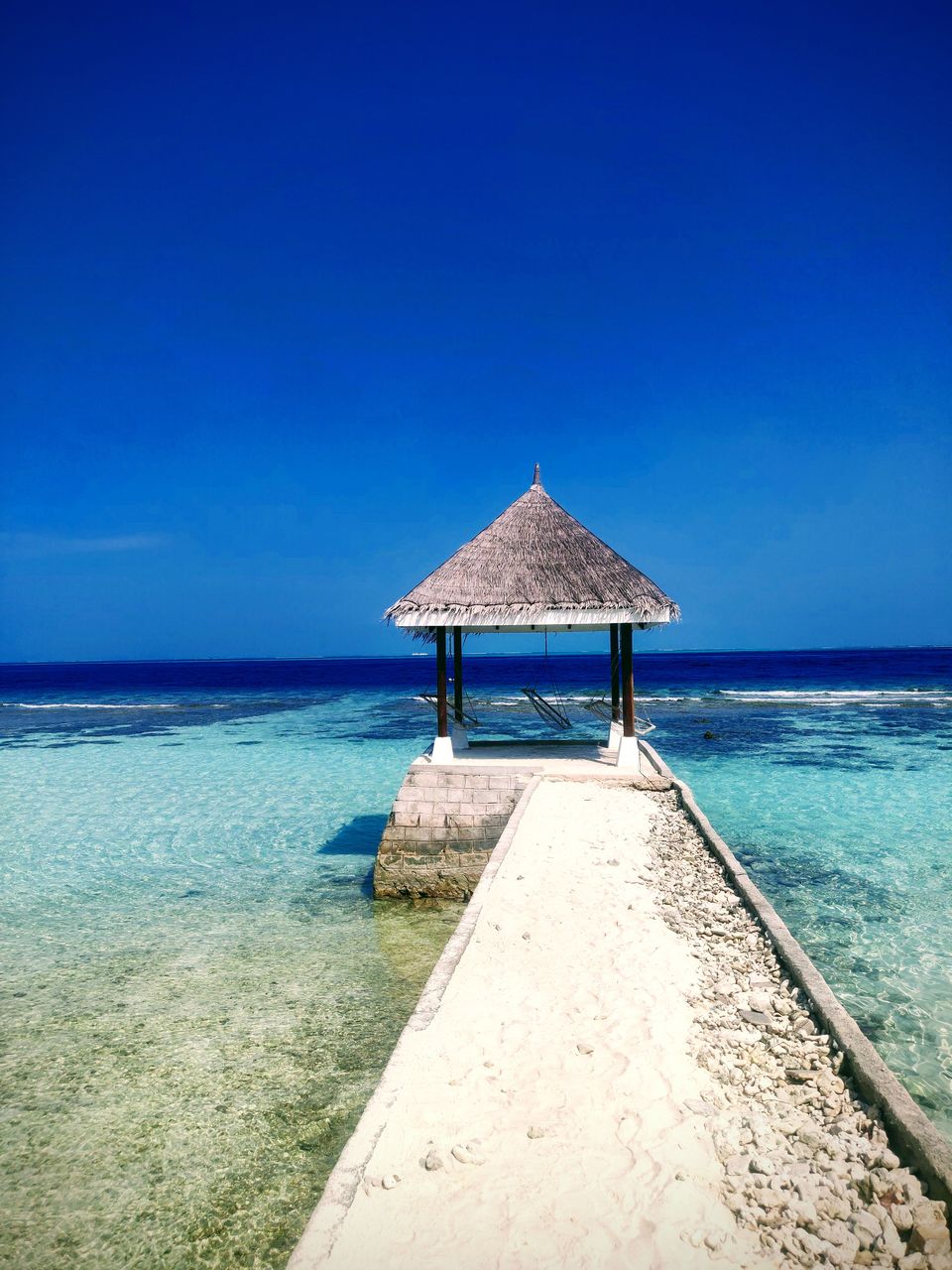 Water Activities at Island
Snorkeling
There is no dearth of choices while selecting a resort in Maldives but for us the main USP of this property was its renowned house reef just a few meters away from shoreline, ideal for diving and snorkeling. The snorkeling equipment is complimentary and you can get all the equipment related to water sports at their 5 star certified PADI diving school.
I have done snorkeling in Andamans few years back but I was not ready for what the underwater in Maldives had to offer. It is abundant with colorful and exotic multicolored fish and live corals. We ended up going for snorkeling multiple times a day and every time I was as fascinated as the last. On the last day we went early morning for the snorkeling and were lucky to spot a turtle paddling in the shallow waters. The sharks sightings are very common in Maldives and I heard stories of fellow travelers who did scuba diving with sharks which can be a little daunting but apparently the sharks which inhabit in Maldives are friendly. Well, I might never know.
Even if you are not comfortable with snorkeling, you will witness a lot of marine life from the coast or the restaurant deck. One morning while having breakfast on the deck, we saw couple of dolphins doing a flip :)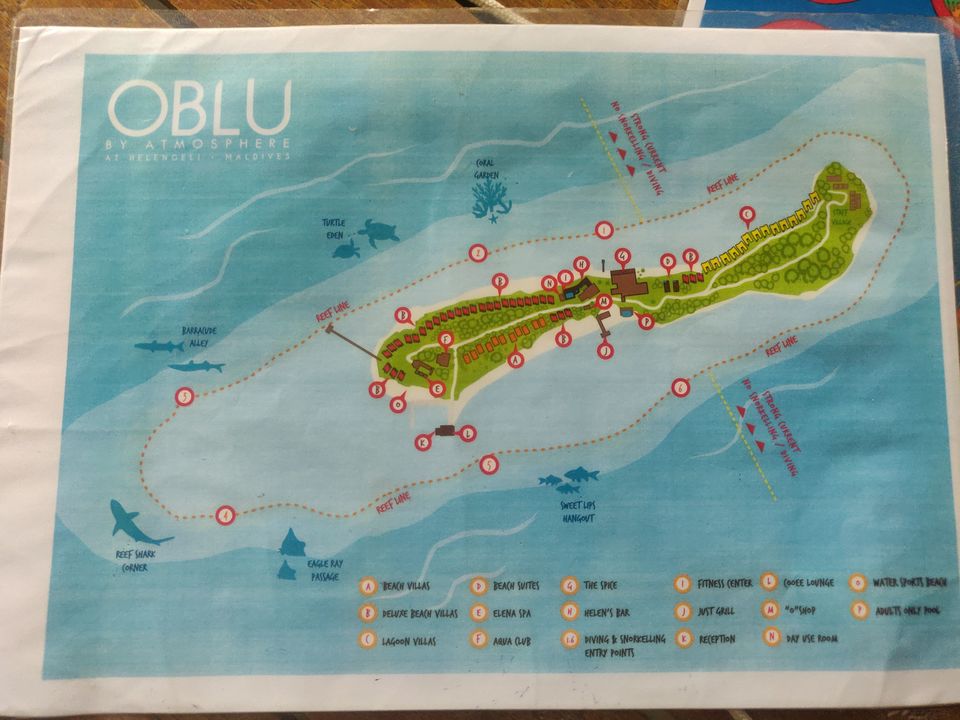 Apart from snorkeling , you can also indulge in kayaking, jet ski, stand up paddle boating. There are lot of activities ongoing which can keep you occupied on the island like yoga sessions, Chef's cooking class, Sunset fishing, starry night excursion etc. The all inclusive package includes a complimentary spa session which we scheduled for the last day of our stay and that was the most relaxing 45 minutes. The package also included a trip to a nearby local island which was not possible due to Covid restrictions.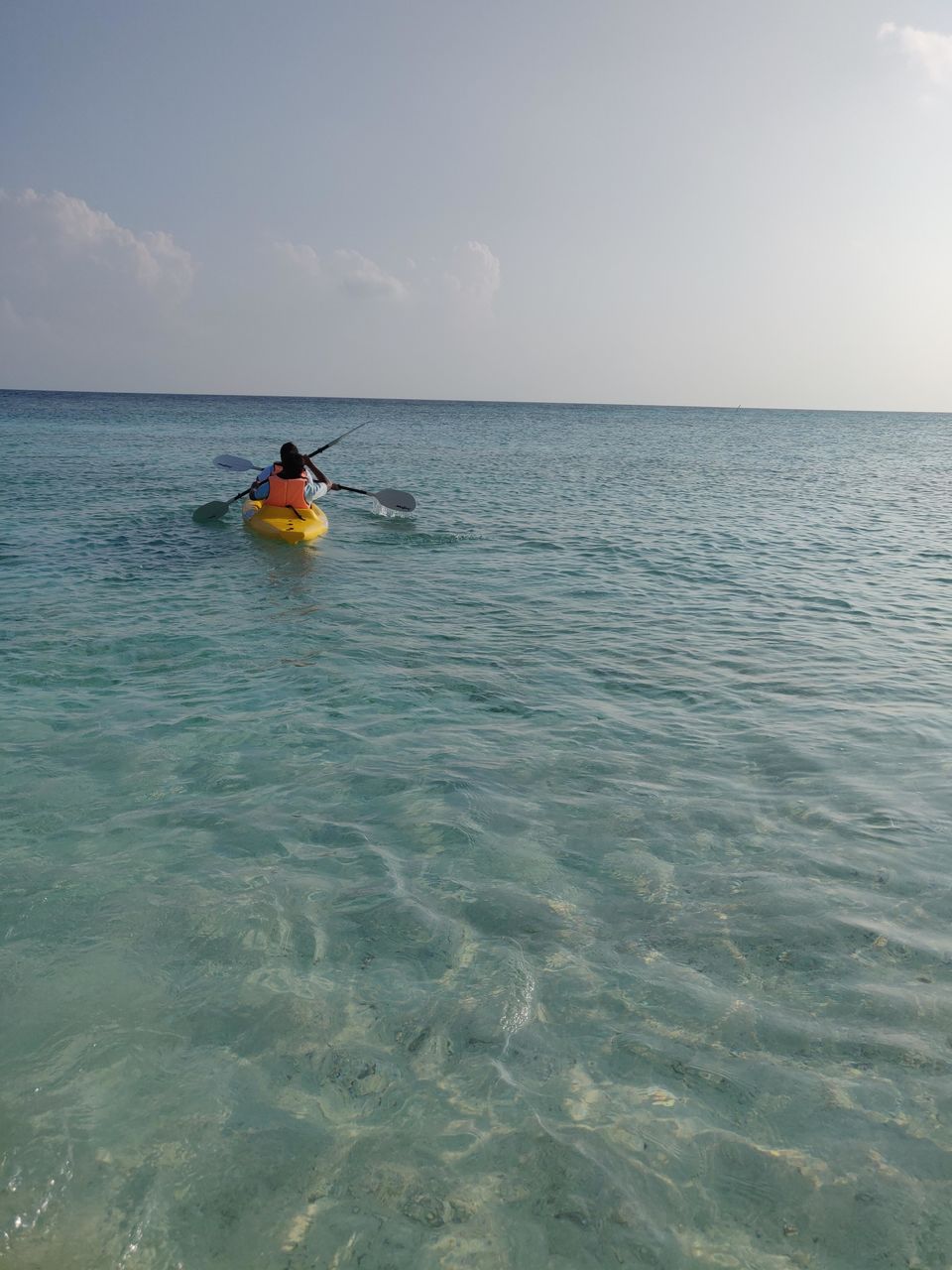 Restaurant & Bars at Oblu
The resort has an open air bar called Helen's which is overlooking the ocean where you can lounge on the sundeck whole day sipping on the amazing drinks the bartenders whip up for you or take a dip in one of the two pools. Helen's was our go to place in the evening to watch the glorious sunsets with breeze of the ocean now turned much cooler and the live DJ playing retro music in the background. Helen's also had indoor games like snooker table, darts, table tennis with a popcorn machine aptly situated nearby!
Special Dinner at their specialty restaurant - Just Grill
Apart from their main buffet restaurant "The Spice" , the resort has an another specialty restaurant -Just Grill which is a intimate dinner set up next to the beach and perfect for a romantic night under the luminous sky.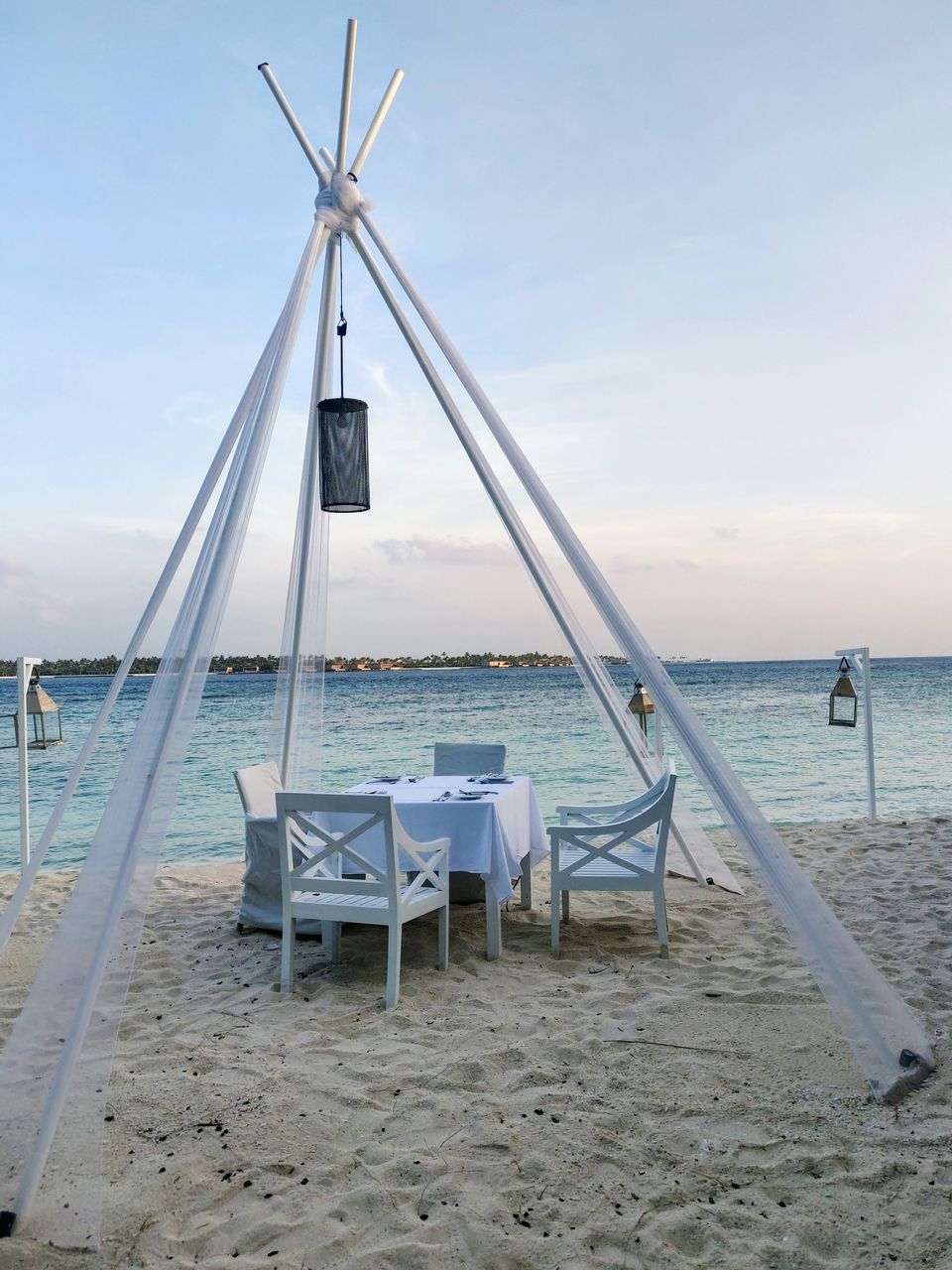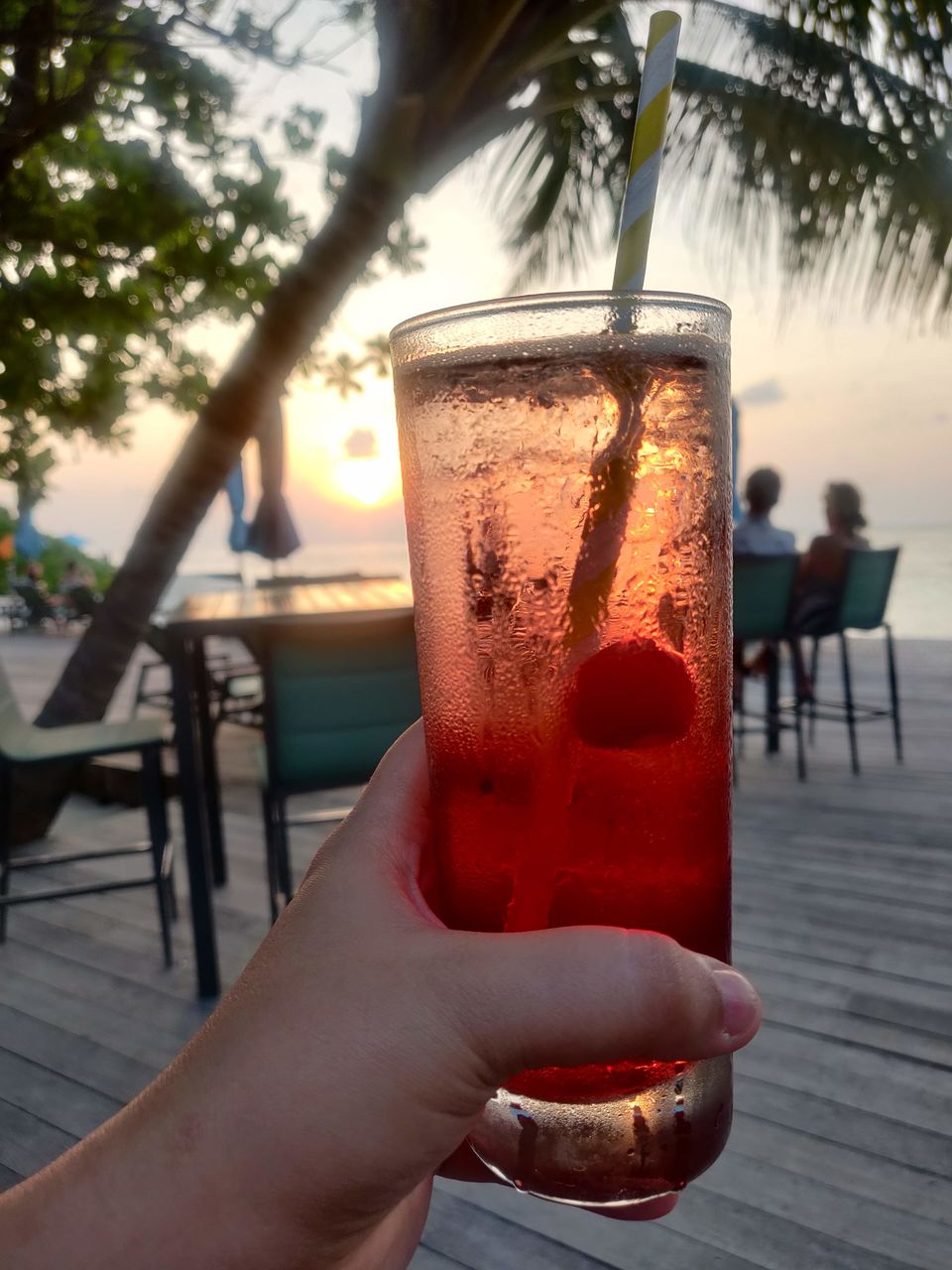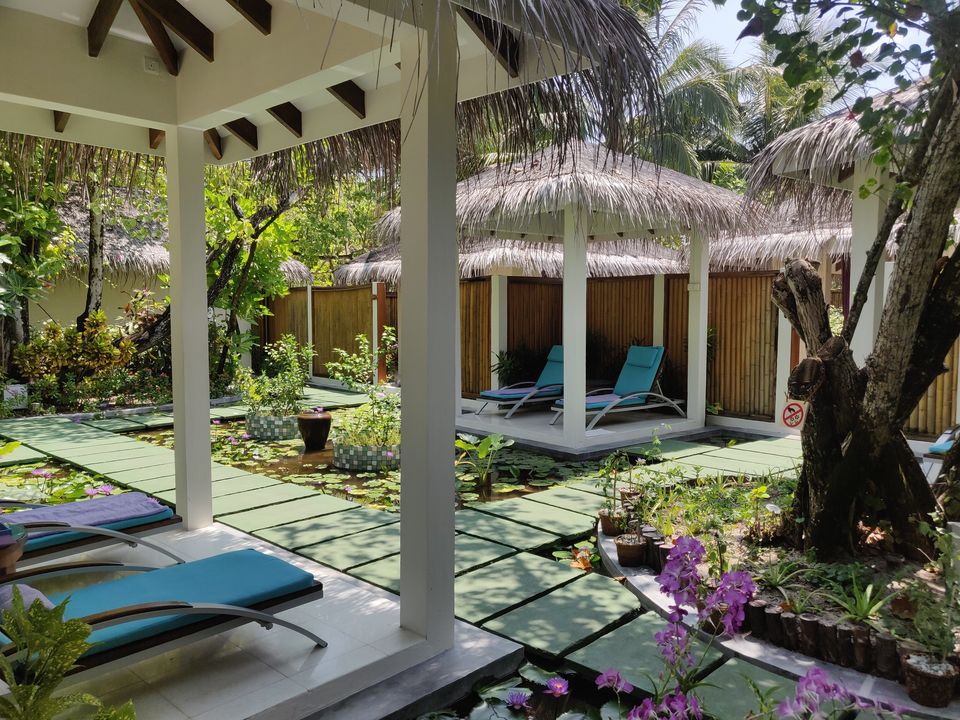 Overall, this property is fantastic. It is a barefoot island which means no golf carts, you have to walk from one end to another. The island retains its raw appeal - the villas are constructed keeping in mind the natural vegetation at the island not vice versa. Contrary to popular belief that Maldives is just a honeymoon destination, this resort is fun and quiet at the same time. You are surrounded by friendly staff and even guests who are open to have a chat.
You can check out further details at their website here.