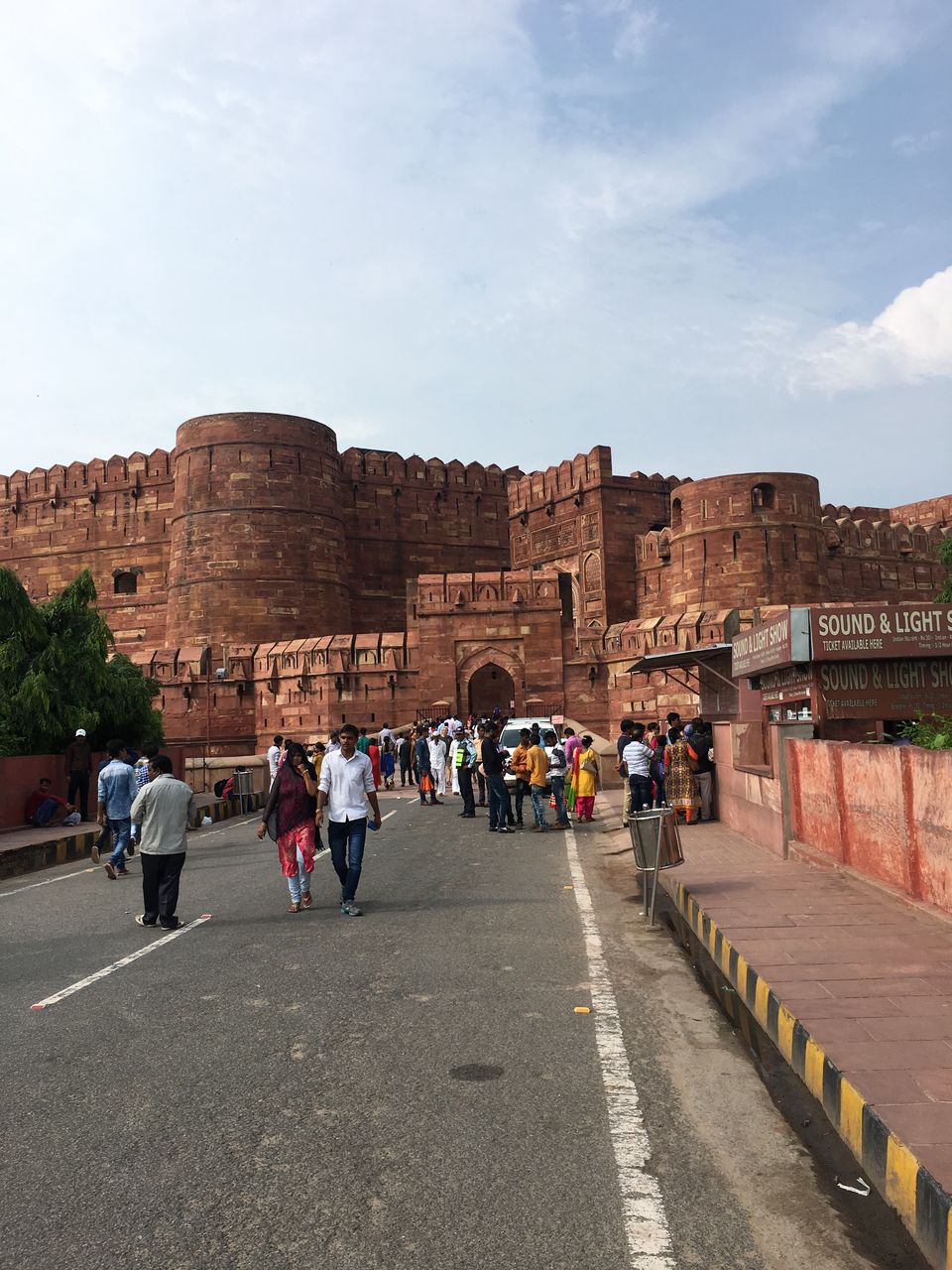 Capturing stunning and ultimate beauty of Taj Mahal in to my eyes i took e-rickshaw and headed to residence of Mughals,a fort comprises of a small city and beautiful palaces within.construction started by Emperor Akbar and completed by grandson Shah Jahan in the vicinity of Taj Mahal near Mehtab Bagh garden stands the most important monument of Mughal Kingdom in 16th century known as Agra Red Fort,another UNESCO World Heritage site.built strategically for military purpose and later converted in majestic palace when Mughals shifted their capital from Delhi to Agra.if we compare with Delhi Red Fort it has more characters and stories attached to it and is of more historical importance.i thought of exploring the Fort on my own but considering its marvellous size and history the guide is must to know, feel things better and closely.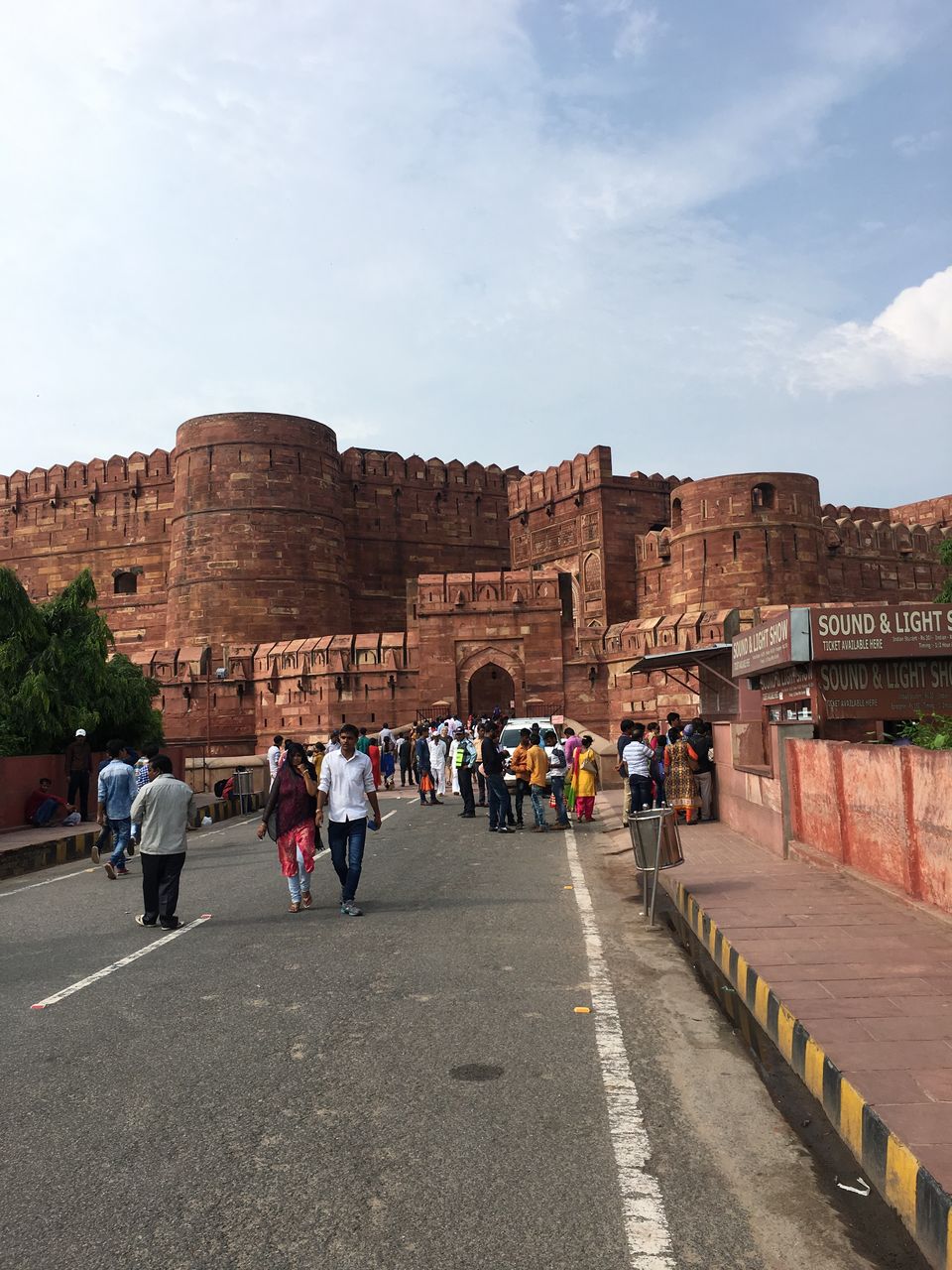 To access the Fort there are four massive gates on four sides, one of them opened straight to Yamuna river.Delhi gate and Lahori gate are two notable and famous gates.Lahori gate later renamed as Amar Singh gate by emperor Shah Jahan in the name of Amar Singh Rathore ,a Rajput nobleman of royal house of Marwar and courtier of Mughals.Entry for the public is only allowed at Amar Singh Gate where ticket has been sold to the tourists.rest of the gates and significant portion of fort is being used and supervised by Indian Army.in the past this fort has witnessed the number of battles and has been ruled by series of dynasties from Lodhis,Mughals,Marathas and in last by British till independence of our country.it is well portrayed as walled city as it has 2.5 kilometres double wall structure to make it impeccable and impregnable for attackers.it has numbers of spectacular buildings and architectures which required at least 2-3 hours to cover and i will pen down few popular of them.
Jehangir Palace
Starting the tour my guide after walking up from main gate started with huge red sandstone Jehangir Palace built by his father Akbar reminds of their afghani roots and cultures, there is huge stone bowl called as Houz-i-Jehangir carved out of single block placed in the front of palace which was used by Jehangir for bathing.it is perfect blend of Central Asian architectural design and Indian culture.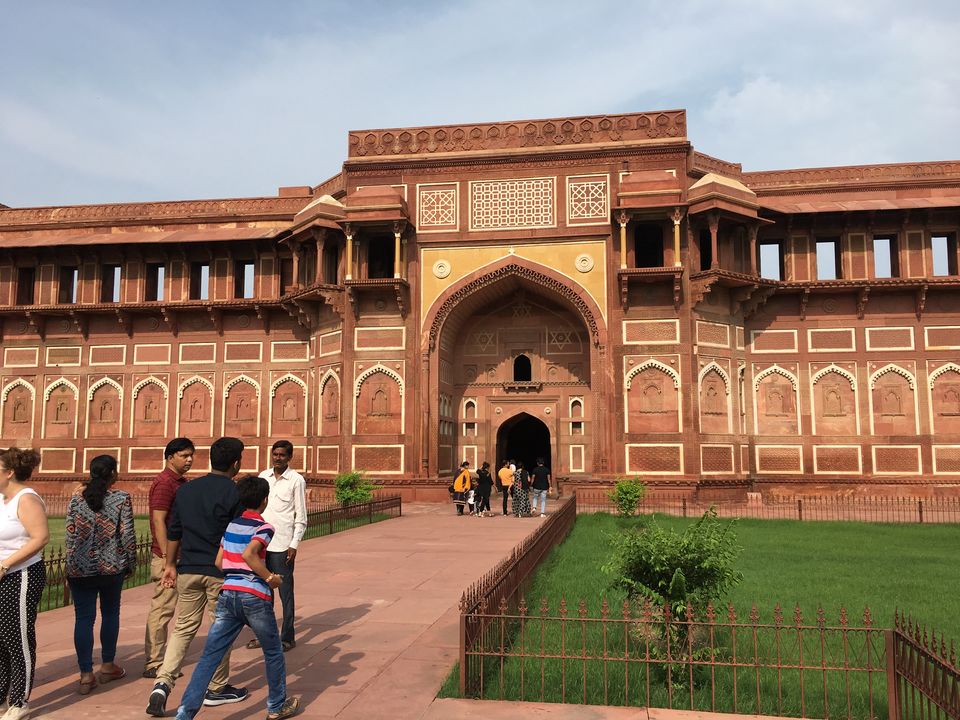 Diwan-i-Aam
It is a large open courtyard stands perfectly on symmetric pillars to give it a unique look with a garden and seating area where emperor Shah Jahan sits in a throne room and address the common public and listen to them and widely used for government meetings and domestic business purposes.in the front there is small grave of Lieutenant governor John Colvin who fought and died of illness during 1857 First War of Independence.
P.S: this is the place where some scenes from Bollywood movie "Jodha Akbar" has been shot.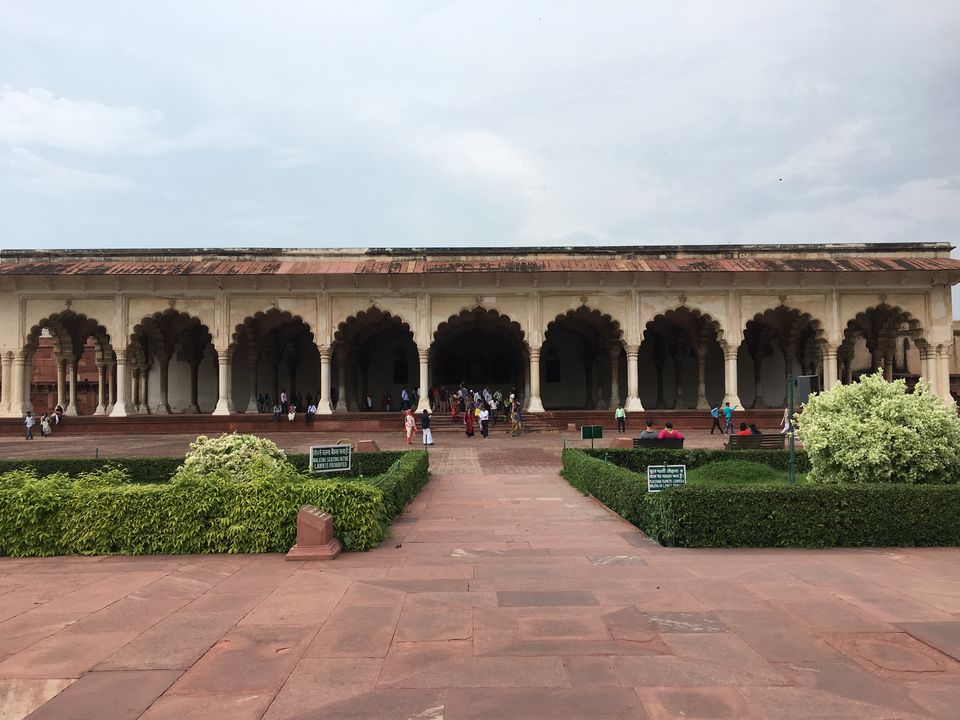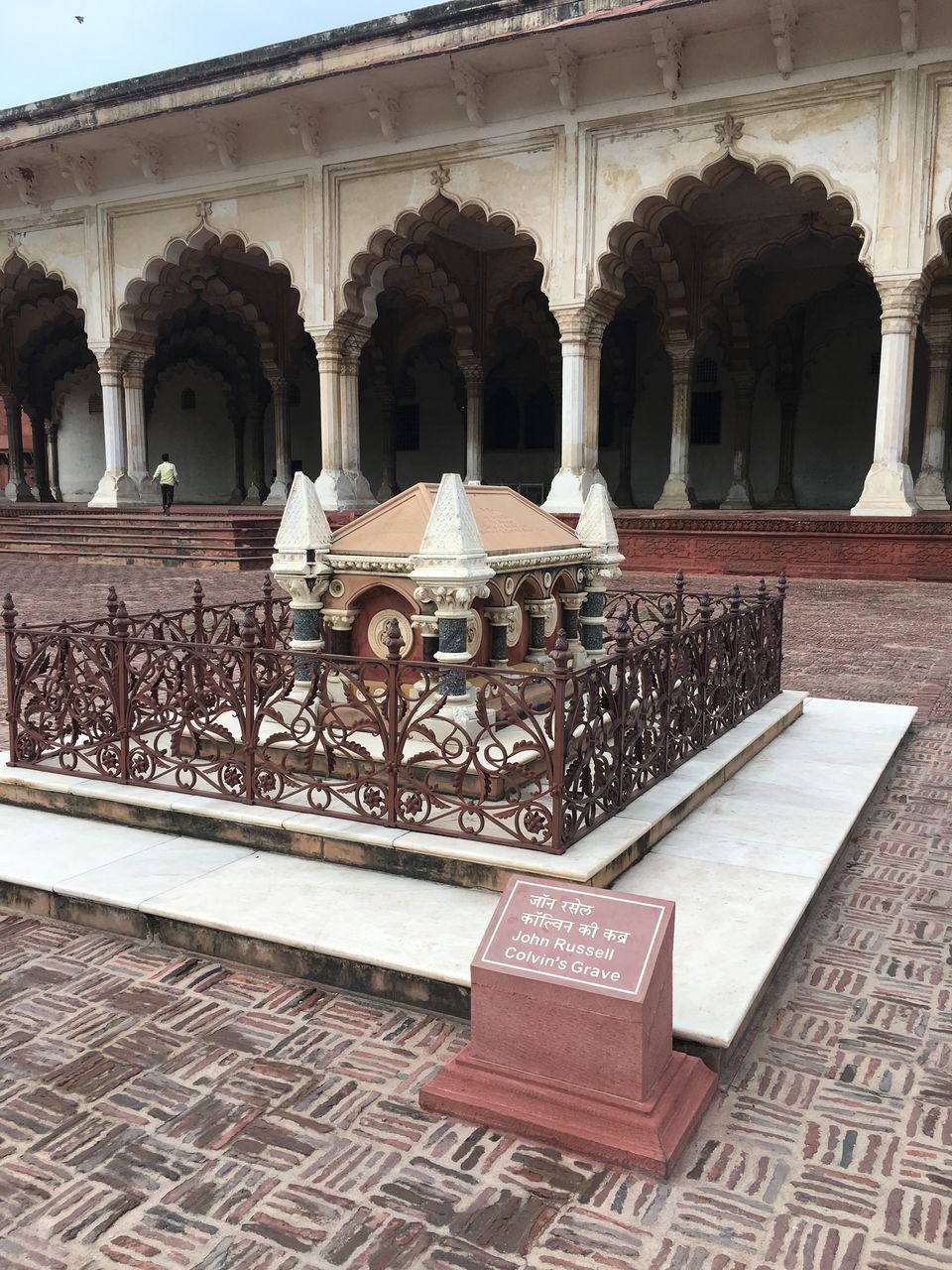 Diwan-i-Khas
Facing Yamuna toward east of fort is Diwan-i-Khas translates to hall of private audience and special guests,reserved courtyard for private meetings and foreign representatives where once Shah Jahan sits on legendary Peacock throne embedded with precious stones and famous Kohinoor diamond.
Musamman Burj
At the eastern part of fort there is easy to notice white marble balcony housed in a tower with golden tomb atop providing clear view of Taj Mahal.this is the place where emperor Shah Jahan spent his last days gazing at Taj Mahal,his wife tomb from the window when he was imprisoned by Aurangzeb for eight years and died in 1666.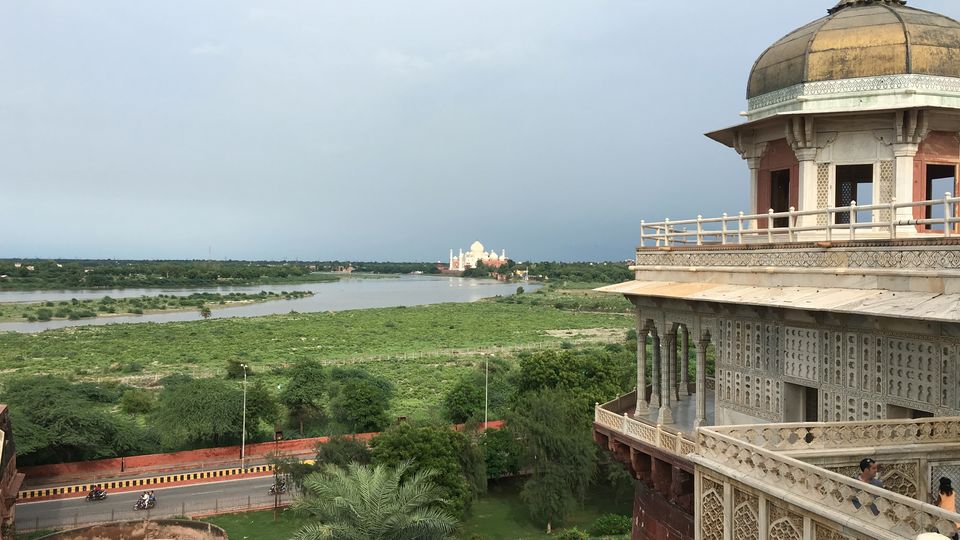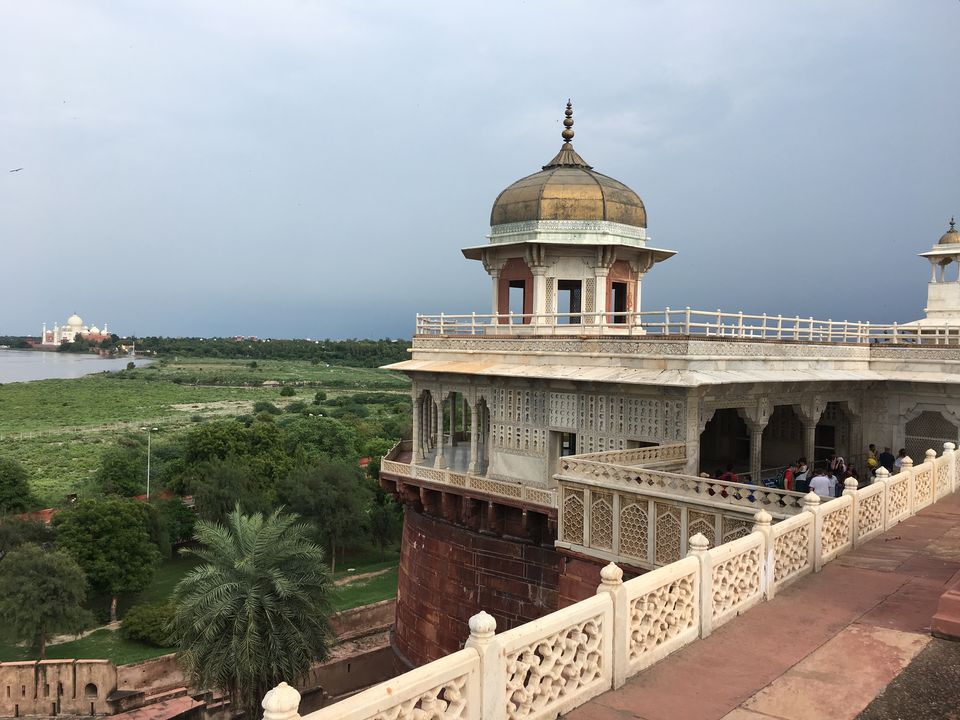 Shish Mahal
Being important part of Khas Mahal (Special Palace) Shish Mahal (Mirror Palace) is spectacular architectural beauty.it was commonly used as summer palace to escape heat of Agra,designed in such a way that it keeps cool during summer by its thick walls with multiple water inlets and a water fall installed for bathing.glasses which were extensively used during construction are said to be taken from Syria at that time, walls of Palace were inlaid with small mirrors to create a magical reflection when illuminated with sparkling candle at the centre.