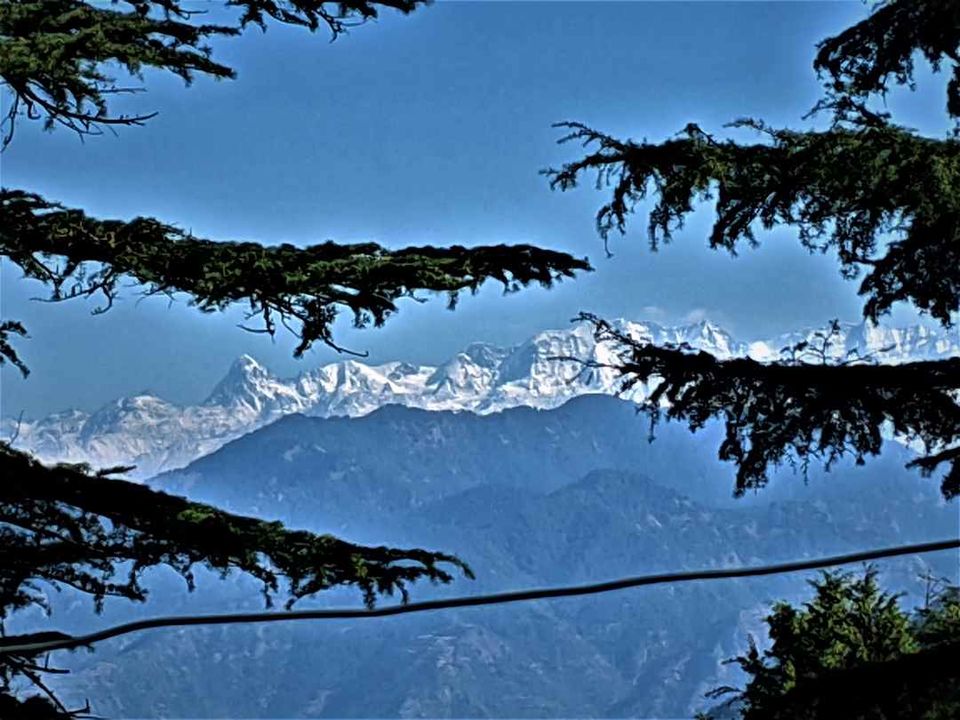 Mussoorie is a hill station in the in the foothills of the Garhwal Himalayan range in the Dehradun district of Uttarakhand. It is about 35 kilometres from Dehradun and 290 km North of New Delhi. The adjoining town of Landour, which includes a military cantonment, is considered as a part of "greater Mussoorie". Together they are popularly known as The Queen of the Hills. Mussoorie was discovered in 1827 by Captain Young, an adventurous military officer. It is said that the name Mussoorie may have come from a shrub locally called mansur. Which is why most locals refer to Mussoorie as Mansuri. The height of Mussoorie town is around 6,578 ft.
We took the Dehradun Shatabdi which left New Delhi at 6.50 AM and reached Dehradun at 12.50 PM. Since food is not being served due to COVID-19 we had brought puri aloo with us which we thoroughly enjoyed in the train! Our taxi from Dehradun to Mussoorie had already been booked through Make My Trip and was waiting for us at the railway station. Taxi charge from Dehradun to Mussoorie was Rs. 1550. We reached Library Chowk Mussoorie at 3 PM from where we hired a rickshaw in Rs 100 to reach the hotel with our luggage. Taxis are not allowed on the Mall Road in Mussoorie.
HONEYMOON INN HOTEL
We booked this hotel through Make My Trip and selected it because we had already stayed at their property in Shimla and enjoyed it. They have 20 tastefully decorated modern rooms, each having a huge picture window with incredible views of Dehradun. The hotel is situated right in the center of Mall Road and is very close to Gun Hill Ropeway. Service is excellent here and so is the food. We opted for the Super Deluxe Room which was 11,500 for 3 nights, including all taxes. A little on the higher side but well worth it!
MALL ROAD
In Mussoorie, the Mall Road stretches from Picture Palace at its Eastern end to the Public Library or Gandhi Chowk at its Western end. Mall Road is a shopping area at the center of Mussoorie, which contains shops, cafes, video game places, skating rinks, a Tibetan market, and a Methodist church. Next to the Mall is the tourist office, taxi stands, rows of Tibetan jewelry sellers, lots of small sweater shops selling Yak wool and Lambs' wool items and many shops selling walking sticks. We were delighted to see that fresh and sweet bhuttas (sweet corn) both boiled and roasted were being sold briskly at every corner. We decided to try the roasted ones and were amazed at the sweet and soft texture. The best we have ever had! Lots of cycle rickshaws could be seen here, plying up and down the Mall. All around us we could see cute little houses and lamp posts which definitely gives off a colonial vibe. We shopped a lot on the first day and bought quality jackets, sweaters, caps and mufflers at reasonable prices.
LANDOUR
Nestled amidst a canopy of dense Deodar trees, Landour is a quaint town in Uttarakhand located 5 kms from Mussoorie. It is mainly a cantonment town that derives its name from the Welsh village of Llanddowrer. It overlooks Mussoorie and the city of Dehradun. Landour was initially built by and for the British Indian Army, in 1827, when a sanatorium was built here and the town was a convalescent station for the military.
Landour is a quiet town and still retains most of its old colonial charm. It's one of those places that has remained untouched by commercialization and continues to give peace. The reason we chose to visit Landour was because of the tranquility, serenity and simplicity that was offered by this small town. It is surrounded by lush wooded areas and winding lanes and offers exclusive opportunities for quiet walks. If you love walking, this will be one of the most beautiful and calm mountain walks of your life. Through the misty Deodar forest on the winding paths, where the mountain air was pure and fresh, a casual walk in Landour was a dreamy experience for both of us. Cost – Rs. 1800 for a half day trip from Mussoorie.
Taxi Driver Jai Prakash was very pleasant and cooperative.
His Ph no. 7895544304.
SISTERS BAZAAR
When the British Military hospital was established here, a small market sprang up around the quarters of the nursing staff and thus came to be known as Sisters Bazaar.
LANDOUR BAKEHOUSE
You can't come to Landour and not visit the iconic bakery here. Stop by this Landour Bakehouse for slabs of lemon cake, freshly-baked chocolate cookies, and delicious apple pie. Sit by their window overlooking the hills, and enjoy your baked goodies with a cup of steaming hot ginger lemon tea.
PRAKASH STORE
We tasted and bought the delicious Jams and Marmalades, made from locally grown fruits, from this quaint store which has been around since 1928. Their peanut butter, apple mint chutney, and cheese are equally tasty. You can find a lot of other stuff also in this store.
LAL TIBBA
Lal Tibba, also called Depot Hill because of its former use as a military depot, is the highest point in Mussoorie with a height of about 7,464 ft. A Japanese telescope, with views of Himalayan ranges including Badrinath, Kedarnath, Banderpunch etc, was installed at Lal Tibba in 1967. It is the ideal viewpoint to capture the serene landscapes of the Garhwal peaks. Lal Tibba is also home to the towering transmitters belonging to All India Radio, Door Darshan and the military who have their repeater stations established in this area. Binocular use is free with every purchase at the Café.
CHAR DUKAN
If you are in Landour a visit to Char Dukan is a must. It's a row of historic shops near Sisters Bazaar and Lal Tibba. The benches are laid every morning in the open to serve visitors. They are famous for their delicious breakfast food-everything from waffles and pancakes to butter-fried cheese Maggi and bread omelets. They only do vegetarian food, but their aloo parathas and bun maska will make you forget about bacon and sausages.
We had our fill at the Char Dukan Café. +911352630451
Things You Must Try: Pancakes, waffles, Maggi, and Ginger Lemon Tea.
GUN HILL
Gun Hill is the second highest point of Mussoorie, at an altitude of 2,024 m (6,640 ft) and is accessed by cable car from the Mall road. At Gun Hill a cannon previously used to sound midday so that residents could adjust their watches. Tourists can avail of the cable car ropeway ride to Gun Hill, which offers an enchanting view of the entire city as well as the surrounding Himalayan mountains. Cost – Rs. 125 for a roundtrip.
Had Aloo paratha & vegetable pakoras at The Super Café-Pure Vegetarian Restaurant which were excellent.
WINTER LINE PHENOMENON
Between October to February the town shows the rare "Winter Line" phenomenon where a false horizon is formed at sunset. Before the sun actually sets across the real horizon, in this part of the world, it actually disappears across a false horizon. This happens because Dehradun Valley is warm so the hot air rises up, while the air in the sky around Mussoorie is very cold during winter. As air with different temperatures meet, it gives rise to a sharp line - the lower part is dark, and the cooler air is lighter blue. This line is always there, but just before sunset, due to refraction of light, the line lights up beautifully as a golden sharp line as the sun disappears behind the lower portion of the sky which is dark in color. This is how the line is formed.
Besides Mussoorie, this Winter line also occurs in the Switzerland.
Best time to witness winter line: mid-November to mid-January
HOTEL HONEYMOON INN
The hotel check-out time was 10 AM but they graciously allowed us to stay late. The Hotel Manager Mr. Adarsh Sharma told us that our room would be thoroughly sanitized for 2 days. He also talked about their property in Manali which is the biggest and has a beautiful garden in the back. We hope to visit it someday.
SAHASTRADHARA
Sahastradhara, meaning a thousand-fold spring, is about 14 kms from Dehradun. It is situated on the banks of the small river, Kali Gad which a tributary of Song River. The place has a magnificent natural beauty where water drips from limestone stalactites, making the water abundant in Sulphur. It's a Sulphur water spring of relatively lower temperature than its surroundings. This water is believed to have many medicinal properties that cure many skin ailments. We enjoyed coffee and samosas at one of the cafes here while enjoying the natural beauty of the serene and clear water flowing next to us.
BACK TO DELHI
With fond memories of Mussoorie and Landour, we stated our journey back from Dehradun in the Dehradun Shatabdi which left at 4.50 PM and reached Delhi promptly at 10.50 PM. Since no food is being served in the trains due to COVID-19 we had asked the hotel to pack dinner for us.
In the end we were happy that we were able to remain in the present and enjoy every moment of our trip!