My parents are celebrating their 50th anniversary this weekend. And while I had big dreams of gifting them a fabulous vacation experience, unfortunately my ten digit bank balance (which does not exists) didn't allow me to dream about such elaborate plans.  

Even though my parents have retired from their jobs, they rarely ever take time away from the mundane chores of daily life. So I really wanted to gift them an escape that gave them a chance to relax.
Getting back to the point of concern, gifting a fabulous vacation with an account balance, which basically resembles a skydiver who flung himself off a plane without a parachute, is not a piece of cake.
Because it was about my parents, I didn't want to settle for anything mediocre. That is when, a friend of mine suggested that I gift them a staycation – a kind of vacation where you don't have to exploit/exhaust your bank balance to soak in a bit of tourism.
The idea of gifting my parents a staycation really resonated with me because my parents aren't the kind who would go through all the sightseeing jhanjhat and the ordeal of exploring a new land. They would rather spend some good time at a city hotel, waking up to breakfast buffets, spa therapy and a swimming pool.

So staycations, which are all about staying and holidaying in your own city, minus the travel expense and the hassle, was totally my-kind-of-gift for my parents, but it was also riddled with the responsibility of finding the perfect property, which basically meant finding a five star at the price of a three star. I wanted to gift them a stay they would fall in love with but at a price I could afford.
Just as I was starting my hunt for a good resort/ hotel for my folks, a colleague told me about Find My Stay.
Five minutes of research later, I realised that Find My Stay is a magical portal that offers luxury at an affordable price. It allows users to book hotel accommodations at the price they wish to pay for their stay. Isn't this the best thing on earth?
Put the world on hold and let me show you how it's done:
Step 1: Select your destination and travel dates. You can book up to 2 months in advance.

Step 2: Select the location and star category of the hotel would like to stay in.

Select up to 2 neighbourhoods you'd like to stay in and star category of hotel you would prefer. If you have any particular hotel or hotels in mind you can select those too. You can select up to 5 hotels.
Step 3: Choose the price you wish to pay. Yes, you choose, not the hotel.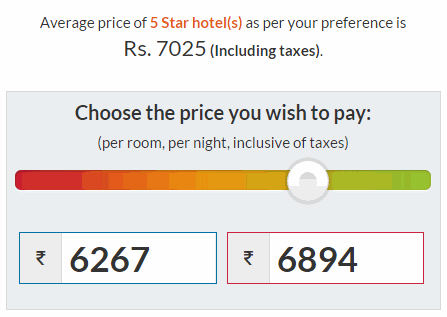 You can see the average price of your selected preferences. Select the price you wish to pay for your stay and they'll contact the hotel, which then has the option to accept, decline or counter in real time. Then, choose to book any of the hotels that have accepted your price.
Step 4: Book the hotel

You will be able too see hotels details and final rates before you confirm the booking. Compare if you'd like, but you'll find that Find My Stay rates will be lower than the best deals available on any other website.

I picked The Park for my parents as it suited my list of preferences.
How do they do it? Here's how!
We all know that hotels have rooms that go empty every night. To find guests and fill in these rooms, especially within the next 60 days, is really hard and expensive for the hotels. Find My Stay connects these hotels with people who are looking to get a better price.

Together you and the hotel agree to a special price. You get a great deal and the hotel gets a new guest. It's really that easy, and everyone wins.
So the next time you're thinking about getting away, remember that getting away from it all doesn't have to mean actually getting away. If we can push aside the advertisement-and personally-inflated perceptions of the wonders of traditional vacation, I would definitely decide to replace my seven-day vacation with seven one-day staycations, thanks to Find My Stay.

How about you?
Sponsored by Find My Stay.